On the heels of our latest video with Carolyne Roehm, I thought I would finally share some glimpses of Susanna's and my trip to Charleston last month. We were honored to visit Ibu founder Susan Walker at her beautiful home and to document the debut of her collaboration with Ali McGraw (look for that video coming very soon!). With the new Dewberry Hotel as our base – their brasserie Henrietta, below,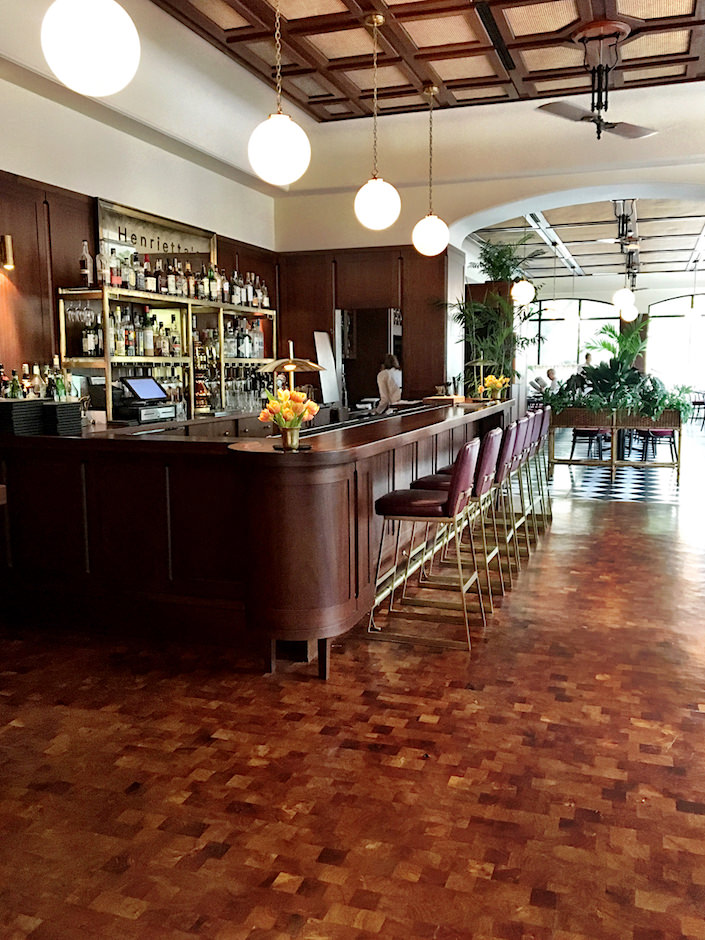 we had a little time to explore, mostly via bike which the hotel generously supplies. My first call was to friend Olivia Brock. Originally from Connecticut, she designs at Torrance Mitchell, blogs and (more often) instagrams at Lacquered Life and with a masters in Historic Preservation, is in the know about all of Charleston's great architectural heritage and design folks. Our first stop was the fabulous interiors resource Fritz Porter.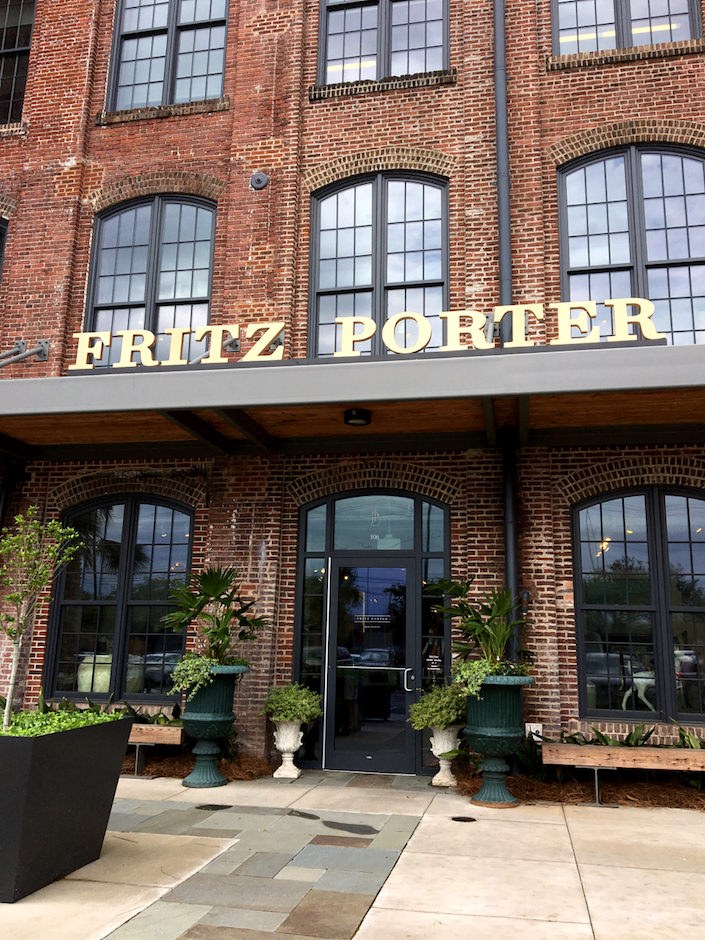 In an old cigar factory, it is part antique center (representing 15 different dealers such as Charleston Gardenworks, below), part art gallery and part boutique fabric (Charelston's own Maresca textiles below) and furniture showroom. Carefully curated by founder and designer Sarah-Hamlin Hastings, it is a one stop shopping design collective!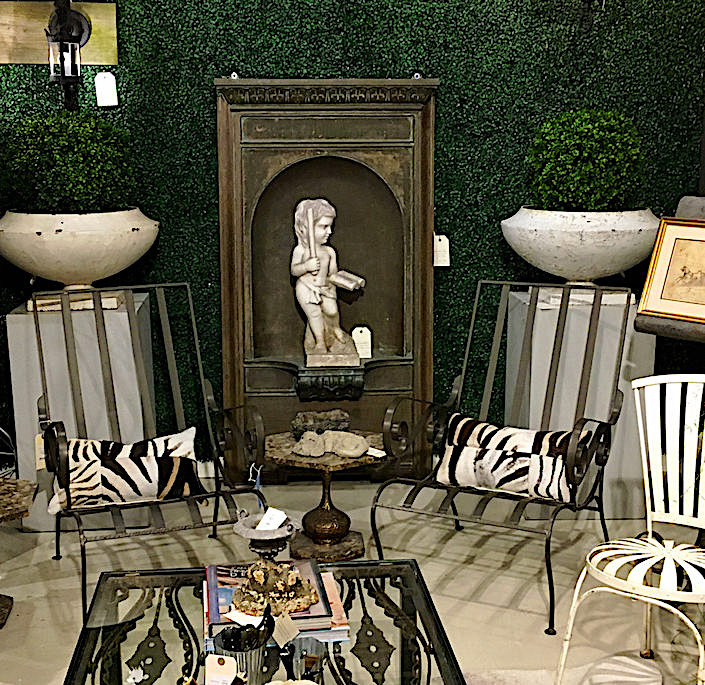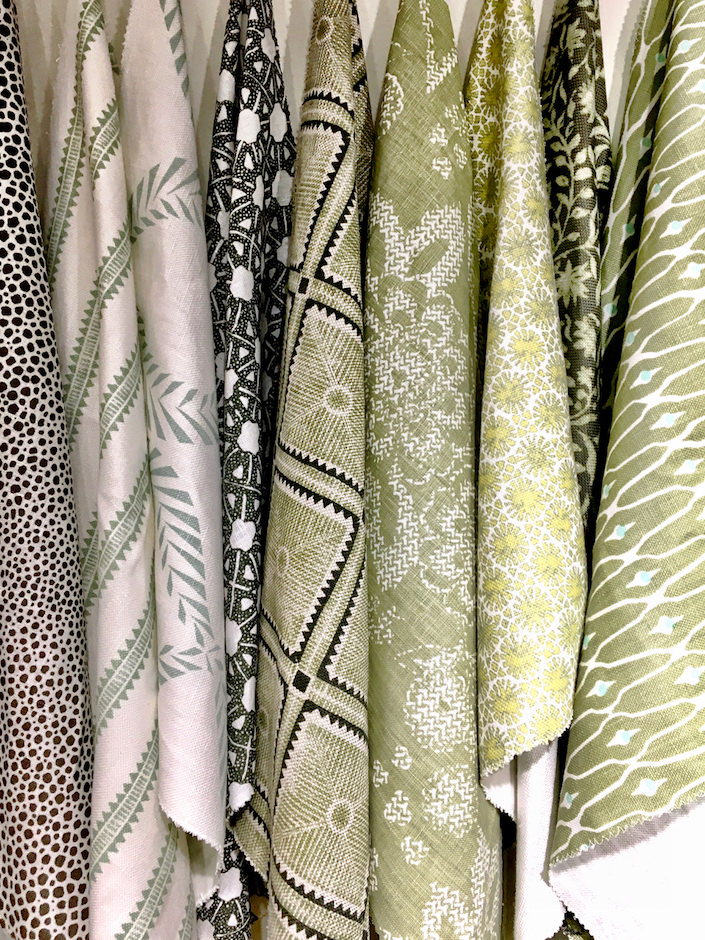 Lunch in such a foodie town was a tough choice but Olivia suggested Leon's Oyster Shop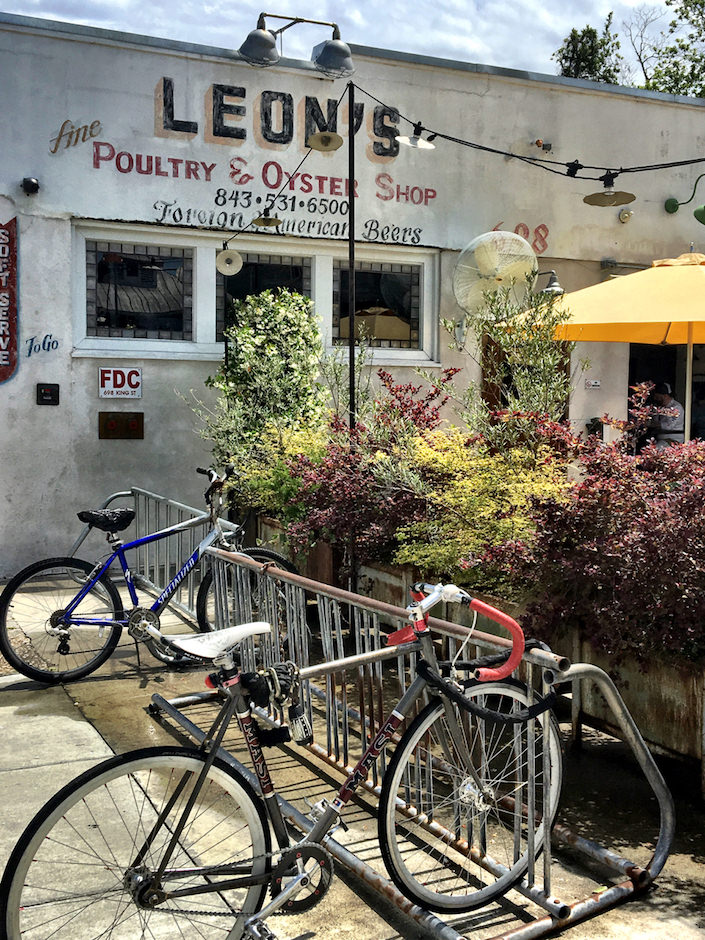 or, our final pick, Little Jack's, an old school style tavern, below, where the delicious Chopped Salad (and a glass of rosé) hit the spot!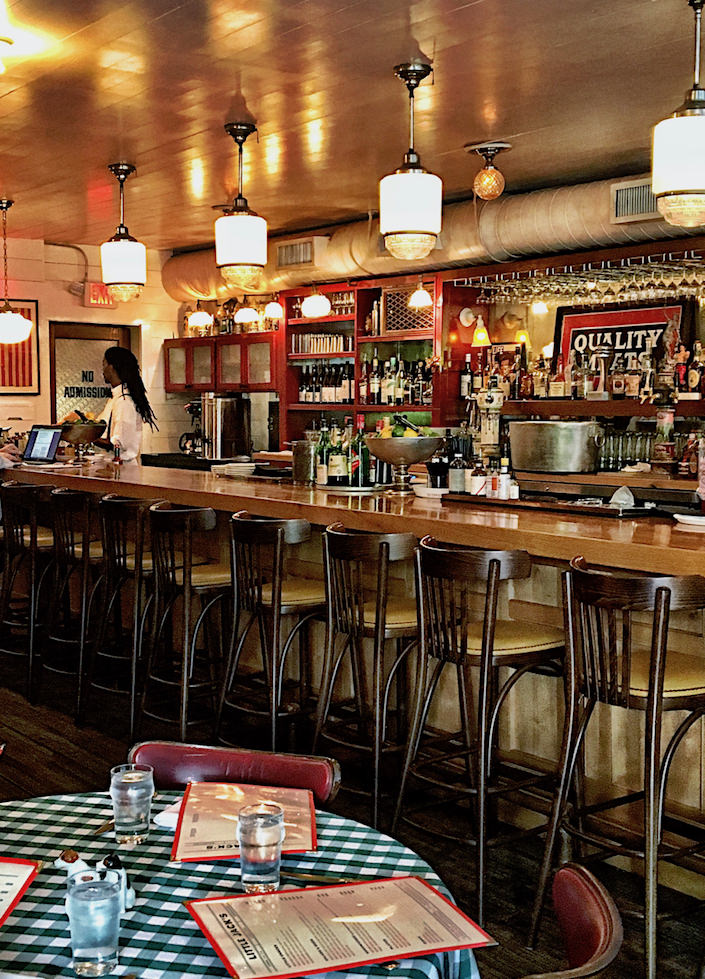 After lunch and a quick drive through the historic district,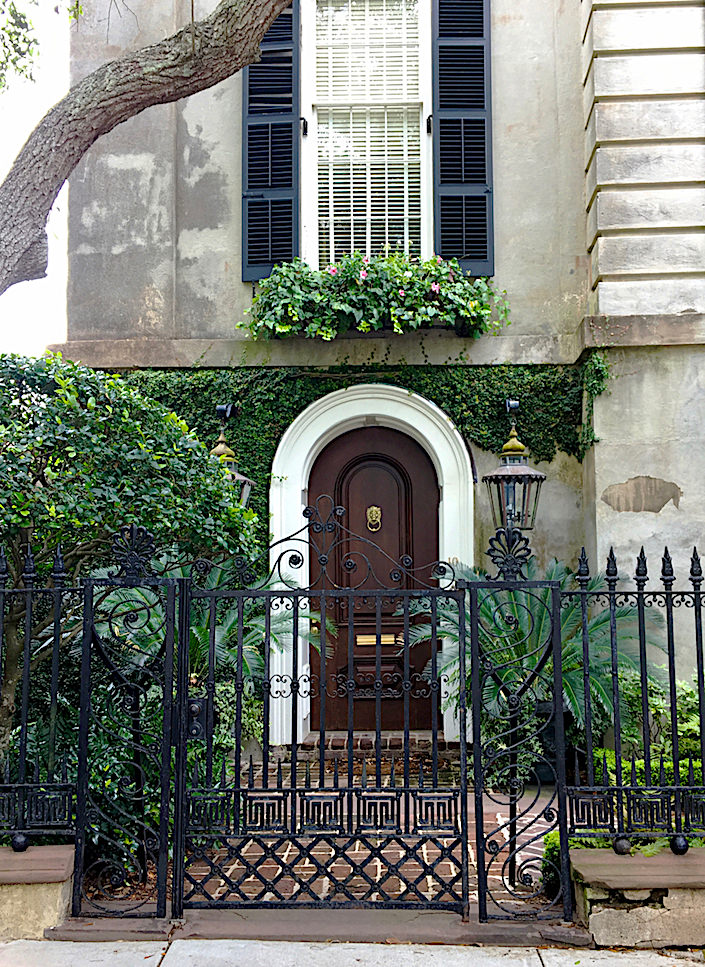 we were off to our shoot, excited that Olivia had arranged for us to meet later for drinks at antiques dealer, John Pope's apartment. You may remember seeing John's chic Charleston home in the recent May ELLE DECOR.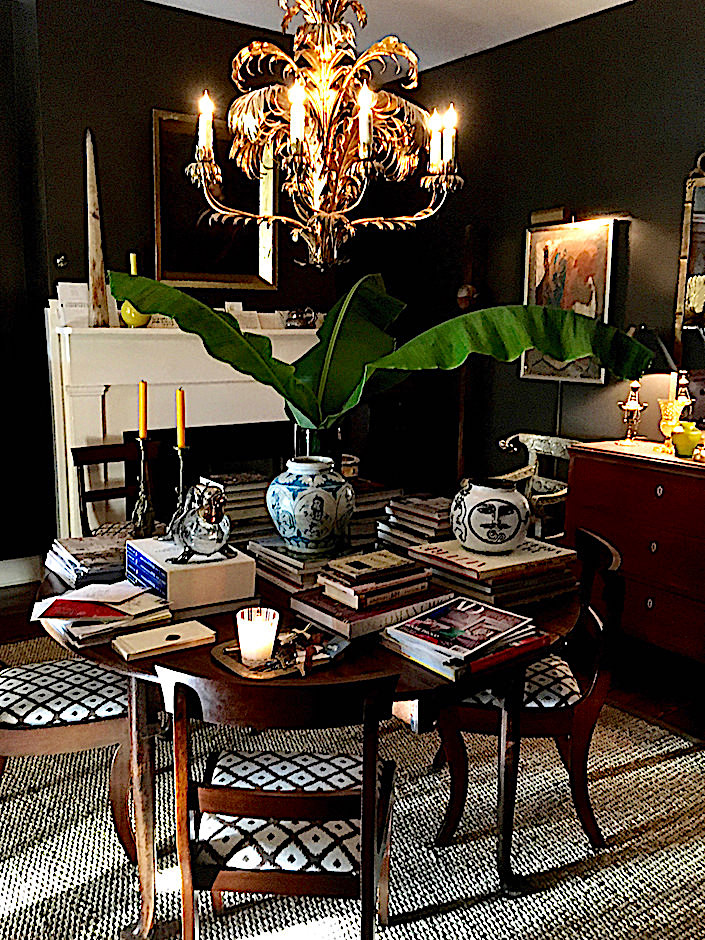 As charming and handsome as he is talented, John Pope's passion for his trade is contagious. In his apartment, timeless antiques are at home with a wide range of eclectic finds, reminding us it's all in the mix. Those who think classic brown furniture is outdated, for example, only have to refer to John's unique aesthetic to see it's all informed and elevated by an educated and enthusiastic eye. In the dining room, an Italian 1960s chandelier looks right at home with a mid-18th century Irish table, vintage chairs and 18th c. Swedish chest.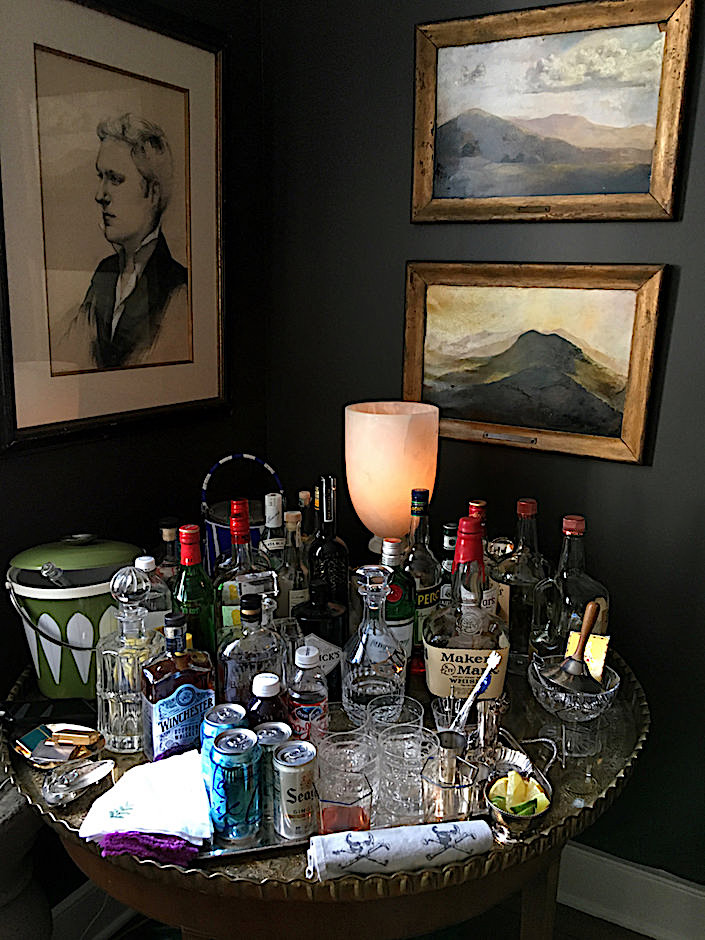 Against the sexy dark brown walls, John's living and dining rooms are relaxed and welcoming, perfect for his frequent entertaining. Collecting since he was a child, John has developed a sophisticated sensibility informed by travels near and far, a degree in historic preservation from SCAD and an insatiable curiosity. His love of antiquities is evidenced in this living room vignette, reminiscent of his favorite museum, Sir John Soane's house in London.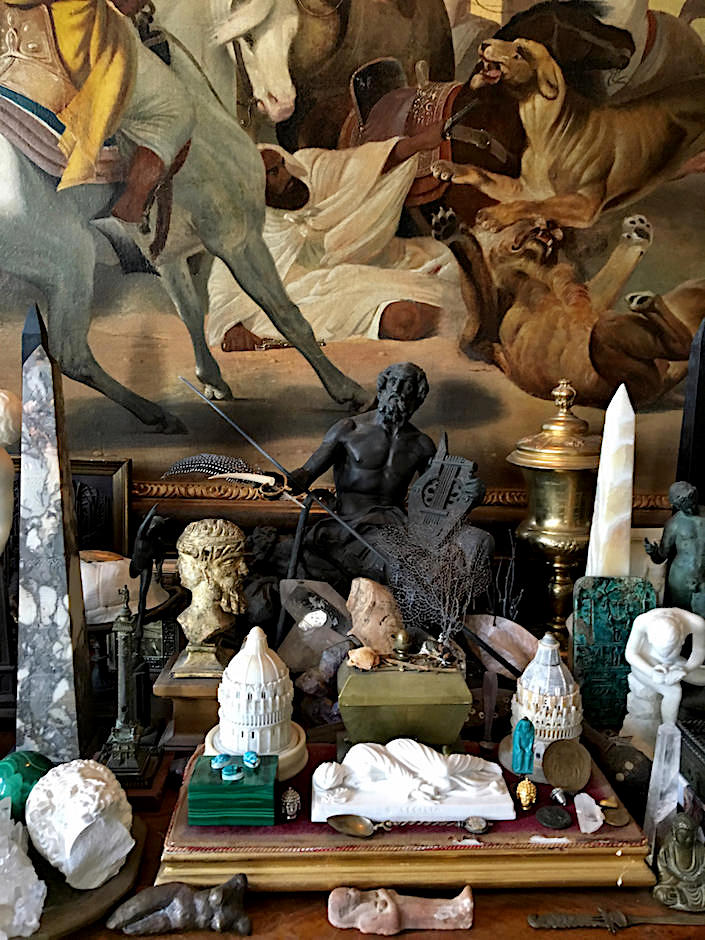 A lighter palette in the kitchen and breakfast room set the stage for more rustic English and American antiques and an impressive collection of cloches and glassware.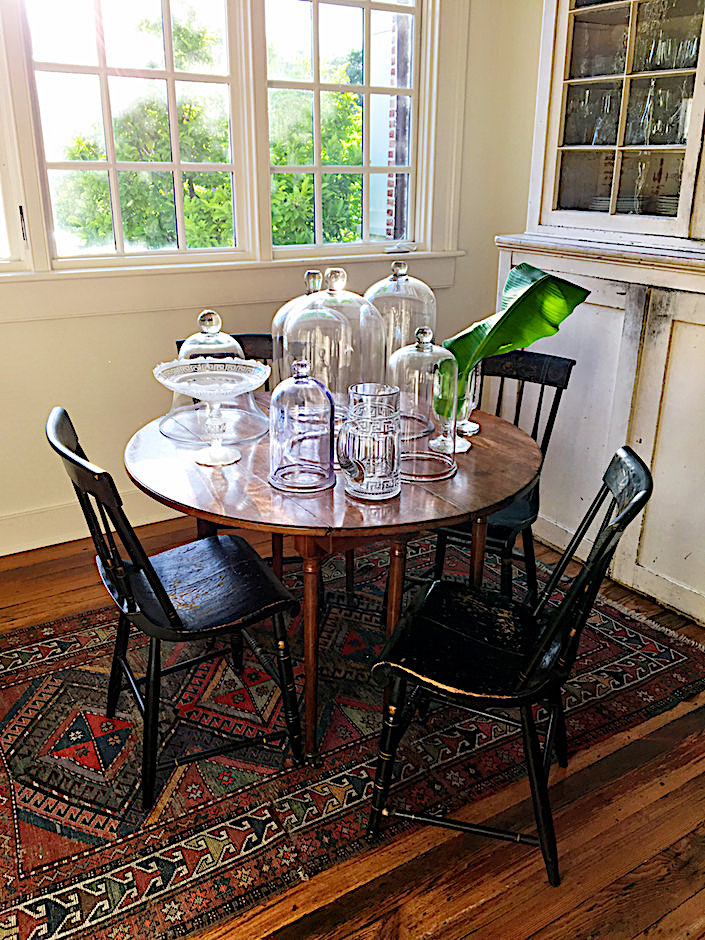 While Olivia was headed to Atlanta the next day, John generously offered to take us to a house I had long admired and written about in one of my very earliest posts – the historic William C. Gatewood House. Owner Sarah Horton was kind enough to give us a tour of her gorgeous Greek Revival home, sensitively restored over a four year period by architect Gil Schafer. While it could warrant an entire post on its own, you can read more about the house and process in Gil's book and more in his new book coming this October.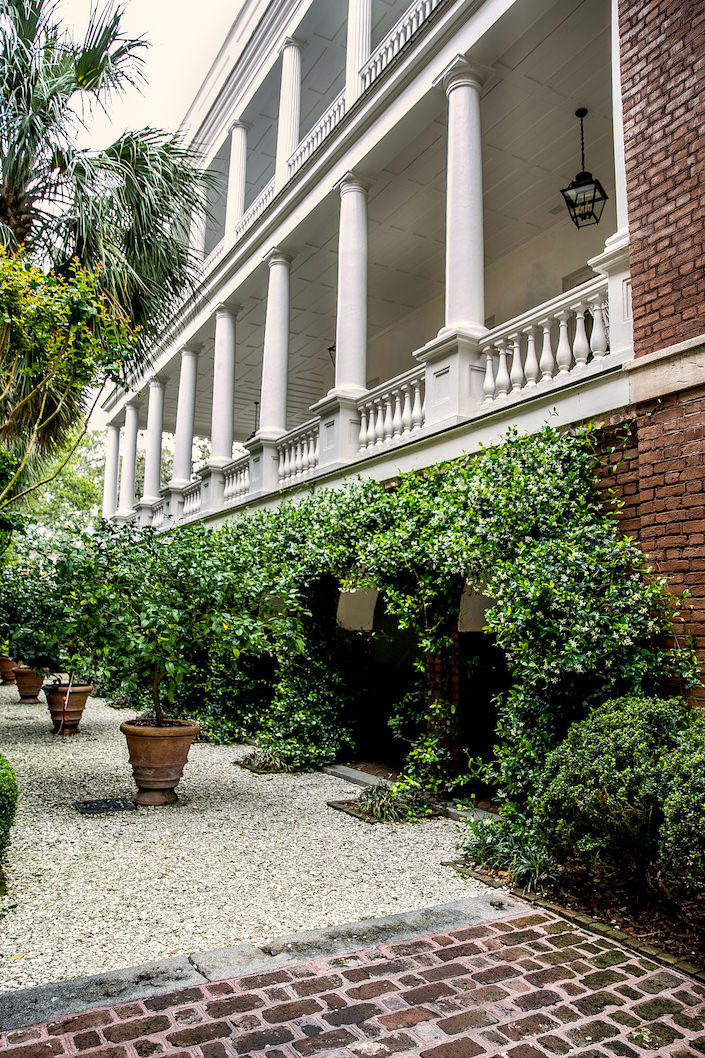 An enormous, wide four story house with eleven fireplaces, one of the most dramatic features is the multistory piazza along the southern facade, where landscape architect Deborah Nevins installed an allée of Meyer lemon trees in large planters on a path of crushed oyster shells.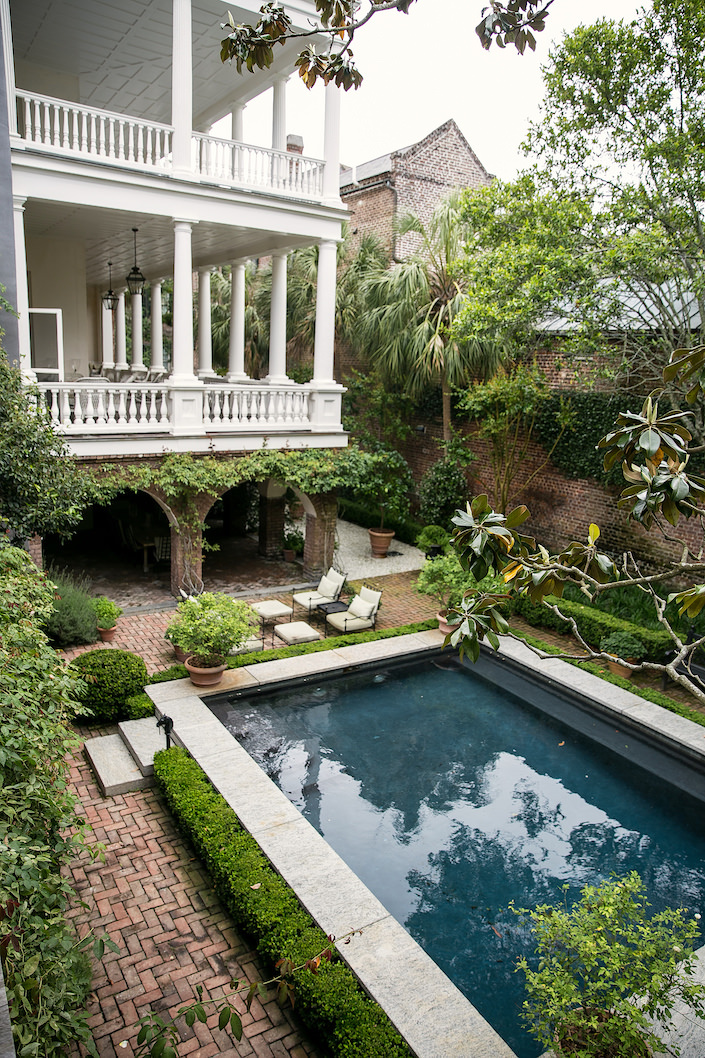 She also created a lush setting for the redesigned pool in the sideyard, which now also leads to the more recently acquired attached property in the back, which you will be able to see more of in Gil's new book!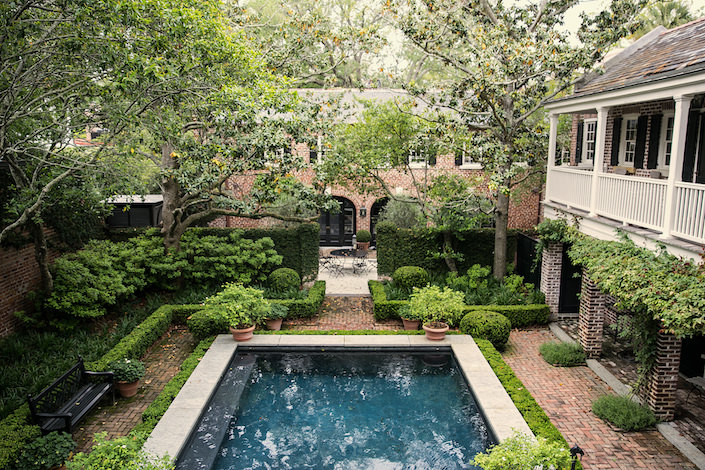 Here, looking from the enchanting oyster shell terrace at the new property back toward the main house.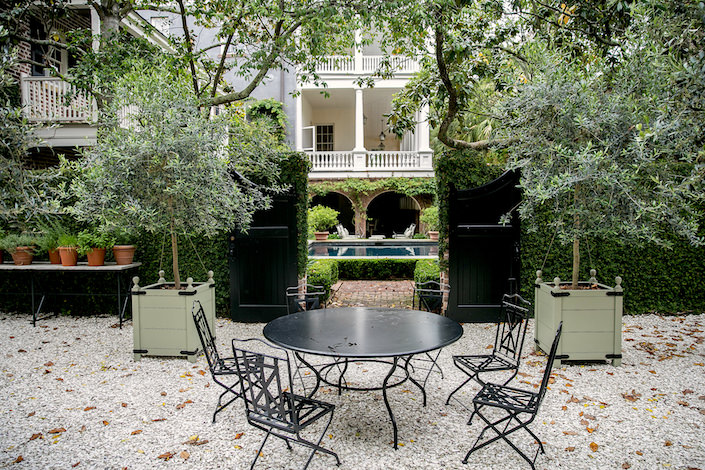 Inside, the gracious, large-scaled parlor rooms feature original nine foot tall triple-hung windows,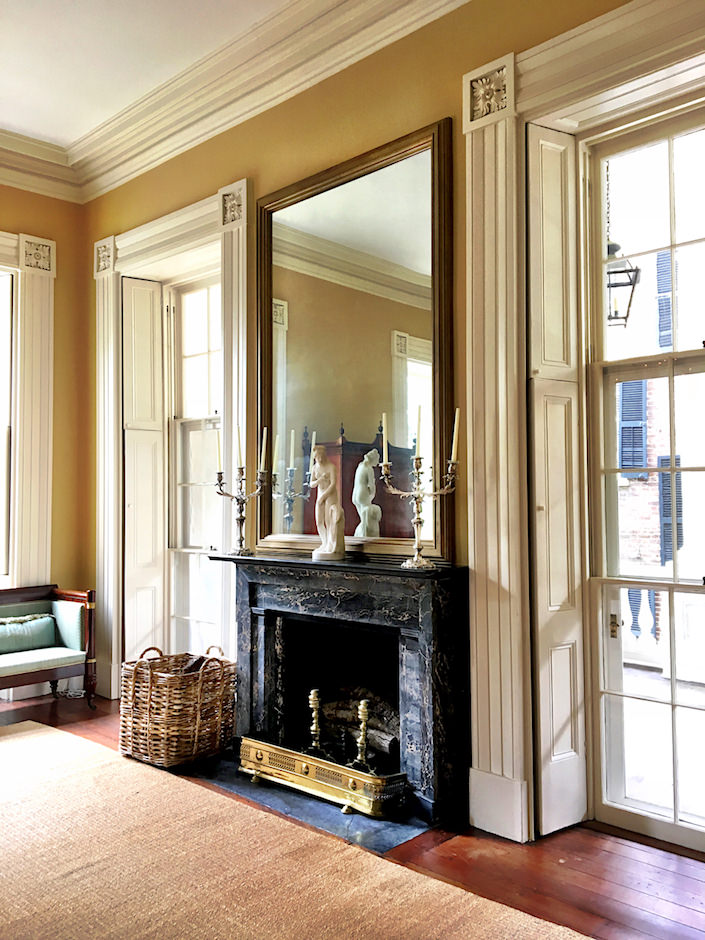 mantels, heart pine floors and carved wood door and window surrounds – all of which were carefully restored.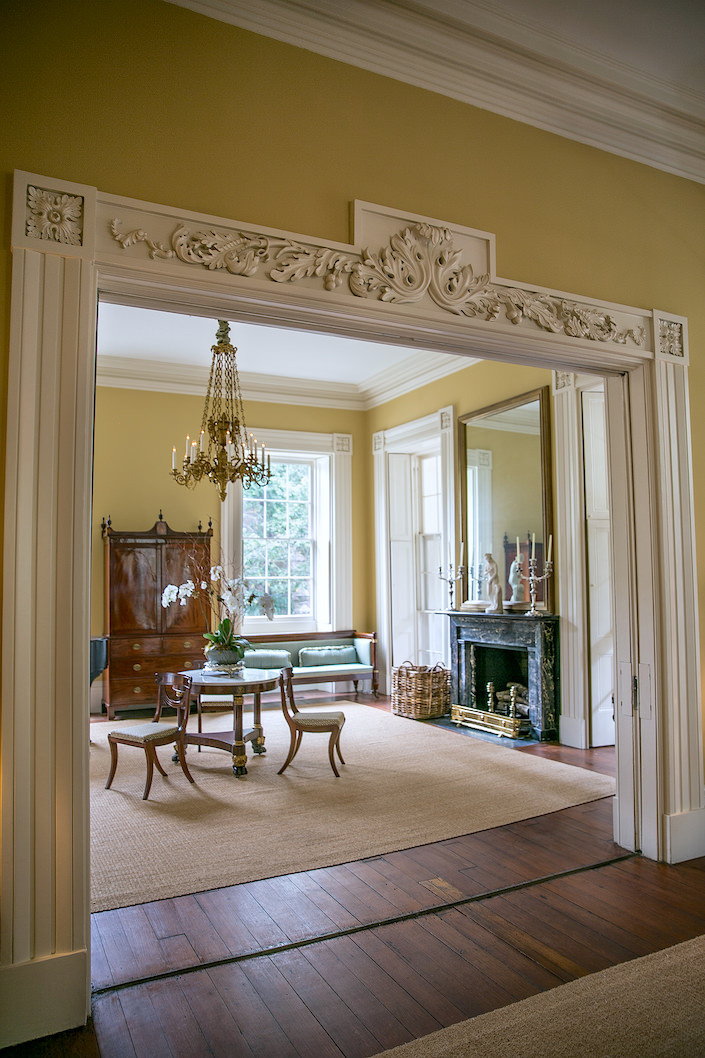 Sarah has thoughtfully collected fine regency period antiques that grace the house, including the dining room below with its custom colored de Gournay wallpaper.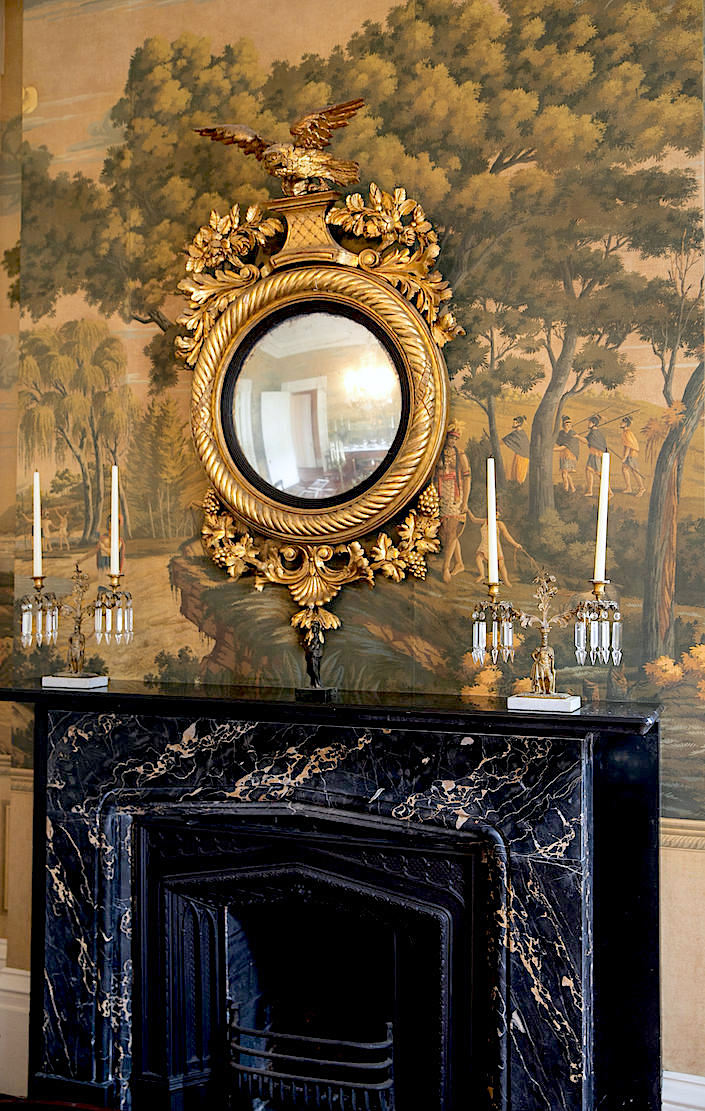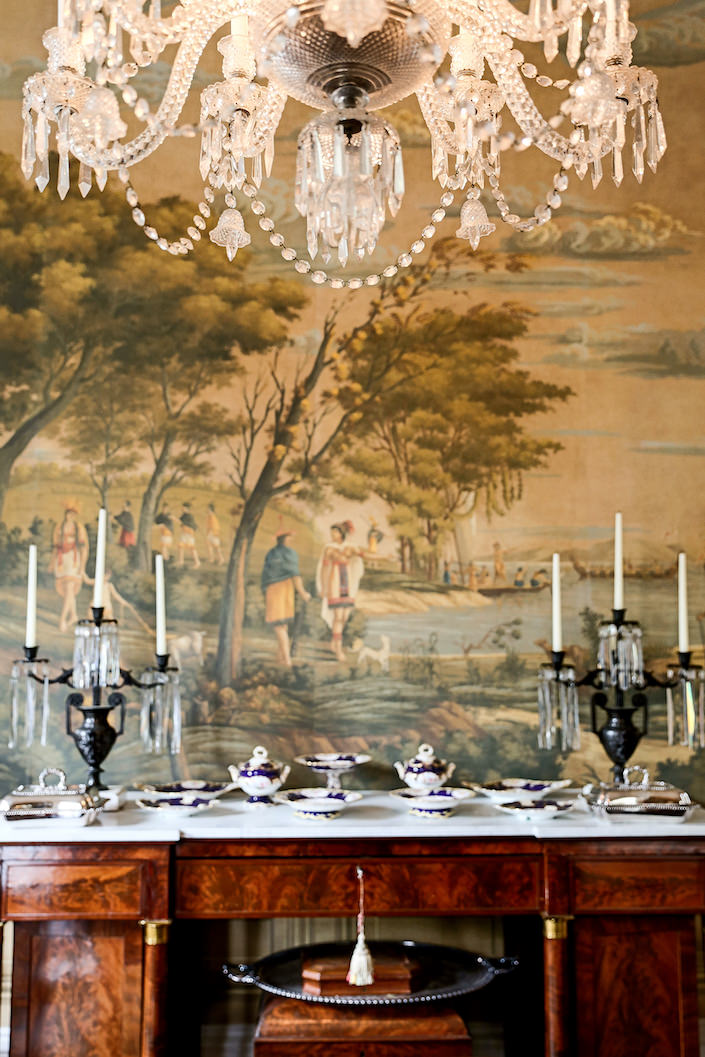 all photos by Stacey Bewkes for Quintessence
Thank you to all my Charleston friends old and new who so generously opened their doors, made connections and truly enhanced Susanna's and my trip! Stop back next time for a quick look at some of the outstanding architectural facades in historic Charleston.