The Lenox Hill Neighborhood House Gala is always full of fabulous tabletop inspiration. Whether ideas for floral arrangements, textiles for tablecloths, mixing and matching dinnerware or fun table accoutrements, each year the designers come up with new inventive visions for entertaining with style. Christopher Spitzmiller, a longtime design chair for the gala, creates beautiful tables with a strong dose of whimsy. This year he featured his new bug and butterfly themed dinnerware and ginger jars. The tall blossoming centerpiece was topped with fluttering butterfly balloons.
photo by Chris Delaney
On the table, his new pattern mixed with cobalt glasses, lush roses, Suzanne Rheinstein's Indian Zag for Lee Sofa and butterfly masks – perfect for his "Spring Butterflies" table.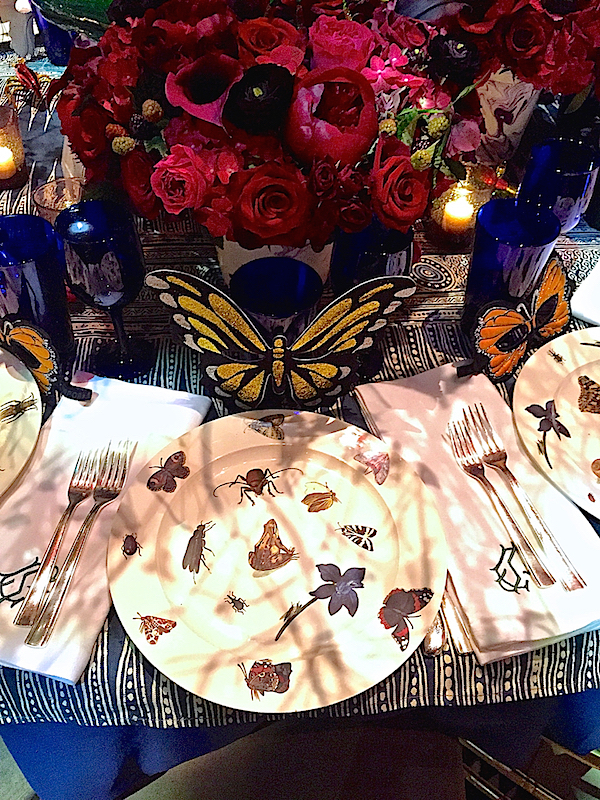 Edward Lobrano presented "An Elegant Spring" with rich earthy neutrals anchored by a gorgeous vase from John Rosselli and beautiful tablecloth of Rose Cumming's Macclesfield linen.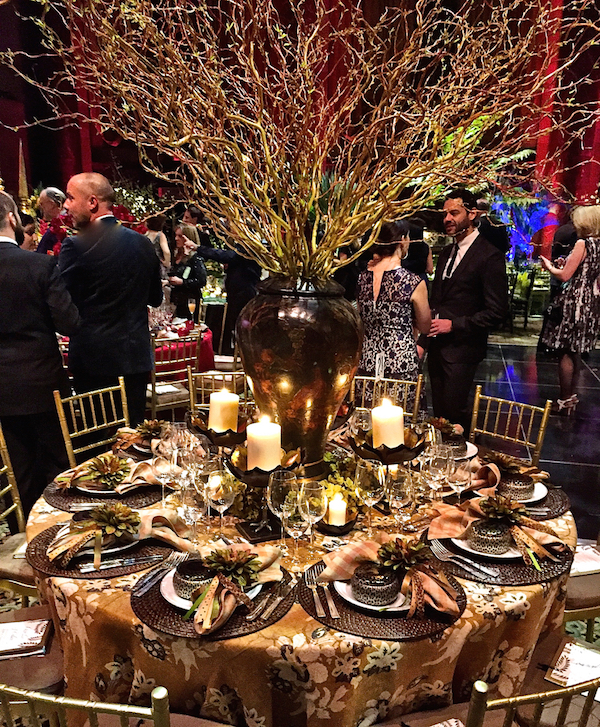 I own similar mats which are always great for layering. And it's good to remember that a gingham can be elevated to enhance almost any setting.
 The always colorful Nick Olsen collaborated with de Gournay for a full couture realization of his "Dark Side of Eden" vision.

The nearly six foot tall centerpiece was hand painted by de Gournay in a tree of life pattern to coordinate with the theme and their Palms duchess satin tablecloth. Ten custom porcelain plates were created, each hand painted to feature a different snake.
two photos above by Chris Delaney
And each seat cover featured the same custom coral snake designs hand painted on de Gournay's midnight blue duchess satin with Red Roman piping.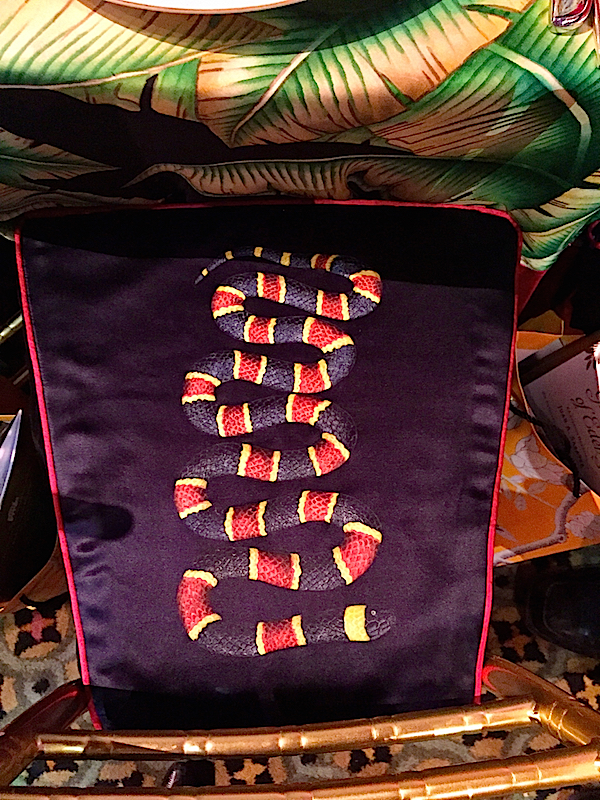 Snakes in an elegant skin also appeared on the Hernandez Greene "Nastassja and the Serpent" table, featuring prints of the famous 1981 Avedon portrait of Nasstassja Kinski wrapped by a boa constrictor. Kinski's idea to specifically reference an Eve and serpent tableau was a fashionable reference for the Garden of Eden theme.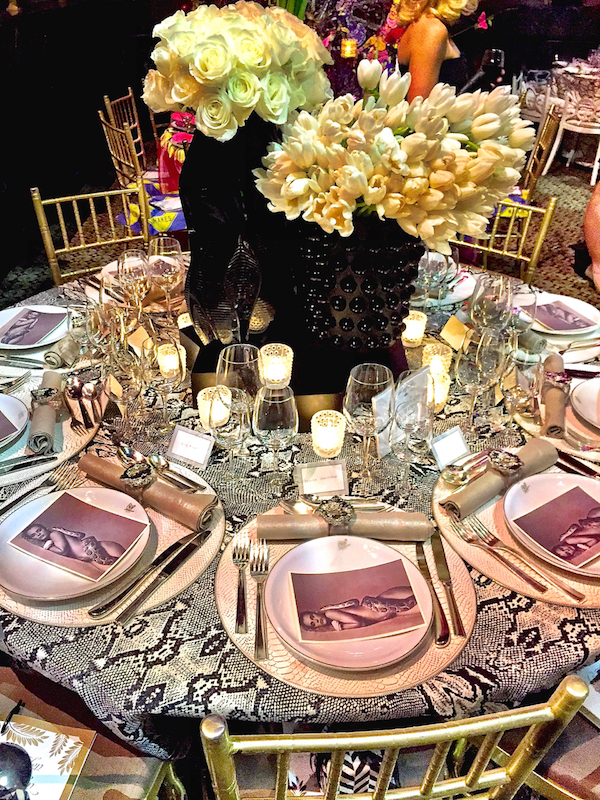 Featuring spectacular large opaque black crystal pieces from Lalique (the Zaha Hadid Manifesto and the Mossi vases), their Mossi votives and tabletop accoutrements from Kim Seybert, the serpent never had such a chic home.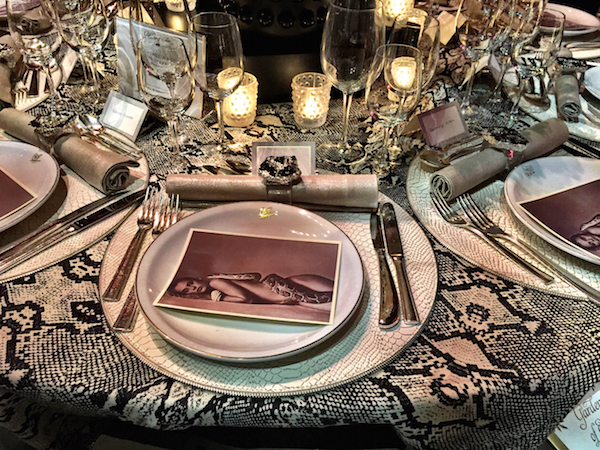 With a curated collection of original art from D&E Lake, Philip Mitchell's "Temptation" table referenced not just the desire in the Garden of Eden but temptation of other varieties as well.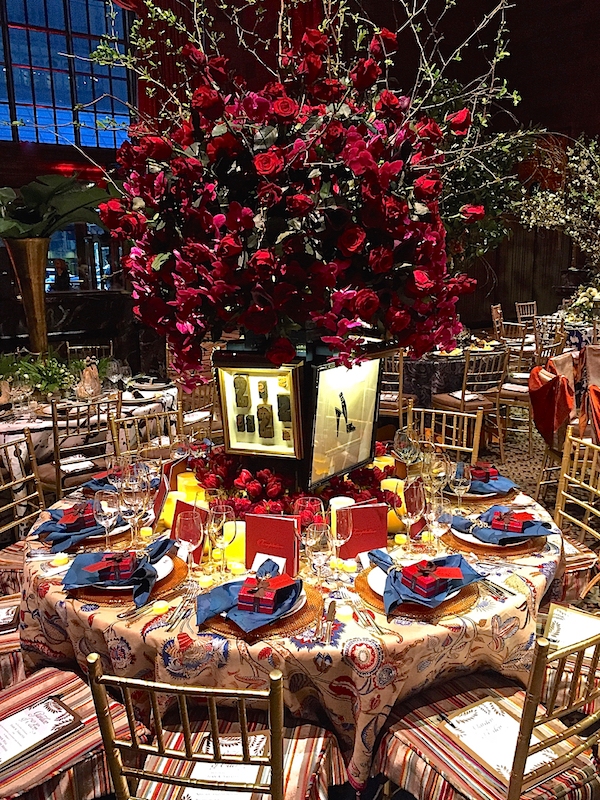 A magnificent centerpiece of red roses by Plaza Flowers rose from the table covered in Brunschwig's new Aravali floral with Railway Velvet on the chairs. I'm sure there was something delicious in those little red boxes!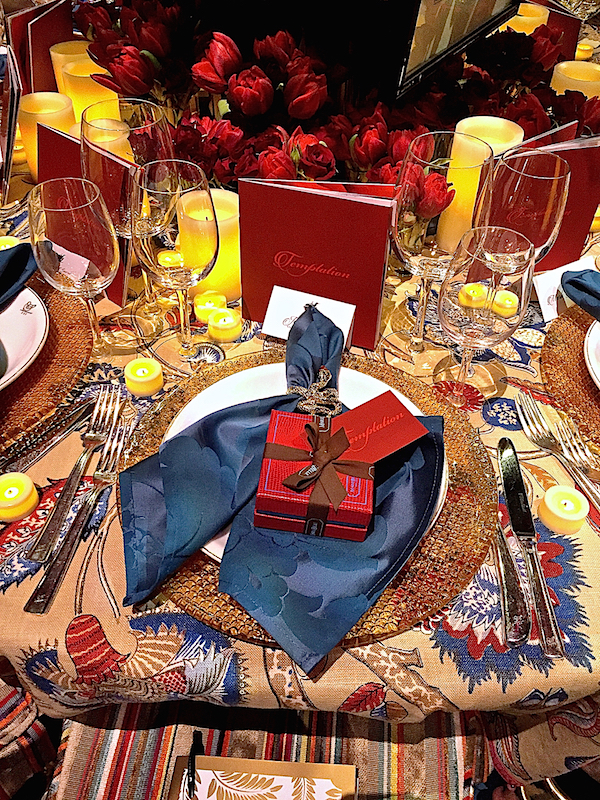 Temptation looked chic in red at Villalobos Desio's "Lure" table. L'Atelier Rouge placed flowers in and throughout the fantastic Hervé van der Straeten "Coupe Nid" centerpiece from Maison Gerard.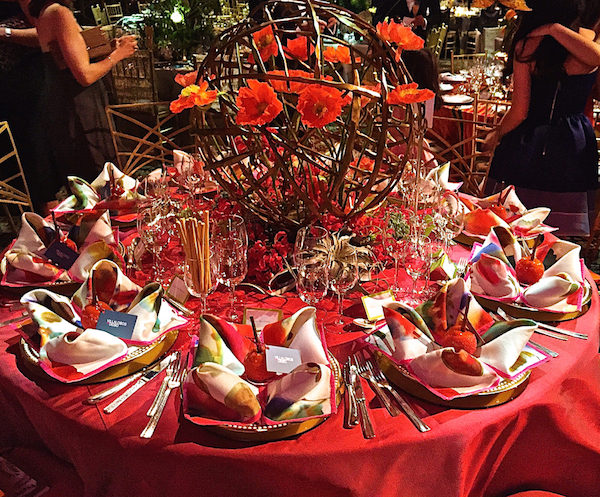 A tempting candy apple sat like forbidden fruit in the middle of the fancy folds of the napkin.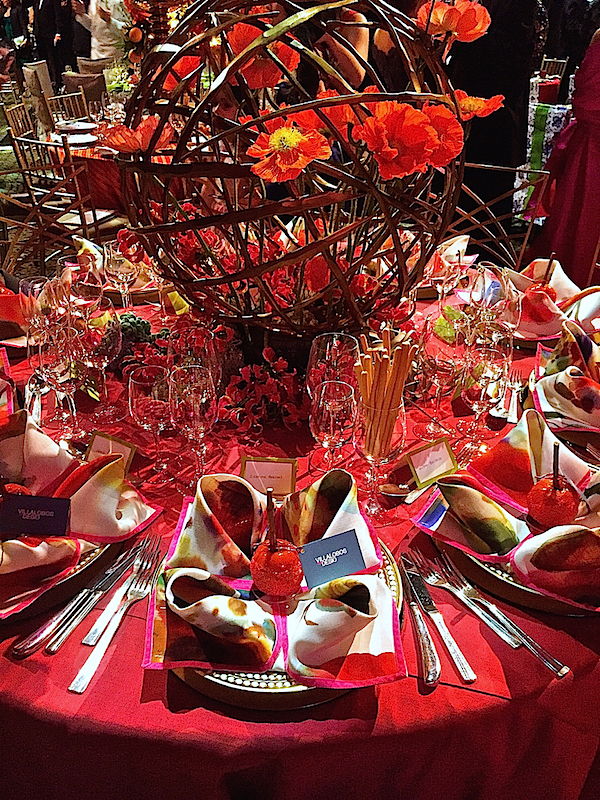 With a tree covered in paper flowers as the centerpiece and tablecloth printed from Dagmar Weinberg's kaleidoscope-like photographs of trees, Campion Platt's "Earthly Delights" table was immersed in an artistic inspired garden.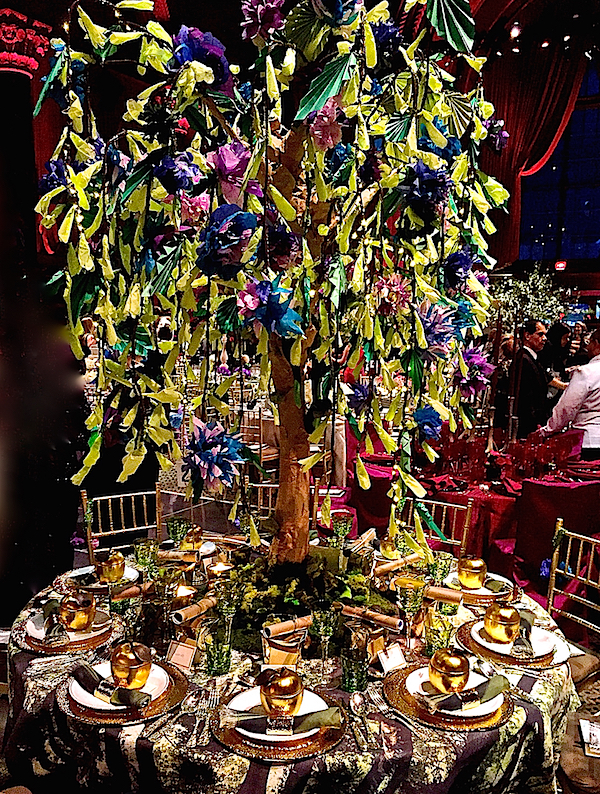 Michael Aram's gold toned chargers, napkin rings and candle-filled apples added a note of glam to the garden with the vibrant green of Christofle's Kawali crystal stemware.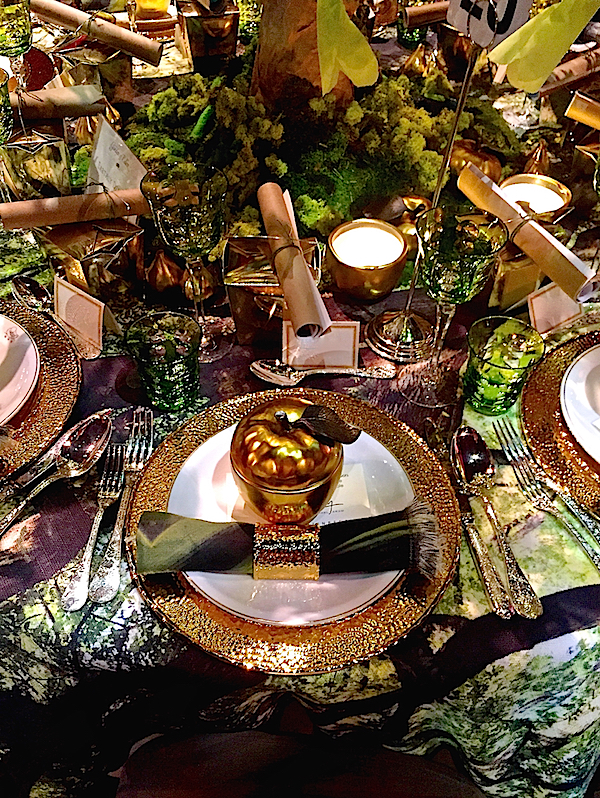 Christopher Maya's "Paradiso" ushered us into the Garden of Eden with a fresh breath of spring. Only the gnarly branches of the red centerpiece reminded us of the evil temptation within.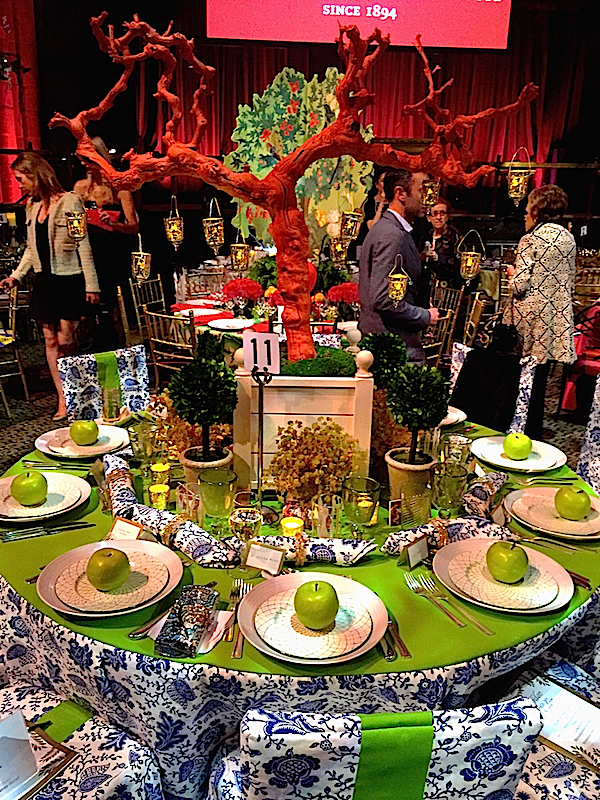 His crisp Georgia linen for Holland & Sherry combined with a bright pop of green from C&C Milano (also available at Holland & Sherry in NYC) was a reminder of the garden enticing days to come.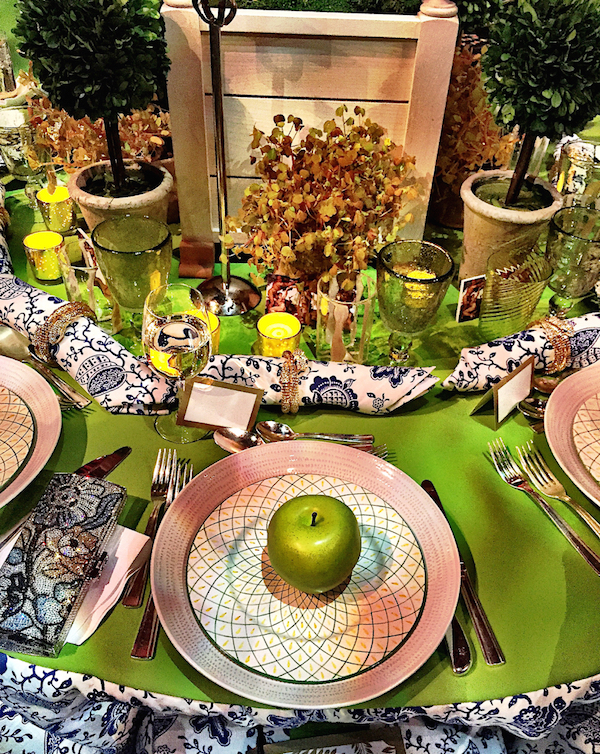 Ware Porter also employed the power of green for his dramatic "Behind the Hedgerow" table. Quadrille's bold Sigourney print on the tablecloth held its own surrounding the giant tree centerpiece.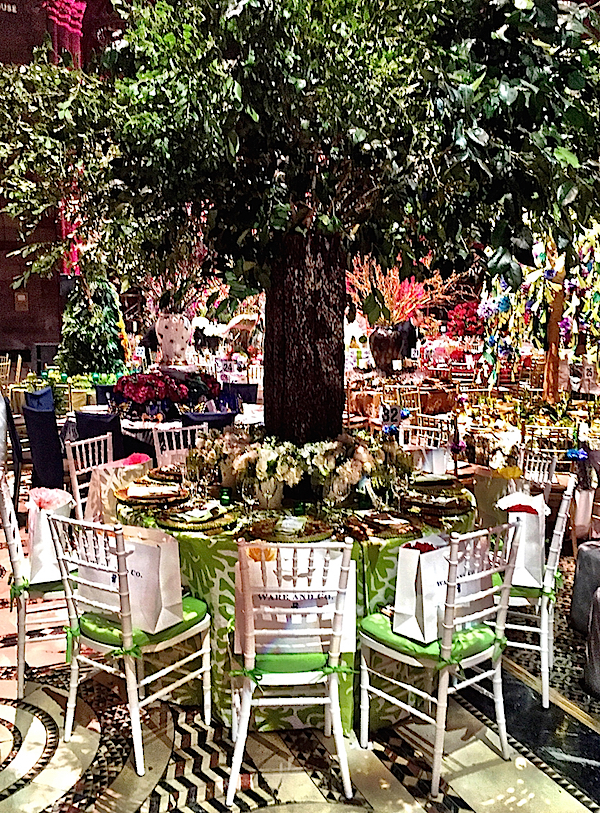 China and flatware from Ware Porter's chic Birmingham, Alabama shop, my favorite faux bois cachepots from Christopher Spitzmiller and beautiful florals from Plaza Flowers completed the vignette.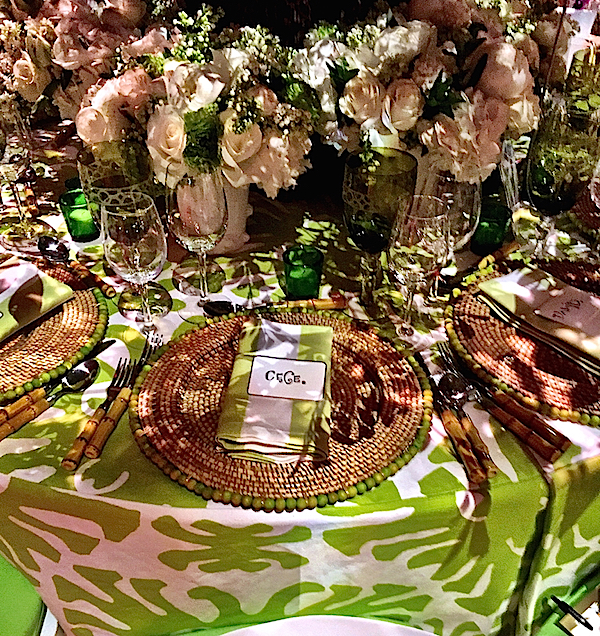 The title of Sam Allen's table said it all – "Blue & White Bazaar – Hyacinths, Tulips, and Sweet Peas On My!"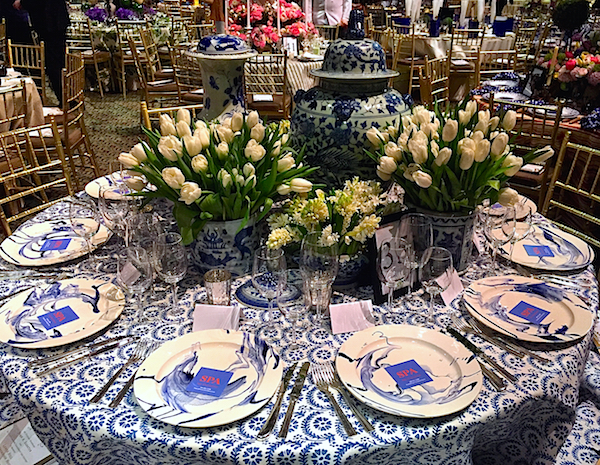 Blue and white is a classic for spring/summer entertaining. Sam completed an easy to emulate picture perfect version with a linen tablecloth of Carleton V's  Wormhole with Christopher Spitzmiller's fabulous hand marbled delft plates, a selection of ginger jars and vases from John Rosselli and flowers by Sam's mother, designer Leslie Allen.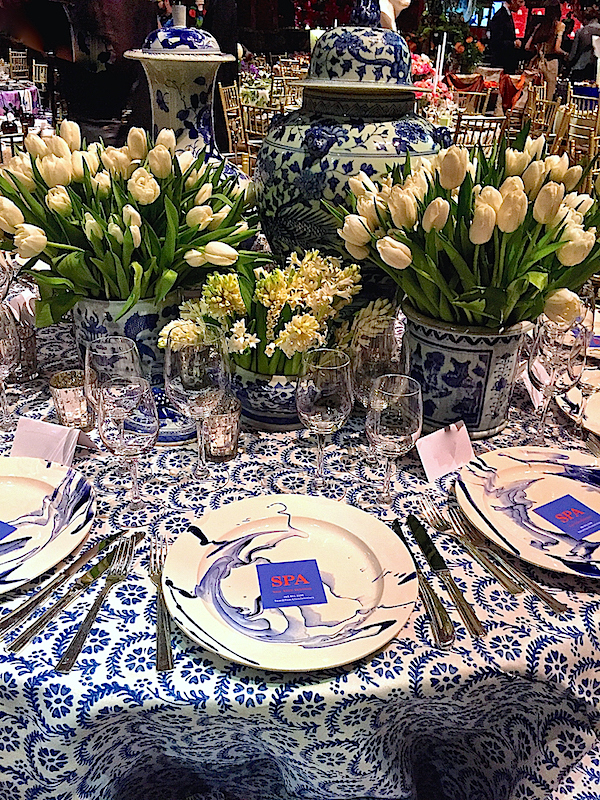 Tamara Stephenson debuted her new Root Cellar Design fabric collection with her "Eve's Temptation" table. Inspired by historic fig illustrations,  the custom tablecloth fabric featured an oversized toile in a beautiful lavender and blue colorway.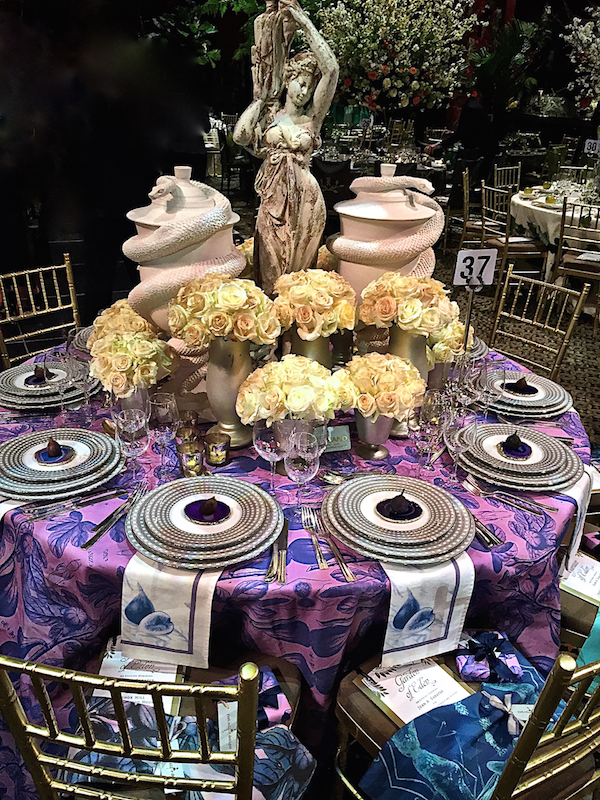 Arete Collection partner George Sellars' Grande Urn with Serpent from Flair Home references Eve's temptation. The table also featured Haviland's new Duomo pattern and RabLabs gilded agate coasters for a vibrant combination of old and new.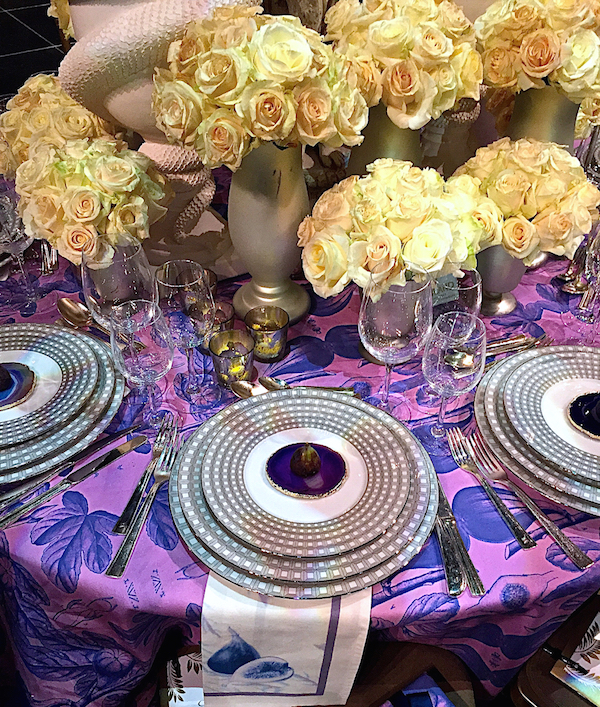 Temptation was also the theme at Hilary Pereira's "The Wood Nymph & Her Forbidden Fruit" table.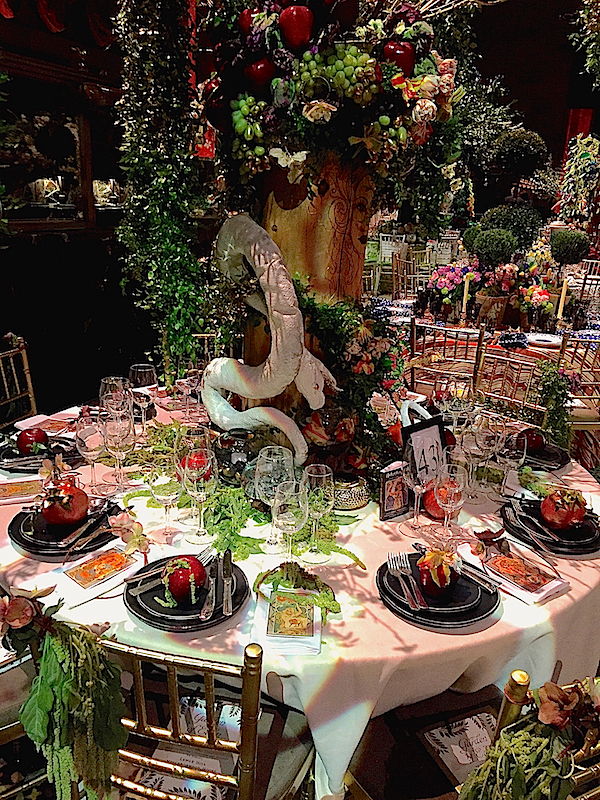 With a hand carved centerpiece dripped with lush and delicious garden temptation, her table evoked a sense of mystery and pagan allure.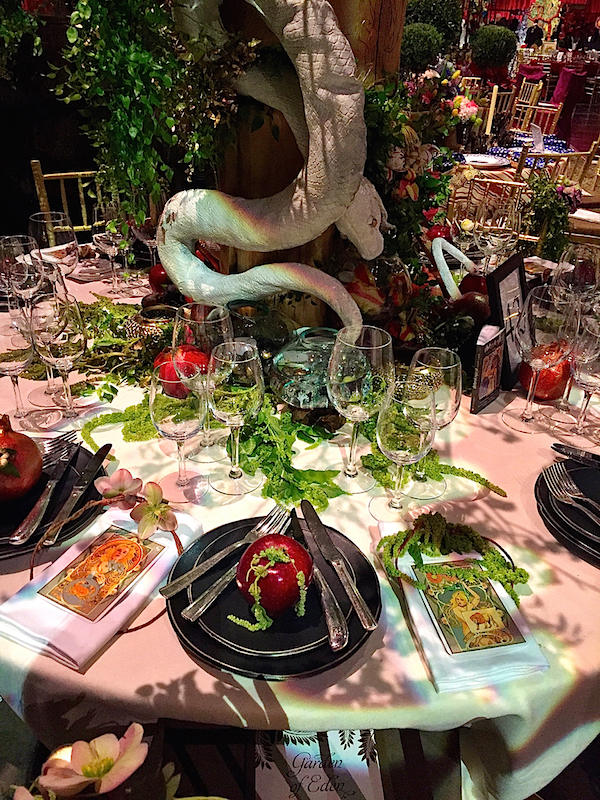 That wraps up this year's coverage of the Lenox Hill gala. I hope many of you have some new tabletop inspiration for your upcoming spring and summer entertaining.
all photos unless otherwise indicated by Quintessence