At Home in the English Countryside: Designers and Their Dogs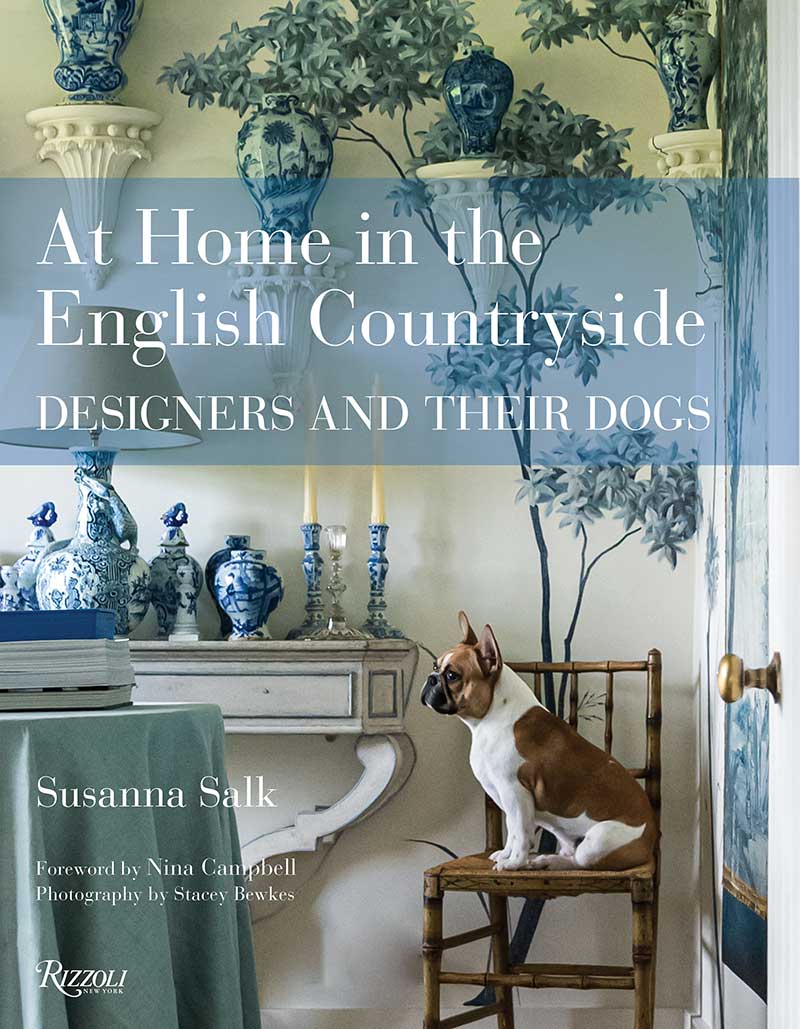 Author Susanna Salk, Foreword by Nina Campbell, Photographs by Stacey Bewkes
An intimate celebration of British country life with all the hallmarks of how design and dogs are as intertwined as roses and Wellingtons. This dreamy look into some of the most beautiful country homes and gardens in England, lived in by many of Britain's brightest design stars and their dogs, is brimming with inspirations.
At Home in the English Countryside showcases a mix of glamorously bohemian and casually aristocratic country homes captured in original photography and lively text. Presented are the striking and chic houses of several of Great Britain's top international designers, from Paolo Moschino and Kit Kemp to Anouska Hempel and Veere Grenney. Beloved canines of several sizes and breeds, among them whippets, Labrador Retrievers, lurchers, Cavalier King Charles spaniels, and Jack Russell terriers, are shown in their picturesque homes and gardens, where designers offer ideas on how to live stylishly with their dogs.
Dog lovers, design aficionados and Anglophiles will be inspired by the lives of these designers, who are devoted to their canine companions.
Reviews
"Though Paolo Moschino and Philip Vergleyen's French bulldog Jack, who graces the cover of Susanna Salk's At Home in the English Countryside: Designers and their Dogs, would not be my choice for a canine companion (too precious), the pooch does illustrate the thesis of the book, namely that dogs have the ability to tie a room together in a way that a Ming vase can't quite. Through seventeen chapters, each featuring a famed British interior designer and his or her dogs—from Labradors to lurchers, Jack Russells to jaunty spaniels—Salk demonstrates how both canine art, and the dogs themselves, can alleviate the frightful grandeur of certain country homes, humanizing us in the process." —NEW CRITERION
"Much to our delight, Salk is back with a follow-up that is sure to have Anglophiles and their canine compatriots drooling. For At Home in the English Countryside: Designers and Their Dogs, out last week from Rizzoli, the author set out with photographer Stacey Bewkes on a road trip through rural England to visit 19 designers, their sprawling estates, and their resident pups. The residences—which range from stately Queen Anne mansions to Tudor farmhouses—are escapist treats on their own, of course, but they are made even more delightful by the four-legged friends who animate their well-appointed interiors. The book captures scenes of levity and grandeur: leggy whippets lounging on chintz cushions; a dachshund trotting down a hornbeam tunnel; a pug posing on a vintage Persian runner. Here, we present a few of our favorite tableaux." —ARCHITECTURAL DIGEST
"Celebrating British country life, At Home in the English Countryside: Designers and Their Dogs (Rizzoli; $50) offers charming design ideas on how to live stylishly with canine companions. From rose bushes to Retrievers and antique porcelain to Cavalier King Charles spaniels, some of Great Britain's best—like Paolo Moschino and Kit Kemp—take readers on romps all around their dog-friendly abodes." —ATLANTA HOMES & LIFESTYLES
"You will see that even the most elegant, stylish, and well-appointed house is nothing but a shell without its inhabitants, especially the canine kind. At Home in the English Countryside features over 200 pages of beautiful images offering readers a personal, guided tour into some of England's most spectacular homes and grounds. While we're all grounded and sheltering in place in our homes, there's never been a better time to get lost in a gorgeous book such as this." —THE ENTERTAINING HOUSE