At Home with Dogs and Their Designers: Sharing a Stylish Life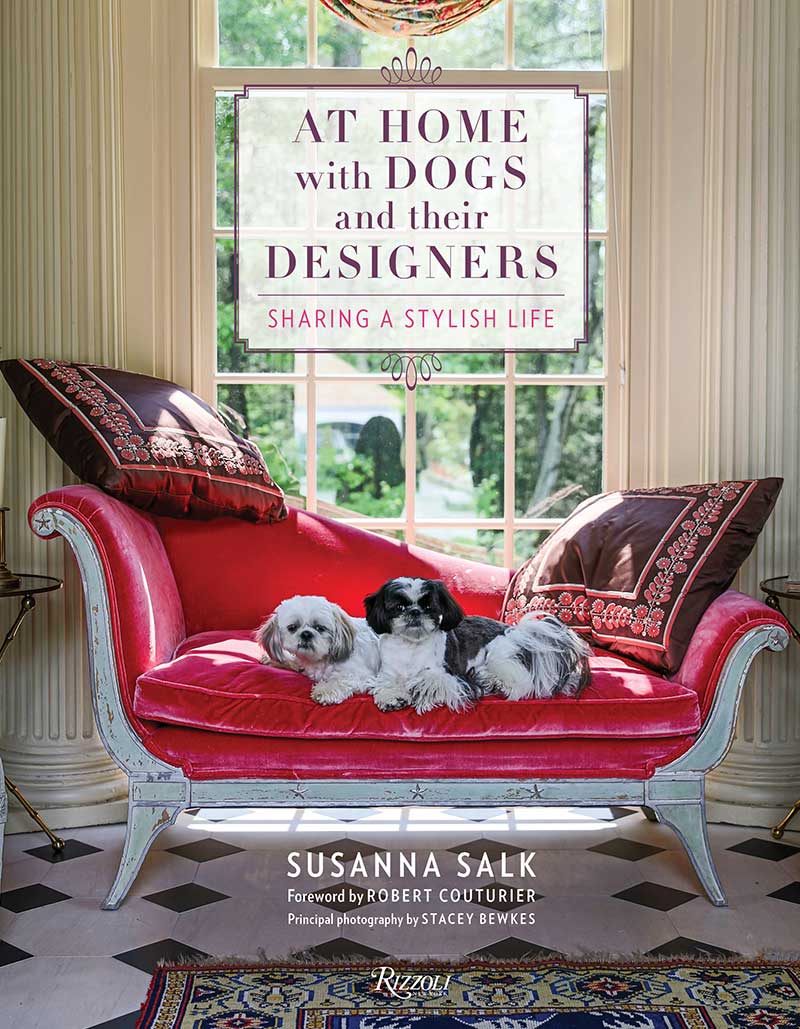 Author Susanna Salk, Foreword by Robert Couturier, Photographs by Stacey Bewkes
America's leading interior designers show readers how to live in the most stylish way with their adorable dogs, offering an array of inspirational tips for keeping both your home and dogs attractive and chic
The most elegant, stylish, and well-appointed house is nothing but a shell without its inhabitants, including the canine kind. Just ask the 22 A-List interior designers who grace the pages of At Home with Dogs and Their Designers who love nothing more than letting their best pals sleep in bed with them, cuddle on the couch, and essentially rule the roost. No room is off limits, no piece of furniture banned, clothing is optional, but their accessories are just as chic as their surroundings. Accidents may happen on vintage rugs, antiques are sometimes mistaken for chew toys, and more than one pair of ruined designer shoes have befallen them, but none would consider living without their loyal and loving best friends among the things they love.
With individual chapters exploring each of the dogs' amazing lives as they romp through the stunning interiors and gardens they call home with their humans, this book as much an inspirational design book, even if you don't live with pets, as it is a resource, packed with clever tips from the interior designers themselves on ways to live with dogs. Teddy, Alex Papachristidis' Yorkie, uses a miniature vintage chair to hop from the floor to the bed instead of doggie steps while Brooke Gianetti created a custom doggie gate made from antique wooden doors to keep Bebe, Sera, Frasier, and Sophie from getting into trouble while she is away from home. With 6 pups on the loose, Carolyne Roehm always orders extra yardage of fabric to make protective covers and quilts. Mary McDonald happily climbs on the oversized dog bed her 5 Pugs—Jack, Lulu, Boris, Eva, and Violet—share for daily "pug hugs" while Charlotte Moss' Cavalier King Charles Spaniels, Daisy and Buddy, lounge in a cabana out in the Hamptons on summer weekends. All of the featured pooches are interviewed, giving us insight into the luxury of their daily lives from their favorite places to sleep to their guilty pleasures.
Complete with a resource guide for your decorative as well as pet needs (including adoption and rescue organizations), At Home with Dogs and Their Designers opens the door—from coast to coast, townhouse to beach house—allowing us to peek in and embrace this love letter from these designers to their pets, who are most assuredly family members.
Reviews
"At Home With Dogs and Their Designers, by Susanna Salk and photographed by Stacey Bewkes, visits the houses of Kelly Wearstler, Jonathan Adler, and more in order to meet their (adorable) dogs. "
—Vogue.com
"Man's best friend" is the subject of Rizzoli's "At Home With Dogs and Their Designers: Sharing a Stylish Life" (by Susanna Salk, $35, 176 pp.). In the introduction, the architect and interior designer Robert Couturier writes that, similar to one's home, "Dogs are an extension of ourselves; they represent the best part of us." Indeed, the rooms of the 22 interior designers featured in this compact hardcover volume come to life in unexpectedly personal ways via the photogenic animals. Household names such as Jonathan Adler, Bunny Williams and Kelly Wearstler provide salient tips on everything from decorating with pet-proof fabrics to diet ("A lady never said no to a nibble of roast chicken," Mr. Adler wrote about his russet-colored FoxyLady), followed by charming faux interviews with the dogs themselves — not to mention a helpful list of resources and charities."
—The New York Times
"Twenty-two designer dogs (several AD100 designers are included in the mix) are profiled in At Home with Dogs and Their Designers (October 3, Rizzoli) by Susanna Salk. Each chapter invites the reader into a designer's home to see how they live with their best friends. "
—ArchitecturalDigest.com
"If the industry's top designers can keep a stylish home and a pup (or six!), then nothing's stopping you! Find out their advice for designing around furry friends while staying true to your taste in At Home With Dogs And Their Designers by Susanna Salk."
—Elle Decor
"While everything may be gorgeous and pristine in their clients' rooms, behind closed doors many interior designers have a secret: They like to let their shedding, drooling dogs roam free among the carefully sourced furniture, and even their beds. Indeed, many actually consider their pets to be part of their curated settings, as is adorably illustrated in At Home With Dogs and Their Designers, a new book by Susanna Salk out now."
—W Magazine
"Things we love: dogs. Things we don't love: decorating for dogs. Chewing? Shedding? Muddy paws? Welp, there go our grand decor plans—or so we thought. In Susanna Salk's new book, At Home with Dogs and Their Designers (Rizzoli), she shares the high-style meets pet-friendly secrets of 22 designer dog parents. Here are five faith-renewing tricks we're copying immediately."
—PureWOW.com
"No matter how sumptuous the furnishings or luxurious the fabrics, no space is too precious for these treasured pets."
—Atlanta Homes & Lifestyles
"Go behind the scenes of designers and as they turn their focus on the pups that share the stylish homes and well-manicured gardens of the top interior designers in the country."
—The Society Diaries
"The book features the homes of 22 A-List interior designers and includes interviews with their dogs, giving us insight into the luxury of their daily lives from their favorite places to sleep to their guilty pleasures! It also includes tips and tricks from the designer on ways to live stylishly with dogs."
—TheGlamPad.com
"There are two things I have a weakness for, design books and dogs. And so when I received an advance copy of At Home with Dogs and their Designers, Sharing a Stylish Life, from Rizzoli, it was akin to getting an early Christmas gift. It's the time of year I start to take note of those gifts worth giving, and books are always at the top of my list of favorite items to give. . . . I knew immediately who must have copies of these stunning pages filled with fun photographs, with snapshots into the lives of these vivacious dogs and their designers, with tips for dogs on living stylishly, and tips for humans on living with their 4-legged friends. As whimsical as it is stunning, this is a must for those designing dog-lovers in your life. "
—The Entertaining House
"With a wonderful narrative and immersive photos taken by the impossibly talented photographer and fellow blogger Stacey Bewkes of Quintessence, At Home with Dogs and their Designers: Sharing a Stylish Life will make a perfectly lovely gift for any dog lover and/or designer."
—WhatIsJamesWearing.com
"It seems almost like an anomaly that designers would be so devoted to their dogs, who can be messy and occasionally destructive to interiors. But just read any of the odes they wrote to their beloved pets in the book and you'll see not only how utterly devoted the designers are but also how they have all managed to lead a stylish and, more importantly well-loved, life together."
—Quintessence Blog
"And it's the special relationship between designer and dog – or vice-versa as Salk tongue-and-cheekedly suggests in her title — that's highlighted in her new book from Rizzoli New York…"
—CJDellatore.com
"Finally a book that combines two of my favorite things! Dogs and Design!Leave it to Susanna Salk to knock this one out of the design park by mixing lovable dogs and the gorgeous abodes in which they reside."
—Relished Roost
"In At Home with Dogs and Their Designers, Susanna Salk introduces readers to the canine family members of A-list interior designers."
—Flower Magazine
". . . this book is really special. reading all the stories I more than once got a tear in my eye."
—MarkDSikes.com
"Salk's delightful new book features the high-style-meets-pet-friendly secrets of 22 designer dog parents. Essential reading for anyone with an eye for design and a heart for man's best friend."
—PureWow.com
"On My Bookshelf: Fall Must-Haves"
—La Dolce Vita Blog
"And when those dog owners also happen to be interior designers, you can bet their four-legged family members live seriously stylish lives."
—One Kings Lane