This week found me on a quick trip to Orlando to attend KBIS. For you non-interior design professionals, KBIS is the annual Kitchen & Bath Industry Show, presented in association with the NKBA (National Kitchen and Bath Association). An enormous venue with over 600 leading brands, KBIS is the leading annual US platform for showcasing the latest industry products, technologies and learning opportunities.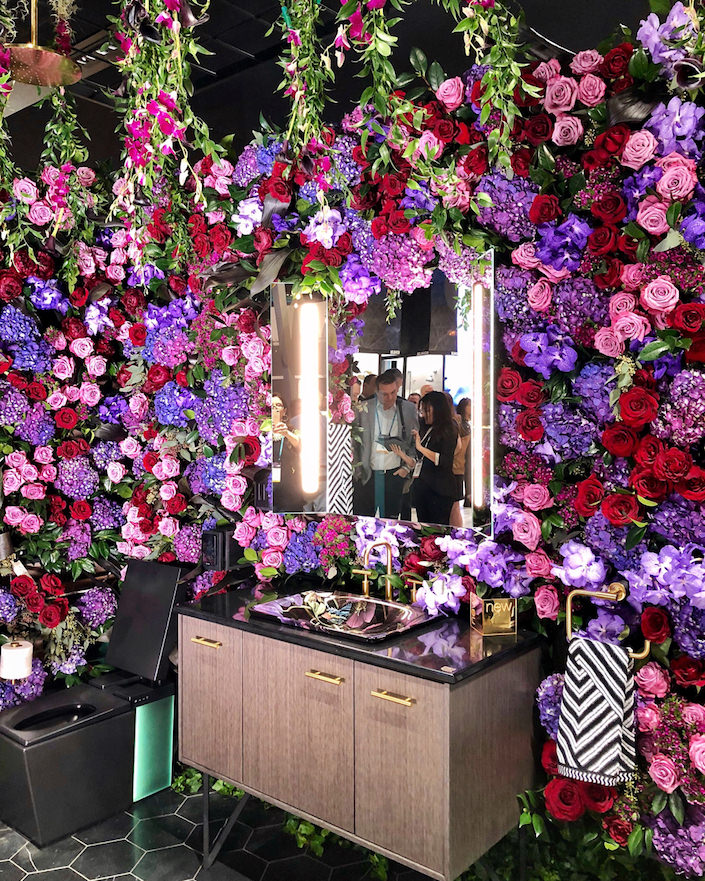 Also unveiled was a new NKBA Insiders program, with seven design related professionals, each representing a sector of the market, from technology to wellness to materials etc.  I am delighted to share that I will be a part of the program for 2018, representing authentic luxury. Throughout the year, I will be bringing you a wide and hopefully creative variety of inspiration and insights in the category, starting with a few of my favorite finds at this year's KBIS. Keeping with the floral trends in fashion and decor, Kohler unveiled it's colorful Bloom Boom installation, in collaboration with floral photographer Ashley Woodson Bailey, her colorful Dutchmaster sink, above. Below, the new Purist floor-mount bath filler.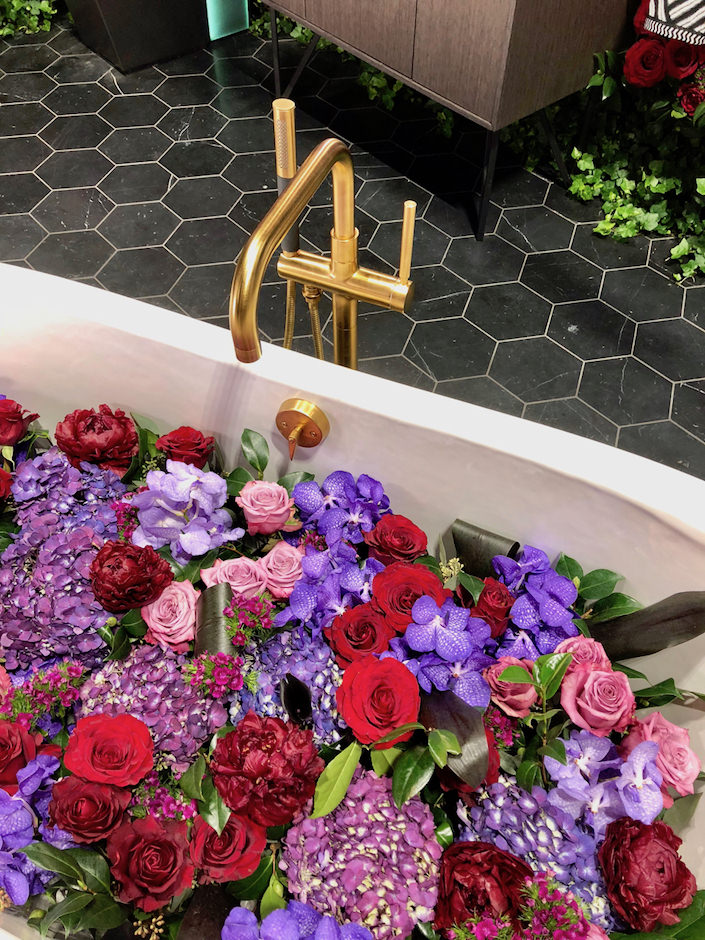 At the show, it was clear that black is … the new black. Dark and sexy abounded, like the Dark Nordic look below,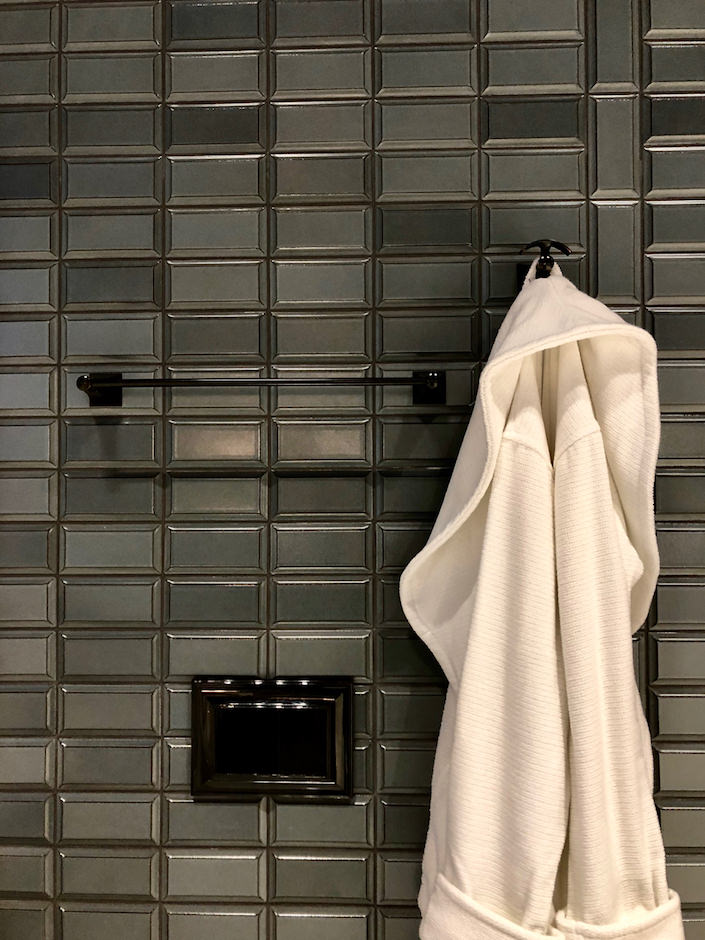 Noir,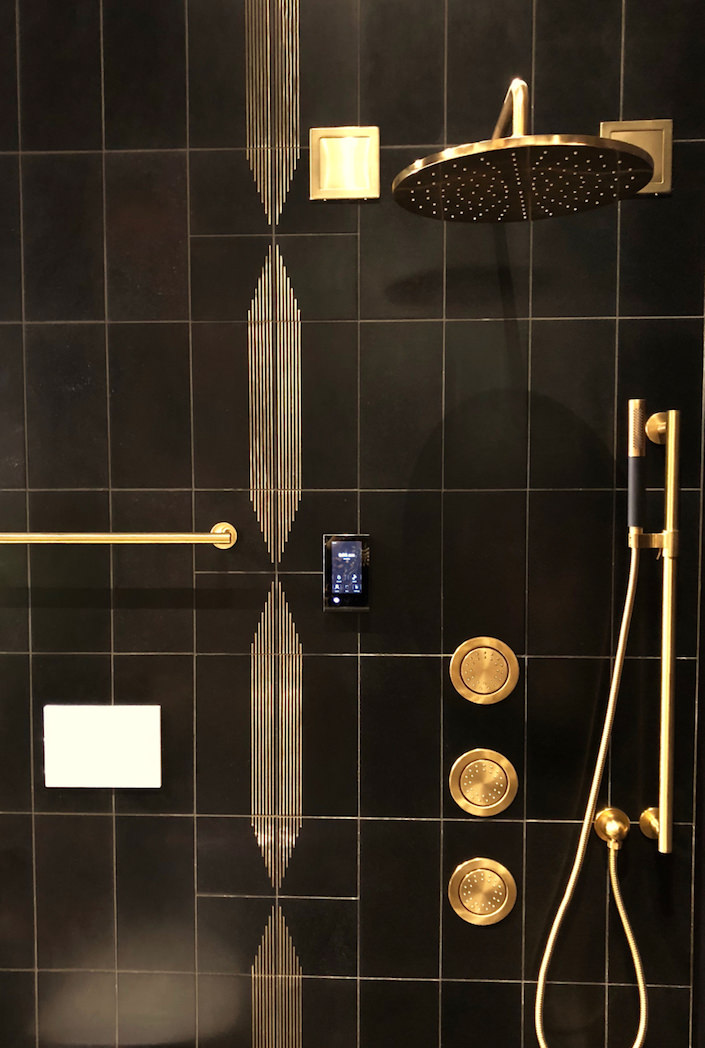 and textural glass and marble vision below, all at Kohler/Ann Sacks with the new Veil fixture collection, above.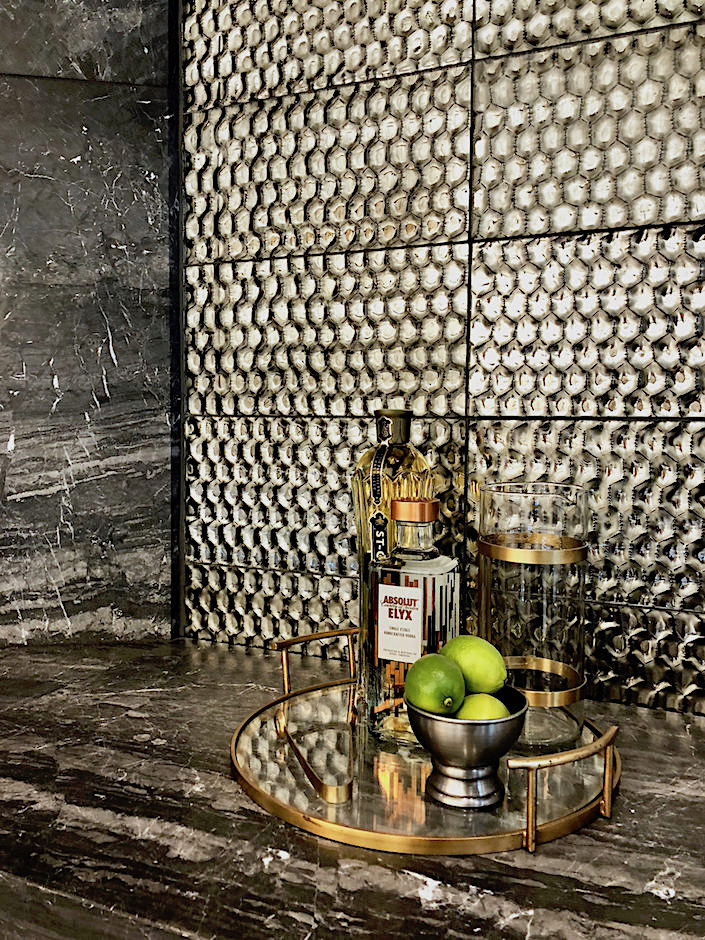 Dark inspiration was also seen at Rohl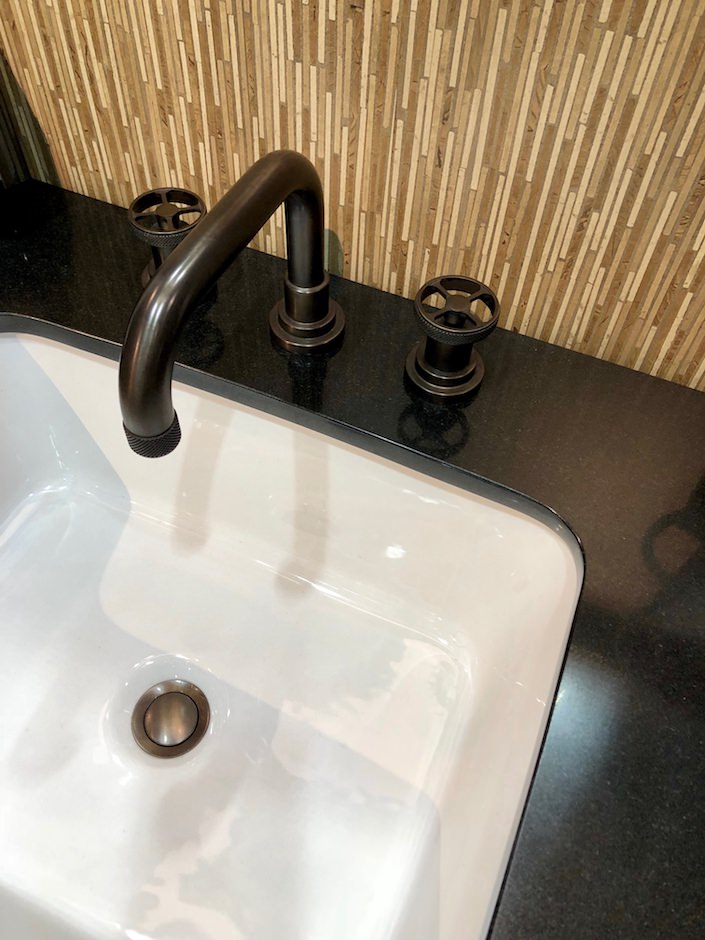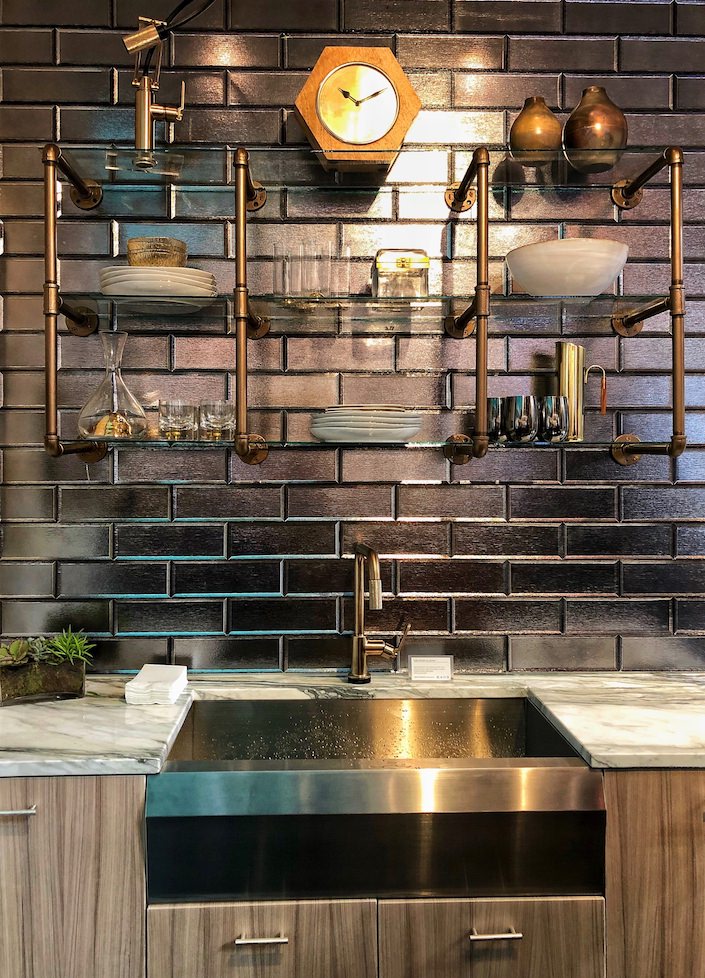 and at Kallista, where I couldn't even get my own unobstructed shot of their new 3-D printed, matte black, de Stijl inspired Grid faucet.
photo courtesy of Kallista
But dark also appeared in the kitchen, like this creative wall installation at Monogram, introducing their new collaboration with Zac Posen.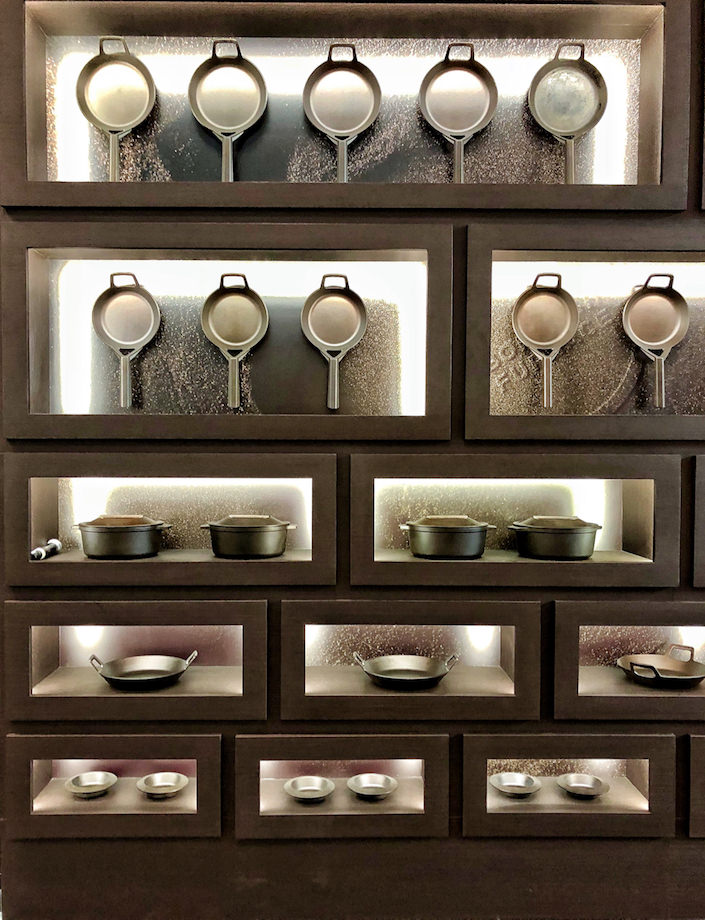 Warm metal tones, from gold to brass and copper continue to rule, as seen in Kallista's elegant unlacquered brass faucet against alabaster wall and limestone counter from Ann Sacks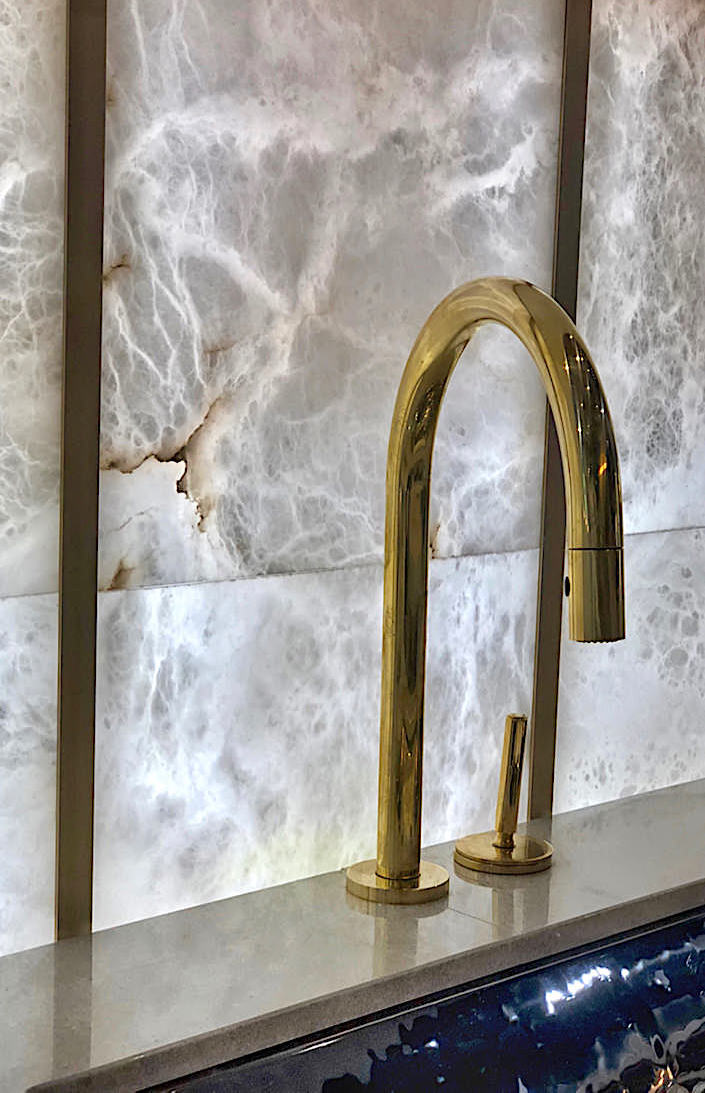 and Thompson Traders beautiful copper and brass sinks.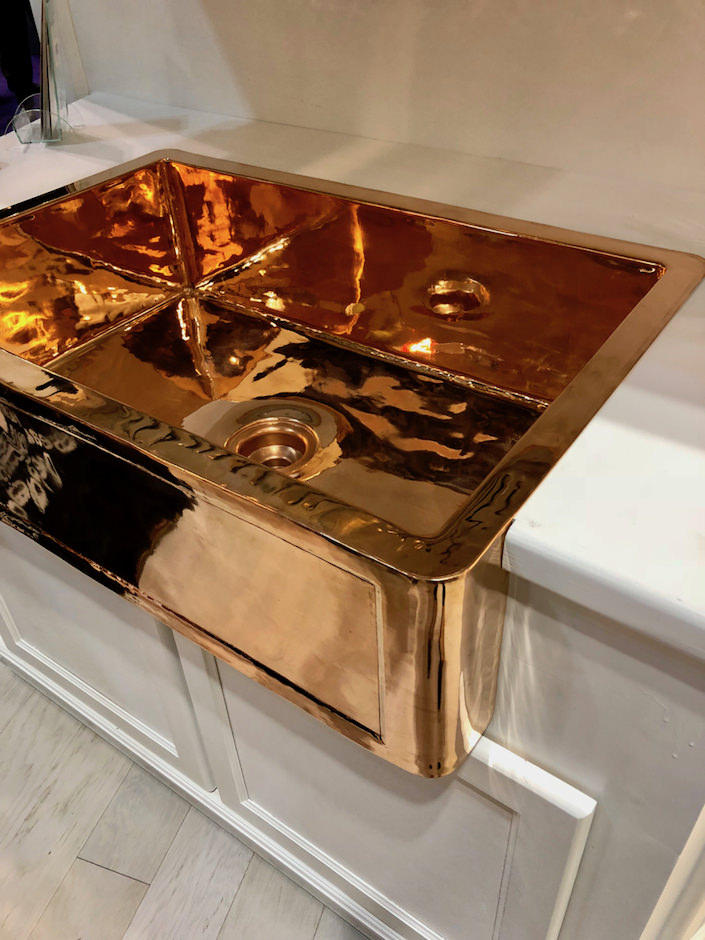 There are too many categories to cover in a single post but suffice it to say that there was not only aesthetic inspiration overload but incredible technological innovation. Gaggenau's impressive vacuum sealing drawer can prepare food for storage and/or sous-vide cooking, as well as, with a handy attachment, vacuum seal your unfinished wine bottles!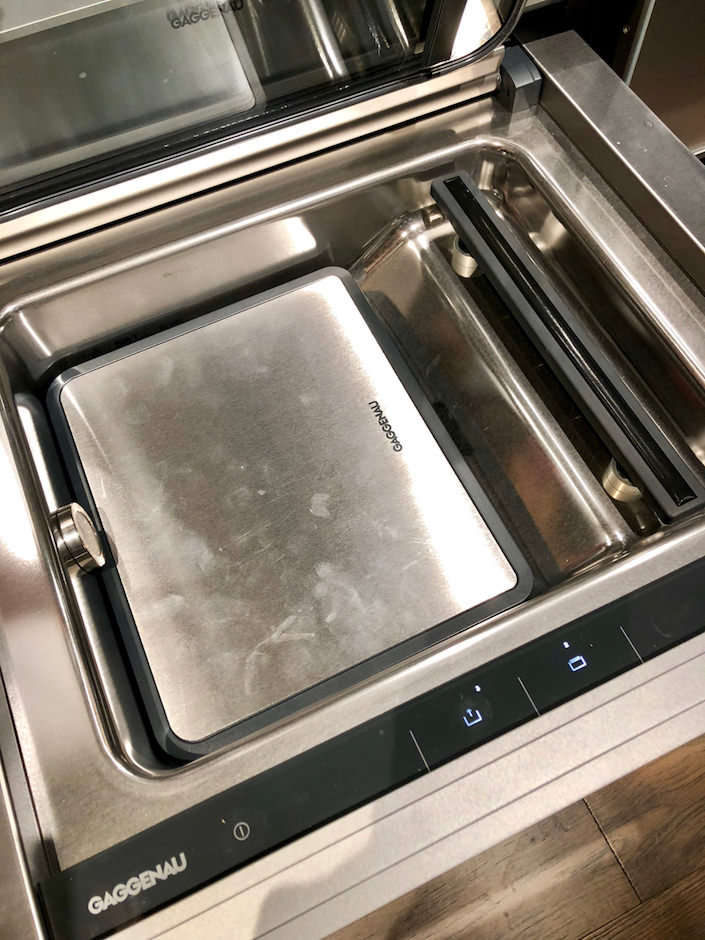 Miele introduced its first bagless vacuum cleaner so you never have to worry about running out of bags again. I also loved their new Fashion Master ironing unit – check out my short video on Facebook, shot at their booth, to see its incredible capabilities.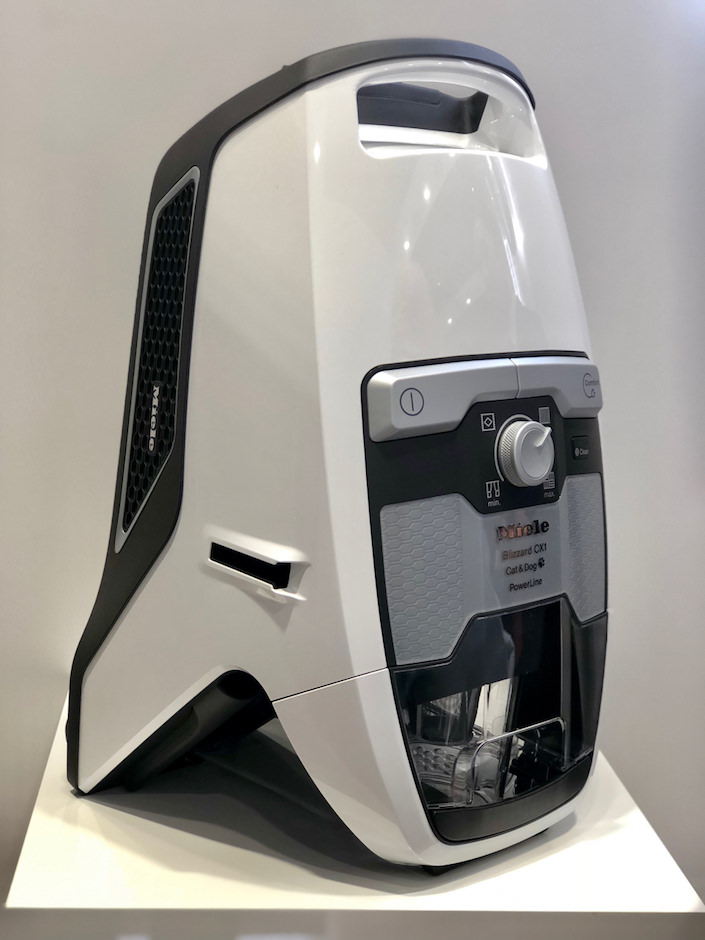 Thermador's dedication to technological advances was mind boggling. From exhaust fans that can automatically sense when the cooktop is on, to their super sophisticated Home Connect platform, including an entire world of exciting digital services in the kitchen and throughout the home, accessible while at home or away.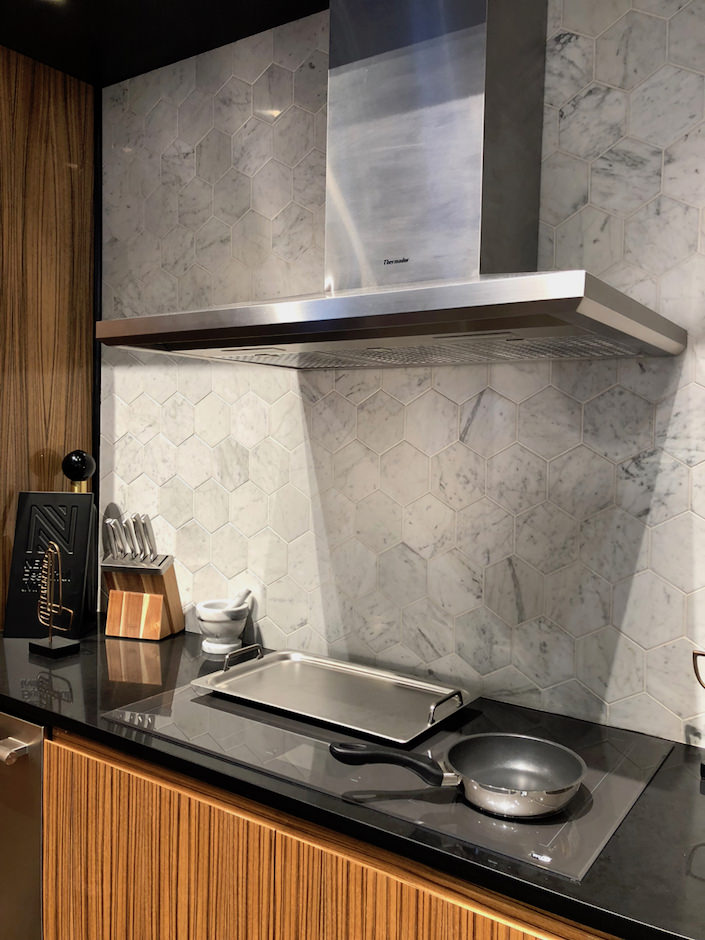 I'll finish up with a look at a few random favorites. Bertazzoni is a 6th generation owned family company that produces ranges with that trifecta of beauty, precision and flair.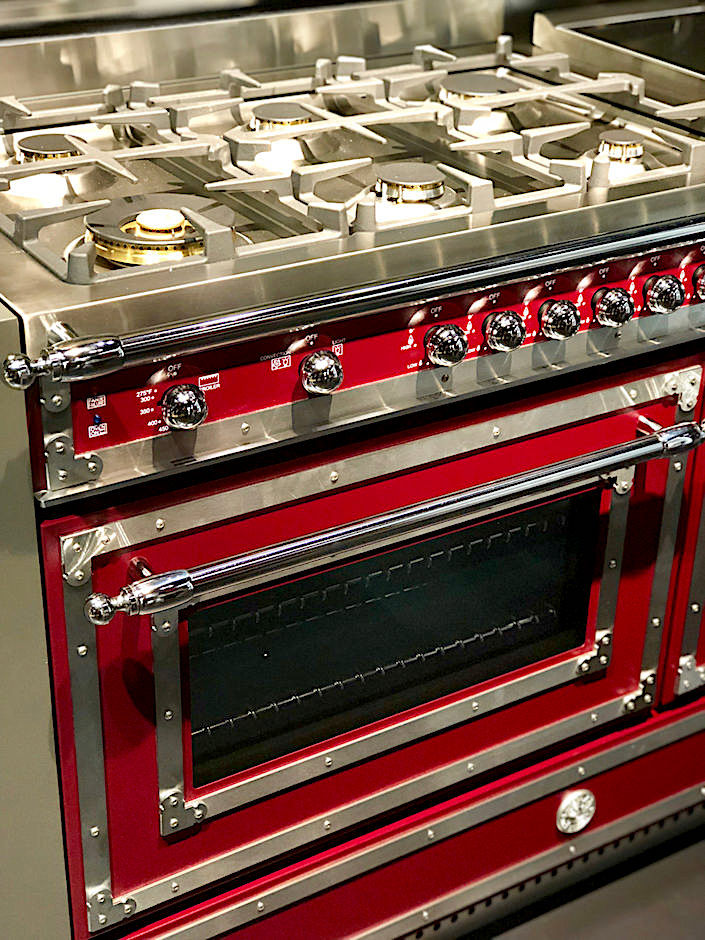 DeKauri was the result of one of the most unique creative collaborations at the show. Spanish manufacturer Cosentino, Italian furniture manufacturer Riva 1920 and Arizona based, Argentinian born architect/designer Daniel Germani united to design an elegant freestanding enclosed bathroom vanity. Crafted from Riva 1920's exclusive 50,000 year old Kauri wood from New Zealand, it is truly a statement of form and function.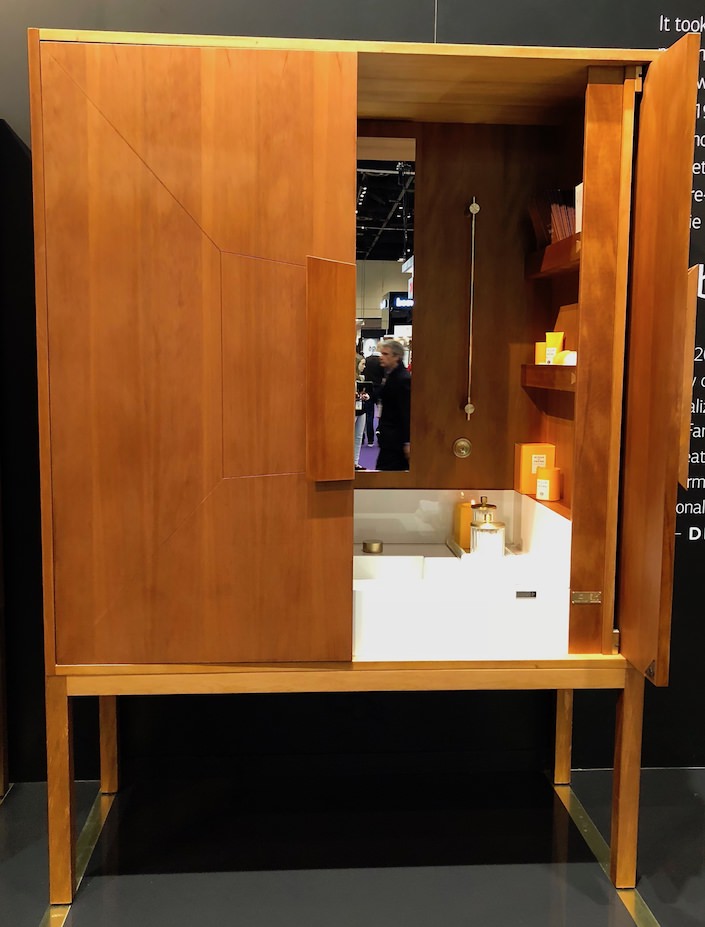 With a washbasin of Cosentino's durable, stone-like Dekton material paired with the artisanal ancient Kauri wood, it is a stylish melding of old and new. As Germani explains, "DeKauri is a modern day heirloom. Its timeless appeal and impeccable construction will last generations."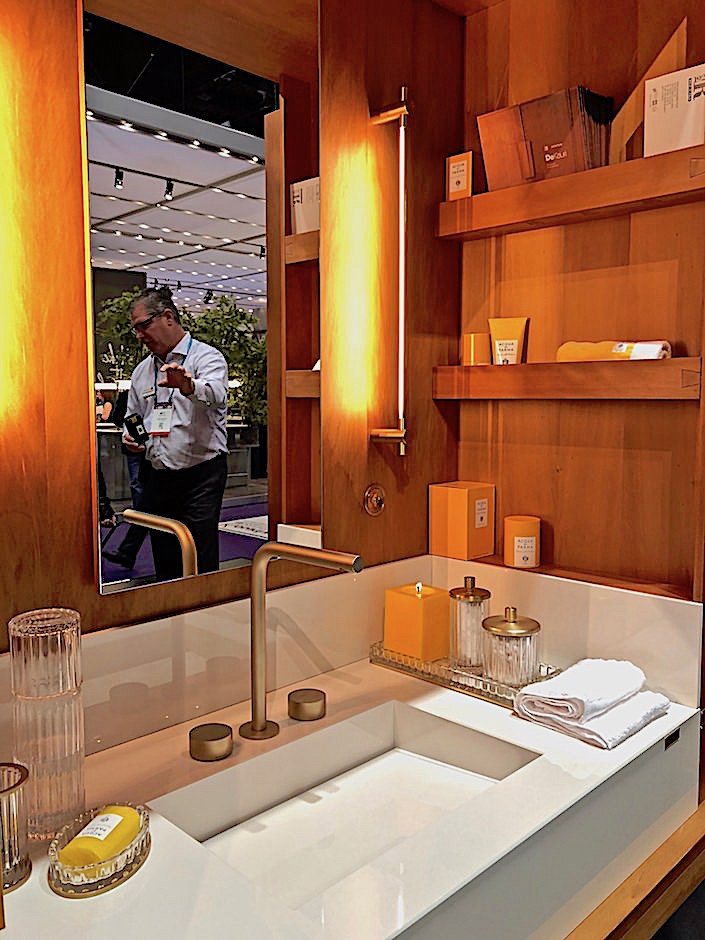 Florim introduced large slab porcelain, an astonishing and elegant stone lookalike.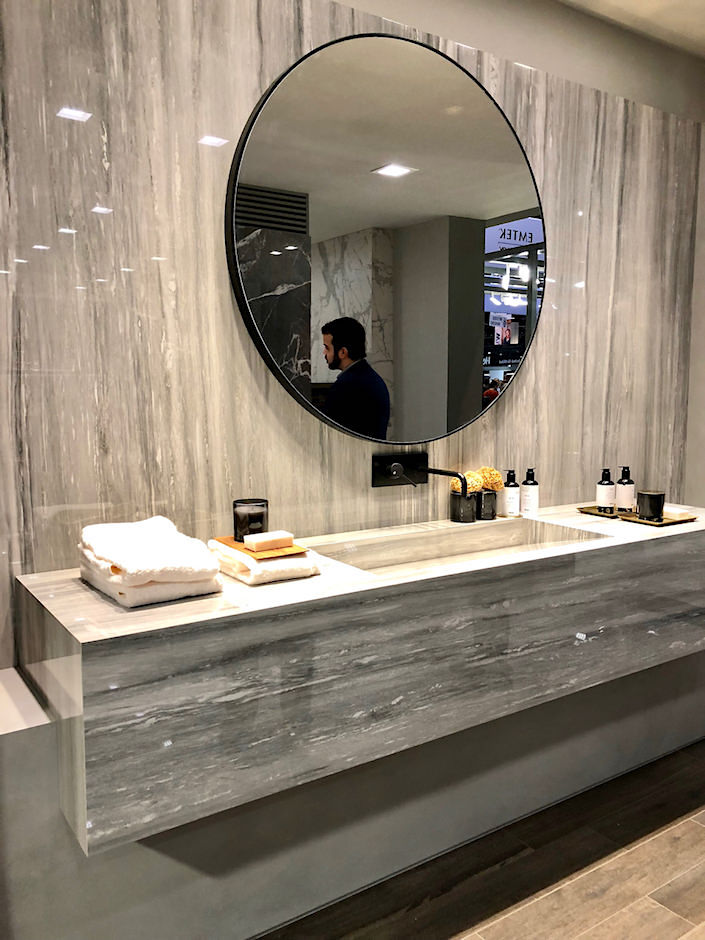 Available in three thicknesses, it is a beautiful alternative to stone.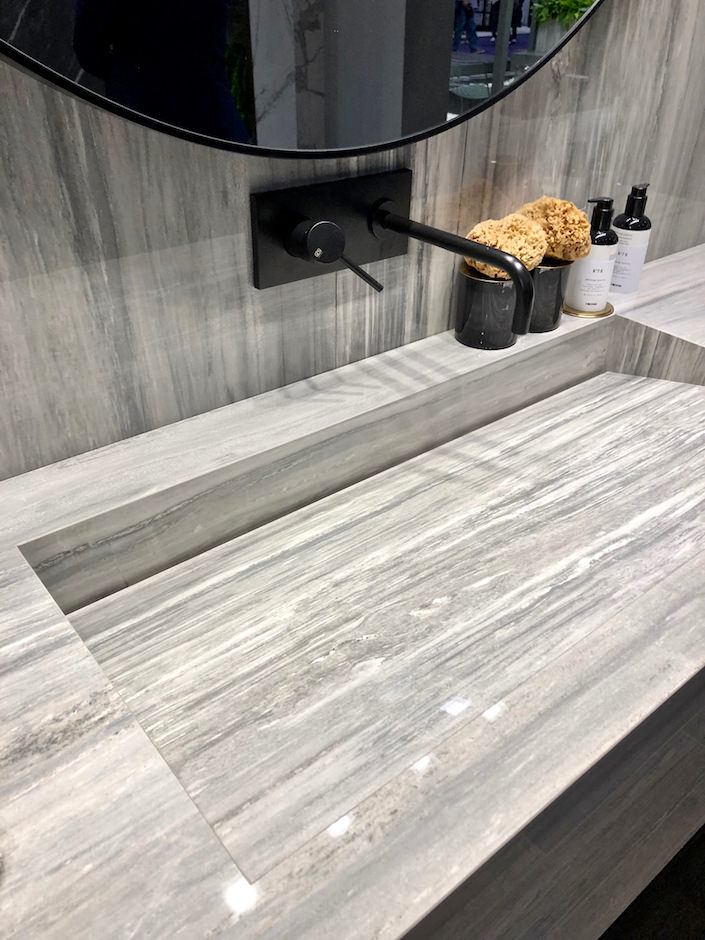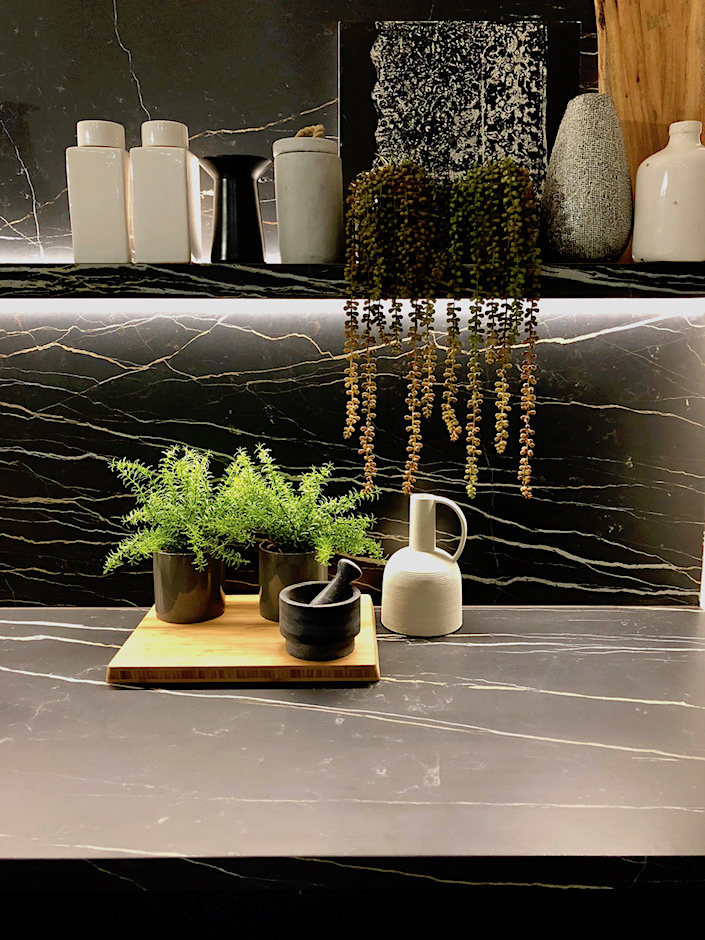 Fellow NKBA Insider Bobby Berk designed the stylish new Wood Gridscape Shower Door Collection with Coastal Shower Doors. The applied wood grain over aluminum gives them a relaxed coastal chic.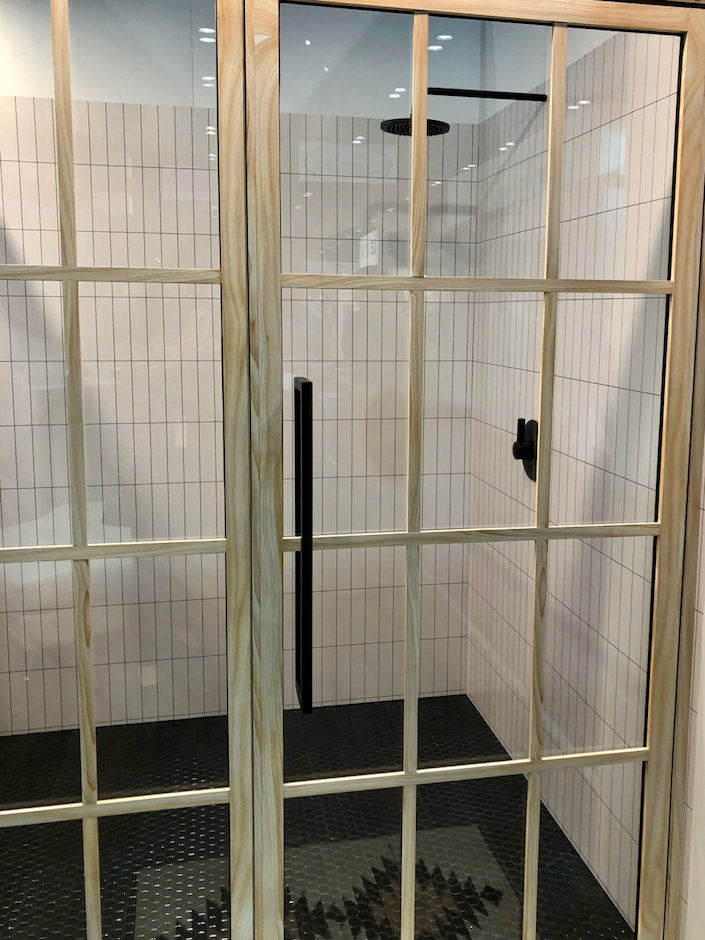 When I was renovating my last house, I had a hard time finding authentic classic strap hinges for my garage doors. If you're in the market for anything for interior or exterior forged hardware, look no further than Acorn, a third generation family-owned business that has been manufacturing in Mansfield, Massachusetts since 1937. They are, in fact, the "finest and largest manufacturer and distributor of forged iron builders hardware in the United States."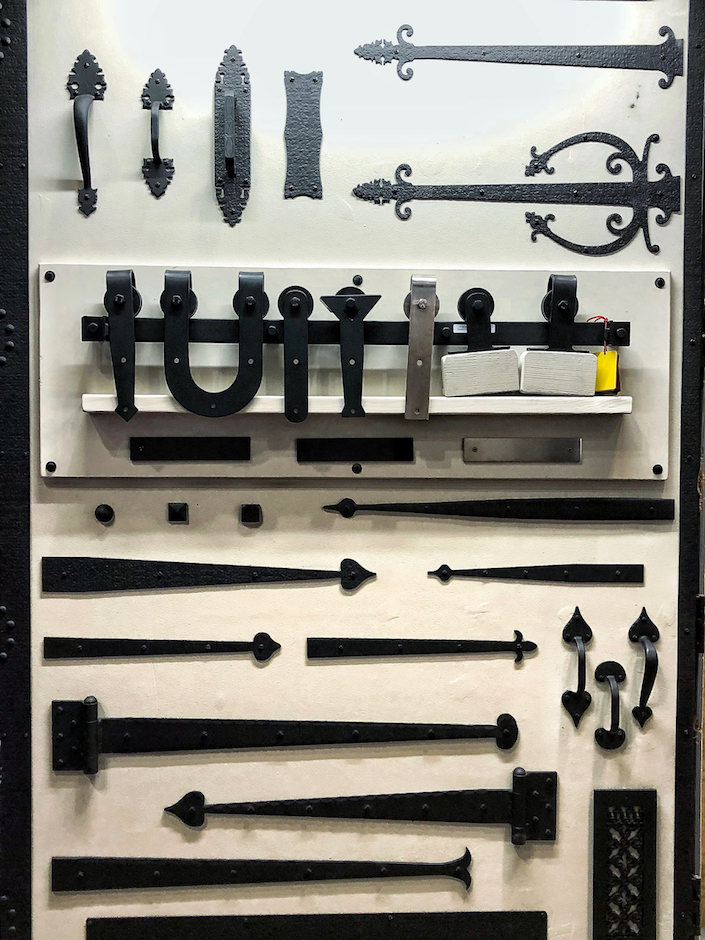 And lastly, one of my favorite installations included Kelly Wearstler's dynamic new Liaison large mosaic tile for Ann Sacks. I am feeling the green love lately and this totally hit the spot with Kelly's signature mix of glamour and graphic sophistication.
all photos by Stacey Bewkes for Quintessence unless otherwise indicated
A big thank you to the NKBA! Stay tuned for an exciting year of inspiration for the kitchen, bath and beyond.