The French have a great expression for this time of year – la rentrée, signaling the re-entry to regularly scheduled life after the August break. And while we in the U.S. don't have an August shut down, post Labor Day has that back to business feel.  I am happy to enter the busy fall season with a special sneak peek from one of my favorite companies. Committed to blending historically based global design with the best of British craftsmanship, Soane produces timeless pieces with a sense of the classic and exotic.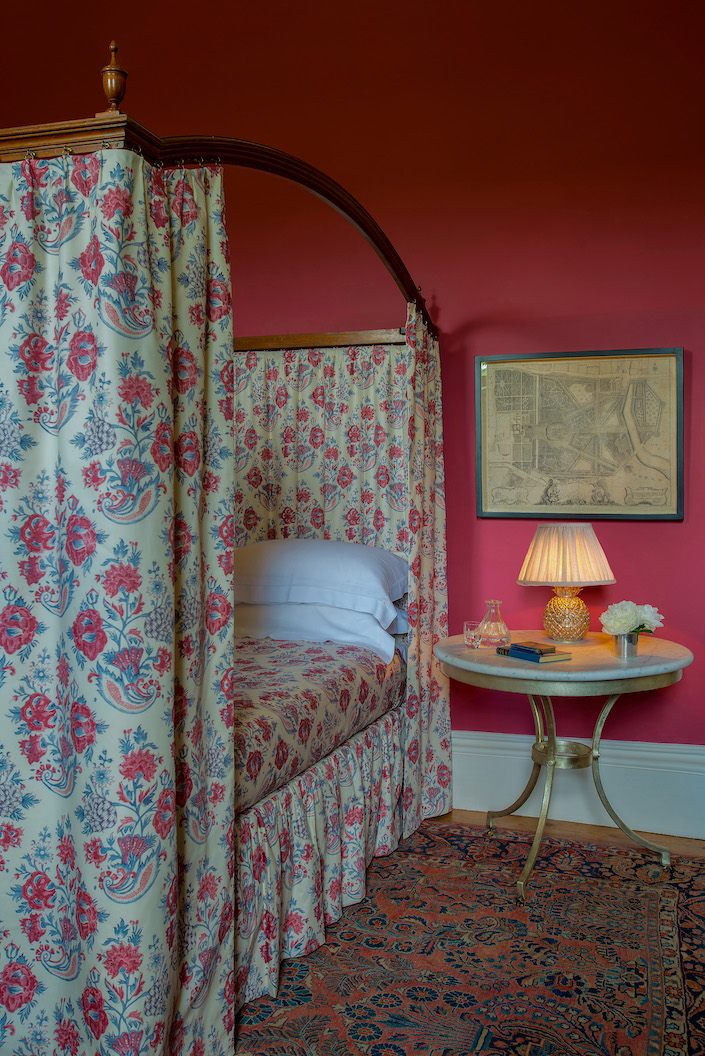 As somewhat of a new tradition, Soane introduces each season's most extravagant fabric on a magnificent bed. Here, the new Cornucopia, a 10 color print inspired by an 18th century Indian chintz, is an exuberant romantic design printed on a heavily glazed cotton poplin perfect for bed hangings and curtains.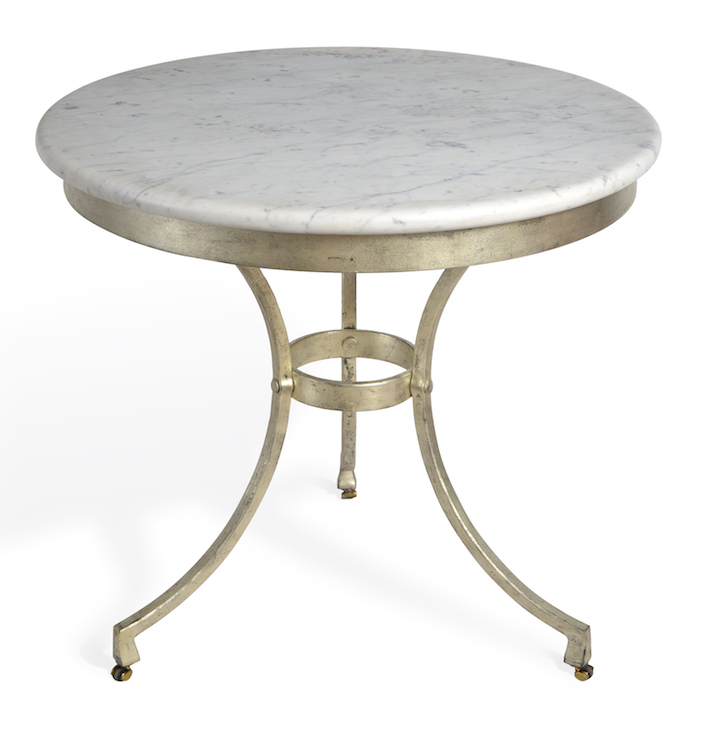 Next to the bed, the new Belvedere Table is inspired by Centre Tables in the Louis XVI/Empire style. The forged iron base, with "hoofed" feet and brass castors is available in any of Soane's in house finishes with a top of stone, wood or leather. Also available in a larger Dining Table, with five legs and no casters, it is a handsome versatile piece in either size.
And the smaller table shows off its versatility in this charming bath where a new colorway, Blue, is shown in the Coral pattern, introduced last year and now newly available also as wallpaper in 6 colors including the new Blue.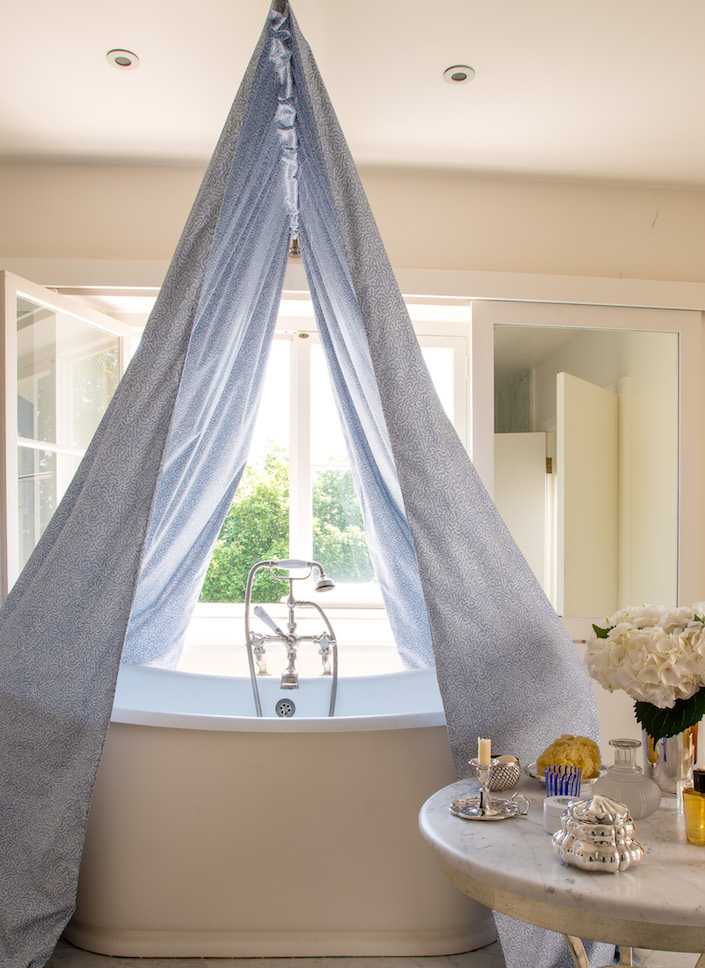 The new Lotus Palmette fabric and wallpaper envelop this room, as well as the new Tuileries Sofa (the armless version of The Vendome Sofa), with a full on maximalist vibe. Inspired by a 16th century Safavid woven silk velvet panel, the pattern recalls this important period in Persia, marking the beginning of modern Iran with flourishing commerce, art and silk trade. While still woven, Lotus Palmette is updated on linen in four colorways.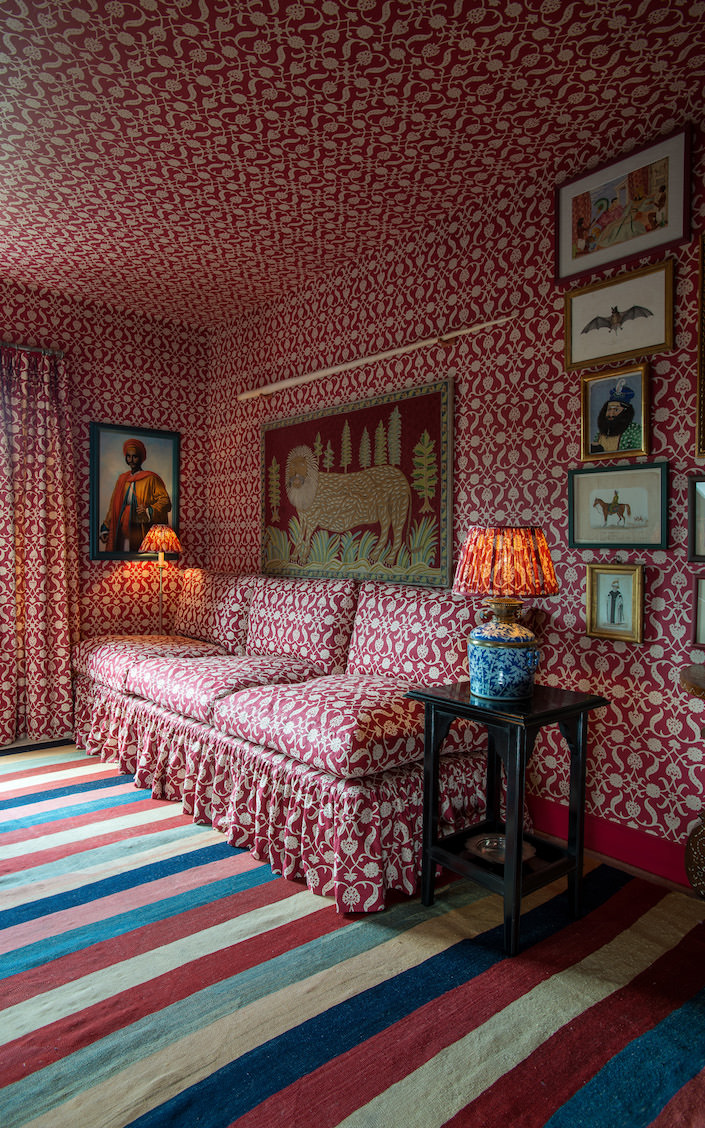 You can see how different both Tuileries and Lotus Palmette look in another iteration – the sofa in a more tailored version and fabric in Duck Egg Blue.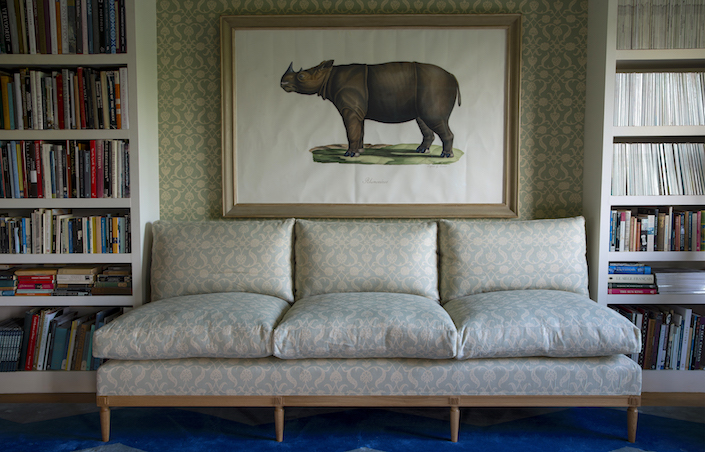 The other new sofa introduction is The Beaton. An exacting copy of a pair of sofas originally made for Cecil Beaton in the 1950s, it is a neat, rectangular design with curved side cushions and a bench seat, shown below in the jewel colorway of the charming new Persian Flower (close up below).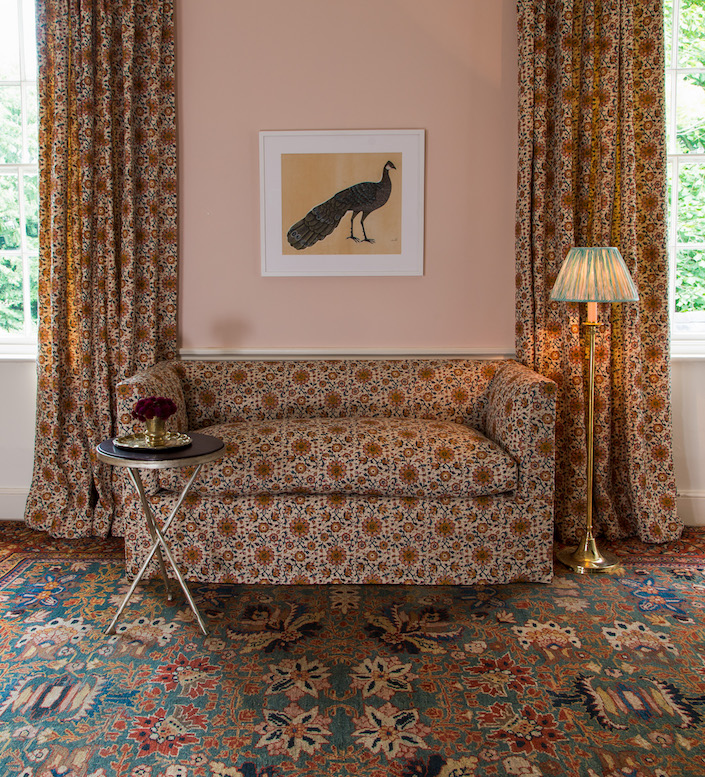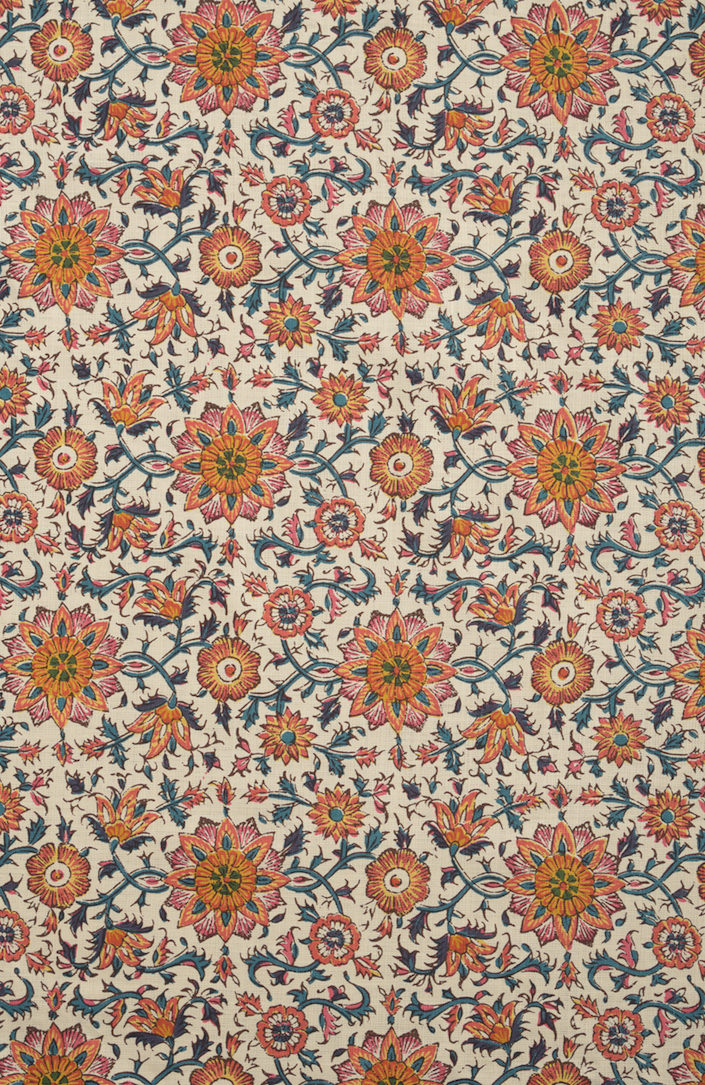 The Lapis version of Persian Flower is a lovely addition to the Soane family of blues, shown below on the headboard against the new Coral wallpaper in Green.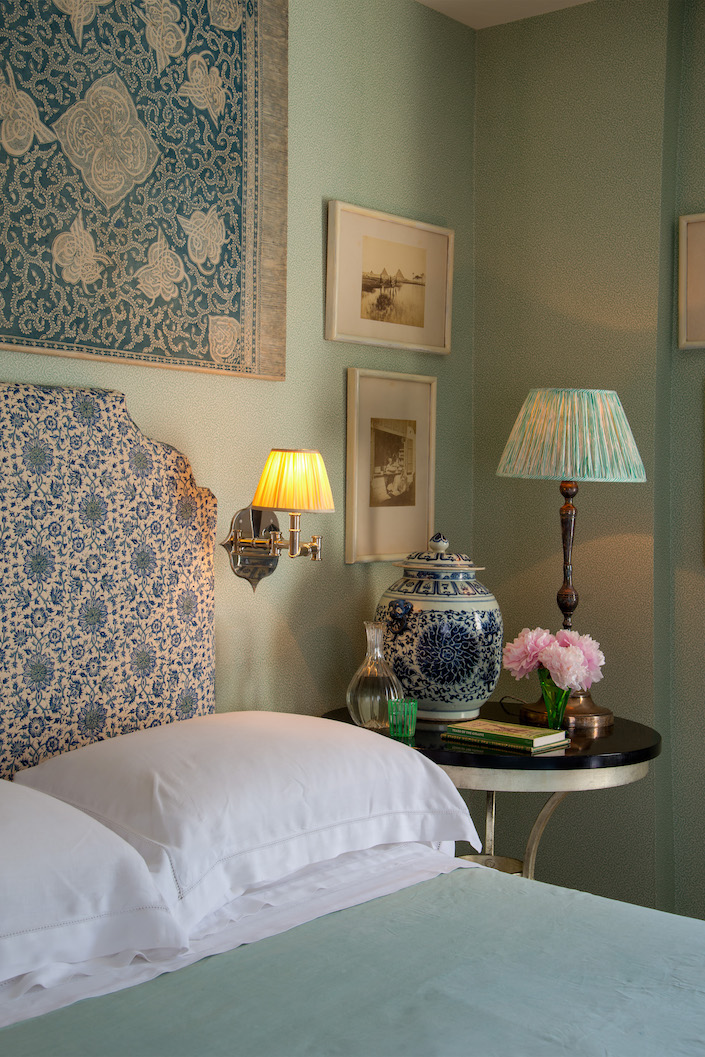 The iron feet of the Beaton are hand produced by Soane's blacksmith according to the original design, so it is stylish with or without a skirt. Shown below on the sofa is the new zig zag Celestial Diamond, which Soane co-founder and Creative Director Lulu Lytle developed when working with a 19th century Chinese weave. Shown in Chestnut and available in 5 other colorways.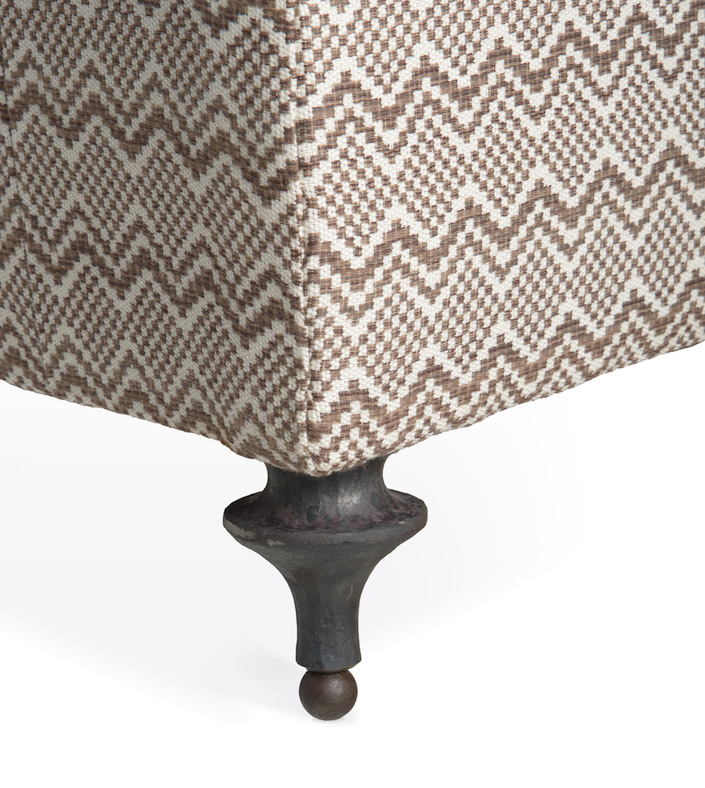 Two existing fabrics have new introductions. Old Flax Check is a woven using one of my favorite plains, Old Flax, in a new square check, shown below in Lagoon on the new Pavilion Chair, a great classic in updated style (note the tapered round front legs with brass feet).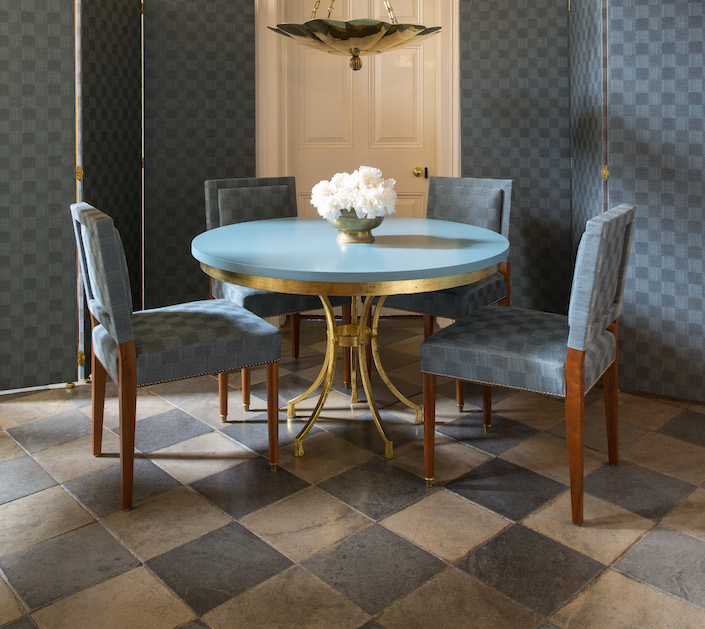 And Tendril Vine, Soane's very first botanical print, is now offered in Emerald, a vibrant combination of seven greens available on regular and sheer linen.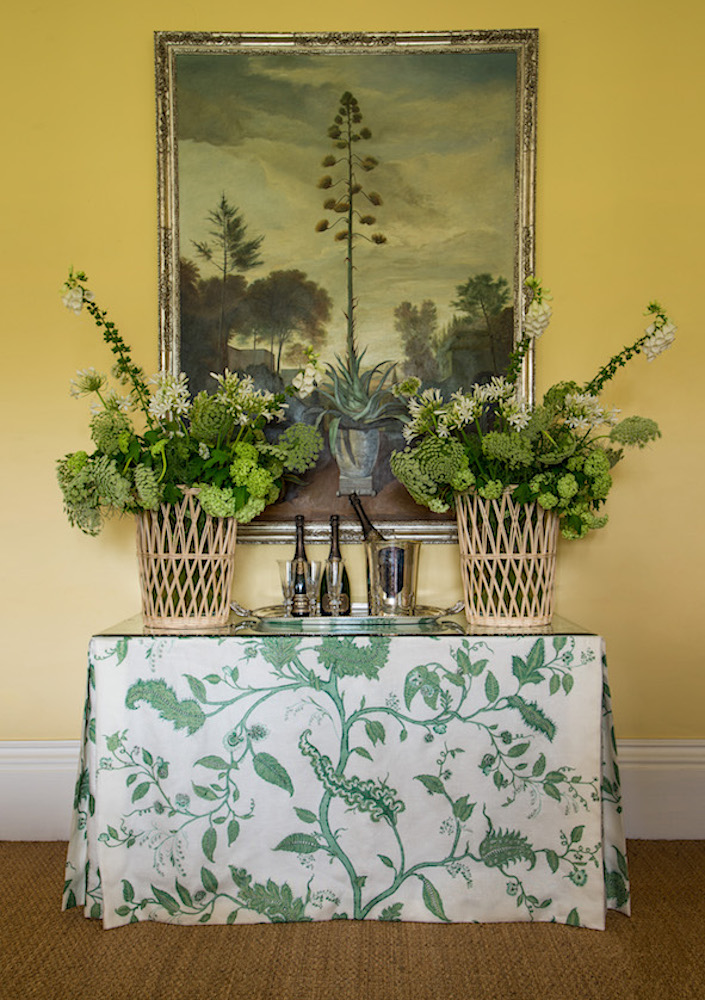 And how about those fabulous Rattan Hurlingham Vases above?! Hand woven by Soane's weavers in Leicestershire, I predict they are going to be on many designers' and clients' lists – get your order in now as the Rattan workshop (one of the few remaining in the world – as documented in T Magazine) makes each with individual painstaking precision.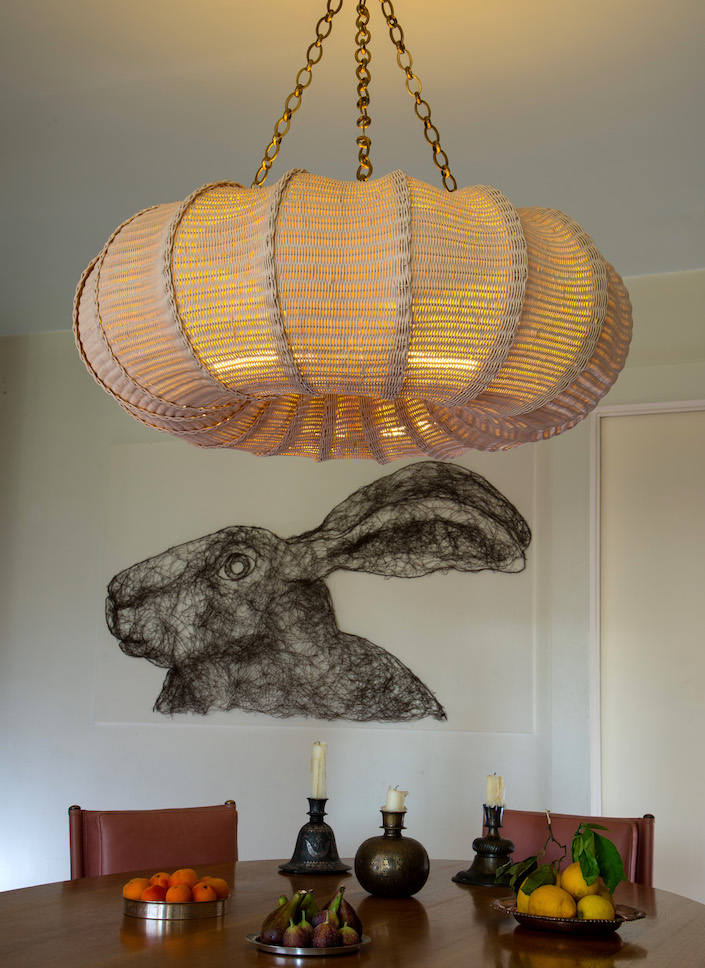 As you may know, I am totally enchanted by wicker and rattan and happily Soane has added quite a few products to their repertoire. I am determined to find a spot for the fantastic Pasha Hanging Light, above. Inspired by Ottoman turbans, its bold scale and sculptural shape, which can hang by rope or chain, make it rather irresistible! For those seeking a simpler shape, the generous Drum Hanging Light is a statement maker in hand-spun and hand-finished brass by Welsh metalworkers.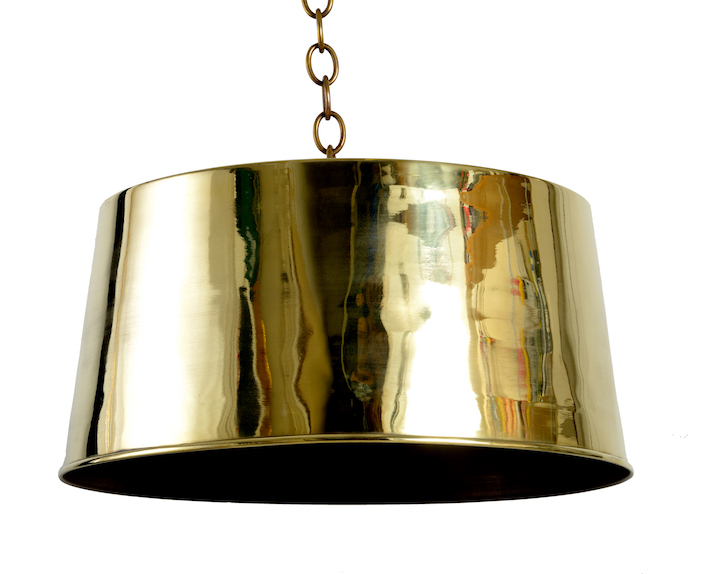 And a variation on the theme is the Rattan Drum Hanging Light.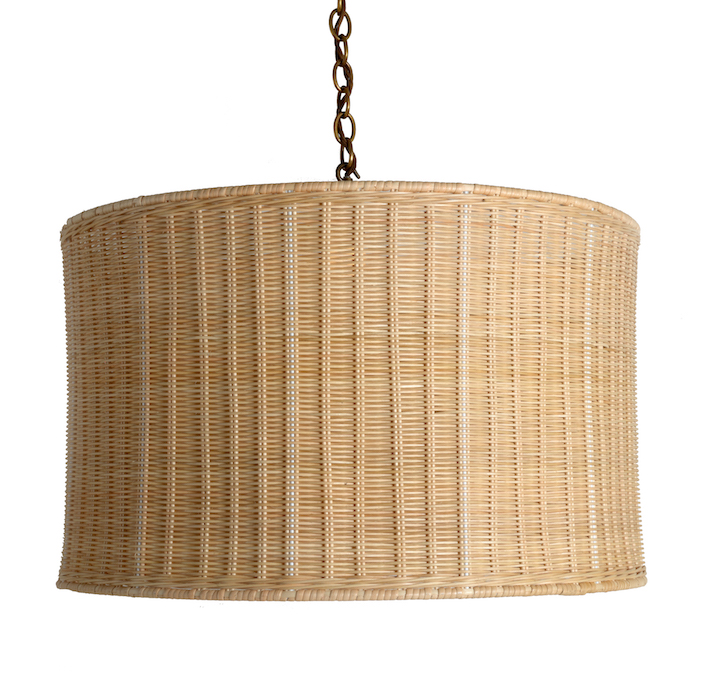 I'm sure many of you are familiar with Soane's distinctive Hand and Bamboo Handles – I have them in my powder room which I will be sharing soon. They have now been brilliantly interpreted into wall sconces, available in both a right and left version. Using the lost wax casting technique and crafted in solid brass, they are a charming and whimsical addition to any room.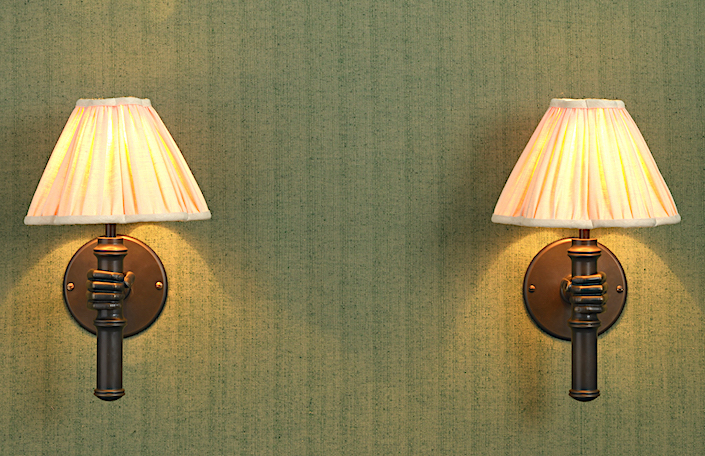 Believe it or not, this is merely a handful of the new Soane Fall 2017 introductions. They will soon be all listed on their site where you can drool from the privacy of your home! A big thank you to Lulu and her team at Soane for letting me share their new offerings!