Two of our BlogTour sponsors have already realized the advantages of creative collaboration. Samuel Heath and Victoria + Albert are both British brands based in the Midlands. They had attended many of the same trade shows but it was when they each settled into their beautiful showrooms at the fabulous Chelsea Harbour Design Centre, that they recognized their compatibility and now show each other's wares in their respective spaces.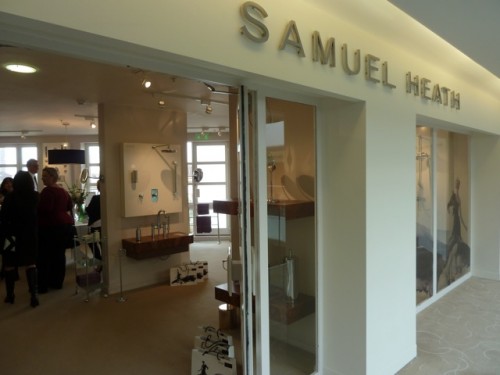 I was already a longtime fan of Samuel Heath. Their classic fixtures have always been on my radar for great design and craftsmanship. Founded in 1820, their fittings represent the best of enduring heritage and new technology. They describe their position as where "tradition and innovation meet" – my kind of combo!!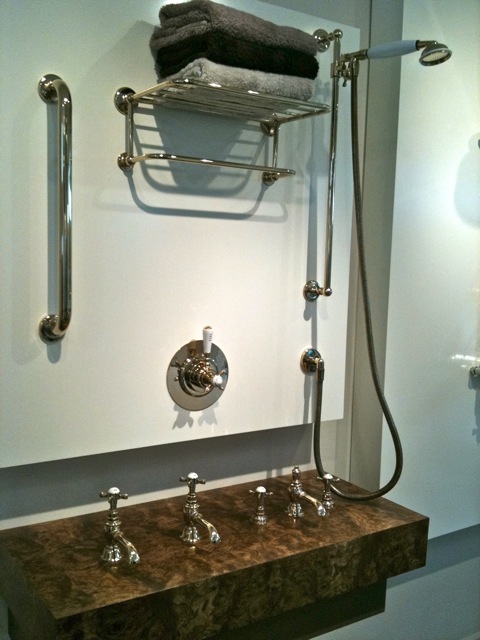 Made from the world's finest brass, from a source less than 15 miles from their factory, each piece is hand polished for an unequalled luster. I originally knew the brand for their more traditional designs like the warm Antique fixtures above or the classic Fairfield line below. I loved this oversized shower head in the showroom.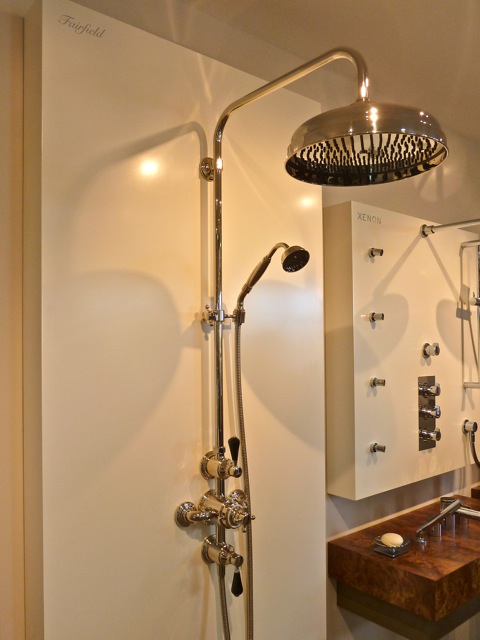 I just love these beautiful wooden handles!!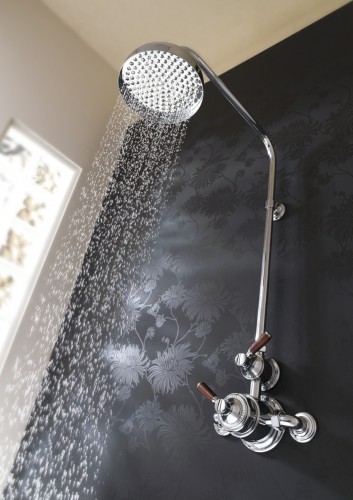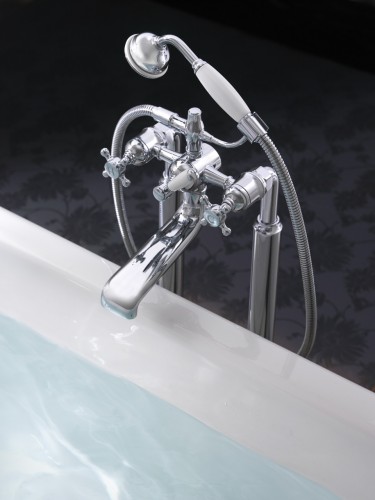 But they also carry incredibly chic modern fixtures as well, such as Xiara, it's sleek thermo bath below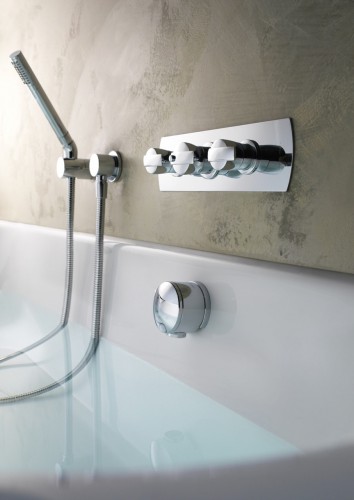 And the exquisitely simple Xenon collection – the shower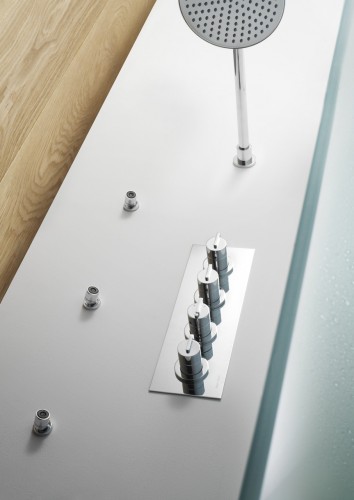 the wall mounted basin filler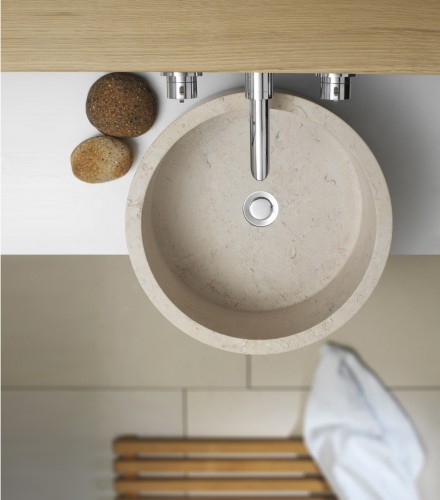 and the sculptural kitchen faucet
photos courtesy of Samuel Heath
And Samuel Heath's successful merging of tradition and modernity was eloquently expressed in the images of  "The Four Graces" around the showroom. This current campaign features gorgeous photographs of women and water becoming one, symbolizing the timelessness and purity of their products integrated with the innovation of design and technology – what a creative elegant vision.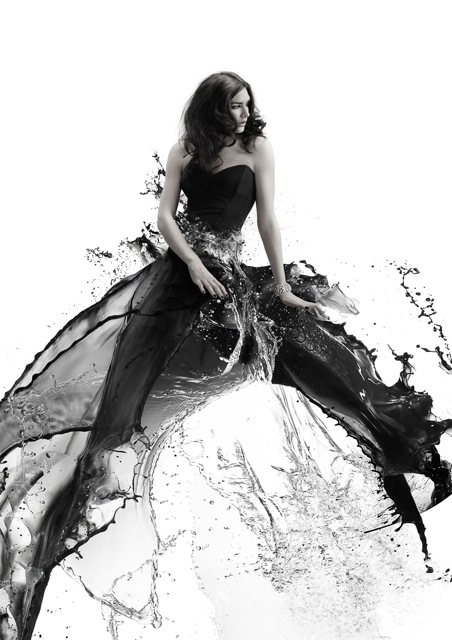 And within this space were featured some of Victoria + Albert's beautiful products as well. Their commitment to style and quality fit perfectly with Samuel Heath's vision. During our fun champagne brunch, friend and fellow BlogTour attendee Tamara Stephenson, took the opportunity to try out the Toulouse tub!! Seems to suit her don't you think?!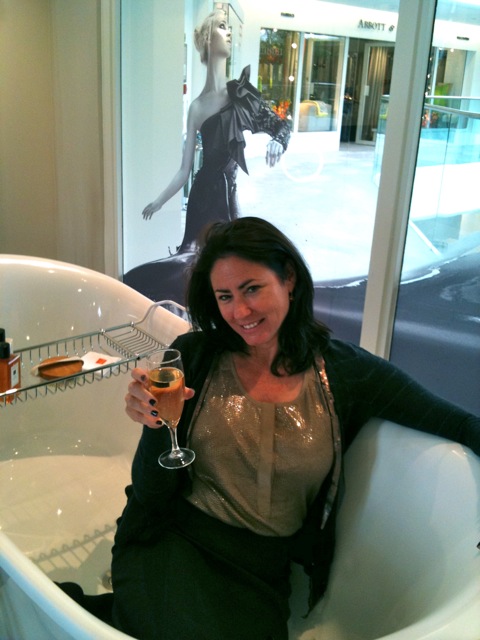 The pure and luminous quality of the Victoria + Albert products is due to their composition of finely ground volcanic limestone mixed with resin. The beautiful organic shapes are made in a single piece and I think could work in any number of decor styles. Here is another look at the elegant Toulouse tub.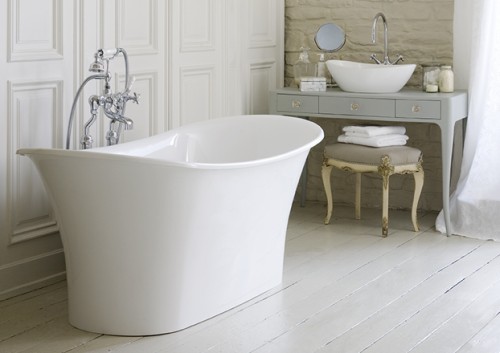 You can probably already sense the synergy between the two brands. The superb quality, timeless design and hand finished elegance of both make for a perfect pairing. From the grand Victorian statement of the Cheshire tub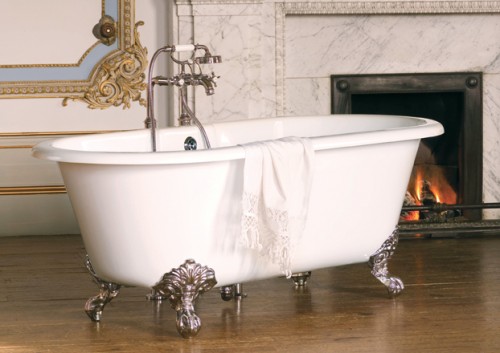 to the serene sleekness of Amalfi (can you even imagine?!)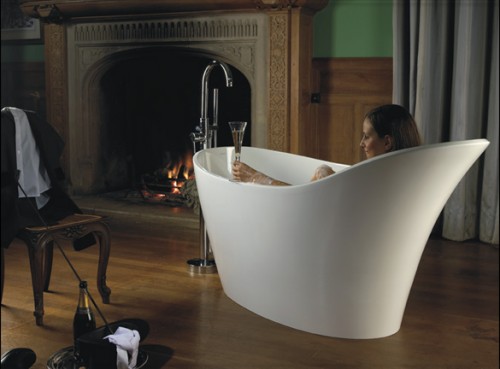 photos above courtesy of Victoria + Albert 
Their showroom was incredibly inviting with a variety of tubs, basins and accessories.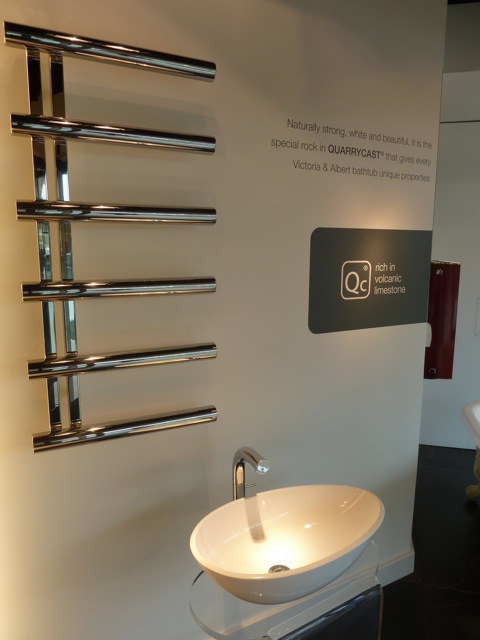 Samuel Heath and Victoria + Albert represent the mix of old and new, in tradition and technique, form and function, and sense of style. What better way to harken in a new era of design than with creative collaboration on several levels, making for the most interesting and effective partnerships.