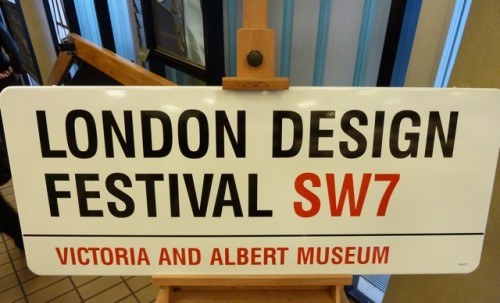 One of the most popular London Design Festival-sponsored installations at the Victoria and Albert is "Textile Field" by the French Bouroullec brothers, Ronan and Erwan. Created in collaboration with Kvadrat, the forward thinking Danish textile company, this seemingly simple concept is brilliant. Made of stripes of colored textiles and foam, the large expanse (30 x 8 meters) is like a giant lounge chair in the space.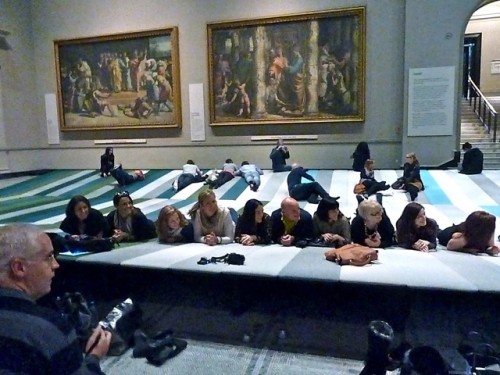 The Raphael Gallery, built in 1865 during the artist's heyday, was a serious, reverent room. Housing seven enormous cartoons, the Victorian space could be quite intimidating. The installation changes all that, offering visitors (like our group above) a new perspective and comfortable setting to appreciate the paintings. We were told that the dramatically increased number of visitors now spend much more time in the space interacting with both the art and each other! Or as Erwan Bouroullec said, "We have decided to provide a kind of furniture element that helps people to relax their bodies and so relax their minds. And then, maybe, the meaning will come."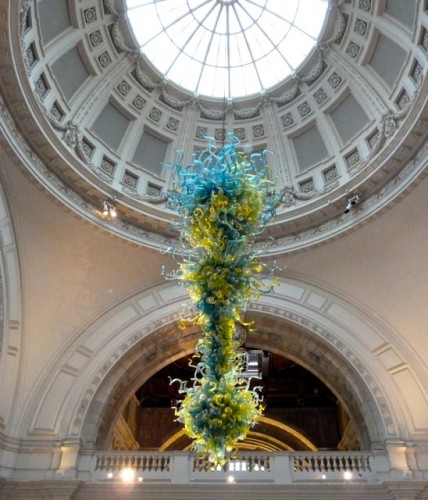 In the Grand Entrance of the museum hangs Dale Chihuly's stunning chandelier. Designed specifically for the space, the glass sculpture has over 2,000 components. Inspired by Venetian chandeliers, I think its modern luminosity perfectly compliments the gilded altar.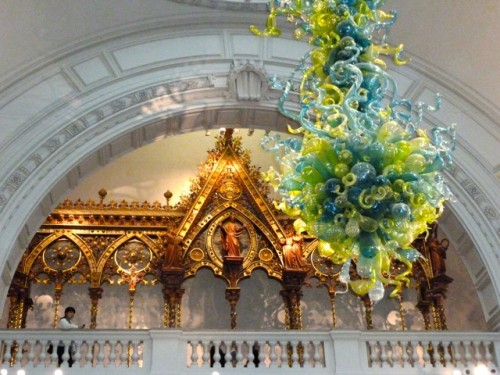 Gallery 55, one of two study areas at the museum, is full of visual inspiration. Its permanent fixture is Cornelia Parker's Breathless. The museum's £50,000 purchase price for this sculpture was a controversial move but I for one found it inspiring. Made of 54 brass instruments, it floats magically between floors, viewable from above or below.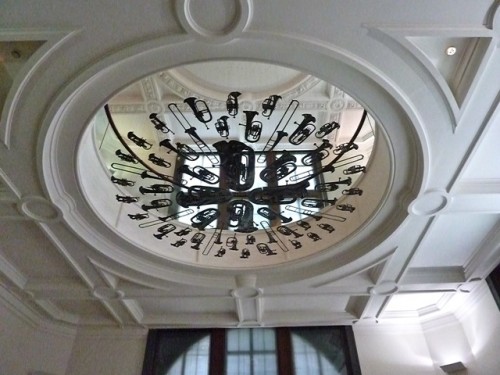 The artist herself describes the contradiction of old and new "A vibrant working class tradition has been brought into the British Galleries in the guise of a heraldic ceiling rose. I wanted to create something that would explore the ideas of duality: light/dark, silence/noise, upper class/lower class, the North/South divide, black cloud/silver lining, death/resurrection. I see the work as a ghostly last gasp of the British Empire".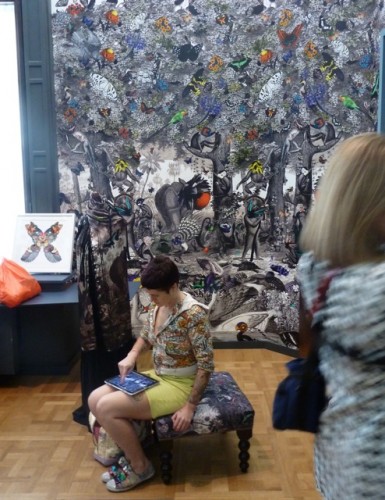 Beyond the Valley took over the rest of the room presenting their "interactive print journey", another exhibit exploring the relationship between technology and art. The patterned prints in the room, designed by Kristjana S Williams and Kate Bonhote, could be manipulated and enhanced by viewers, as seen above, with a special app called Granimator on provided iPads. While we didn't have time to try the interactive feature, the designs alone were impressive. Inspired by Victorian engravings and nature, Ink Forest, Branches, Master and Giant Parrot were articulated as wallpaper, fashion and fabric on pieces of George Smith furniture.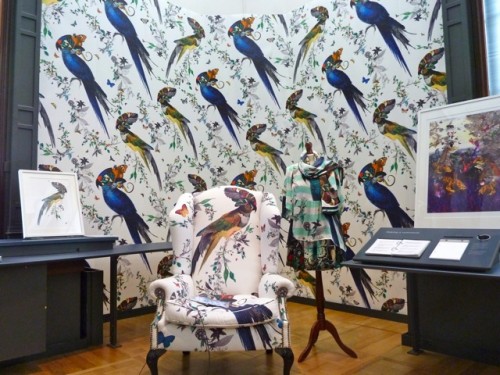 As also seen with the Bouroullec brothers' Textile Field installation, the trend towards viewer participation is a rapidly growing phenomenon. Incorporating technology into either the creation of the art or the interaction with the installation is clearly a harbinger of what's to come in museums around the world.