Kicking off the season with a bang, the 2018 Winter Antiques Show opened with what felt like a reenergized spirit. Many of the booths were more decorative, creating enveloping environments for their collections. This was nothing new for Elle Shushan, whose booth is always charming.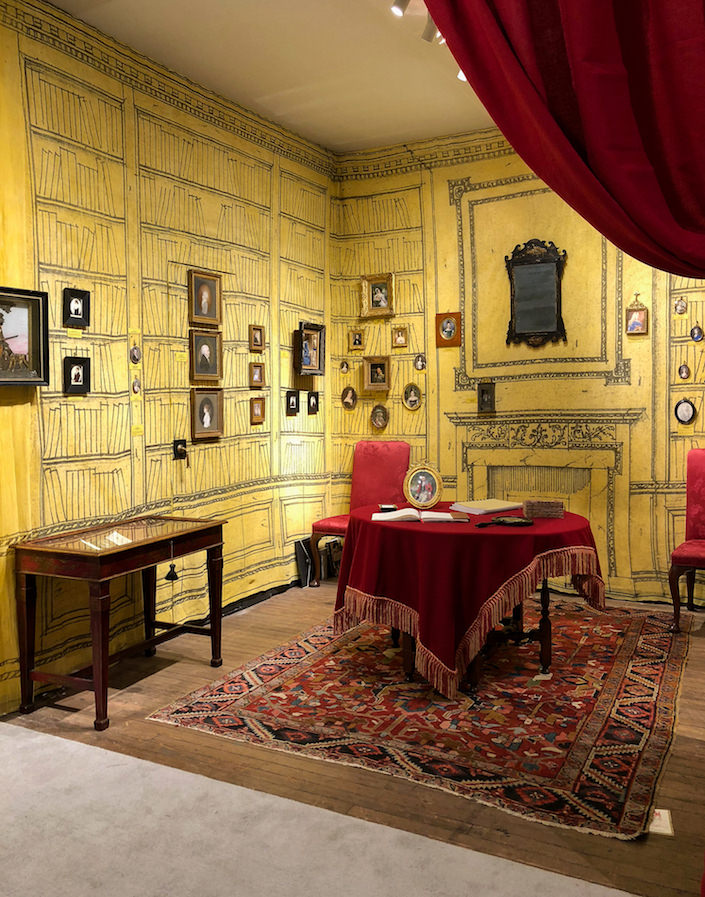 Their display of miniatures is a fetching ode to the power of collecting.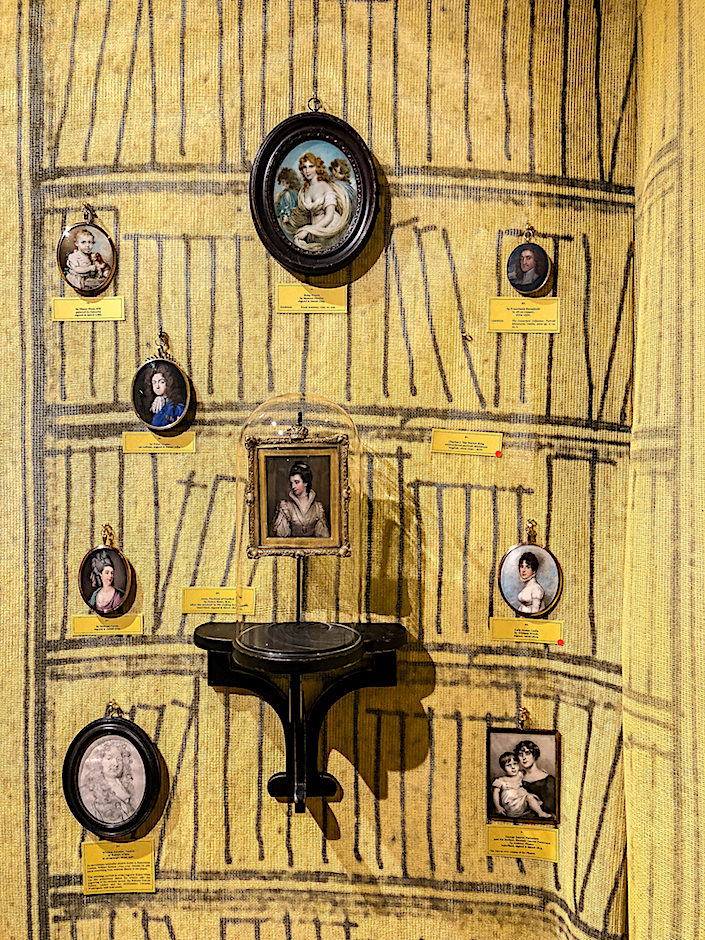 Robert Young Antiques from London, known for their thoughtful presentations, set a fitting stage for their collection of artisanal Folk Art,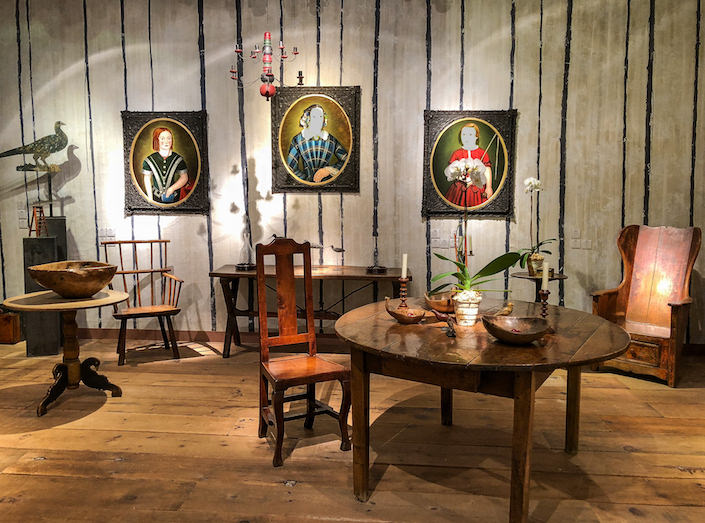 and I thought Joan B. Mirviss created a lovely ambiance for their beautiful collection of Japanese fine art.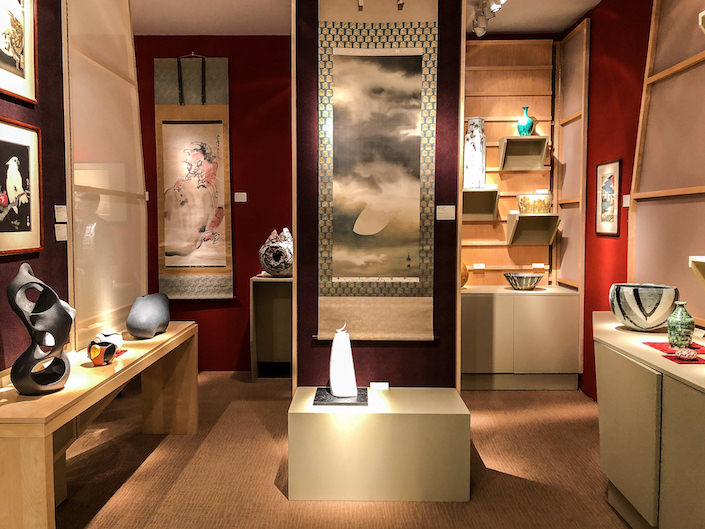 I especially liked this Ohara Koson Cockatoo woodblock print with its dramatic details and deep embossing.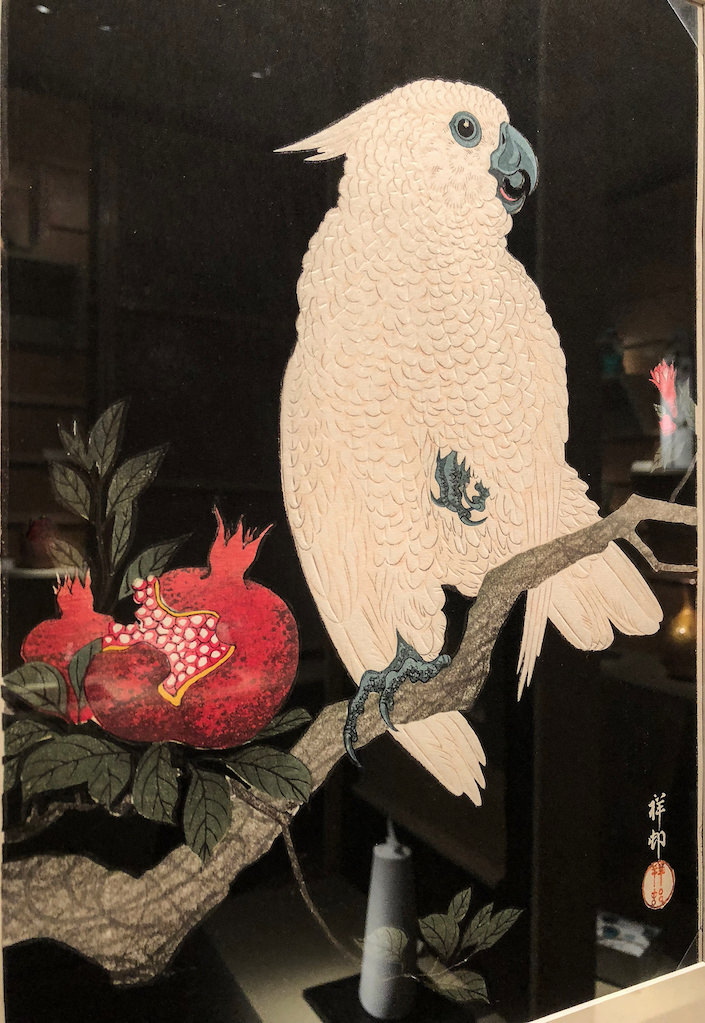 Bernard & S. Dean Levy's booth was lined with a wonderful delft pattern wallpaper which highlighted their collection including a remarkable suite of 11 (from the original set of 16) Federal armchairs originally made for the Beekman family in 1819-20.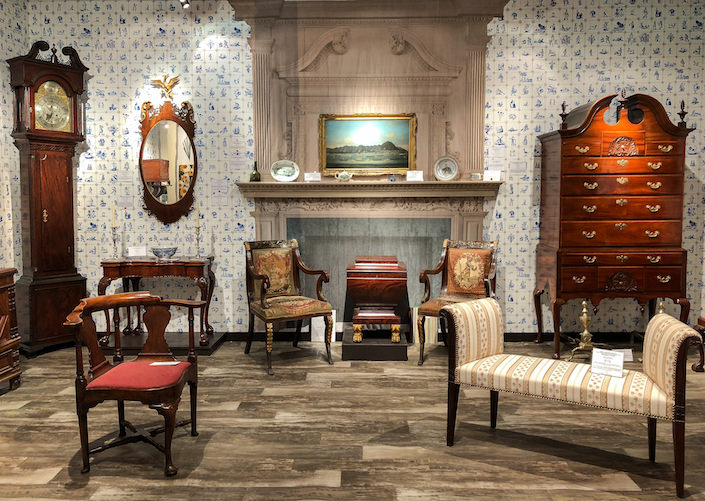 The most fully documented set of chairs from the early 19th century, the gallery knows the owners, the maker, the upholsterer (all except four have the original) and even have documentation of the bill of sale. The gilded and painted decoration is original as well.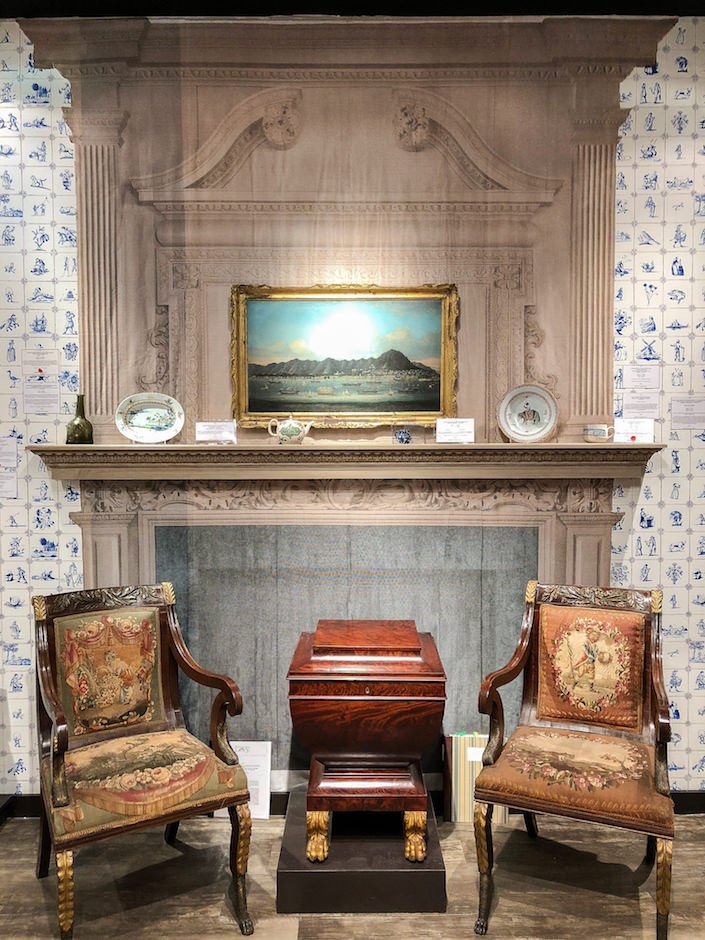 The fireplace design emulates the actual Beekman residence (below) which was located at what is now First Avenue and 52nd Street – it only looks a tad different.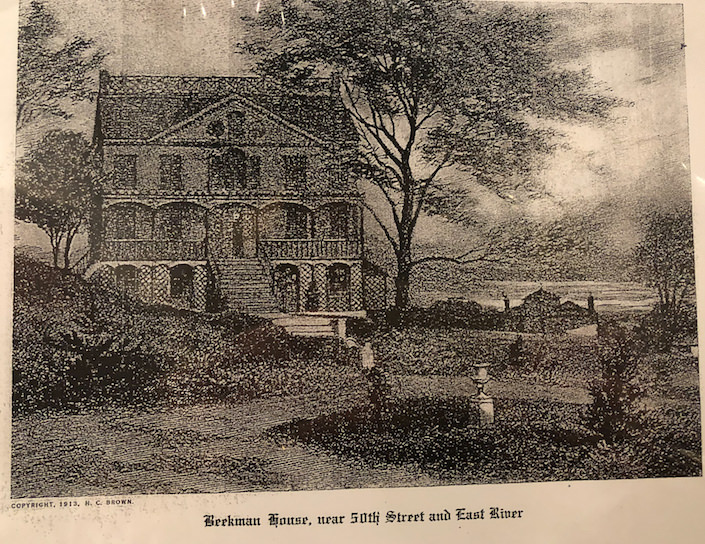 This year's special loan exhibition celebrates a century of art patronage at the Virginia Museum of Fine Arts (VMFA). I was lucky enough to visit this fine museum last year and was so impressed with the incredible Bunny Mellon Schlumberger exhibit that was there then. The collection the Mellon's bequeathed to the museum comprises over 140 pieces, including the Flower Pot, below, which can be seen at the show. Perfectly expressing the creative collaboration between patron and artist, it is a symbol not only of Bunny's passions for gardening, beauty and exquisite craftsmanship, but her ability to meld the humble and haute – note within the gold grid base is an actual terra cotta pot.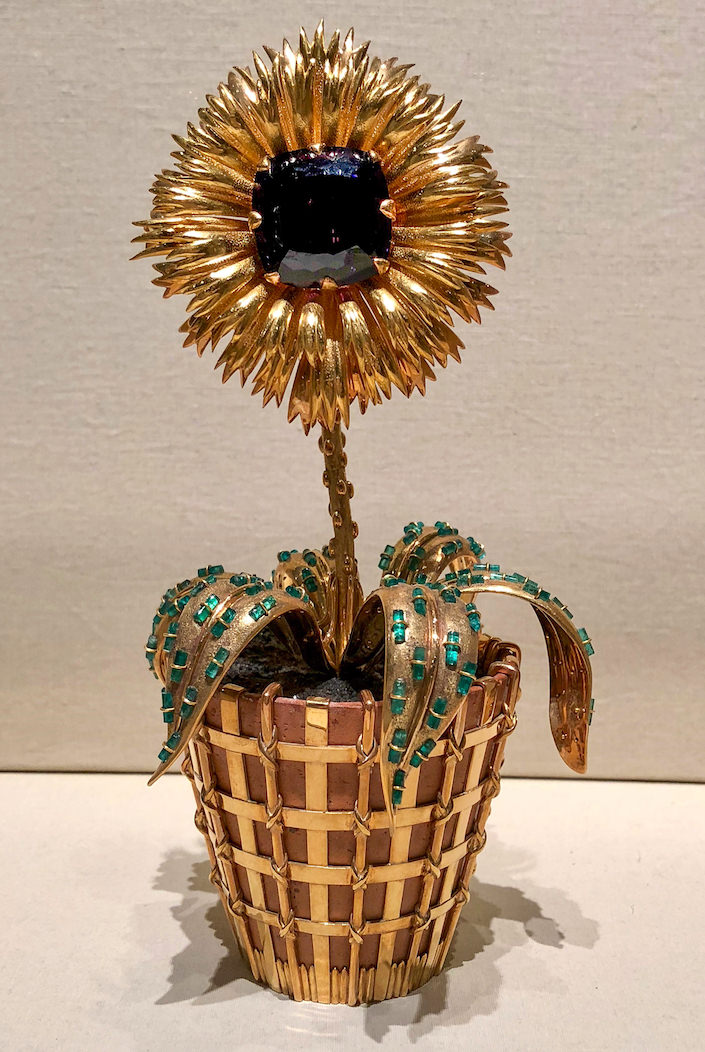 And speaking of the Mellon's, one of the most unusual offerings, by Thomas Heneage Art Books, was Paul Mellon's set of bound Country Life Magazines, from 1897 to 1996, the year he died.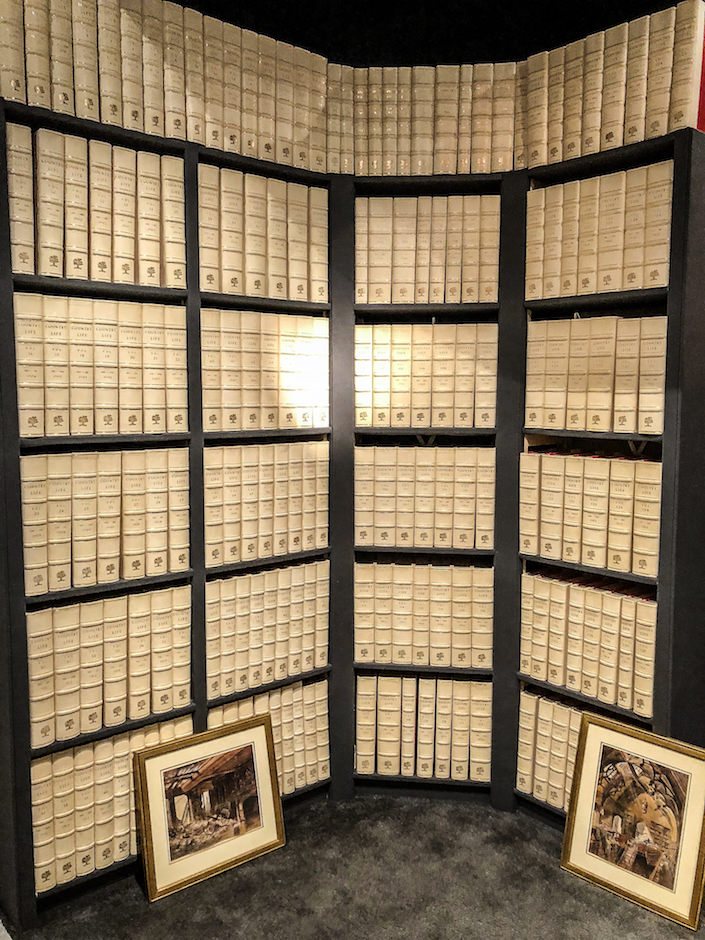 Beautiful bound in ivory leather, with the Oak Spring Farm (their Virginia estate) logo, it would be a fabulous addition to a library or to line a dining room!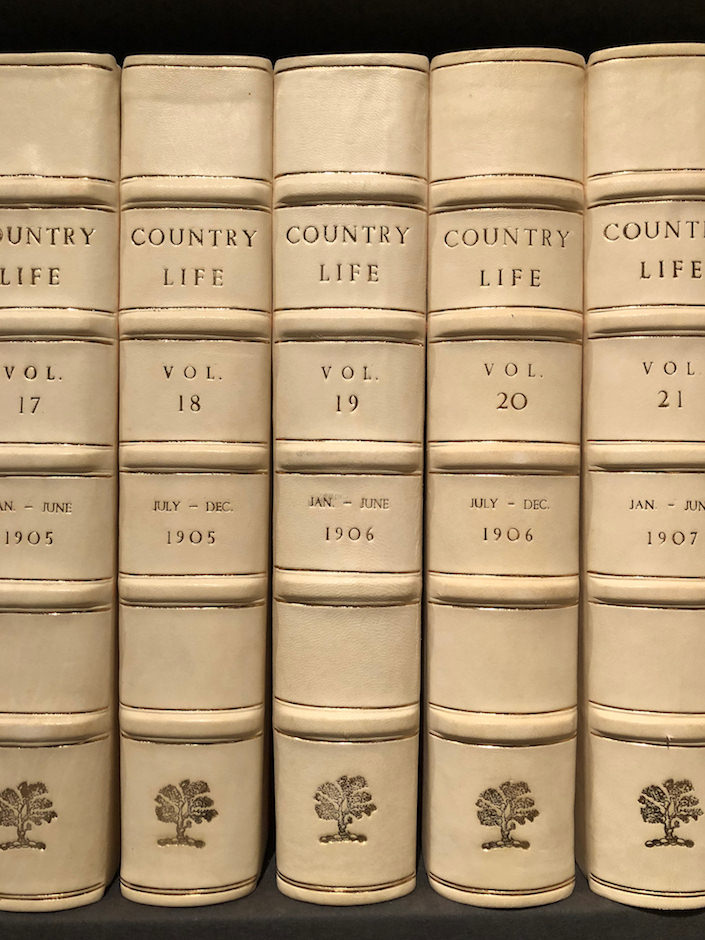 Every year, Aronson brings a Delft showstopper. This year, it is a very unusual pair of tulipieres from 1695 with a scalloped and barbed quatrefoil shape and wonderful open-mouth phoenix/griffin head handles.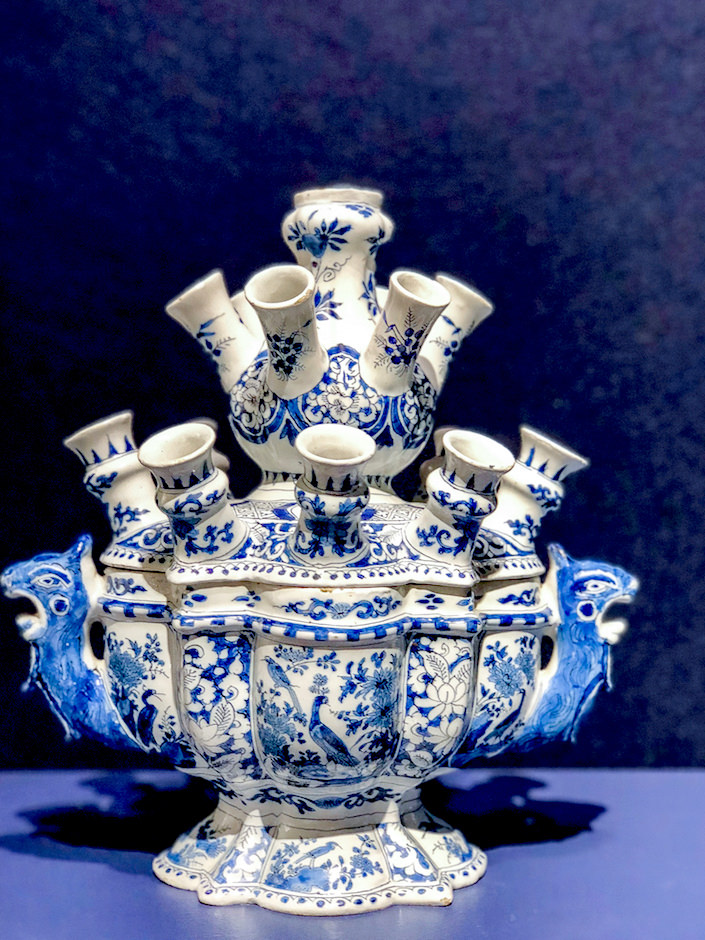 A more modern rift on blue and white Delft was seen at Jason Jacques with Katsuyo Aoki's and Shinichiro Kitaura's giant Trolldom Lucifer (2016-17).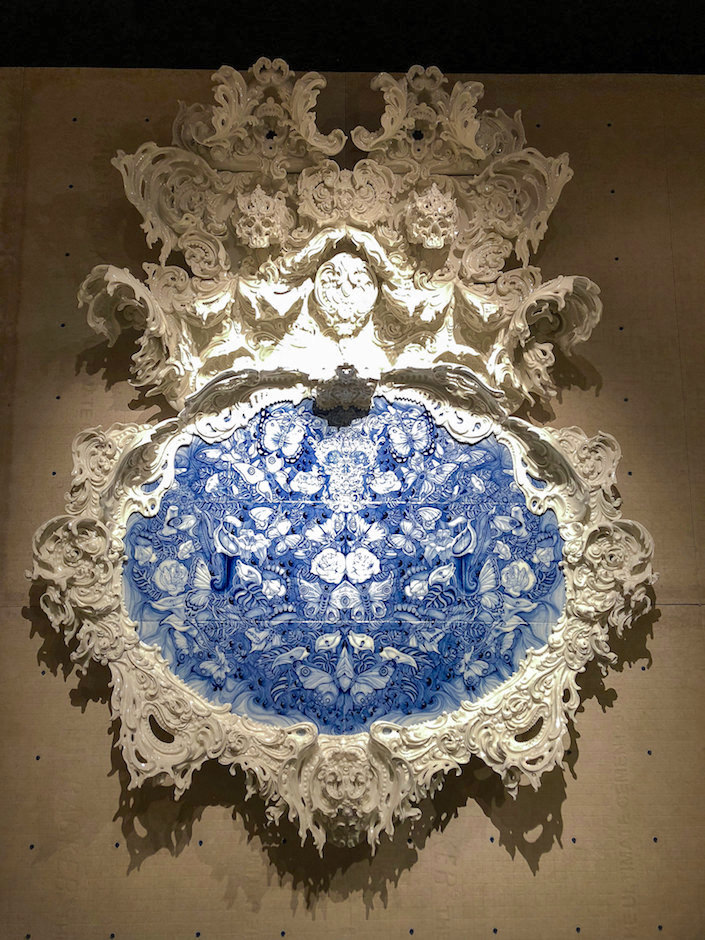 At a mamoth 86-1/2 inches high, it is a rococo confection comprised of glazed porcelain with underglaze cobalt decoration.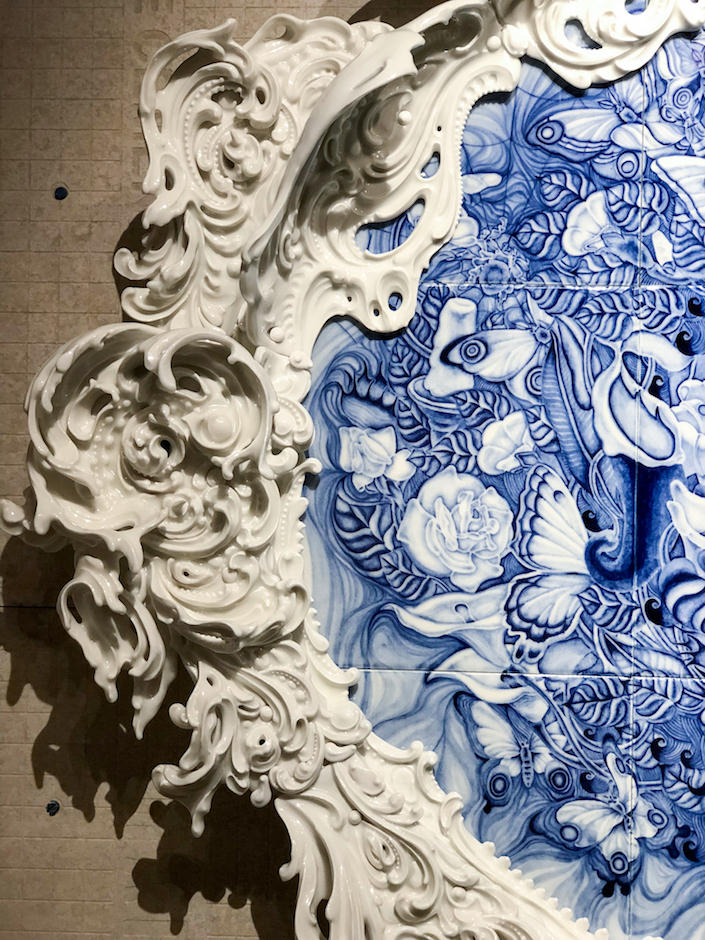 Another spin on Dutch tradition was seen at Hirschl & Adler Modern's booth with this wonderful Dutch Still Life by American painter Paul Wonner. I was not surprised to see it had already sold.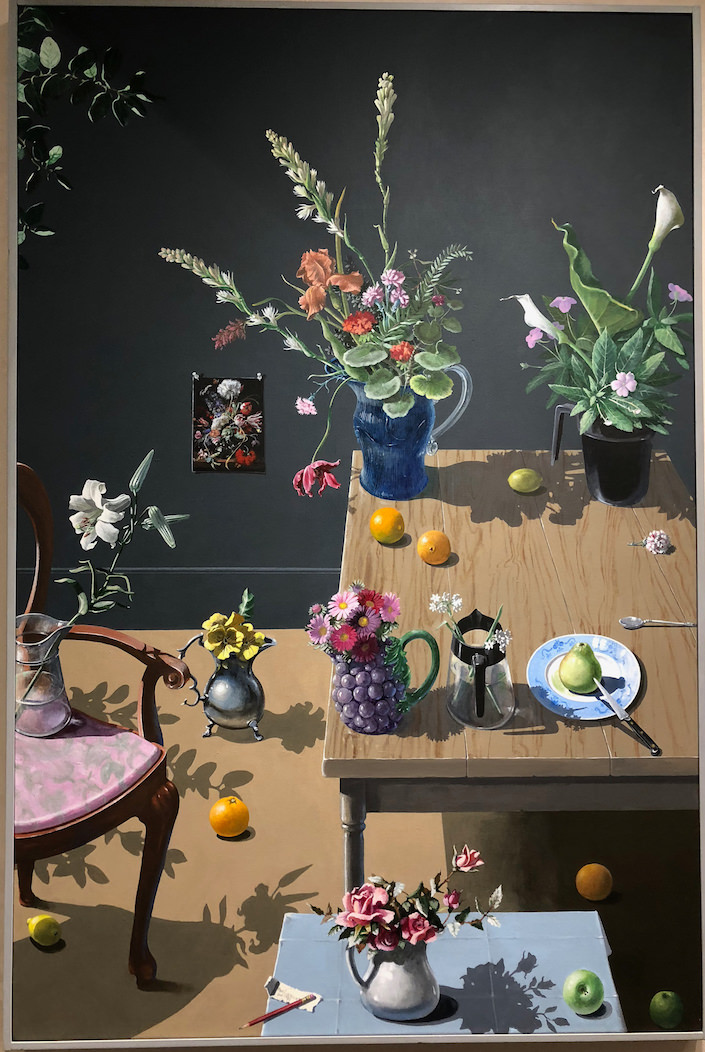 One of my favorite booths is always Angus Wilkie's Cove Landing. With an eclectic and distinctive collection of furniture, objets and special finds, there is invariably something fascinating to discover.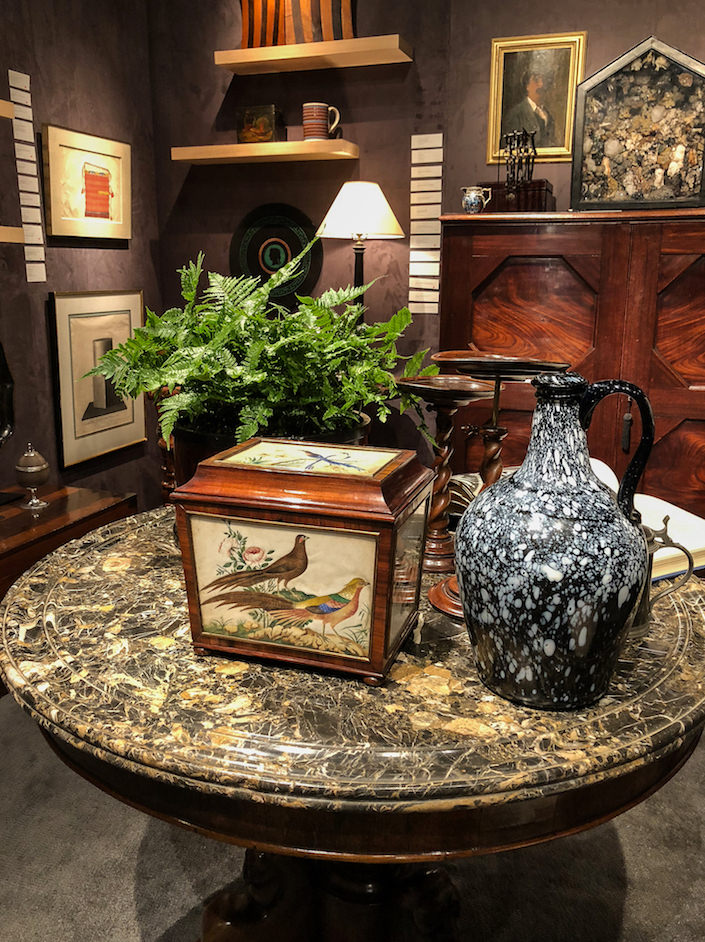 I did a little live video tour with Angus of his booth that you can watch on Facebook.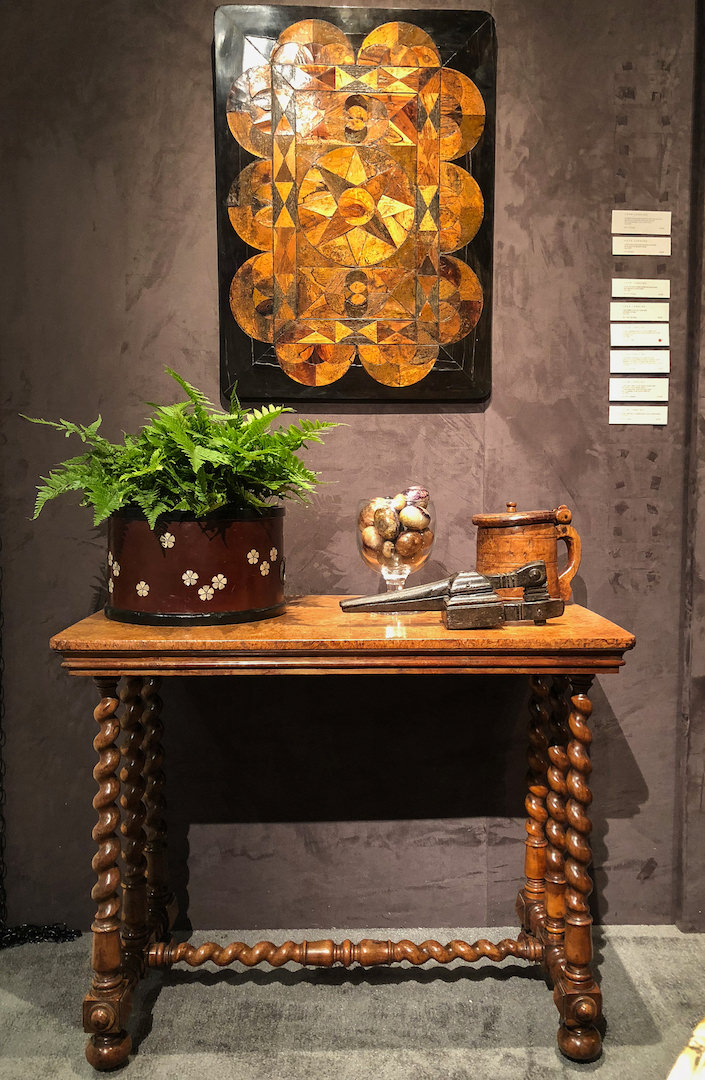 Below are a few of my favorites, that you can learn more about in the video. Angus always carries a lovely selection of treen, below.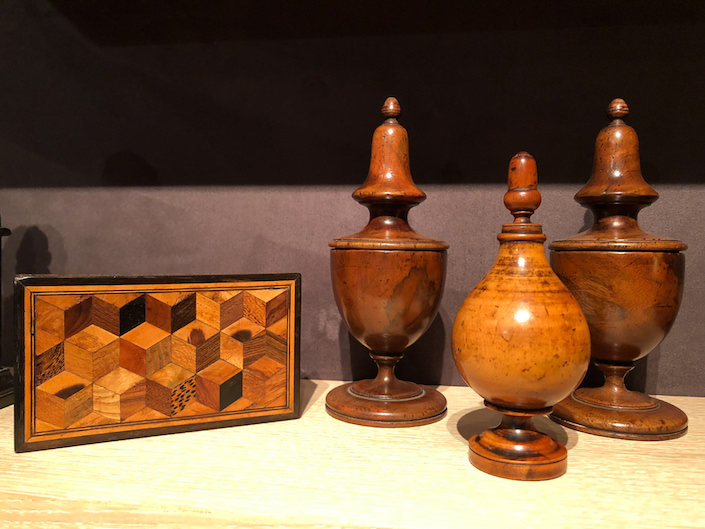 a lovely and unusual tea caddy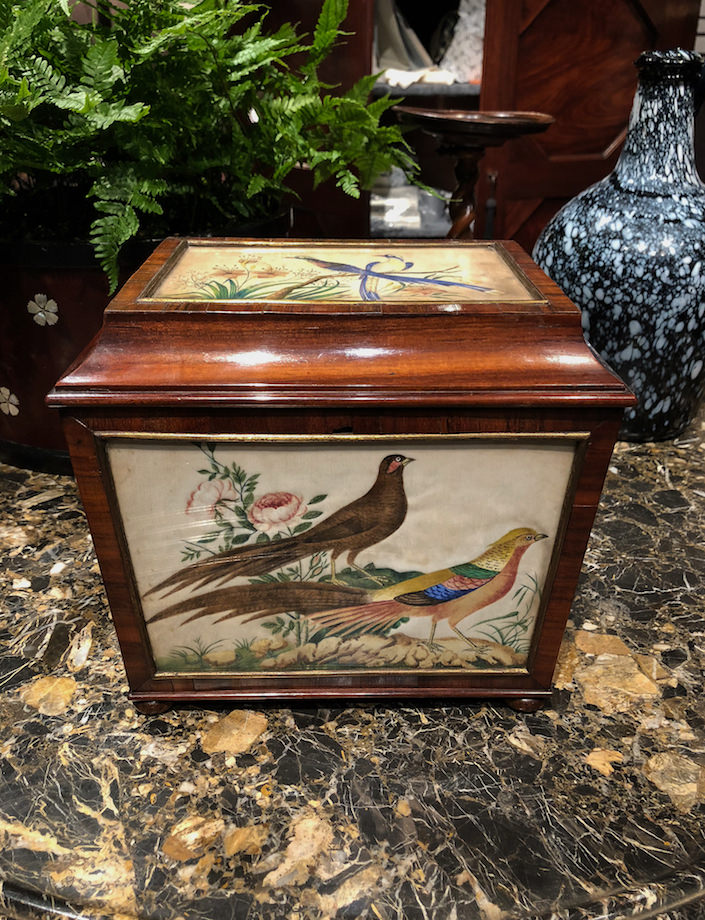 a late 19th century English mineral specimen grotto,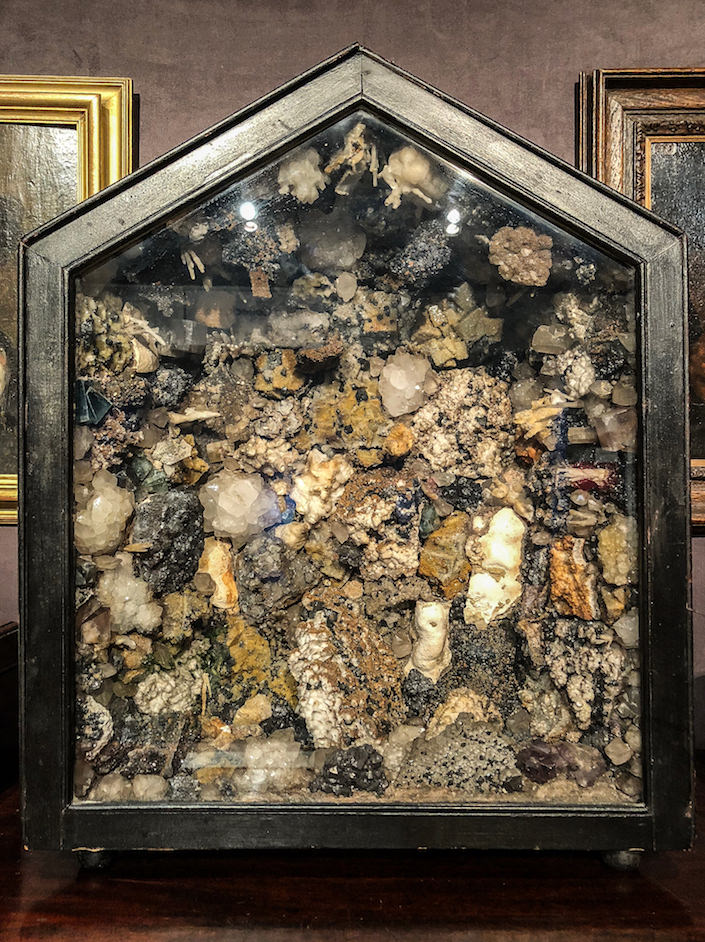 a William IV English silver-mounted ostrich egg vessel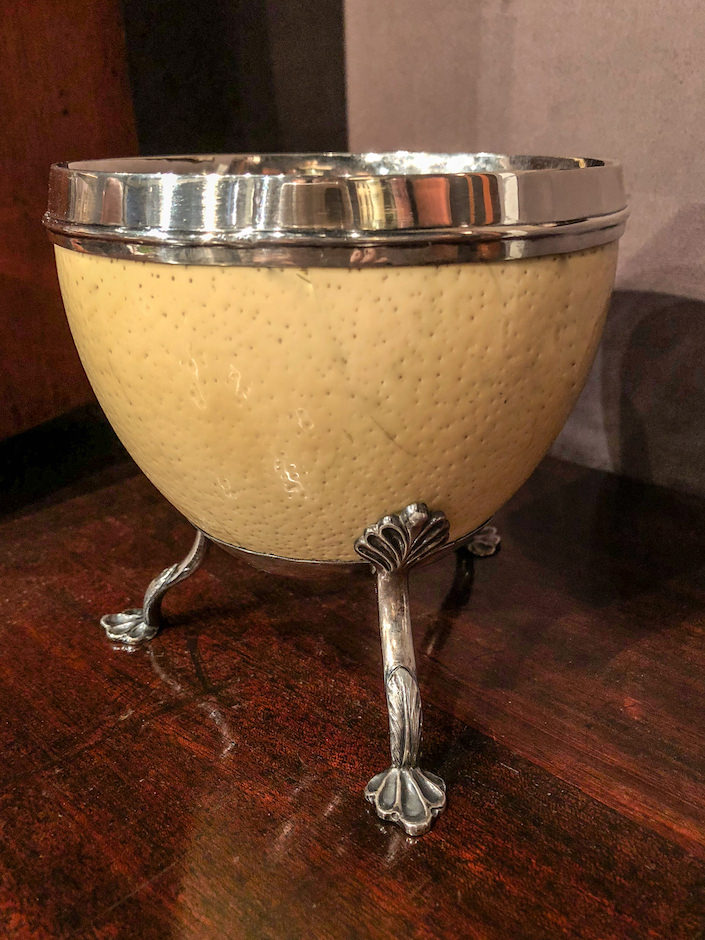 and a rare pair of mid-18th century German plates with exceptional glass beadwork. Thank you Angus for taking the time to chat with me!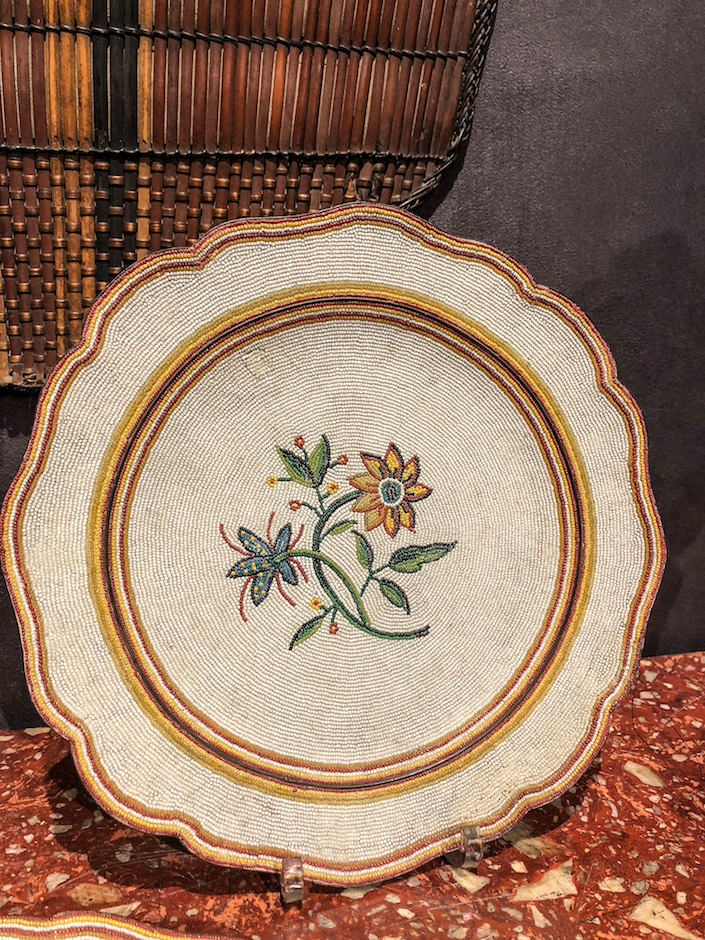 Hyde Park Antiques had an extraordinary pair of George II (1755) mahogany armchairs, after a design by Thomas Chippendale, upholstered in a glorious damask that fed into my green lust of late.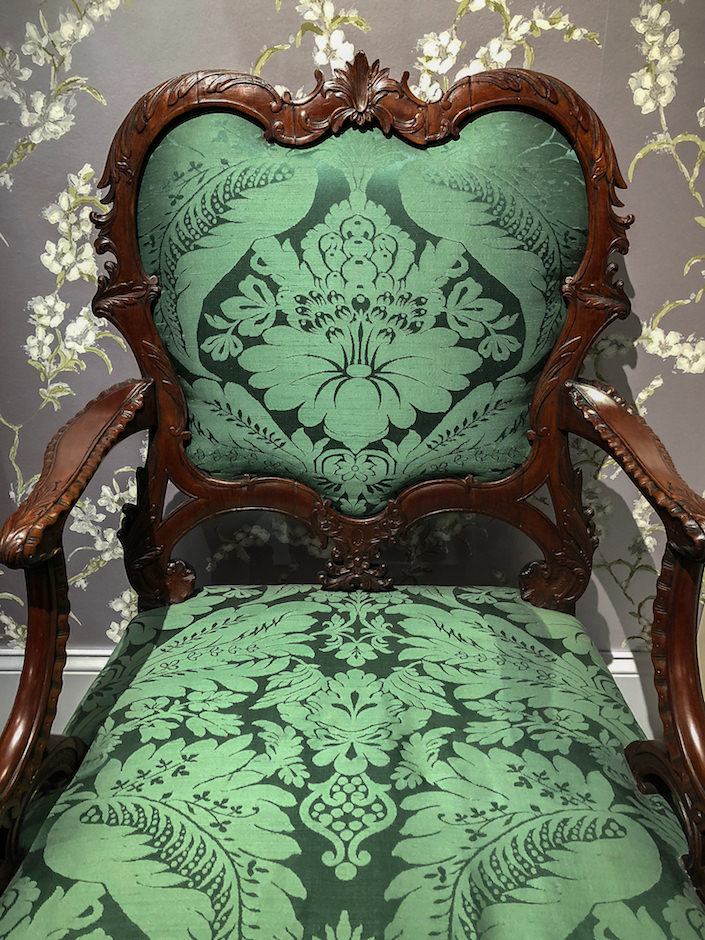 And Jonathan Boos had this fabulous Charles Green Shaw painting that is dramatic in both size, imagery and color.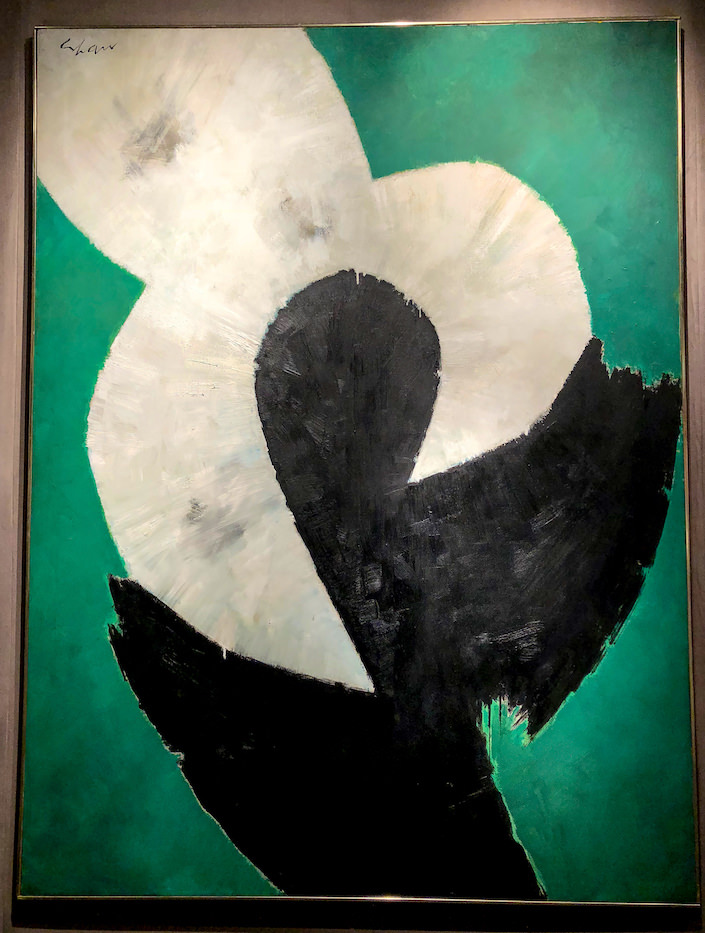 Peter Fetterman is always a stop for me and they were showing a collection of Melvin Sokolsky, including two favorites – Side Kick, Paris below, from 1963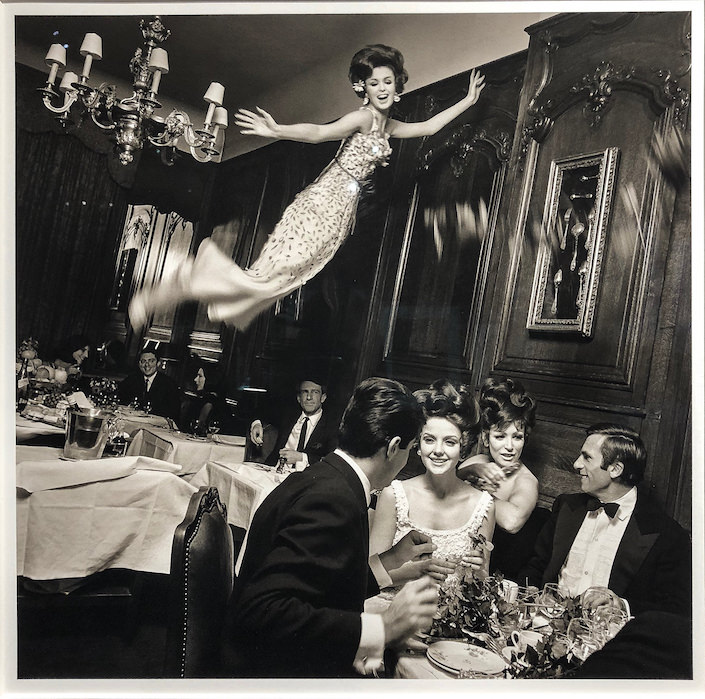 and Look Down, Bazaar from 1960.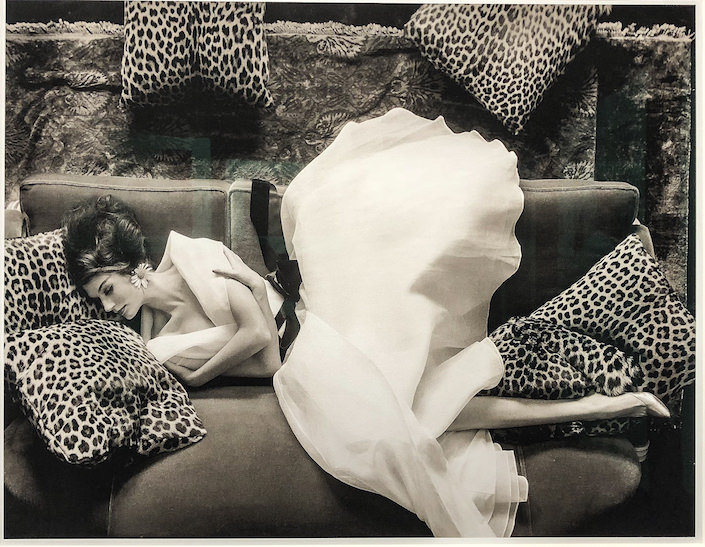 Tambaran Gallery carries a marvelous selection of museum quality Tribal Art. This 19th century Kota reliquary figure from Gabon, Africa, was once used to hold baskets of bones, guarding their ancestors.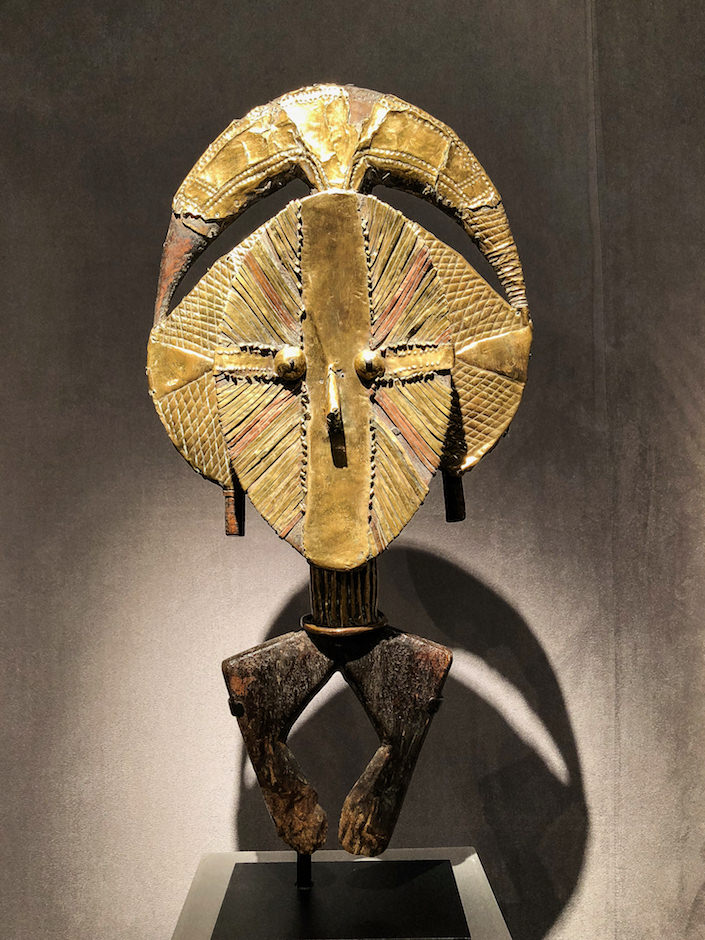 This helmet mask of wood, burlap and glass trade beads from 19/20 century Cameroon has such a sculptural and contemporary flair.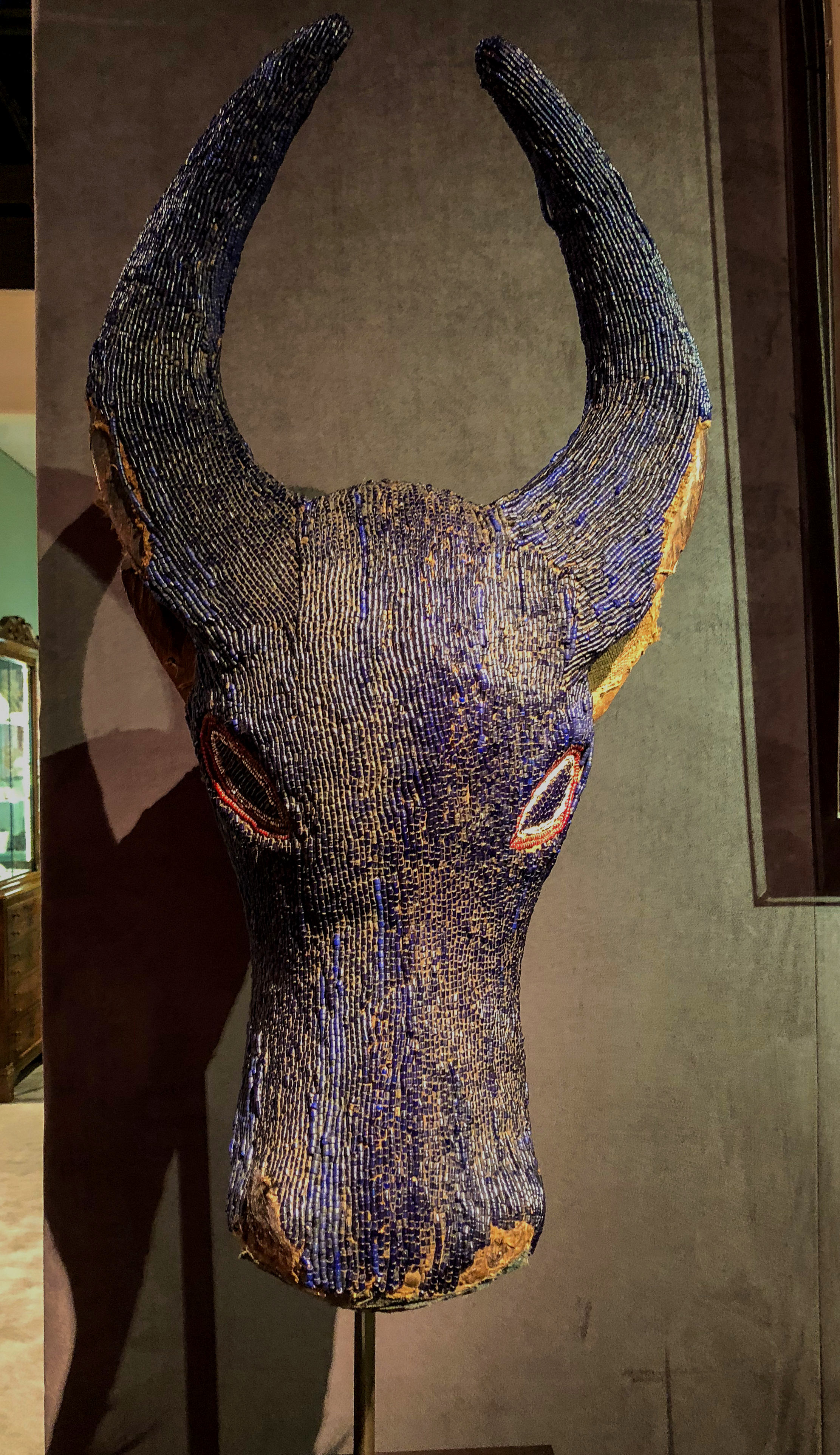 A La Vieille Russie is known, among other things, for their Fabergé, from elaborate eggs and jewels to smaller accessories such as these jeweled, gold mounted, guilloché enamel (like engine turning) match box holders.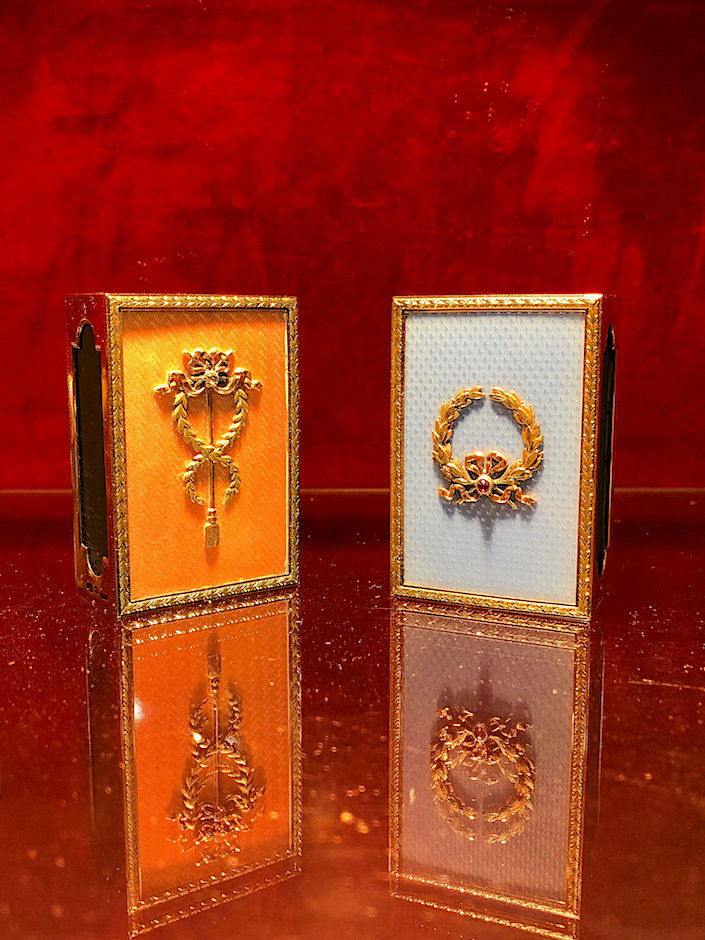 And for all us dog lovers, I had to share this fantastic Russian dog brooch. From 1880-90, it features a beautiful natural baroque pearl, diamonds and rubies mounted in silver and gold.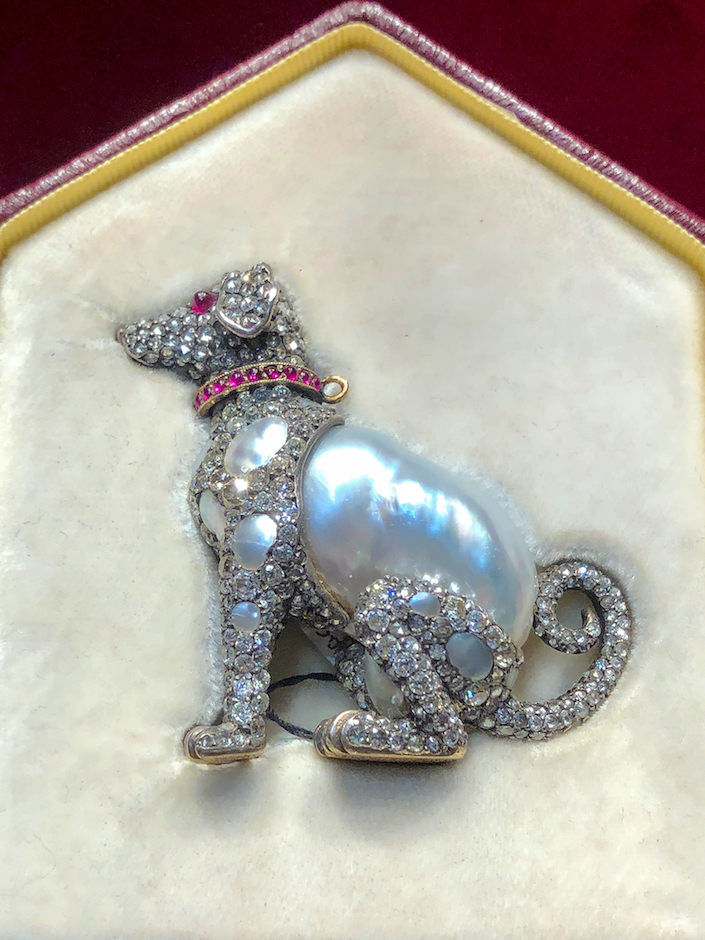 Thomas Coulborn had several amazing case pieces including a 17th century Austrian (probably) Marquetry cabinet, with incredible details.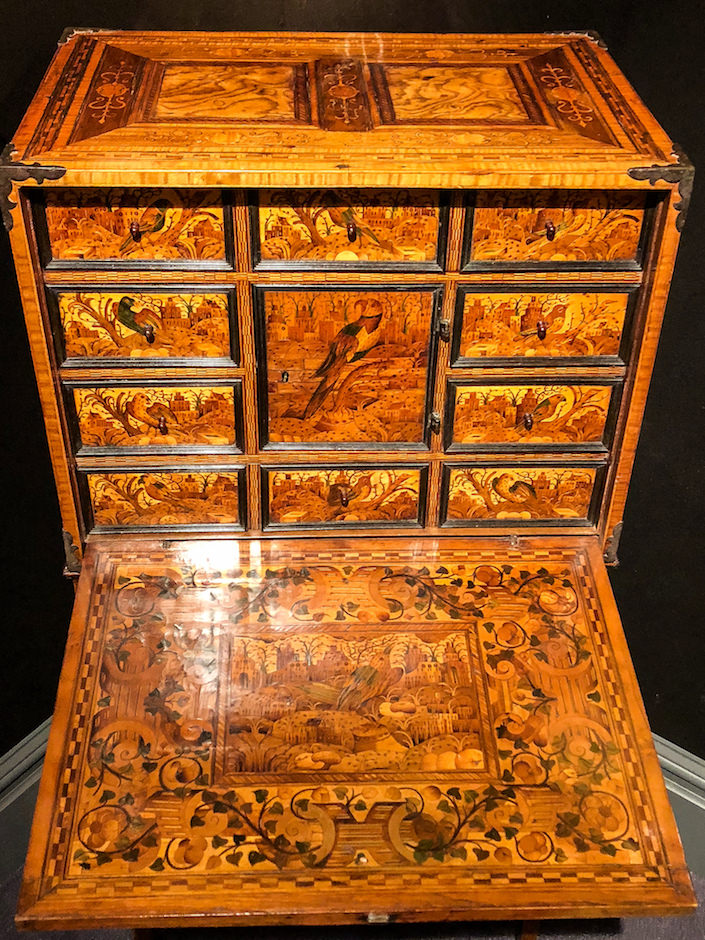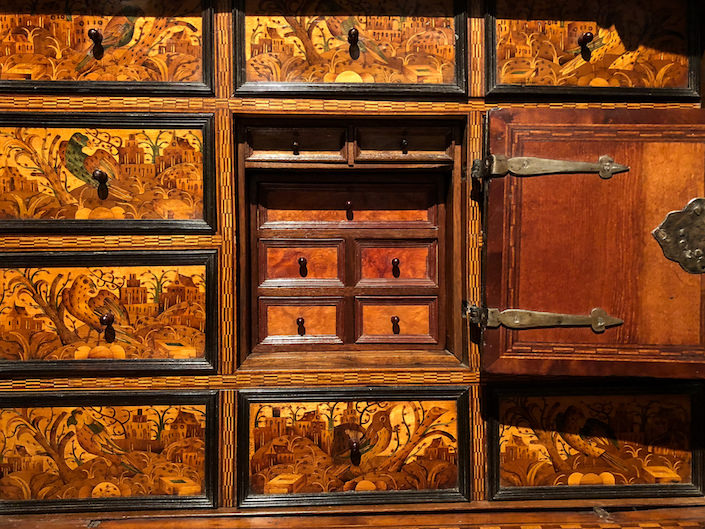 They also had several Indian portraits which I love – not quite small enough to be miniatures. Below, an equestrian portrait of the Jeypour Rajah from 1790.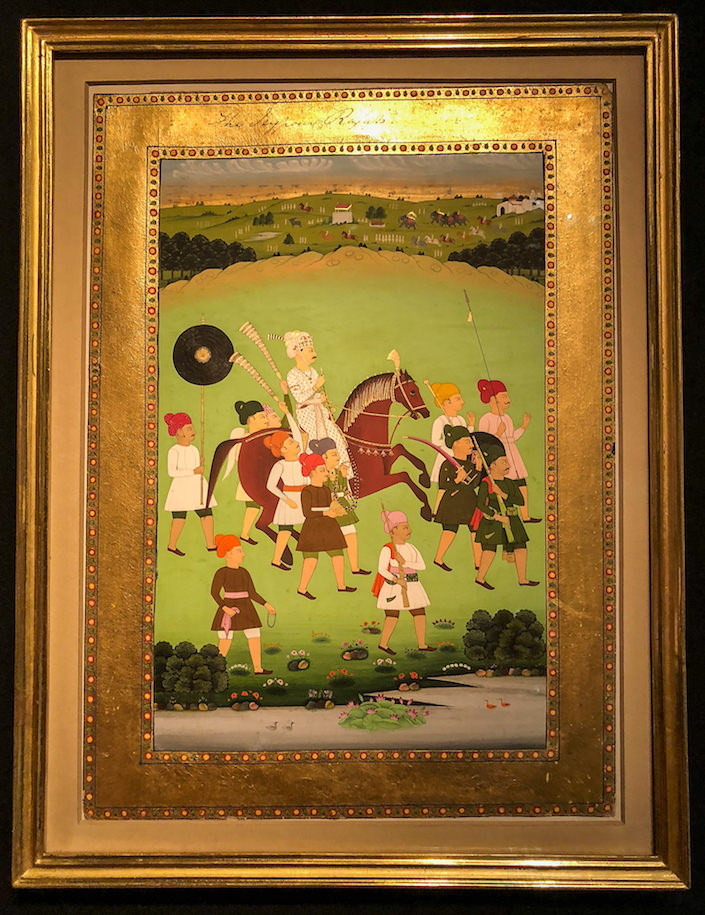 In terms of fine art, Robert Simon showed this incredible oil on panel by Girolamo Comi., which had already sold. From 1563, it features Scenes from the Life of St. John the Baptist. Besides the perspective, color and artistry, what made this so exceptional is that all the detail (and gilding) was accomplished with a sgrafitto technique – the MUCH more sophisticated version of the reverse scratch paintings we all did as kids.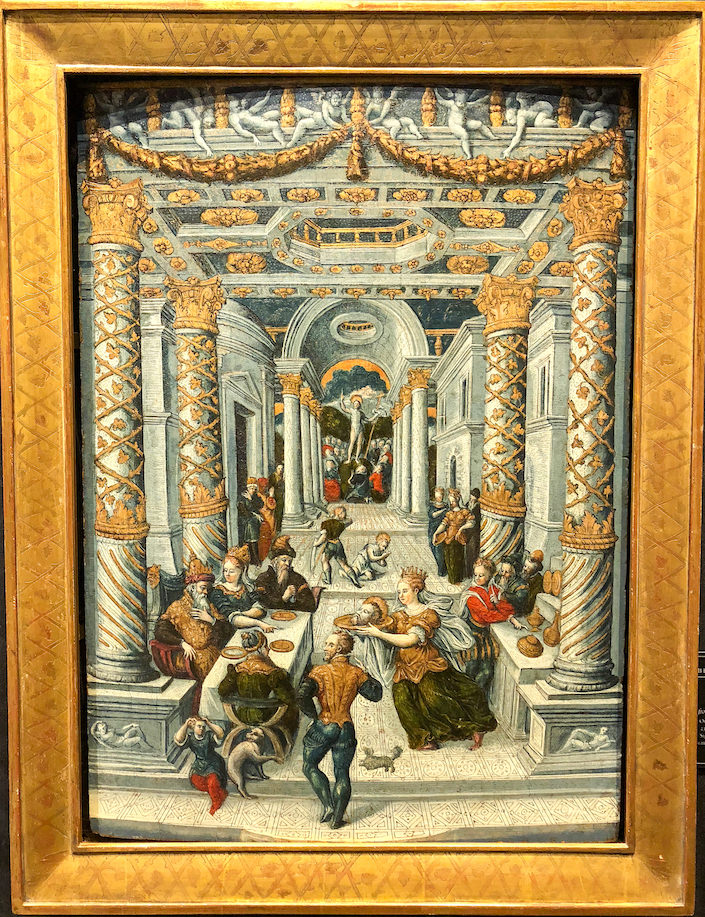 Who doesn't love a great screen? Philip Colleck had an especially beautiful leather one.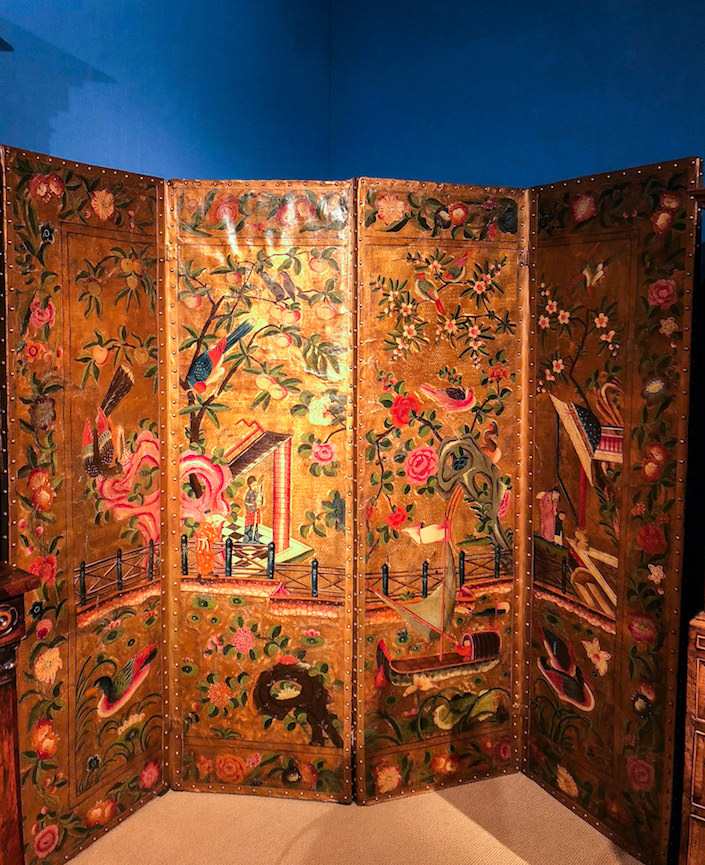 In four panels, from mid 18th century, it is polychrome painted gilt leather decorated with a beautiful landscape scene and floral border.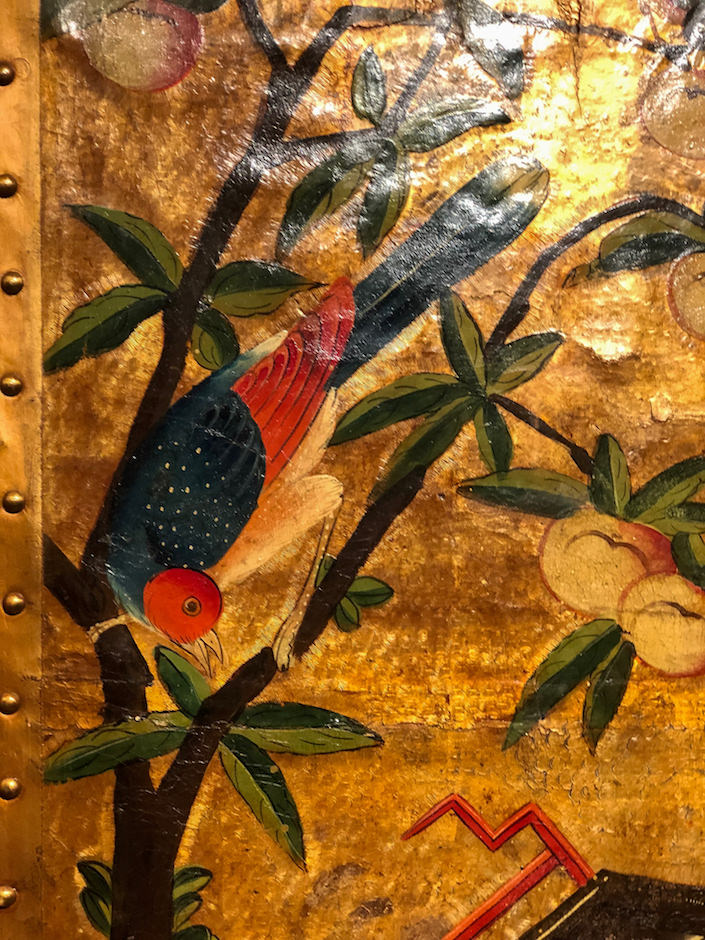 Apter-Fredericks also had a lovely six panel screen of Chinese wallpaper, telling the story of family life at a summer palace in 18th century China.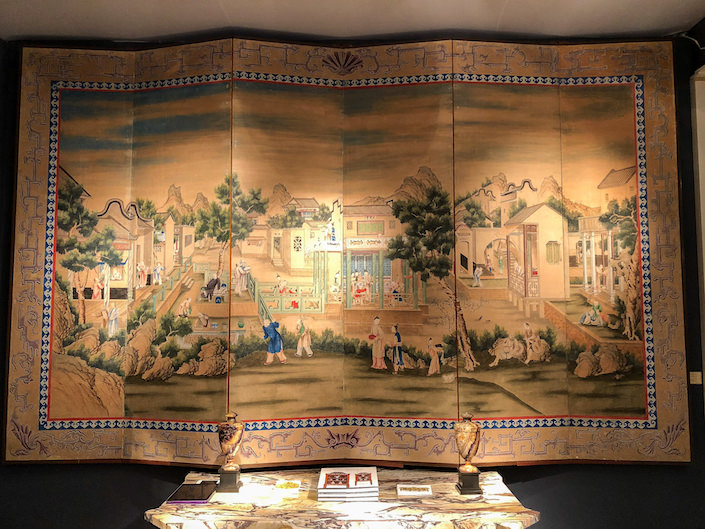 In this vignette below, you see the owner of the palace in black resting against the tree, his wife and children crossing the bridge to say hello. Below them, a sage with his disciple carrying a vase a sprig signifying new growth and longevity.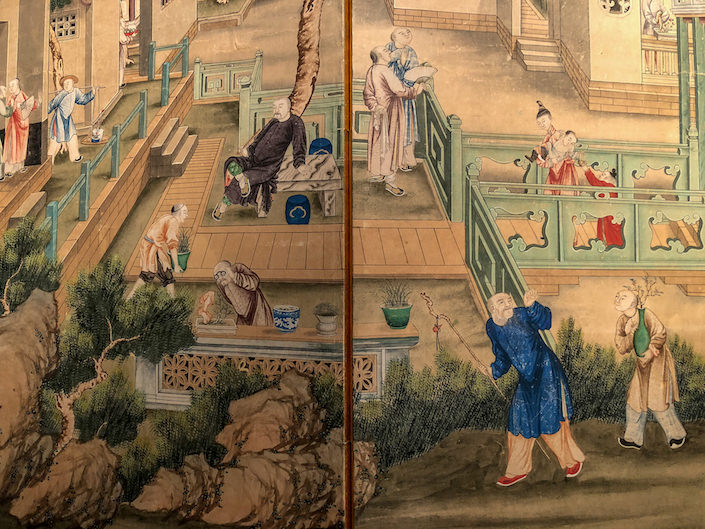 They also featured this very handsome George I (1720) red and gilt japanned bureau cabinet.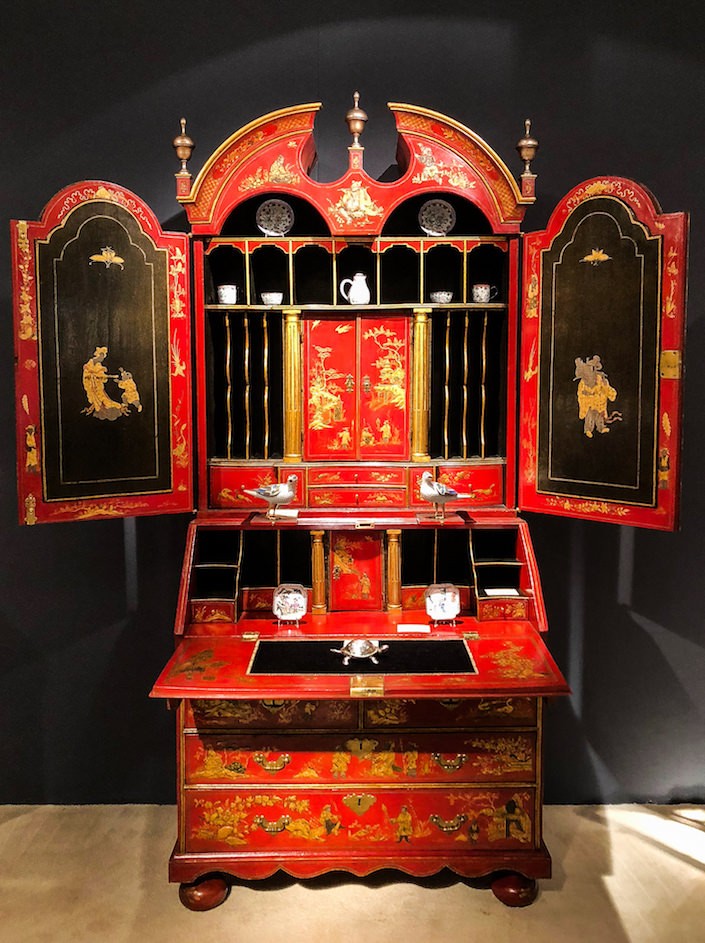 With beautiful decorative detailing, this is a timeless classic for a lucky buyer.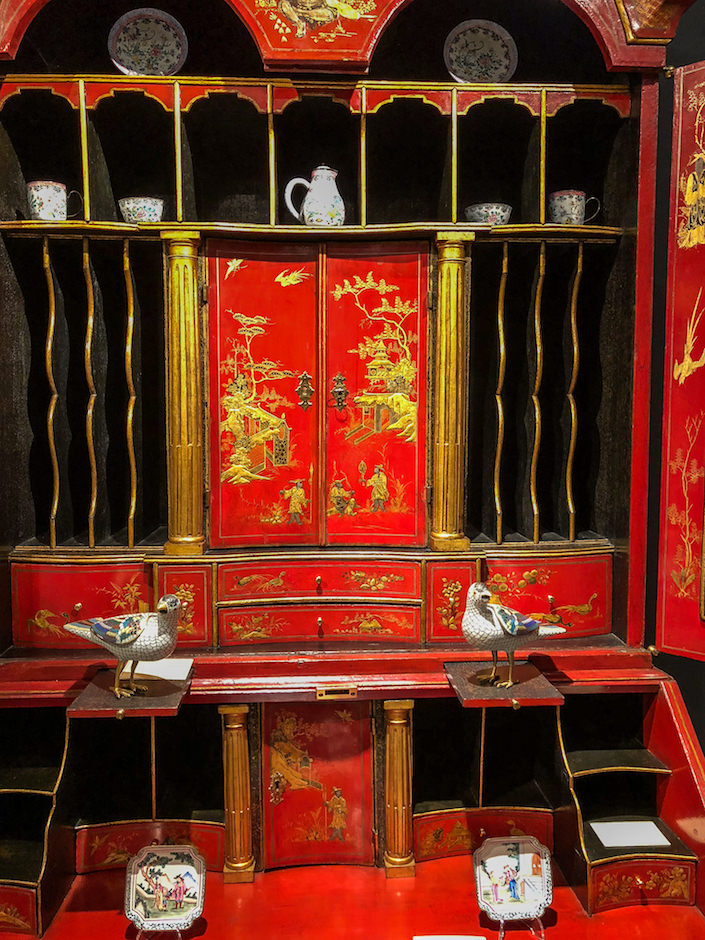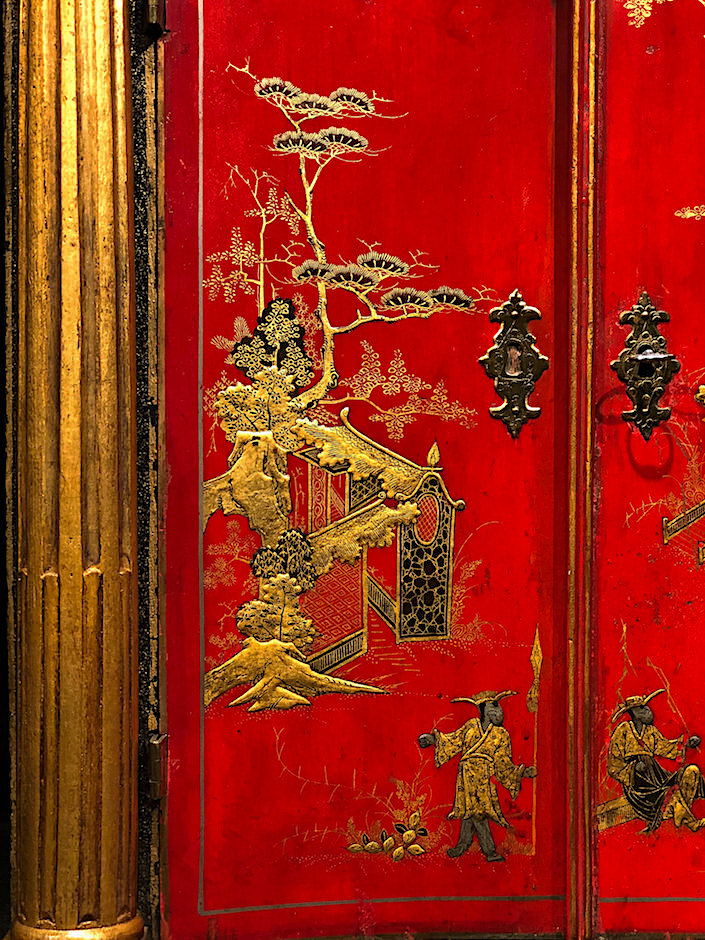 One of the stars of their booth was an exceptionally rare 18th century green glass and ormolu chandelier.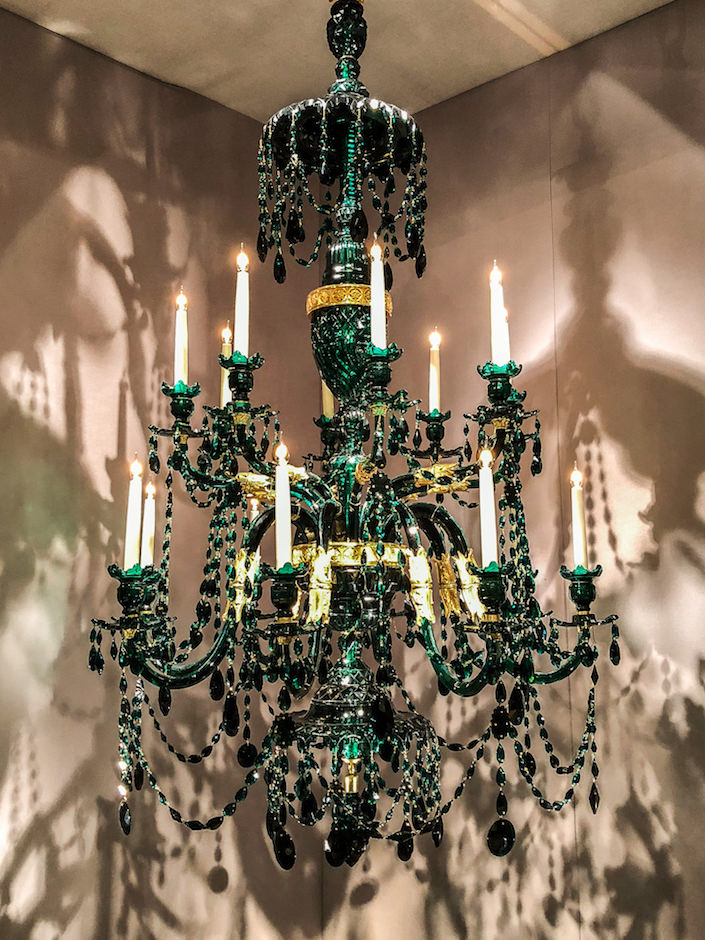 At six feet high and 40″ wide, it would be a statement maker for the right space.
all photos Stacey Bewkes for Quintessence
The 2018 Winter Antiques Show continues through January 28th with the always popular and festive Young Collectors night on this Thursday – you can purchase tickets here. You can see all the remaining programming and events for the show here.