What an incredible whirlwind of a trip BlogTour was. Design 24 hours a day with nonstop visual inspiration. Thanks to Heathrow and the good people at Virgin Atlantic, I have my laptop back and am ready to share some of this amazing experience.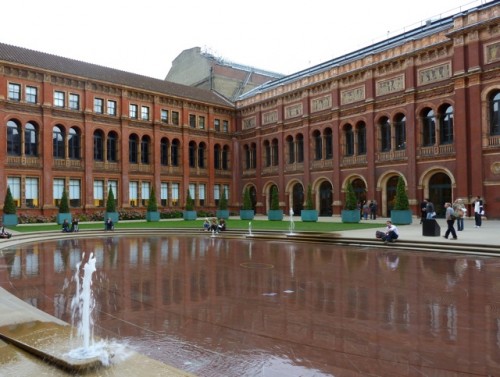 As I just returned yesterday evening, I am still in the throes of processing all that I saw but one theme was abundantly clear – the juxtaposition of old and new. This was especially evident at the beautiful Victoria and Albert museum, where the London Design Festival had several stunning installations.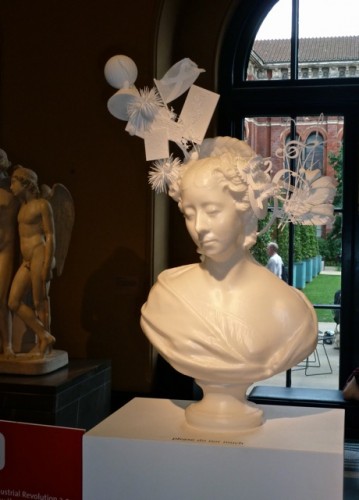 One of the most publicized was iconic design purveyor Murray Moss' curated  "Industrial Revolution 2.0: How the Material World Will Newly Materialise." Working in conjunction with eight designers, he commissioned 3D printed projects to be created (printed) in one piece by Belgian 3D printing pioneers Materialise. Although 3-D printing has evidently been used for years by the medical profession, this show presents the artistic potential for the concept.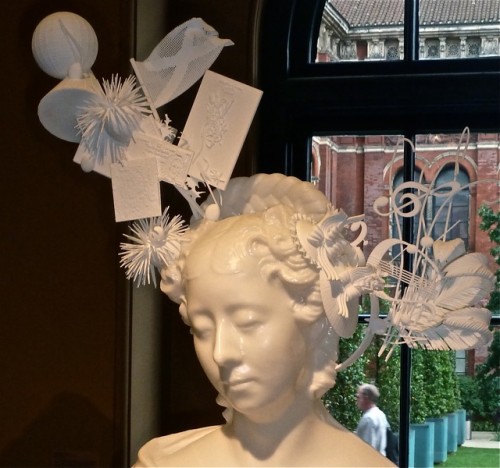 This magnificent melding of old and new is perfectly illustrated above by millinery designer Stephen Jones' ode to Lady Bellhaven, a bust from 1827 in the V&A sculpture court. Inspired by her supposed relationship with Chopin, his "tra la la tiara" has musical notes woven into its ornate design. And it's not just the hat that is printed, but the entire bust!! Materialise scanned and made a digital clone of the bust, then printed it in one piece with Jones' imagined hat – amazing!!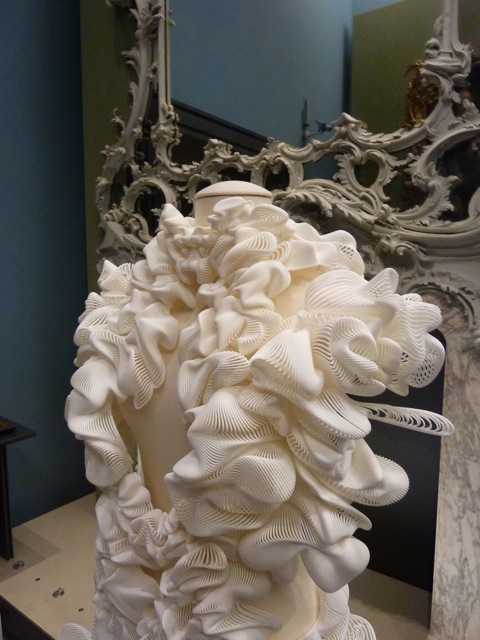 In our ultra speedy tour of the museum with the BlogTour team, we didn't get to see the whole exhibit, but my other favorite piece was this extraordinary Escapism Dress created by Dutch fashion designer Iris van Herpen, part of a continuing collaboration with London architect Daniel Widrig. Juxtaposed with the ornate, I believe 18th century, mirror in the background, it's an elaborate fashion statement of our times – timeless baroque detail created with cutting edge (pun intended) technology.
Here is the dress on the runway at Iris's fashion show in January. As 3D printing becomes more ubiquitous, stores who purchase such collections will have no shipping costs – they will receive the new designs by USB to print out at their shop!!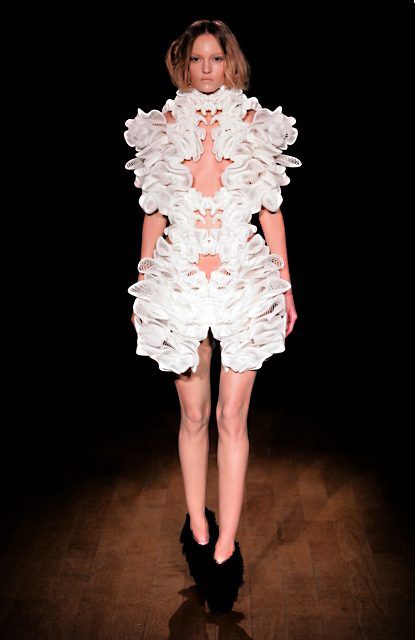 The item that first sparked Moss' interest in this technology was Patrick Jouin's "One_Shot" stool, in the entrance to the architecture room in the V&A. If his name sounds familiar to readers, it might be because he designed the spectacular installation of the Van Cleef & Arpels Set in Style exhibit at the Cooper Hewitt that so entranced me!!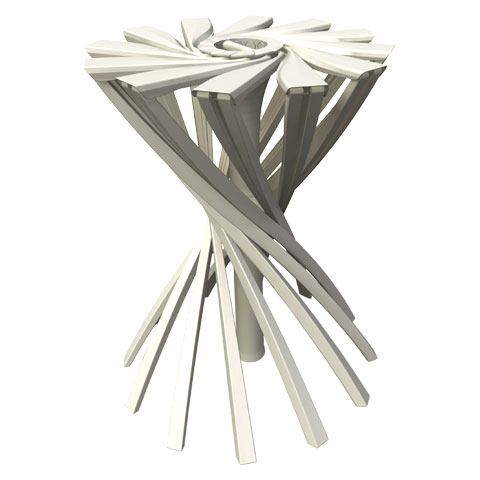 Laser printed in one piece (hence the name One_Shot), it has articulated legs that fold up like an umbrella or open easily to form the stool.
As Moss points out, there is a plaque at the V&A stating "The central intention of the Museum's collections was to improve the quality of the "industrial arts" – designed and manufactured objects – in Britain, by placing the finest historical and contemporary examples before the public". Even then they knew – the juxtaposition of old and new is the future of design!!
He continues, "That's what I think the purpose of museums is; to inspire, challenge, redirect and question. You should go through a museum questioning your whole life. That would be a good museum." I couldn't agree more!!