At the venerable Parish-Hadley firm, interior designer Brian McCarthy learned from the best of the best. An Architectural Digest AD100 and ELLE DECOR A-List designer with his own firm since 1991, he received, at the legendary firm, a comprehensive introduction to every aspect of creating a beautiful and smooth running residence. With an educated eye for art, a detailed knowledge of decorative arts and design and a passion for craft and excellence, Brian has built a firm that focuses on quality and originality. And while he had the finest training in the industry, it is perhaps his many years as a serious equestrian that gave him that special sensitivity to temperament so essential for dealing with clients. As he explains in the introduction of his book, Luminous Interiors, "To be able to combine the intellectual and intuitive, theory and inspiration, the process of creation and the need to achieve a result – and to ride it all to victory – represents the essence of my experience as a designer." Join Susanna and me behind the scenes as Brian, and his dog Daisy, welcome us into his chic country home.
Starting from scratch on a completely undeveloped parcel of land, Brian has created, in Alfafa House, a bucolic weekend retreat that feels enveloped and anchored in its landscape,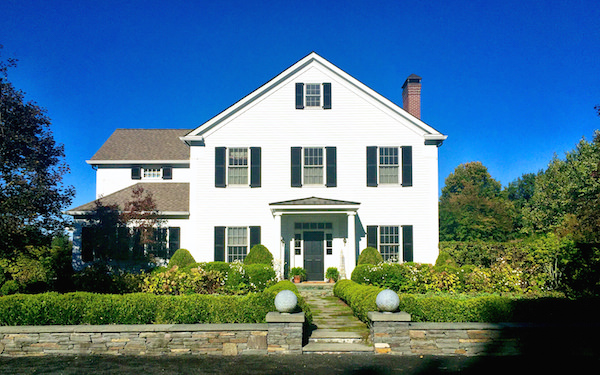 with an appropriate country charm.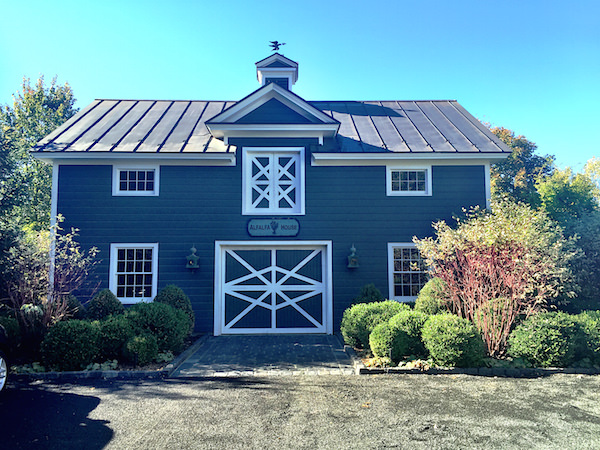 With a commitment to informality, the low key elegance of the house is given personality with sophisticated art and collections. Brian is always referring to his work as a scrapbook. "Everything becomes a distillation and layering of objects and furniture. And at the end of the day it really is like a walk down memory lane."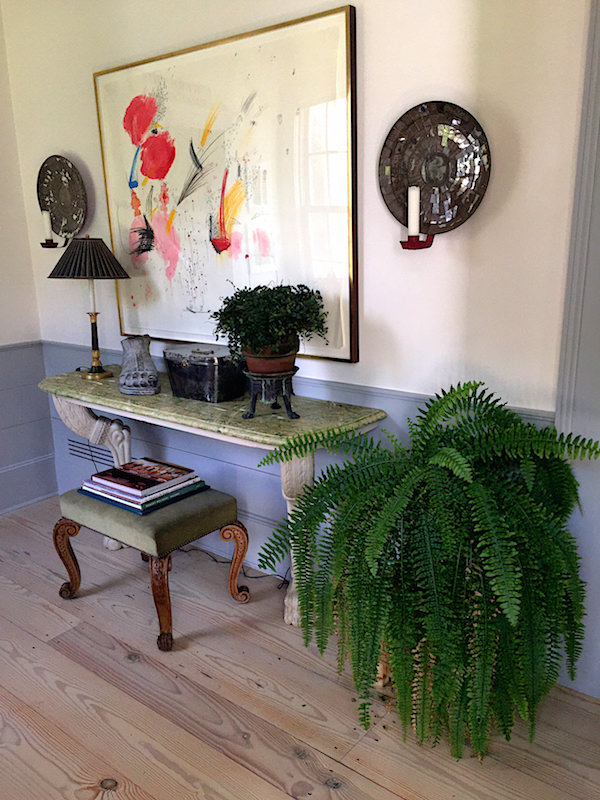 In the entry, above, a stylish eclectic grouping includes a 1940s table, Roman stone foot bought from a dealer in Nice and a Mika Rottenberg work on paper. And the blond faded pine floors, stained with a light gray wash, add, like negative space, that important element of "nothingness." Below, beloved dog Daisy sits on the Directoire daybed mentioned in the video under a monumental statement-making Kati Heck painting.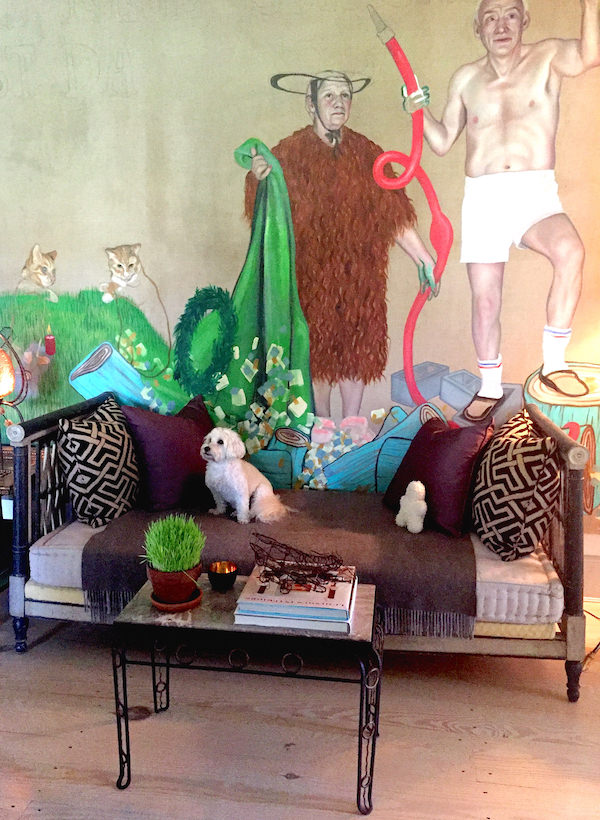 Within this relaxed country environment, one immediately recognizes the work of not only a talented designer but an educated eye. And it is this curiosity that infuses all of Brian's work and leads to a constant evolution of his sophisticated style. Thank you Brian for a beautiful and inspiring day at Alfafa House!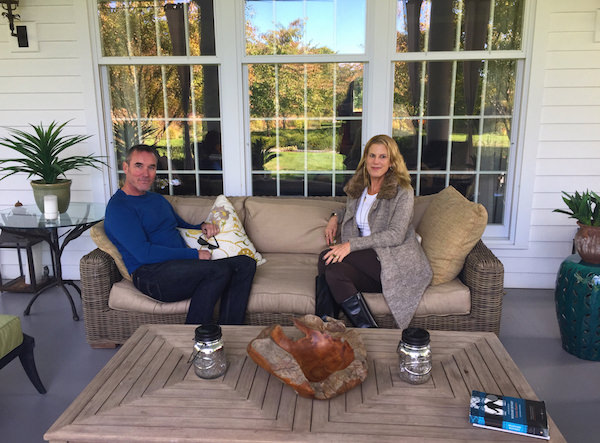 Thank you also to our wonderful video sponsor, Jonas. For generations Jonas has been skillfully handmaking custom upholstery and curtains for the best in the business.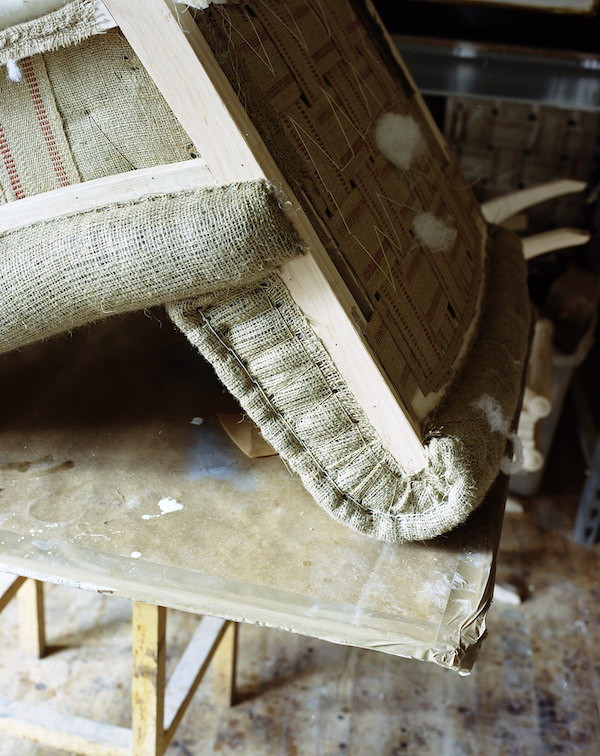 Employing traditional old world artistry, their bespoke products epitomize the highest benchmark in craftsmanship for a lifetime of style and comfort, which is why Brian McCarthy has been a client for years. .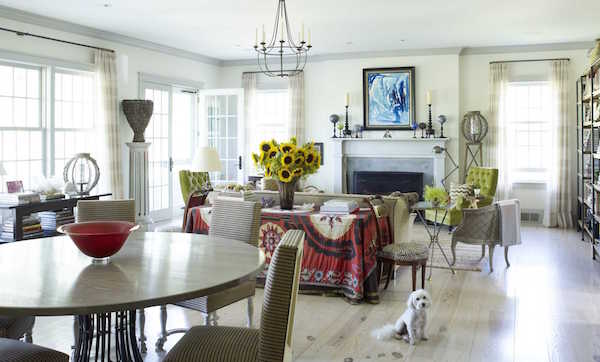 Using Jonas for his own home, above, and many client projects, as below, Brian touts their talent. "I love working with Jonas because they are willing to develop new models with me that ultimately are more complicated than usual and require a lot of detail that can only be done by hand! They are always up for a challenge and believe you me, I challenge them. They are great collaborators and deliver a great product!  A Jonas piece of furniture is forever."