It was Blake's, the chic London boutique hotel, that put Anouska Hempel on the map in the world of design. Inventing an entirely new template of what a hotel could be, this unique creative endeavor was an early indication of what would grow to become an all encompassing international realm. From architecture and furniture to landscape, products and fashion, Anouska Hempel has an insatiable thirst and talent for every aspect of design.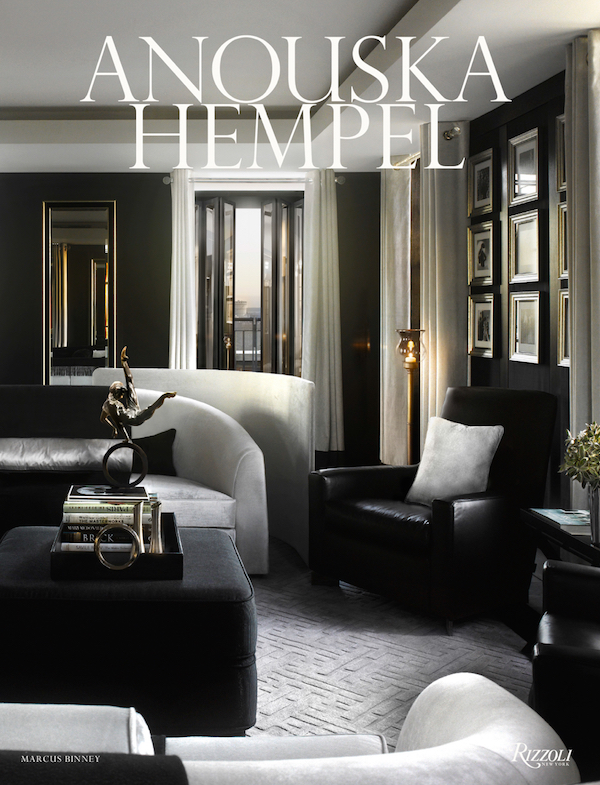 In this comprehensive volume of her work, architectural critic and author Marcus Binney invites us into her visual world, touring us through Hempel's homes, hotels and other projects, with explanatory notes on her creative vision and process.
photo © Adrian Houston
The basement bar at Blakes, above, incorporates many signature elements of Hempel's distinctive aesthetic. Her use of black with rich saturated colors and mirrors yields a luxurious space with a romantic appeal and hint of mystery. Heavily layered with collections, accoutrements and visual effects, it transports us to an exotic locale far from the bustling streets of London above,
photo © Simon Mack
as does the Chinese Room, above, illustrating her quest for coordinated perfection. It is, like many of her designs, a Gesamtkunstwerk, a complete and all-encompassing  environment, from the structural architecture to the ribbons that tie the napkins.
photo © The Hempel
The Hempel, her ode to white architectonic minimalism, shows the breadth of her design vocabulary. Even within the stark palette of this townhouse hotel, there is variety from room to room, with creative design solutions. The Lion's Cage suite, above, features a bed floating in a zen like space. Screens are a much used device in her work and here, supporting steel rods function almost metaphorically as such to define the bedroom's walls.
photo © Cameron Maynard
But it is Cole Park, the country house of Anouska Hempel and husband Sir Mark Weinberg, where she tells her visual story best. As Binney describes it, "She is the conductor of a symphony in which the craftsmanship and decorative effects play an equal role with the furniture and objets d'art." Here her endless sources of inspiration are translated into a masterpiece of personal expression. The breakfast room, above, is essentially a glorified corridor, transformed into a porcelain cabinet embellished in abundance with Hempel's loved blue and white.
photo © Fritz von der Schulenberg
In an illuminating introductory essay, Belinda Harvey examines the many sources of inspiration in Hempel's work. From her love of red to Elizabethan portraits to the visual games created by trompe l'oeil, every story becomes a picture and every room has its own story to tell. The dining room, above, speaks to her multi layered approach – of color, pattern, objects and art all within a controlled space of symmetry, proportion and scale.
photo © Andrew Lawson
The exterior of Cole Park is a marvel of disciplined design. Within an overall scheme of strict axes and geometry, there are brilliant contrasts of hard and soft with both grand and minute gestures. Like her interiors, every moment is a calculated decision executed with precision for overall effect. No detail is beyond Hempel's consideration and no inspiration too far fetched. "I can dream myself into a desert tent playing footsie with Genghis Khan, or a military tent planning strategy with Napoleon. Wherever my imagination finds itself that's where my rooms begin."