There is no question that Parish-Hadley Tree of Life is a must-have volume for any interior design aficionado. Authored by distinguished alumni Brian McCarthy and Bunny Williams, the volume is a rich and colorful history told through informative and entertaining chapters from thirty designers and architects who worked at the legendary firm. If there is one thread running through the book, it is how influential their individual experiences at Parish-Hadley have continued to be throughout each of their careers.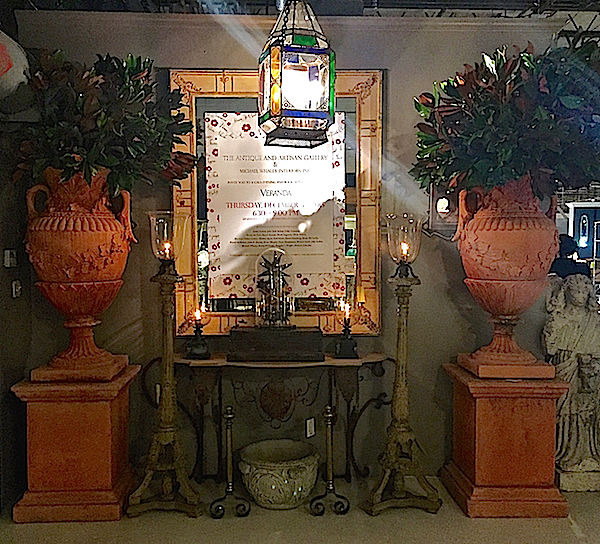 And while there have been many celebrations of this important design tome this fall, one of the most festive was last week at my favorite local haunt, the Antique and Artisan Gallery in Stamford, where endless inspiring and tempting vignettes seemed a perfect backdrop for this special event.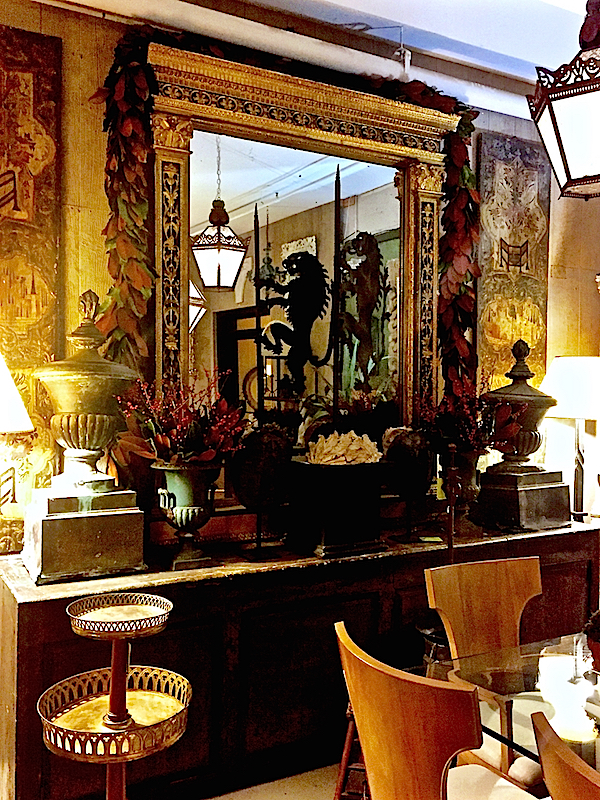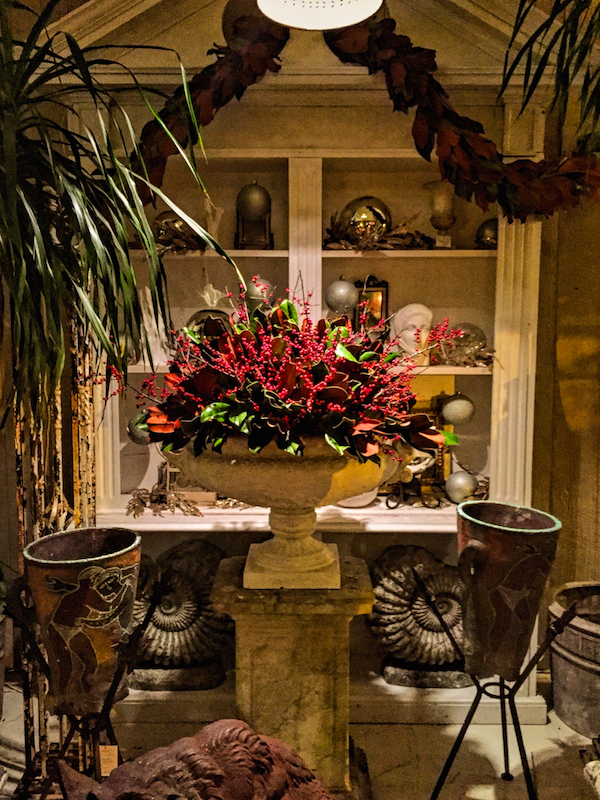 Presented in collaboration with Connecticut interior designer and Parish-Hadley alumnus, Michael Whaley and hosted by Veranda Magazine, many of those featured in the book were in attendance to sign books and celebrate.
Over the years, I have seen quite a few Parish-Hadley alumni stalking the gallery for unusual and distinctive finds, making this a wonderfully appropriate setting for this festive holiday event.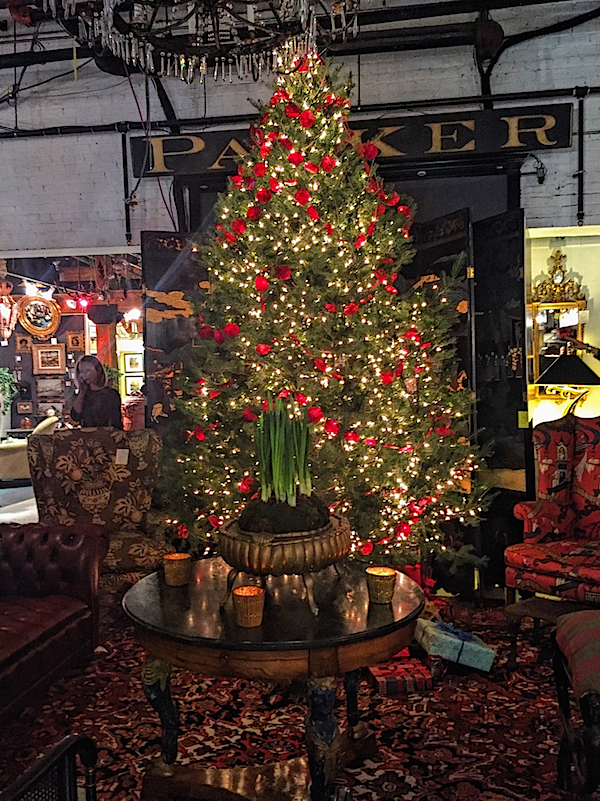 I managed to catch up with a few of the designers in the front of the gallery, where areas to sign books were topped with blow-ups of their work from the book. Below, architect Douglas Wright and designers James Andrew and Brian McCarthy.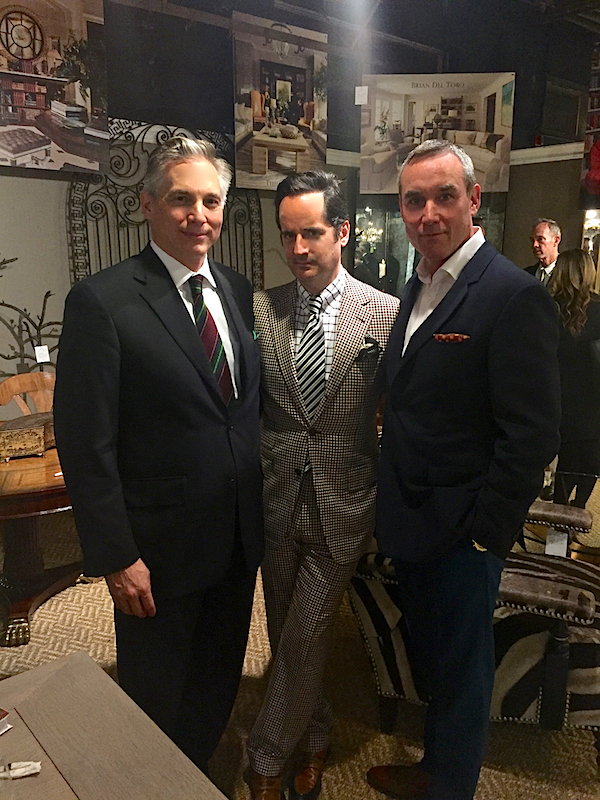 From his nine years at Parish-Hadley, co-author Brian McCarthy includes so many entertaining and insightful memories from his time at the firm. And while he cites many personal and professional anecdotes, one of my favorite pieces of design advice is, "Proportion and scale are two of design's basic principles. Understanding them takes time and experience. They are the stuff of relationships – the size of a chair leg and the way it relates to the dimensions of the chair back; the length, width, and height of a wall as it compares to other walls and doorways. Measuring, repeated measuring, is what teaches you what works, what doesn't and what's sublime. Parish-Hadley trained us not to leave the essentials to chance." Like his living room for this house set by the sea, below, Brian's resulting designs are elegant, exuberant and sophisticated. If you don't own already, his own book, Luminous Interiors, is another must-have.
photo by Francesco Lagnese
Douglas Wright was not only another Parish-Hadley alumnus in attendance at the party but the architect of the house above. As an architect coming out of Parish-Hadley, Douglas learned many invaluable lessons which he shares in the book, one of the most important being to draw ideas first, then edit. It leaves room for experimentation and to think about how people live. "Architecture school is always about structure, and about rather remote concepts. like light and form. Structure, light and form are incredibly important. But they're very abstract. Where you put a drink down is not." Below, he collaborated with another Parish-Hadley alumna, Bunny Williams, on the renovation of a house on Buzzards Bay, where adding all my favorite details, like "vintage hardware, window glass, plaster, and moldings" lent substance and character to the house.
photo David Sandberg ESTO
Friend James Andrew worked at Parish-Hadley post Sister Parish. In his tenure working with Albert, he learned not only about the importance of structure and proportion but all the special custom touches that make a room special. "Many designers believe that more is more is more. For Albert, it was about learning when to stop. He was such an unpretentious man. He would rather us a $5-per-yard fabric, but have the curtains made by the best curtain maker. All those things – custom-made upholstery, designing unique pieces for clients, quality workmanship – really stuck with me." You can see the mix in his own bedroom below featured in the book. And to see more from James' fashionable point of view, be sure to stop by to read his chic musings on his blog, What is James Wearing?.
photo Matthew Dean
Below, Brian del Toro, David Kleinberg and Thom Filicia were standing ready to accommodate the many waiting for their signatures.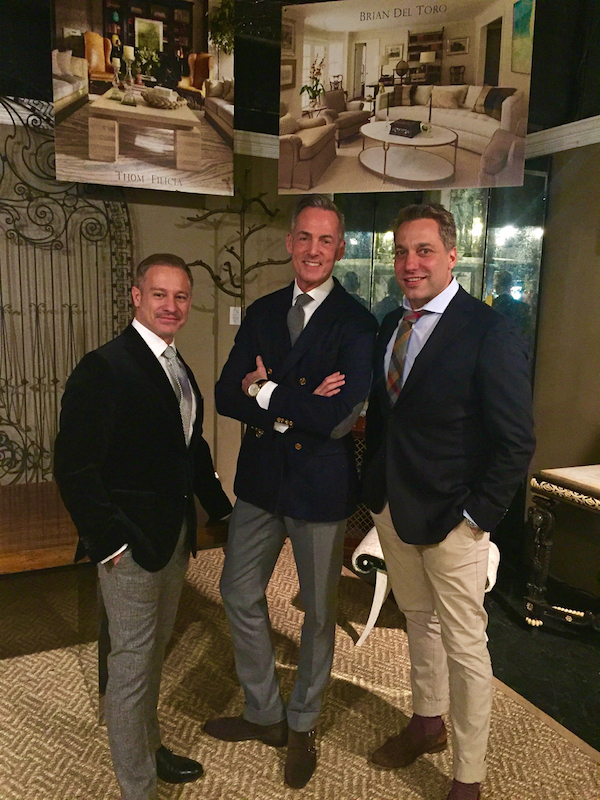 Brian's room, below, for the 40th anniversary Kips Bay Show House was one of my favorites that year. In the book, he remembers how Albert Hadley stressed  the importance of scale, functioning floor plans and appropriateness, explaining "You don't wear a ball gown to a picnic."
photo Marco Ricco
Like many in the book, David longed to work at Parish-Hadley and ultimately the opportunity arose for him. While his work, below, is distinctively his own, Albert is always in the back of his mind. "To this day, when I look at plans, I will hear Albert say, 'Okay let's start at the front door. What do we see: What's happening? What do we want it to be"
photo Pieter Estersohn
During college Thom Filicia had a summer internship at Parish-Hadley working for several senior designers including David Kleinberg. After graduating, he joined the firm, where Albert Hadley taught him "to create a foundation of structure, then to loosen it up with other pieces." You can see this balance in the apartment Thom designed for House Beautiful's Designer Visions show house in 2009, below.
photo Eric Piasecki
I'm sorry I didn't get a chance to snap the many other Parish-Hadley alumni who were in attendance at the party like Connecticut designer Michael Whaley, who helped spark the idea for the event. One thing he mentions in the book, which Bunny Williams frequently addresses in her talks, is the business of design. As Michael explains, "What I learned from working at Parish-Hadley was not how to decorate a house – I had been decorating for a while before I arrived there – but how to run a business. I still use the method that Albert instituted back then because decorating is a complicated business that requires planning, organization, follow-through and meticulous attention to a multitude of details." Below, Michael's design, featured in the book, of a beautiful entry in a waterfront home.
photo Durston Saylor
At the Antique and Artisan party were two Parish-Hadley alumni who not only share a first name but worked at the firm at the same time. Todd Klein, whose bold design for a Greenwich house entry, below, has long been a favorite, described what many others in the book felt. "I want my clients to know what it is to work with someone who has the Parish-Hadley legacy. I want them to experience all the joy of the service we provide. They will understand better how architecture works, how important it is to put a room together properly, why a certain paint color can be transformative, what a mirror in the right place can do, how much the palette matters."
photo Read McKendree
Todd Bishop is not only a Parish-Hadley alum but went on to work with Brian McCarthy. I have known Todd for several years and appreciate his intellectual approach to all he does. His ode to Albert Hadley at Rooms with a View was one of my all-time favorites. In his Brooklyn Heights apartment, below, shown in the book, you can see not only his design but a board of collages.
photo by Carrie Leonard
He shared this passion with Albert who also did collages and had asked Todd to create some in-house for clients. A few of Todd's collages are featured in the book and he brought several books of them to the party to share. They are truly fabulous and evoke an artistic and sophisticated aesthetic sensibility.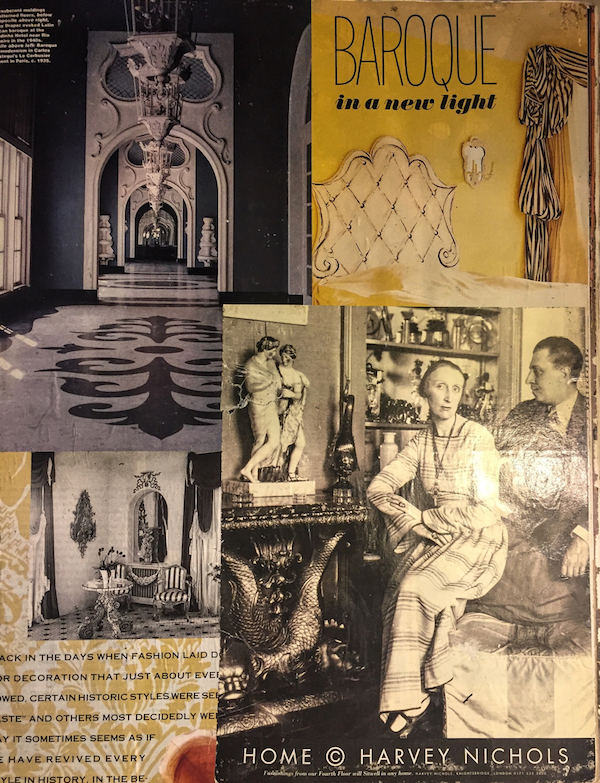 Of course one can't discuss Parish-Hadley Tree of Life without mentioning co-author Bunny Williams. While Bunny was unable to attend this party, her long tenure at and memories of Parish-Hadly are an essential part of the book and the design firm's history. As she explains, "The work of Parish-Hadley is to this day an extraordinary example of comfort, elegance, formality, and excitement all rolled into one. To me, those are the qualities that make the best design."
photo by Fritz von der Schulenburg
As in the dining room above, Bunny's spaces all share a sophisticated flair. They are a visual delight and yet at the same time welcoming and comfortable, a lesson she clearly learned from Mrs. Parish whose rooms may have been stuffed full of furniture but were also cozy and inviting. Bunny sums it up, "So design is also a philosophical question: What is our role as designers? Are we creating a stage set? Or are we creating a home? To this day, I am creating homes for families to live in. I want dogs and children and all the family stuff in them." The heritage of Parish-Hadley will always loom large in the annals of interior design but perhaps its greatest legacy is the timeless art of living graciously in comfort and style.