Enter Richard Shapiro's new book Past Perfect and prepare to be transported. Dive into its pages of exquisite photography by Jason Schmidt, sensitively designed by Mary Shanahan, and you will enter another realm. Take a deep breath of air redolent of ancient eras and far off places and then exhale as you make your arrival into his homes full of "serenity, beauty and wonder," as Mayer Rus so aptly describes it in his foreword.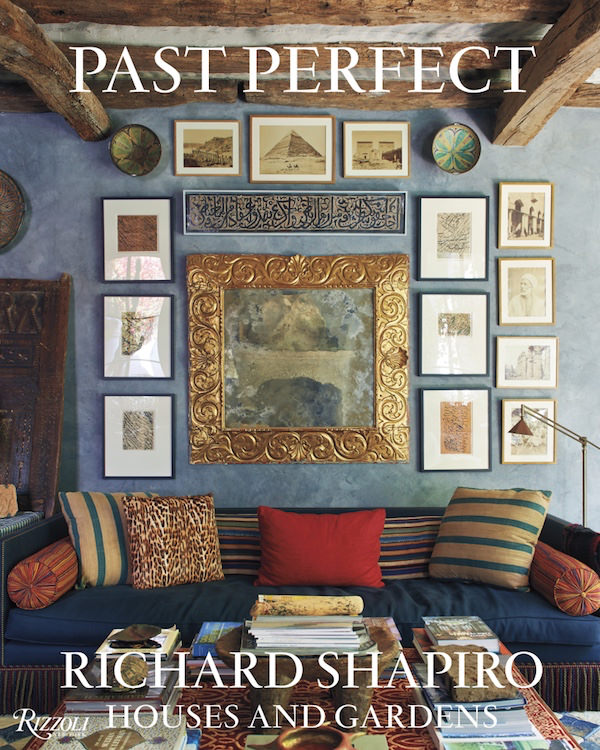 The world of Richard Shapiro is not merely beautiful, it is a passionate evocation of beauty – a subtle yet meaningful distinction. The book encompasses his two homes, both highly personal romantic visions, or as he depicts, "fictions crafted and composed to allow for the suspension of your awareness of time and place."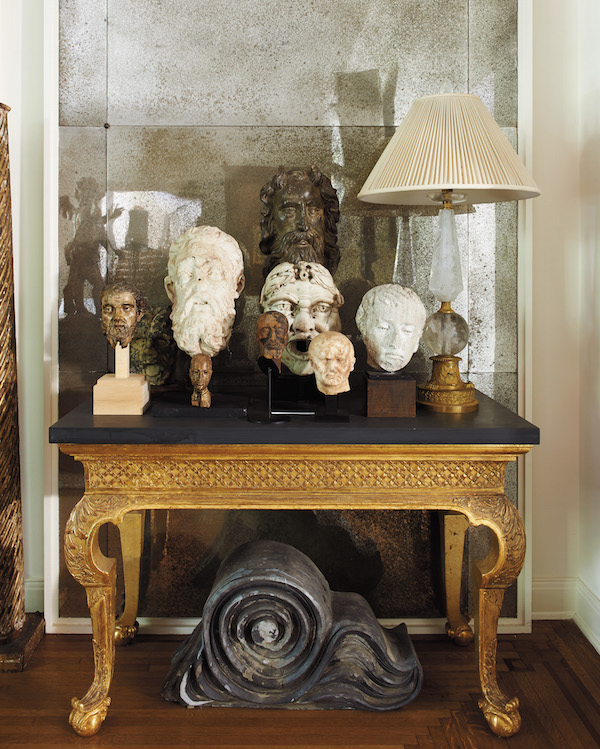 Created with an obsessive fervor for all that he loves – art, antiquities, architecture, travel – these houses contain a level of authenticity, details and brilliant juxtapositions that few would have the knowledge, patience or eye to complete. In Los Angeles, Shapiro's Florentine Villa is his poetic version of a 17th century Tuscan country house. Above, a visually haunting vignette with Studiolo antiqued mirror behind a George III console with stone heads ranging from ancient Greece to 19th century.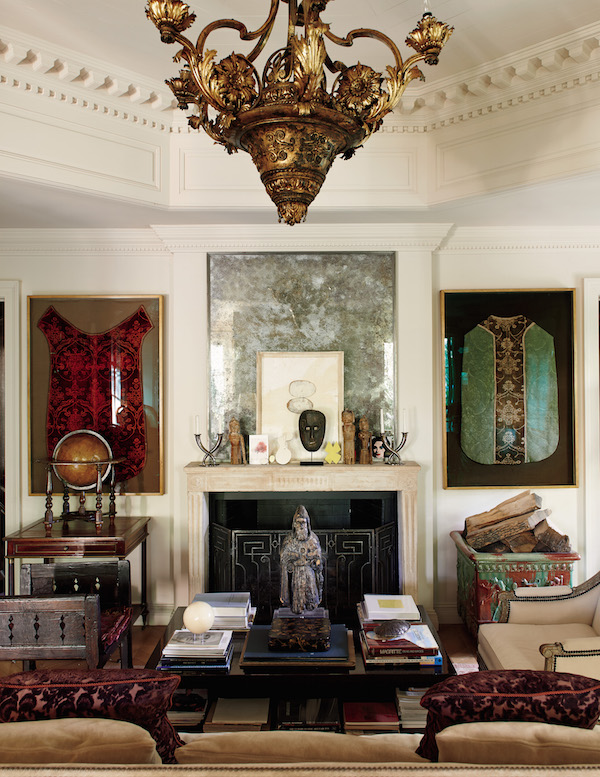 The master suite's sitting area exhibits an embarrassment of exotic riches. An antique French stone fireplace is flanked by framed 16th century Italian clerical vestments. Personal mementos and acquisitions add layers of visual interest and idiosyncratic significance to the mantel.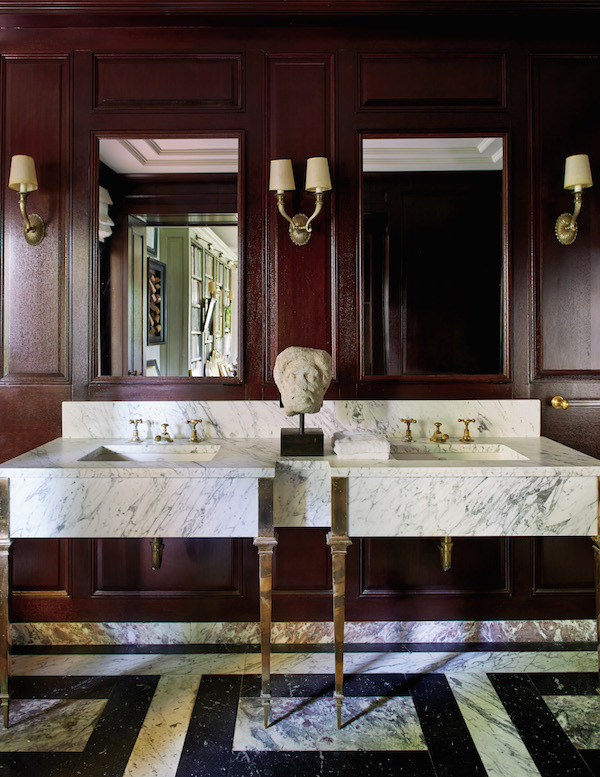 And while the master bath offers every modern convenience, its refined, understated and generous forms and materials feel of another era. New marble sinks are retrofitted into a found bronze frame and a classic yet oversized floor pattern is of Fior di Pesco and black marbles.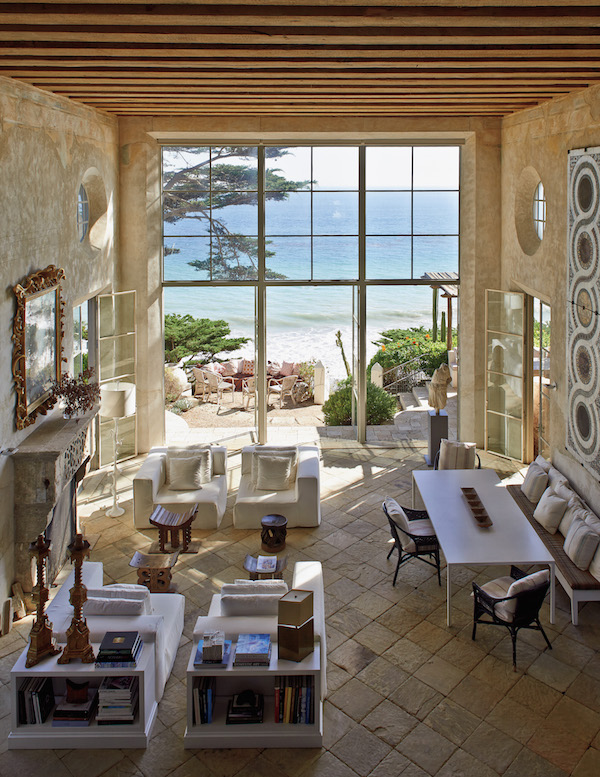 Tangier Outlook is Richard Shapiro's seaside home in Malibu. Sited on a dramatic promontory, he built his fantasy of a Mediterranean villa  – "a centuries-old Moroccan aerie posed above the Strait of Gibraltar." Here his expert conjuring skills have imagined (and executed) a unique vision – where new and old coalesce into something timeless, something paradisiacal yet not specifically identifiable. Indoors effortlessly flows into outdoor living with endless vistas of sea beyond, connected by a twenty foot high wall of windows and french doors.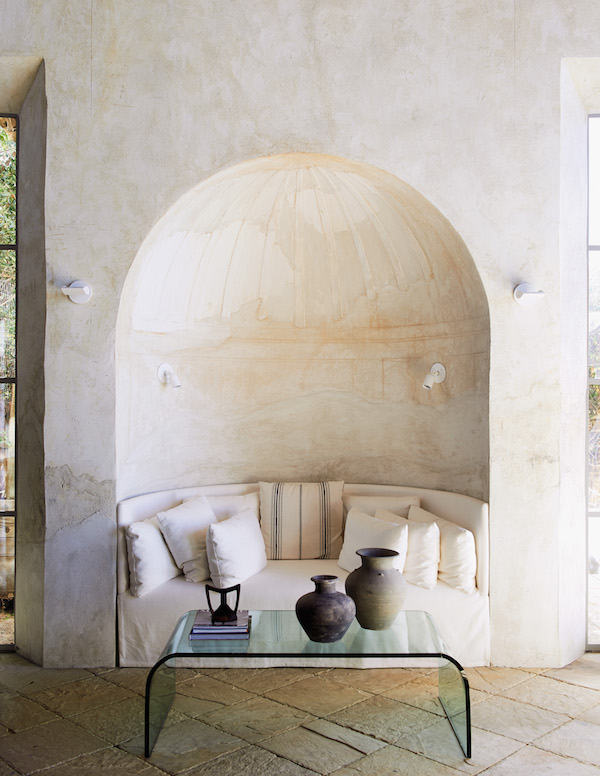 The fictional ambiance of a semi-ruin, above, is achieved with "strategically eroded" plaster in this magical moment near the kitchen. Modern lighting and table seem somehow perfectly appropriate in this seemingly ancient haven.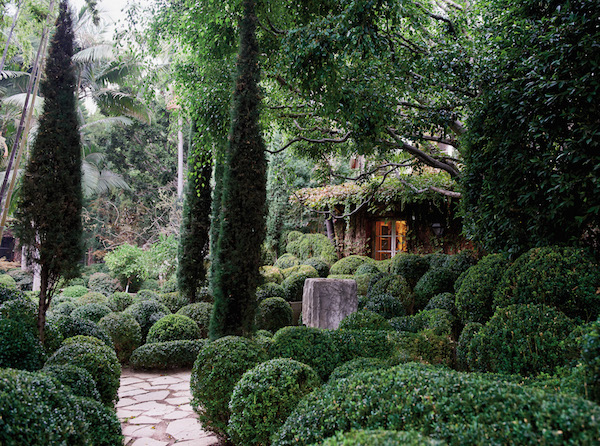 The last section of the book is a master class, where Shapiro shares lessons learned in achieving optimal "patina, faux finishes, materials, and architectural detailing." His elaborate boxwood garden, above, was inspired by the extraordinary example at Château de Marqueyssac. In order to defy the flat terrain, Shapiro created a system of concealed terraces allowing him to create a "topography of varying elevations" – another inventive conceit to achieve his desired effect of age and maturity. Past Perfect is not only transportive, it is transcendent. You will reach for this volume time and time again as inspiration, design lesson and beguiling journey to a "sequestered haven" where you can, for at least a while "live in a different and better world."