Just in time to kick off summer entertaining this Memorial Day weekend, designer Celerie Kemble and event planner Bronson Van Wyck celebrated the season at Michael C. Fina last week. Co-hosted by Architectural Digest, where Van Wyck is a special projects editor, the event featured four fabulous thematic tablescapes set for summer by the talented duo.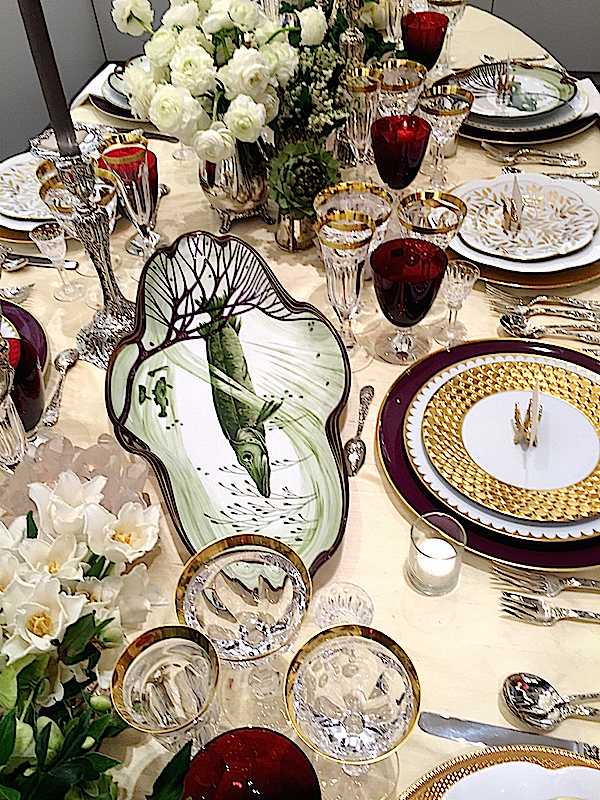 Friends since boarding school days, with offices mere feet apart, Celerie and Bronson are old hands at creative collaboration. As Kemble explained, "It was so great creating the fantasy of these different dinner parties and picnics together. We had the fun of coming to Michael C. Fina which is the biggest bazaar of table settings and beautiful objects. Bronson and I raced around pulling everything we loved off the shelves and themes developed from there. I fell in love with these Nymphenburg fish platters (above). First it was 'Yes! It's a beautiful swamp night!' Then it was Midnight in the Garden of Good and Evil. It's fun working with somebody who has the same shorthand."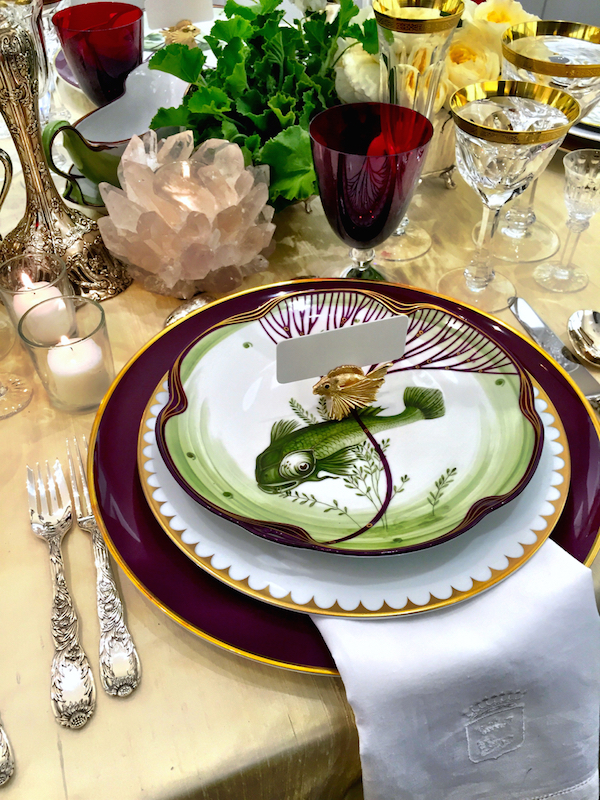 The table ultimately became a sumptuous "Midnight Supper in the Mississippi Delta" including Baccarat red stemware and l'Objet place card holders in alternating place settings.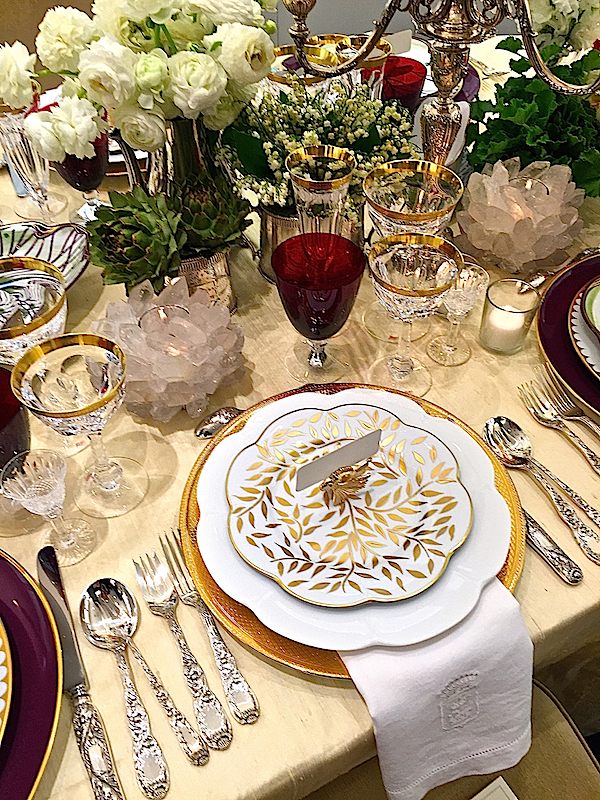 Another venue became "Picnicking After the Beaufort Hunt," a civilized picnic with a mix and match assortment of Royal Crown Derby patterns, below. Van Wyck concurred, "The most fun was being able to mix all the different brands and china patterns culled from an enormous selection. We're in the business of saying yes to our clients and so it's nice to come someplace like Michael C. Fina where they could say yes to everything we wanted!"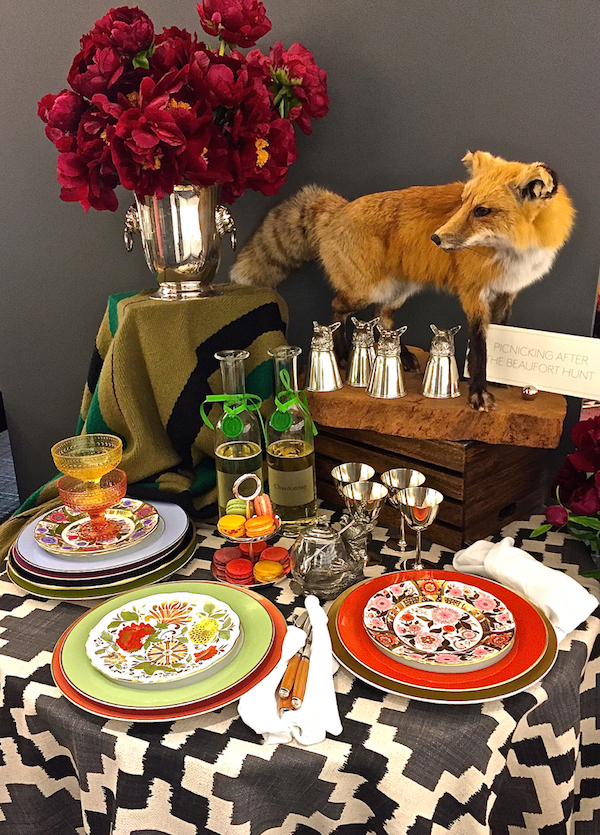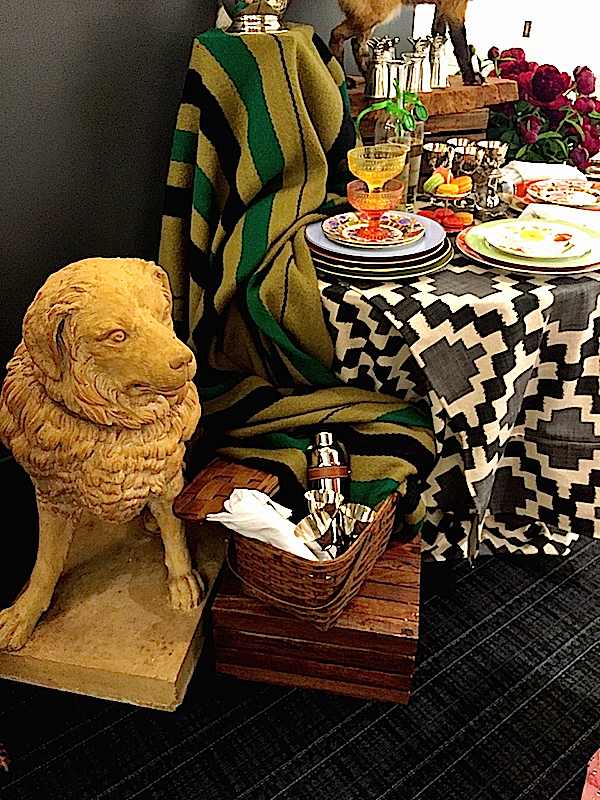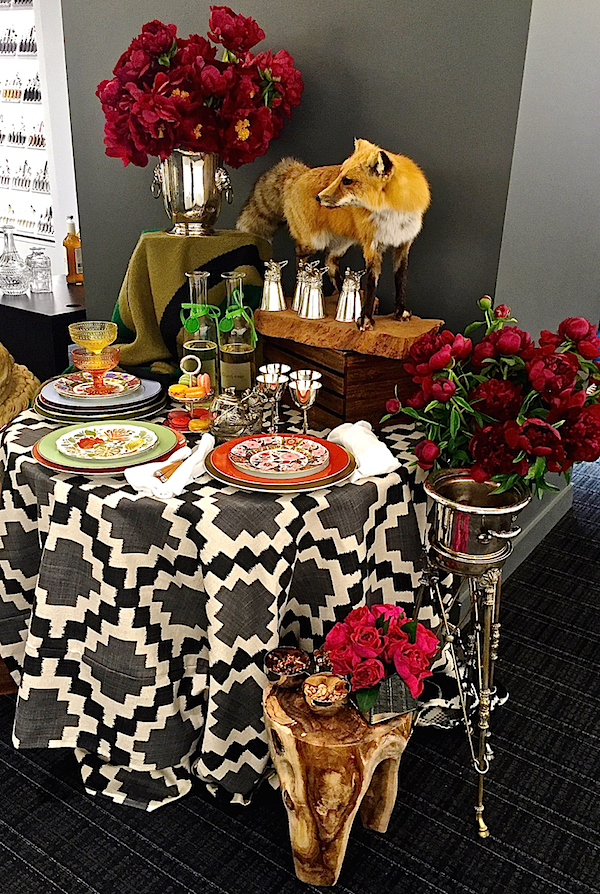 The Hermès Voyage en Ikat inspired "The Rug Merchant's Banquet." An exotic ode to luxe eastern opulence, I could almost smell the spices.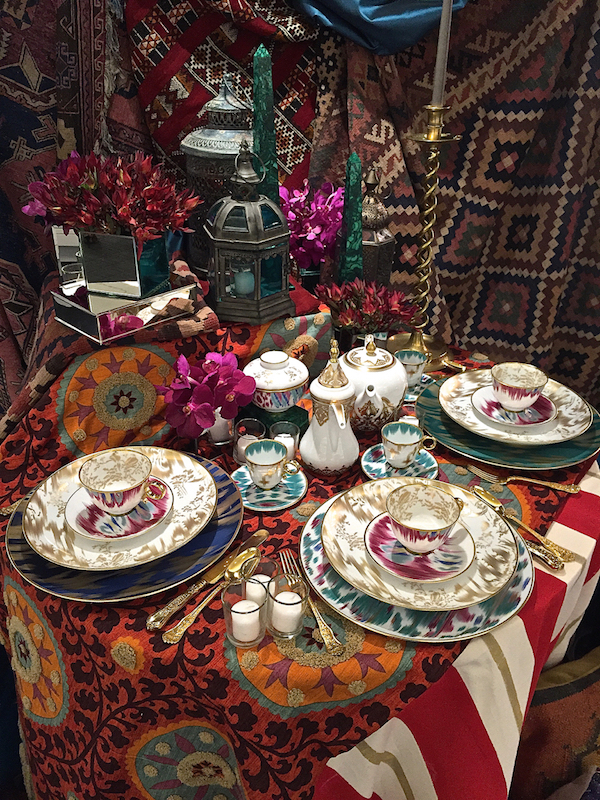 Celerie explained, "It's exciting to be able to curate by imagination and to mix things the way I would in real life. I'm interested in the story you tell by what you put together."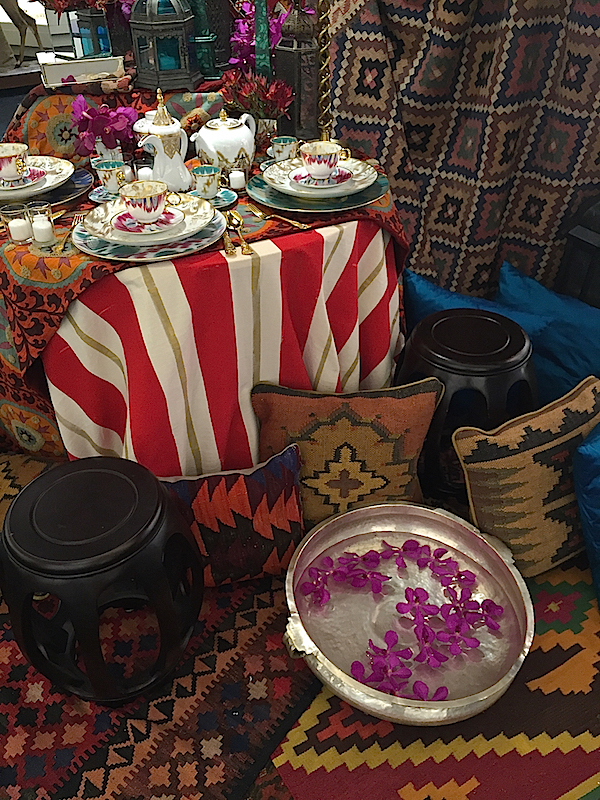 The last setting, inspired by the vintage silver in the background, gave rise to "Don't we need to be in the most impossible place to use all this – and that would be out in the middle of Africa. You come back from game watching all day and this magnificent silver is being used in a dusty camp." That marvelous dichotomy became "Sundowners on the Serengeti Plains,"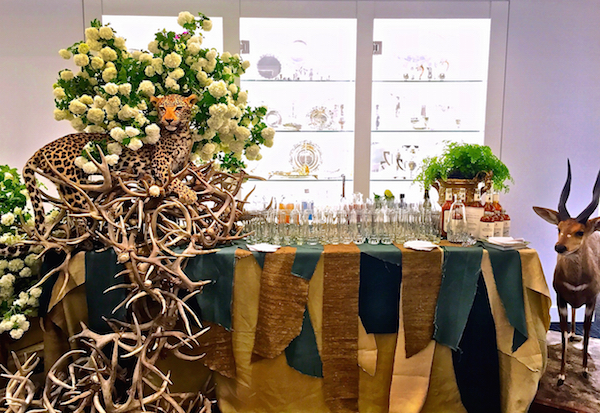 with a fantastical arrangement by Van Wyck, who executed all the floral arrangements for the event.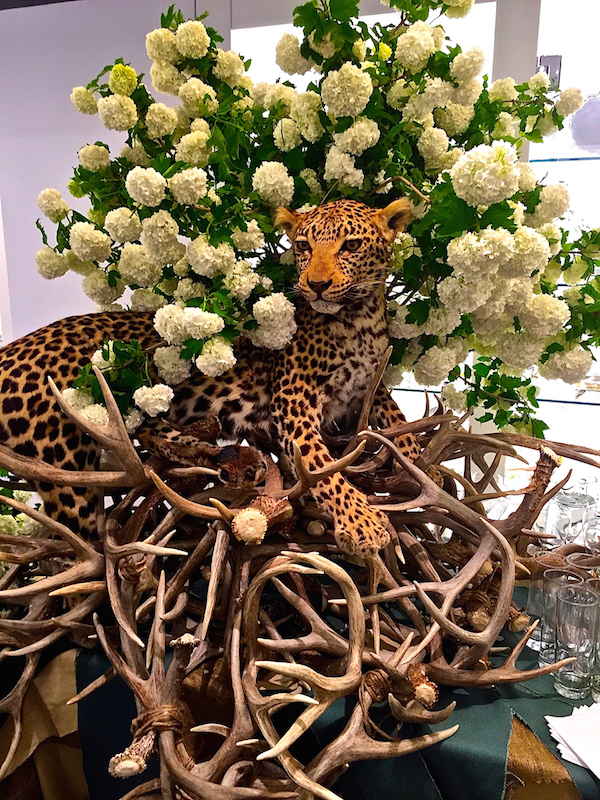 And Van Wyck's own Arrowhead Farms supplied the tasty mixers for the special summer cocktails for the evening. They were the perfect accompaniment to Swifty's impossible-to-resist Millionaire's Bacon, along with other delectable treats.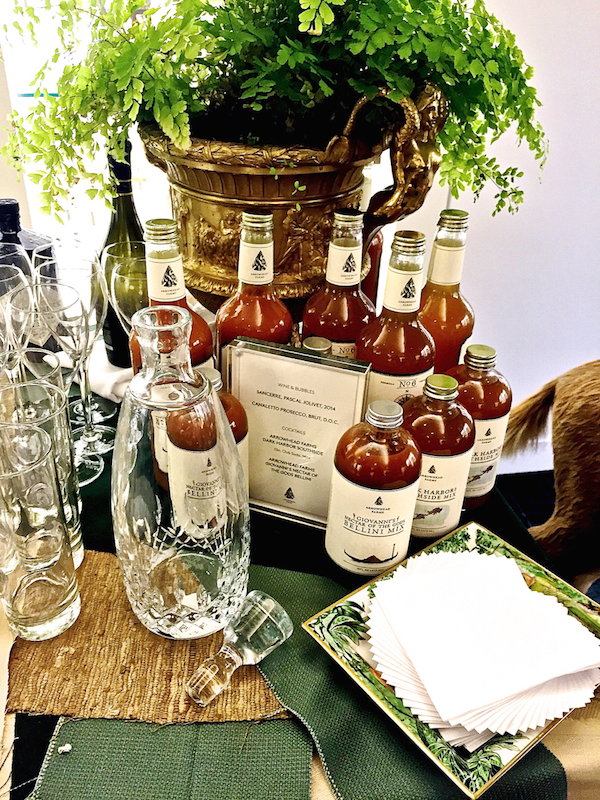 Thanks to Celerie and Bronson for a fun and inspiring start to the summer entertaining season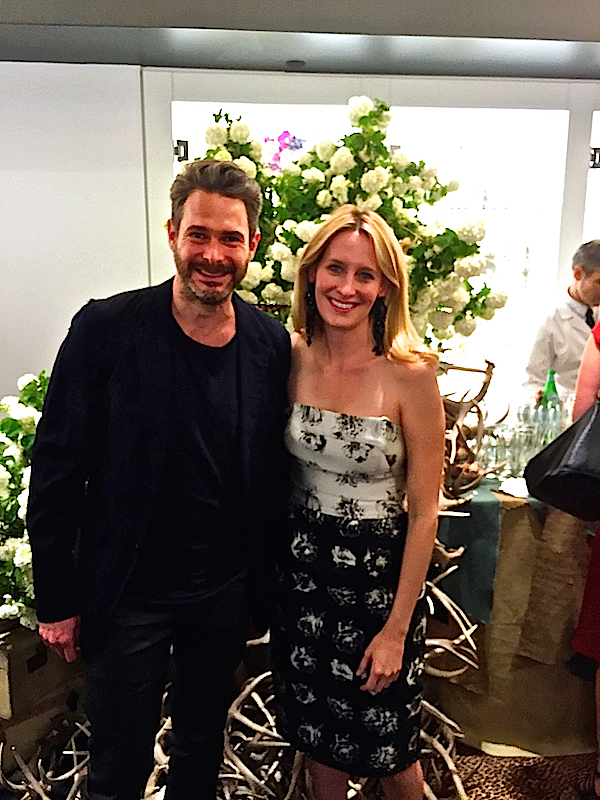 and to hosts Architectural Digest (Advertising Director Bill Pittel in middle below)  and Michael C. Fina (Ashley Fina, president and owner, below left).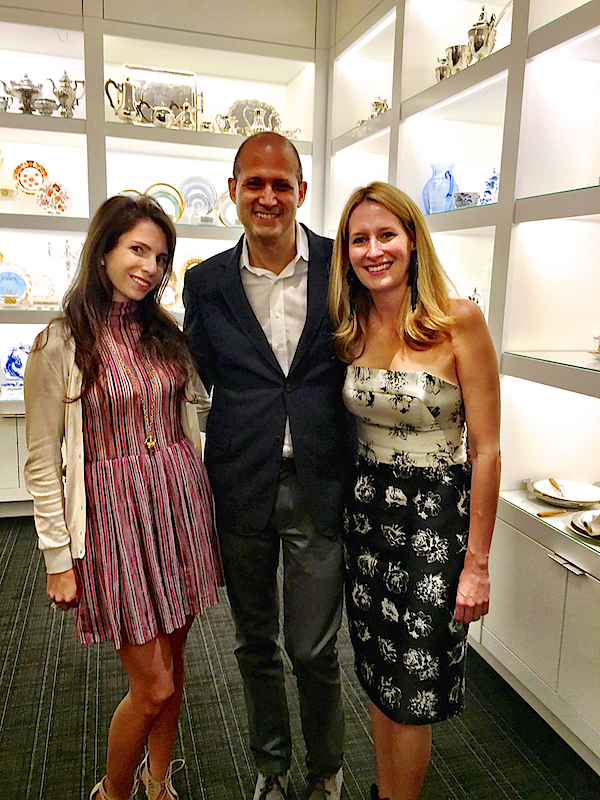 all photos by Quintessence