Since 1935, Pierre Frey has been inspiring interiors around the world with their exquisite fabrics and wallpapers. Known for successfully weaving past with present, they are now in their third generation of celebrating French style and savoir faire. Dedicated to both keeping alive the legacy of centuries-old craftsmanship and manufacturing techniques as well as looking forward with innovative design and technology, this French luxury company has thrived on its own terms.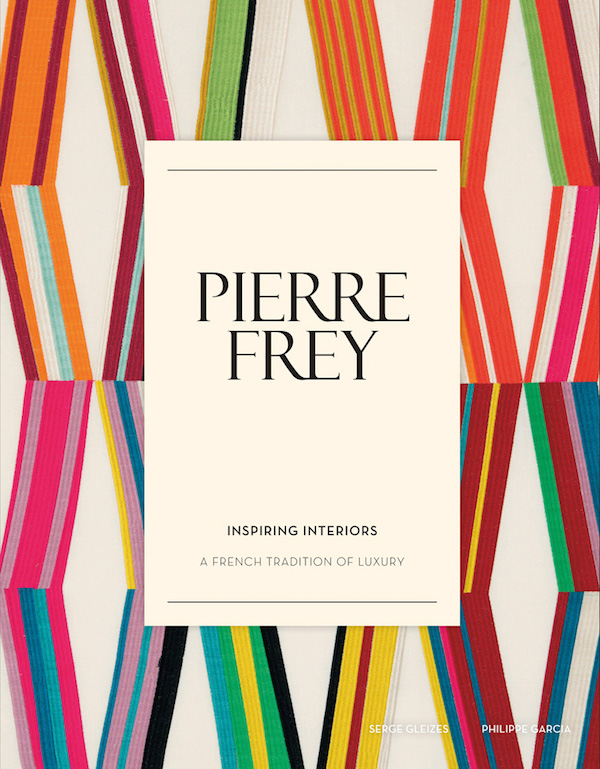 In their recently released first book, Pierre Frey, Inspiring Interiors, A French Tradition of Luxury we are fully immersed in the world of Pierre Frey – from the history of the family and firm, to the amazing archives, to creative projects incorporating their products, to the techniques that reflect "a living tradition passed on through generations." The company now also owns the French heritage houses of Braquenié and Le Manach (their silk velvet still made in France on wood hand looms, below) as well as Italian jewel Fadini Borghi and the more modern and technologically current Boussac.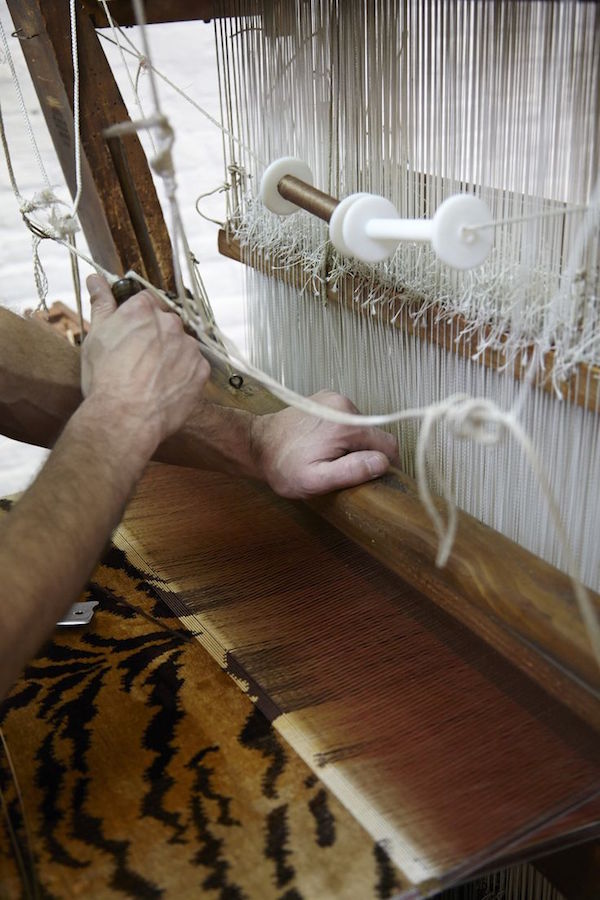 I have written often of this prestigious house not just because the fabrics are beautiful but because they are inspired – by tradition, by travel, by timelessness and perhaps most importantly by family. Patrick Frey, now head of the firm his father founded, is firmly dedicated to maintaining the company's values and independence. Still privately owned by the family, the firm now includes all three of Patrick's sons, each managing a different aspect. And between them they continue the quest for quality and creativity, balancing a robust respect for the past with a progressive perspective toward the future.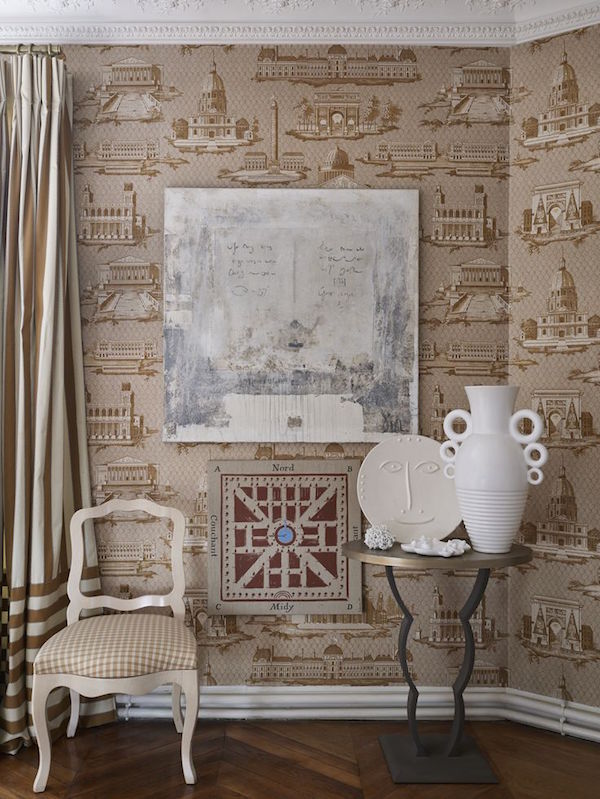 From their restored 16th century building on Rue des Petit Champs in Paris, the business of "selling fabrics as well as dreams" is conducted. Whether the original inspiration for a fabric, wallpaper or rug comes from a trip Patrick and his wife Lorraine have taken (their Paris living room above with Braquenié's Monuments d'Egypt), a textile in the archives or the expertise of a craftsman, the vision is executed here. Tag along with Susanna and me for a visit to the incredible archives in Paris with Patrick and Sophie Rouart, Director of Heritage of the Pierre Frey house.
At Pierre Frey, it's all about exploring the world, melding the knowledge of the past with the style and creative energy of the present, and bringing it home for that "made in France" perspective and expertise. And it is these interests and values that have earned Pierre Frey membership in the elite Comité Colbert organization for over thirty years.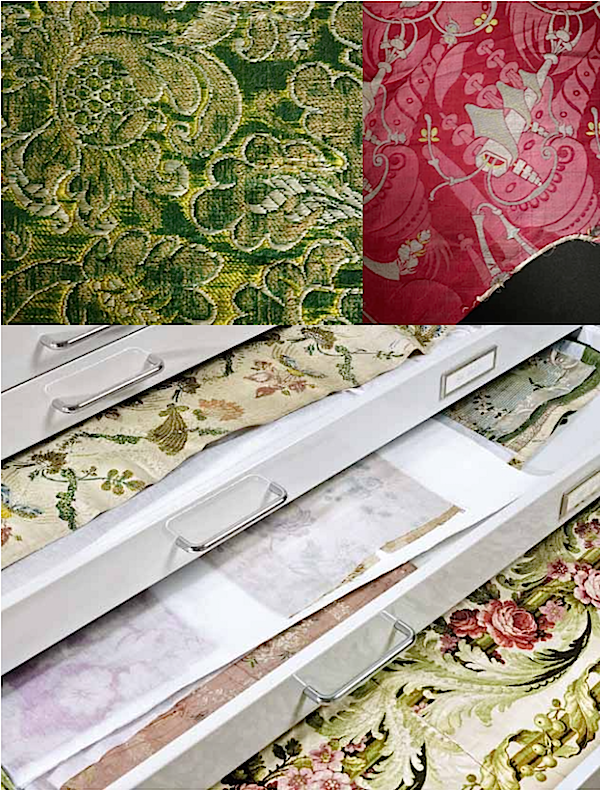 The many projects featured in the book include collaborations on historic properties such as the Chateau Borély, now the Marseille Museum of Decorative Arts, Fashion and Ceramics, where a bedroom, below, is totally enveloped in Braquenié's Le Grand Genois.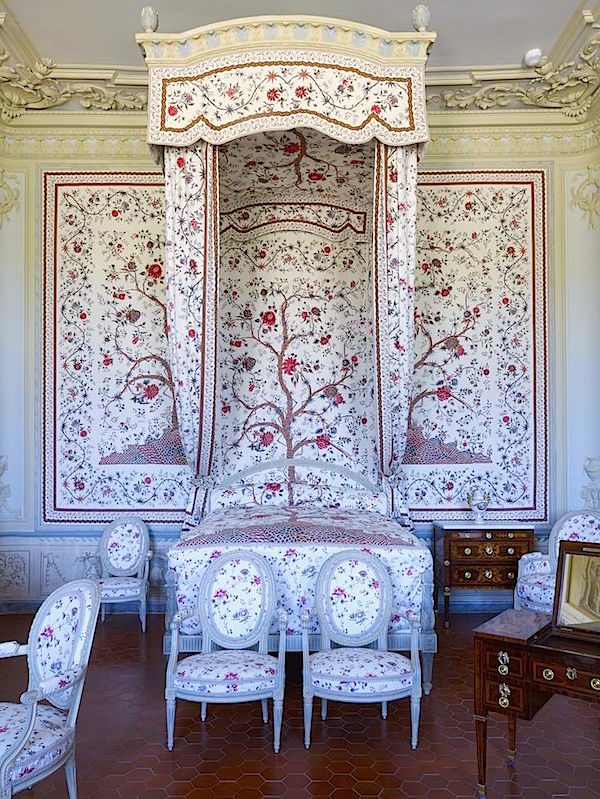 The magnificent Loire valley Chateau de Montgeoffroy has been owned by the same family since 1676. Their story of rejuvenating history for living today exemplifies the Pierre Frey perspective. During renovations in 2009, current descendants and occupants, the Marquis and Marquise de Contades, found original 18th century Braquenié sketches in a drawer of fabrics that had previously decorated the chateau. They sent the drawings to Pierre Frey. As Sophie Rouart explains, "We delved into our archives to create fabrics that corresponded historically with the location and we designed new ones inspired by the documents found. Example: the La Valette model, an Indienne created in the 18th century," which now hangs in a bedroom at the chateau.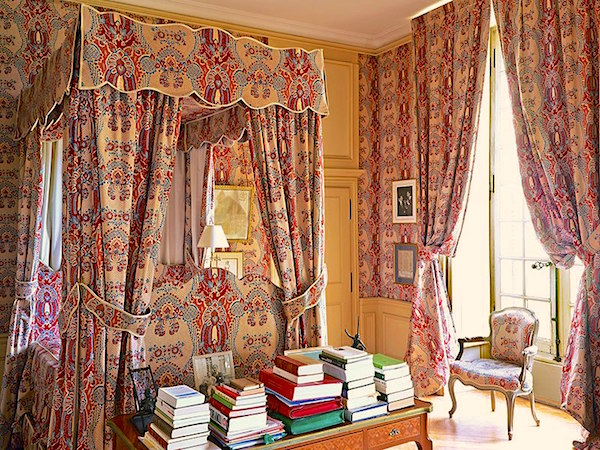 Many iconic and historic hotels also sport fabrics from the house. The Chateau de la Bourdaisière, once a grand manor house and now a hotel with ecological focus, was bought and renovated by Louis-Albert de Broglie, "Le Prince Jardinier" and owner of the legendary emporium Deyrolle. Decorated by his wife, Françoise, the chateau features many Braquenié and Pierre Frey fabrics, such as the lobby below with a couch covered with Pierre Frey Opera embossed velvet.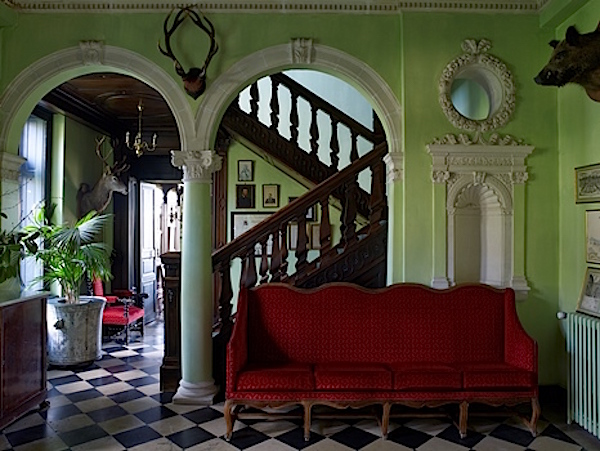 The elegant Hotel La Mirande in Avignon, decorated in the spirit of 18th century Provence by François-Joseph Graf, is enhanced with many fabrics from the house. Here a charming  bedroom has walls covered in Braquenié Le Bambou.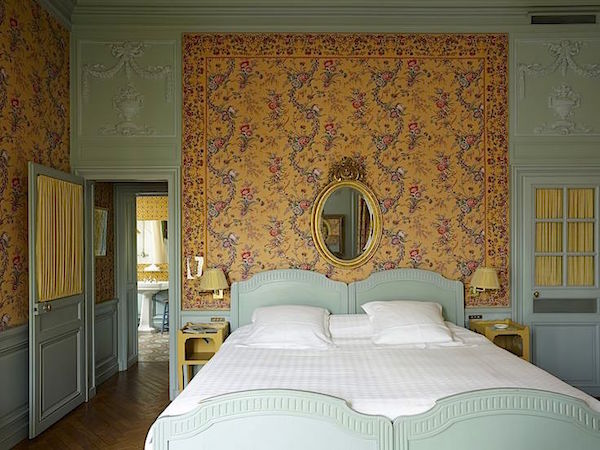 Jacques Garcia is a frequent Pierre Frey collaborator including his design for the Hotel Costes, below, where, in this room, walls are covered in a Braquenié Beaumesnil Indienne with a chair in the luxurious Teddy mohair velvet.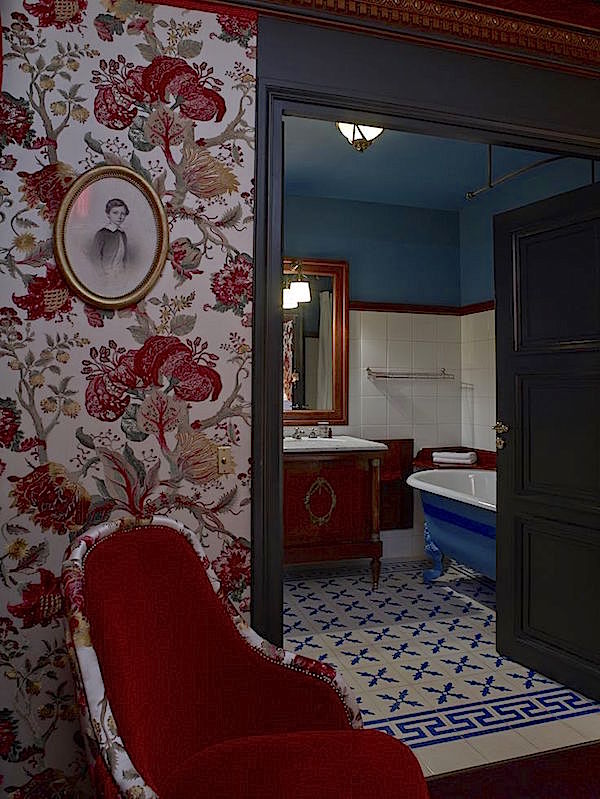 The Hotel Saint-James in Paris is swathed with Boussac's sexy Panthére.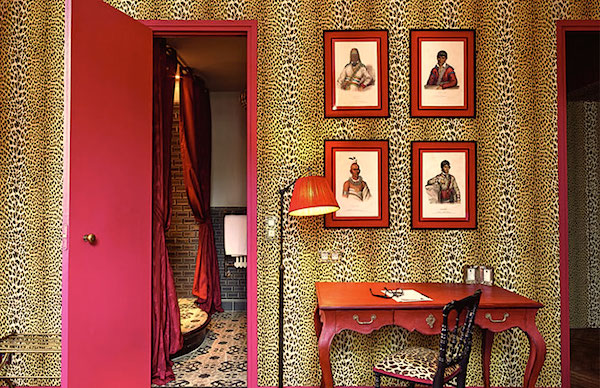 Looks at contemporary collections and modern creative spaces are of course included as well such as Johanna de Clisson and Axel de Beaufort's Montmartre home. A bedroom with Pierre Frey's Eileen Gray inspired Kubu fabric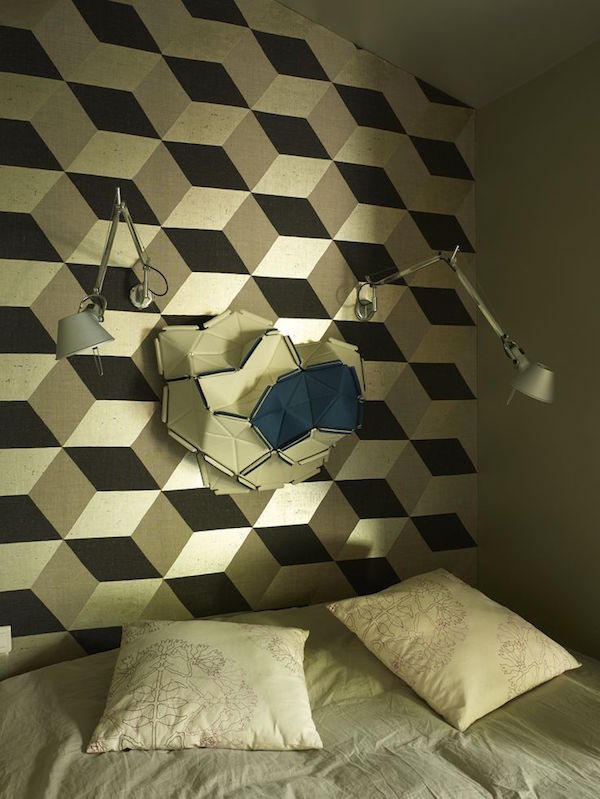 and sitting room with Pierre Frey tropical Mauritius linen on the wall and a Boussac rug. Old and new cohabitate chicly in Bianca and Vincent Frey's dining room where Braquenié's Oberkampf lives with a Pierre Frey table and René Herbst chairs.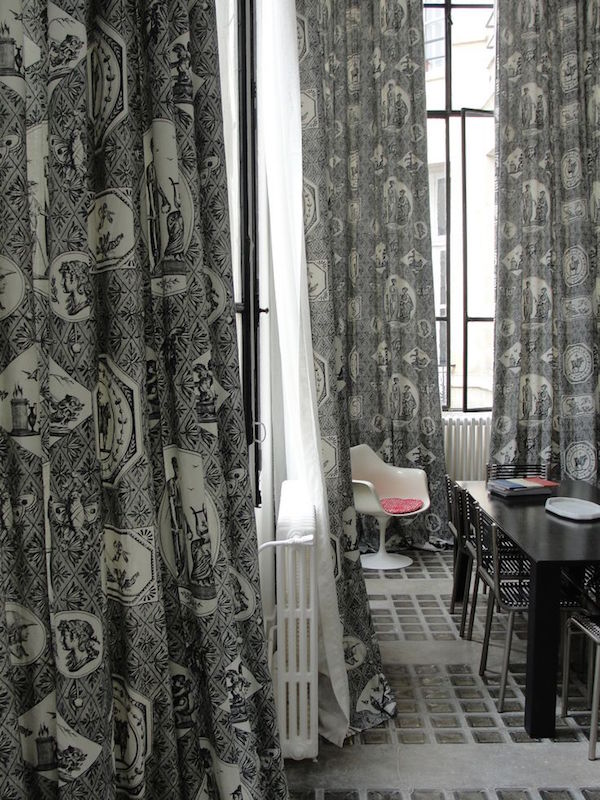 You'll find many more inspiring interiors and stories throughout the volume.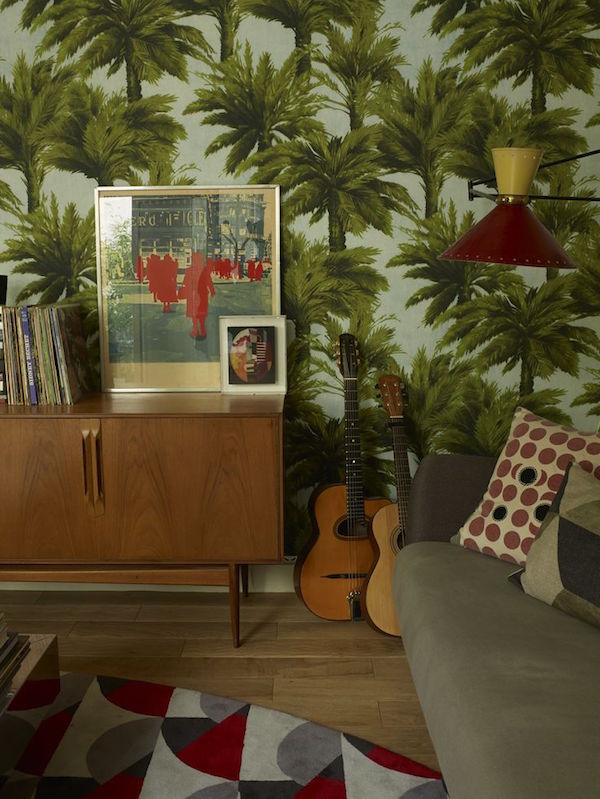 As plans for an official US launch for PIERRE FREY – Inspiring Interiors were considered, client Howard Slatkin suggested Bergdorf Goodman, where he made the introduction to Linda Fargo, SVP Fashion and Store Presentation Director. There proved to be such a synergy between the brands that the original book signing turned into a full installation on the prestigious 7th floor where Pierre Frey fabrics, most notably the signature Carriacou featured on the book jacket, and wallpapers will decorate the hallways running the length of the store. Vintage furniture upholstered with the collection as well as pillows and table linens crafted from the line will be available for sale. I am delighted to share that next Wednesday evening, June 3, Chairman and Creative Director Patrick Frey will be at the store for the book signing. For those who can't stop by then, the installation will remain through early August. A sneak peek below (via Pierre Frey's instagram feed) is shown with pieces from British sculptor Kathy Dalwood, whose work, profiled last week in T magazine, is also on display. Hope to see you there!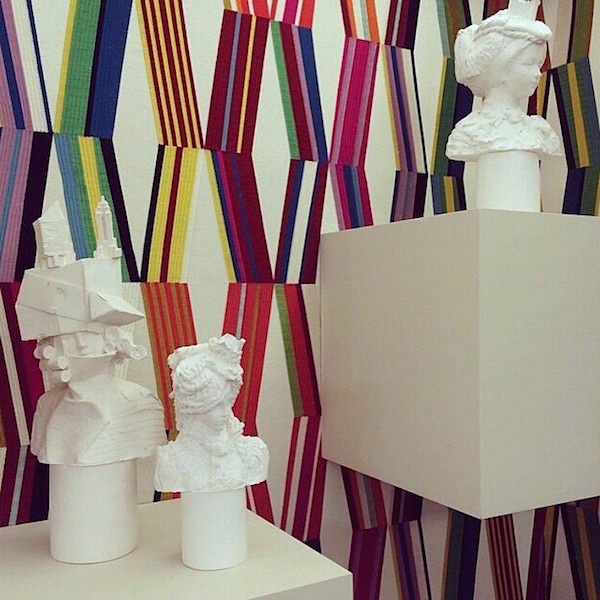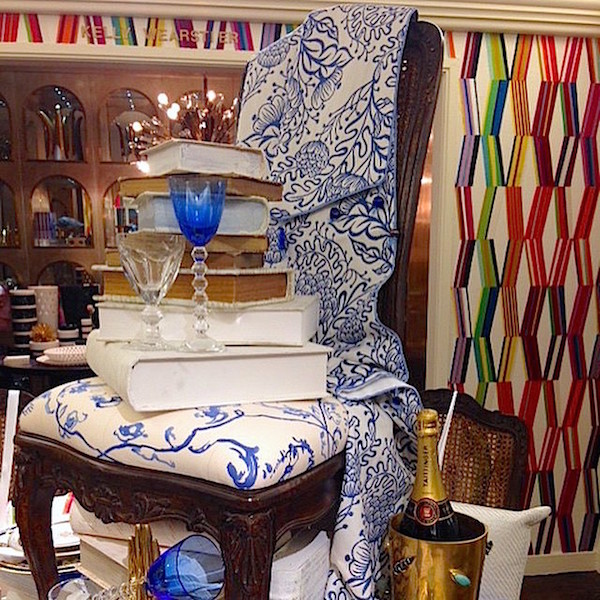 all photos from book by Philippe Garcia