The Kips Bay Showhouse 2015 edition is celebrating its 43rd year and the 100th year of its beneficiary organization, the Kips Bay Boys & Girls Club. In a recently renovated townhouse in the heart of the upper east side, twenty-two top designers transformed rooms, entries and hallways of the elegant five story Arthur Sachs Mansion. Susanna Salk and I had the privilege of visiting, over the course of several weeks, four of the designers, behind-the-scenes in their offices, at the showhouse and out and about as they plotted, planned and shopped for their rooms in record time. Please join us and Alessandra Branca, Jamie Drake, Thom Filicia and Mark Sikes for an insider journey in design.
Each year, the design world anxiously anticipates the inspiring spaces at the Kips Bay Showhouse. And now many of the most memorable rooms from the last forty years have been chronicled in Steven Stolman's collectible volume, 40 Years of Fabulous: The Kips Bay Decorator Show House.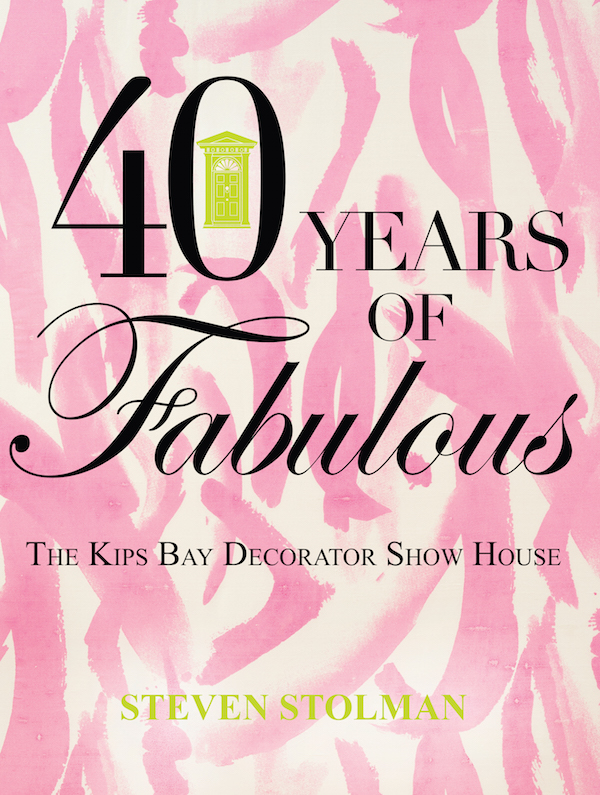 With his entertaining yet informative style, Stolman regales us with history, anecdotes and thoughts from designers. But the stars of the book are the rooms themselves, assiduously culled by the author. From years past to more recent shows, the rooms included represent the best of the industry or as Stolman explains, "Many designers credit their first appearance at Kips Bay as their seminal moment, and those that designed rooms for subsequent years acknowledge the powerful stamp of validation and relevance that this one show house wields." Two of our video stars, Jamie Drake and Thom Filicia, are repeat Kips Bay designers featured in the book. Below Thom's handsome gentleman's retreat from 2006
photo by Eric Piasecki
and Jamie's luscious library from 2012.
photo by Peter Murdock
Many of the great names in design make an appearance, immortalizing rooms from such luminaries as Albert Hadley,
photo by Dennis Krukowski
Mark Hampton
photo from the Kips Bay Boys & Girls Club Archive
and Irving and Fleming.
photo by Phillip H Ennis
But of course living legends are included as well. Bunny Williams has served for years as chair of the Showhouse Committee and wrote the foreword for the book. One of my favorite Kips Bay rooms of hers is shown below through three vignettes.
photo by Thomas Loof
Another classic Kips Bay veteran, Charlotte Moss, room below, puts it best, "Kips Bay has always been the 'jewel in the crown' of show houses."
photo by Peter Estersohn
You can't talk about Kips Bay without mentioning Mario Buatta, who has contributed so many times over the years – one of his most memorable rooms below.
photo by Phillip H Ennis
With a plethora of images from four decades of dazzling design, the book is a testament to the enduring power of Kips Bay to both attract top designers and inspire them to outdo themselves year after year. We were thrilled to be a part of this year's show and do our part in recording for posterity a little bit of the Kips Bay magic.