While Johnson Hartig's talents and interests have always been extensive and wide ranging, he found his calling in 2001 with his celebrated fashion brand Libertine. Hartig and his then business partner Cindy Greene, brought a fresh and inventive vibe to fashion, melding punk street fashion references with high art and culture by repurposing vintage pieces with creative and sometimes controversial embellishment. After only four months, Vanity Fair called to do a piece and six months later they both had to quit their jobs to focus exclusively on Libertine. Since 2009, Hartig has helmed the label on his own, furthering his unique and visionary quest of revolutionizing the industry. And now with a collaboration with Schumacher, Hartig flexes his design muscles in the world of interiors. Please join Susanna and me for an exhilarating visit with the ever exuberant Johnson at his Los Angeles bungalow.
Johnson is fearless in his endless love of embellishment in both his home and fashion label and his interiors are informed by an effortless mix of high and low, from Damien Hirst spin art paintings to campaign button-accessorized lampshades.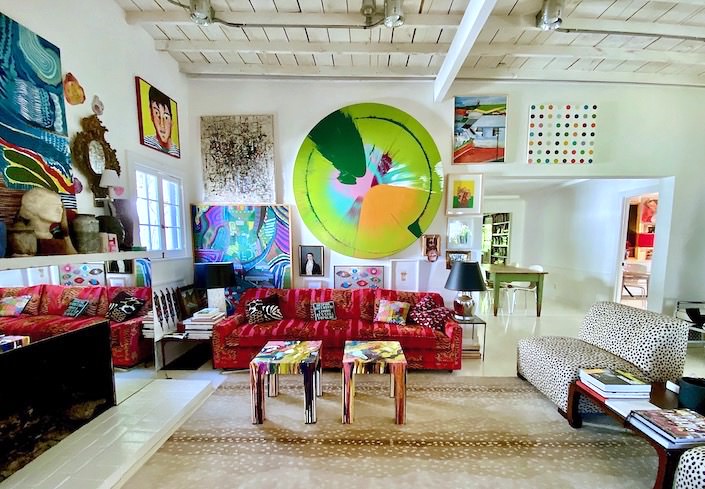 Inspired by subjects ranging from 17th century Dutch painting to Cher, the late Pat Buckley, his rescue dog Terence and punk rock, Johnson employs his cross pollination of artistic expression in his interiors with DIY ingenuity and surprising resourcefulness.
And don't let Johnson's upbeat energy, irreverence and wicked sense of humor deceive you. He is incredibly knowledgeable about history, art and culture with a deep curiosity about the world around him. A true multi-hyphenate, he fuels his creativity with extensive reading and travel as well as frequent visits to everything from museums and galleries to flea markets, finding innovative ways to pair seemingly disparate elements.  And that's the magic about Libertine – you can appreciate it for its visual vibrancy but there is always another deeper intellectual inspiration if you care to look.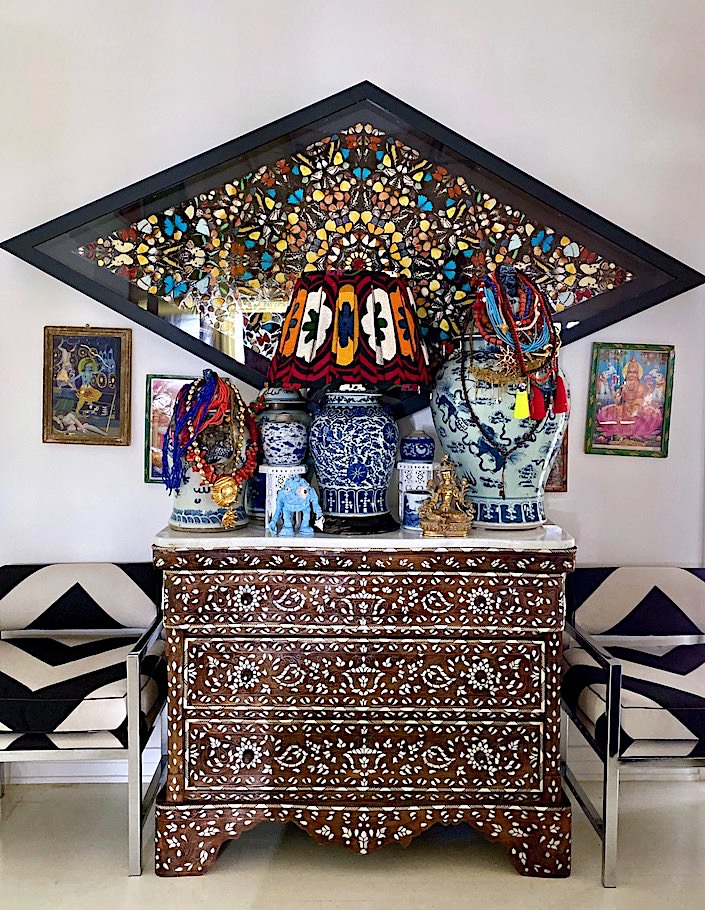 And it was video sponsor Libertine's joyous embrace of color and pattern that led to Johnson's next endeavor.  Last year, he paired his penchant for punchy color and exuberant ornamentation with the artisanship of the esteemed family owned Schumacher fabric house, to create a collection that reverberates with joy.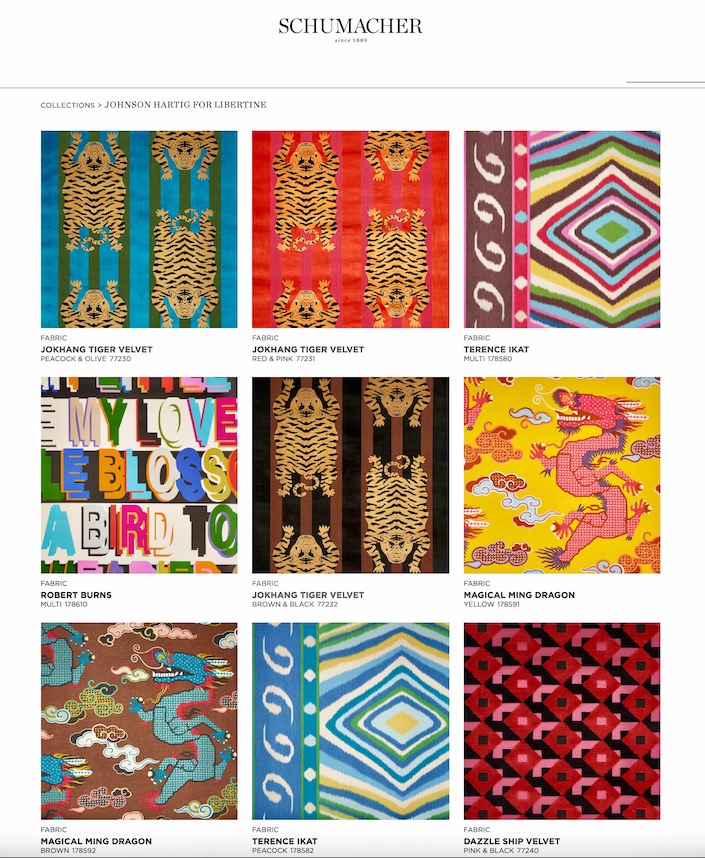 This 40 piece collection—which includes velvets, prints, warp prints, wallpapers, and trims—gives his fans a chance to infuse their rooms with Hartig's future-forward sense of fashion.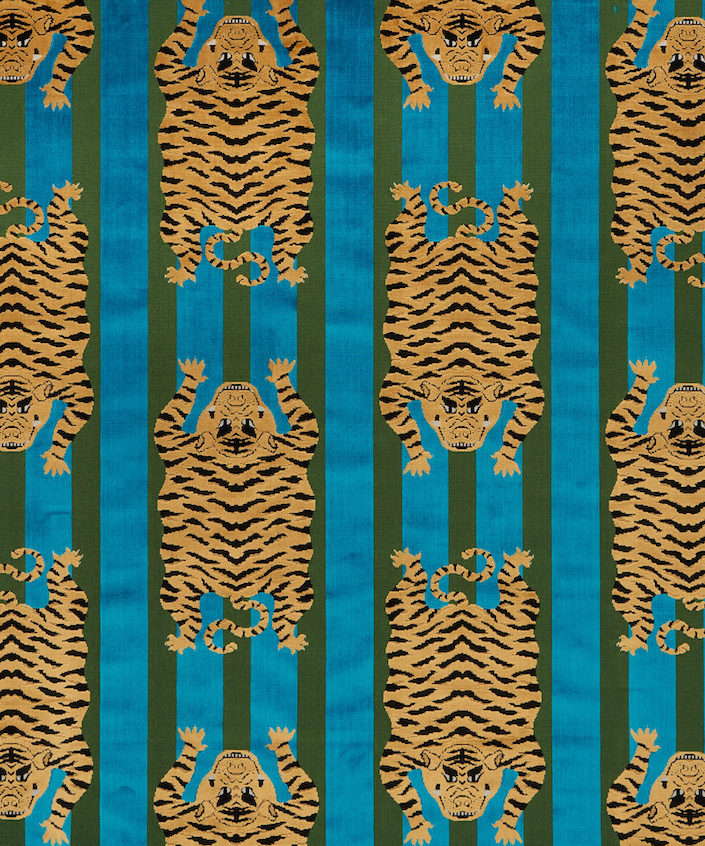 Some patterns feel already iconic: the Jokhang Tiger velvet, above ( "I love the energy created by having the tigers floating above the colorful alternating stripes," says Hartig) or the Modern Toile, with its oversized repetition using recognizable classic motifs, not to mention the Punk Rock Mix Tape trim. "Safety Pins are an iconic emblem of English punk rock of the late 70s- so we created this boarder tape with them," says Hartig. "I like how it's a bit subversive and very pretty at the same time." No matter the pick (the Terence Ikat below), Hartig's patterns feel both singular and familiar.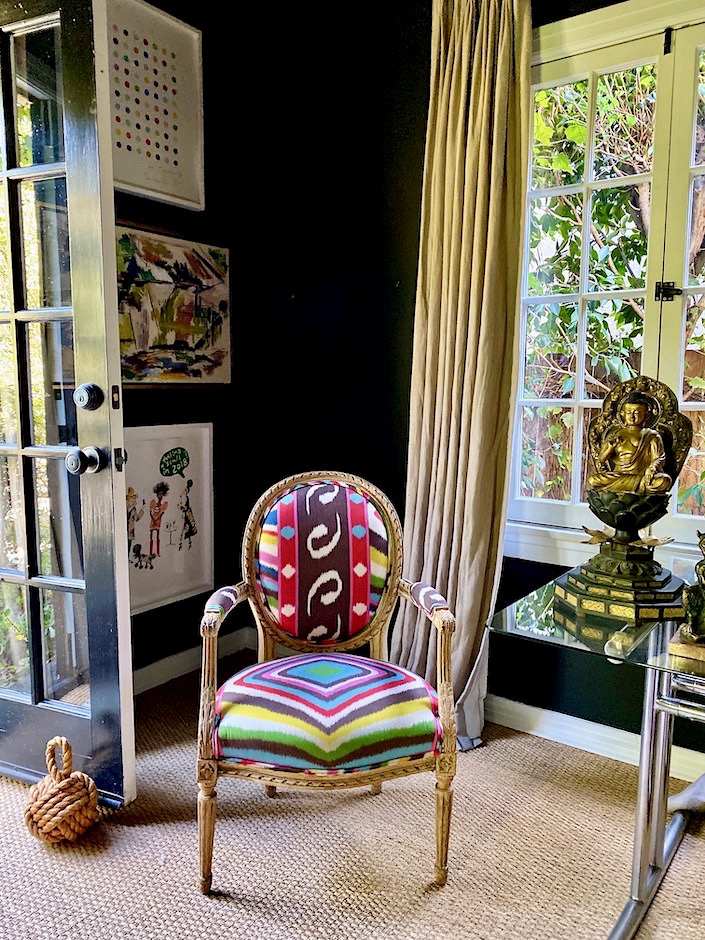 The full line is a natural progression for Schumacher, given the company's prior collaborations with fashion designers, the first of which was with Paul Poiret in 1930. 
all photos by Stacey Bewkes for Quintessence
So thank you Johnson! Your exuberance is contagious. We were dazzled by your energetic spirit, boundless creativity, and inspiring home and studio!