As I backtrack a bit here, our first BlogTour morning in London definitely started off on the right foot (yes, pun intended). A walk across the Millennium Bridge on a glorious morning offered a perfect introduction to British design.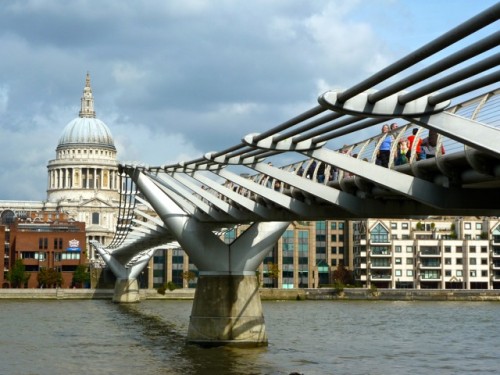 Sometimes a picture says it all. Christopher Wren's magnificent 17th century St. Paul's cathedral, framed by the 21st century bridge, eloquently sums up my design themes of the trip – juxtaposition of old and new and creative collaboration. Wren's collaboration was one of styles – for the first time melding elegant continental forms with the previously Gothic predominance in English churches. Wobbly bridge, as it is affectionately known, is a successful creative collaboration between Arup Engineers, Foster and Partners Architects and the sculptor Sir Anthony Caro, resulting in a whole that is equal parts of each discipline, linking St. Paul's with the Tate Modern across the Thames.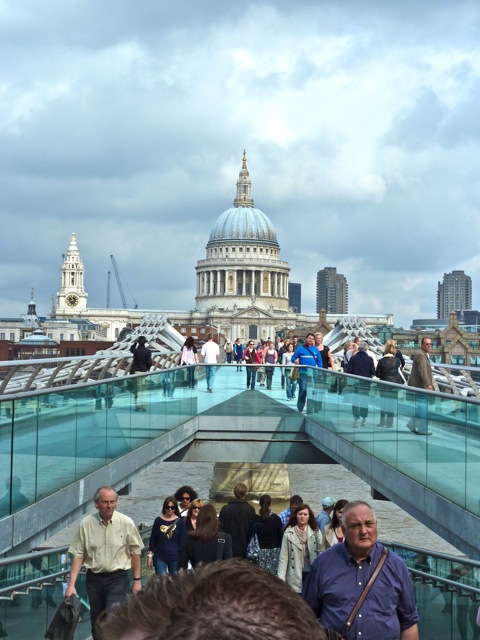 More old and new as we strolled along the South Bank.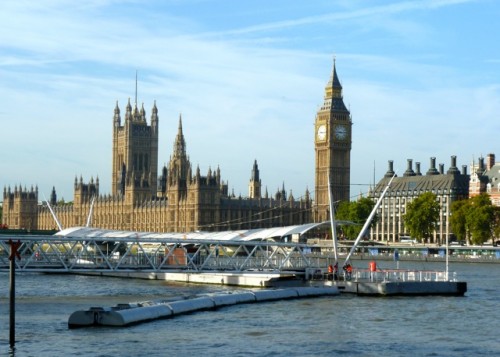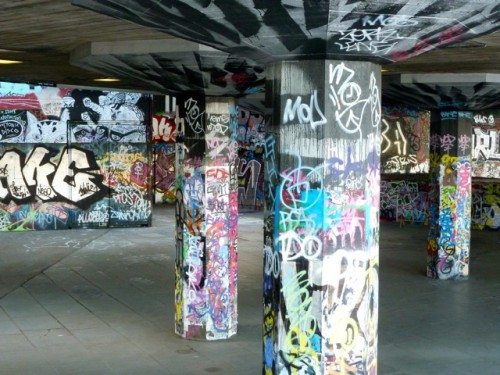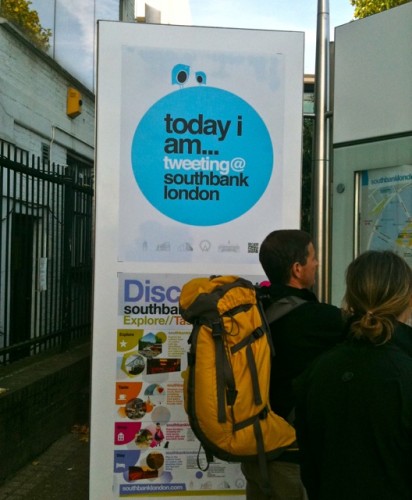 We arrived at Poggenpohl's beautiful showroom in Waterloo for a fabulous champagne brunch with several of our British counterparts. Set in an ancient structure built into an arch under a bridge, the rustic space is the perfect foil for the sleek modern designs. Since 1892, Poggenpohl has been creating the highest quality kitchens that combines innovative design with incredible functionality.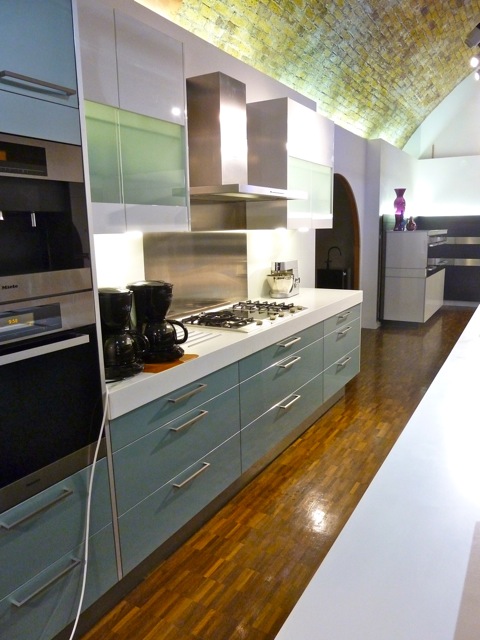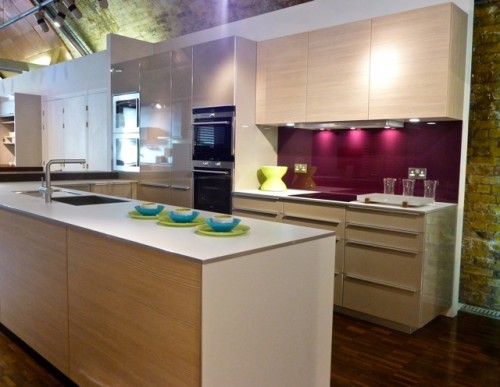 Their gorgeous, ergonomic designs, made me want to trade out my traditional kitchen for one of these beauties. I even loved the storage in the studio section.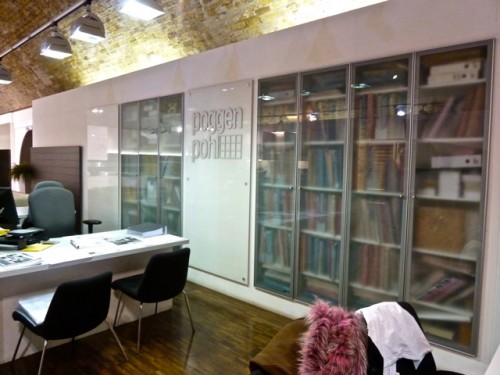 For more detailed shots of the kitchens, please visit fellow BlogTour attendee, kitchen designer and Bornholm Kitchens owner Susan Serra's blog.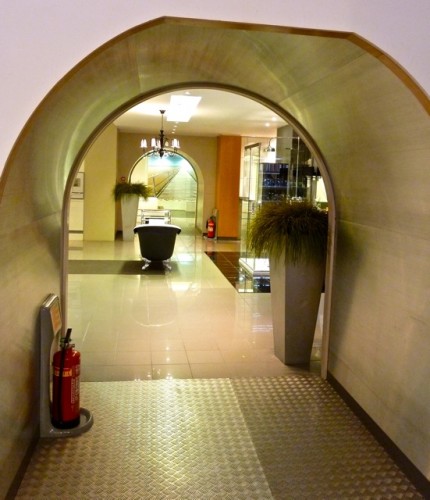 Sharing the spectacular space is C.P. Hart, whose vision for innovative excellence is awe inspiring. The bathroom vignettes were incredible, varying in style from traditional to ultra modern. This Greenwich Boat Bath in their platinum finish was a showstopper.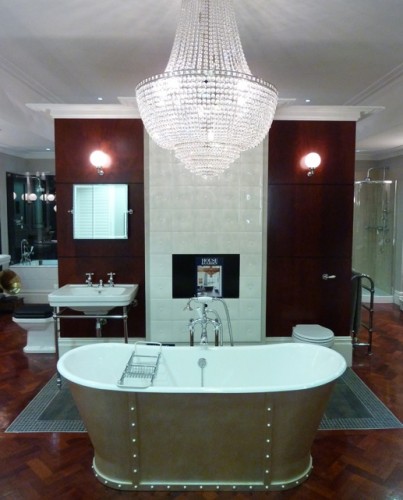 I loved the nature-inspired vignettes they created.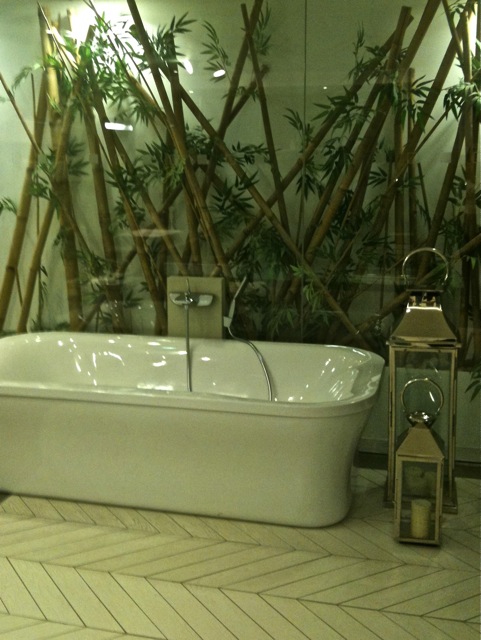 See the Rain Sky fixture in the ceiling below? That is actually a shower head over the Seaside Waterfall bath – it would feel like you were in the rain outside staring at that incredible scenery – a great opportunity to collaborate with Wallunica.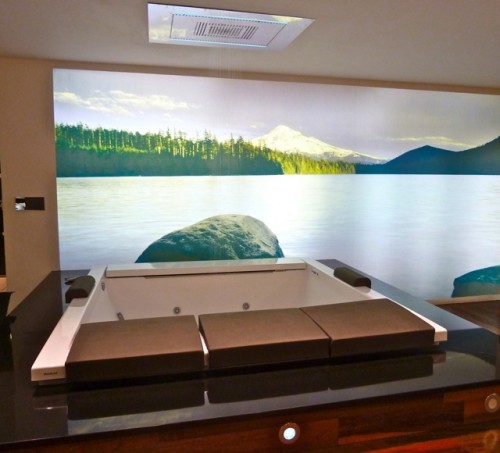 The traditional Winchester free standing tub is available in a wide variety of finishes.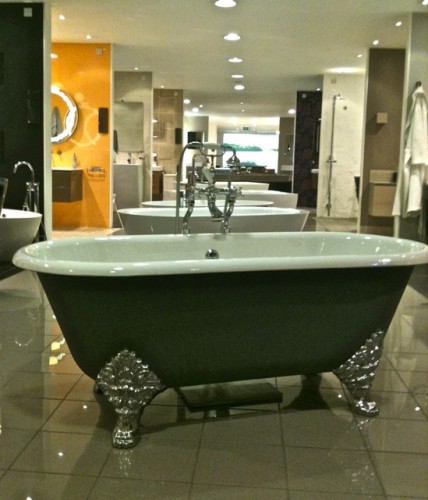 While fashion is having its 70s flashback moments, so is bathroom decor. Mixed with an exotic background, the Istanbul round tub walks the line between bohemian and pop.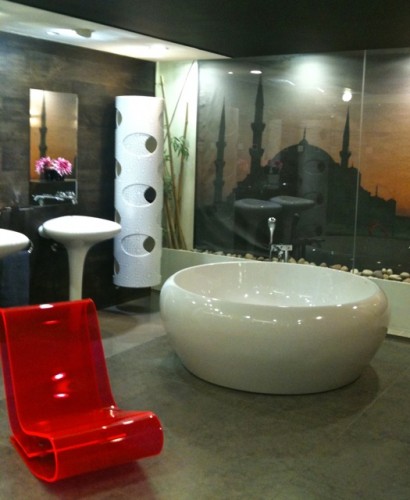 Just like side by side massages at the spa, now you can have side by side soaks in Patricia Urquiola's chic free standing tubs. The botanical element lends a true spa-like appeal.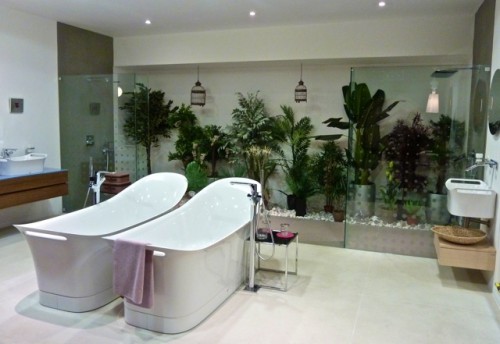 And for something totally natural, you could incorporate the Virtu wooden bath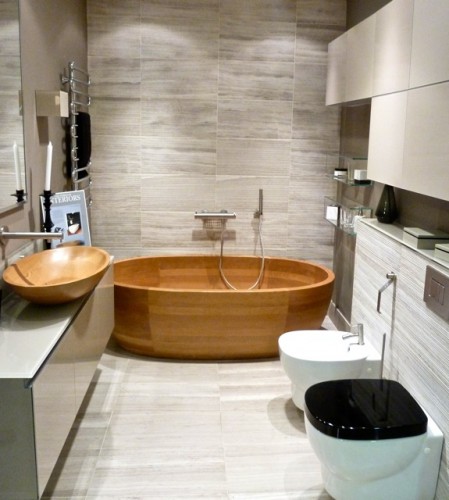 And the entrance to the showroom features this stunning combination of elements.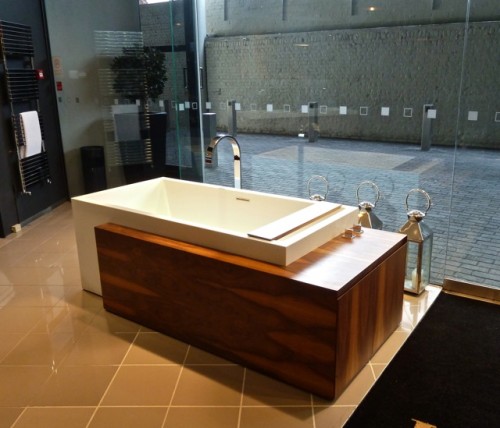 It was truly inspiring to see this creative collaboration in this stunning setting – I think fellow attendee, Boston designer Andie Day felt the same!