Continuing our look at the 2017 Kips Bay Decorator Show House, we go upstairs to Nick Olsen's stylish Salon du Beau Monde (titled with a wink). From the moody glamour of a dark mirrored vestibule,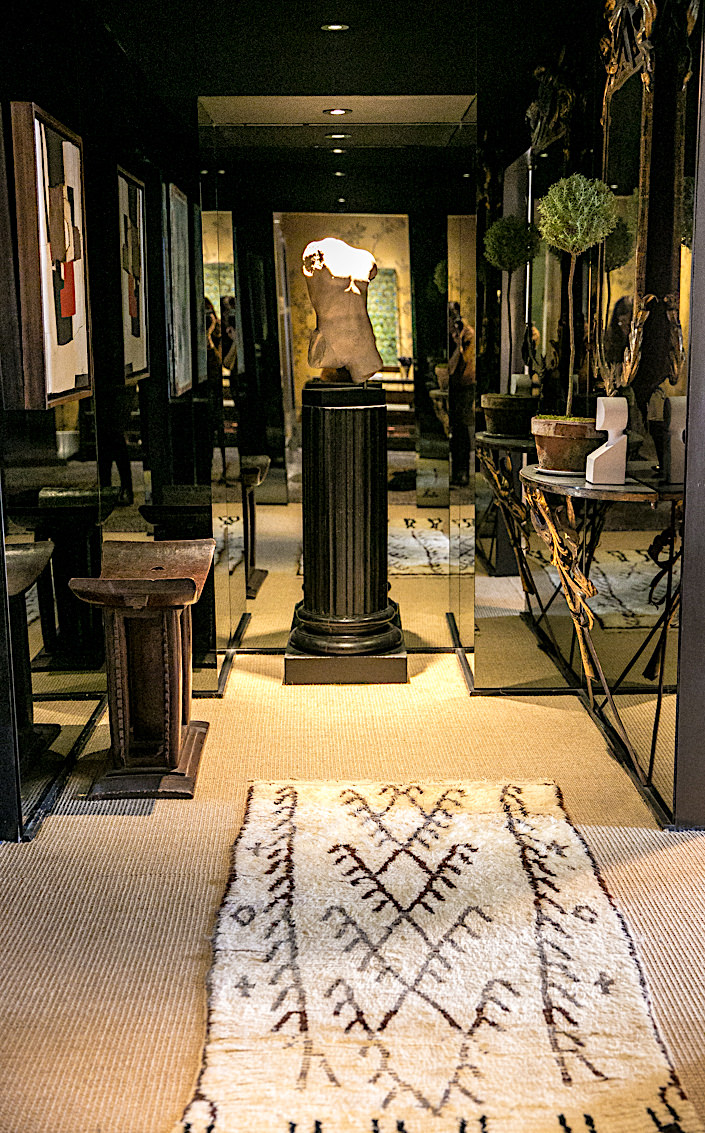 you enter the sunnier sitting room. Inspired by the great French salons of the 30s and 40s, Nick created an informed and merry melange of styles and eras. Channeling the sophisticated global mix in Yves Saint Laurent and Pierre Bergé's Paris apartment, there are references to Jean-Michel Frank for Nelson Rockefeller (the birch marquetry walls),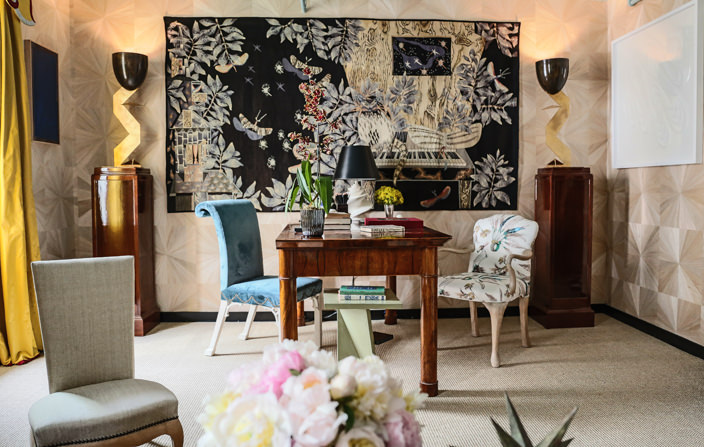 the French curves of Elsa Schiaparelli and trompe l'oeil of Christian Berard (those pelmets! and his works on paper below), all anchored by a fabulous Jean Lurçat tapestry from Hakimian, above (you may remember our Ancien et Moderne Paris Pop Up in January was also inspired by Lurçat).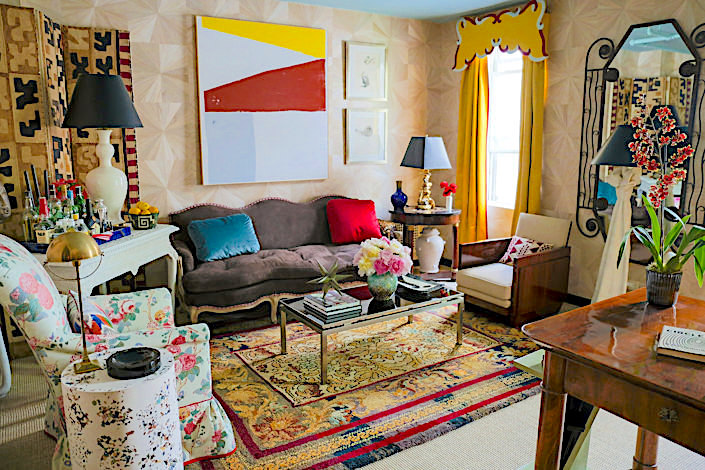 Africana (the Kuba coth screen) meets English chintz, meets the pure Deco of Jean Dunand. The space abounds with color, character, textures and a playful mix of all Nick loves. It's an educated eye that can assemble such a worldly, cohesive and fun compilation,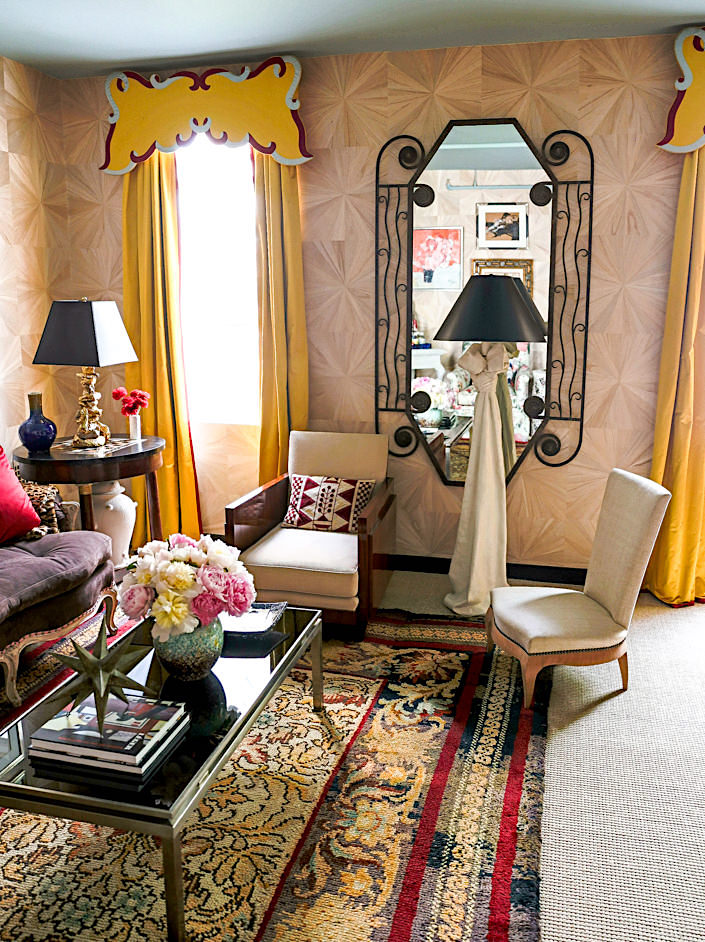 from an unusually colored Donegal carpet, to a Rene Prou slipper chair or vintage drapery floor lamp from Mecox Gardens (both above) to contemporary pieces like  Sam Amoia's terrazzo drum table, below.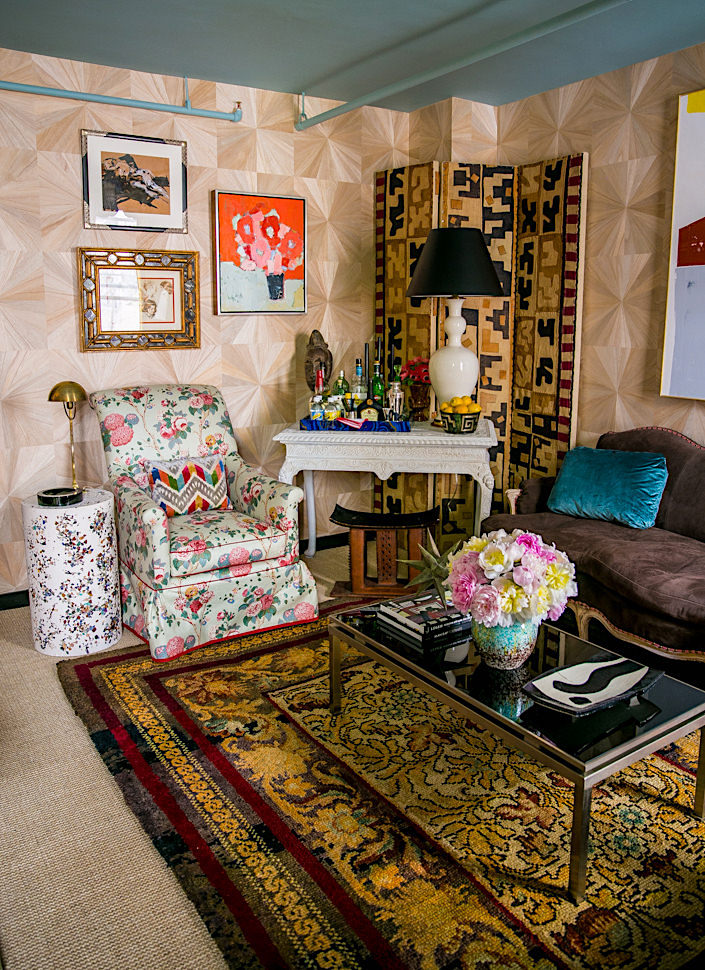 And since this room was clearly created for convivial conversation, Nick is prepared to entertain with libations on a Georgian Gessoed Bar Table from James Sansum. Cheers!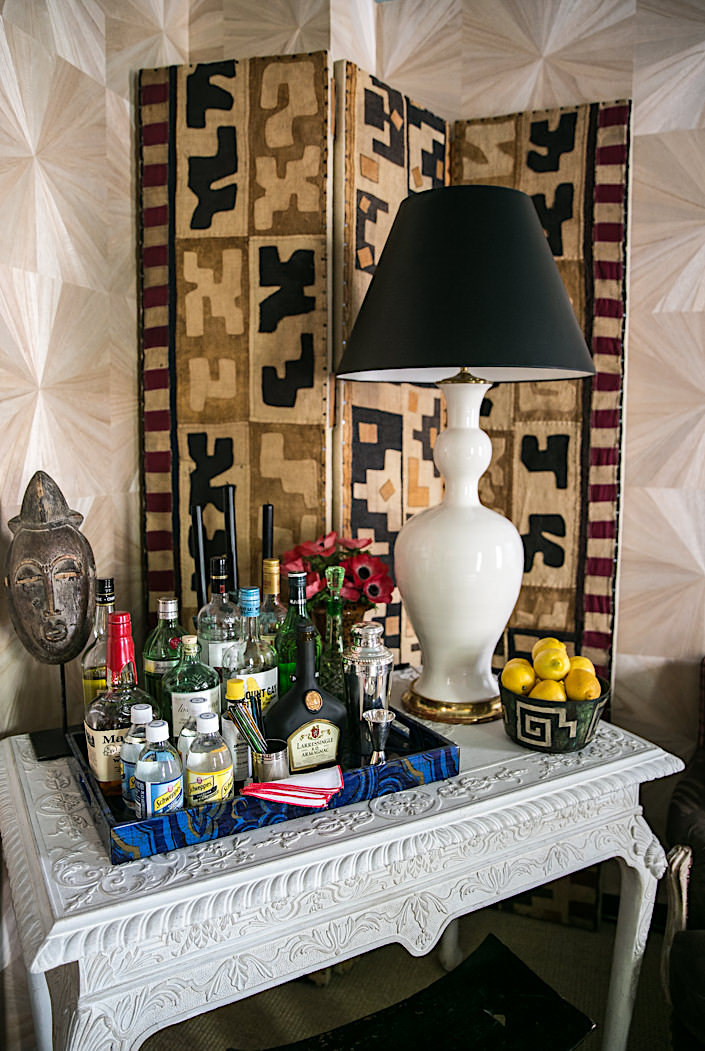 Envisioning a more contemporary European style salon, Robert Stilin has designed a sophisticated, artful living space as comfortable as it is chic.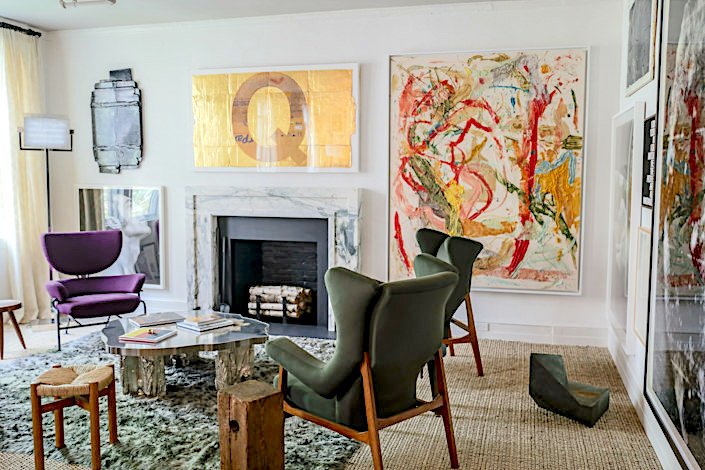 Against elegant understated walls of marmarino Venetian plaster, a stellar collection of fine and functional 20th and 21st century art, furniture and accessories tell the story of modern New Yorkers who are confident in their choices and live with what they love.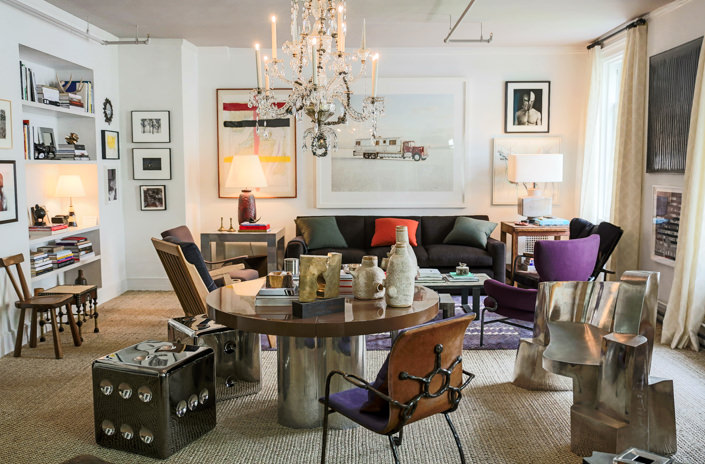 With a luxurious layering of materials and skillful approach to scale, Stilin's design makes this eclectic mix seem effortless and cohesive, with a relaxed and artful hand.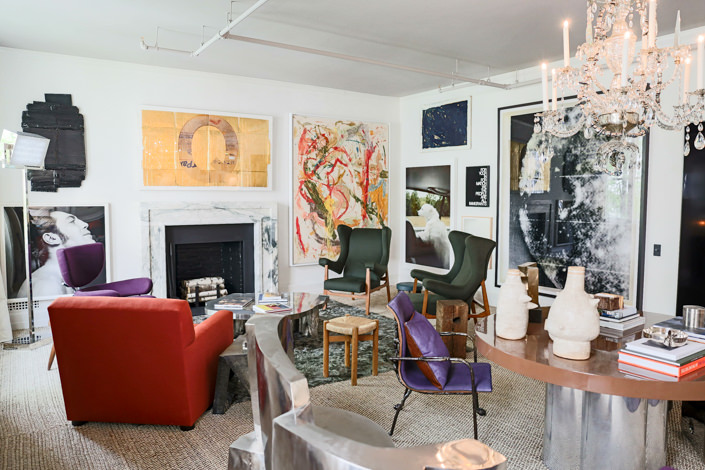 This sculptural Mattia Bonetti chair was a favorite.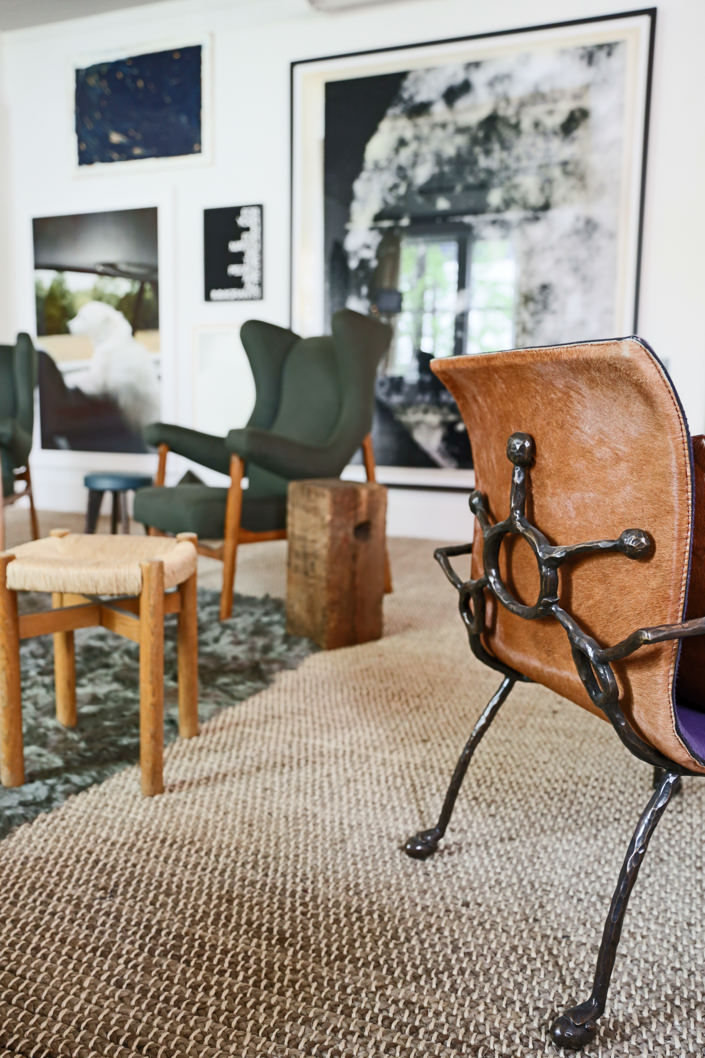 The global chic of Neal Beckstedt's sitting room also celebrates the connoisseurship of an international collector and the myriad of talent that comes together to create successful interiors.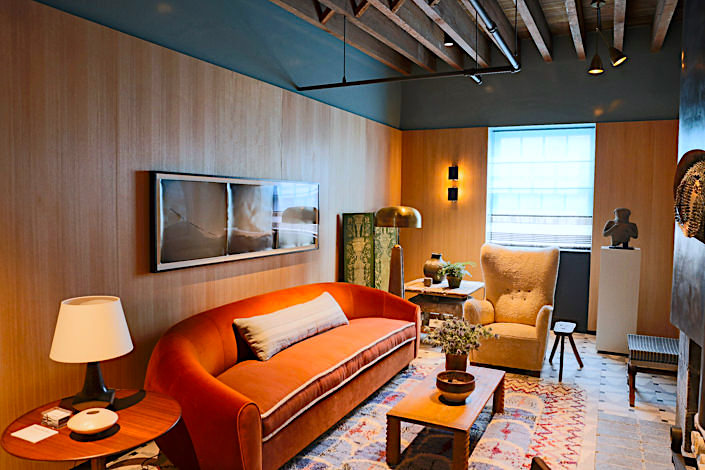 Inspired by both the colors and emotion of Pieter Hugo's photograph of a South African woman, below, Beckstedt assembled a mix of international styles and periods to tell his collector's story. From the 19th century French bureau, Jean-Michel Frank coffee table and Pierre Jeanneret Easy Chair, below,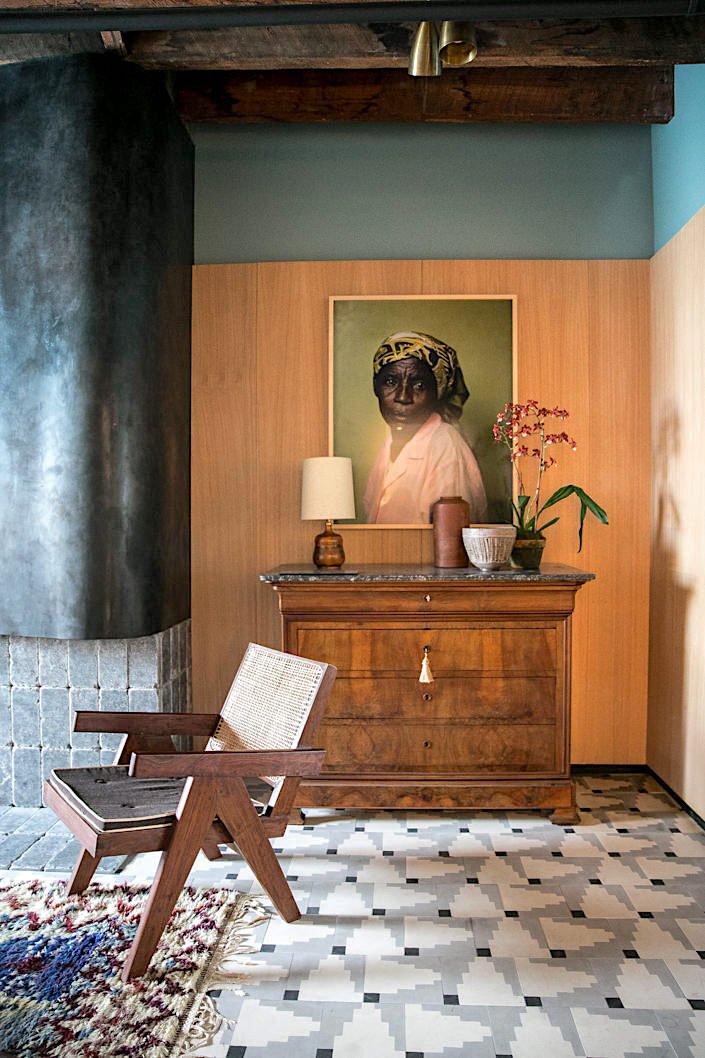 to the Swedish rug from Hakimian and Moroccan style cement tile floors, it is a worldly blend within a wonderful orange and blue palette – the Oval Room Blue walls are from Farrow & Ball who supplied all the paint throughout the house. Beckstedt exposed the beautiful ceiling beams and installed wood paneled walls for additional warmth.  And for a focal point to offset the geometry of the beams and rectangular room, he created a fantastic sculptural fireplace of black plaster with a wax finish, on which hangs a mirror by Darcy Miro, a contemporary piece from the Brooklyn artist.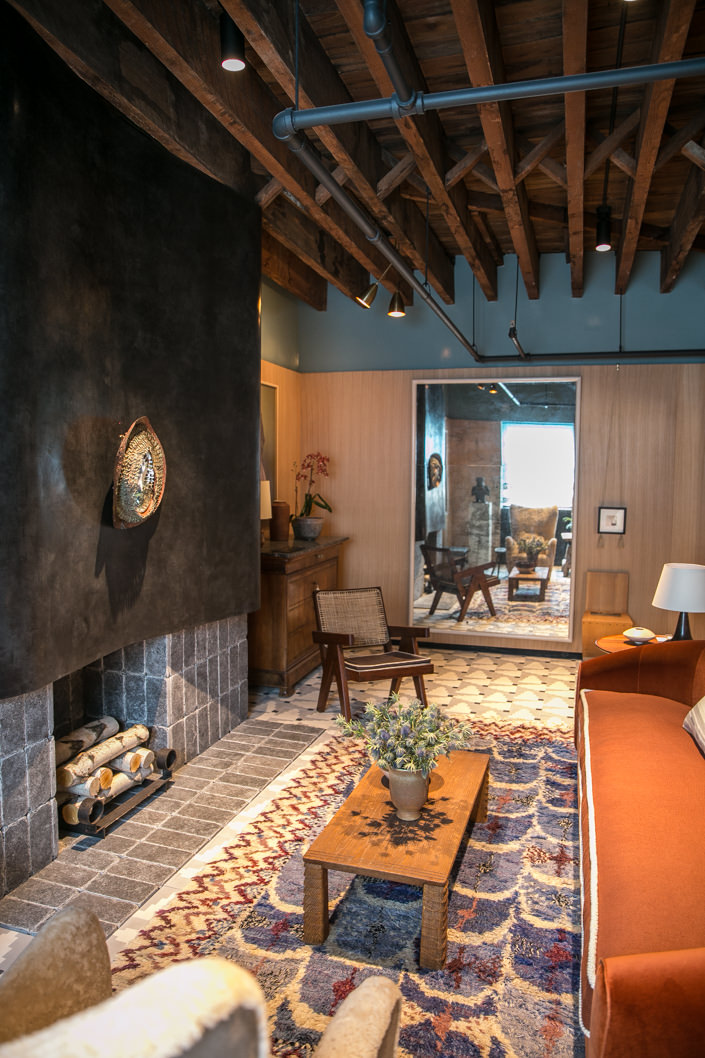 Old and new sit happily together with a vintage Frits Henningsen for Carl Hansen armchair next to Beckstedt's Danish inspired custom sofa.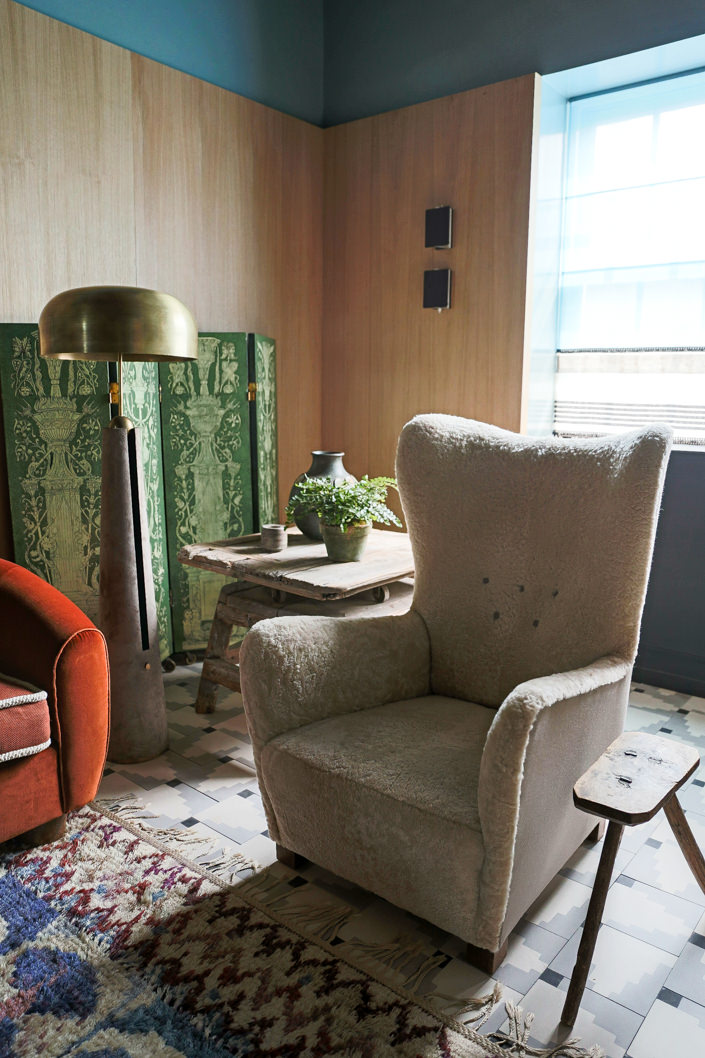 A closer look at the corner reveals a tempting trio of table found at the Paris flea market, a vintage Fornasetti screen and new Apparatus standing floor lamp.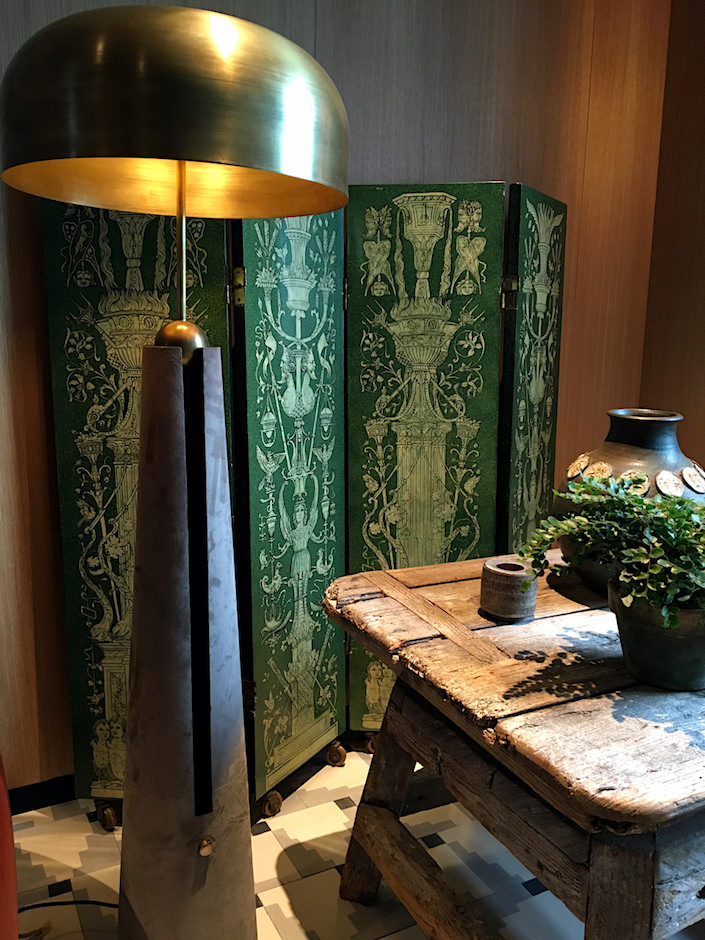 all photos by Stacey Bewkes for Quintessence
Stop back next time for more from the 2017 Kips Bay Decorator Show House.