The most successful interiors effectively tell the stories of their owners. But at a show house with no client is when the art of the story becomes even more paramount. At the 2017 Kips Bay Show House, some of the narratives were especially compelling.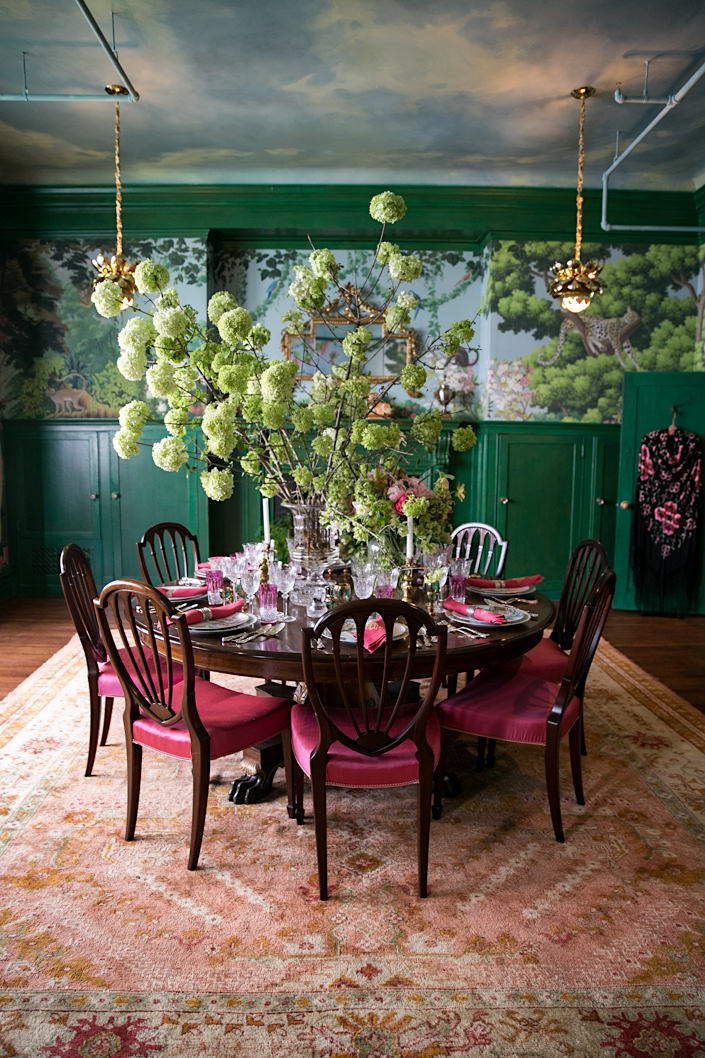 Ken Fulk is a master storyteller, creating experiences in homes, restaurants, hotels and at events that give spaces vibrant life. In his Kips Bay dining room, the mise en scene was Madame F's upper east side dining room circa 1968.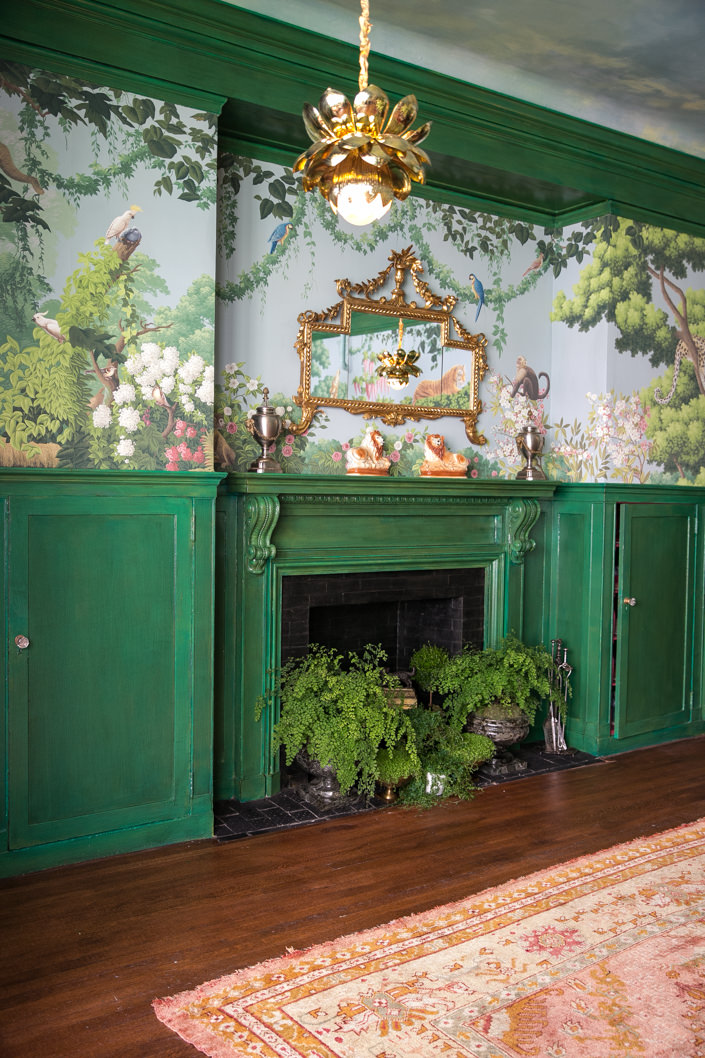 A free-spirited aging grande dame, originally from New Orleans who has survived three husbands, our gracious hostess was well known for her colorful dinner parties and entertaining elan. She has recently befriended a group of wayward zoo animals who have taken  refuge in her townhouse garden.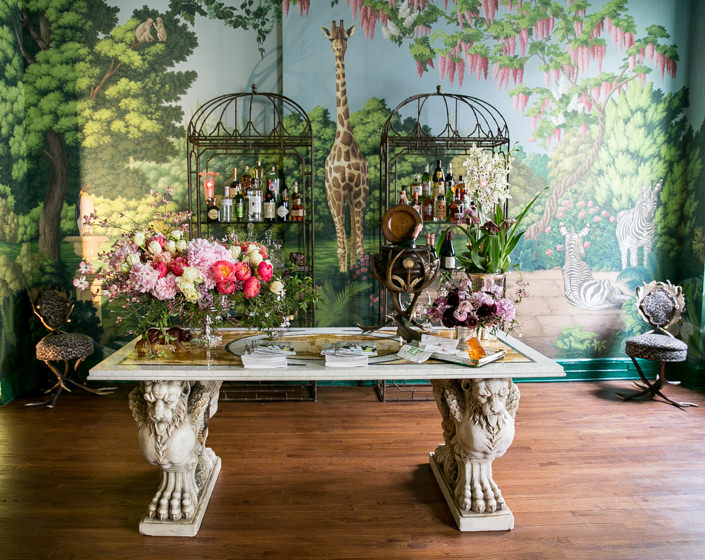 Enamored of her new wildlife visitors, Madame F played them Gershwin tunes on her vintage upright and fed them steak tartare delivered from The Colony as they cavorted in her lush garden. Her dinner guests were all the more enchanted.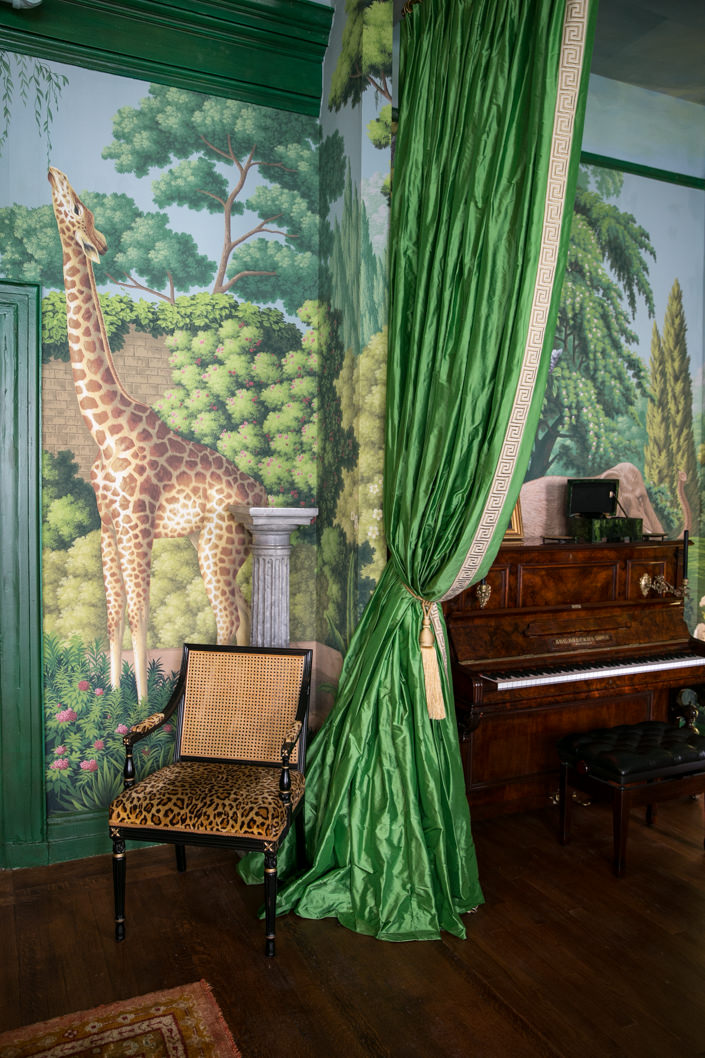 Across thirty panels, a custom De Gournay wallpaper collaboration with Fulk tells the sumptuous story of Madame F's fantastical menagerie, while the furniture, paint finishes and accoutrements suggest an owner of perhaps another era with extravagant taste and well honed social skills.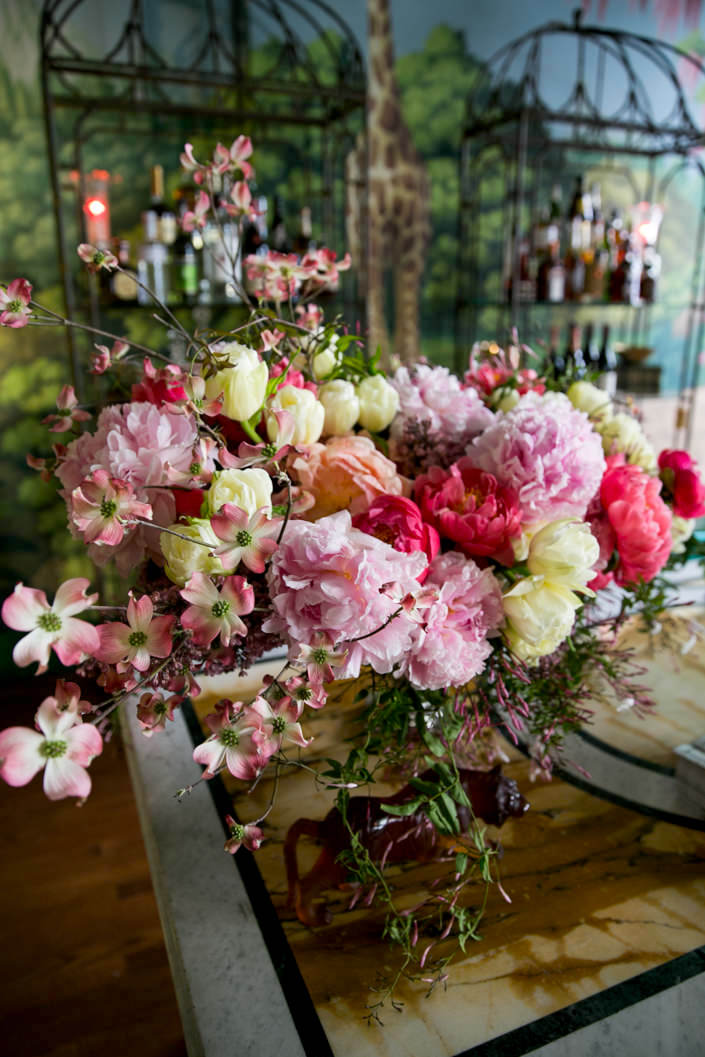 Spectacular floral arrangements by Ken's in-house Flower Factory were appropriately abundant with the most incredible coral charm peonies in a lush seasonal mix that hints at Madame F's southern sensibility.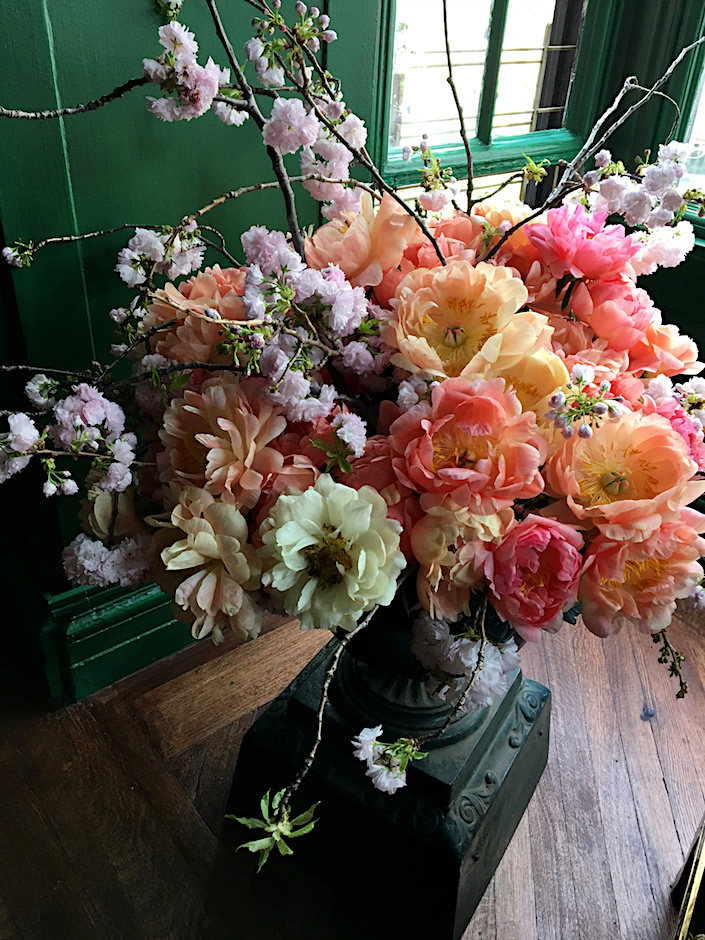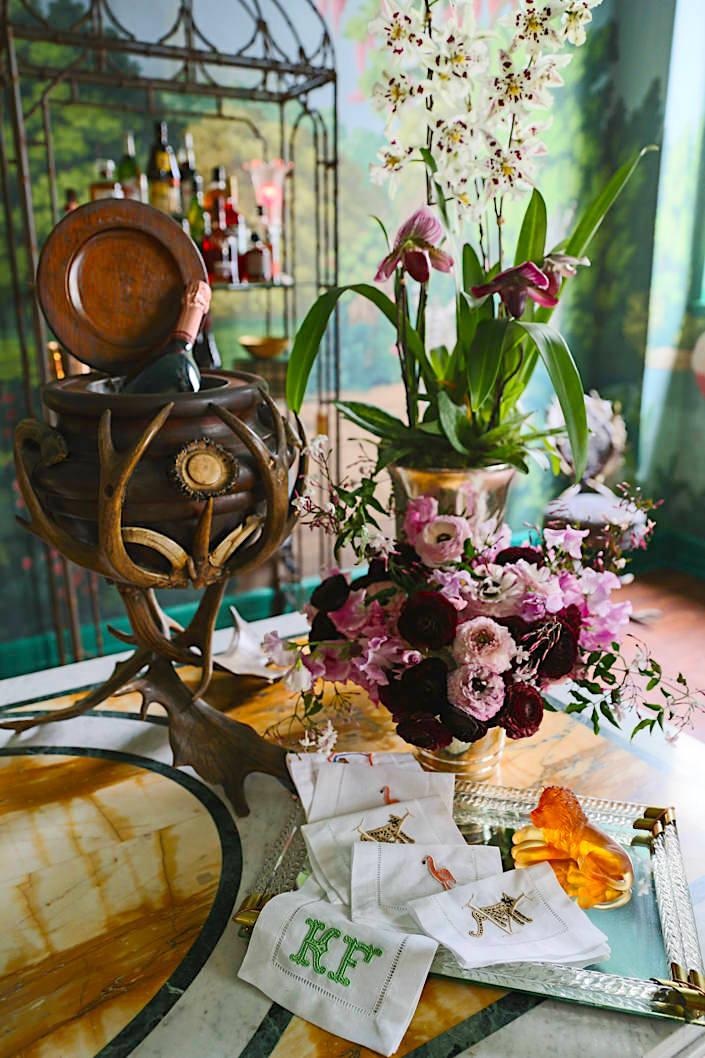 A woman of rarified taste, Madame F's stylish entertaining accoutrements include an unusual antler champagne bucket and embroidered cocktail napkins from Leontine Linens. Just like the rest of the room, her table features a layered luxe marriage of old and new with Hermès china and Saint-Louis crystal next to vintage and antique selections.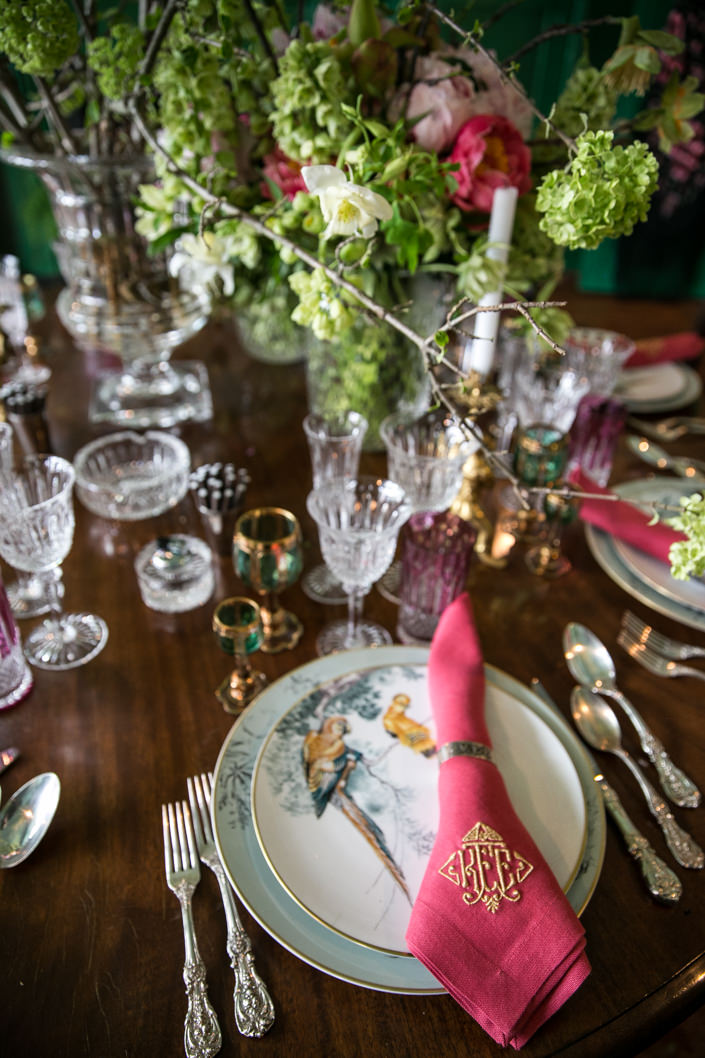 Billy Cotton's attic room tells the poignant story of another aging woman whose narrative is less ebullient than Madame F's. Having endured many of life's tragedies, Cotton's muse is living in what is probably her last abode – a top floor SRO in what was once a grand townhouse.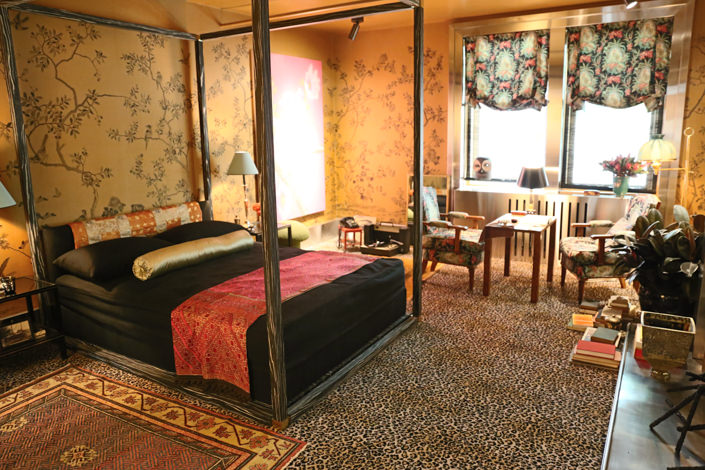 Utilizing her "last remaining bits of finery" and donations, a gay designer friend has seen to the room's decoration. Against the backdrop of a timeless Fromental wallcovering that lends the space a film noir ambiance, accessories from another era offer hints of a more lighthearted life in earlier times, like the happy pop of pink in Ann Craven's painting or the charming telephone table, originally owned by Brooke Astor, purchased from Pamela Hayward, who briefly ran the NYC outpost of Jansen (and now available from Louis Bofferding). Perhaps Cotton's character and she were once friends…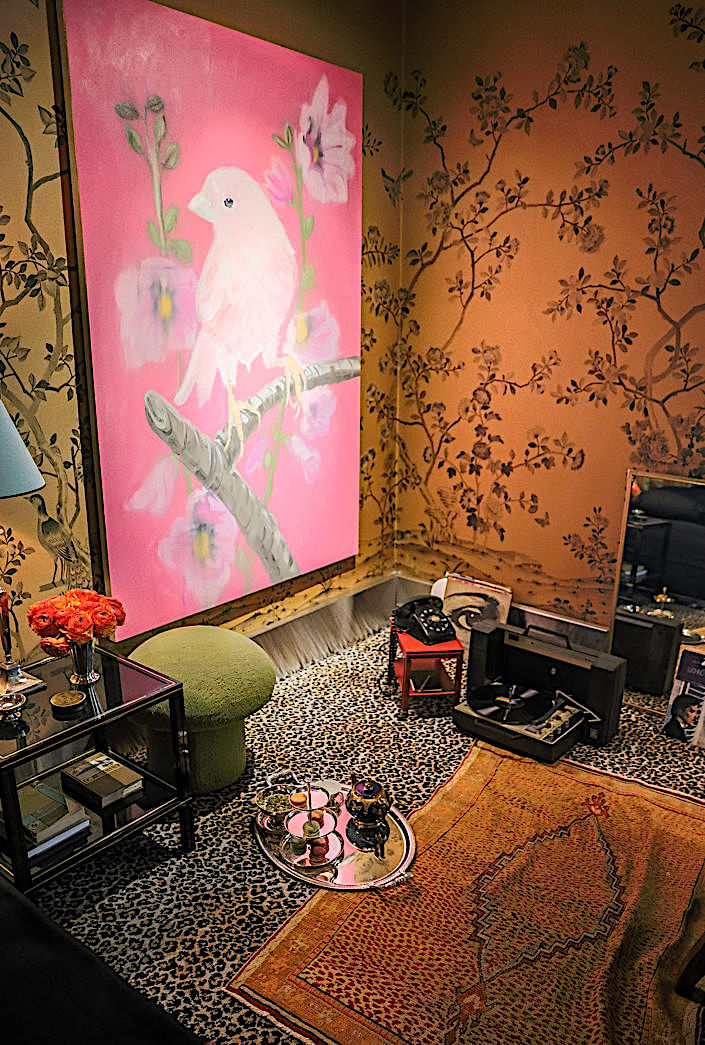 But look more closely and the melancholy is always there as with the Death in Venice LP with its haunting Mahler motifs.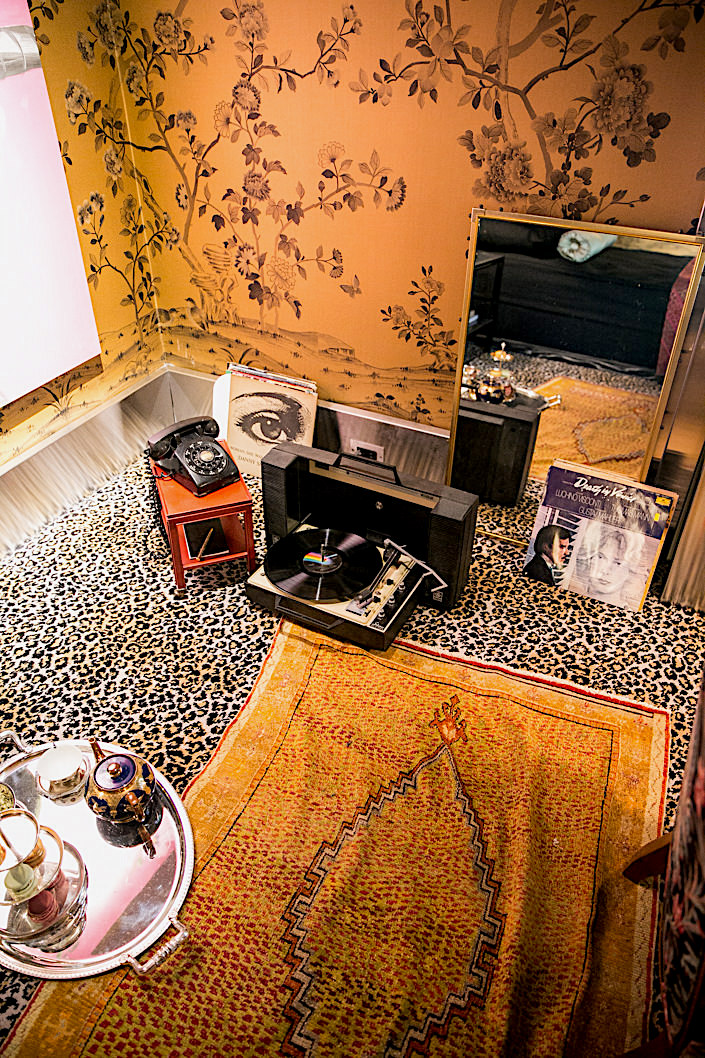 A Madeleine Castaing floor light is a perfectly poised flash from the past behind chairs upholstered in le Manach's timeless Les Elephants and a writing desk surrounded by memorabilia and piles of books. While I spied Graham Greene's The End of the Affair, which no doubt held particular significance for our inhabitant, I felt this could have been the set for a Somerset Maugham film as well.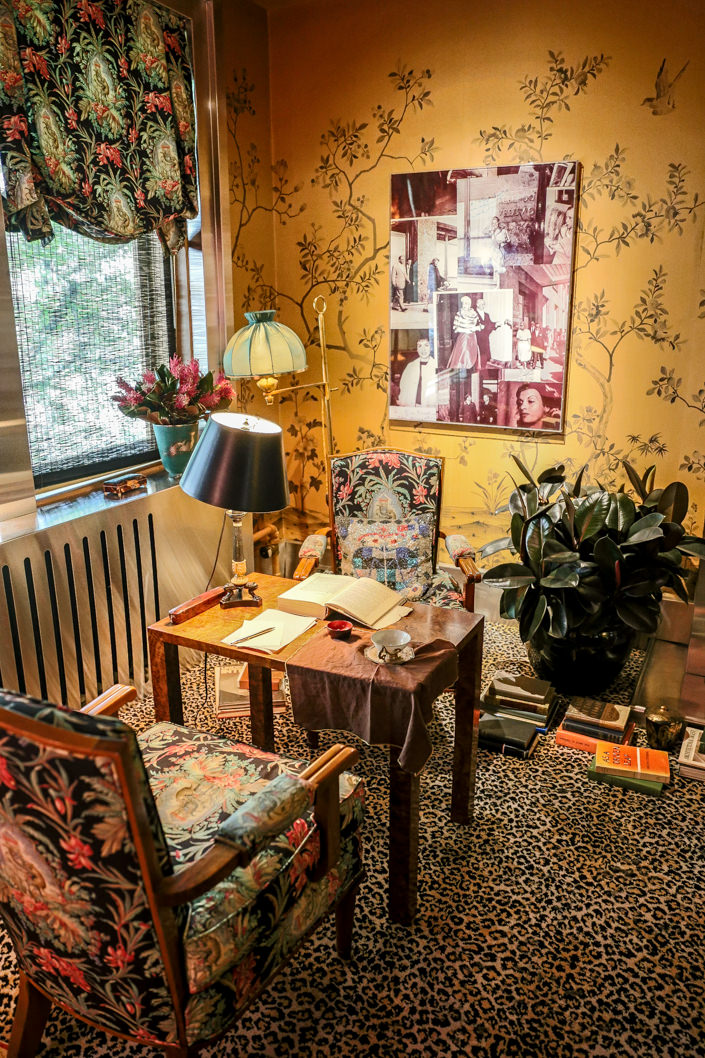 As Billy explains, "This room is an ode to that great bond between the homosexual decorator and his patrons, often female. May this creative exchange be celebrated and continue."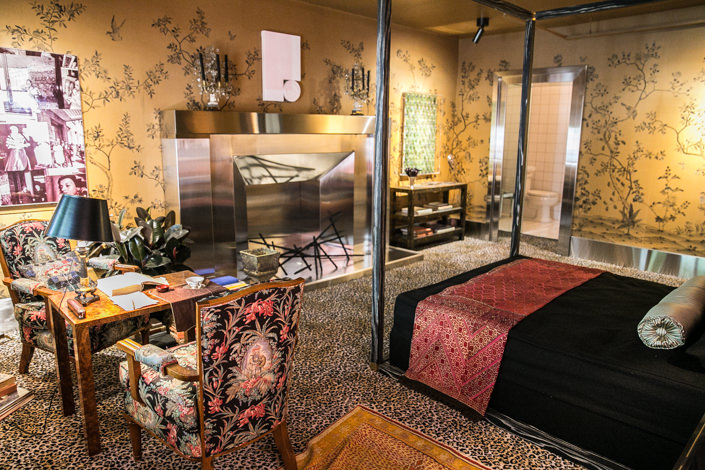 all photos by Stacey Bewkes for Quintessence