Known for her low-key lived-in style with flair, Schuyler Samperton has a knack for making rooms look like they've always been that way. She is an unabashed fan of color, pattern and spaces with a touch of idiosyncratic character. Patina and charm generally trump sleek and modern in her book, with a signature style that is a layered, comfortable West Coast mix of classic and modern with a bohemian twist.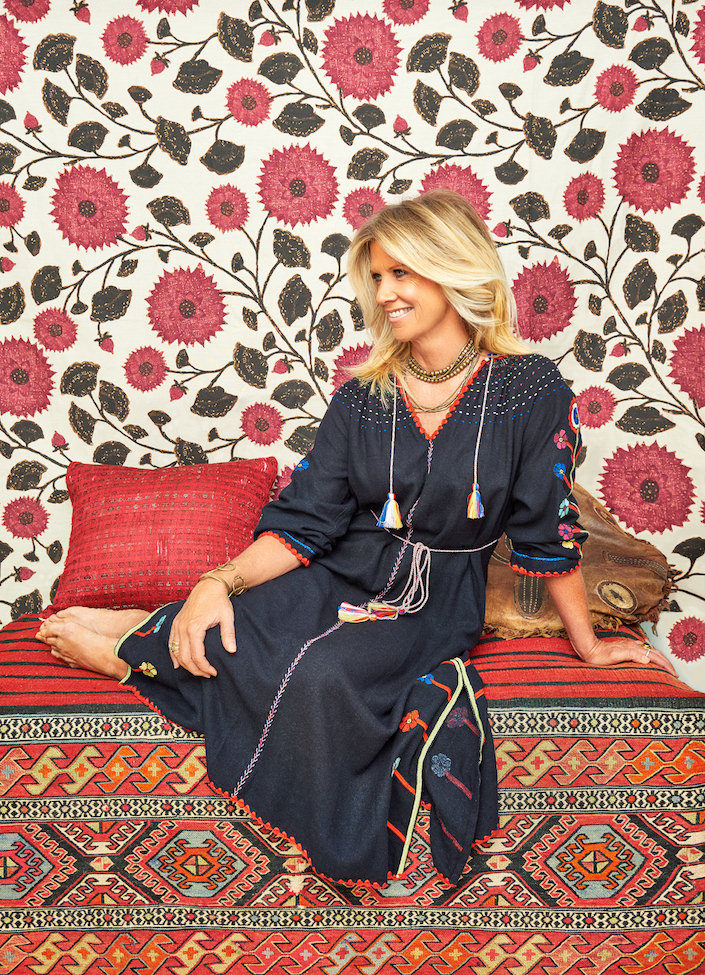 Fabrics have always played a critical role in Schuyler's work and now she is designing a line of her own! I asked Schuyler what inspired her to take the plunge. "I've always been fascinated by fabrics, and have collected textiles since I was a teen, from antique French Chintz remnants to native American chief's blankets. For me, fabrics are the most essential part of a room – they provide the spirit of a space and really define the tone."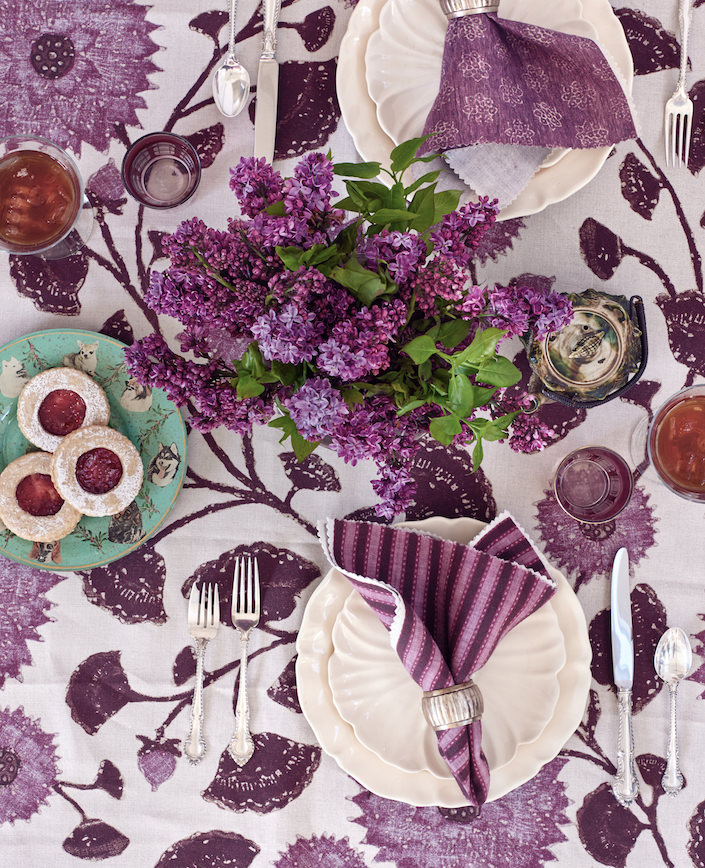 "Having my own line has always been a dream of mine, and with this debut collection I concentrated on the exotic, colorful patterns of India which I feel are at home in so many different settings. I also love the versatility of fabric and all the many ways one can include them in a room – upholstery, curtains, pillows and of course, my favorite – walls!" And may I add, tabletop. See how glorious (and different) Celandine looks above in Mulberry and in Sangria behind Schuyler in the top photo.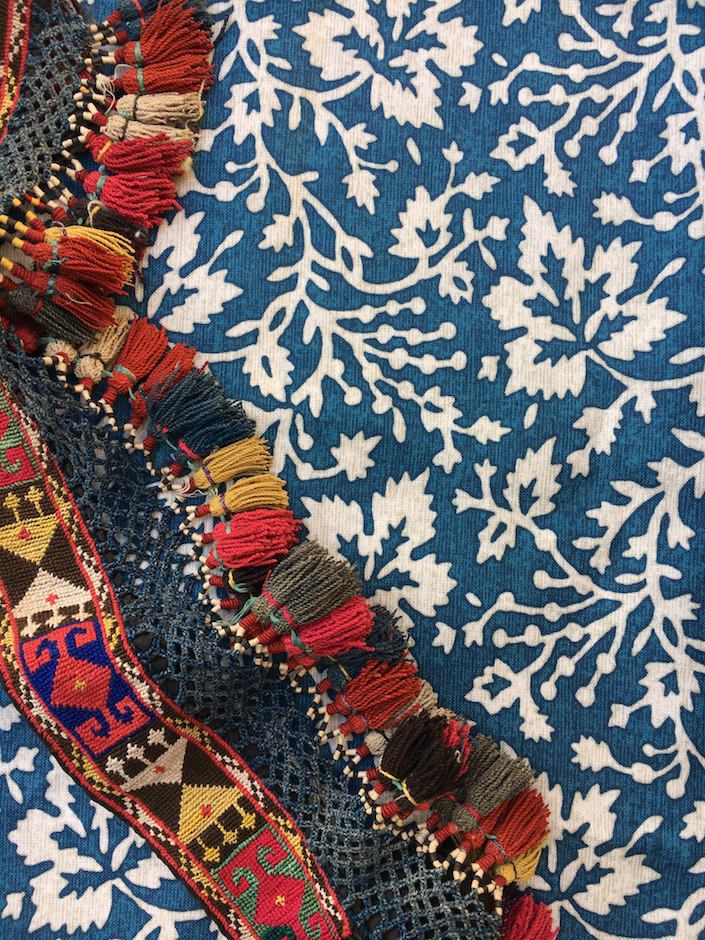 With maximalism in the air, the colorful collection is right on point. But Schuyler's inspiration has nothing to do with current trends. She grew up in a house long on style, with an architect father and mother with a fearless sense of fashion. "Exuberant headscarves were part of my mother's signature look (Overlea, above, is taken directly from a piece in her collection – only the color has changed) and my father often wore a colorful Indian print pocket square in his suit pocket."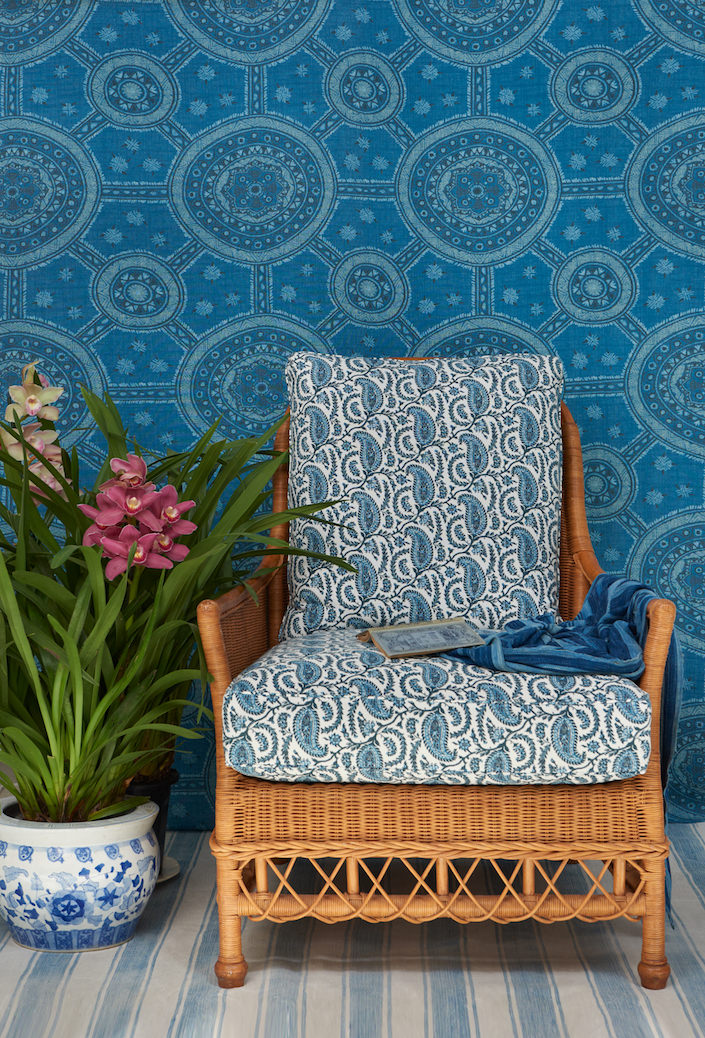 Just like Schuyler's rooms, her textile collection is the perfect mix of old and new – patterns "rooted in history, but that also have a modern cheerful, bohemian spirit. The coloration of each pattern was very important to me – I have several designs that are blue and white for those who prefer the more traditional (Cordoba in Clair on the chair, above, and Nellcote in Montego on the wall), but I also wanted to include more unusual options for those who were willing to push the envelope a bit and really go for it" Clearly Schuyler's dog, Tricky, below, approves, sitting on one of my favorite patterns, Caledonia, with Doshi behind on the wall.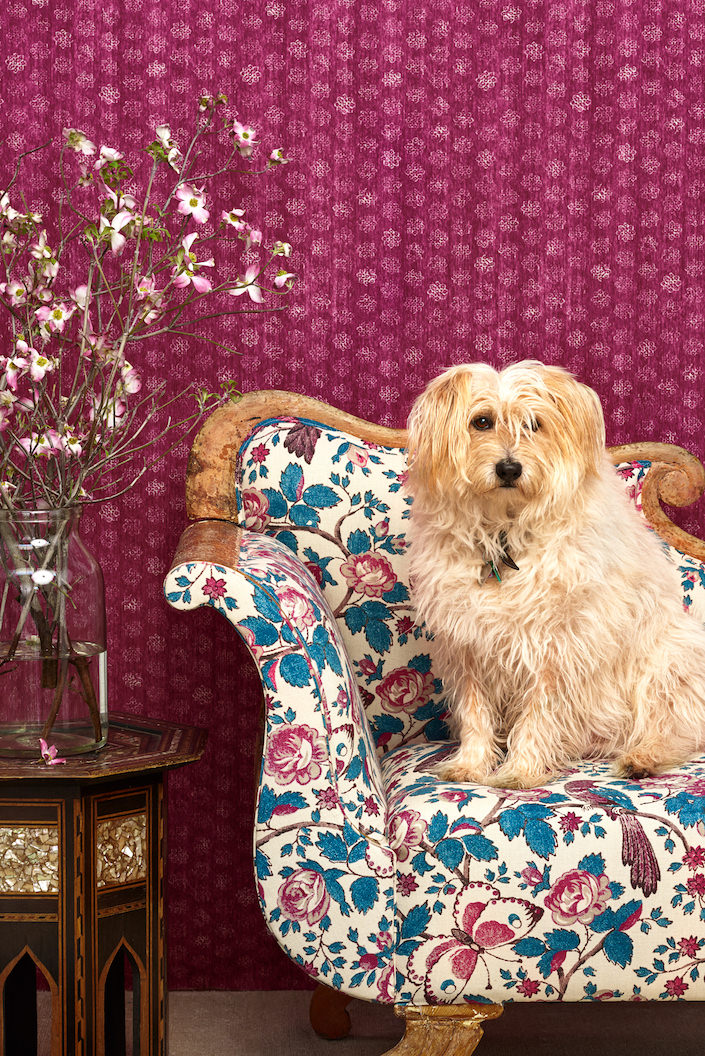 With the resurgent appreciation for artisanal products on the rise, a versatile collection like Schuyler's is sure to fill many a designer's bucket list. Comprised of eight patterns in varying scale and multiple colorways, there is ample mix and match opportunity. For Schuyler, it was a chance to express her vision and experiment . "I've always been drawn to unique things that revealed the hand of the artist, so great care was taken with this collection to create fabrics with a vintage feel. Everything is printed on beautiful  linen from Ireland that has an amazingly soft hand and the printing technique allows for a very subtle, antiqued effect."
Schuyler's beautiful new collection will be available as of May 9th at Hollywood at Home and be sure to look for Schuyler and Tricky this October in Dogs and Their Designers!