TEFAF (The European Fine Art Fair), established in Maastricht in 1988, is widely regarded as the crème de la crème of art fairs. This fall, TEFAF came to New York for the first time with great fanfare and now their second visit this week represents the inaugural TEFAF New York Spring event. Open May 4 – 8 at the Park Avenue Armory with a focus on art and design from the 20th century through today (although there are certainly booths that include older works), it brings top international dealers from both New York and around the world to present museum quality works of all eras and genres.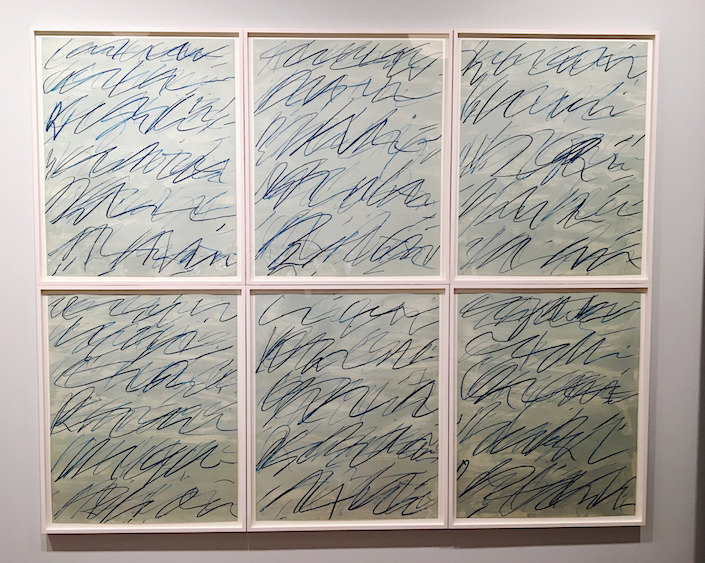 I stopped by for a whirlwind peek at the VIP Preview on Wednesday to share a few of my favorite finds. In the entry section, Galerie Bastian from Berlin had a selection of the greats including this series of six offset color lithographs of Cy Twombly's Roman Notes.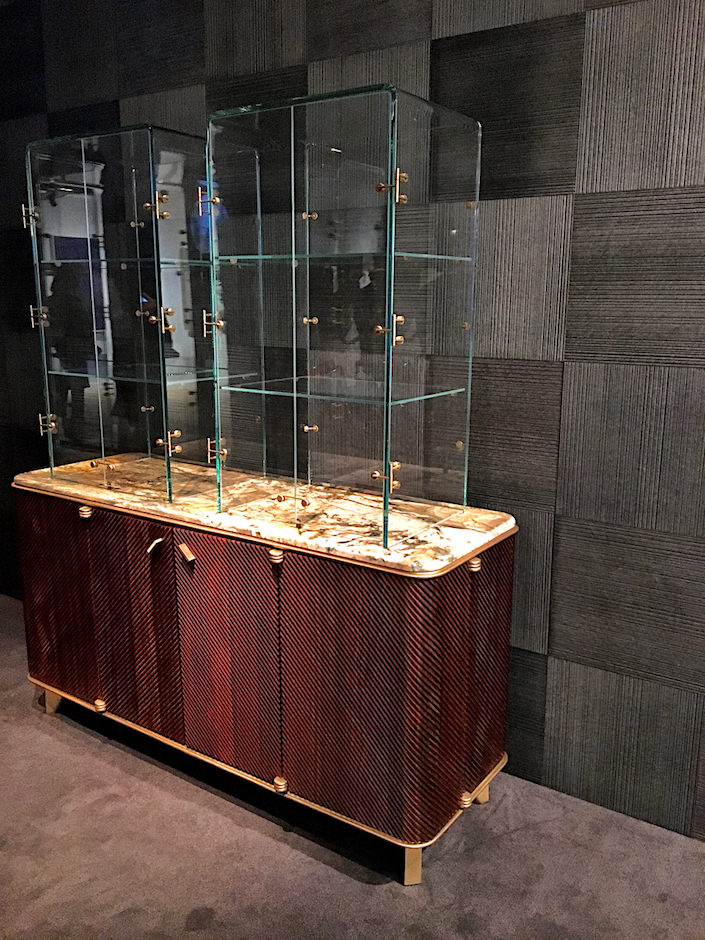 Carpenters Workshop Gallery presents the intersection of art and design, both exhibiting and producing functional sculptures. One of the highlights in their booth was the retro-futuristic Monocle Bar created by Beirut based design team david/nicolas.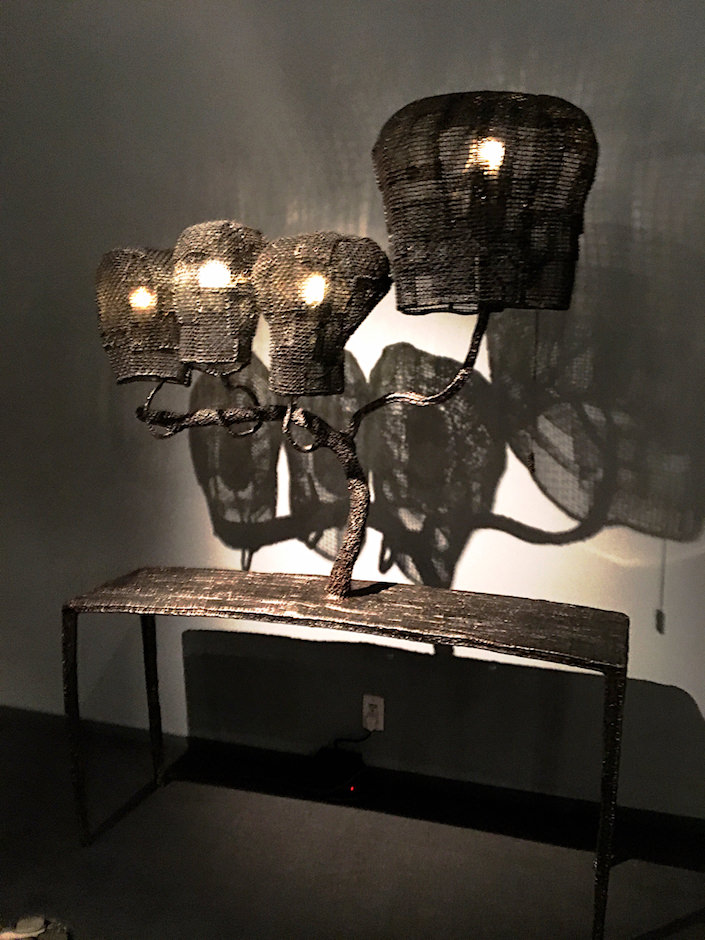 Also in their booth was the fascinating organic and textural Table Cocoon by Nacho Carbonell, above, and the Dutch design duo Studio Job's Pipe side table, or "ceci n'est pas une table), their clever ode to Magritte, below.
The art of display was acknowledged at Yves Macaux's booth with a bow to the Vienna Secessionists with table and chairs by Josef Hoffmann and lights by the multitalented Wiener Werkstätte member Dagobert Peche.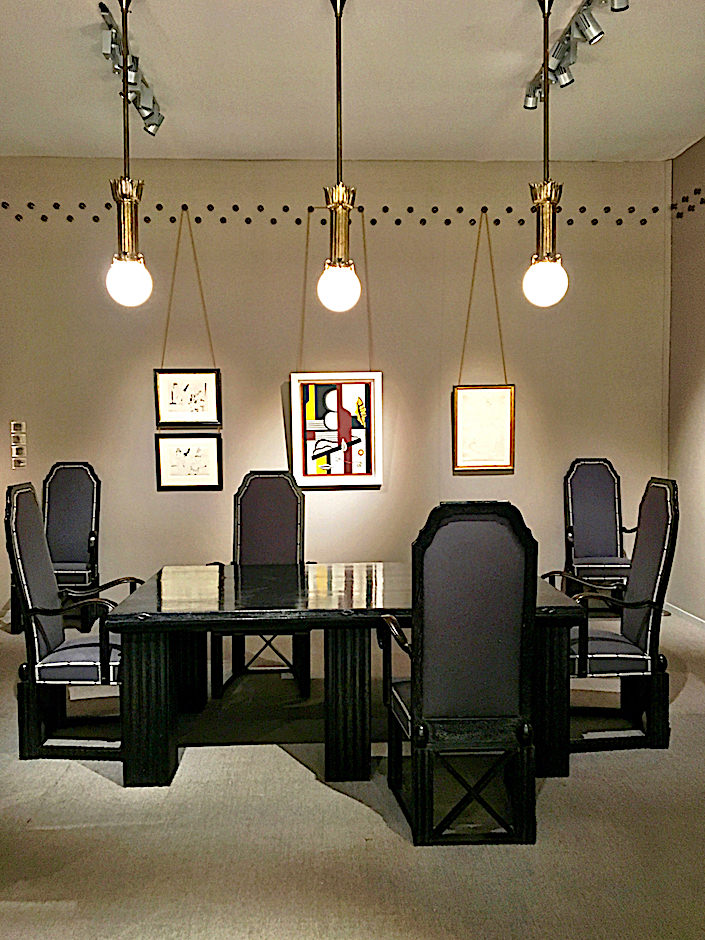 Demisch Danant specializes in 20th century French design with a broad overview of the era including architecture, art and interiors. Their space included this impressive vignette of Jean-Pierre Vitrac's Flower Lamp, on a monumental César bronze and smoked glass Expansion Table, with Maria Pergay suede and stainless X Chairs and Pierre Paulin Élysée Floor Lamp in front of Sheila Hick's hanging Prayer Rug.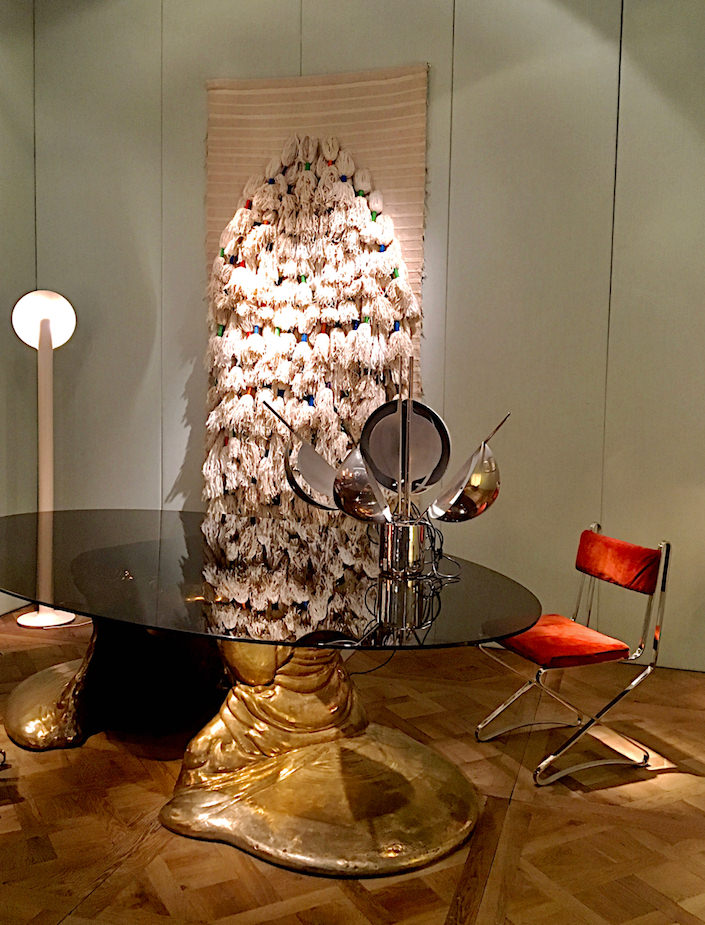 Also with a special interest in French post-war design, New York Magen H Gallery, designed a beautiful booth with titans of that era. Pierre Sabatier's Tropismes brass and tin wall sculpture anchors a space including Jean Prouvé, Alexander Knoll, Pierre Jeanneret and more.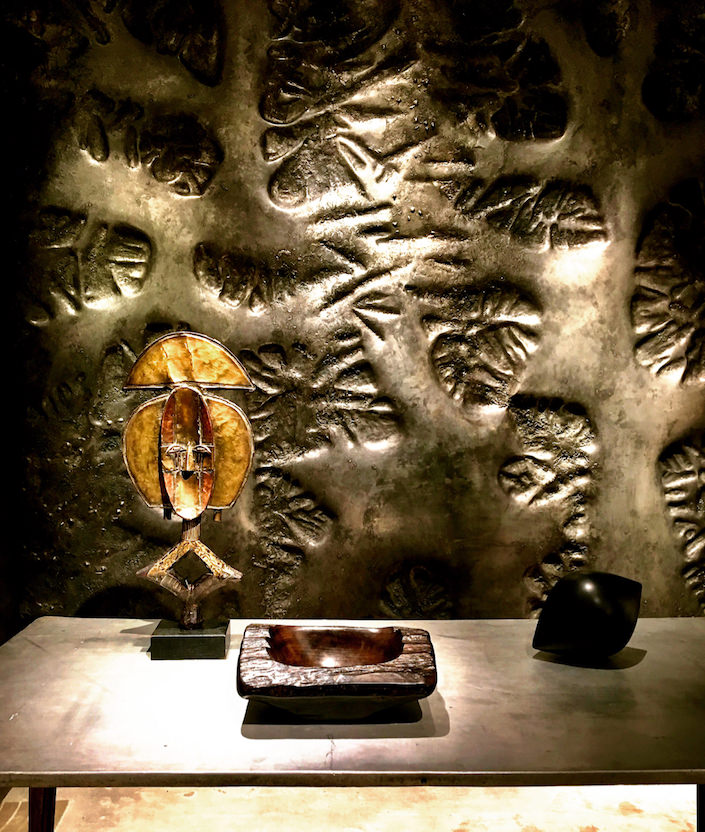 At Delorenzo Gallery, a set of Rateau bronze armchairs were a standout.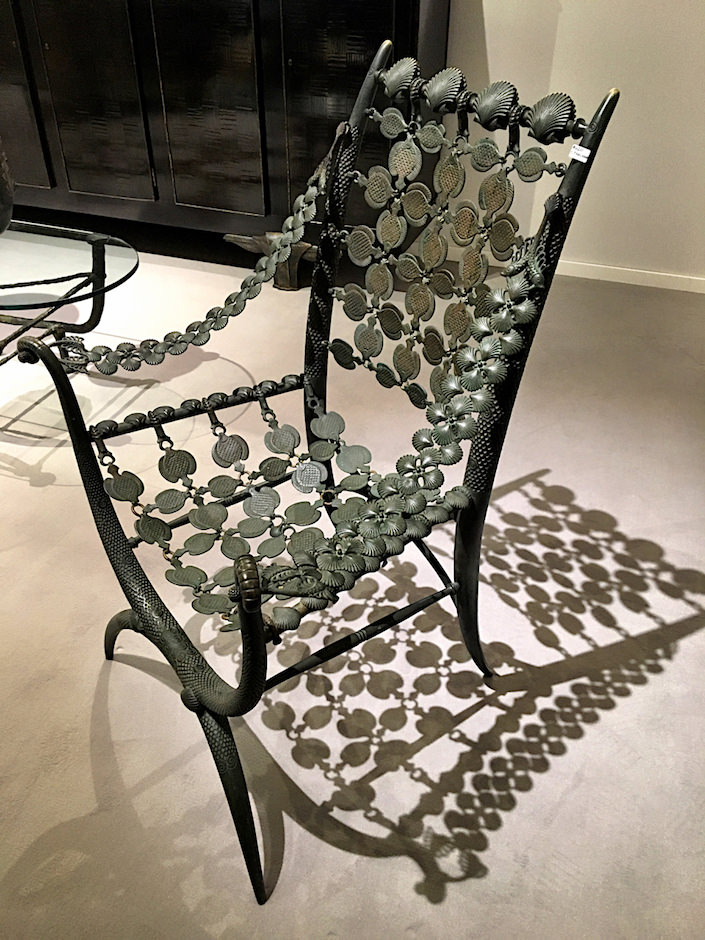 Ruth Asawa's beautiful untitled Hanging Spheres from David Zwirner are intricate wire sculptures with an ethereal dynamism I love.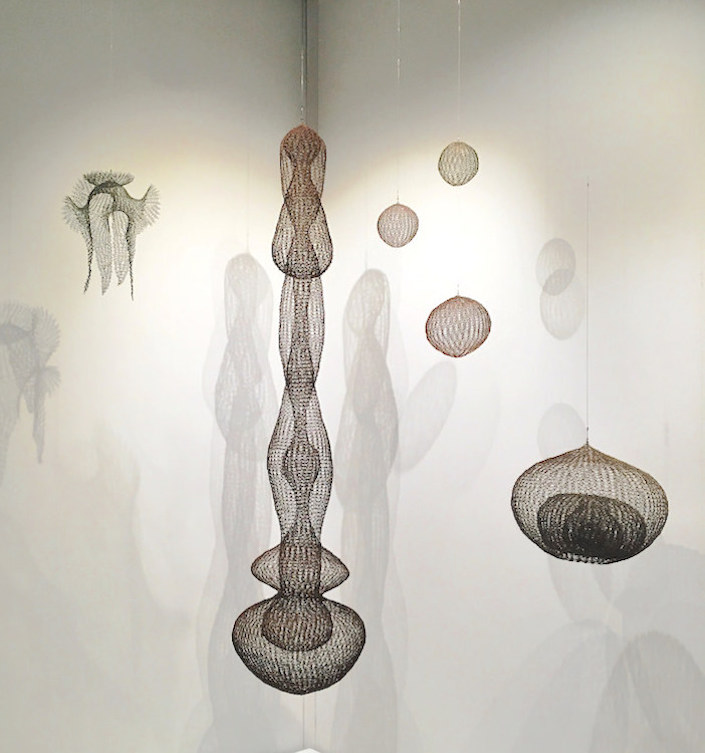 This Bouke de Vries sculpture, Fragmented Guan Yin, at Adrian Sassoon, was already marked with a red dot by the time I saw it at the preview. Having segued from his work as a restorer to his process he calls "the beauty of destruction," de Vries works with broken vessels to create something new.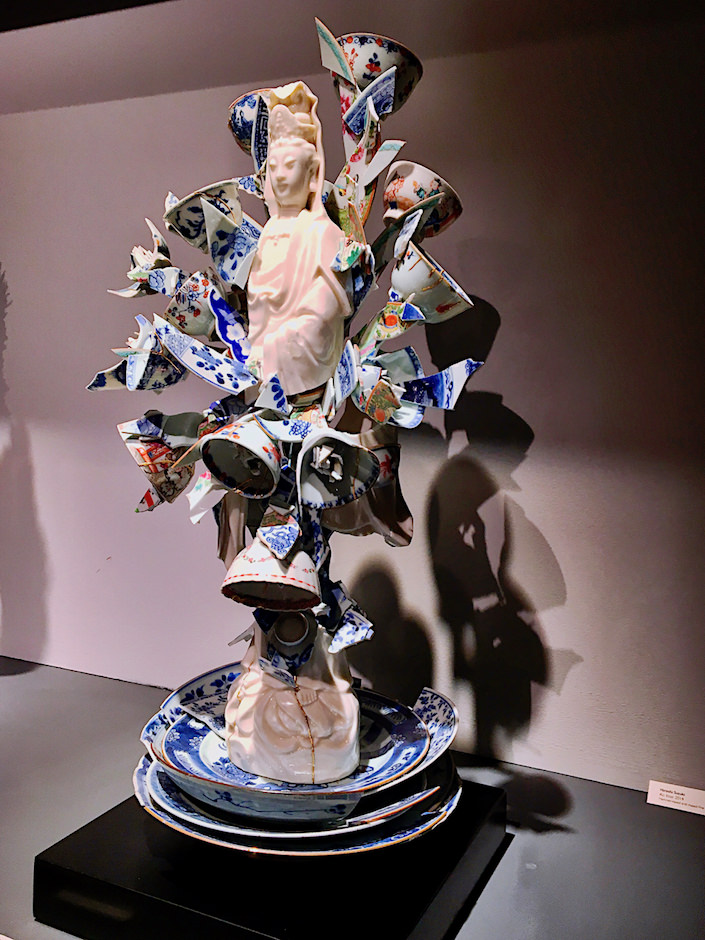 An unusual ceramic from Joan Miro at Acquavella, le Voillier (The Sailboat) shows his versatility and Catalan folk art influence with charm.
A very special pair of Lucio Fontana vessels, Ceramica Spaziale, were presented by Galerie Karsten Greve in St. Moritz. Though from 1949, they feel totally contemporary.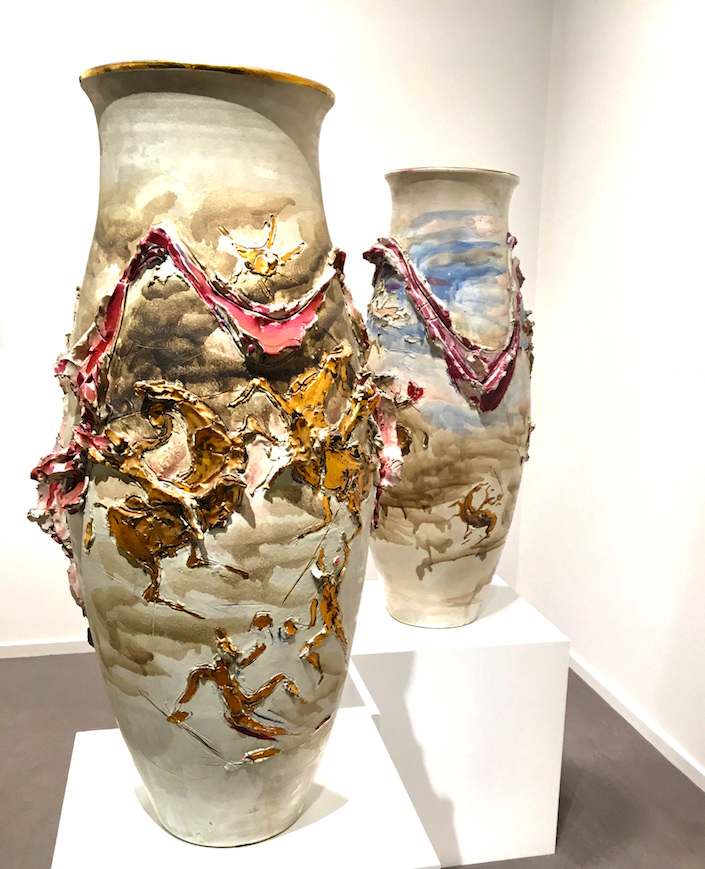 For a unique experience, visit the Di Donna Galleries in the historic section for their Surrealist Banquet, where they have united Surrealist and Post-War art inspired by the history of Surrealist dinner parties beginning in the 1920's. Front and center is Dali's Buste de femme rétrospectif, an assemblage of a nude mannequin with various suggestive additions.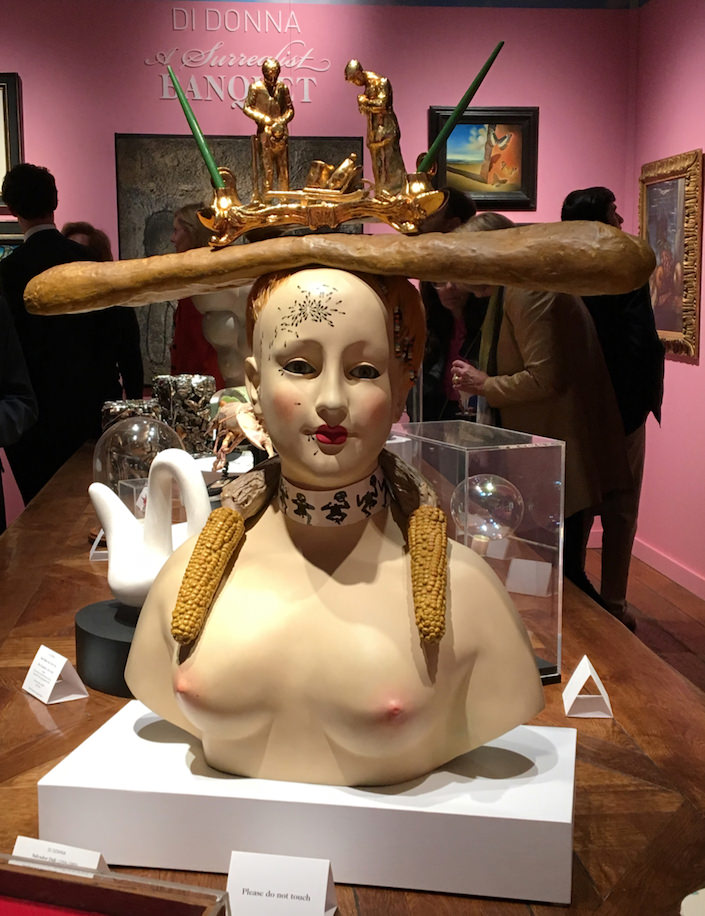 While most of the show focusses on more modern art, Galerie Chenel from Paris presented a selection of their incredible antiquities.
And CAHN Gallery from Basel brought early Middle Eastern works such as these male and female idols dating from millennia BC.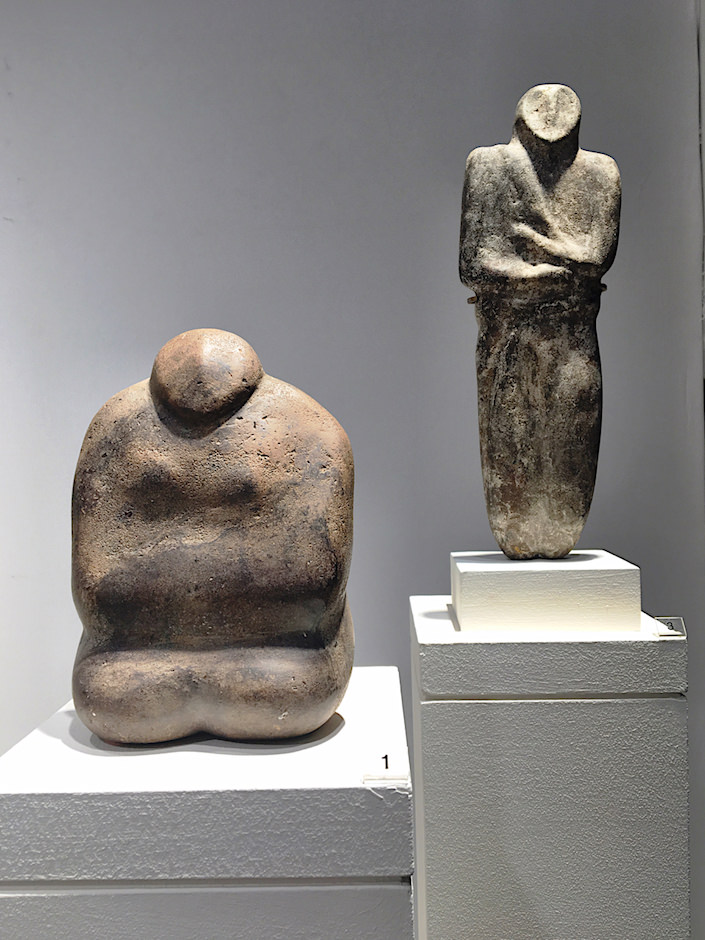 A contemporary take on ceramic sculpture I liked was seen in Maren Kloppmann's architectonic Wall Pillows Blue Oval 1 at Hostler Burrows.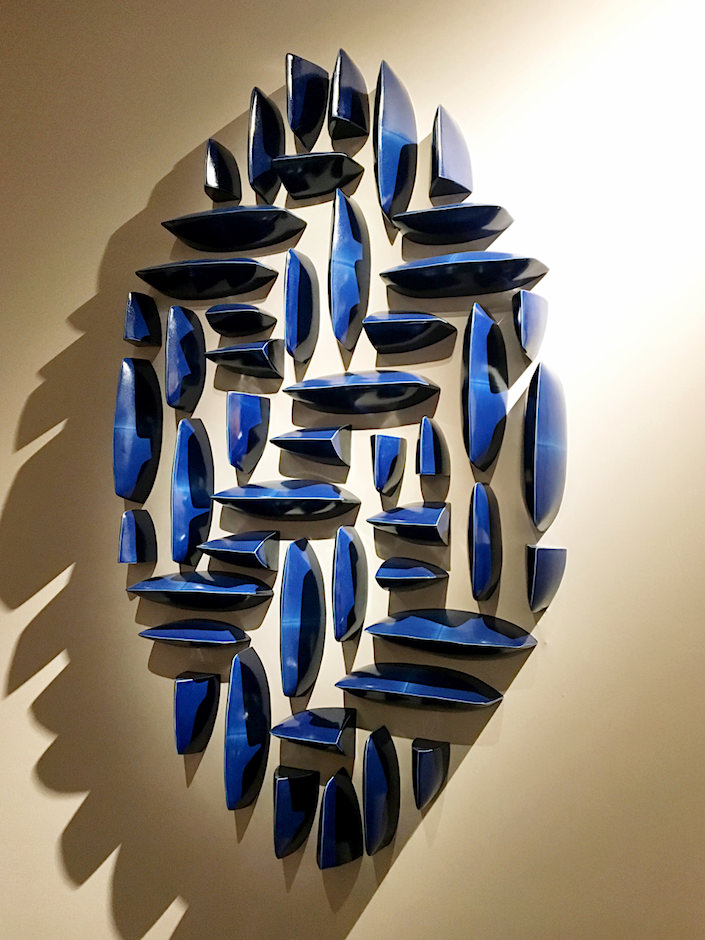 Also at Hostler Burrows is the striking glass chandelier by Swedish artist Frida Fjellman. Of dramatic size and color, the faceted gem-like structures are mouth blown.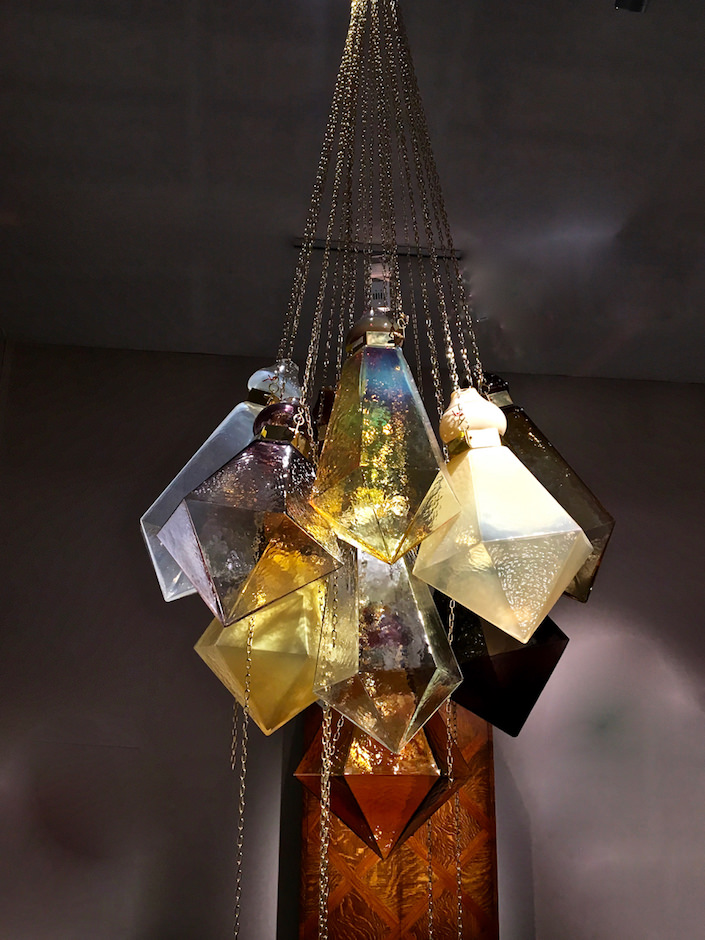 Another Scandanavian artist I admired was Palle Suenson, whose 1940 wall lamps were shown at Dansk Mobelkunst Gallery.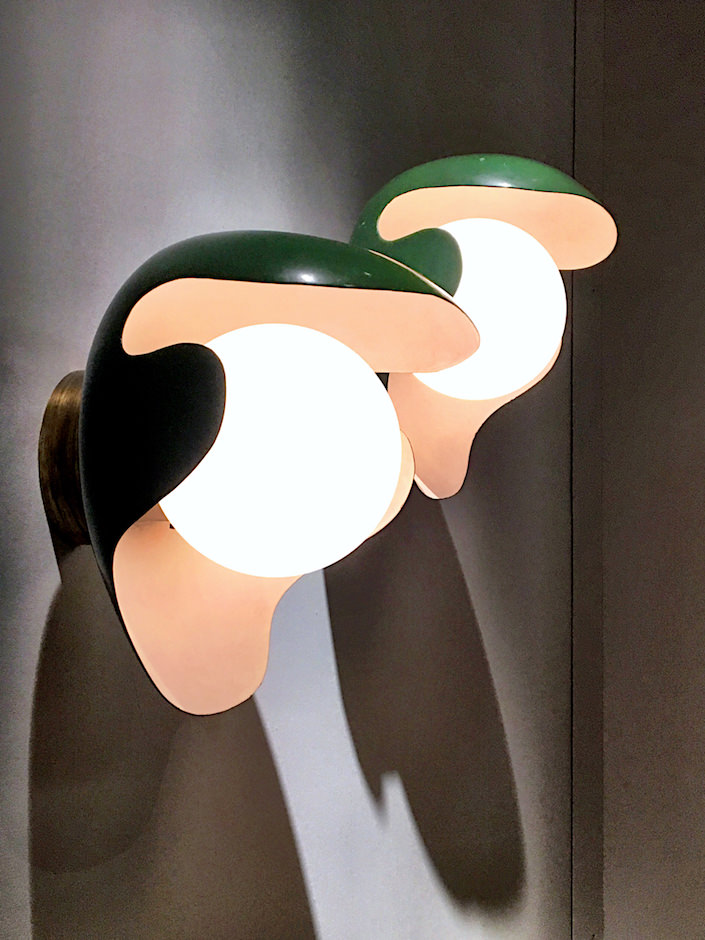 Amongst the many booths with masterworks of art, I have selected just a few favorites in the paintings category. Philip Guston's Garden, Roma from Barbara Mathes,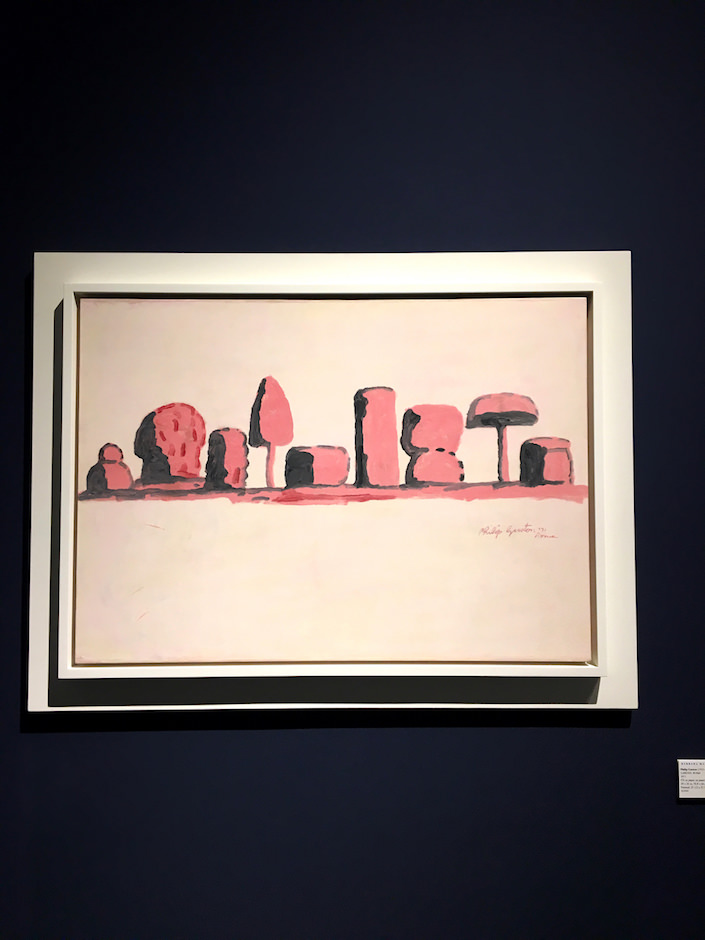 Nicolas de Stael at Applicat-Prazan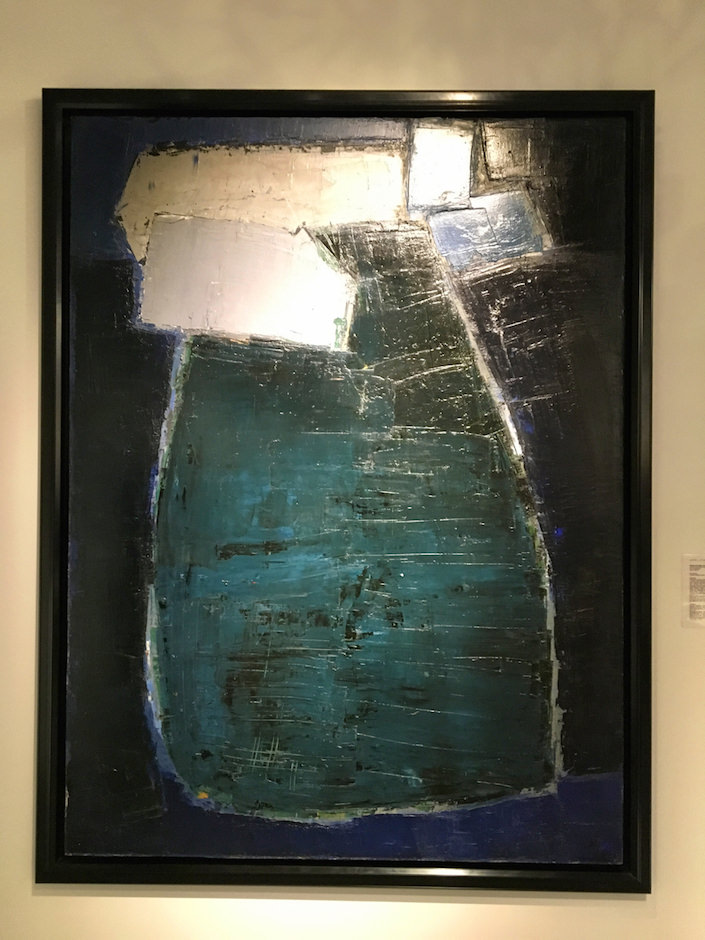 and Thomas Schutte at Peter Freeman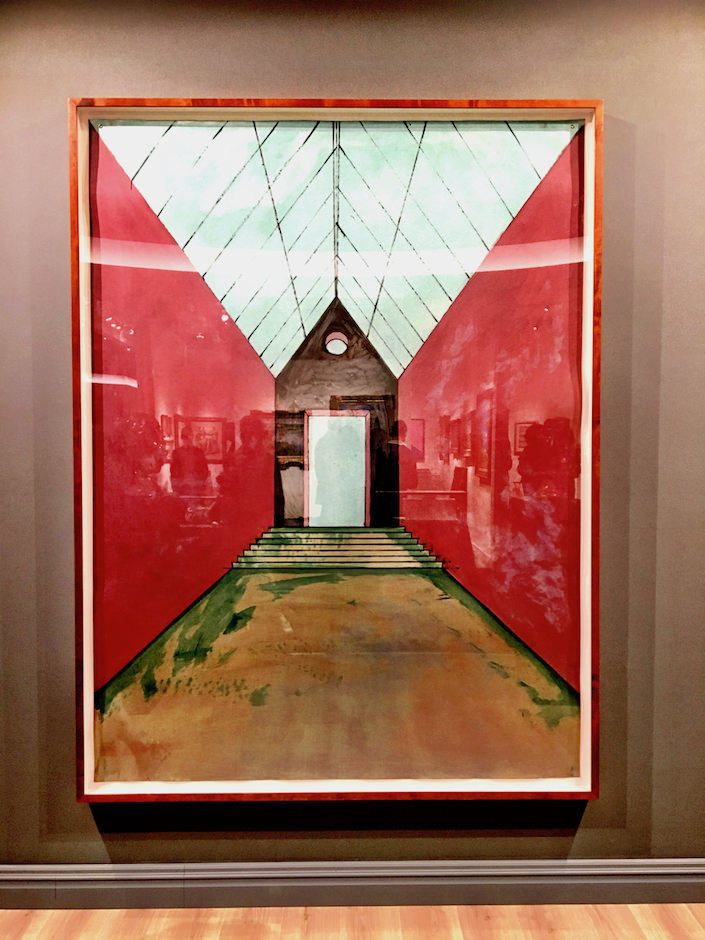 Lastly, it wouldn't be a successful fair for me without selecting a few baubles. I stopped by Greenwich, CT based Simon Teakle for a peek. You can't go wrong with the remarkable Bulgari snake watch (the diamond laden head lifts up to reveal the watch), an iconic piece in their collection since the 1950's.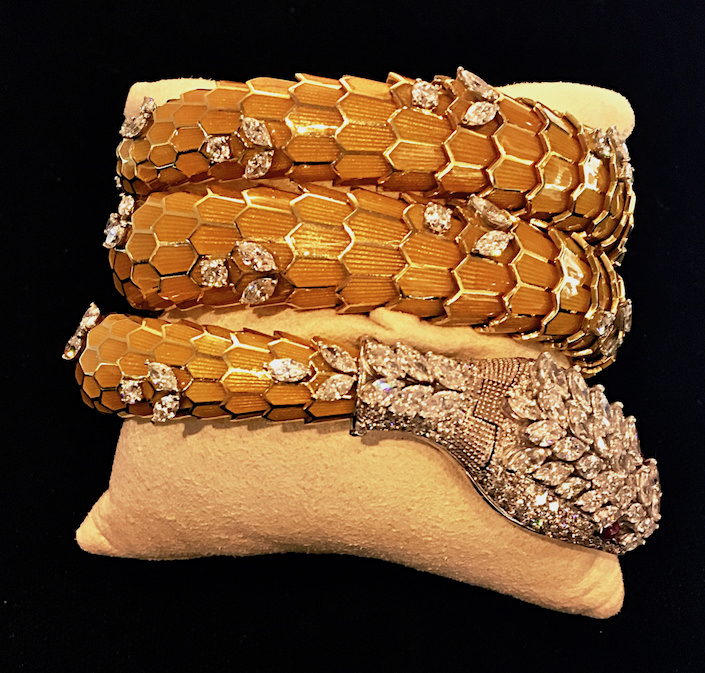 This fabulous English antique double crescent diamond pendant on a long antique fob chain is eminently wearable!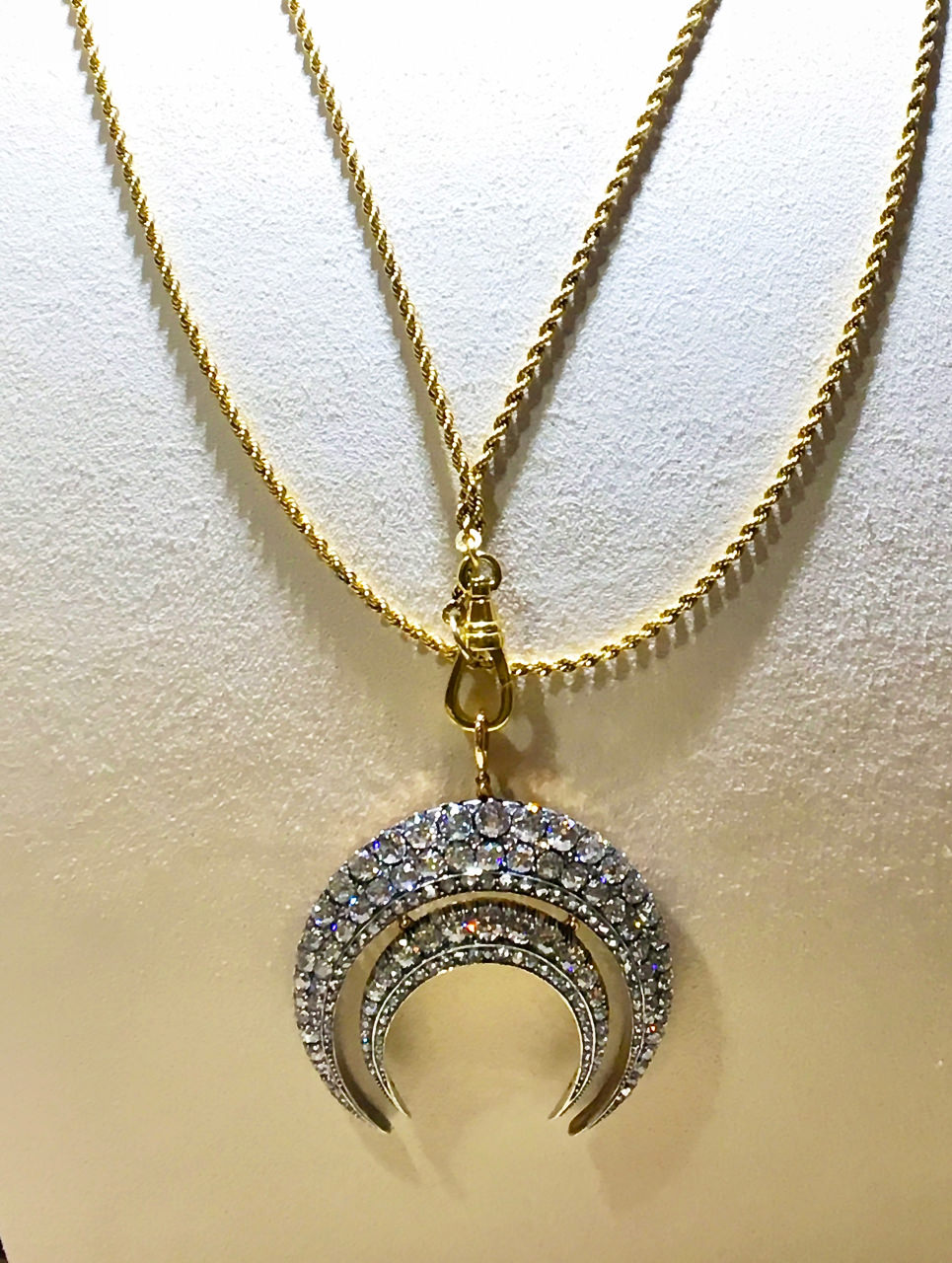 And the workmanship in this Viennese Renaissance Revival bracelet with enamel and semi-precious stones is astounding.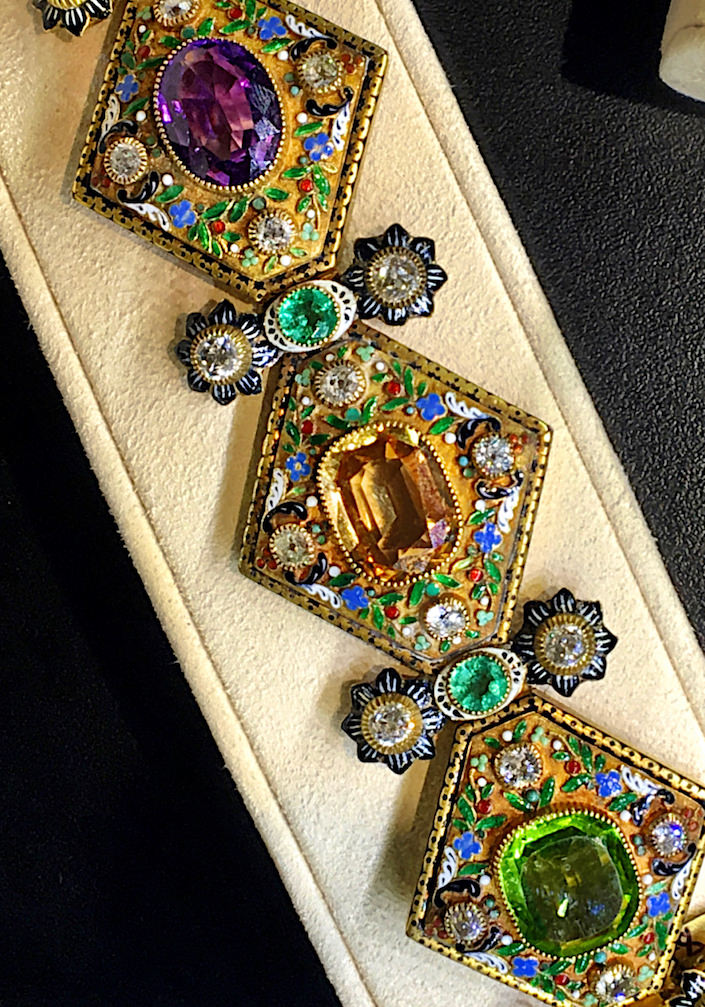 all photos by Stacey Bewkes for Quintessence
This is merely a tiny look at the many world class offerings at this outstanding fair. Be sure not to miss this inaugural debut of TEFAF New York Spring 2017 – open now through May 8th at the Park Avenue Armory in Tom Postma Design's beautiful showcase.