When designer Caleb Anderson of DRAKE/ANDERSON purchased his 1926 Manhattan apartment, it hadn't been touched in years. Belonging to the original family since the building was erected in the 1920s, nothing much had been changed, so a complete renovation was in order. When his partner, DeAndre DeVane, joined him in the apartment during COVID lockdown, they discovered how versatile the apartment really was! Please join me and Susanna for a behind the scenes visit with Caleb and DeAndre at their elegant Sutton Place home.
A fan of traditional pre-war architecture, Caleb kept the original classic six floor plan, only incorporating the maid's room and bath into the primary bedroom. He incorporated custom elements and finishes throughout, including the elegant fluted plastering in the living room.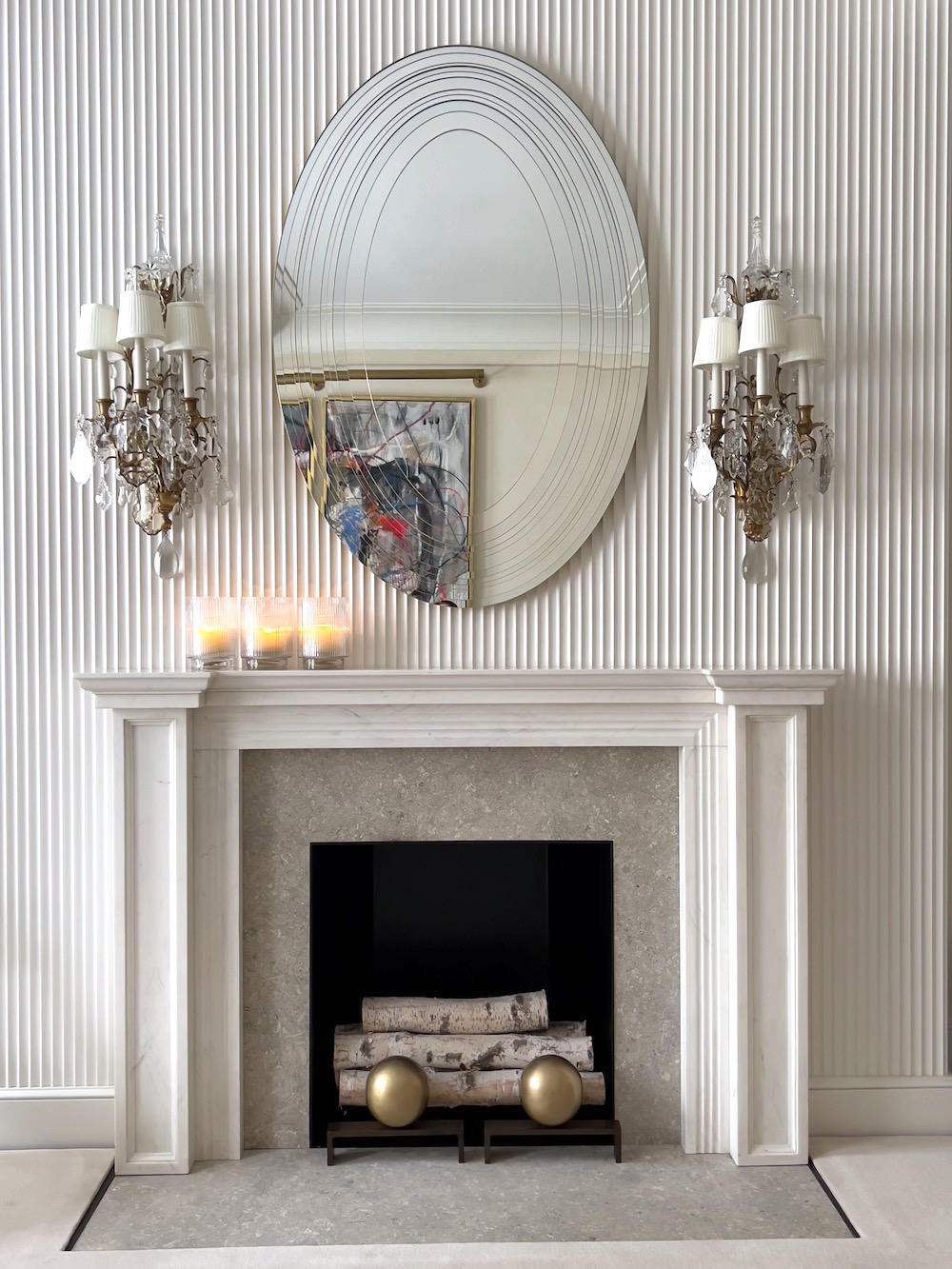 Known for his layered approach to design, Caleb finds creative ways to marry classical and modern elements, through materiality, form and interesting juxtapositions. Creating this type of captivating tension echoes his interest and knowledge of a span of styles and periods. Above, antique sconces flank a contemporary mirror above a classic stone mantel. And on the other side of the supremely elegant living room, a striking Vicky Barranguet triptych hangs over Caleb's custom designs of a midcentury inspired sofa and brass coffee table. A 19th c. Italian urn punctuates the space with antique gravitas.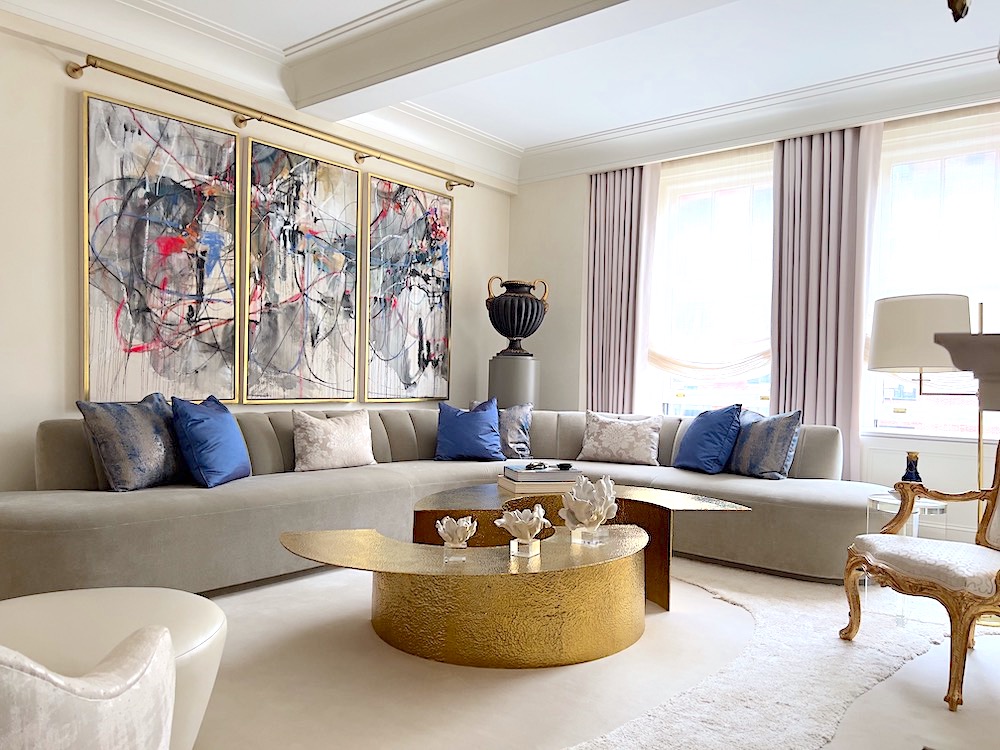 In joining celebrated designer Jamie Drake in 2015 to form their new firm, Caleb gained a greater appreciation of and confidence in using bolder colors, employed to great effect in the distinct yet related spaces of his apartment.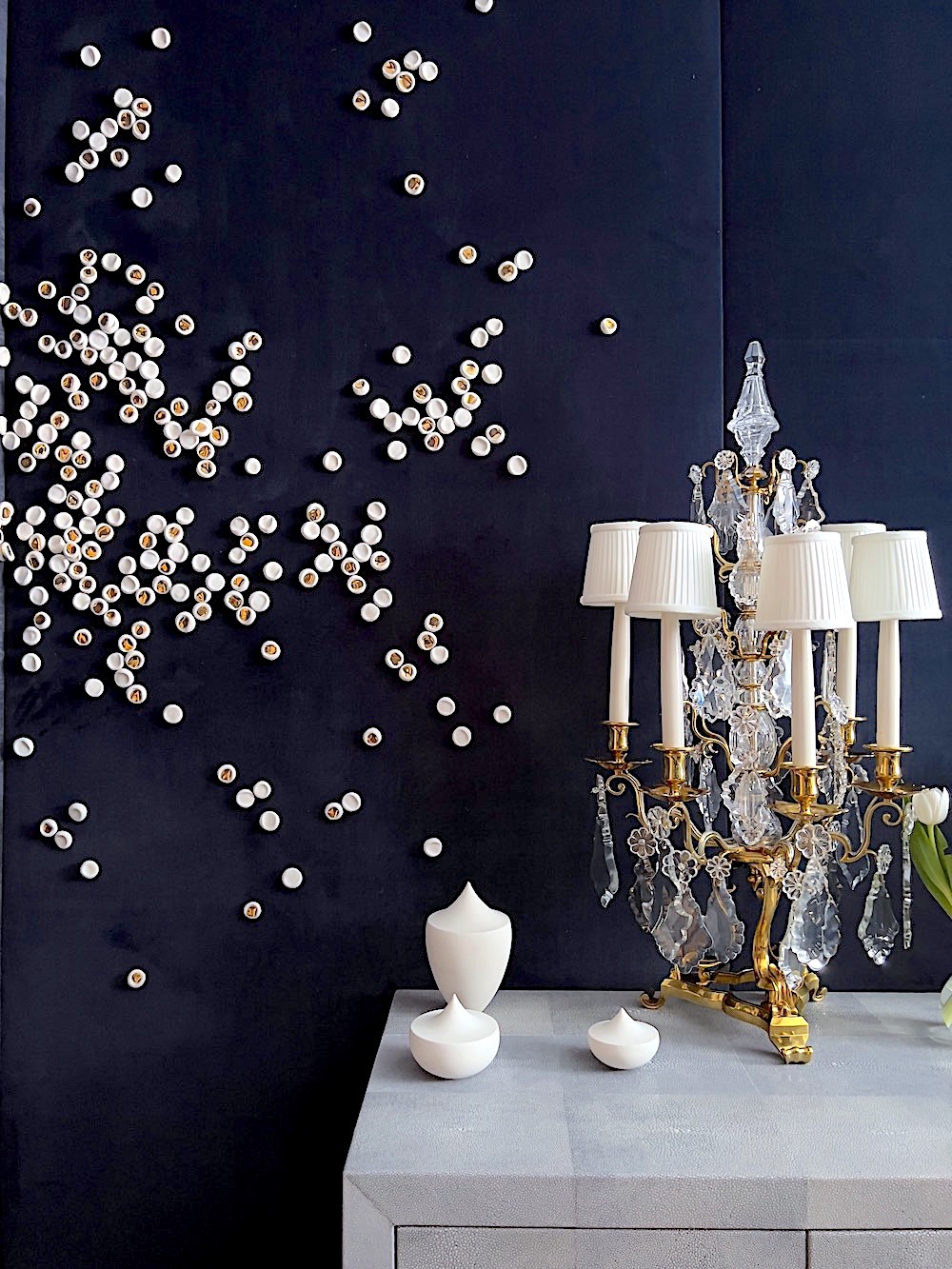 "Each room is its own color experience but they all connect. The bedroom is a darker moodier room perfect for sleeping, the library is more vibrant and energizing, the living room is more calm. I enjoy playing with the color language and how it can affect different emotions and moods." And in the deep blue bedroom, above, there is also the sophisticated conversation between the Christina Watka porcelain wall installation, antique girandoles and contemporary ceramic sculptures by Israeli artist Yuliya Tsukerman, based on vanitas-style paintings. What you can't see in my photo is the detail of the beautiful Dedar moiré fabric that Caleb had paperbacked for the walls.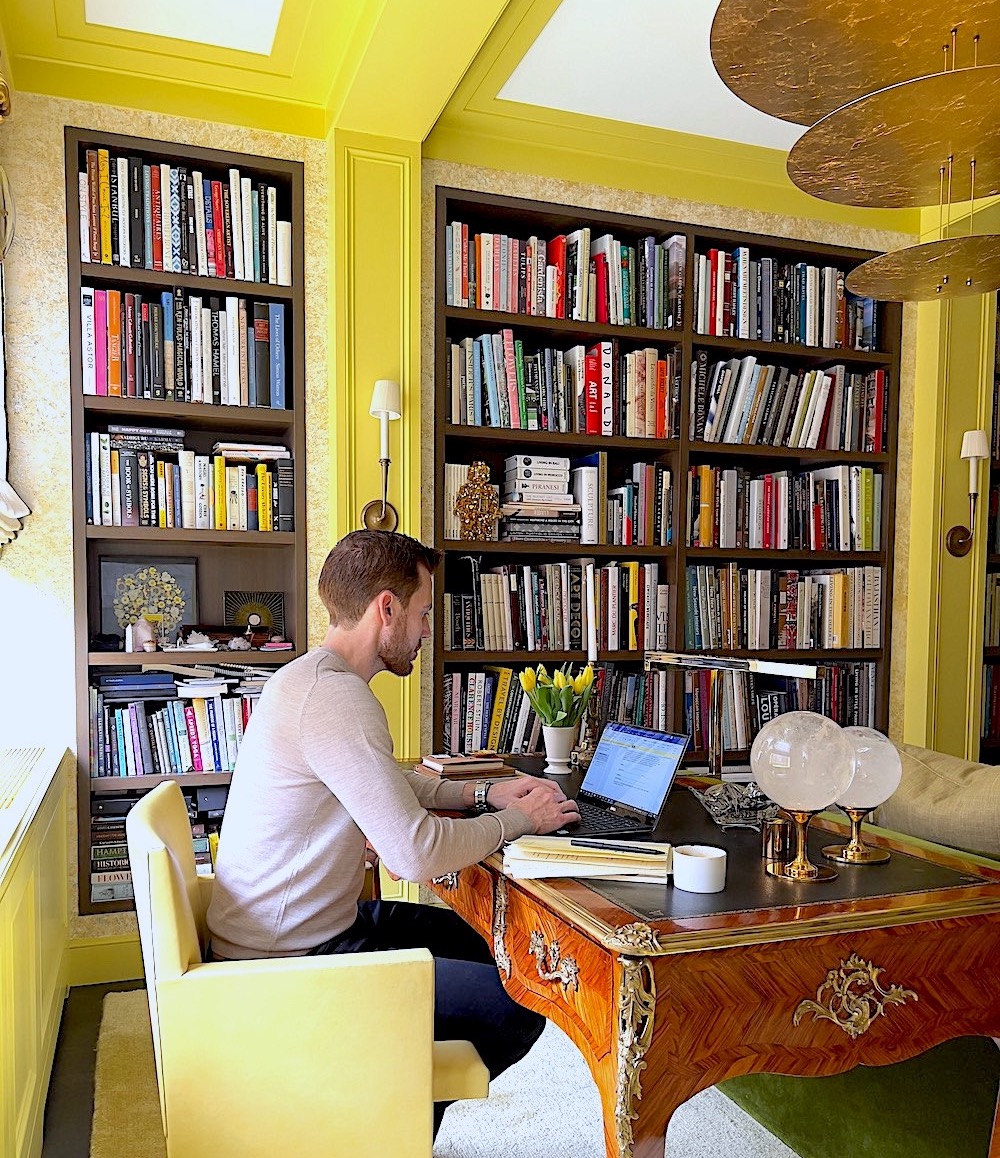 The vibrant yellow library multifunctions as a workspace, TV room and guest room, which proved to be a lifesaver during COVID lockdown. Here Caleb's signature mix includes a 19th c. desk, custom contemporary leather chair, a hand crafted Catellani & Smith gold leafed light fixture and rock crystal orbs – one of Caleb's favorite materials.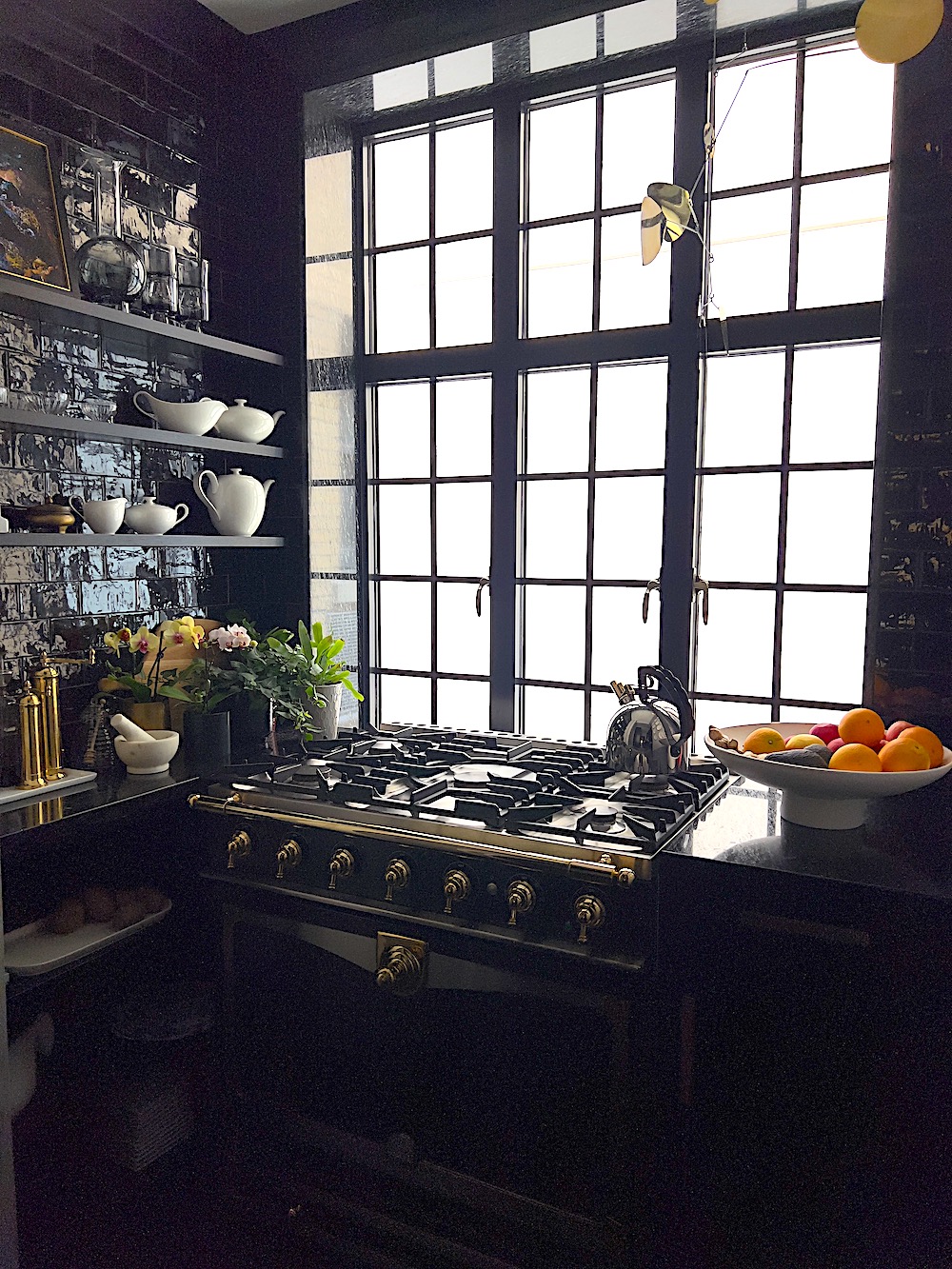 The classic kitchen with black tiles, La Cornue range and brass hardware is an ode to the 1920s. And its red glass mosaic floor (not visible above) is a subtle nod to the adjoining room, below.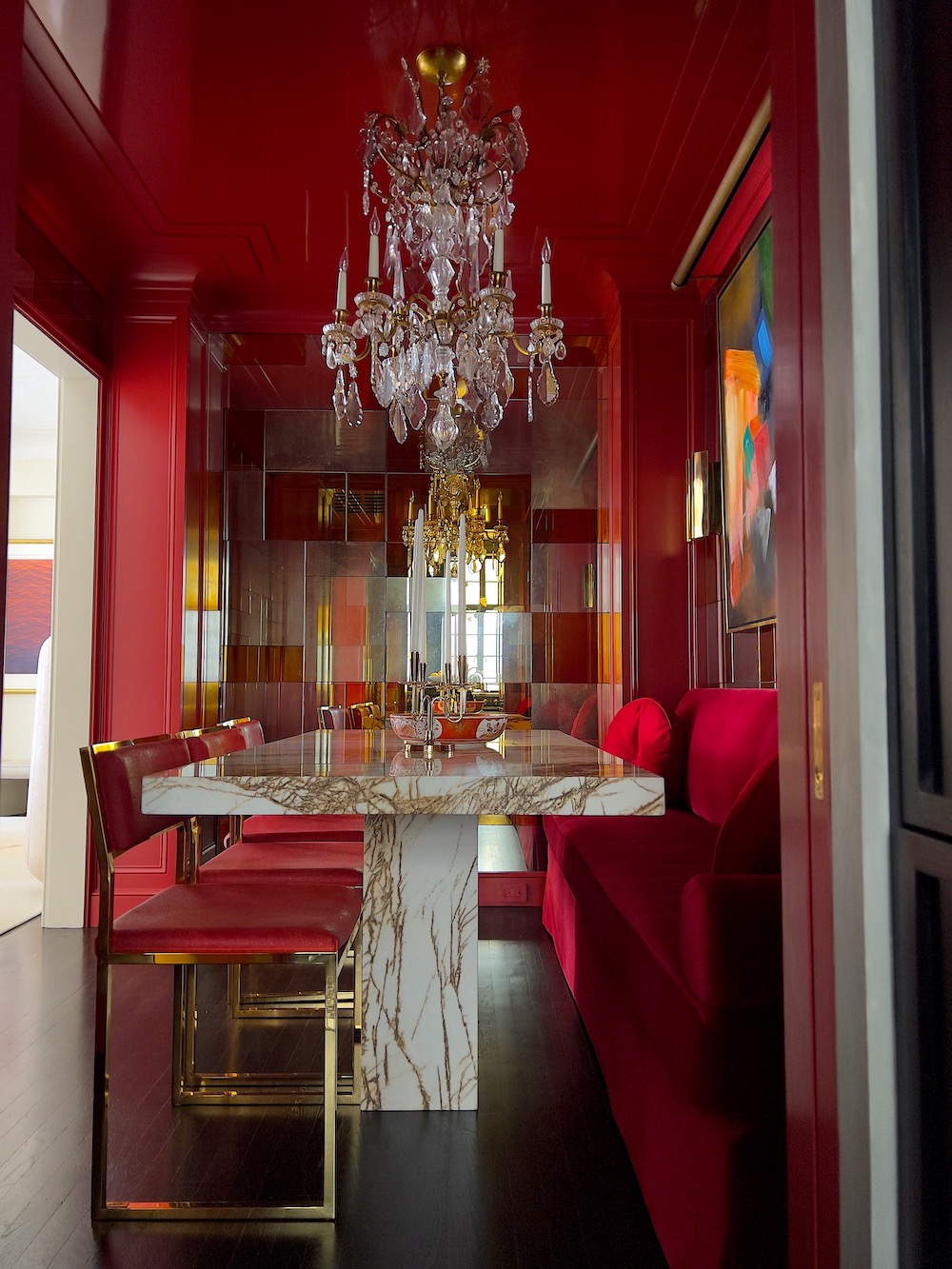 It doesn't get more glamorous than the dynamic mirrored dining room, totally enveloped in a rich red lacquer. A vintage Baccarat chandelier offers timeless allure over the custom spider marble table and red velvet banquette opposite vintage chairs upholstered in the same. It is a masterful match of color and materials!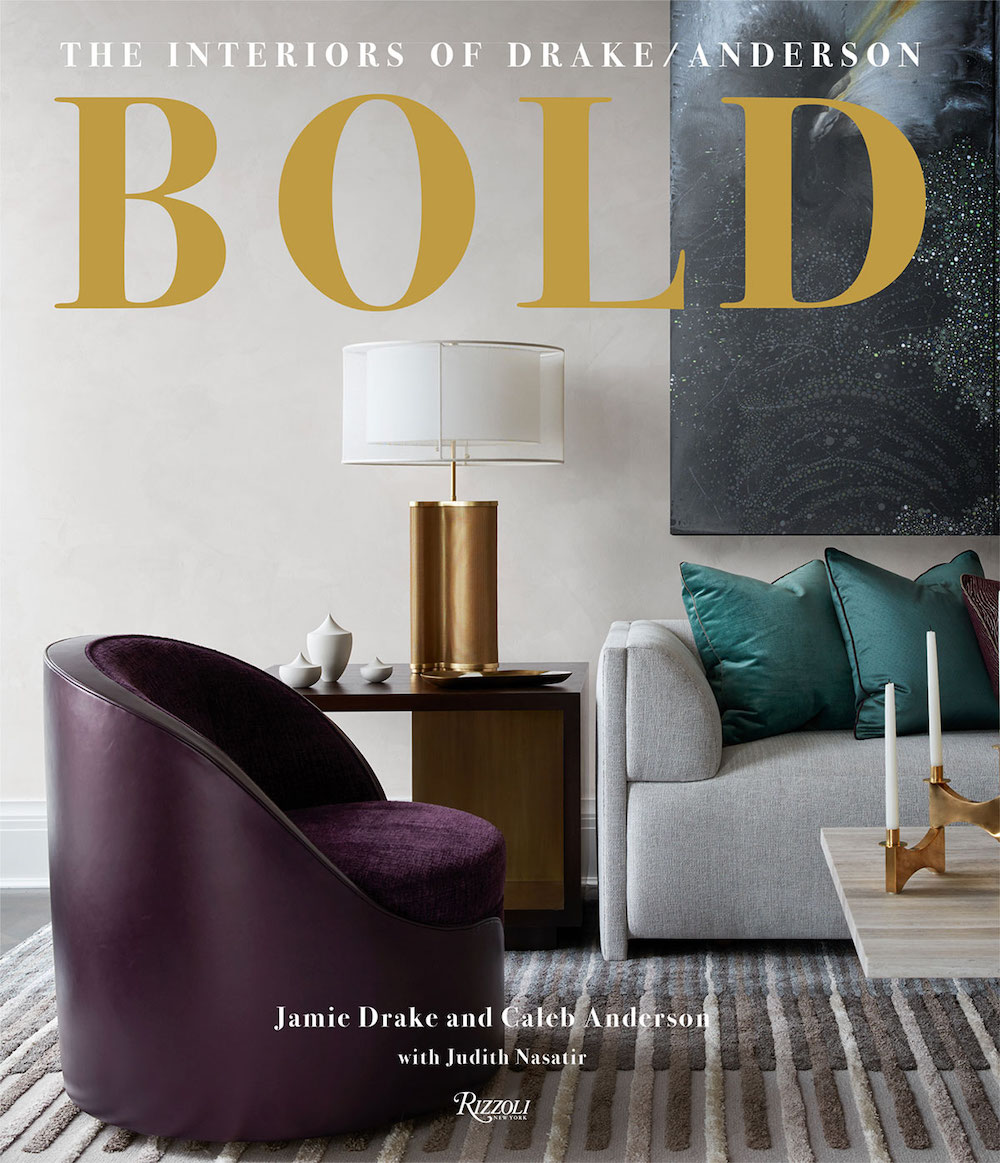 So thank you Caleb and DeAndre for welcoming us into your stunning home! And to see more of DRAKE/ANDERSON's work, BOLD is the firm's first book, offering a look inside eleven remarkable projects, showing the breadth and depth of their opulent modernist designs.