Four years ago, Delft ceramics celebrated its 400th anniversary. For centuries, the versatility of its designs has lent its charms to everything from tiles to dinnerware, vases and what became known as tulipieres, originally commissioned in the late 17th c. by Queen Mary II, who was married to the Dutch Prince, William of Orange (after his marriage becoming William III, who ruled England beside his wife). And today, the timeless appeal of Delft's alluring blue and white designs continues to inspire legions of admirers, collectors and contemporary designers, including Belgian designer Gert Voorjans, whose home in Antwerp I filmed for our At Home With YouTube series. Fearlessly blending antiques, bold color and exotic influences, Gert shares his love of history, art and design throughout his work and in his exuberant fabric collection for Jim Thompson.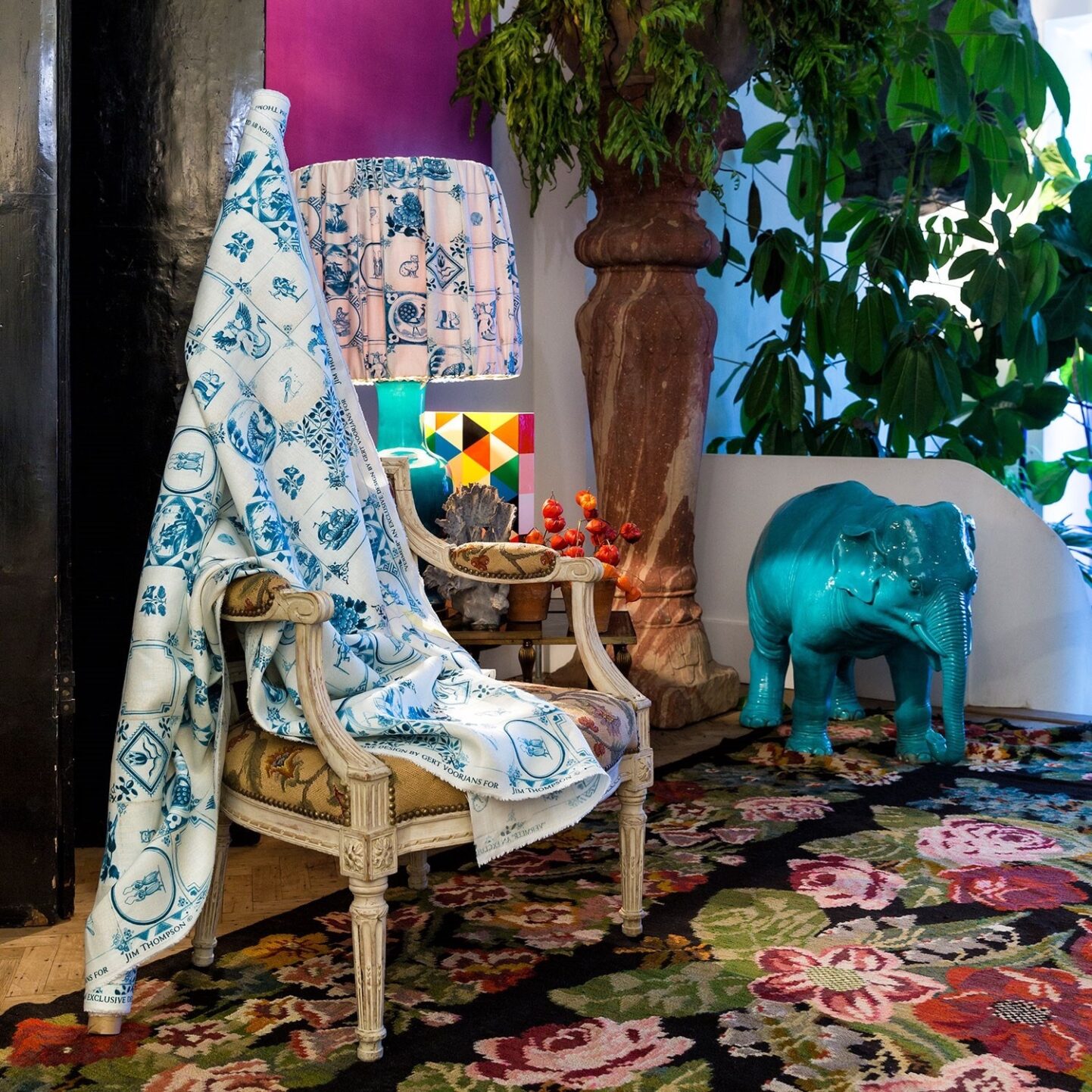 One of his creations, Vermeer (the celebrated painter was born in Delft), above, is a charming and inventive take on traditional Dutch Delftware tiles, incorporating the imaginative and sophisticated juxtaposition of old and new, of heritage and avant-garde, that appears in all of Gert's work. I was instantly enchanted and fantasized where I could someday incorporate it in my home.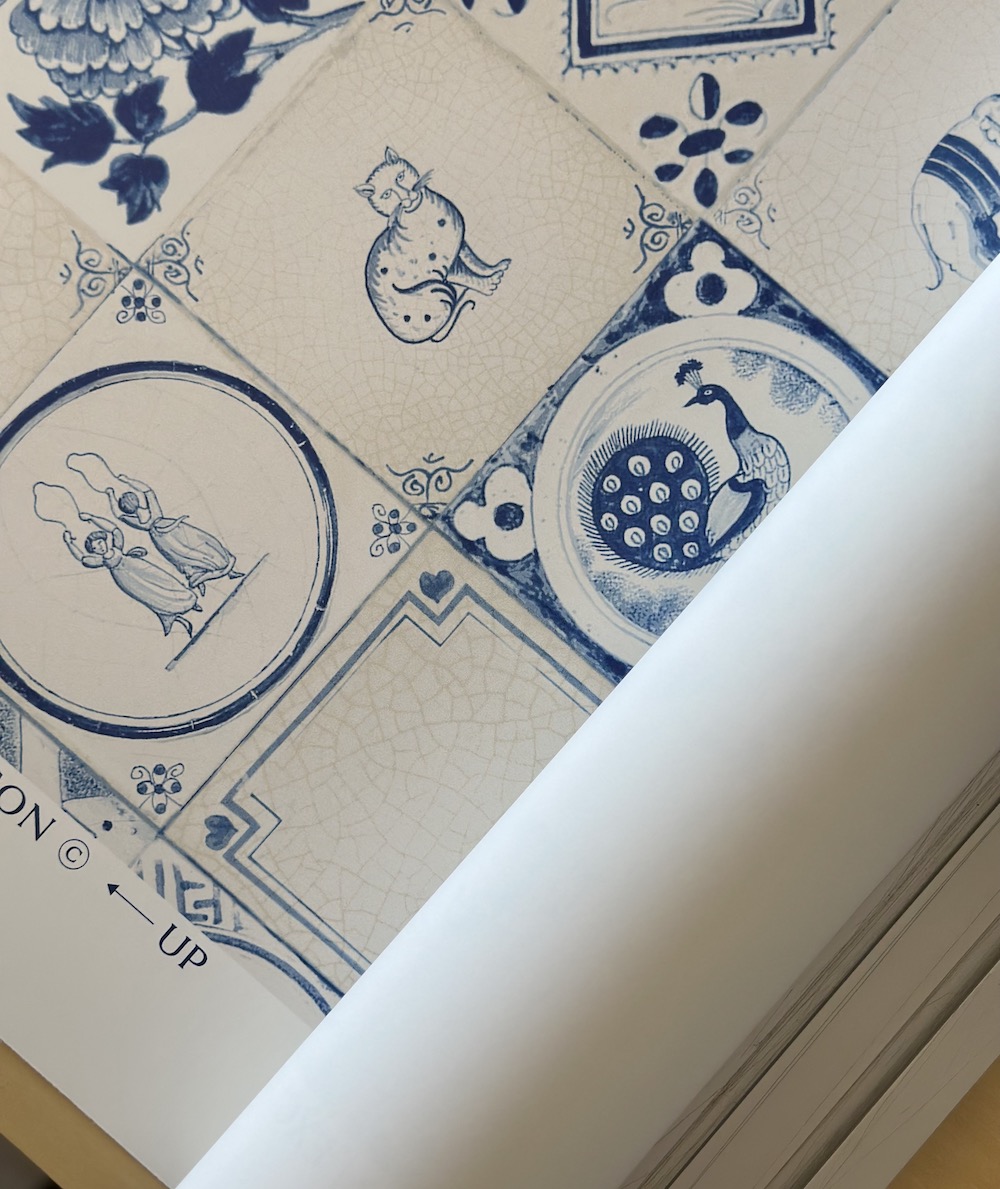 Several years later, after my move to Nantucket, I wanted to update our kitchen, which had last been touched in the 70's. I live in a cottage that was never meant for year round living and will, at some point, need renovation, so it was important to me that any current improvements that couldn't be reused (ie – appliances, curtains, furniture) were not grandiose and in keeping with the home's character and location.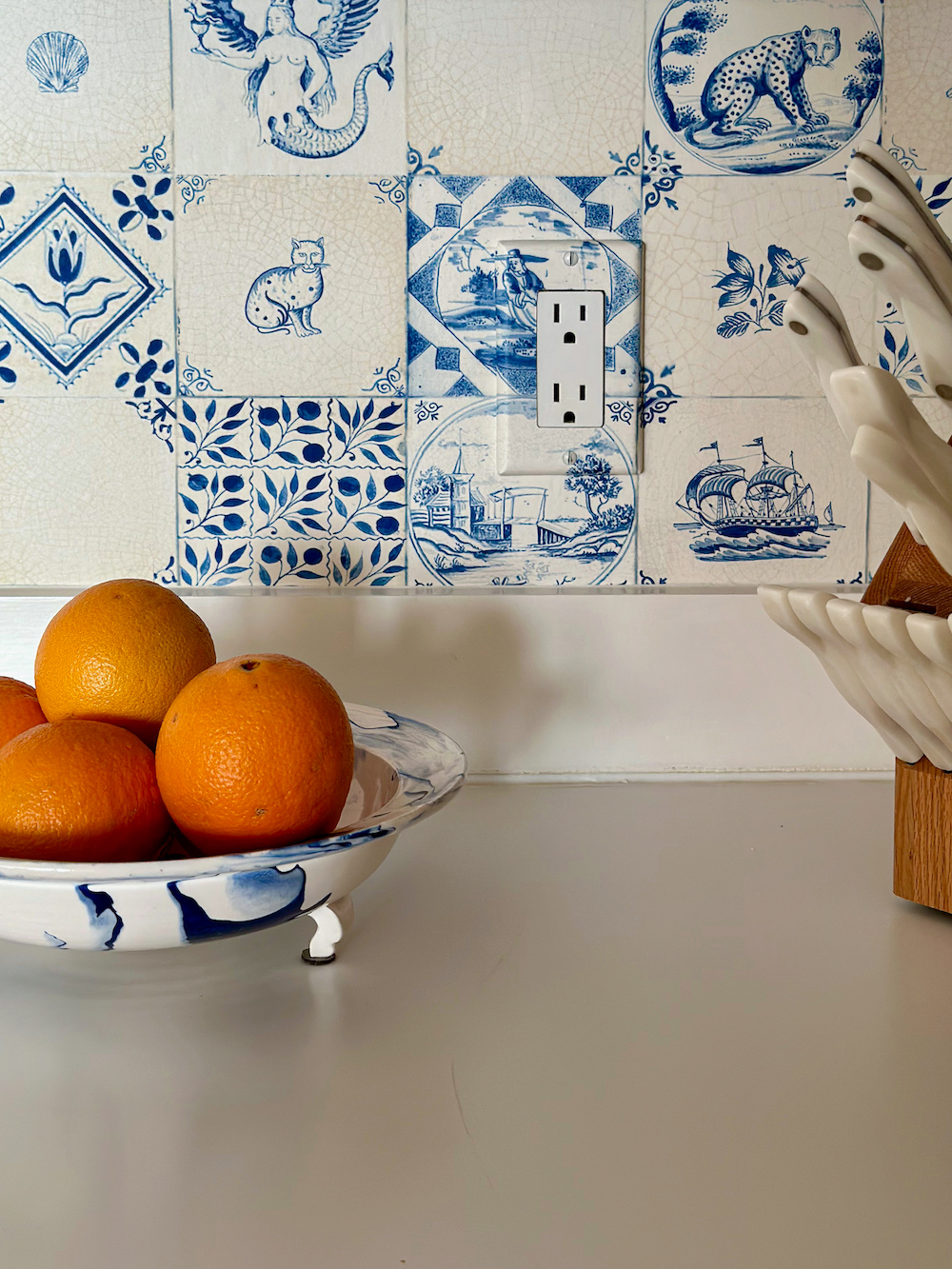 The first step last year was improved functionality with a new refrigerator and stove. While these certainly enhanced the aesthetics, the outdated space still needed something more. It dawned on me that Gert's Vermeer would make the perfect wallcovering. Like Holland, Nantucket found its early glory as a maritime center based on trade, with a culture including imagery culled from journeys in the open seas. I loved the idea of infusing my space with the feeling of Delft tiles and its Nantucket-worthy blue and white schemes, yet without the complicated installation of ceramic tiles on my wonky walls.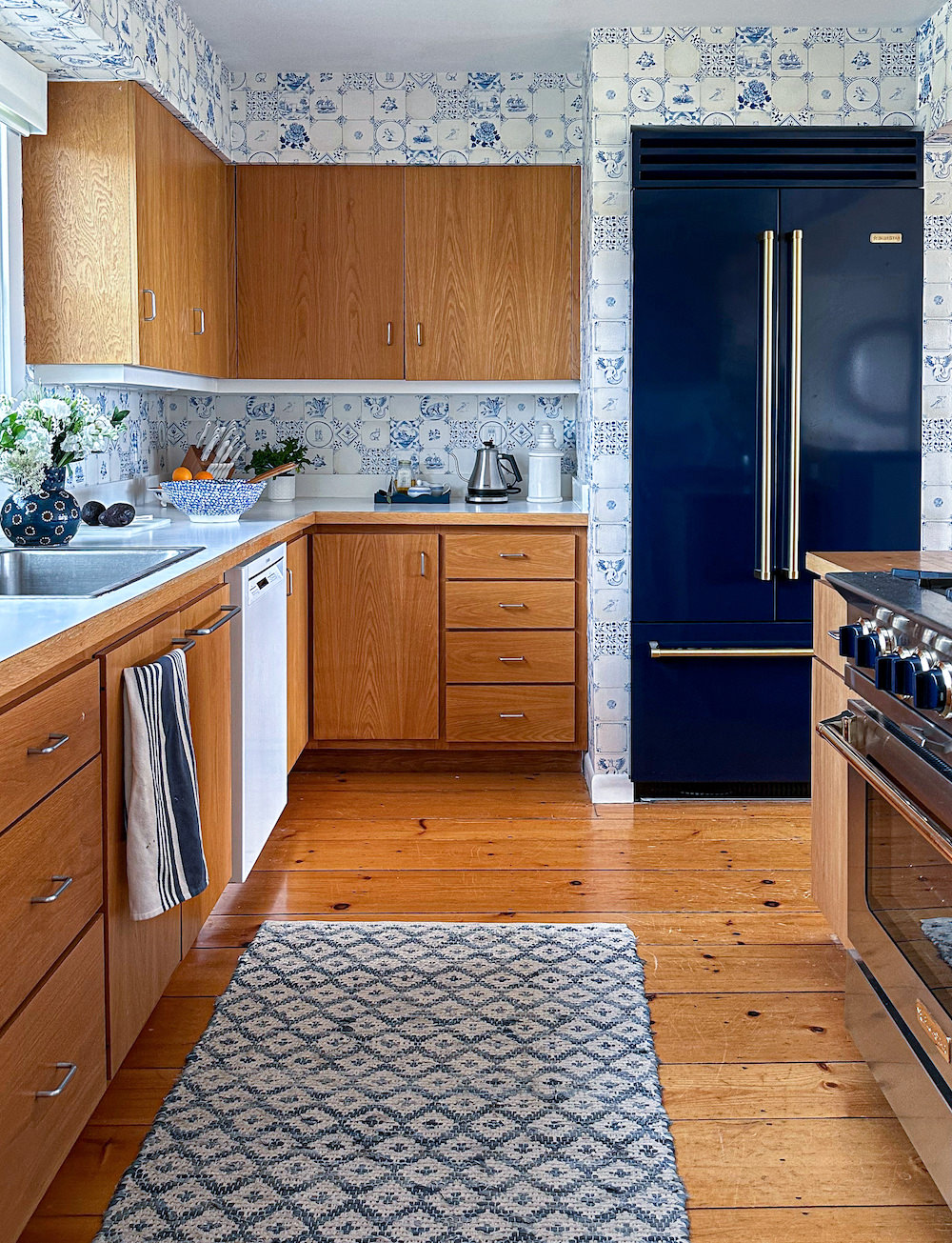 So I did what any nonsensical design editor would do. I took a long shot and wrote to my friends at Jim Thompson to see if they could translate Vermeer into a wallpaper. Miraculously, they agreed and the process began. Now knowing the fantasy was becoming a reality, the limited space between my cabinets and countertop somehow didn't seem to offer enough of a statement for Gert's whimsical scenes of mythical creatures, floral and fauna.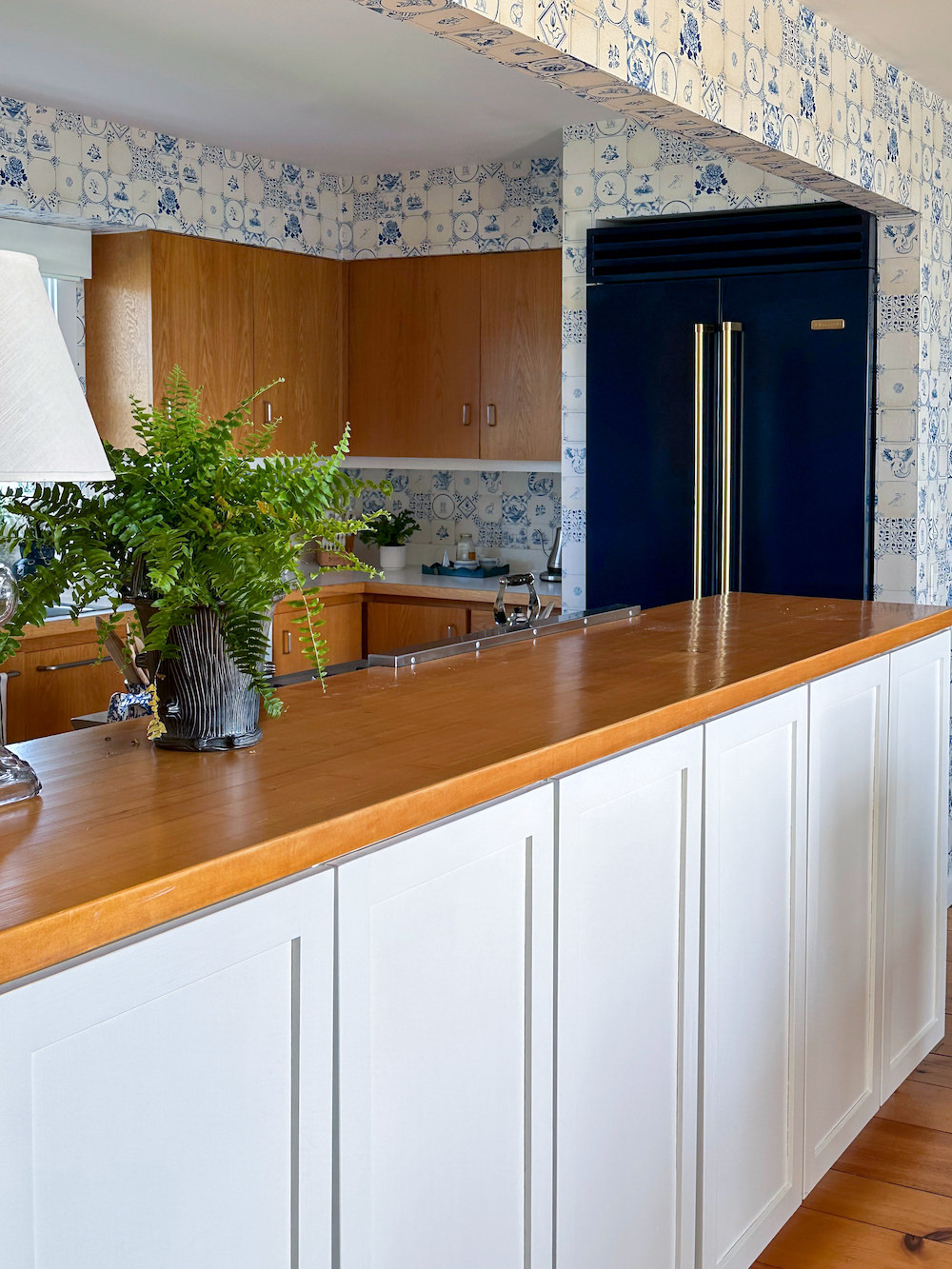 The vision of a space more enveloped in Gert's authentic shades of Delft Blue and deftly created mottled background emulating the crazing and irregularities of Delft tiles became embedded in my mind's eye. I somehow knew it would up the charm factor and immediately wrote to Jim Thompson to increase the quantity.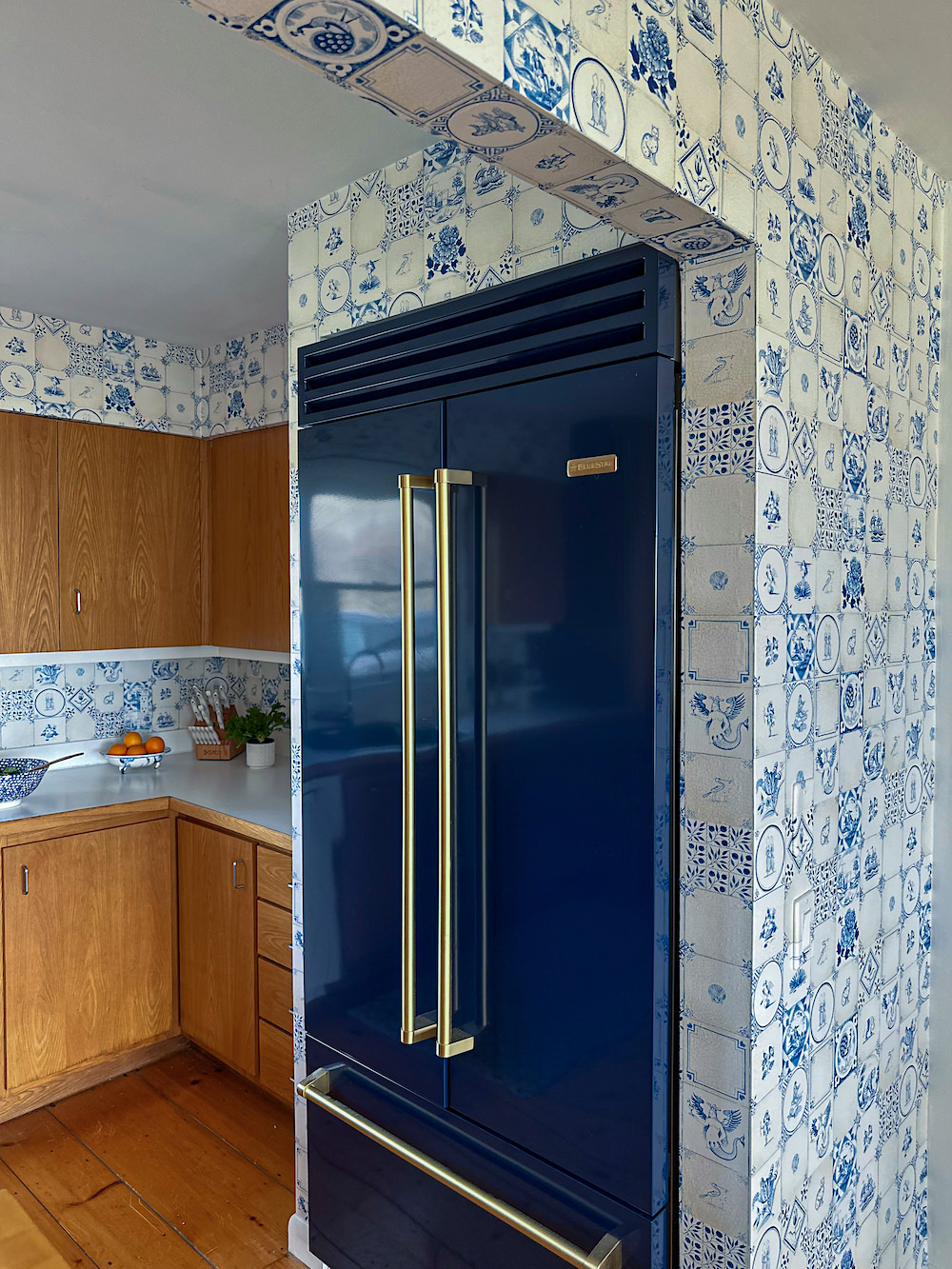 The kitchen is open to the dining area and what had always been an awkward soffit separating the two spaces now frames the kitchen with visual aplomb.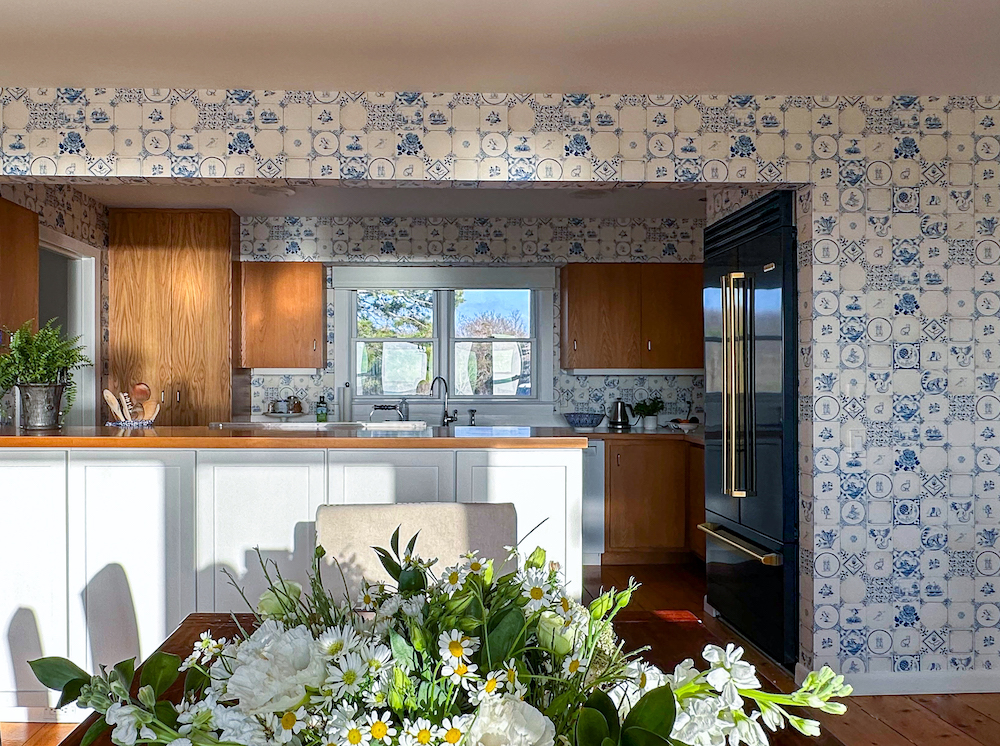 Sourcing talented craftspeople is hard enough anywhere but especially on a tiny island 30 miles out to sea, so I was incredibly grateful to find Laetitia Mead, a young but expert wallpaper hanger who occasionally comes to do installations on island. Little did I know how exacting and talented she would be. A math major in college, she took hours calculating how all the tiles, corners and walls could perfectly converge, with a variety of vestige electrical plates and switches concealed flawlessly.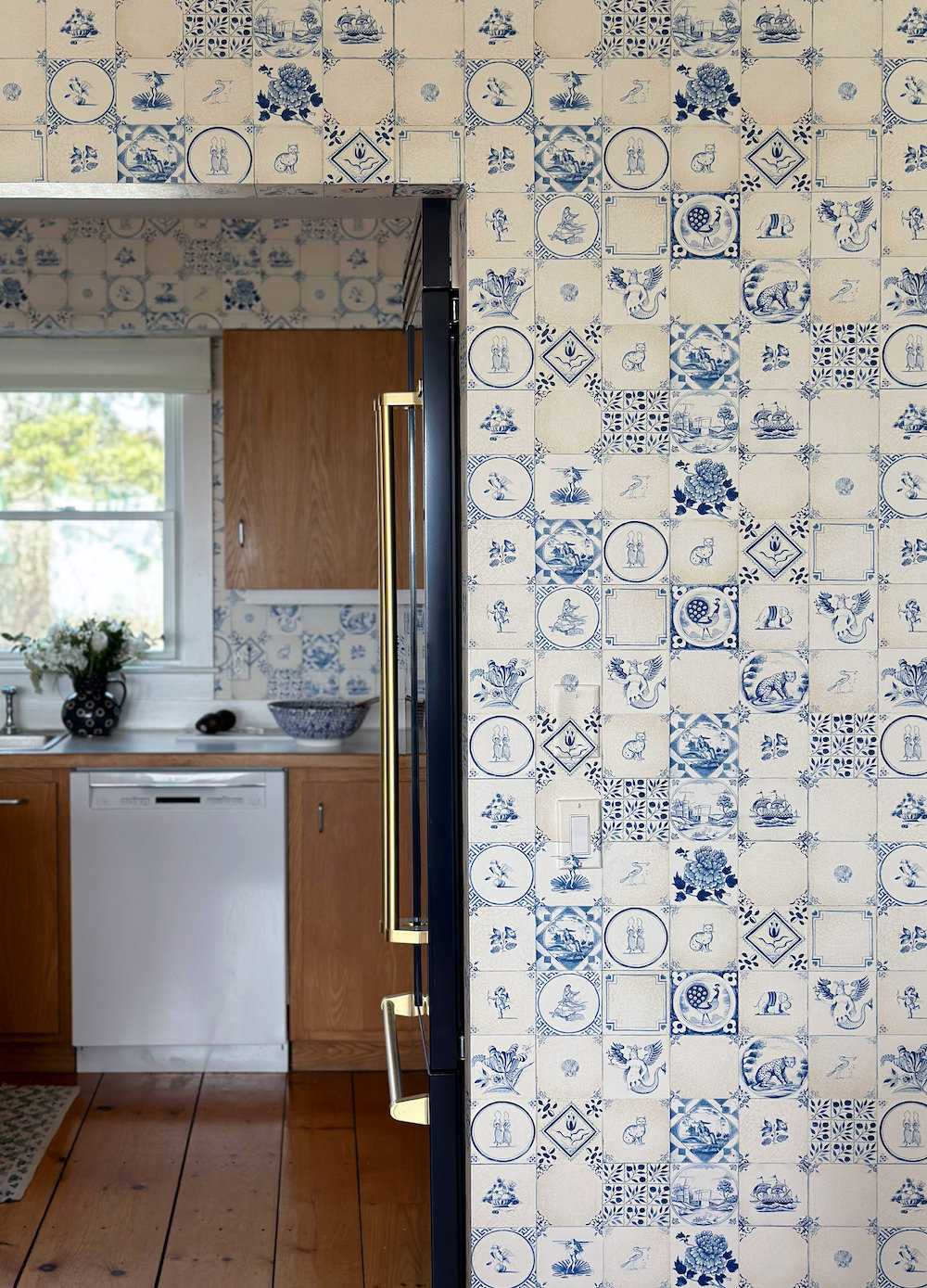 A few days after installation, I was having a conversation about inspiration with design journalist Rima Suqi. It got me thinking about the source of my inspiration for this project. What HAD inspired me and why did I think covering so much area with this pattern would work? And then I realized all the examples I had seen that triggered my confidence. I remembered visiting Howard Slatkin's NYC apartment where his kitchen was covered with Delft tile he had produced.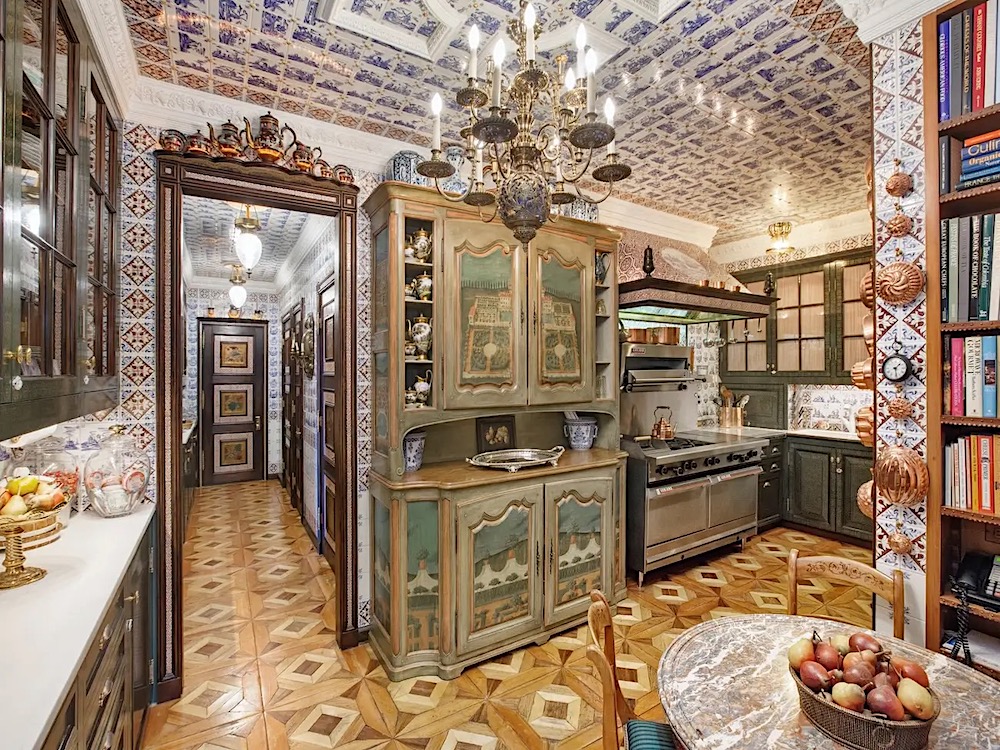 There was the spectacular example of designer Juan Pablo Molyneux's blue and white tiled entry at his 17th-century house in Paris. He had in turn been "ceramically inspired" by the Trianon de Porcelaine at Versailles and a tiled palace in St. Petersburg built by a Russian Prince, Aleksandr Menshikov, in 1710, also an inspiration for Slatkin.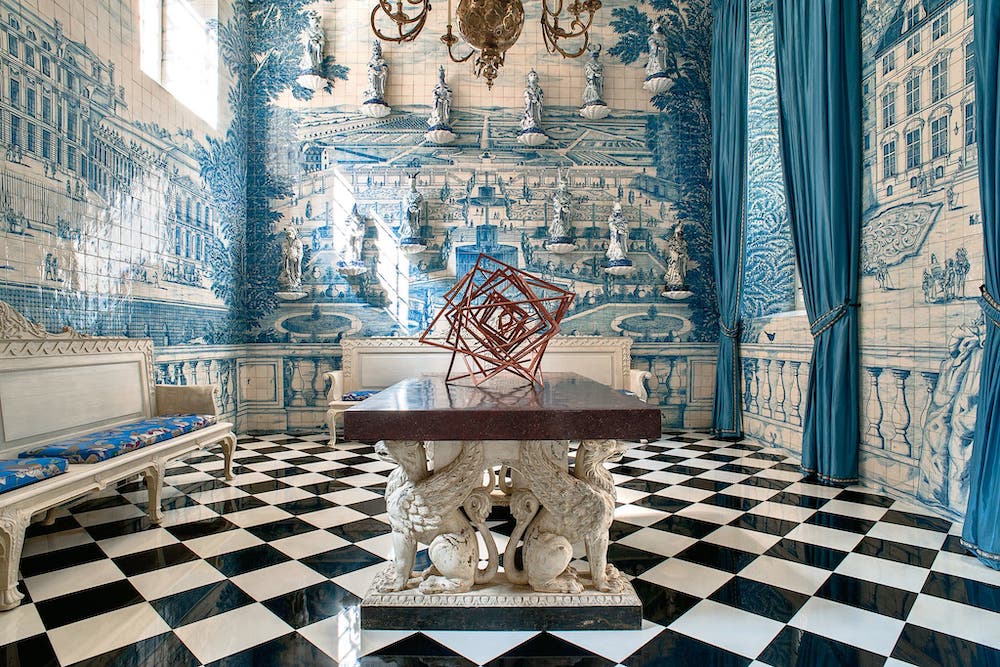 Architect Rem Koolhaas' Casa da Musica in Porto, Portugal, a longtime favorite in my files, is a dramatic modern interpretation of classic blue and white ceramics.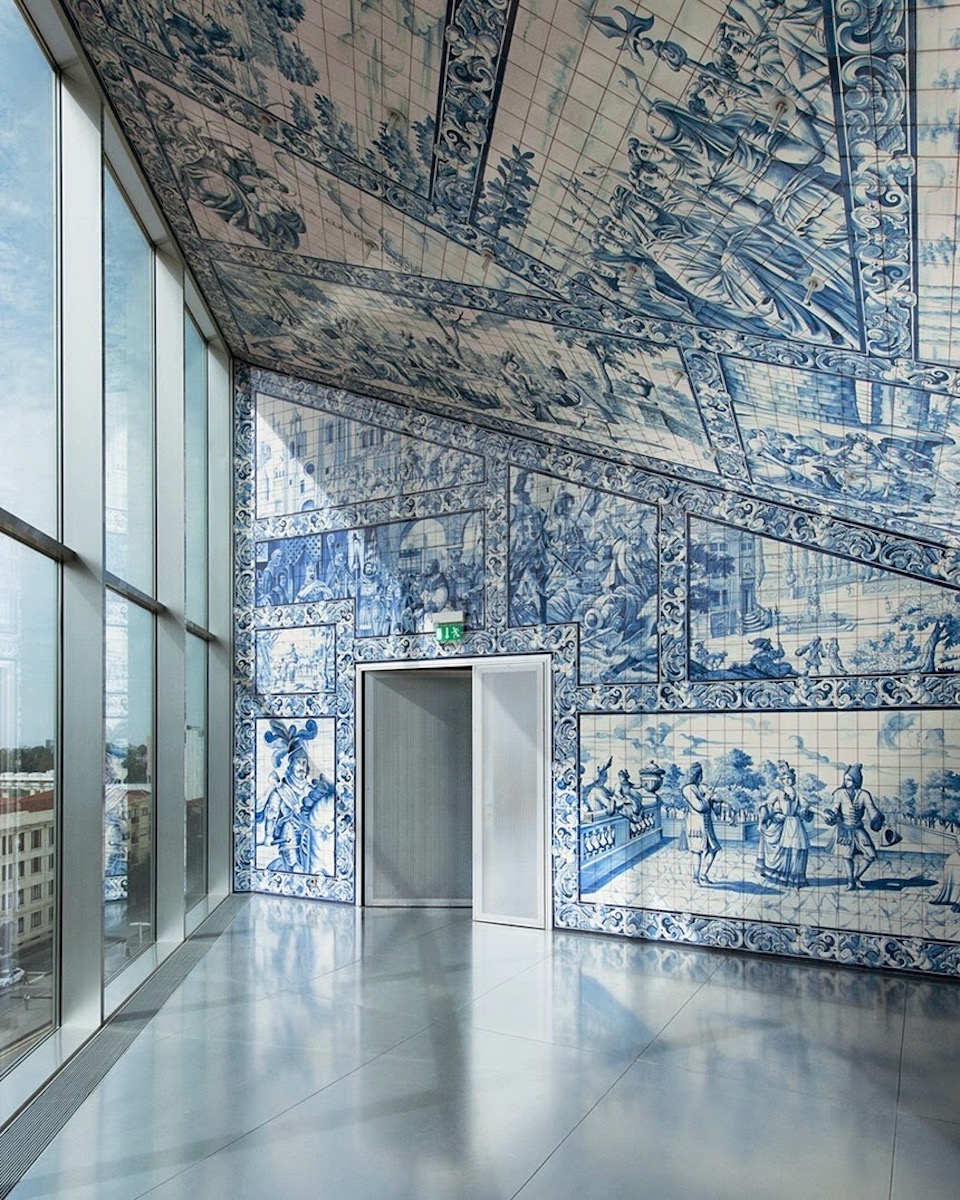 I even remembered seeing, years ago at Decorex, Boca do Lobo's Heritage cabinet, covered in hand painted Azulejos as a nod to their Portuguese heritage and culture.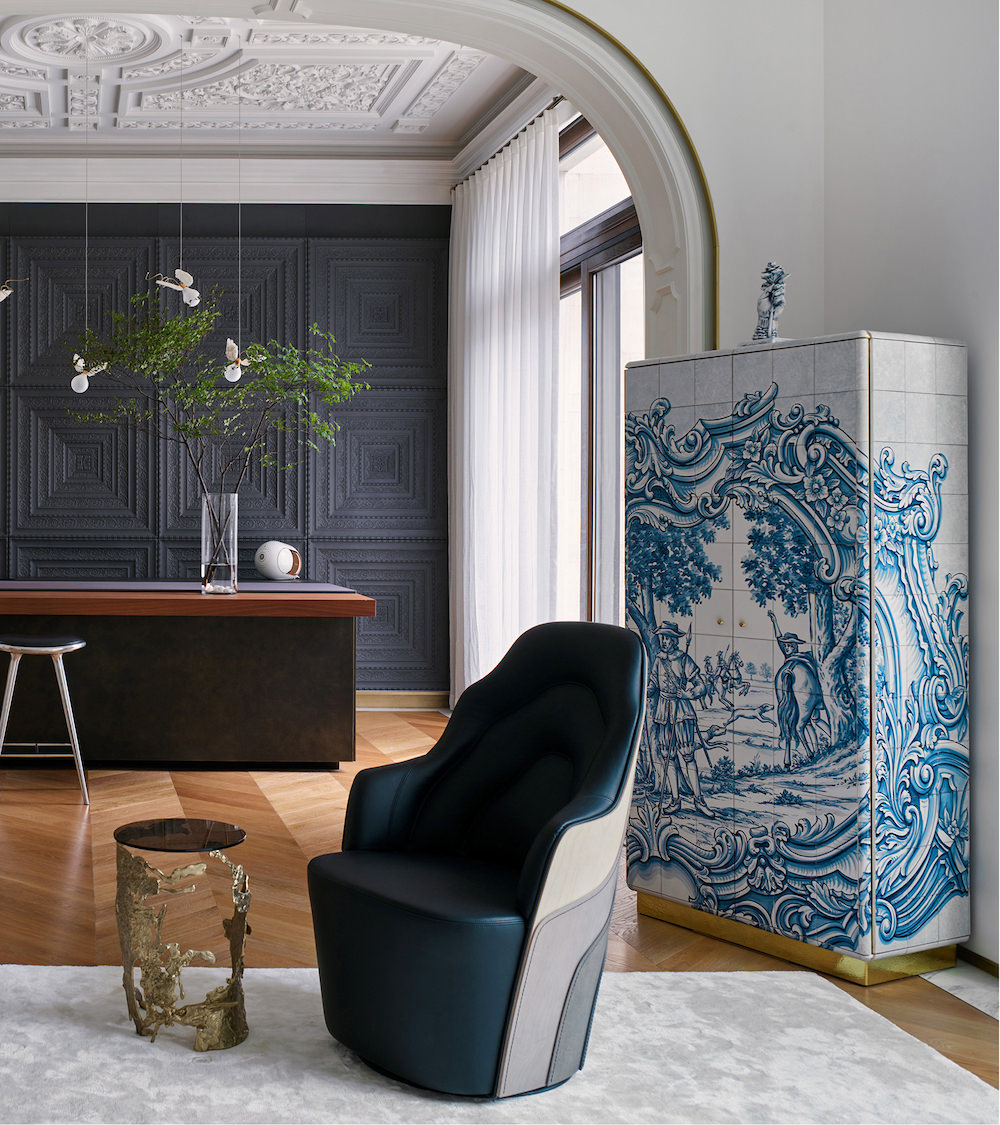 A big thank you to my friend Lyn Schroeder who helped usher this fantasy to fruition, to Jim Thompson who saw the potential, to the magic math and hands of Laetitia Mead and of course to the brilliant Gert Voorjans, who seamlessly weaves a creative tapestry of travel, textiles and timeless design, bringing it all forward into an utterly contemporary and inspiring world. In perusing the world of design, whether by travel, in museums and galleries or in magazines and books, we each discover what resonates personally with us, so when we create our homes, we actually learn to become more of our own true selves. Clearly, for me, a little Delft was meant to be!