It is a special treat whenever a new project from the extraordinary Studio Peregalli is unveiled. And when it is a project in Milan originally designed by Renzo Mongiardino, Laura Sartori Rimini's and Roberto Peregalli's celebrated mentor, it deserves special attention.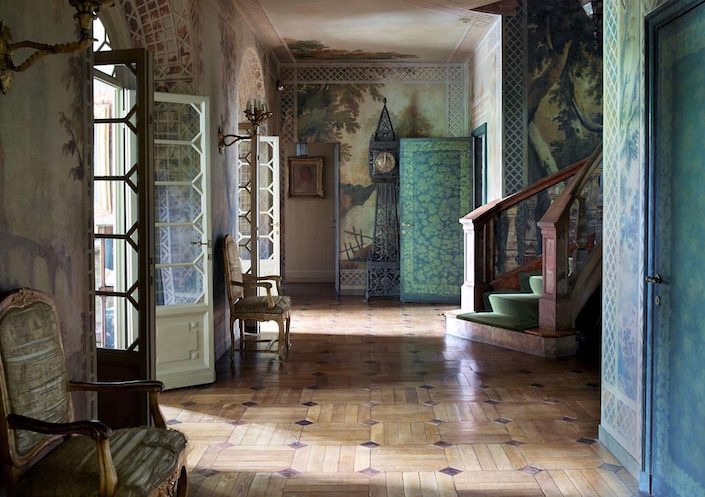 In the March ELLE DECOR, we learn this Milanese apartment, originally designed in the 1950's and near disrepair, was suggested by Peregalli to Italian clients looking for a new home. Keeping as many of the original Mongiardino touches as possible, Studio Peregalli updated the apartment to function for today's lifestyle. And just as Mongiardino was a sorcerer able to conjure up the most elusive environments, so are his apprentices adept at inventing interiors redolent with magical memories and dazzling details.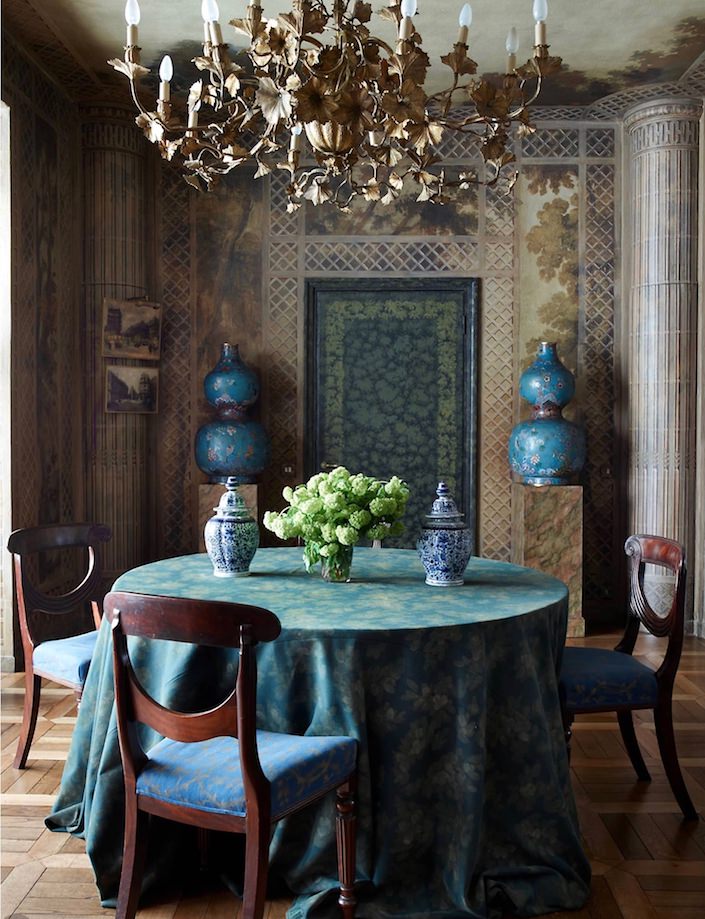 Expert at melding time and place, Studio Peregalli created the entry, top, as a filter between inside and out and a space to set the tone with inventive illusion and craftsmanship. The trompe l'oeil walls replete with trellises and columns as well as parquet flooring continue into the dining room, below, where the tablecloth and 19th century chairs are of hand-painted fabrics.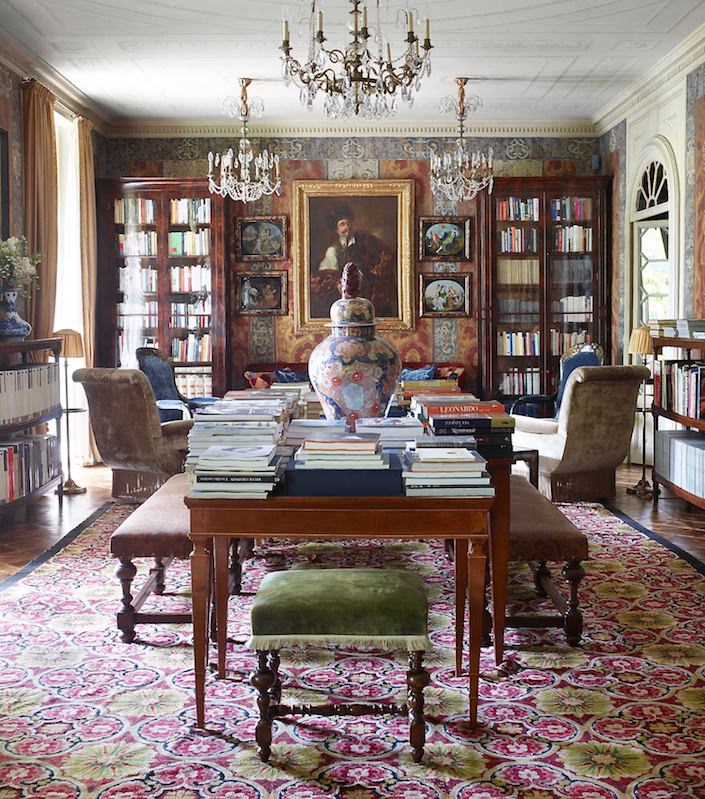 While in the living room, above, the 19th century Italian table and Neapolitan bookcases are a nod to Italian heritage, there is an evocative global mix with antique English rug and chandeliers and an impressive 18th century Japanese Imari vase.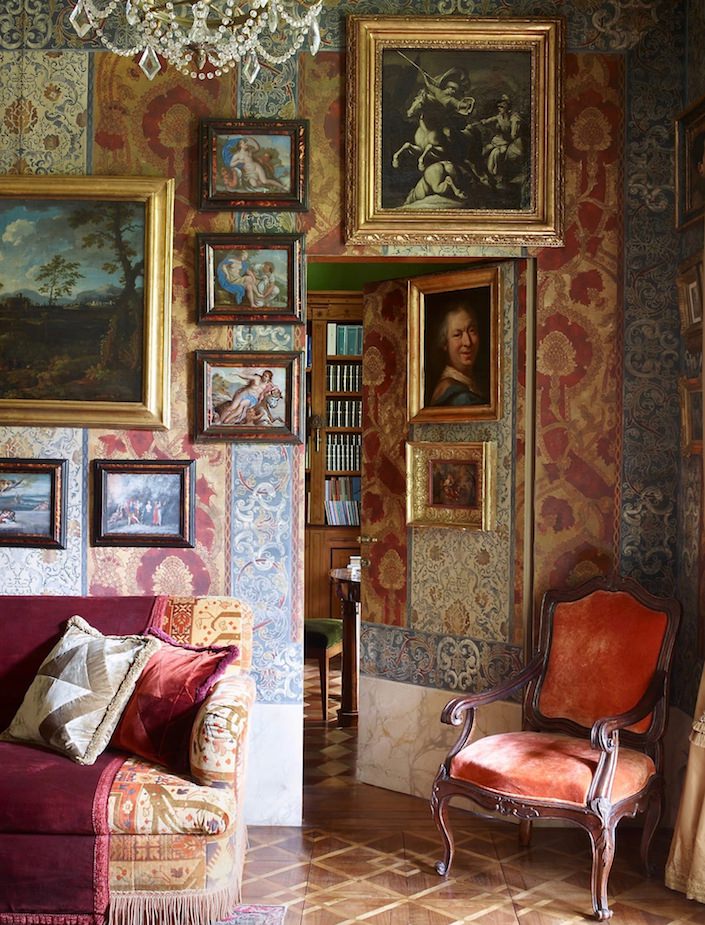 At the other end of the room, above, you can see the masterful layering of art and pattern, from the Turkish-rug-covered custom sofa to the cleverly concealed jib door leading to the library, below. Here, bookcases originally designed by Mongiardino surround the space filled with Biedermeier furniture and custom velvet sofas.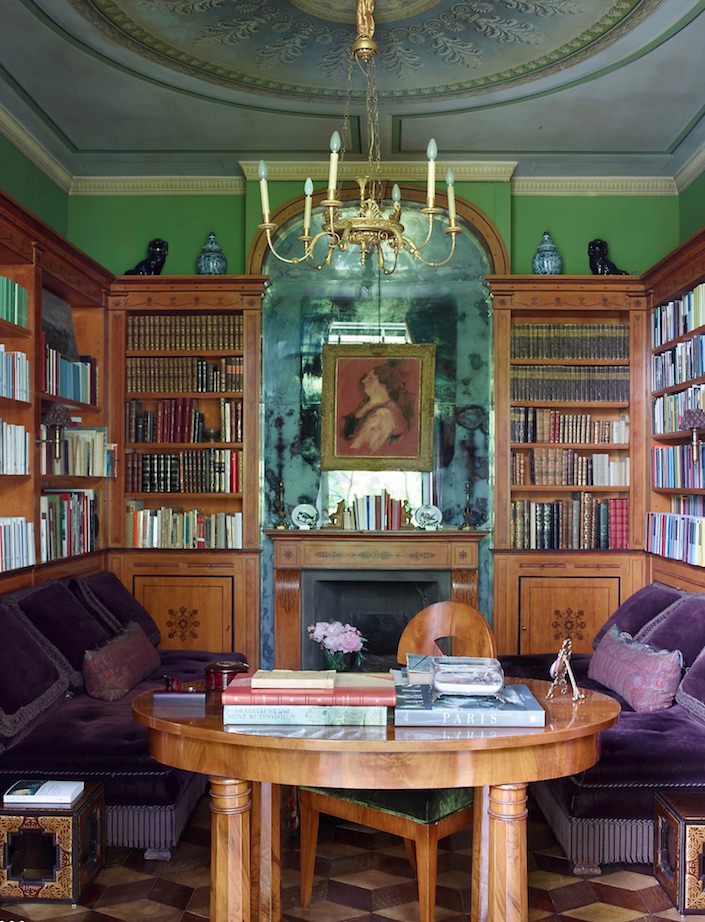 The elegant maximalist vision continues in the master bedroom where 19th century hand-painted wallpaper envelops the space.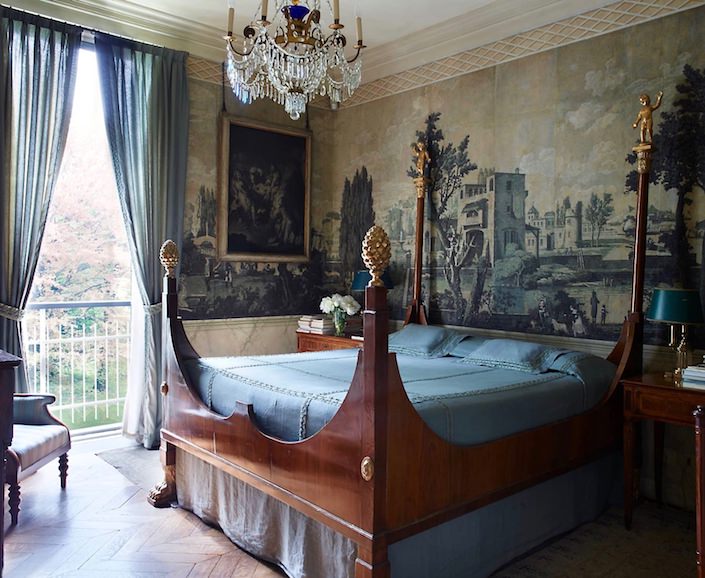 Bought at auction in France, missing pieces were artfully added and embellished with faux marbleized base and trellised ceiling frame to simulate "an Italian capriccio, a fantastical and bucolic landscape with architectural features."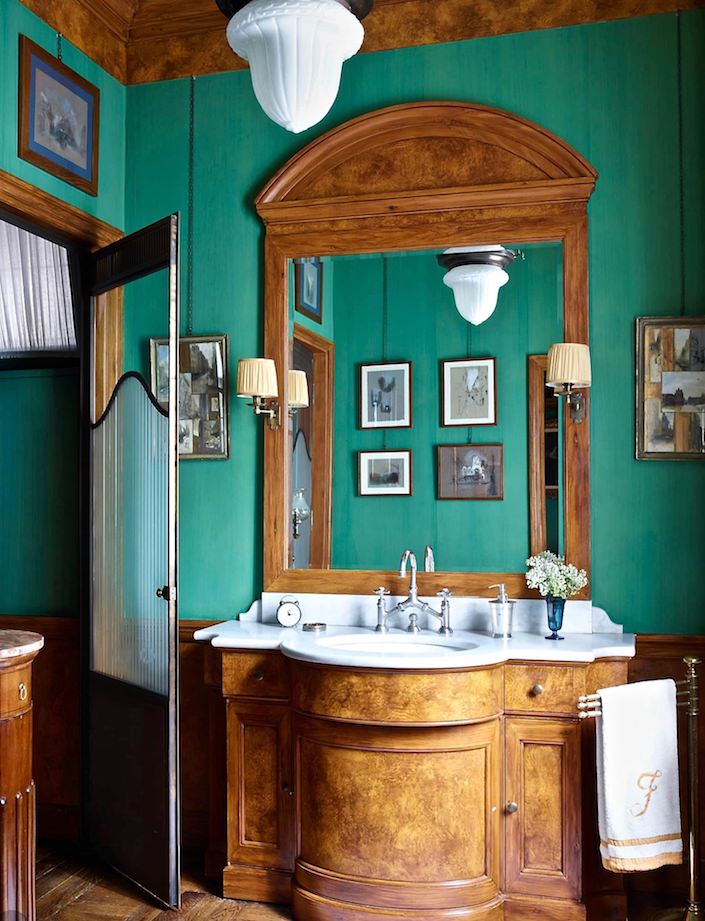 The master bath, above, walks the line between past and present with modern fixtures and custom mirror and furniture based on early 20th century English examples.
all photos by Simon Upton for ELLE DECOR
Even a small balcony is perfection planted with papyrus, wisteria and ferns and furnished with vintage iron chairs and table with textured walls treated like aging frescos. Studio Peregalli's first book, The Invention of the Past, is a favorite and I am already looking forward to their second volume, The Grand Tour, coming from Rizzoli.
SaveSave
SaveSave
SaveSave
SaveSave
SaveSave