Few places in New York City evoke the holiday spirit quite like Christmas at John Derian's enchanting east village shop. A veritable cabinet of curiosities, the store is even more magical at the holidays when John's penchant for the past, the artisanal and the handmade transforms the space into a nostalgic and whimsical winter wonderland.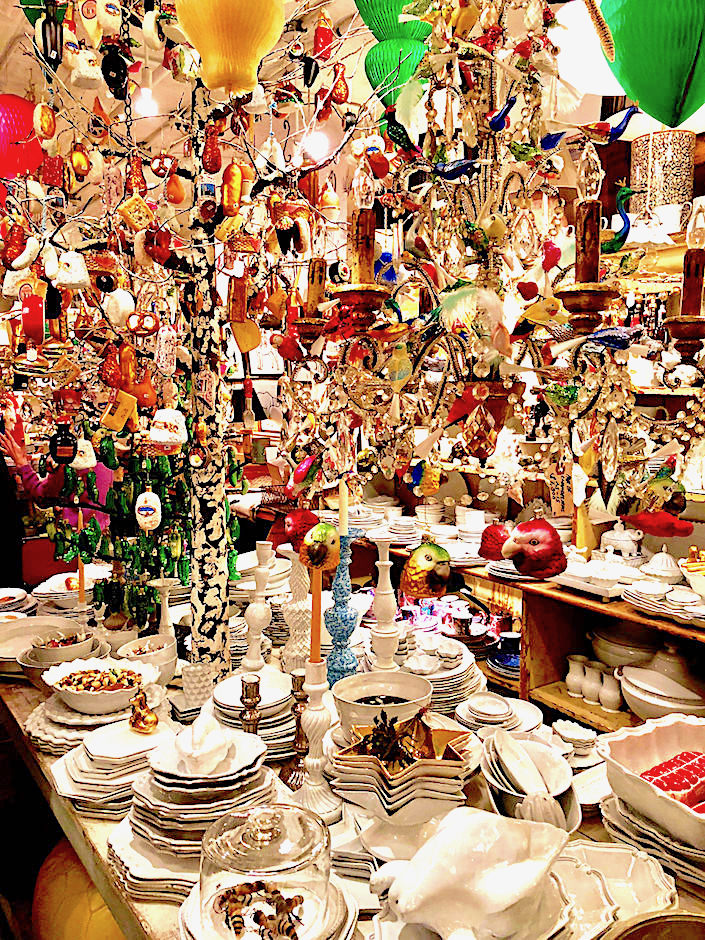 John's passion for holiday decorating recalls his own family traditions. "We decorated the tree with well loved glass ornaments, the house with garlands and the porch with lights (we helped our dad with that). My mom loved it all and shared that with us. For a time she made these beautiful pine cone wreaths – labor intensive, all wired together. Maybe that was inspiration for some of the first things I made and sold (wreaths)."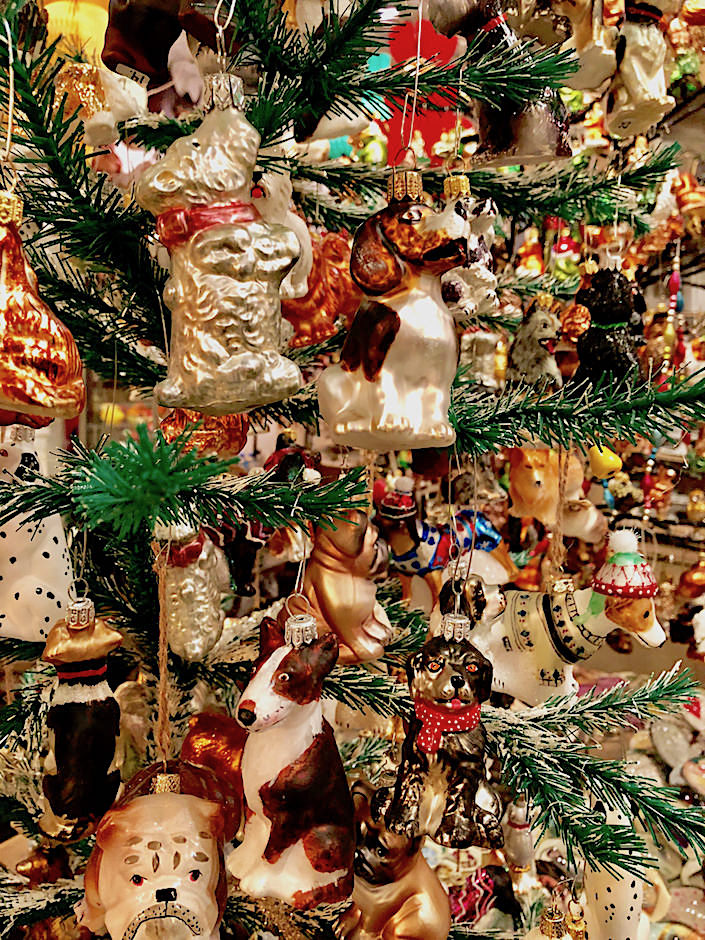 John has taken it to the next level as Christmas ornaments adorn practically every inch of the shop. Themed trees brim with ornaments grouped by category, from dogs, above, to fruit and vegetables, below,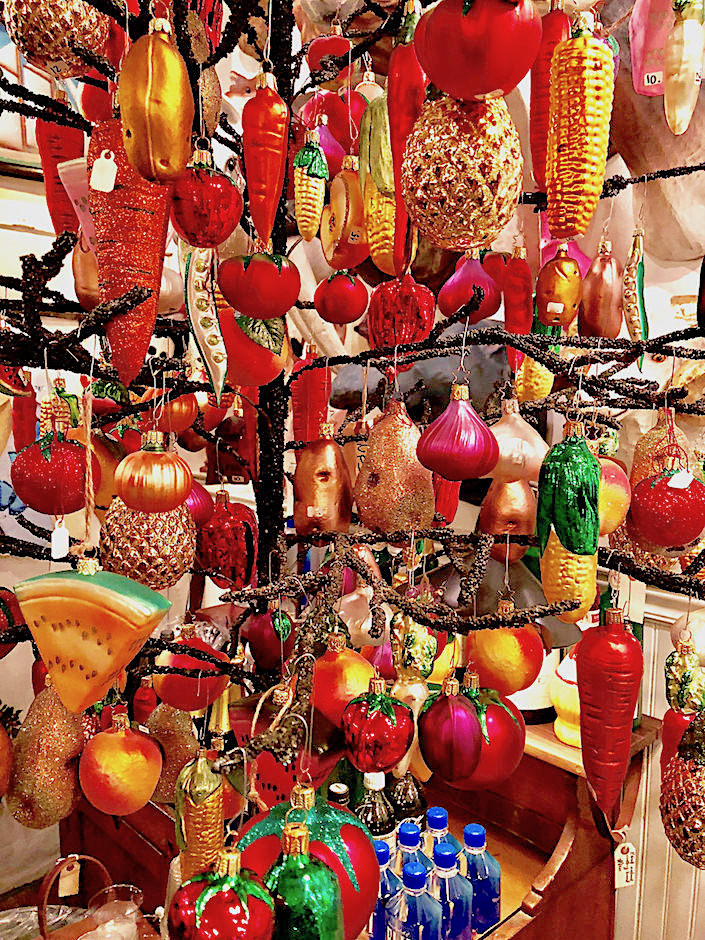 to woodland creatures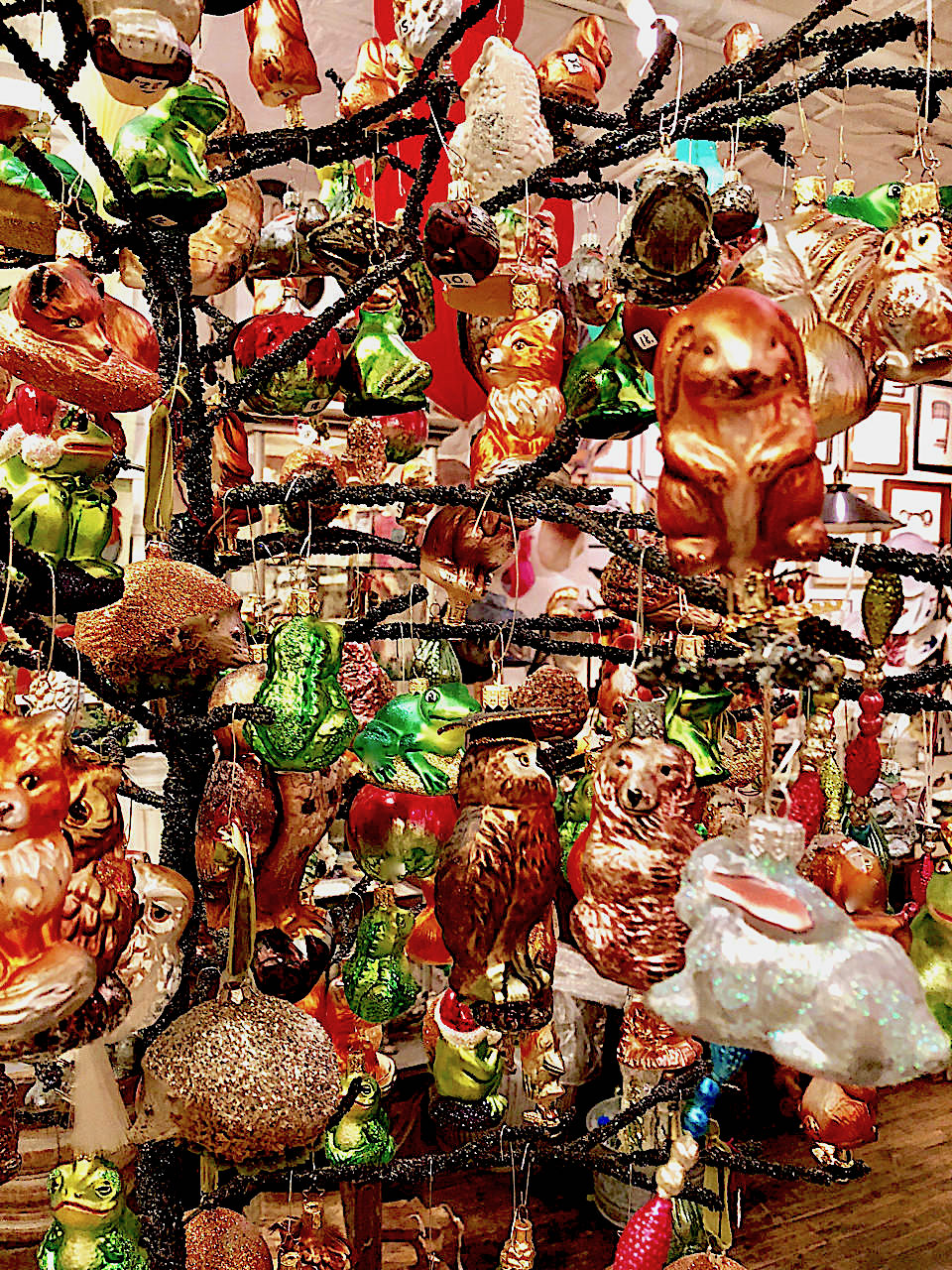 to your favorite libations,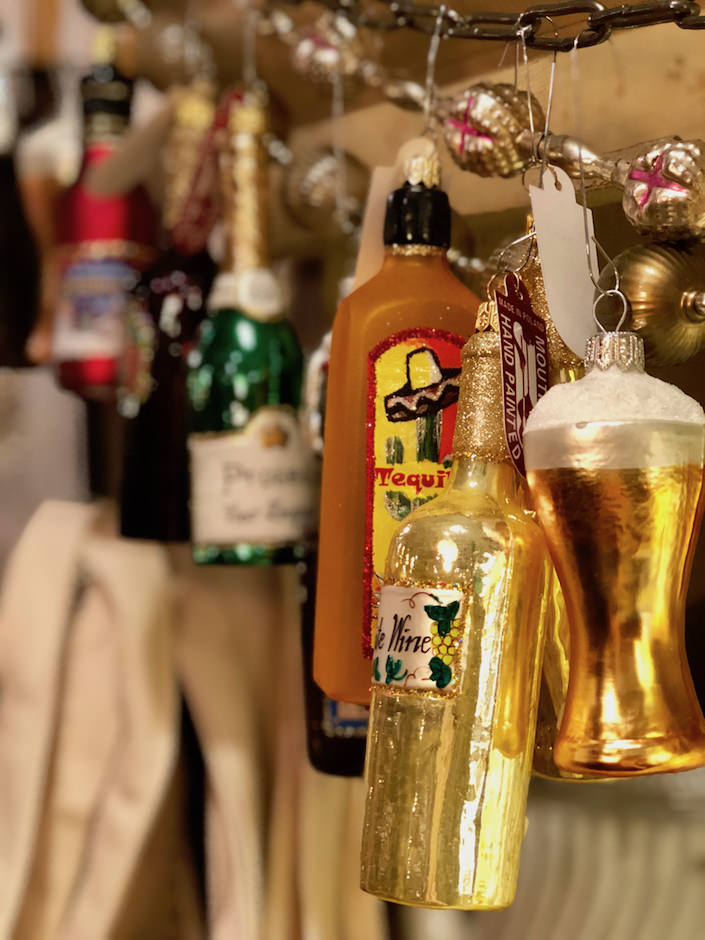 to mushrooms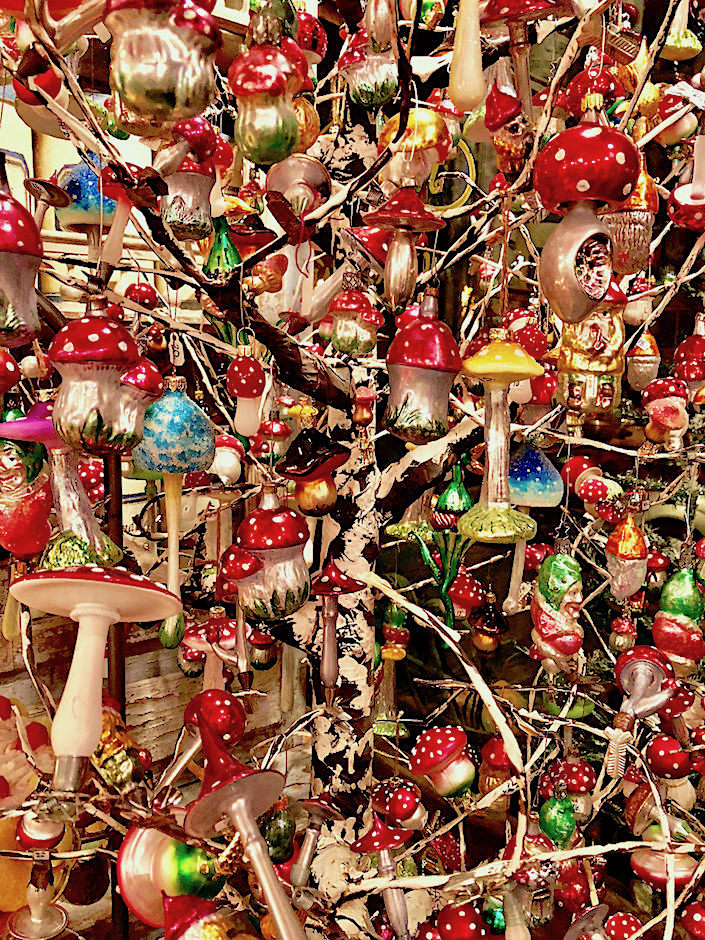 and even an entire tree devoted to pickles! From large elaborate ornaments to the smallest, there is something for everyone. John explained, "My first tree was with my first boyfriend Christopher Bassett. It was a potted pine covered in pepper berry and sea statice – there are options for the young and thrifty!"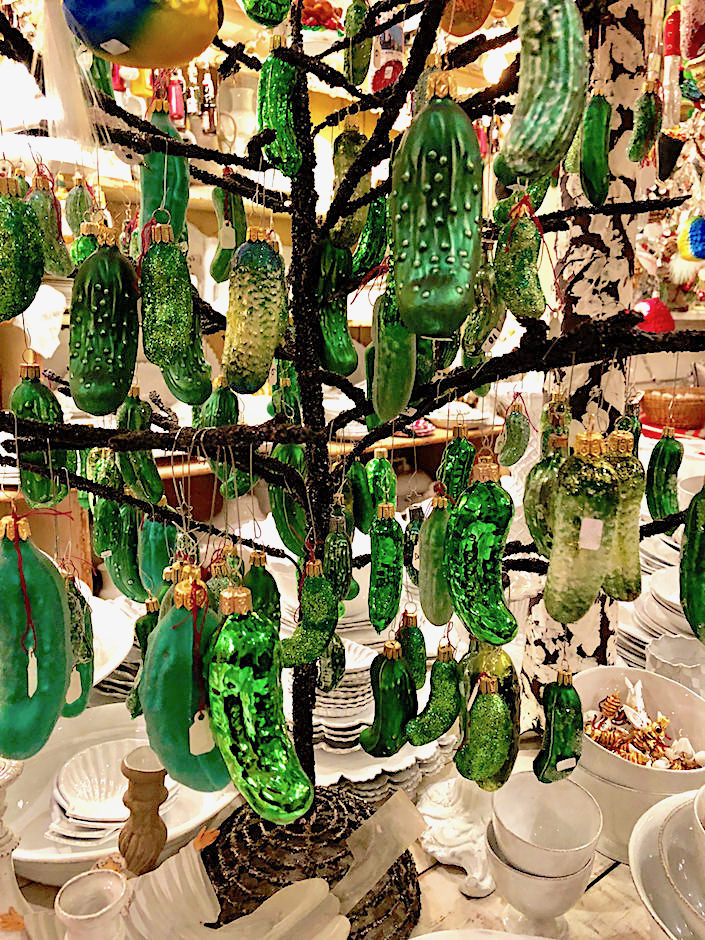 Ornaments are sourced from about eight vendors, mostly handmade in Germany, Poland, the Czech Republic and eastern Europe. To kick off the season's festivities, John invited one of his favorite heritage German ornament companies, for a glass blowing demonstration. Discovered at Christmas World in Frankfurt, the world's largest holiday decoration fair, Nostalgie-Christbaumschmuck intrigued John with their handblown glass ornaments, using the same 100 year old molds that have been in the family for generations.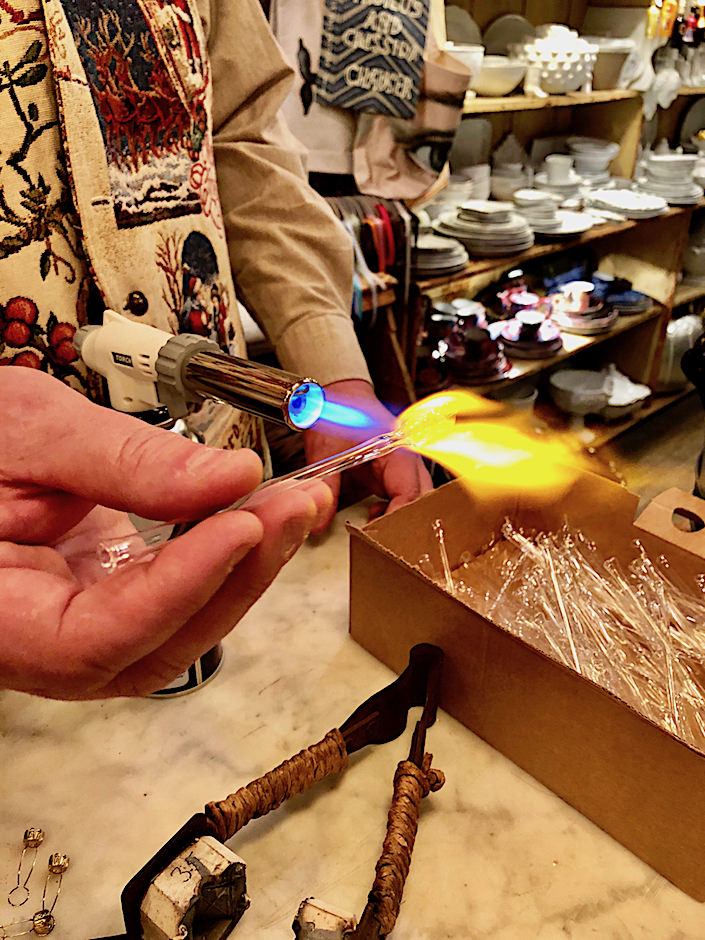 Above, Stefan heated the glass with a portable blow torch (much larger gas sources are used in the factory) until it was just the right temperature and then blew the glass – freehand for a mini sphere – or within the ceramic lined mold (in his hand) for a shape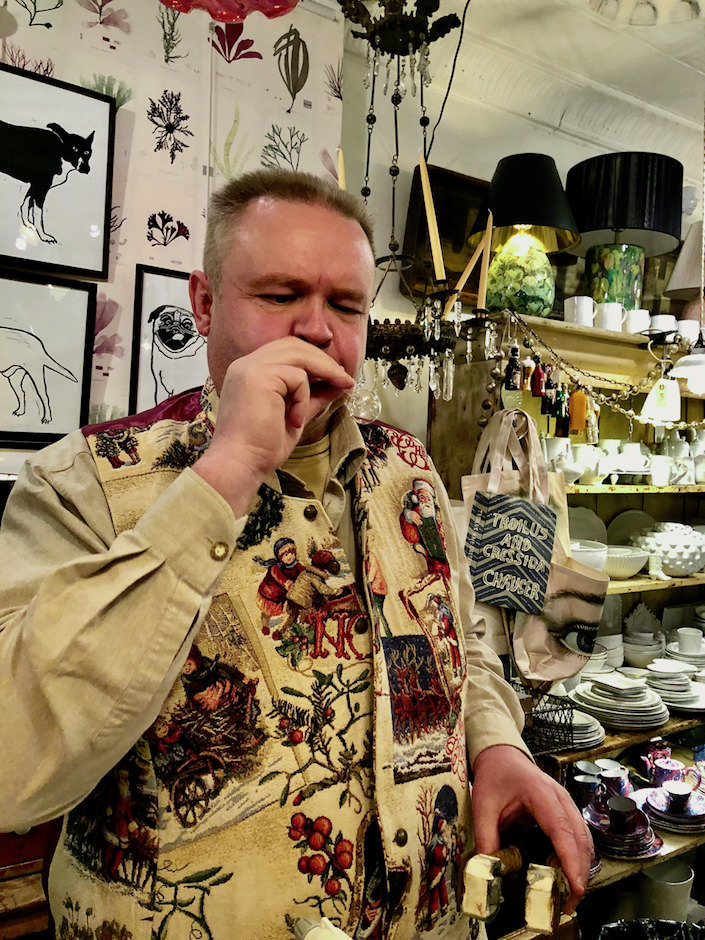 such as the mini lantern below.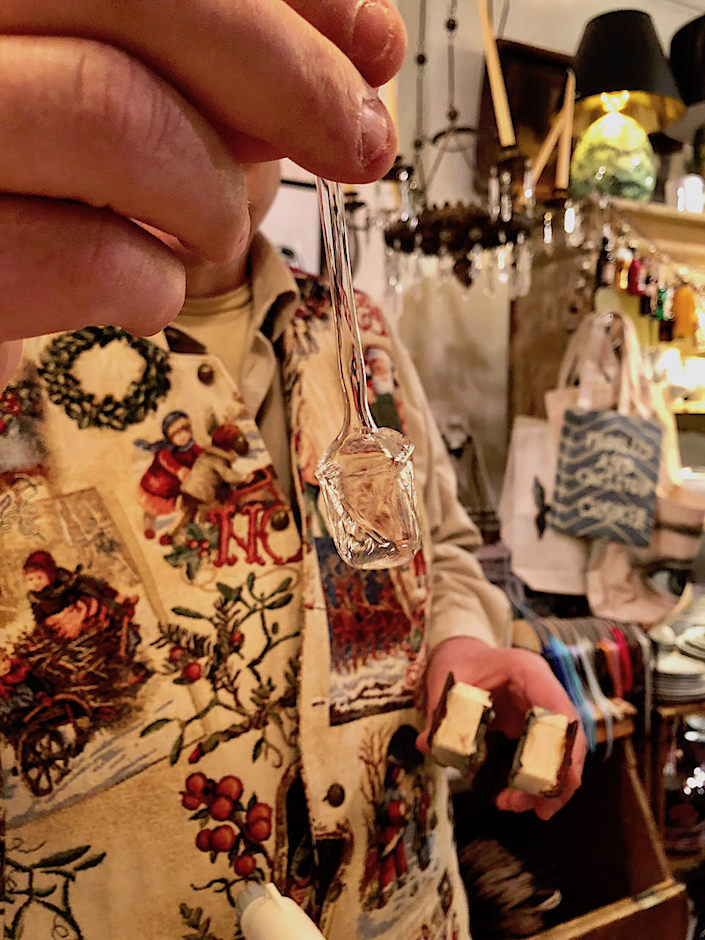 Each is then handpainted and bedazzled with glitter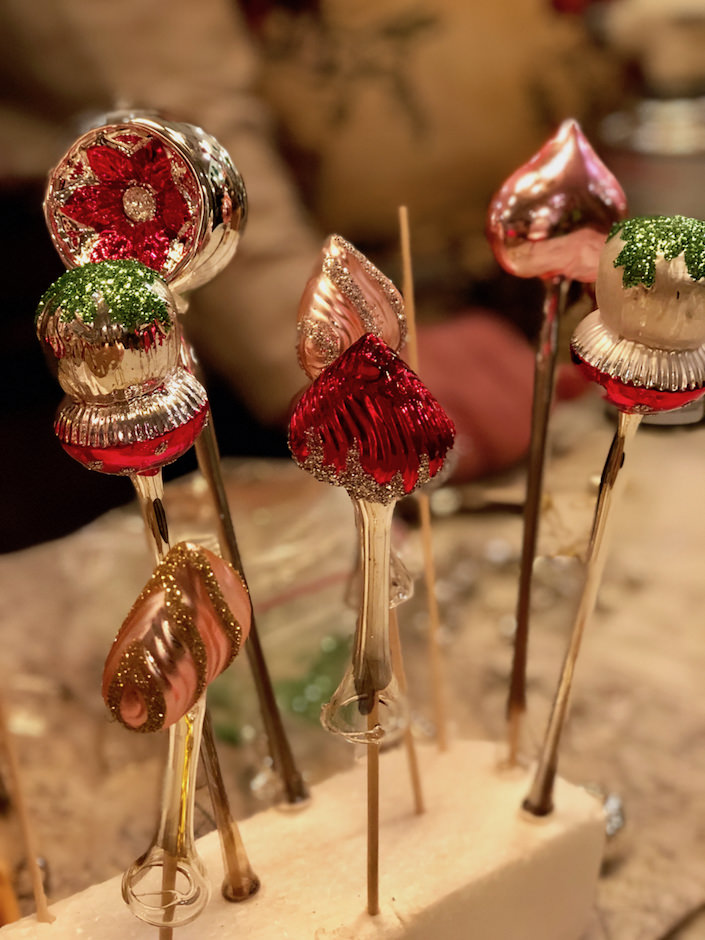 using the same time honored techniques that have been passed down for generations.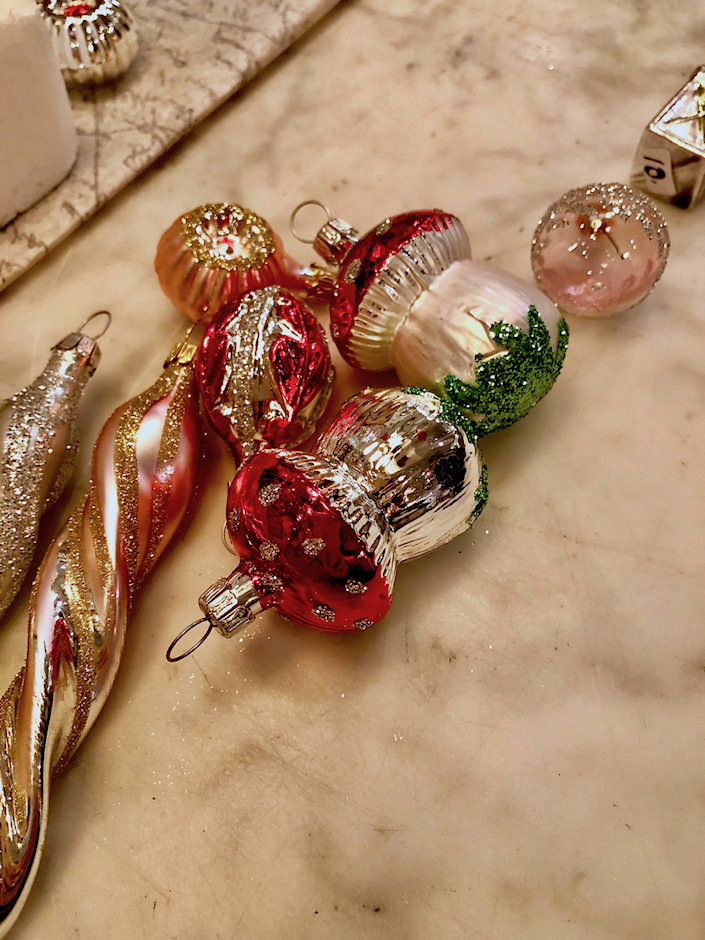 Nostalgie-Christbaumschmuck's ornaments have a particularly old fashioned appearance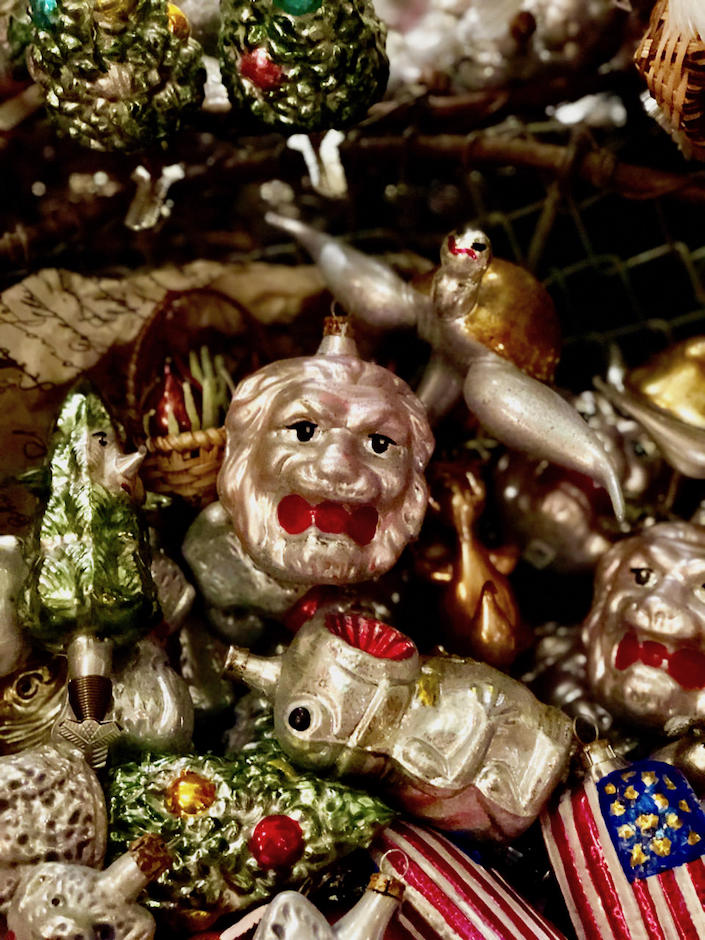 with an occasionally devilish charm,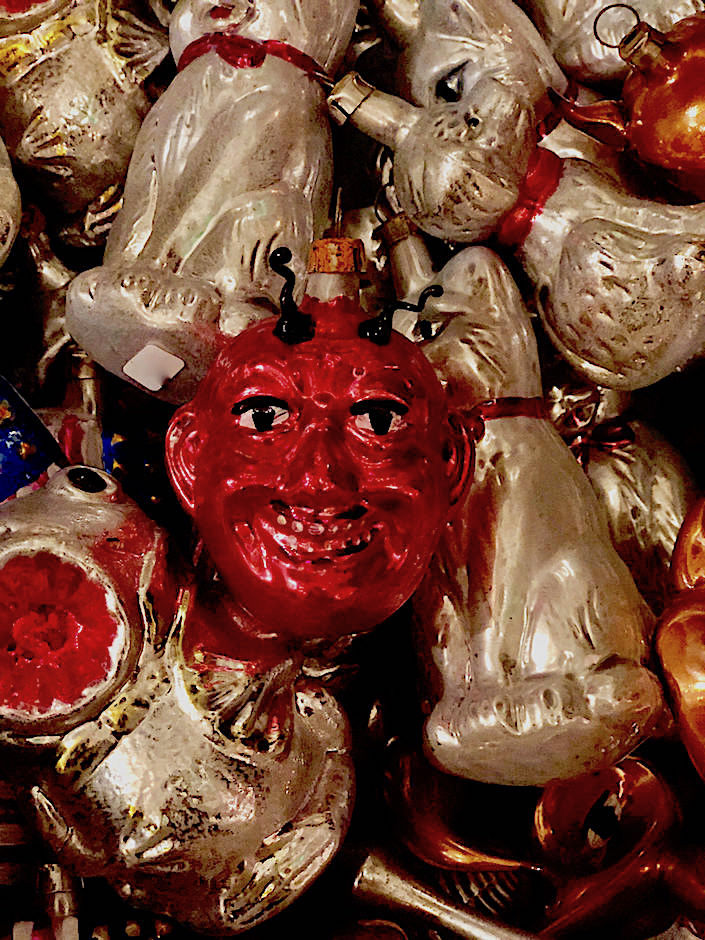 some specially commissioned for John's shop, like the delicate wire-adorned one below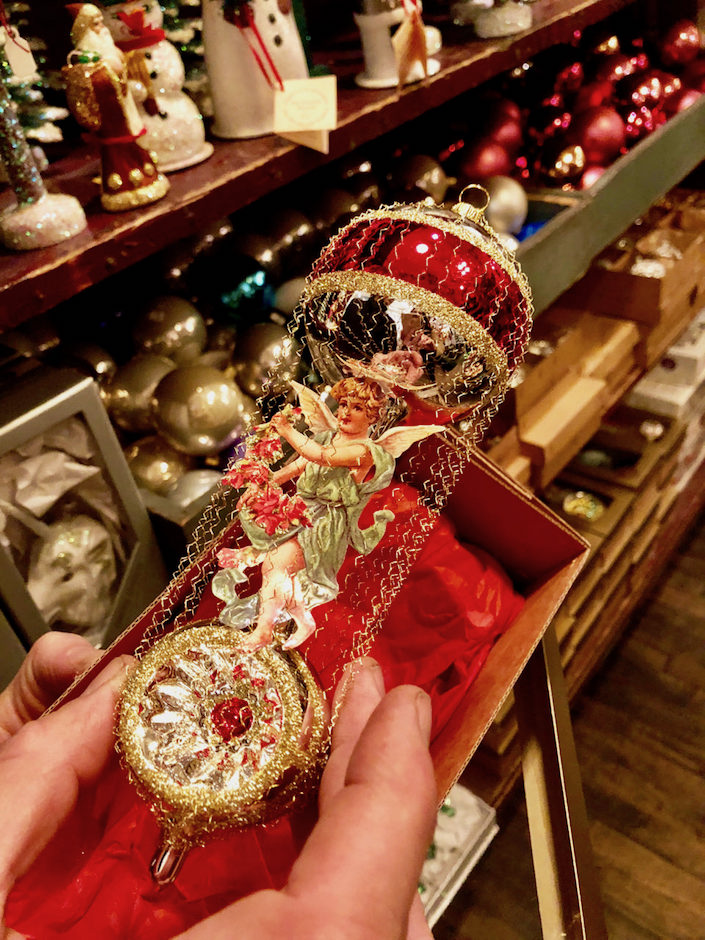 or the droll pickle chandelier.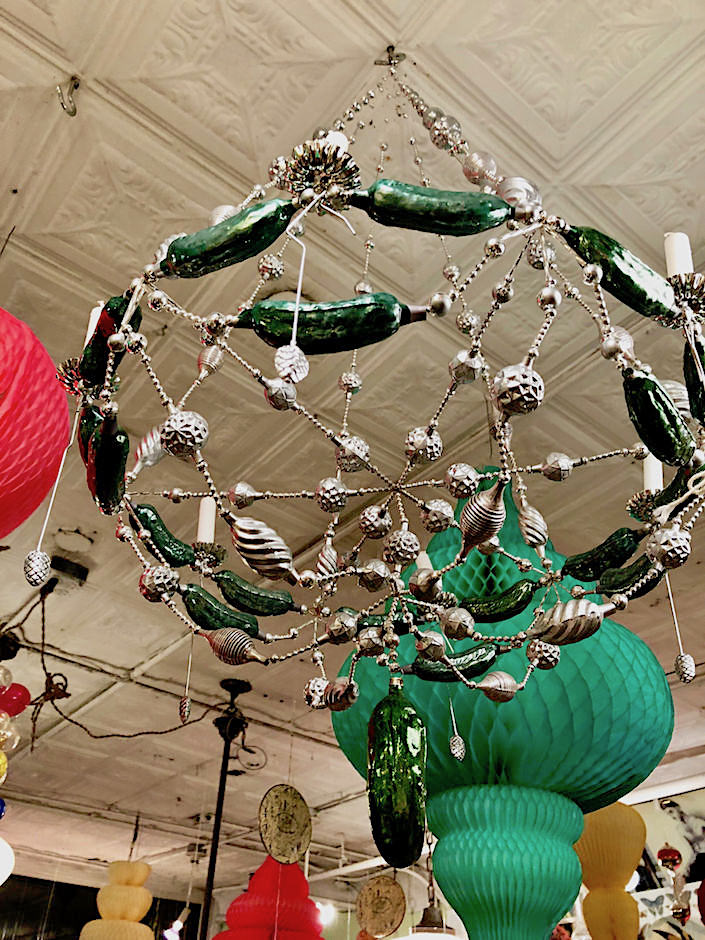 But of course there is much more to the holiday season at John Derian. Within the jam packed enticing emporium, there is John's celebrated decoupage, artwork and antiques, an enormous variety of giftable small goods such as cards, journals, candles, wrapping paper and gift tags,etc as well as French terre melee handmade pottery from Paris,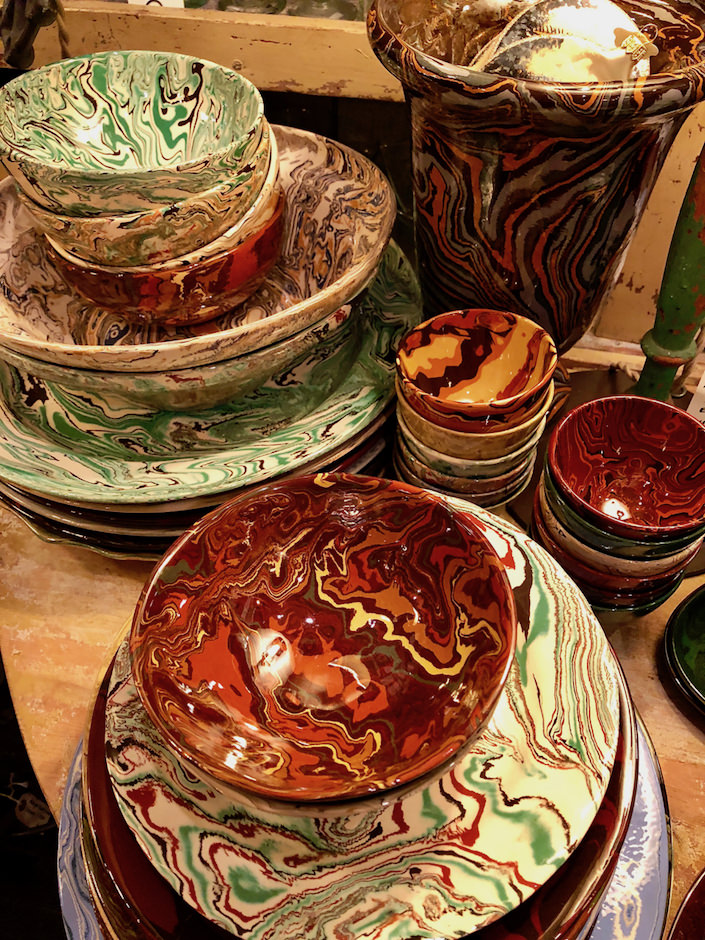 an extensive selection Astier de Villatte, some of which are exclusive collaborations,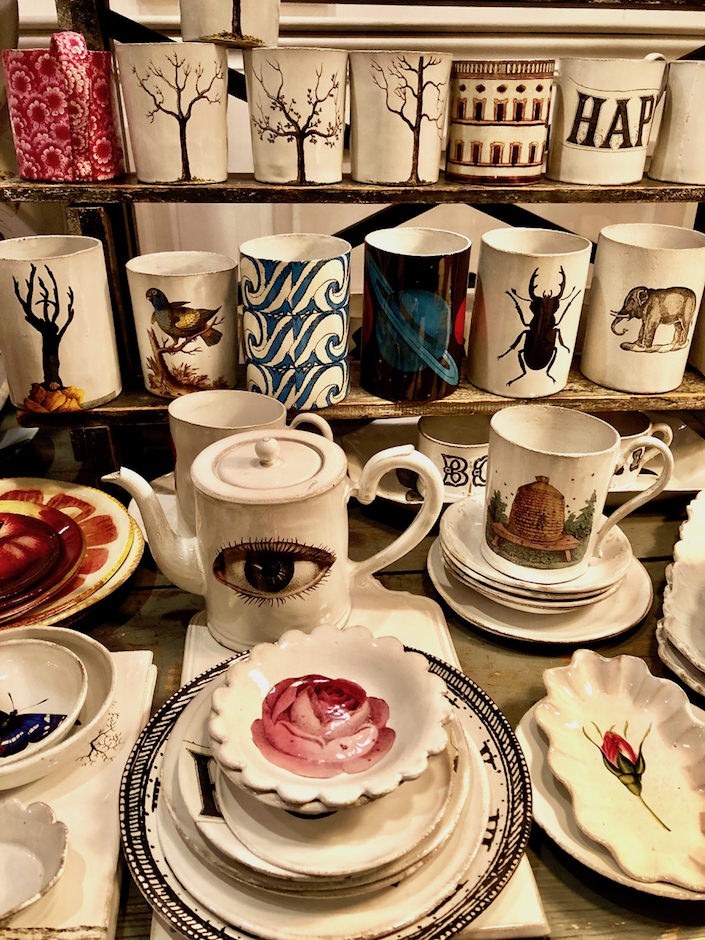 all photos by Stacey Bewkes for Quintessence
and of course John's own book, a must-have volume for anyone who loves the beautiful, whimsical and slightly mysterious world John has created over the years. Whether you are looking to start or augment an ornament collection, find a gift for that special someone (or yourself – we know you've been very very good) or just get into the holiday spirit, put a trip (or two) to John Derian at 6 East 2nd Street at the top of your list!