Last week in Paris, my colleague Beth Dempsey and I unveiled this year's version of Ancien et Moderne, the second edition of our Pop Up Salon during Paris Deco Off. What a wonderful week of creative collaboration it turned out to be! Inspired by the iconic tapestries of French artist Jean Lurçat, Fromental set the stage with Bruyère, their bold and dramatic new hand painted silk wallcovering.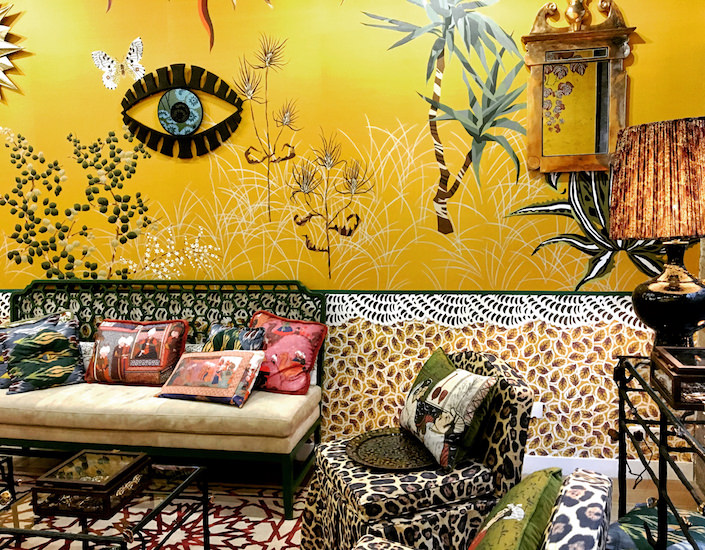 Named for the city of Lurçat's birth, Bruyère blends the abstract and the figurative for a lush, layered and lively scene. Its abundant multi-dimensional detail references Lurçat's themes of nature and the poetry of the human spirit, as his signature sun shines as a source of life and hope. It enveloped the space with a sense of color, pattern and joy that we never wanted to end.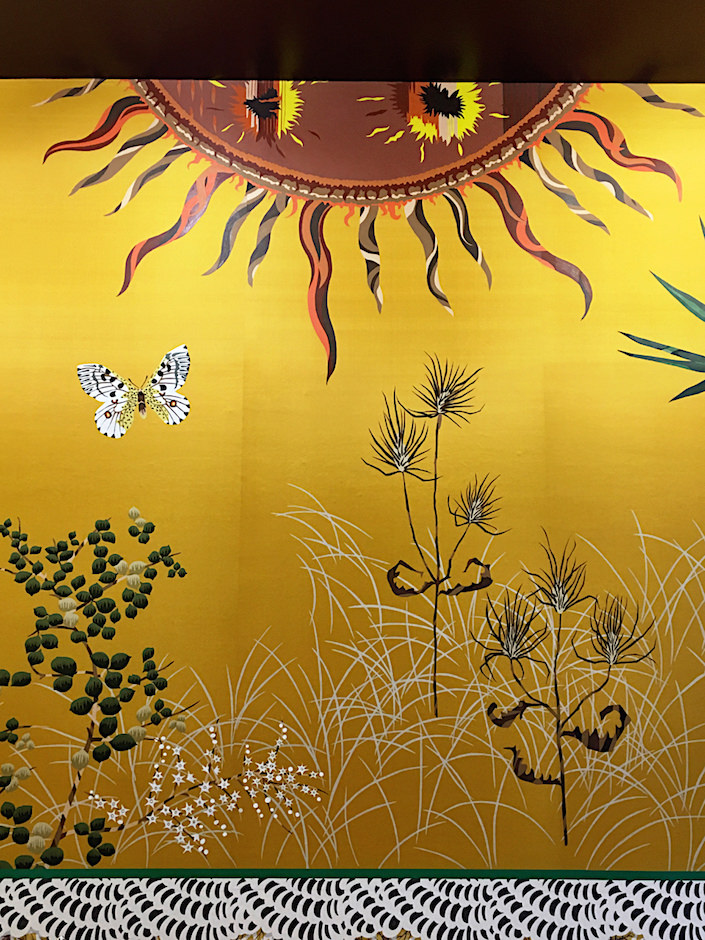 Designer Justin van Breda collaborated with Fromental to create a coordinating bespoke piece of furniture for the space. His amazing Jardin Majorelle cabinet incorporated the smaller leaf pattern on silk which was then lacquered and polished by hand. The large palm frond handle adds just the right amount of organic shine.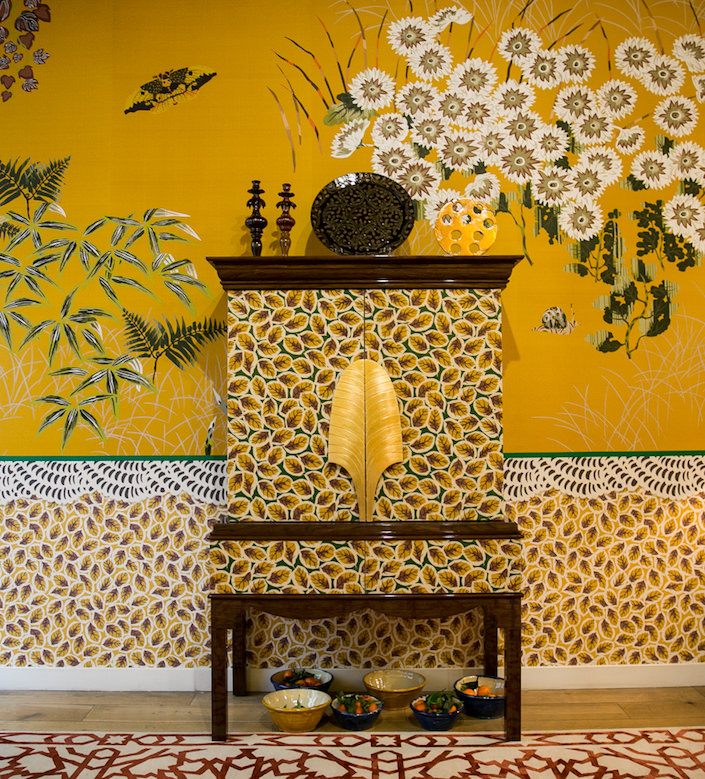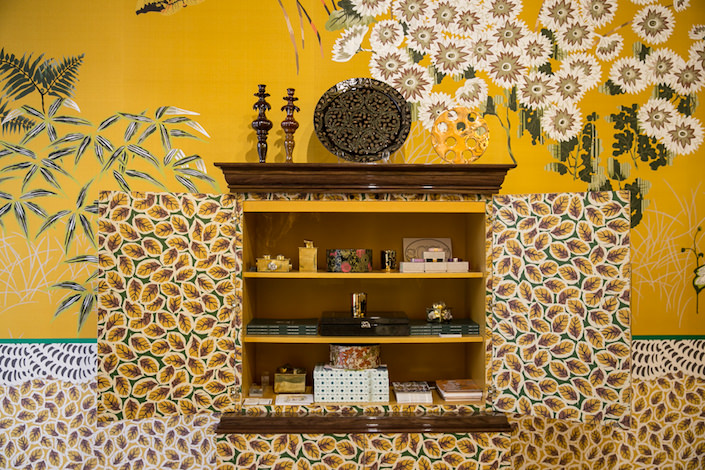 Justin also introduced his charming Princess bench in Emerald Lacquer, below, which lent another layer to the exotic garden vibe. Designer Michelle Nussbaumer brought her new global inspired fabric collection, seen on the pillows below.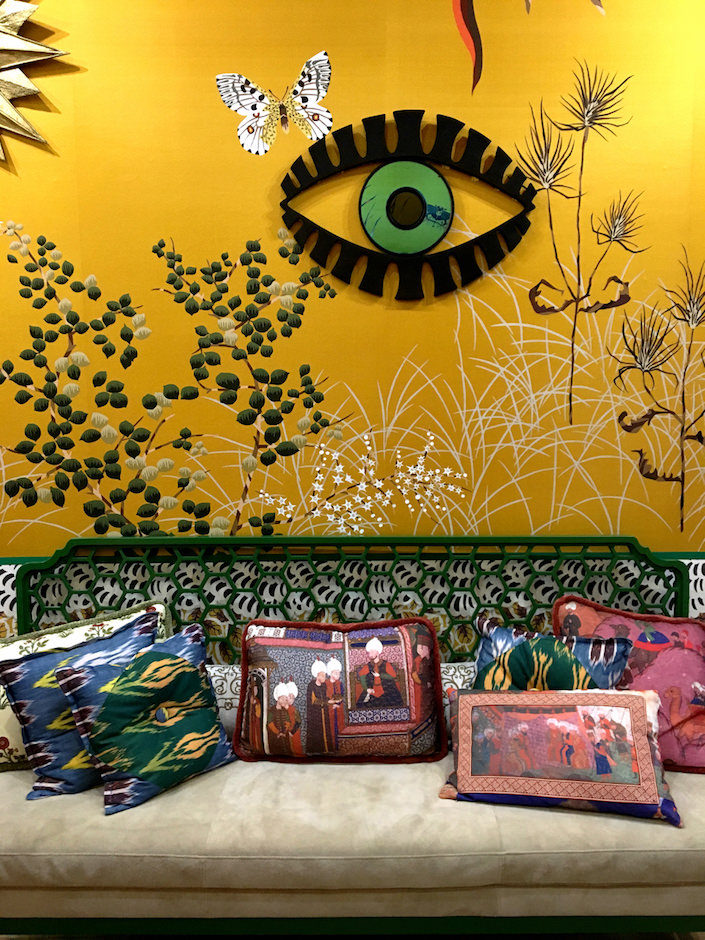 And she and Justin collaborated on slipper chairs which Justin produced and slipcovered using Michelle's new leopard print.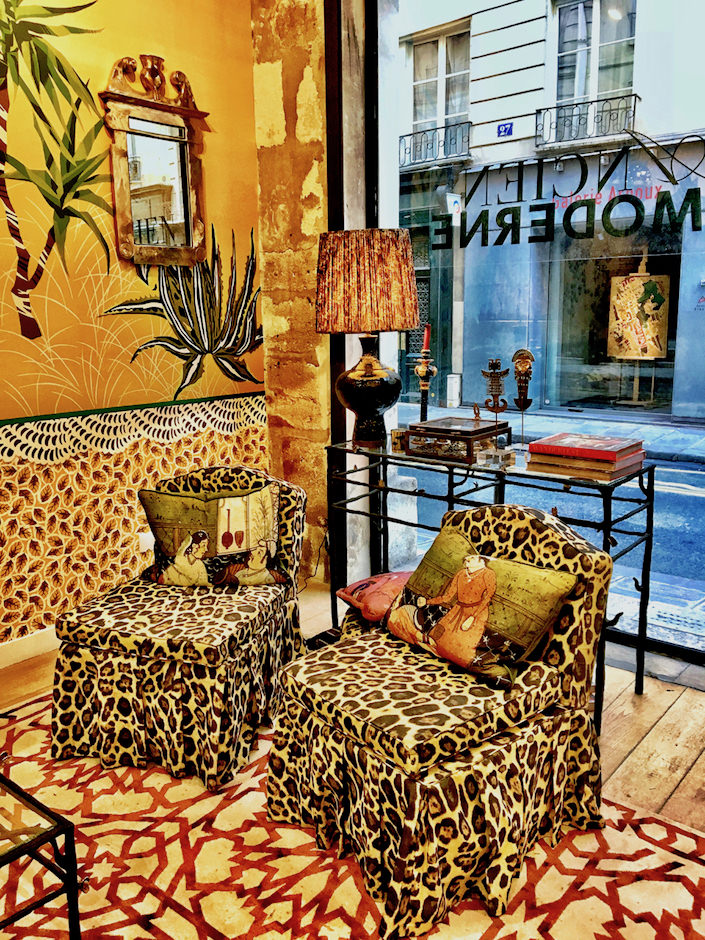 The bohemian pattern-rich theme was anchored by Martyn Lawrence-Bullard's hand knotted Tibetan wool and silk Mamounia rug for The Rug Company, above. Behind the chairs, above, Philippe Berry's sculptural bronze butterfly console held Porta Romana's handsome Zulu lamp with a pleated red Liberty shade, a La Tuile a Loup candlestick and Barbera Sève du Sud scented candle in a hand painted and and gilded container.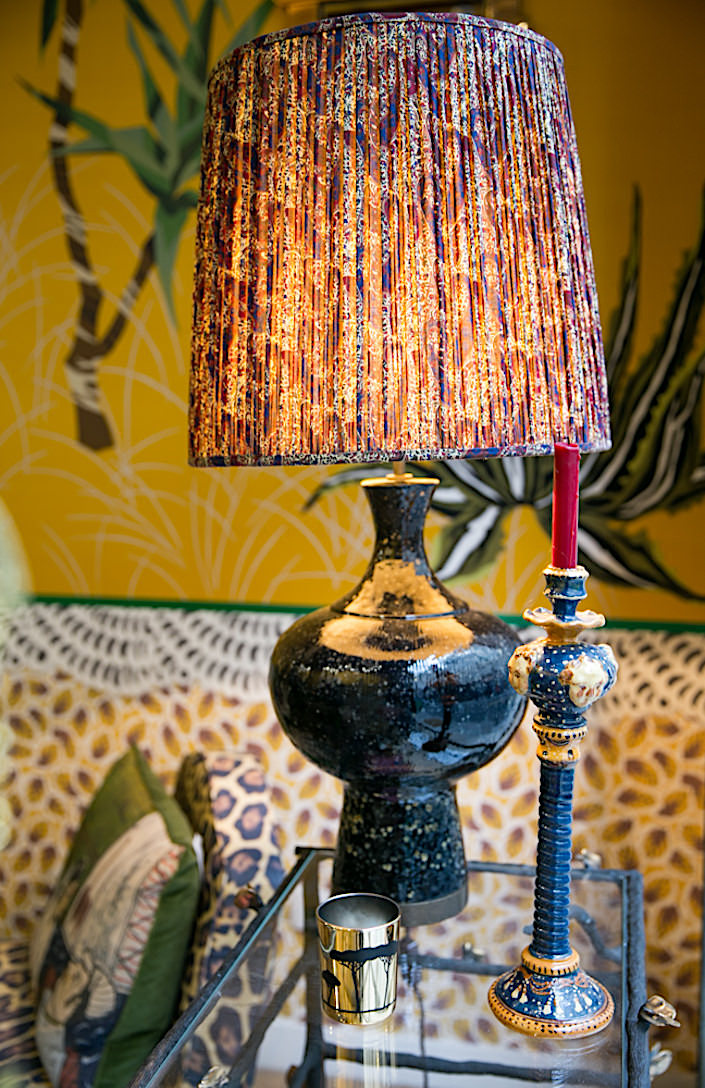 Michelle's accessories seemed to protect the space with mysterious charm.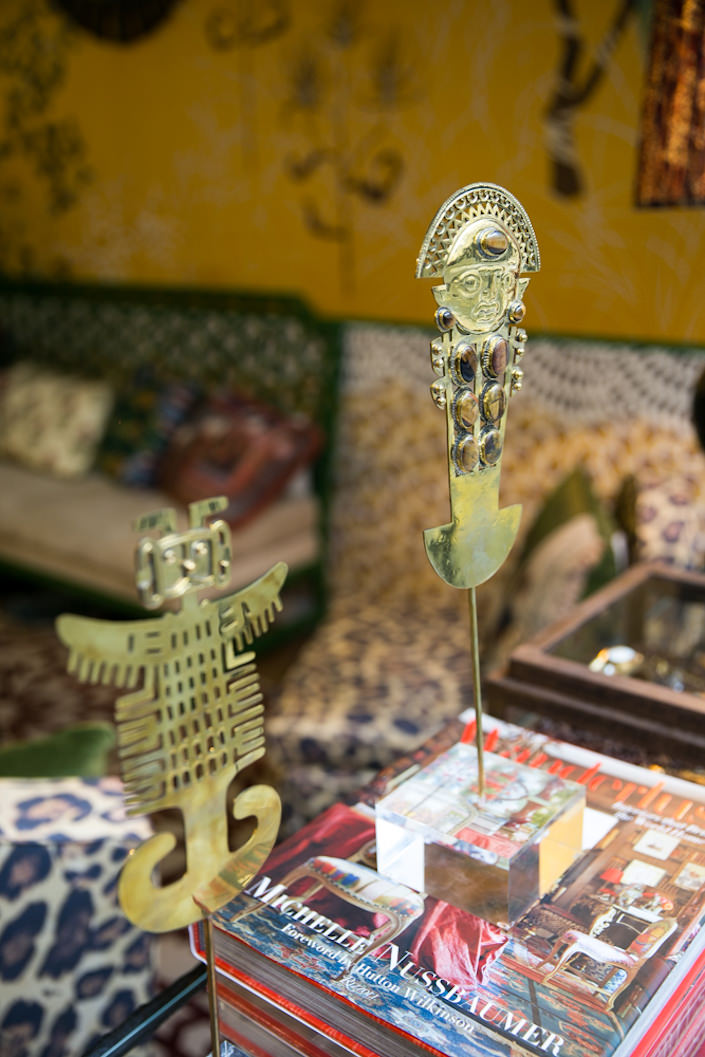 Her pillows provided lush lounging under the palm in a fabulous La Tuile a Loup pot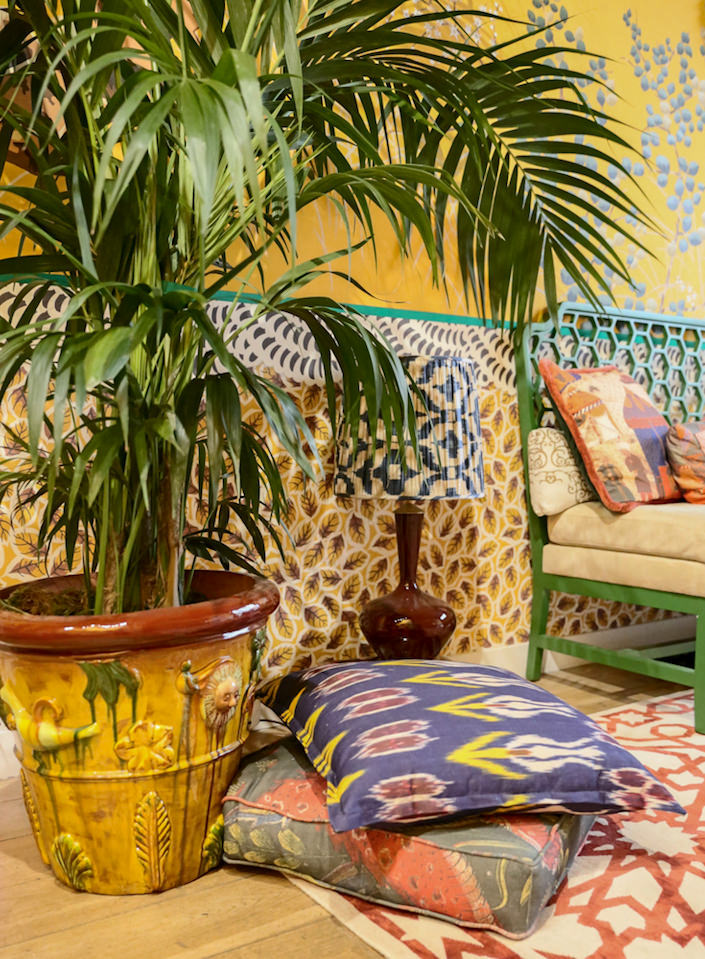 and became the seating for a fun Moroccan dinner we co-hosted in the space with Architectural Digest.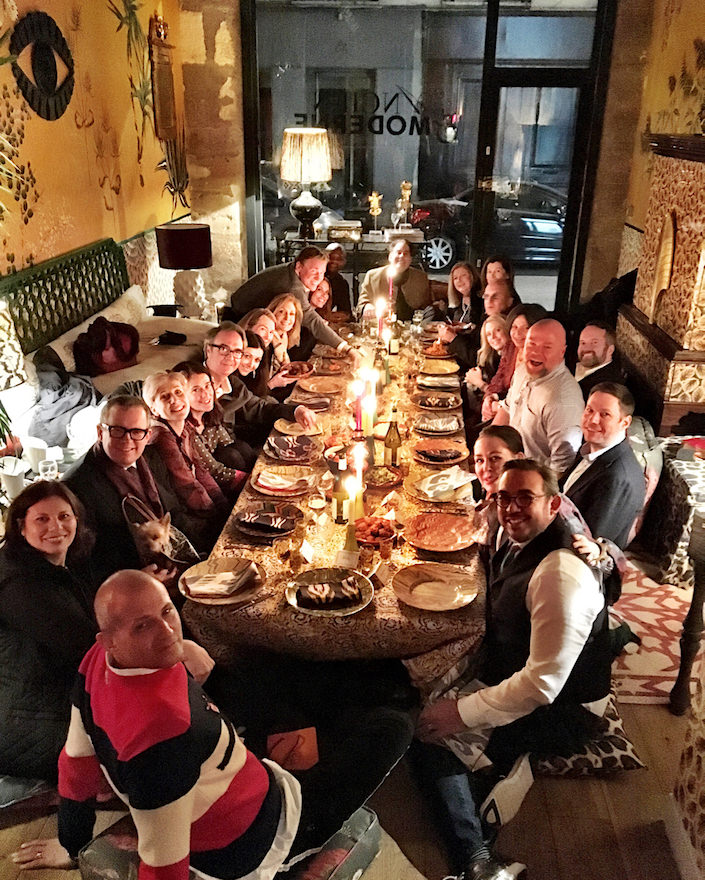 Chic tabletop courtesy of Michelle and La Tuile a Loup.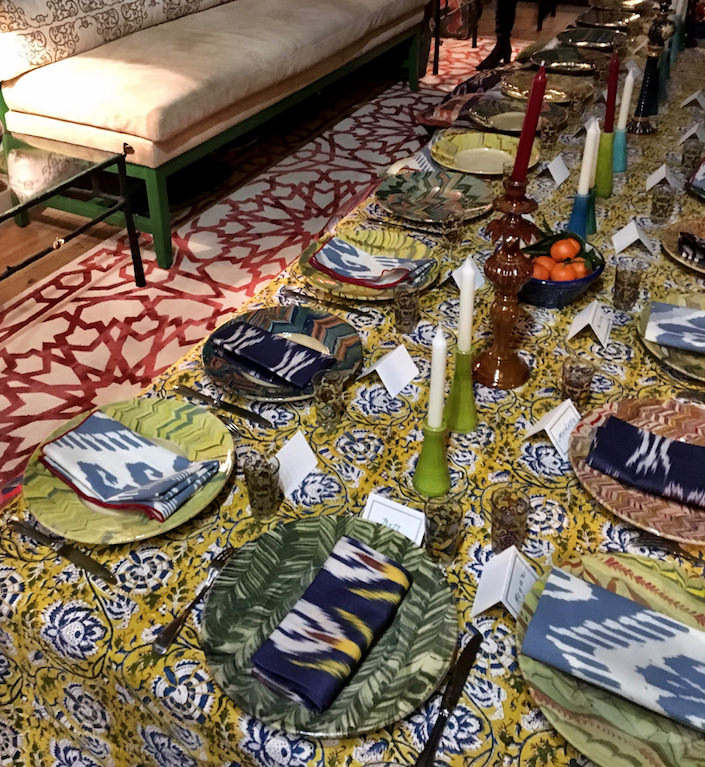 Michelle's statement jewelry was a hit, seen below atop Justin's cerused oak backgammon table.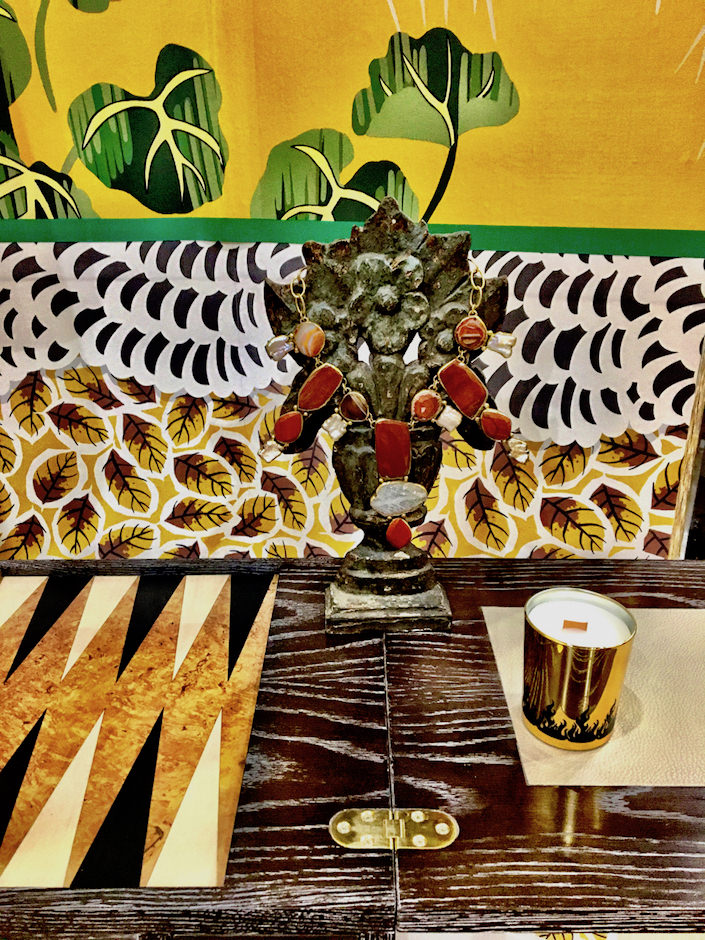 Creative collaboration was at the heart of Ancien et Moderne and continued with a series of custom bronze mirrors produced by Hope Swales in the foundry which makes her client, Philippe Berry's furniture. Alex Papachristidis' chic modern take on a classic broken pediment, below.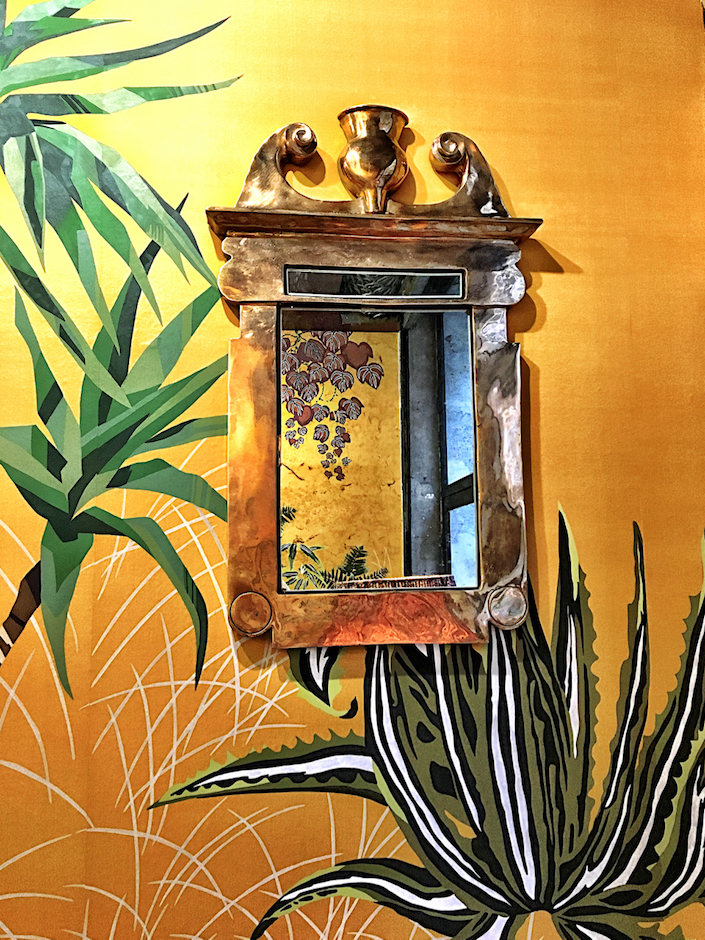 Timothy Corrigan updated the timeless sunburst with a giant convex center.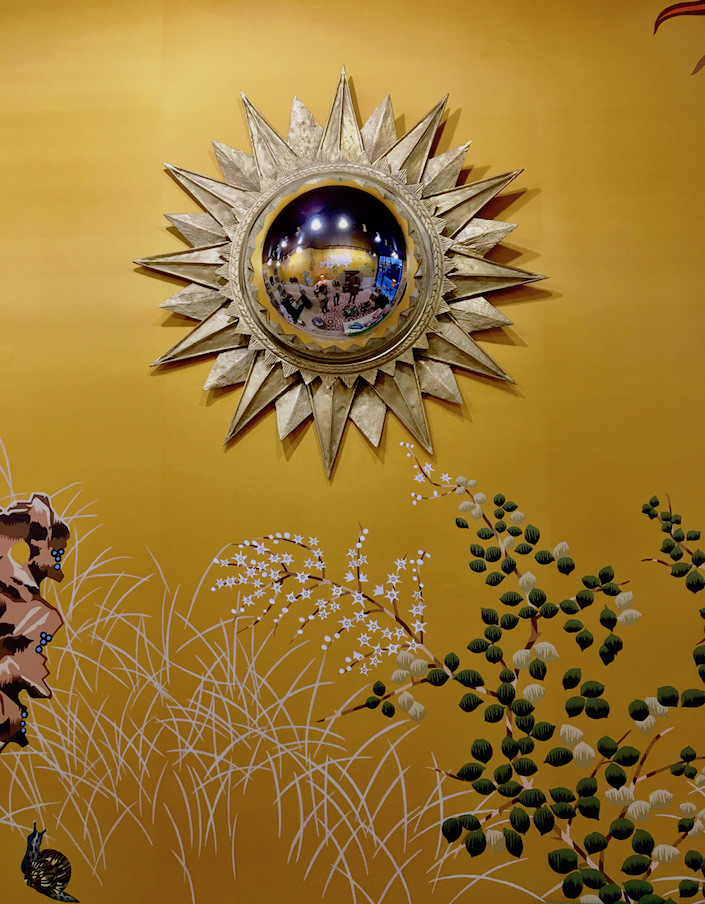 French designer Bambi Sloan's clever Eye Can See You mirror echoes the fact that "eyes are the mirror of the soul."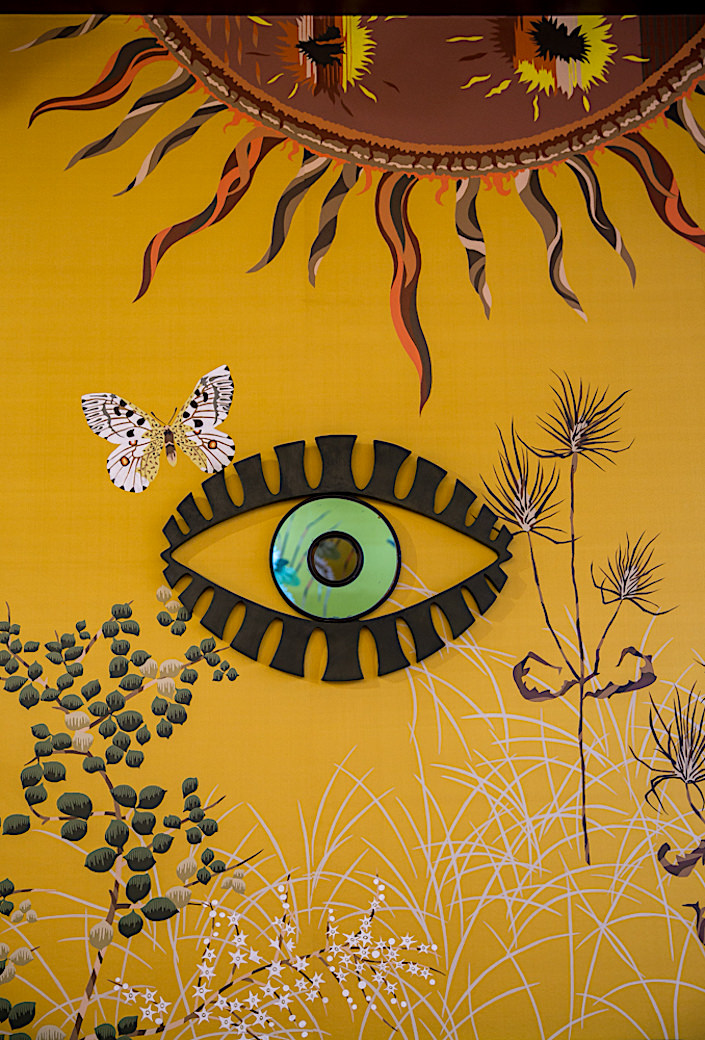 And Frank de Biasi's refined artistic mirror is reminiscent of those by Fontana Arte in the 50's.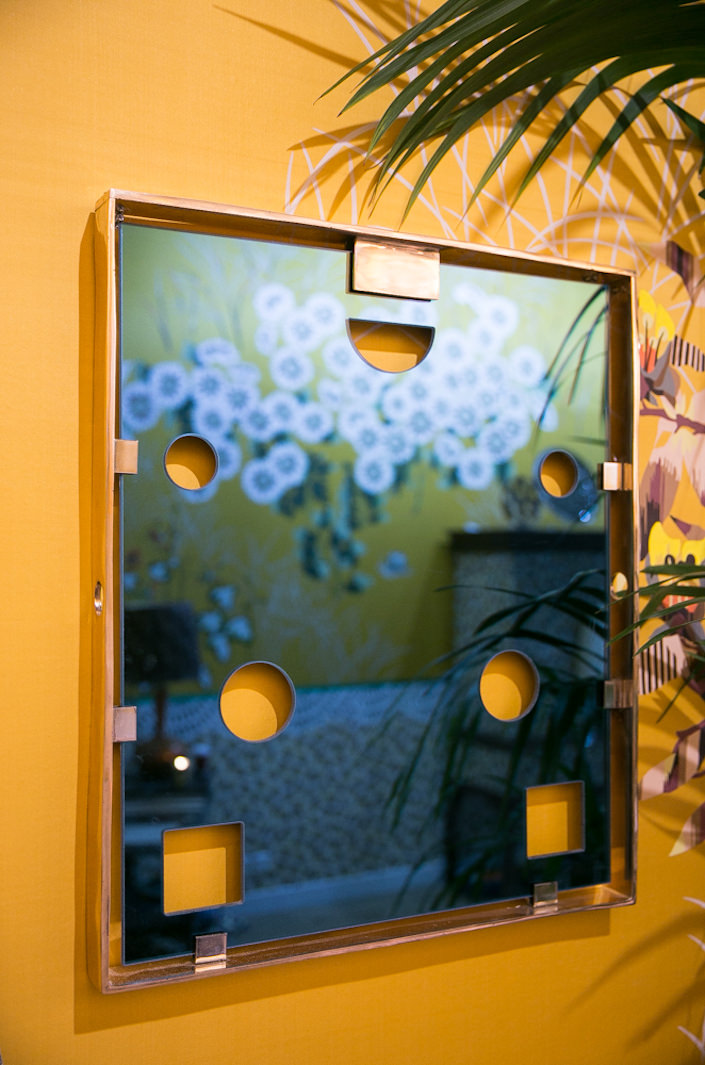 Philippe Berry's mirror, part of his butterfly series, sits between curtains of Michelle's fabric.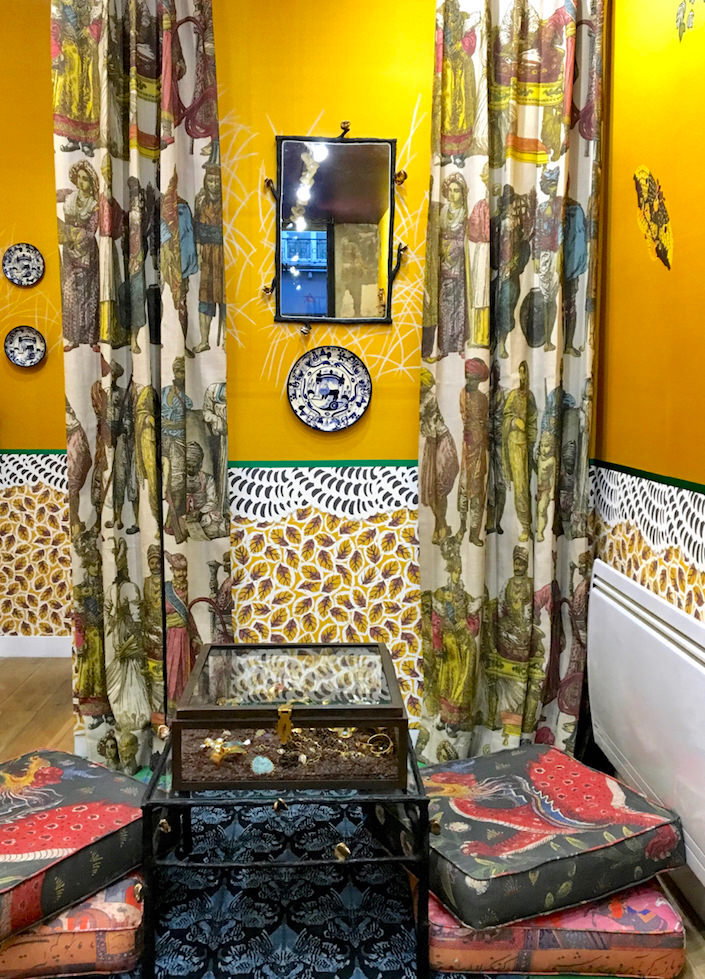 Other accoutrements included Carol Bruton's colorful metal Ocean sculptures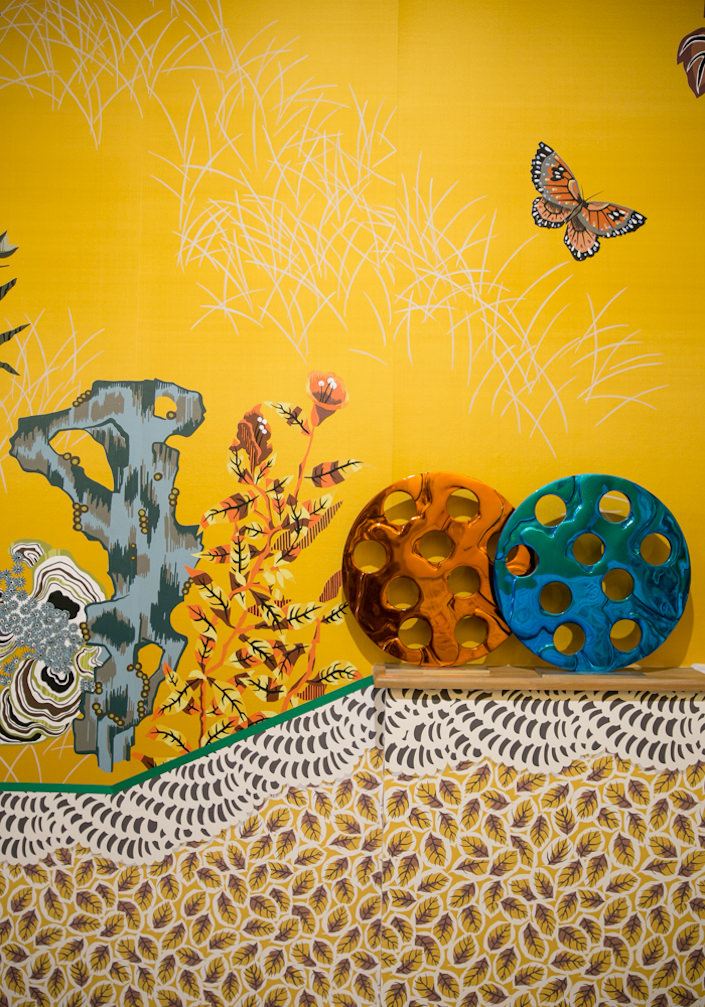 and Scott Nelson's chic Scotstyle Riviera and Safari bracelets.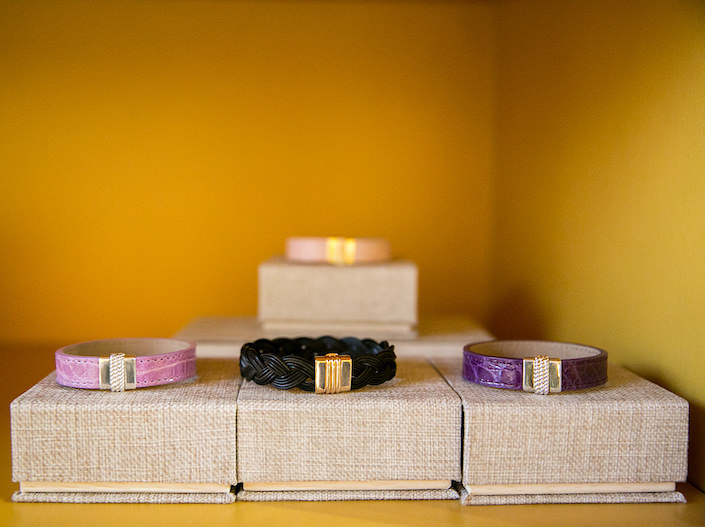 Celebrating the art of the mix, of looking back to move forward, the artistic process and the exotic chic of bohemian glamour, Ancien et Moderne was a space full of spirit and life. We welcomed visitors from around the world, met longtime Instagram friends in person, held talks with distinguished groups on fascinating topics and bonded over a passion for design and craft. Thank you to all involved – it was a week of inspiration, productivity and the power of creative collaboration!