Leave it to Domino Magazine to create the first-ever shoppable show house.  At 15 William, a modern state of the art condominium in the heart of the burgeoning Financial District (FiDi), Domino paired four young interior designers on the rise with four popular furniture brands to create four stylish and livable apartments. Focusing on approachable looks at affordable price points, it is a fresh and unique take on a designer showhouse. And for true accessibility, featured items from each residence will be for sale on domino.com now and even more in the coming months.  Join Susanna and me as we visit with the designers behind the scenes.
Dolores Suarez and Caroline Grant of Dekar Designs worked with Ballard Designs to create a warm and welcoming two-bedroom family home. Including eclectic picks from Ballard's large collection of furniture and accessories and Zak and Fox textiles, the apartment features a unique and stylish take on tradition.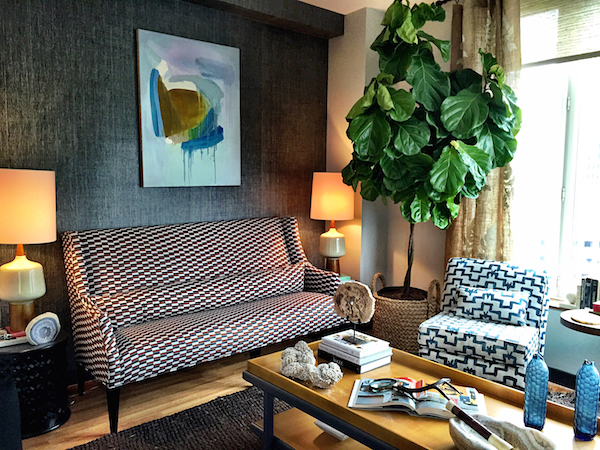 All designers used paints from sponsor Benjamin Moore to great advantage as in Dekar's distinctive entry hall.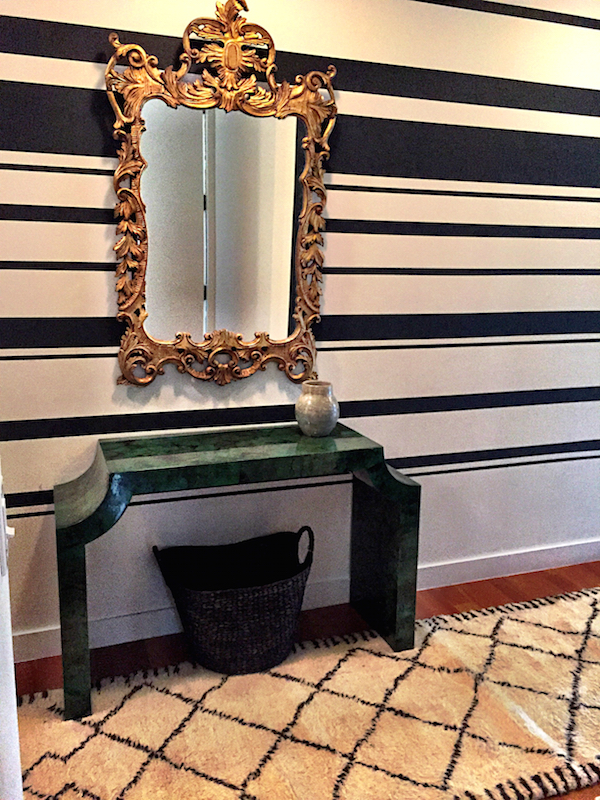 They designed the second bedroom in their apartment as an adorable nursery.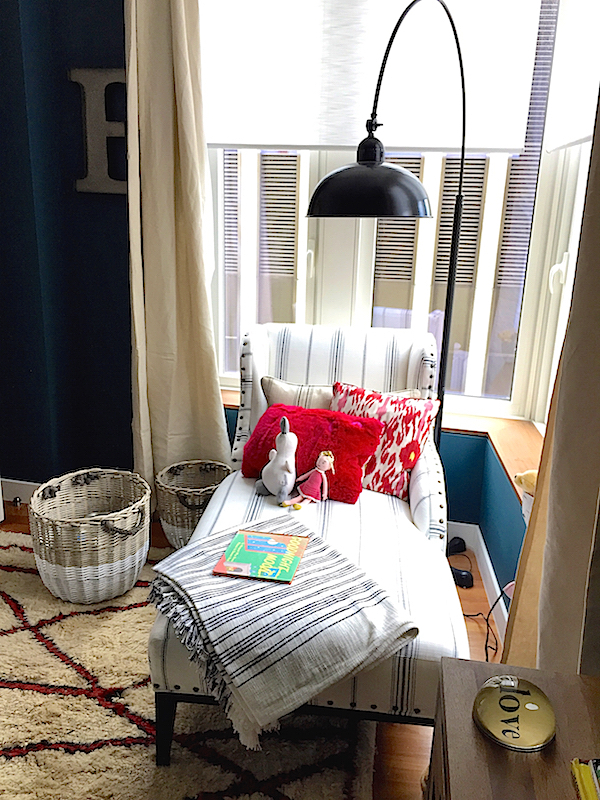 with fun yet sophisticated details for a child to grow into.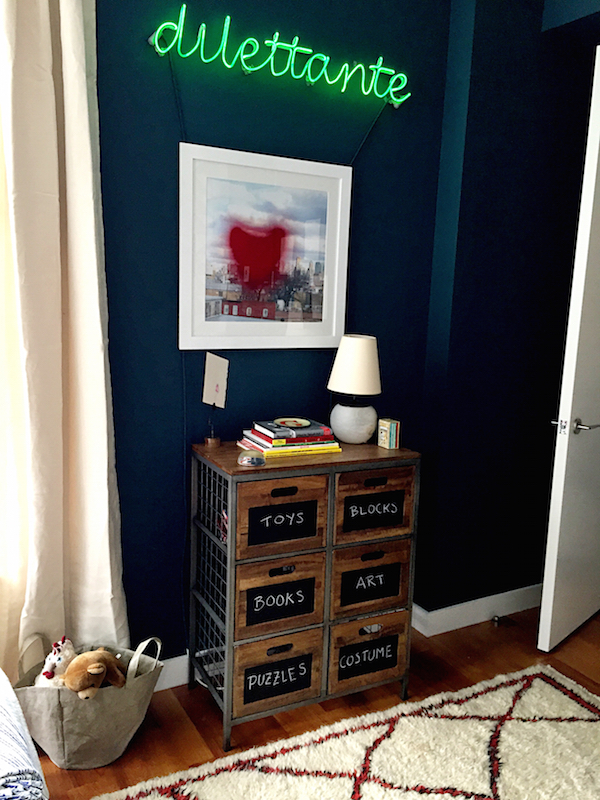 Partnering with Homeware, Antonino Buzzetta made the most of his small apartment with bold art, graphic pattern and a simplified color scheme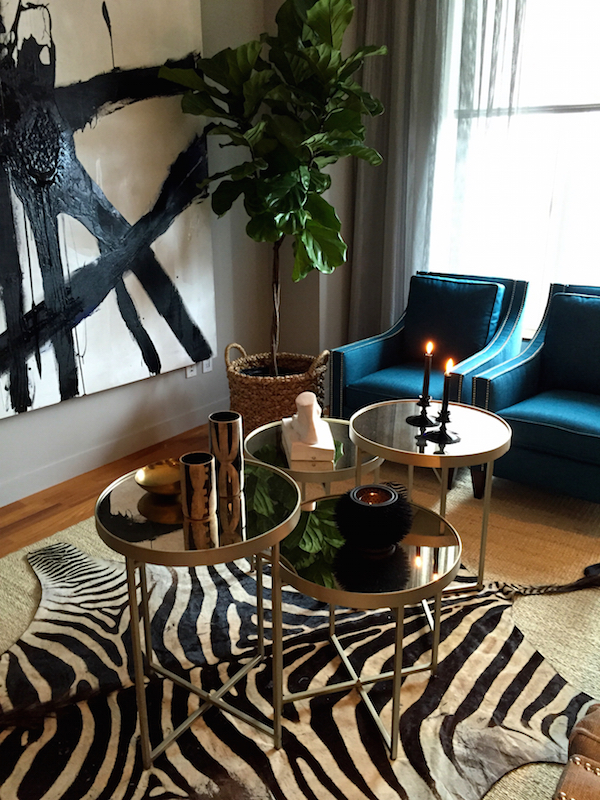 that unified the space.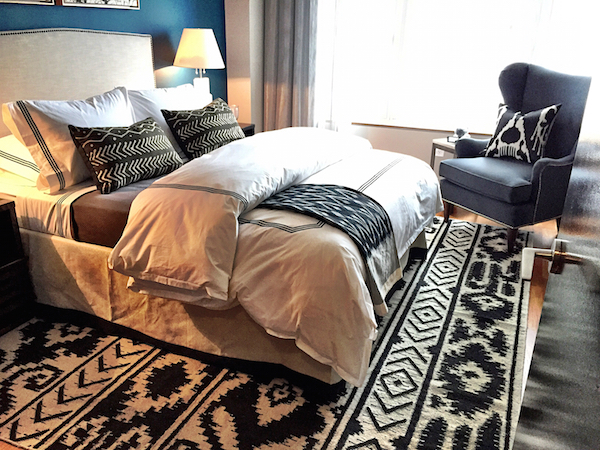 Small apartment living calls for multitasking furniture. In the kitchen/entry, Antonino cleverly transformed a dining table into a double duty kitchen island-cum-foyer table.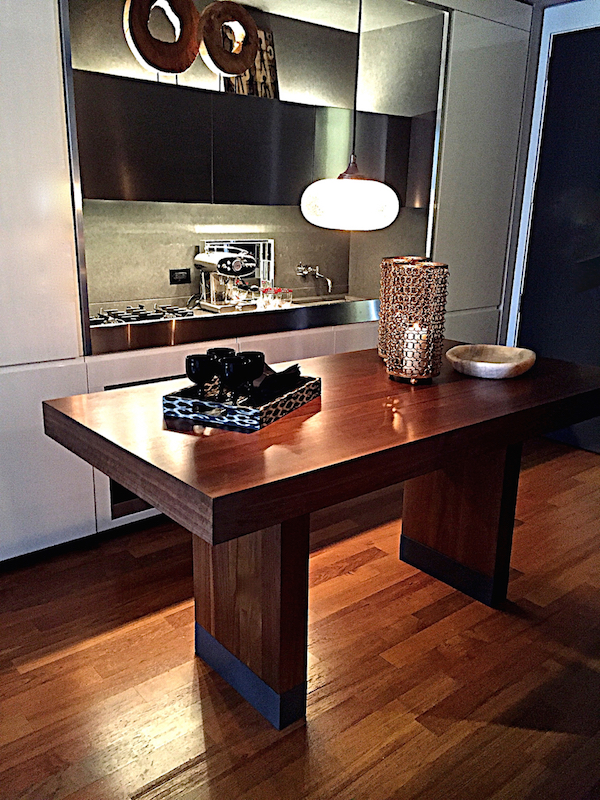 From hanging art to customizing furniture, John "Jack" Zuerlein (aka Handy Jack – handyjacknyc@gmail.com) was an essential member of the shophouse team, on call throughout the set-up to help the designers with all their needs. Below, he had just finished raising the table, above, to accommodate Antonino's design.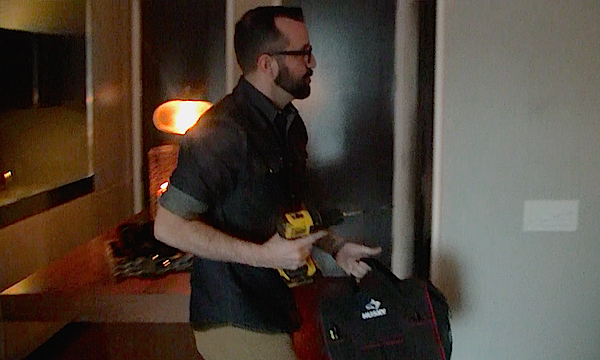 Jenny J Norris took full advantage of Mitchell Gold + Bob Williams' wide ranging offerings to design a worldly bachelor pad. Loads of light with amazing views inspired her to keep the main living space clean and open. You get a glimpse of the sleek modern kitchens in the building which are furnished with sponsor Illy espresso machines and coffee.
A sophisticated cool gray palette throughout connected the rooms, allowing the furniture and great selection of art photography, from Jenny and others, to shine.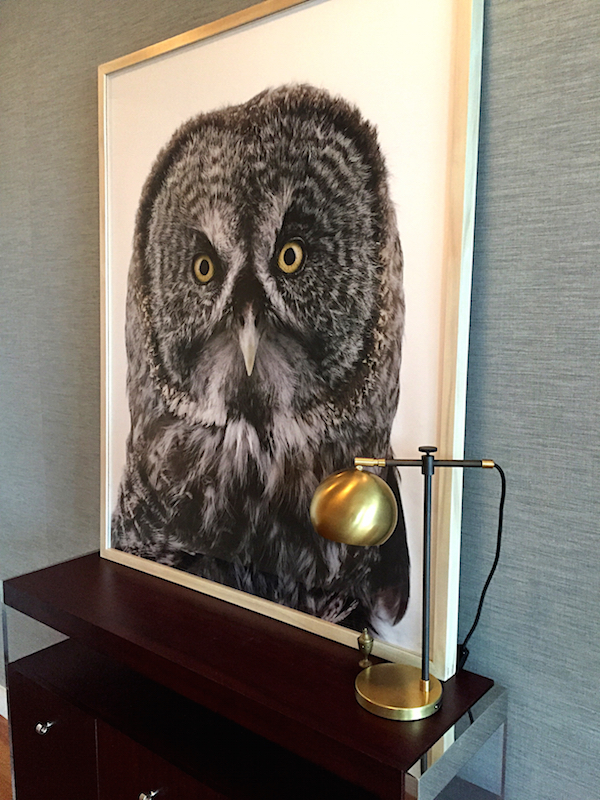 Jenny mentioned she's been drawn to dark bedrooms lately and hers is a lush lair of mixed textures and layers.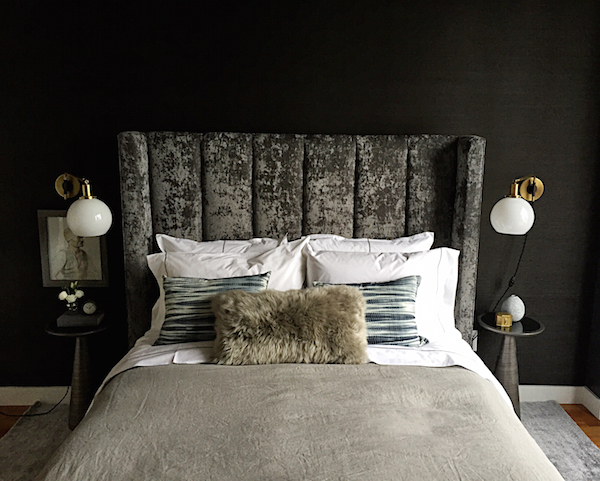 Jennifer Hunter and Georgie Hambright of J+G Design, partnered with Thomasville, designed an upbeat colorful apartment full of pattern and cheer. It would be impossible to be in a bad mood here! With such open views, it was handy that sponsor Hunter Douglas made custom window treatments for each apartment.
photo Brittany Ambridge/domino
Tailored yet relaxed, the designers approached their apartment with an eclectic eye. Glam touches mix with simple shapes and accoutrements for a youthful and fresh flair.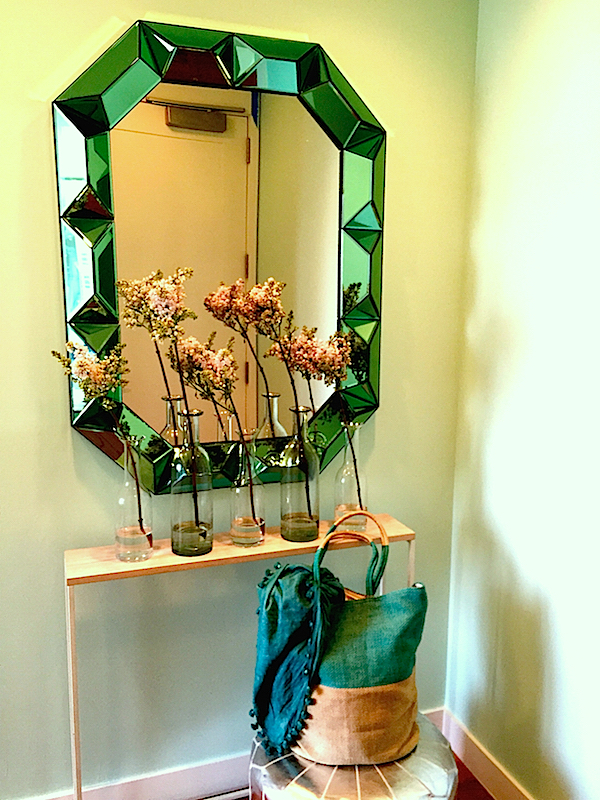 Thoughtful touches in pretty vignettes show how the details count.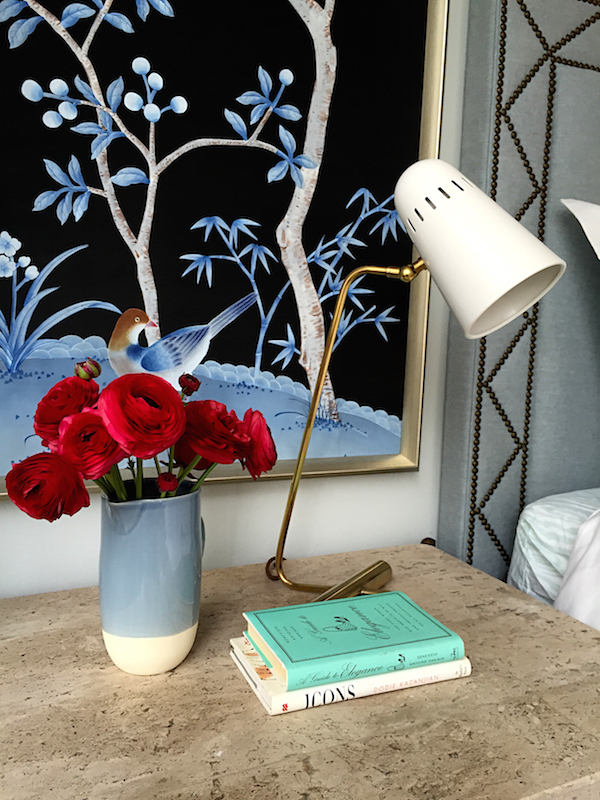 Open to the public through September (by emailing shophouse@elliman.com), the Domino Shop House will be featured in the magazine's summer issue and on the website, where each apartment will be shown with a list of shoppable products. 15 William is a fully appointed building with amazing amenities from a rooftop lounge with catering kitchen to screening room, children's playroom, fully-equipped fitness center, indoor lap pool, squash court, covered outdoor dog run and more. Susanna and I both remarked on the appealing lobby with (soon to be filled) library and reading area.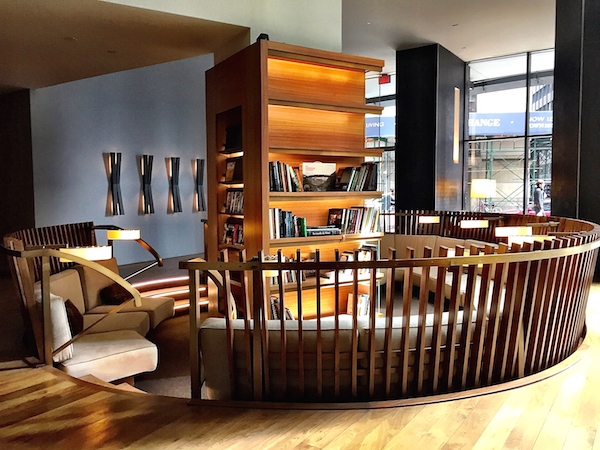 And for those who fall in love with an apartment and one of the designer's visions, each is available to be purchased fully furnished.
all photos by Quintessence unless otherwise noted