Not only is my talented video partner Susanna Salk an insightful interviewer on our YouTube series, but a creative and prolific author. In her latest must-have tome, The Power of Pattern, just out from Rizzoli, she shows us the endless possibilities that pattern can bring to our spaces. As Susanna explains in her introduction, "it eventually became clear that the common element in a fabulous room, besides fearlessness and function, was, more often than not, pattern."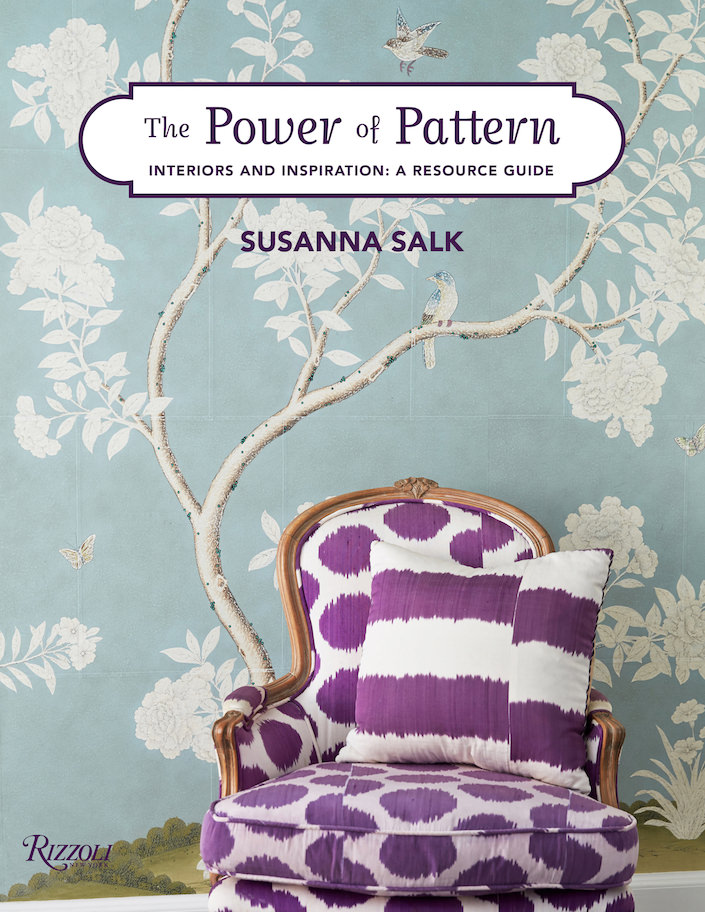 Whether wallpaper or fabric, floral, stripe or chinoiserie, pattern is frequently both the life and the personality in a successful room. And in the book, Susanna gives the patterns she has picked (such as Pierre Frey's amazing Pitaya, below – hand embroidered in India on a base fabric of a handmade ikat jacquard) their proper due, often running them as full pages, interspersed with many examples of how designers have successful incorporated pattern in their rooms.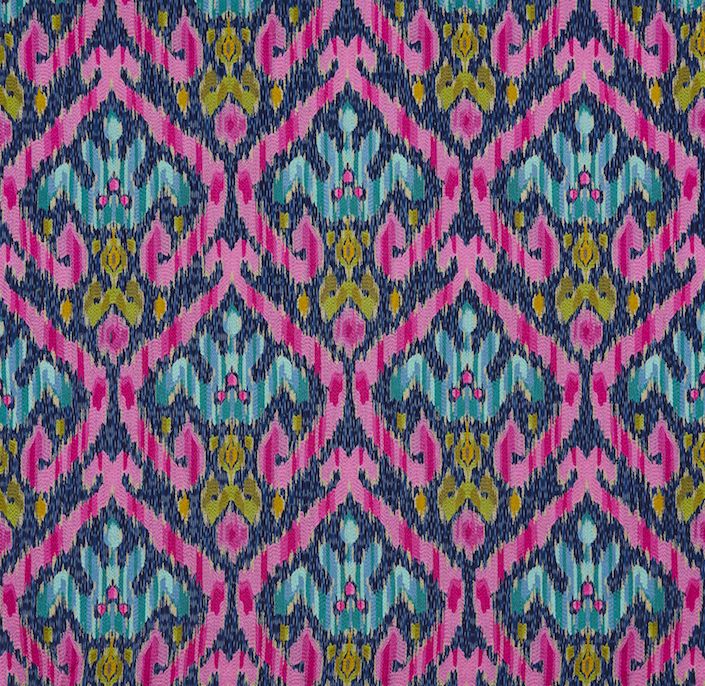 Each of the twelve chapters is devoted to a single category – nature, animal, toile, paisley etc. – so that the book can serve as both inspiration and a practical resource. And within each, there are tips from both Susanna and well known designers on how pattern can enhance a space.
photo by Tria Giovan
The section on chinoiserie, for example, includes Alex Papachristidis' glorious dining room he designed for the 2016 Kips Bay Showhouse, above. Working with Gracie, he customized their historic Ming Garden wallpaper, originally designed by Elsie de Wolfe for the Condé Nast ballroom. Playing with scale and adding pops of purple peonies and butterflies, the resulting pattern has, as Susanna describes, "a decidedly modern and glamorous effect."

photo by Stacey Bewkes
You may think of damask as formal and old fashioned, but there's nothing dated about how Cowtan & Tout's Raphaello wallpaper was used by architect Gil Schafer in this tiny Charleston bedroom to "make up for what the room lacked in size and scale." Photo above by moi, by the way – I was thrilled that a few of my shots made the cut into this fabulous volume!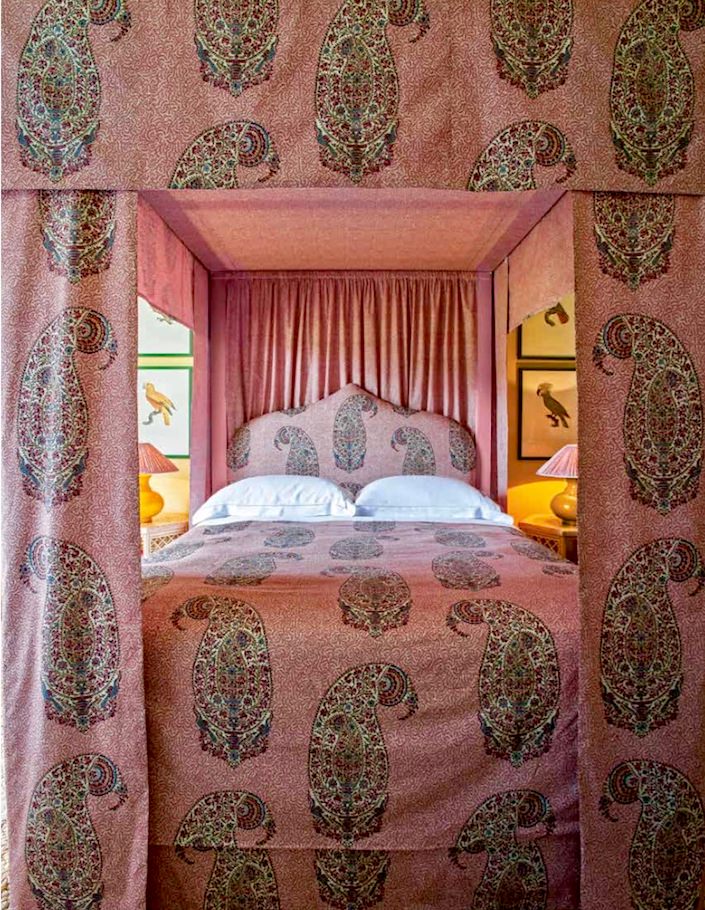 Another example of the effect of scale is Soane's Paisley Parrot, above, featured in the chapter on paisley.  Based on a mid-19th century block printed document, Lulu Lytle turned tradition on its head with her bold design, blowing up the scale while creating an intricate "parrot within a parrot" pattern.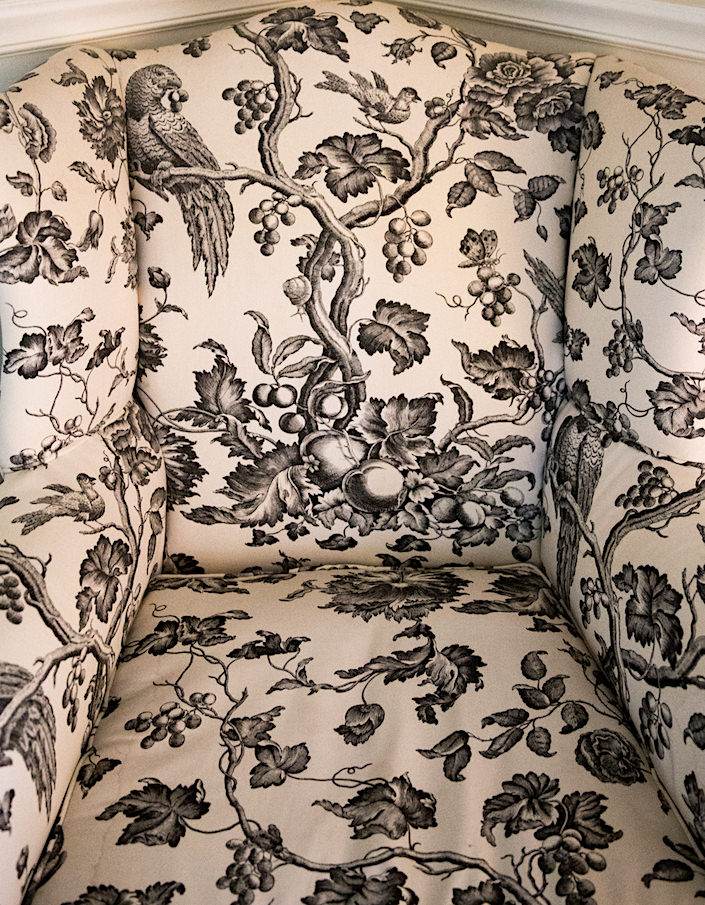 And as Susanna and I are often on the same page, I was not surprised that many of the patterns she selected are also some of my favorites. For years I had wanted to use Bennison's Great Toile, below, that Susanna featured, but never had quite the right space for its large repeat, so instead settled on the English toile, above, the original print from which the deconstructed Great Toile emanated.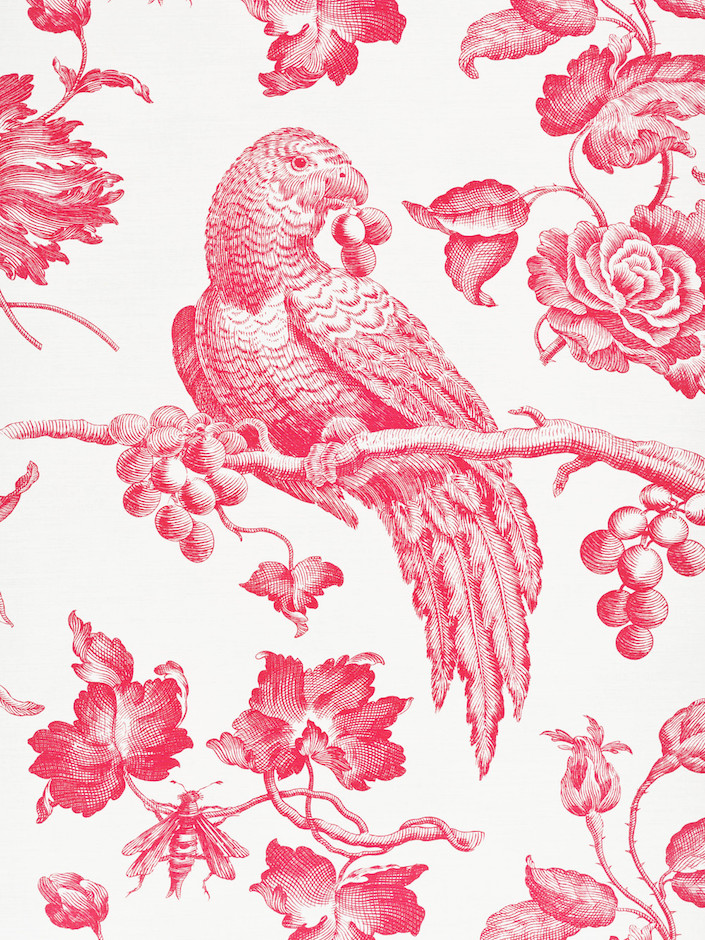 Sandberg's Raphaël (available in the US through Scalamandre) made all the difference in my mudroom and laundry, below,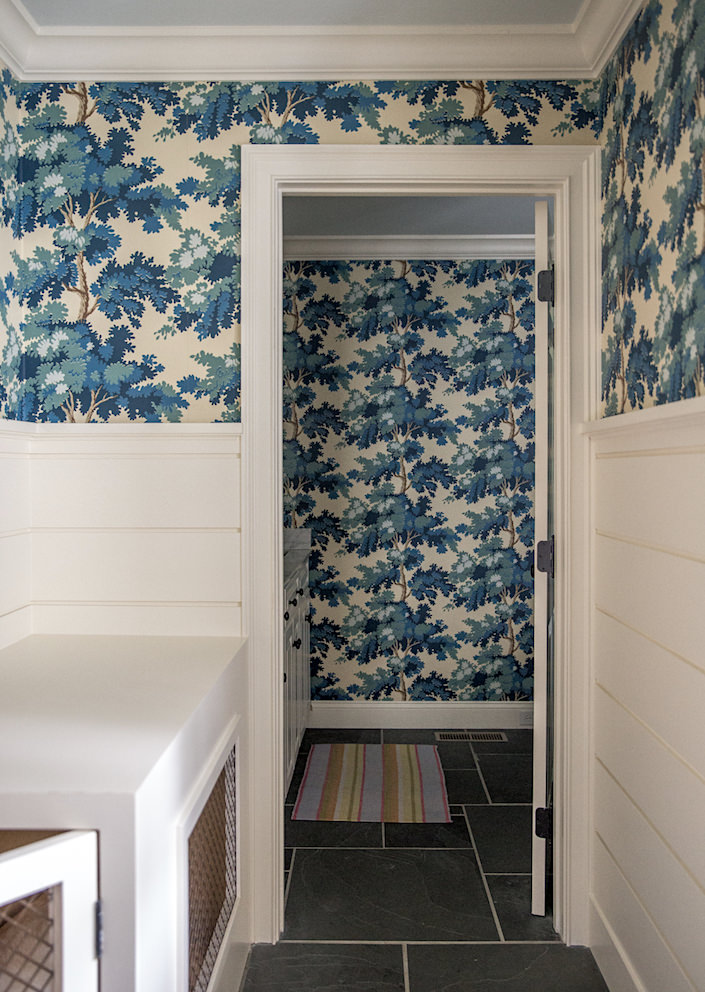 and Schumacher's Citrus Garden by Josef Frank which covers two chairs and an ottoman in my family room, below, is a cheerful fave that is the perfect segue to the terrace and garden beyond. The latter two both appear in the chapter on Iconic patterns, which, as Ashley Whittaker explains, "bring an instant sense of of history, familiarity, and comfort belonging to any room. They feel as relevant today as they did when they were originally designed."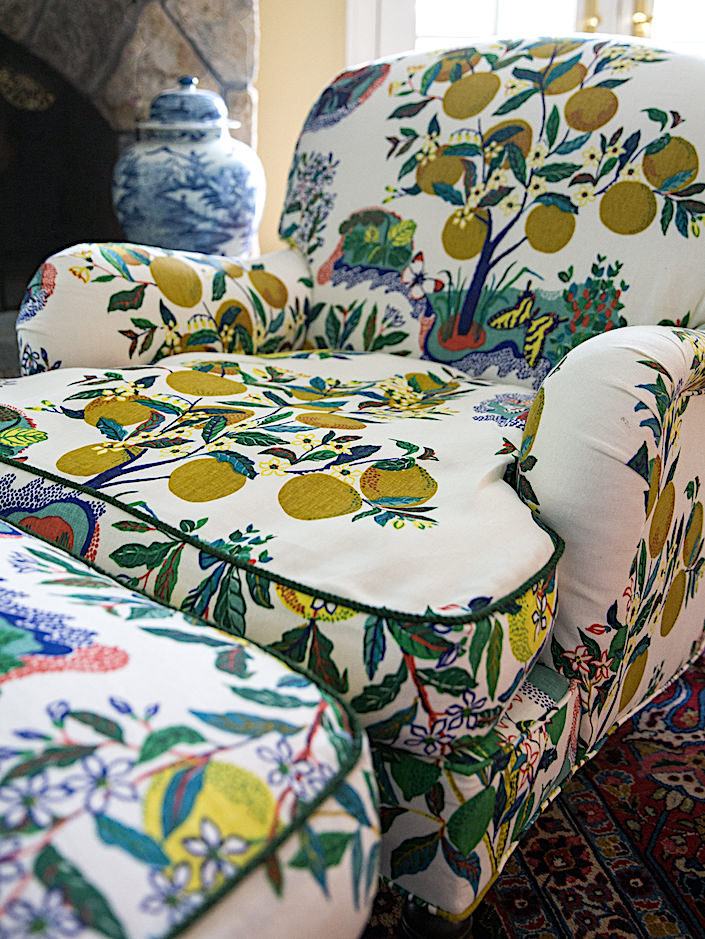 As with all of Susanna's books, you'll find plentiful inspiration and practical ideas to add personality and verve to your own sanctuaries at home. If you've been previously pattern shy, there are subtle examples to sample and for those hearty pattern enthusiasts, many to augment your maximalist dreams. The power of pattern never seems to dissipate or get old – it's a force of design nature!