I have met Amelia Handegan on several occasions and like her work, she is understated, accomplished and full of surprises. She is probably best known for her sensitive work on historic properties, where, with "one foot in the past and one foot in the future," she intuitively melds old and new. These are not staid houses filled with period furniture, but homes that are layered with a fresh touch and sophisticated color palettes.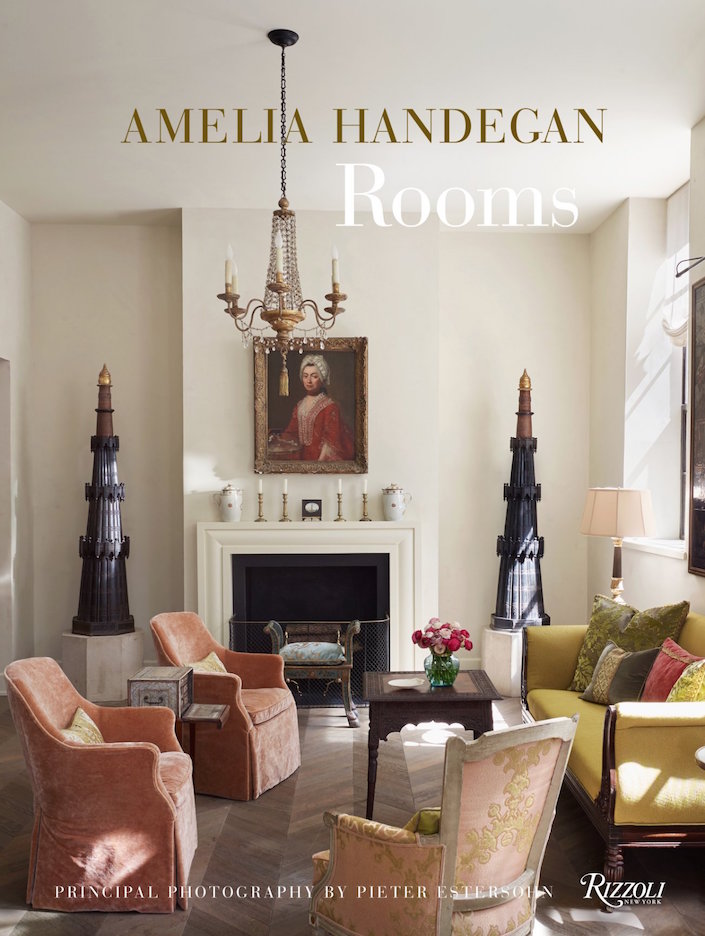 In her new book, Amelia Handegan Rooms, thirteen homes are featured, from classic historic houses, to weekend retreats to Amelia's own apartment in a 1920s neoclassical revival building in Charleston.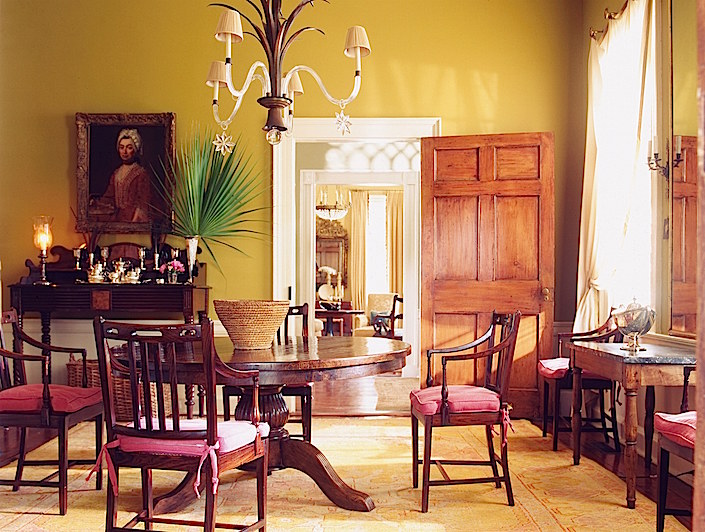 She explains her methodology about color as exemplified in the dining room of an 1820s Greek Revival house in Charleston above, where she employed an "unusual and slightly off-kilter" bronze for the walls. "Just as a composer might play with counter harmonies in a musical composition, I'll deliberately pick a hue that doesn't match the others just to upset the balance and create a bit of a surprise. I think this is often the key to creating a space that appears to have evolved slowly, over time, instead of feeling as though it was stamped from a pattern book."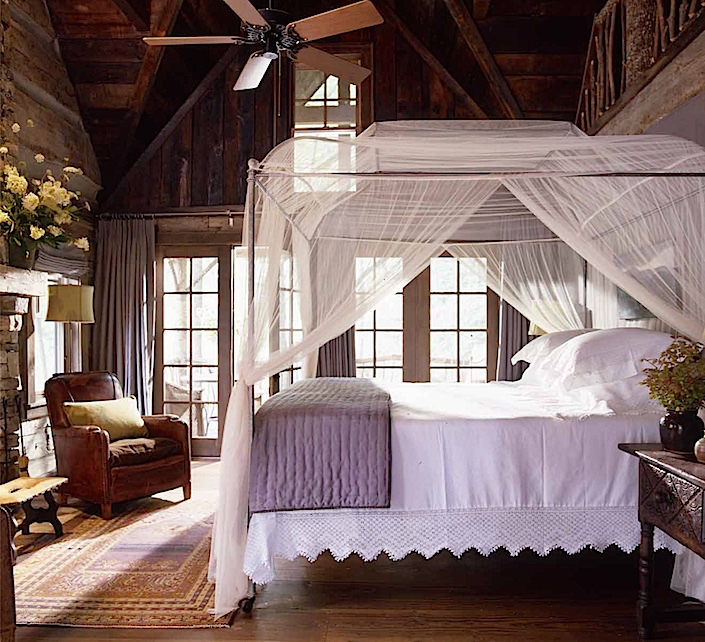 No matter the environment, Amelia finds ways to both enhance the setting and break the rules. In a rustic Blue Ridge mountains cabin, the bedroom becomes a romantic retreat with frothy mosquito netting, lace trimmed coverlet and and feminine touch of lavender playing off the rough dark timbers.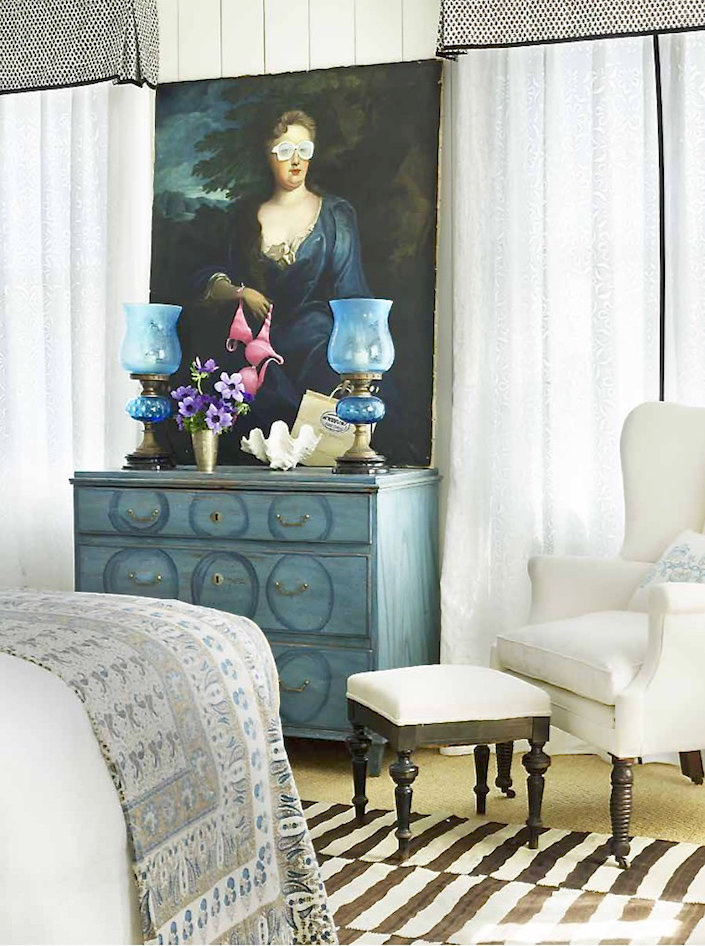 While there is clearly a southern sensibility to most of Handegan's projects, there is also obvious influence from the designer's extensive travels. Nowhere is this more evident than in the designer's own beach house outside of Charleston. I have been lucky enough to visit and can attest to the marvelous mix of fabrics, accessories and collected items that make for a personal and lively home. Above, in a guest bedroom, an 18th century French portrait (augmented with bathing suit and Chanel glasses that Handegan commissioned from local artist Robert Shelton) hangs over an antique blue Swedish chest.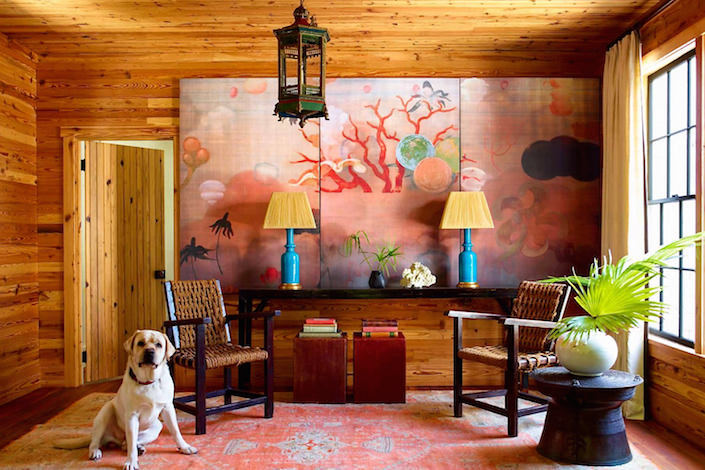 In a renovated 1890 Sullivan Island home, Handegan's generous use of color set the tone. As she explains, "Fine art often provides the spark to ignite a palette." In the entry a fantasy-like triptych by Timothy McDowell inspired her use of bold orange throughout the house.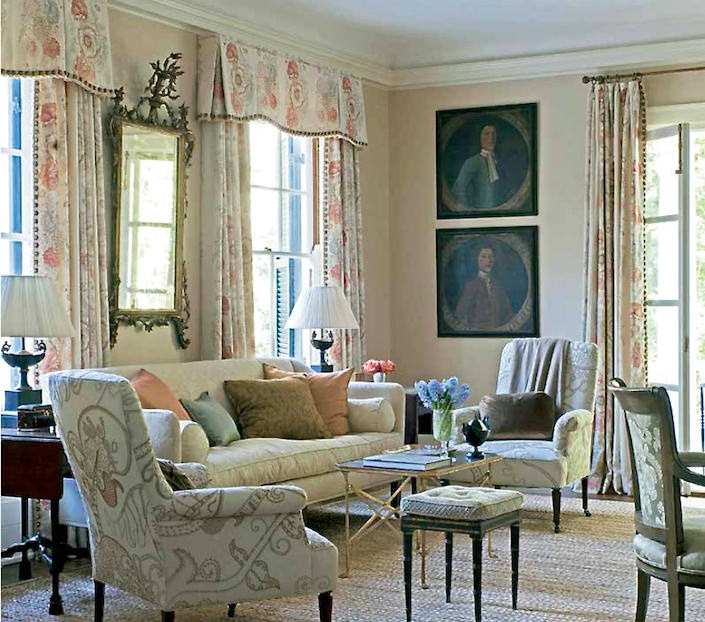 You may recognize one of my favorite projects, The Pillars in Hot Springs, Virginia, from when it appeared in Veranda. A dilapidated 19th century architectural gem, fully renovated by architect Alan Greenberg, the house retains its timeless style with modern updates and conveniences. And while the interiors feel intentionally pale and airy, there are actually twenty distinct colors in the house, initially inspired by the beautiful Robert Kime faded linen in the living room, above. As Handegan explains, "The Pillars' interior illustrates that a classical structure can accommodate a range of furnishings without looking contrived or confused."
all photos by Pieter Estersohn
For a long time client's NYC pied-a-terre, Handegan's color expertise took a dramatic turn. Gold tea-leaf walls by Gracie, floor to ceiling canopy and rich colors and textures lend an exotic Venetian vibe to the room. Whether working with subtle colors in a historic Charleston home or a more playful palette, color is all important to Handegan. "One thing I know for sure: Color, or the absence of color, is of primary importance." That combined with her thoughtful, eclectic mix of furnishings, as seen in her own apartment on the cover, result in rooms that are gracious, comfortable and expressions of the people who inhabit those spaces.