Husband and wife, architect and interior designer, California girl and New York City boy. This combination wouldn't necessarily bode well for creating a house for themselves from scratch. Yet that's exactly what Katie Ridder and Peter Pennoyer did. And not only did they accomplish this feat with rare and exceptional style, but they chronicled the before, during and after in their beautiful new book, A House in the Country. Tag along with Susanna Salk and me for a behind the scenes visit with the couple in their magical Millbrook country home.
Katie and Peter's house is both the sum of their combined talents and the fascinating fusion of very different tastes. The rigor of Peter's architecture and the color imbued layering of Katie's interiors play off each other in unexpected ways, united by a love of detail and artisanal craftsmanship.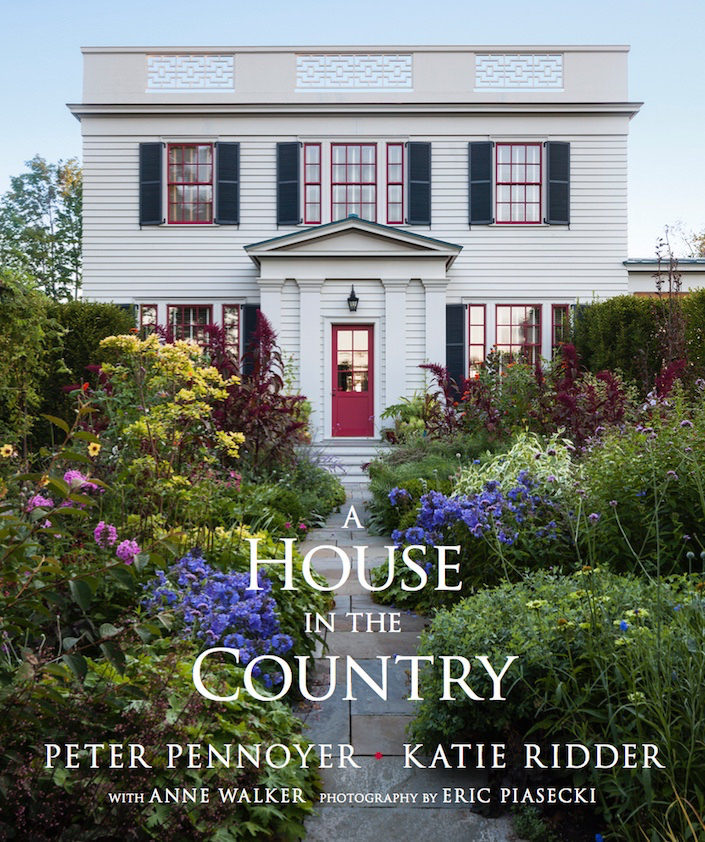 As Peter explains in his introduction, "We found that our essentially different tastes inspired rather than limited our design ideas. We were at our most open and imaginative when working together."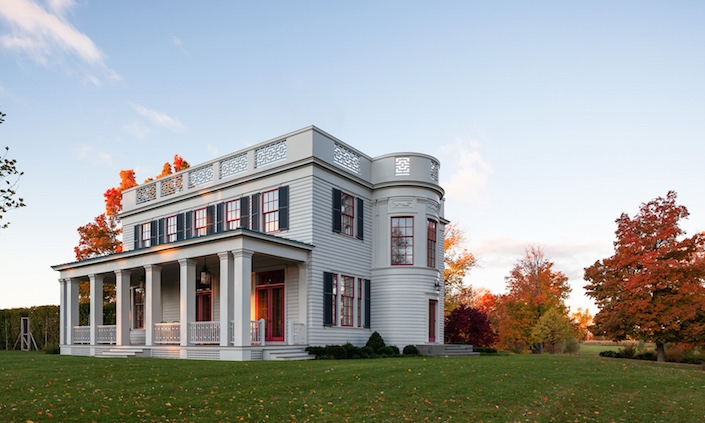 Peter had always envisioned a simple box for the house, one inspired by Greek Revival enhanced with architectural detail. Collaborating with long time colleague Gregory Gilmartin, the house may be a box but it is hardly simple. With four distinct facades, it embodies the spirit of some of Peter's architectural idols – Karl Friedrich Schinkel, Sir John Soane, Delano & Aldrich, Duncan Phyfe and Benjamin Latrobe, distilled down to a final iteration that is at once "vernacular and classical, humble and monumental." And Katie's choice of buoyant red trim and blue shutters offers a dose of whimsy to the elegant elevations.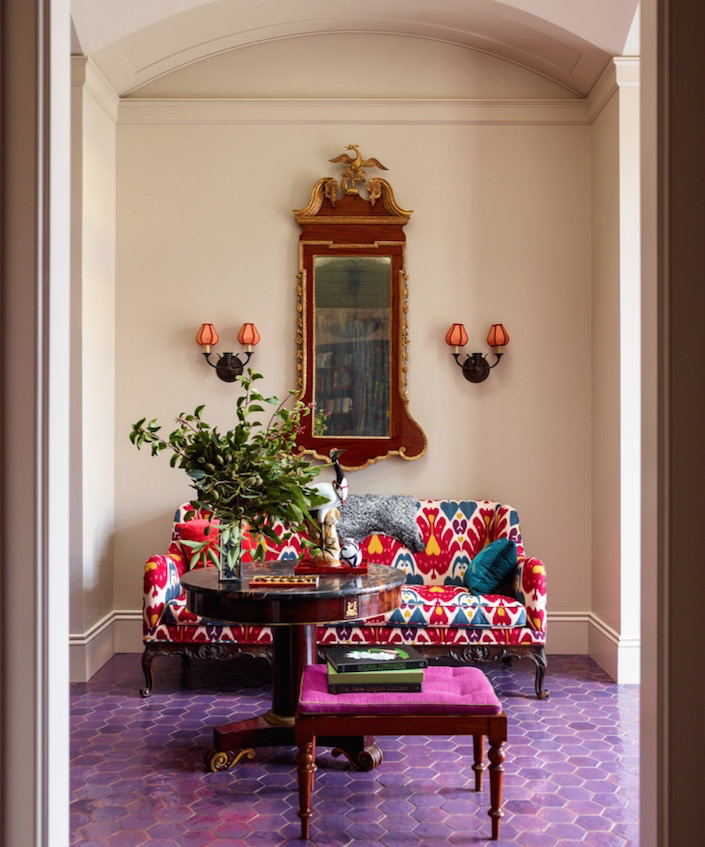 Inside, free flowing rooms, enhanced by Katie's ebullient interiors, belie the complexity of the plan. The vaulted entry, above, features an eclectic mix of purple Moroccan tiles, a fabulous 19th century le Manach covered sofa from Christies and Swedish sconces  with Katie's signature custom shades.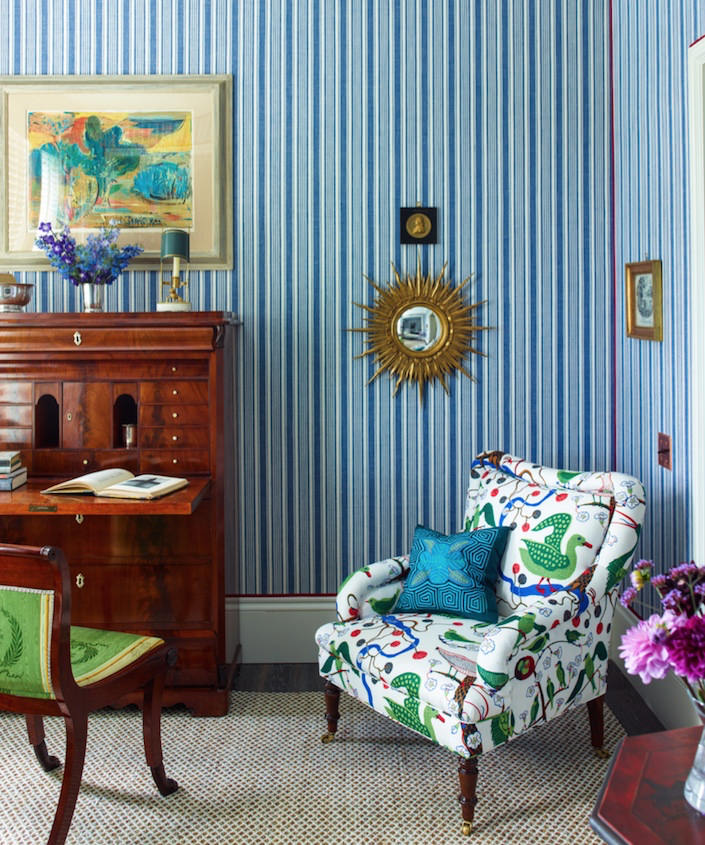 Throughout the house, personal collections and unexpected pairings of old and new yield fresh and fearless rooms. In daughter Gigi's room, above, classic antiques and striped upholstered walls with tailored trim anchor a lively Swedish print on the chair.
all photos above by Eric Piasecki for A House in the Country
Each room in Peter's "box" is connected to the outdoors, where Katie's gardens now thrive. A gatefold spread in the book reveals the layout and key to all the plantings in her flower garden. Her cutting garden, above, includes 80 different types of dahlias, and assortment of annuals, vegetables, herbs, and berries that make for colorful arrangements and delicious dishes all summer long. It is an impressive creative endeavor, as is everything this talented couple has achieved in their beautiful house in the country. So thank you Katie and Peter – we are both charmed and inspired!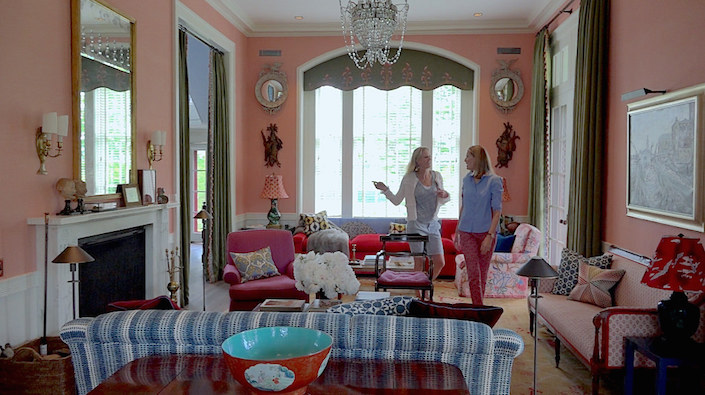 A big thank you to video sponsor Vendome Press, the publishing house who brings you A House in the Country, as well as eight other luxurious tomes this fall. Named after the most elegant square in Paris, this prestigious publisher offers a select list of illustrated books, produced with the most meticulous attention to detail and quality. From The English Country House, Fifth Avenue Style and Palm Beach Chic, to Haute Couture Ateliers and Cartier in the 20th Century to Markham Roberts and Tom Scheerer, each title is impeccably designed, produced and printed. Stay tuned for their new look coming very soon.