Few names have been so inexorably linked with luxury and exceptional jewelry as the House of Cartier. And in a few weeks, the lucky residents of Denver will be able to see in person a large portion of its legacy when the show Cartier in the 20th Century opens on November 16th at the Denver Art Museum. While many of us will not be making the trip to Colorado, we are lucky that the museum has collaborated with Vendome Press and Cartier to produce a beautiful boxed collectible volume.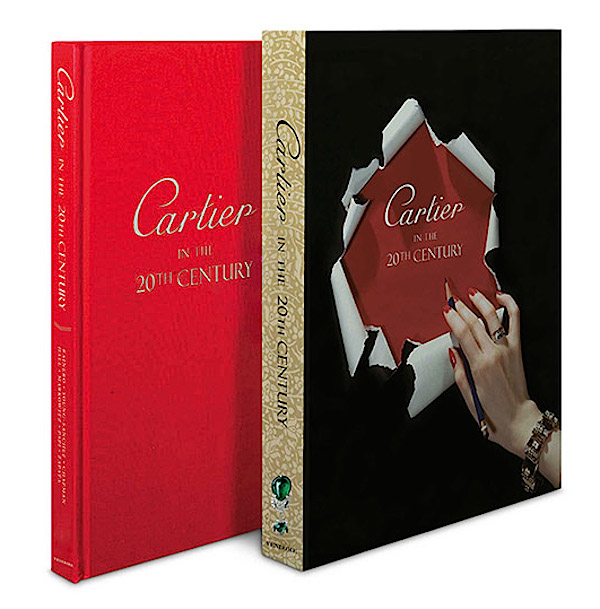 As Pierre Rainero, Image, Style and Heritage Director Cartier, explains in his elucidating introduction is "what sets jewelry apart among the decorative arts … is a declaration of faith." It's this emotional element, the "symbolic and poetic dimension" that jewelry imparts that is so unique. And what Cartier has done so well, is interpret the zeitgeist of an era, with an artistic authenticity and signature exquisite craftsmanship that made it irresistible to those looking for a luxurious expression of beauty.
photo: Nick Welsh
It was Louis Cartier, becoming head of the family firm in 1899, who changed the course of Cartier forever. From his now famous focus on the wristwatch (a 1916 Santos, above – yes you read that date right) to his forward thinking approach to design, he put Cartier on the map as an innovator of luxury. It was his expansive vision that spurred the company to open additional boutiques in London (1902) and New York (1909), cementing their international reputation. Moving away from the popular Art Nouveau style of the time, he oversaw the establishment of the garland style as Cartier's signature. Although inspired by the past, it was their revolutionary use of platinum that enabled such delicate details and transparency as seen in the Stomacher brooch below from 1907.
photo: Vincent Wulveryck
The Cartier brothers were not only innovative in design but in business as well. In 1919, they restructured the company so that each boutique could operate independently, each with its own workshop, focussing on local tastes and trends. The ensuing interwar years produced some of Cartier's most iconic moments. Fashion forward, they left the delicate, historically and diamond focussed designs behind, introducing geometric shapes and bold color and stylized elements, often of fruit and flowers, as in the ruby, diamond and crystal bracelet below from 1926
photo: Nick Welsh
or this spectacular "Tutti Frutti" bracelet (so called because of its mix of rubies emeralds, sapphires and diamonds), purchased by Linda Lee (Cole Porter's wife) in Paris in 1929. She was a very good customer, purchasing jewelry for herself and cigarette boxes for her husband.
photo: Nick Welsh
It was during this era that the American customer base became a vital part of the company's business. From stateside clients such as Gloria Swanson, Elsie de Wolfe and Marjorie Merriweather Post to the newly anointed social strata of Americans in Europe (read Lady Grantham in Downton Abbey), they accounted for a large portion of Cartier's business. Especially large pieces came out of the London shop such as Lady Granard's spectacular diamond and emerald necklace below, made from her own stones in 1932. The American born daughter of financier and philanthropist, Ogden Mills, she married the eighth Earl of Granard and was a regular client of Cartier London. I saw this piece at the Cartier show in Paris and it is indeed a showstopper. You can read more about my visit to the Cartier Style and History exhibit here, which includes many pieces featured in the book.
photo: Nick Welsh
Cartier's oeuvre during this period was not limited to  jewelry. Luxury accessories including purses, minaudières, clocks, cigarette and travel cases were also popular. Truly pieces of functional art, they also expressed the new bold colors and designs befitting an emerging emancipated woman. The spectacular 1927 vanity case below shows the exotic influence of the East seen in many of Cartier's pieces of the era.
photo: Nick Welsh
Louis Cartier knew his post World War I clientele was broadening and included both men and women. "We must make our business to build up an inventory that responds to the moral mood of the public by producing articles which have a useful function but which are decorated in the Cartier style." This included a wide variety of lifestyle products that men could purchase or women, like Mrs. Cole Porter, could buy their husbands while shopping for themselves. While there were more luxurious items such as this early tank from Cartier London, 1922,
photo: Marian Gérard
there was also an entire, more affordable, silver department, including desk accessories
photo: Nick Welsh
or a travel bar kit.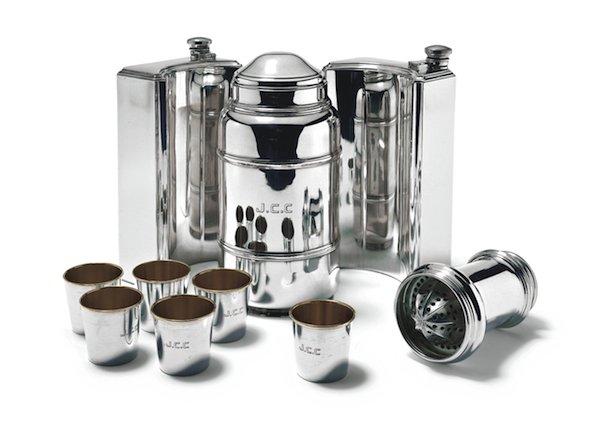 But one category that truly expressed Cartier's artistic brilliance and mechanical innovation was clocks. The exhibit in Paris devoted an entire section to the mystery clocks, so called because of their floating hands within a clear face, seemingly unconnected to any clock mechanism. Several are featured in the book as well, such as the famous Elephant mystery clock from Cartier Paris, 1928. The movement is in a gilded metal case attached to the base of the pagoda, within the elephant's back. The pagoda could be lifted to access the setting and winding mechanism.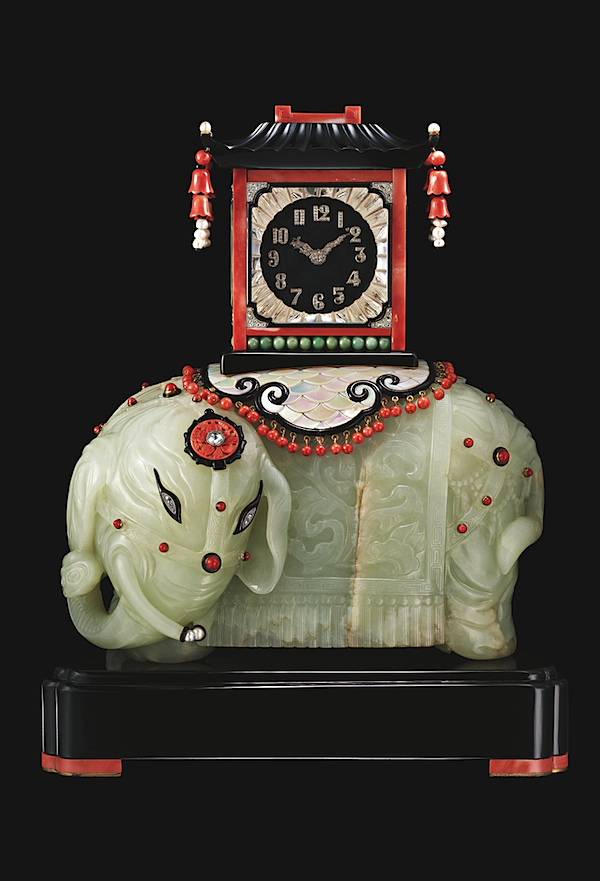 The book takes you through the various decades of the 20th century, tracing the artistic, creative and innovative business strategies that have made Cartier a luxury legacy like few others. A final chapter traces the "Icons of Style" who bought and commissioned pieces from the house over the decades, including the Duchess of Windsor and her famous Flamingo brooch from 1940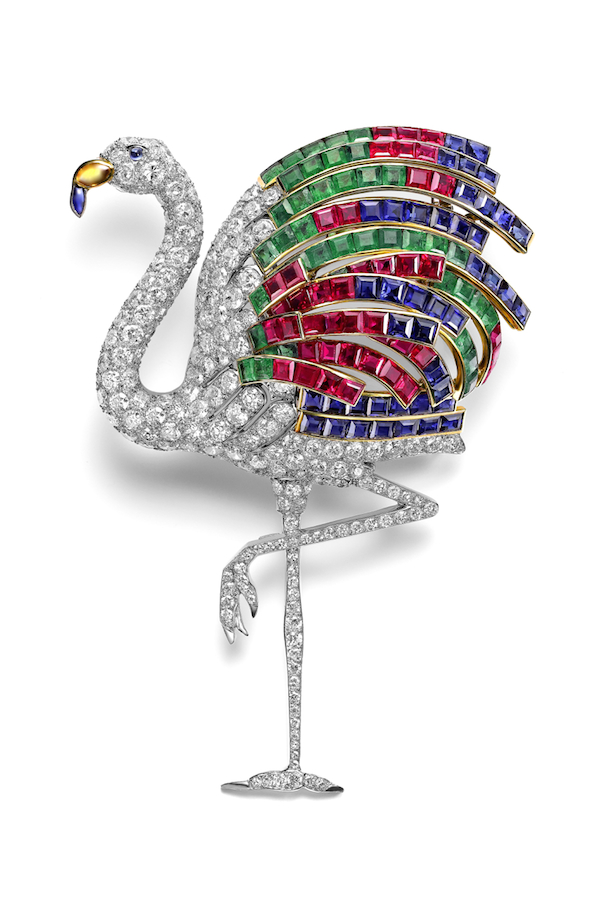 and her specially commissioned Tiger lorgnette from 1954. They fold once at the bridge and again on the end into a tiny rectangle along the tiger's body. A brocade pouch includes the inscription "Please return to HRH The Duchess of Windsor / Reward". Such a trusting soul!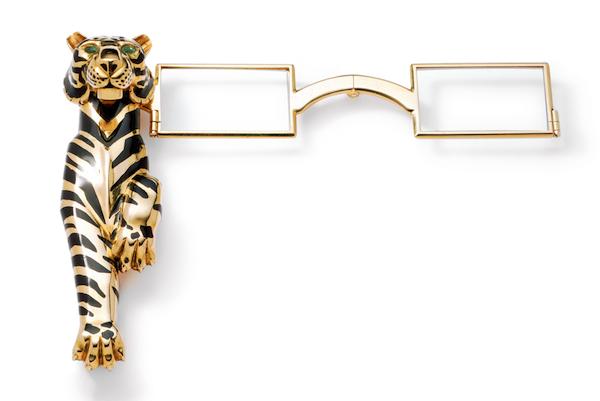 photo: Nick Welsh
Cartier in the 20th Century is an elegantly produced, beautifully photographed volume, that is a must-have for anyone interested in the history of luxury goods, the intersection of fashion, culture and the decorative arts or how one firm, with creativity and innovation not only survived but thrived throughout the last century.