There is a reason the exhibit of Cartier at the Grand Palais in Paris is subtitled "Style and History." While many today may think of the jewelry firm merely as a purveyor of red carpet adornments and the latest "tank,"  it is in fact a house of style, representing  over a century and a half of artistic achievement. This exhibit, the largest since 1989, assembles over 600 pieces and 300 documents, tracing the stylistic history and creative process. Jewelry at its best is functional art and Cartier throughout the eras has indeed elevated its finely honed craft to an art form. In fact, to downplay any potentially commercial aspects of the show, no contemporary works, nothing past 1970, is included. Entering the spectacular Salon d'Honneur, the first station was a revolving display of ten tiaras including this incredible Laurel Tiara from 1930 of platinum, diamonds and aquamarines.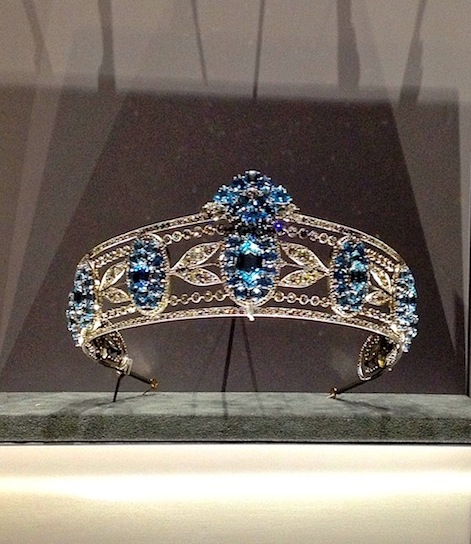 While I didn't get as much time as I would have liked to leisurely absorb the astounding amount of information and decorative arts history, I did manage to capture shots of a few favorites to share. This emerald necklace, a 1932 special order for Lady Granard (daughter of financier Ogden Mills and wife of the 8th Count of Granard) through the London shop, features an emerald of 143 carats. You can see the art deco influences in the geometry of the settings.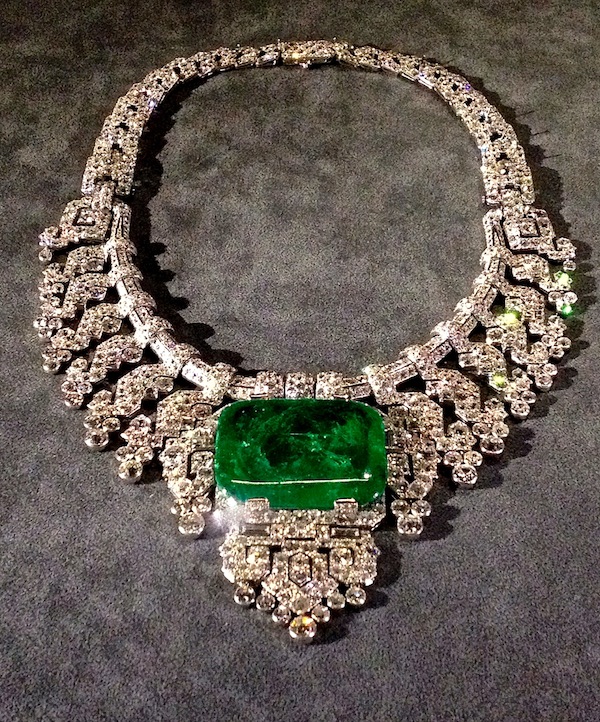 Another special order through the London office in 1930 was this elegant diamond, rubies and pearls sautoir. A trend of the era was convertible jewelry and this piece can be broken down into a bracelet and a shorter necklace.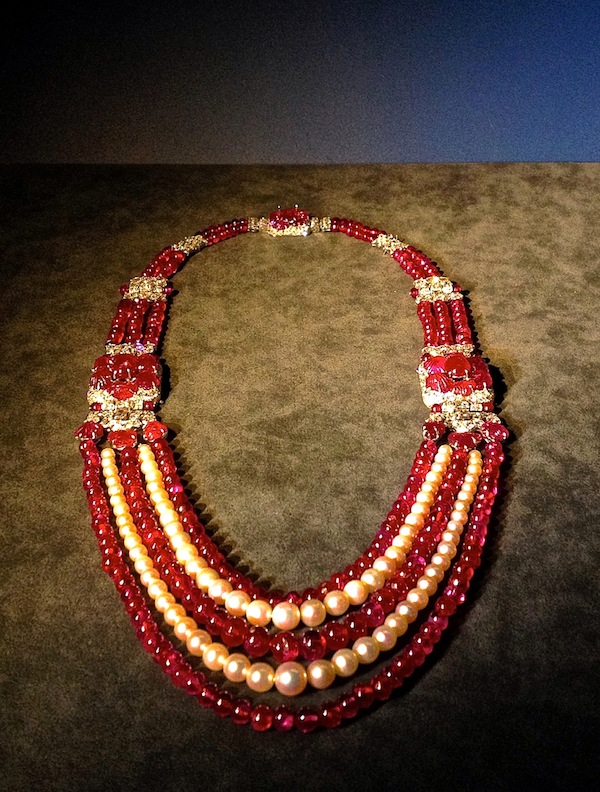 Cartier also designed costumes and bejeweled dresses for the stage including this extravagantly embellished headdress worn by Ida Rubinstein in the ballet Scheherazade performed by the Paris Opera in 1910.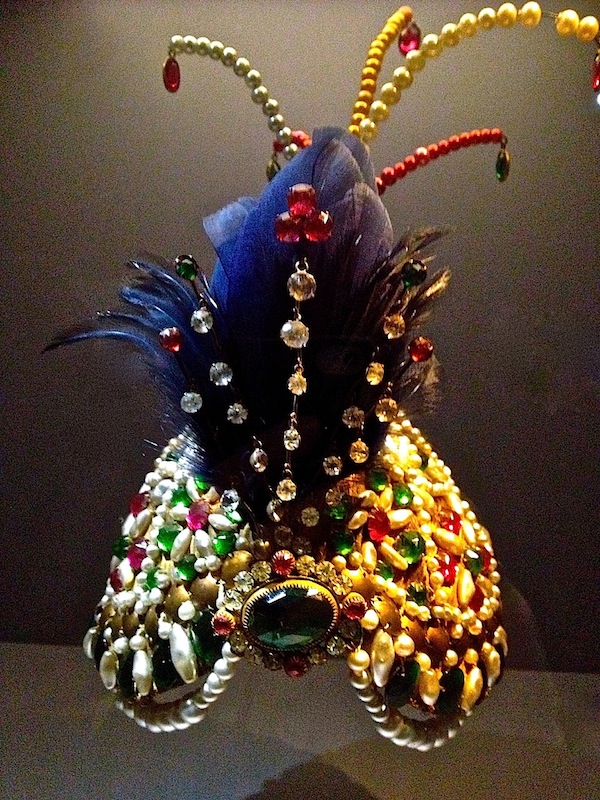 Indian Maharajas were frequent Cartier customers. Their passion for precious stones is well documented and one of the most spectacular pieces in the show is the ceremonial bib necklace designed for the Maharaja of Patiala around 1928. Traveling to Paris with his court and a load of gemstones from home, he commissioned the jewelers to create something that reflected Indian tastes but also modern style.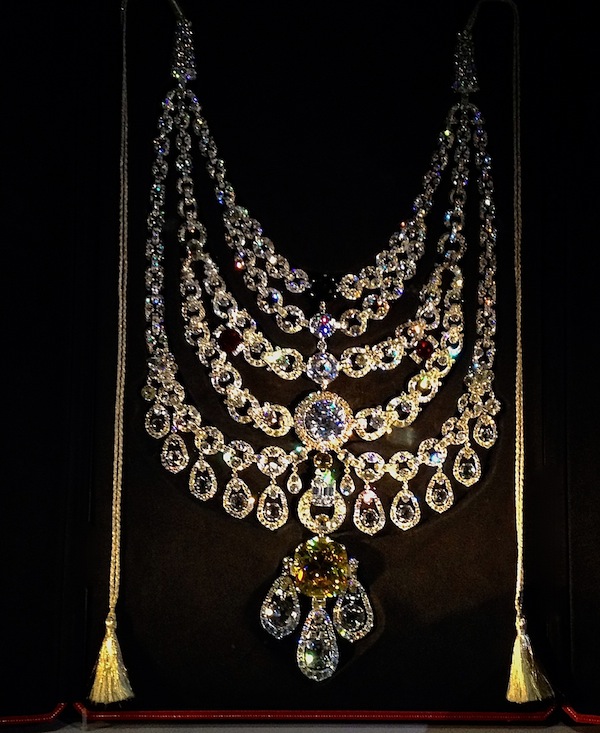 The original necklace, with almost a thousand carats of diamonds, included as its centerpiece the famous De Beers diamond, a pale yellow cushion-cut diamond weighing 235 carats. The photo below, at the exhibit, shows the Maharajah's son, Sir Yadavindra Singh, in 194o wearing the bib. The necklace was subsequently taken apart and some stones sold. When its remains were discovered and identified in 1998, Cartier bought and reassembled it with some replica stones to resemble the original.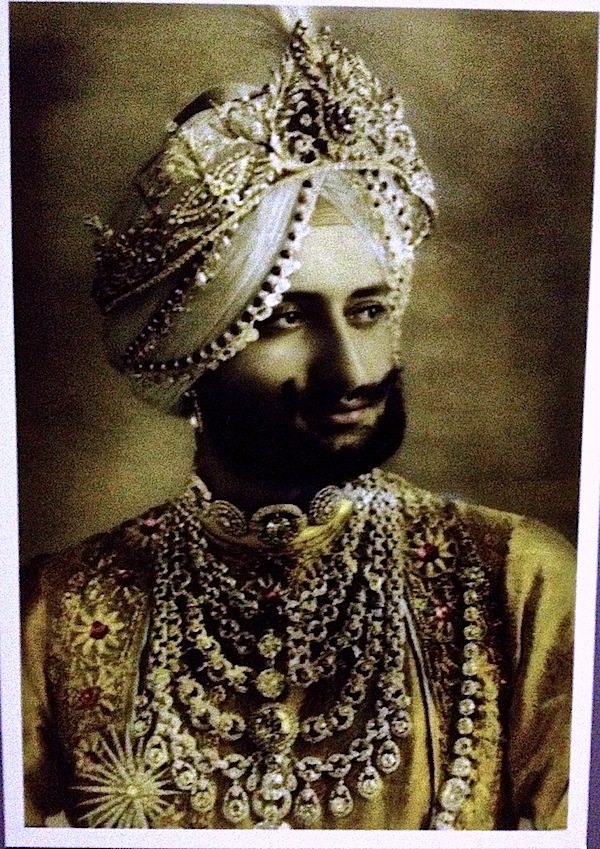 Not only were Maharajas excellent and frequent customers, but the stylistic influence was reciprocal, especially in the 20s and 30s. This Indian style necklace from 1928 was a special order in the Paris store. Amazing how contemporary it looks with its exotic global appeal.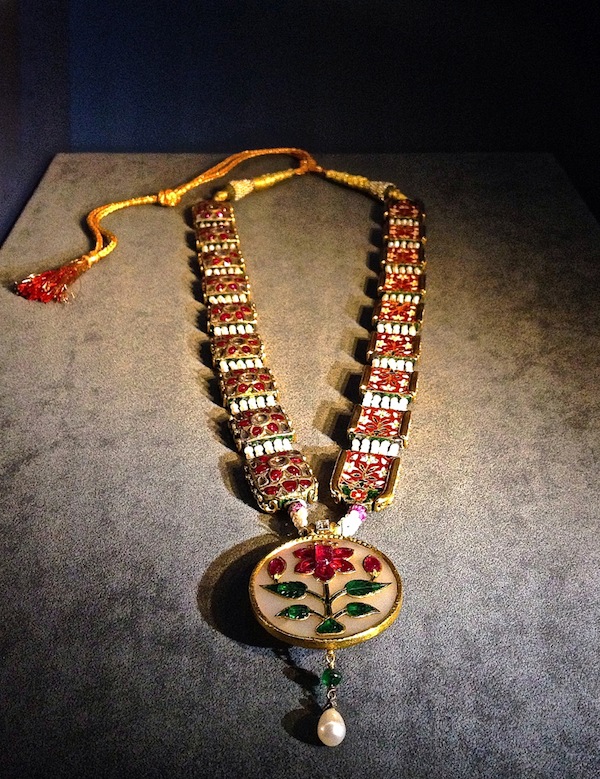 This bib necklace, made for the Duchess of Windsor, another legendary Cartier customer, in 1947, has more of a deco feel.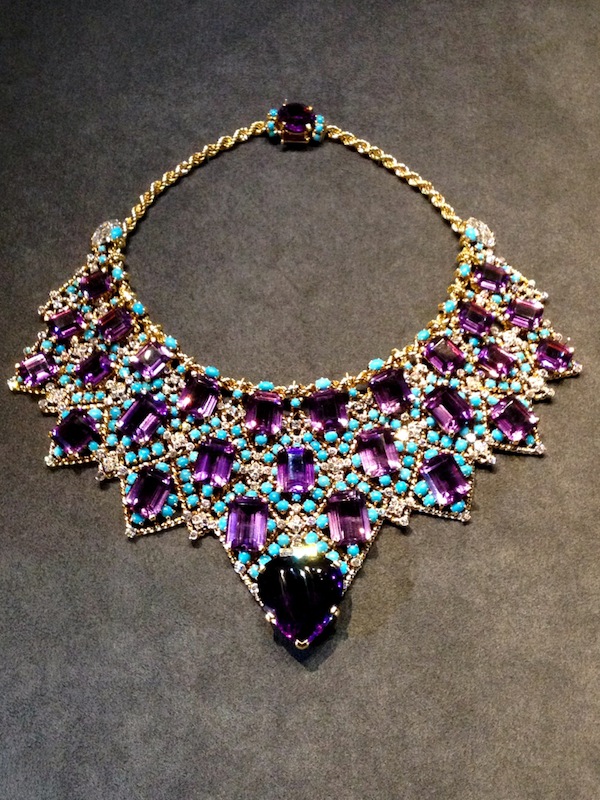 The exhibit includes not just jewelry but also other objets and accoutrements. This charming evening bag, with fantastic coral closure, was made for the actress Maria Félix in 1957.
Ever since seeing a show at the Met several years ago, I have had a fascination with decorative nécessaires. There are several stunning examples in the show including this deco onyx jewelled gem from 1925. With an interior fitted with mirror, lipstick holder and powder compartment, its provenance is prince Sadruddin and princess Catherine Aga Khan.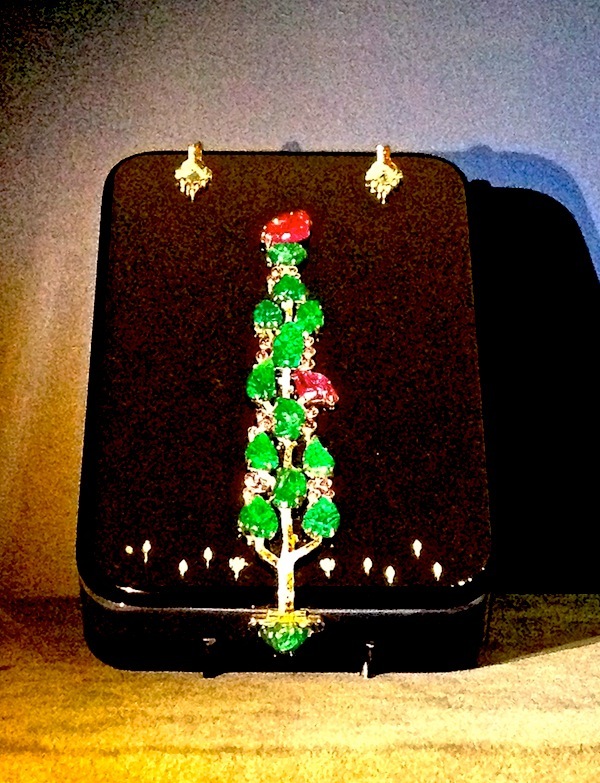 And lest you think the exhibit includes articles only for women, this men's travel case with toiletries from 1927 exudes timeless chic. It just screams elegant train travel.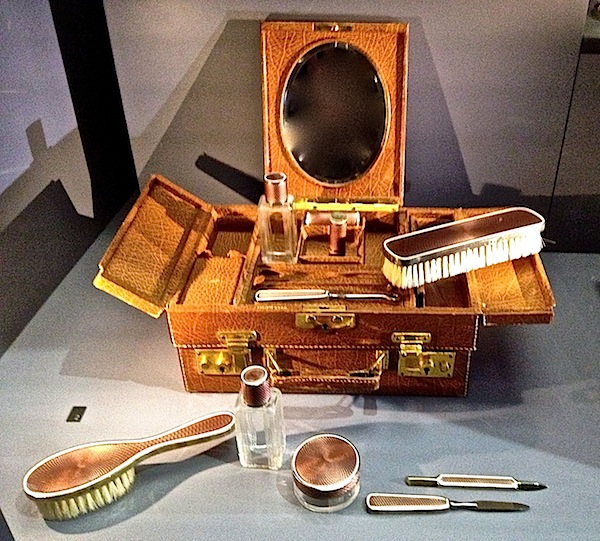 And in the middle of the exhibit is a section dedicated to Cartier's mystery clocks, so called because of their floating hands within a clear face, seemingly unconnected to any clock mechanism. They are not only exquisite pieces of art but brilliant engineering. Here the movement is set in a gilded metal case attached to the base of the pagoda within the elephant's back, accessed by lifting the pagoda  The Elephant Mystery Clock from 1928, incorporates as many did an antique – in this case, a jade 18th century Chinese elephant. This is the ninth in a series of 12 clocks that featured animals or figurines.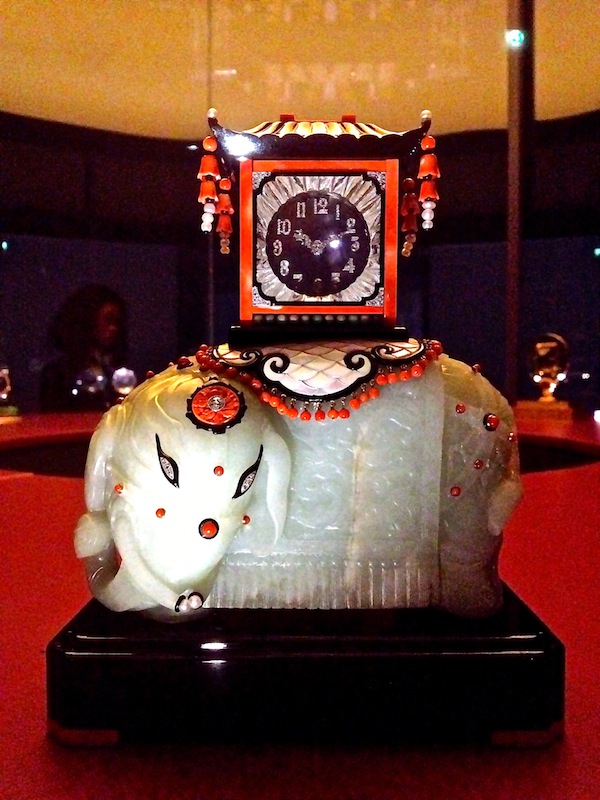 The Chimera Mystery Clock from 1926 includes a 19th century Chinese agate chimera. This was the 6th in the series and the movement is masked by the small piece of coral beneath the chimera with the mechanism beneath the base.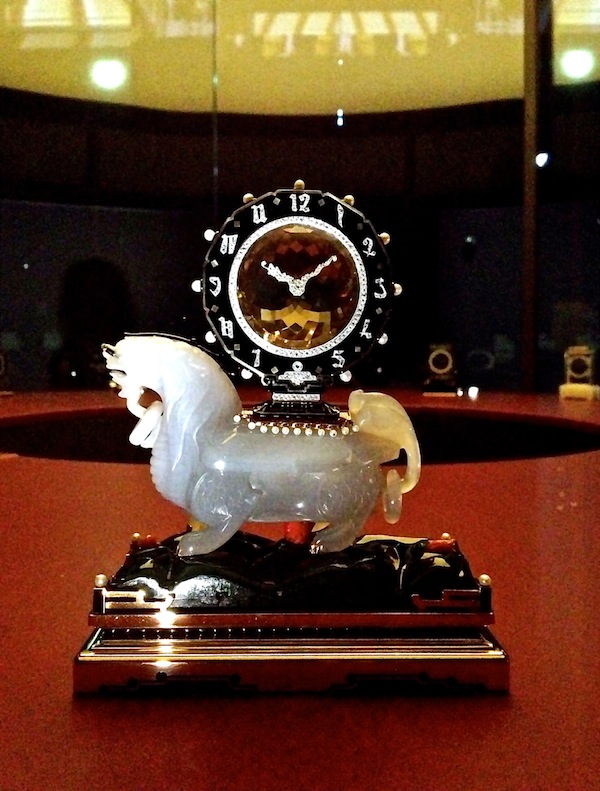 This is a mere tiny sampling of what is included in this impressive show. There are also individual sections devoted to famous style icons and their Cartier jewels, from Daisy Fellowes to Elizabeth Taylor, Wallis Simpson, Princess Grace and Marjorie Merriweather Post. If you happen to find yourself in Paris before February 16th, do make a point of stopping by. It is an exhibit you wouldn't want to miss.
all photos by Stacey Bewkes for Quintessence