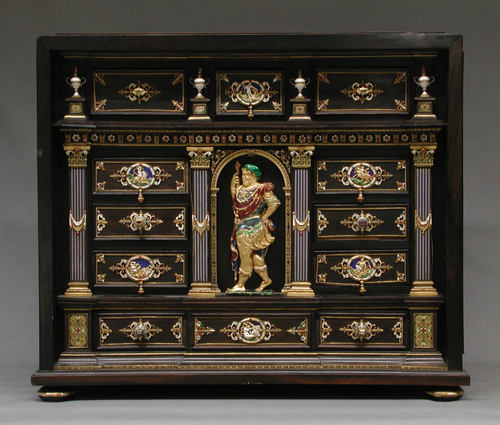 I love how the Met is using items from their collection to create smaller accessible shows that, like their new digital initiative, Connections, creates cohesive themes from different time periods and objects. Last week when I went to the Met with my sister, we saw Thinking Outside the Box, one of these exhibits. It is totally enchanting and we oohed and aahed from one incredible piece to another.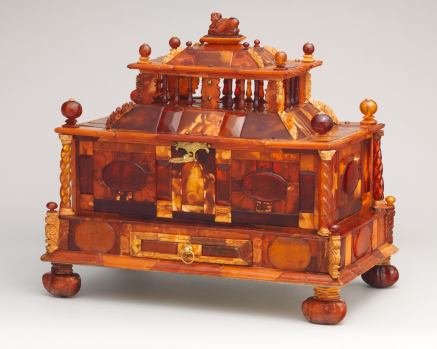 The exhibition includes one hundred boxes, chests and other small containers from the museum's department of European Sculpture and Decorative Arts, many of which have not been on display for years. Dating from 1500 – 1900, not only are these pieces mini-masterpieces in their own right but they reflect so much about the life of the period – stylistically, historically and socially. From travel cases to tea caddies to wonderful nécessaires, the objects represent the best of exquisite craftsmanship. They were both practical yet also collected as cherished works of art, made from all manners of material, often encrusted with gems and exotic components.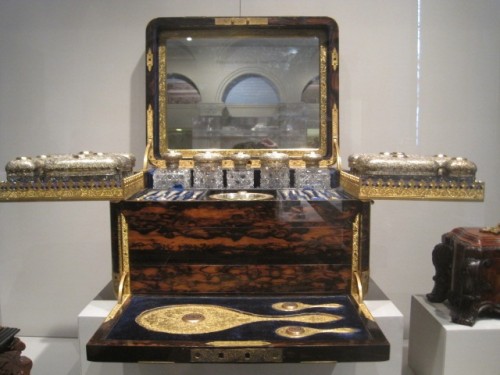 This incredible English toilet set from 1874-75 was one of my favorite pieces. It is superbly made from Macassar ebony veneer on wood, with brass mounts, an interior lined with velvet, leather and silk, and implements of gilt silver, brass, cut glass, gold and enamel. As railroads were built during the first half of the 19th century, train travel increased dramatically in England and on the continent, along with a desire for splendid dressing cases. This magnificent case, containing a spectacular variety and number of accoutrements, is a perfect example.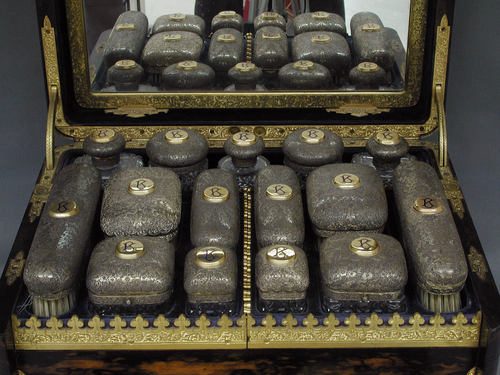 This speaks volumes about upper crust life in England at this time when elaborate dressing preparations were the norm. This custom of housing beauty necessities together started as early as ancient Egypt, leading to the design of chests specifically for that purpose. And although shapes and materials may have changed over the centuries, the concept stayed the same. Think of those elaborate Louis Vuitton or Goyard cases – the idea started here.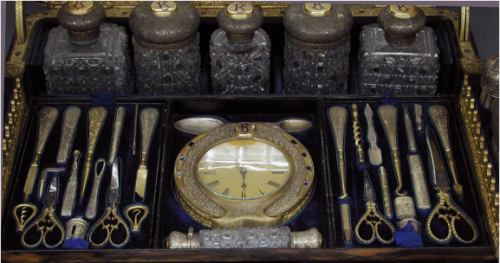 The ritual of the toilette began in the 16th century and was a very serious affair. Take for example the top drawer of the same amazing set. In person it is resplendent with intricate details and elaborate workmanship. Customers were willing to spend fortunes commissioning these usable works of art.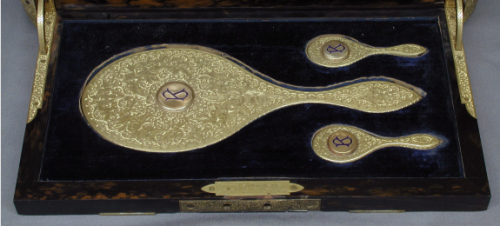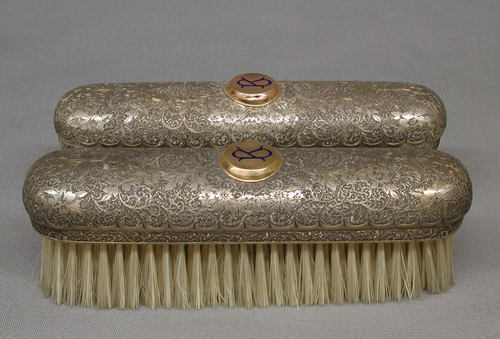 Here you can see the detail of the scroll work on the silver – just spectacular!!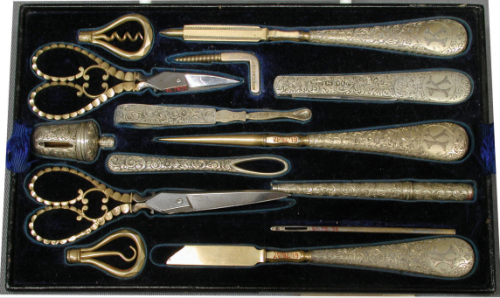 I can't even imagine what many of these implements were for. But the makers of this set could – don't you just love the hand engraving?

This luxurious silver toilet service is something a young 17th century upper class bride might have received as a wedding present from her parents or husband. The owner would have kept this in her bedroom or closet (really more of a sitting room). During this period, Chinese ornamentation was in vogue and the decorations of her closet would have reflected that with blue and white porcelain and other touches of the orient.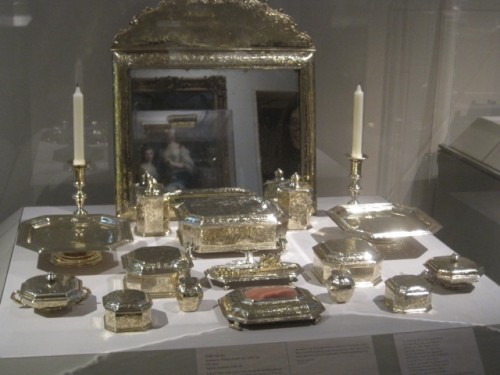 Made in 1683-84, the pieces have just such Chinese scenes chased on the silver, although the silversmith, William Fowle, probably just made the boxes and sent them to a specialist for the decorations. It's amazing that these fanciful engravings look so contemporary in their decorative style. And don't you love the incredible feet? I adore silver and would just love to have such a set displayed on a dresser in my bedroom as a daily visual feast.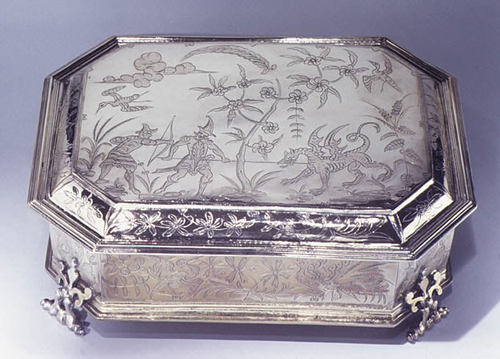 Barely any surface was left untouched. Even the candlestick and snuffers were adorned.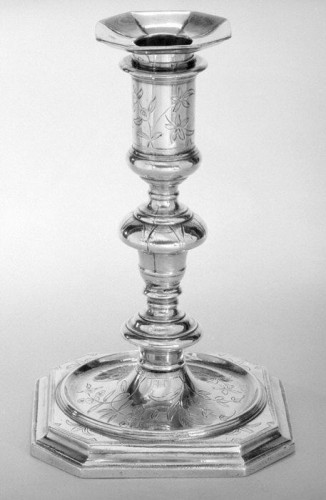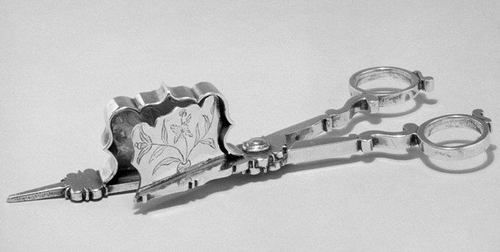 Another favorite was this amazing casket which was made in 1875 or 1876 for the famous R. & S. Garrard & Co., Crown Jewellers from 1843 until 2007. Donated by Mercedes Bass, this piece is made of Macassar ebony, silver-gilt and gorgeous shell cameos. Victorians, never known to skimp on the details, frequently bejeweled their possessions. Garrard must have ordered an enormous number of cameos from a Neopolitan workshop for this case.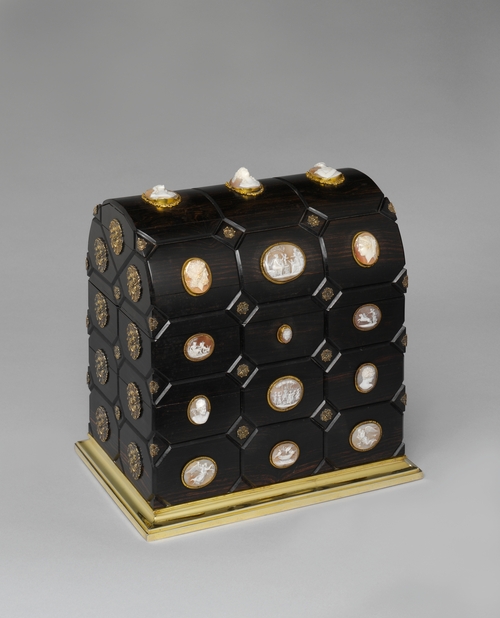 There is an exceptional range of images represented from ancient models to those based on the work of 19th century sculptors Canova and Thorvaldsen.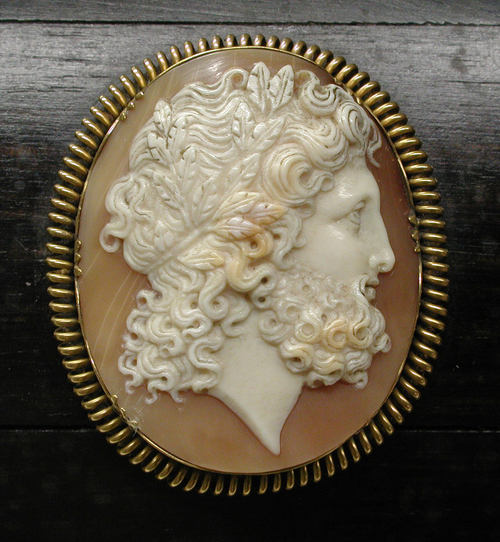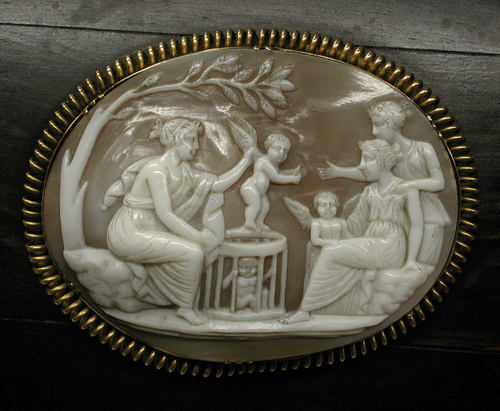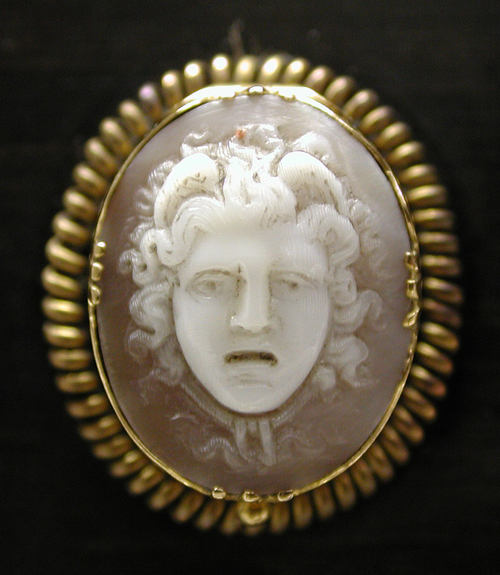 And lastly is this exquisite jewel.
This nécessaire (a small decorative box used to carry "necessary" items) is English from the mid 18th century, made of agate and gold with a velvet lining.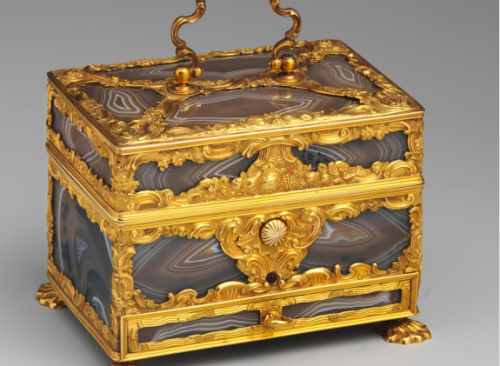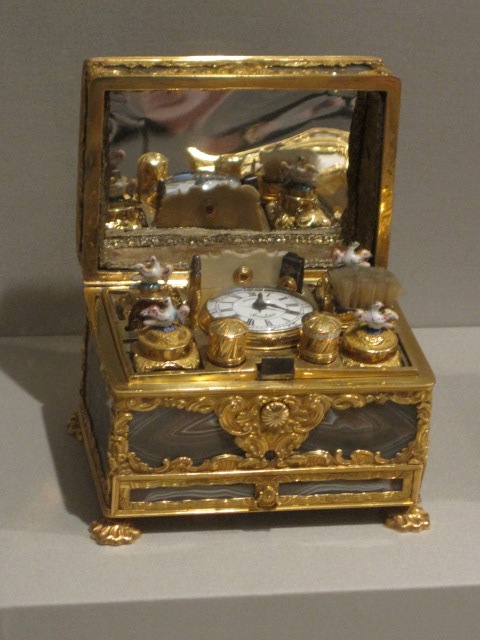 Fitted with a drawer below, it contains a variety of toilet, sewing and writing tools as well as a splendid watch.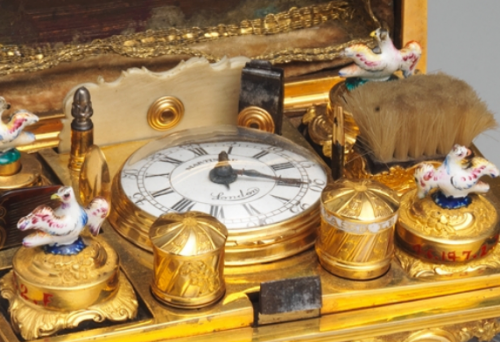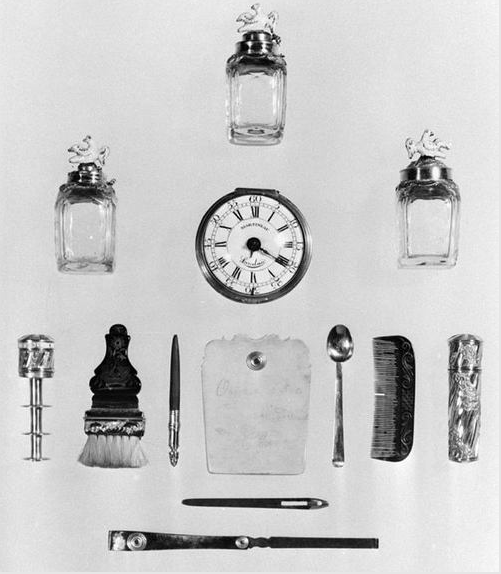 This exhibit was a total delight and so manageable in scale. If you are in the city and have a bit of free time, I highly recommend a visit to see this. It represents another era when the clock didn't tick quite so quickly and beauty was considered essential to every day life.