Decanting can seem a mystery to many. It is one of the issues that has presented itself here in previous posts and that I think people are curious about in genera. Should you or shouldn't you? Is it necessary or even beneficial? Our wine expert Terry Rogers is here to demystify the art of decanting and help you decide whether or not your wine should take the plunge.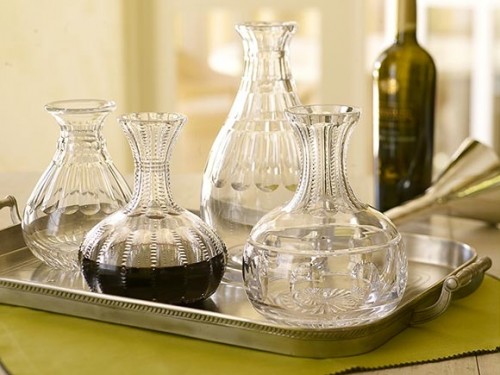 Who actually owns a decanter nowadays? People who live in stately homes, or perhaps the proprietors of antique and curiosity shops? No, not at all. Anyone who wants the best from their wine should own one. Decanting wines is not just for show, and even in this modern age of industrial, fined and filtered wines, some will still benefit from spending some time in a decanter or a larger receptacle other than the bottle itself.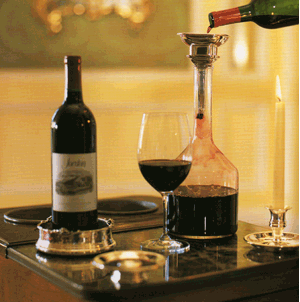 So how exactly do you go about properly decanting a wine? If decanting a wine simply to aerate it and perhaps liven it up a little, simply pour the wine into any suitable receptacle with minimal fuss. By this I mean a young wine that you have just purchased for a dinner that evening; such as a Cakebread Cabernet Sauvignon 2007 ($65).  This wine truly needs to just find itself into a decanter with a large area for breathing or even a water pitcher.  The wine is young, will not mature and will continue to get better in the receptacle and your glass for hours.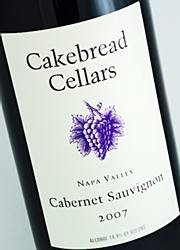 Now if we are decanting a wine in order to remove it from its sediment, there is a simple procedure to follow. First, take the wine from where it has been stored, hopefully lying on its side in a suitably cool, dark environment. If you suspect a considerable amount of sediment, as may occur with older wines, it's advisable to stand the bottle upright for a day or so prior to decanting, thus allowing the sediment to fall to the bottom of the bottle. When the time comes to decant the wine, assemble the few things which you will need. First is the corkscrew. If the wine is very old you need to use what is called an ah-so corkscrew – a two pronged object that fits on each side of the bottle neck that is between the cork and the bottle neck.  With the ah-so you will not puncture the cork for if the wine is old the cork with be dry and can crumble with a regular waiter style corkscrew.  The Ah-so will pull out the whole cork gently. This type of corkscrew has been the wine lover's friend forever as evidenced by these vintage examples.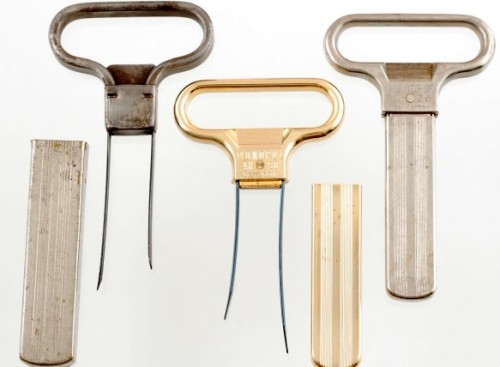 Firstly, remove the entire capsule from around the neck of the bottle, using a knife or other implement. It's important to remove the whole capsule, and not just the top, as you need to have a clear view into the neck of the bottle whilst decanting. This is so you can observe the wine coming through the neck for sediment. To enhance your view of the wine in the neck, position a light source so that it shines through the neck from behind. Once done, you are ready to pour.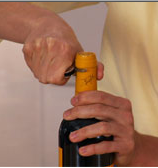 Hold the receptacle in one hand and the bottle in the other, and with a smooth and steady action, pour the wine into the decanter. Don't rush when decanting, rather use a gentle, steady movement, to avoid disturbing the sediment in the wine. Keep the neck of the bottle over the light source, so that you can observe for an arrowhead of sediment moving into the neck of the bottle. This is your cue to stop pouring.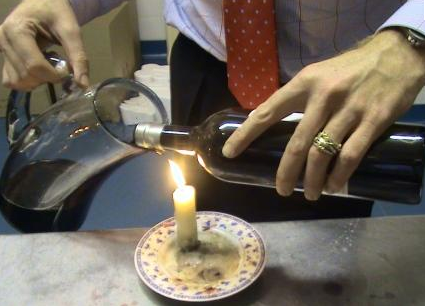 If you've done it all correctly, this should be the end result – a full carafe or decanter of clear wine, with just half a glass or so of sediment-laden wine remaining. This remaining portion makes a great addition to the gravy, should you be decanting the wine as an accompaniment to a roast dinner. (nb from q – my husband is a big fan of this step!)
I am a fan of decanting young wines whether they are white or red.  Every evening when my husband and I are at home and I am cooking fish, veal, steak, etc., I always go to our fine cellar to see what wine is going to work with the meal.  If we are going to have a Burgundy such as an Armand Rousseau 2003 Gevrey Chambertin Lavaux St. Jacques, I know that this producer truly needs some breathing time from its heritage especially since it has been sleeping in my cellar.  Therefore, I will automatically gently open the wine and pour it into a decanter.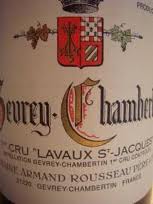 I have a magnum decanter at home that I like to use since it gives the wine even more air time even though what I am pouring is only a 750ml regular size bottle. If you don't have a decanter feel free to use a clean flower vase  or  water pitcher.  If you go to many of the restaurants in the hills of Italy you won't be getting some fine decanter – you will be getting the water pitcher!!!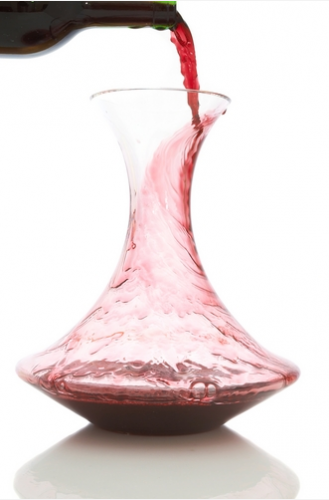 Another way to aerate wine is called double decanting.  You open your bottle, pour the wine into a decanter and then pour the wine back into the bottle and serve the bottle on the table placed in a lovely wine holder.  I never seem to get to use these holders since I have so many decanters at home which I prefer!!  But either method works – the object is the airing.(note from q. – I might use a wine holder if I owned something like this Petaluma neoclassical wine carrier)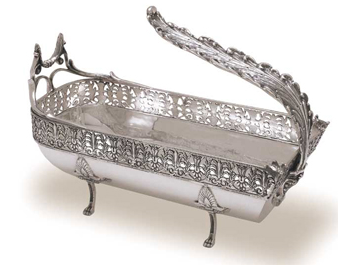 The reason for bottling wine is to stop the fermentation process. So when the winemaker is tasting through the barrels he or she has to decide when to take the wine from the barrel and put it into the bottle. The bottling process takes the molecules down from 300 molecules to 3 molecules and the wine then is ready to go to sleep in your cellar.  This is why the decanting process can be important especially for young wines.
If you are dealing with a wine that has been kept in a very good cellar such as a wonderful  Bordeaux from the mid 1950's (i.e.: 1953 or 1955 – great years) and it is a fabulous first growth Bordeaux such as Ch. Lafite Rothschild, or Ch. Margaux the wine needs gentle airing.  NO decanting.  Just open the bottle with the ah-so as mentioned above and gently pour this beautiful old wine into the special Bordeaux glasses you have chosen for the evening.  As you know, glasses are as important for the whole experience.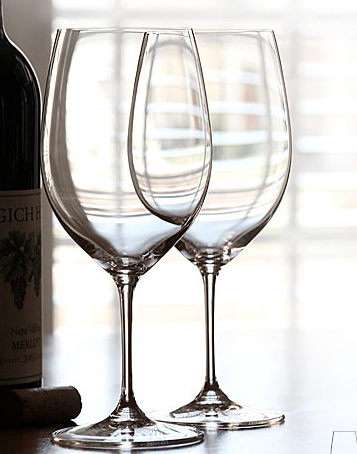 The Riedel glassware is a perfect example of a beautiful way to express the wines.  I like to use the Riedel Vinum Bordeaux for not only young red wine but also white wine!!
Yes, white wine also needs time to enter this world to give us some pleasure.  Now I am not talking about the $10 bottle; but let's say you want to take a plunge into a beautiful Burgundy such as a Chavy Meursault "Narvaux" 2008 (100% chardonnay – $65). (I know, photo shows the 2007 vintage).  This vintage is young and needs some air to show its true flavors.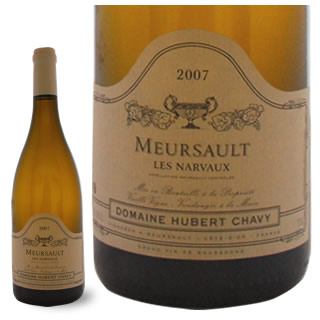 Never feel bad about putting a young wine in a decanter of some large glassware or that water pitcher. Think of wine as a genie in a bottle.  It is a mystery; each bottle is different and you never know what that genie will end up giving to you.
For a young red wine you can give the wine approximately 45 minutes to sit in the decanter before serving your guests.  It would also be a good idea with the wonderful white burgundy to take it out of the refrigerator one-half hour and decant before serving to the guests or just you and your romantic partner. You'll be happy you did.
Thanks Terry! If you decide to up the ante and start decanting your wines, there are many beautiful containers to choose from or even collect. Take for example this pair of  English cut glass decanters from the mid 19th Century.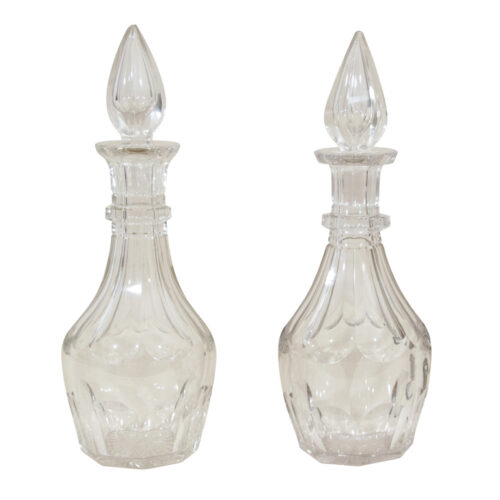 or this lovely Ariadne magnum decanter from William Yeoward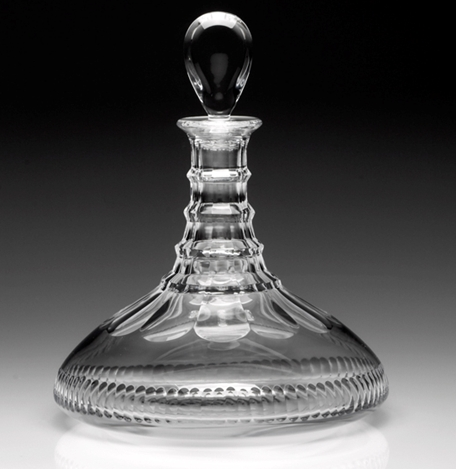 this unusual Amadeo Lyra decanter, produced to celebrate the 250th anniversary of Riedel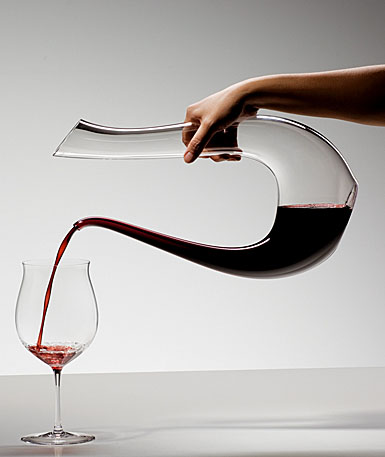 or you can go all out with these French silver and crystal decanters, circa 1900 made by the Paris silversmithing firm of V. Bolvin.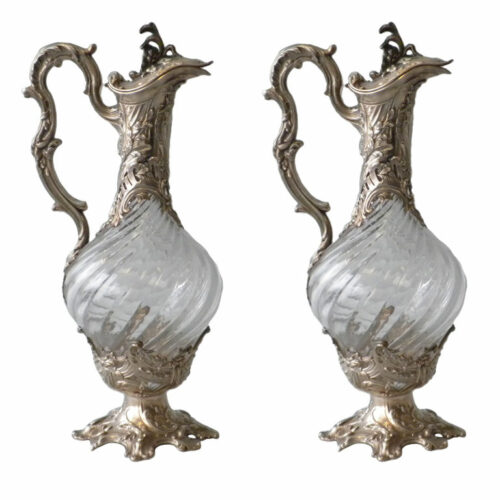 But whatever you choose, remember to follow Terry's advice and no matter what you serve your wine out of, it will surely be tasting better!