While I am frequently touting the stylish mix of the well established with the new, I am not normally referring to firms. But in this case the mix is indeed a stylish pairing of people, as acclaimed designer Jamie Drake and rising star Caleb Anderson have joined forces to create the new firm Drake + Anderson in 2016.
photo: Brittany Ambridge
This merger of talents represents an exciting new entity where each designer will be co-principals of the firm, combining staffs and businesses into a new brand, offering a full range of design services. Known for his vivacious use of color and glamorous interiors, Drake has designed homes for a wide range of clients from Michael Bloomberg to Madonna. His own NYC apartment shows his sophisticated sensibility for creating spaces with a chic mix of art and design.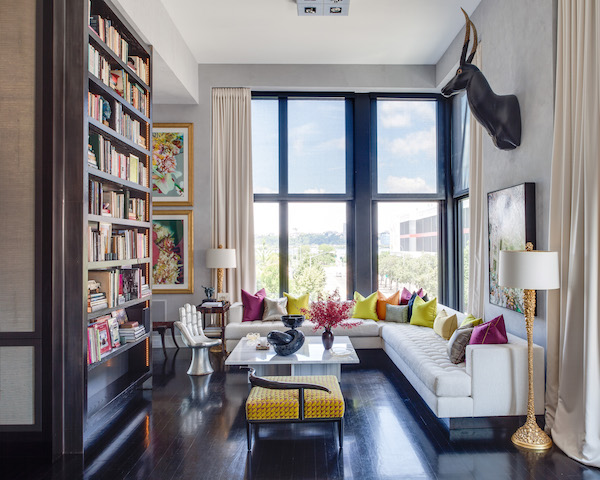 Alexandra Penny photographs on the far wall sit behind a clever bookcase structure that conceals an architectural column. His own sleek cocktail table and sofa designs are perfect counterpoints to the more organic Pedro Friedeberg Hand Chair, Michael Combs antelope head, Fabio Viale table sculpture and floor lamp, gold-leafed by the Alpha Workshops, where Jamie has been a board member for more than a decade. Below, his bedroom for House Beautiful at the Hearst Designer Visions Showhouse included stunning bespoke Venetian plaster treatments of the walls as a backdrop for a masterful mix of shape, color and textures which referenced the Deco origins of the apartment in a totally modern manner.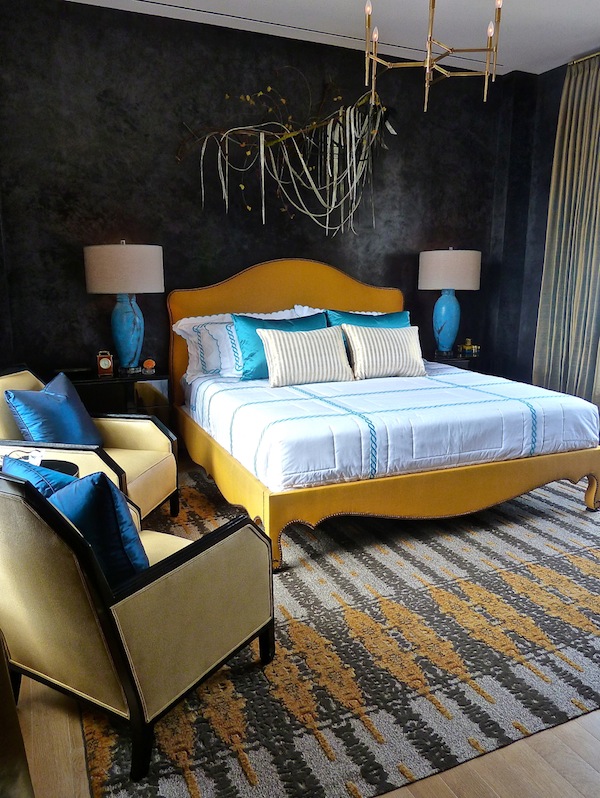 But while better known for his exuberant take on modern and mid-century design, let's not forget how Jamie is capable of a full range of styles, exemplified in his full take on tradition in the 2002 restoration of Gracie Mansion.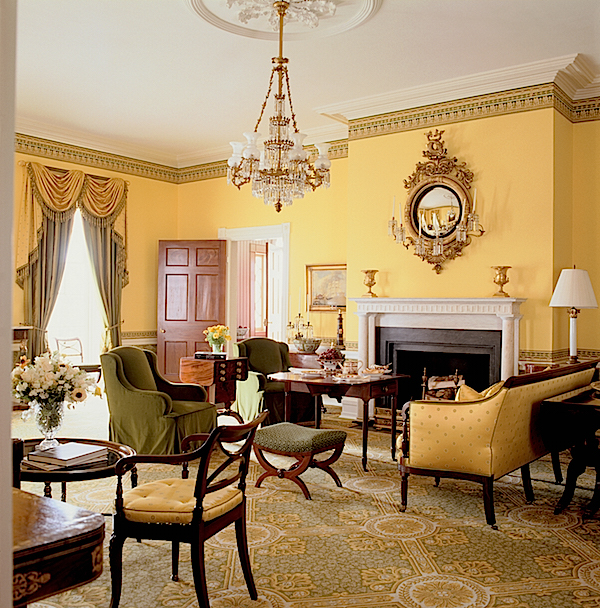 When I asked Jamie what made him decide to partner with someone, he explained, "I've always felt innovation and forward propulsion are essential in my life. As I once famously said, "I hate stagnation!" and that is true. After 37 years in business, partnering with a super talented designer is a way for me to evolve my career in all ways: aesthetically, ideologically and in business practices." And even though Caleb had interned at Drake Design Associates at the beginning of his career in 2008, Jamie considered a broad pool of candidates, as he had a list of specific qualities in minds. "I knew that there were an array of talents to be a true partner. They include great design sensibility and taste, business acumen and experience running a business, a strong technical skill and ability, a personality that clients bond with, and an eye to marketing and branding."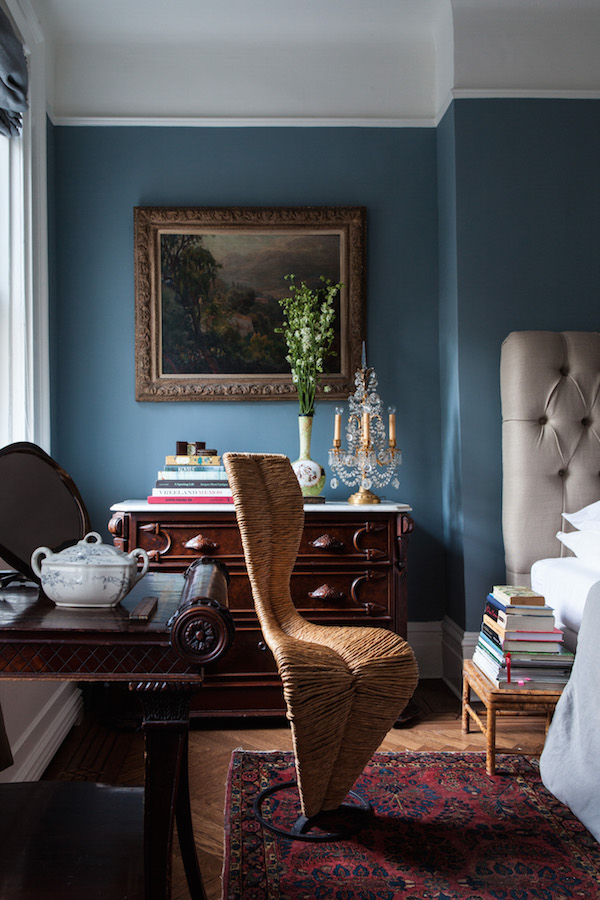 Caleb fit the bill to a tee. Having built a successful firm of his own, his style is elegantly eclectic, masterfully mixing old and new, traditional with avant-garde, all with a refined yet fresh eye. His first solo project, above, paired a Tom Dixon S-chair with the owners' own antique bureau and a sparkling crystal lamp from David Duncan Antiques. In a SoHo apartment, below, the artistic mix includes a lively Antonio Pio Saracino Cervo Chair with John Lyle's glamorous Facet Table (a favorite I wrote about here), a tufted linen sofa and unique floor lamp from Maison Gerard.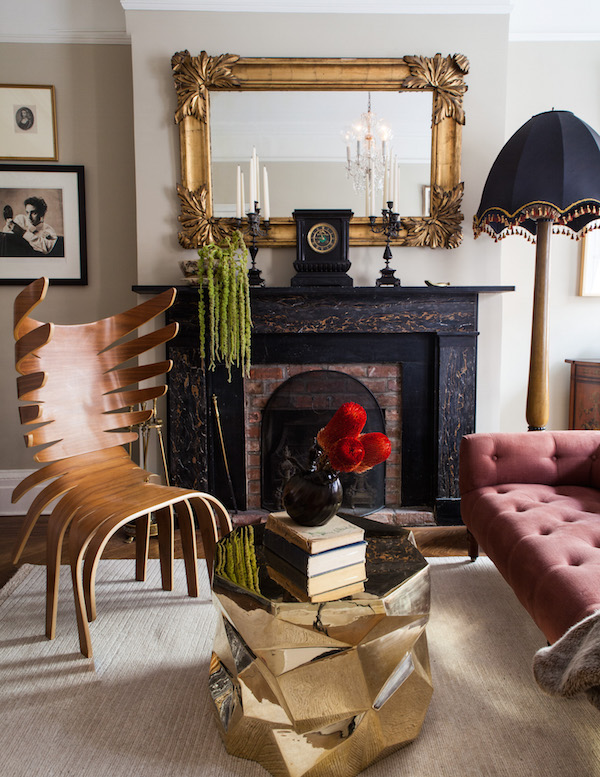 In asking Caleb about the current state of design and where the new firm will fit, he explained, "The interior design industry is ever changing, but the pace is faster than ever now –  people have so much exposure, so much access, to design. It takes something very unique to stand out, make a statement, impress and captivate. Jamie and I both bring different strengths to the table, making us an ideal team. We both make bold, confident choices and know that the most compelling design is the result of risk taking; the same will be true for Drake + Anderson." And Caleb's bold take on design can be seen below in the dining area of a Manhattan apartment where he designed a contemporary brass table, surrounded by the clients' own antique chairs.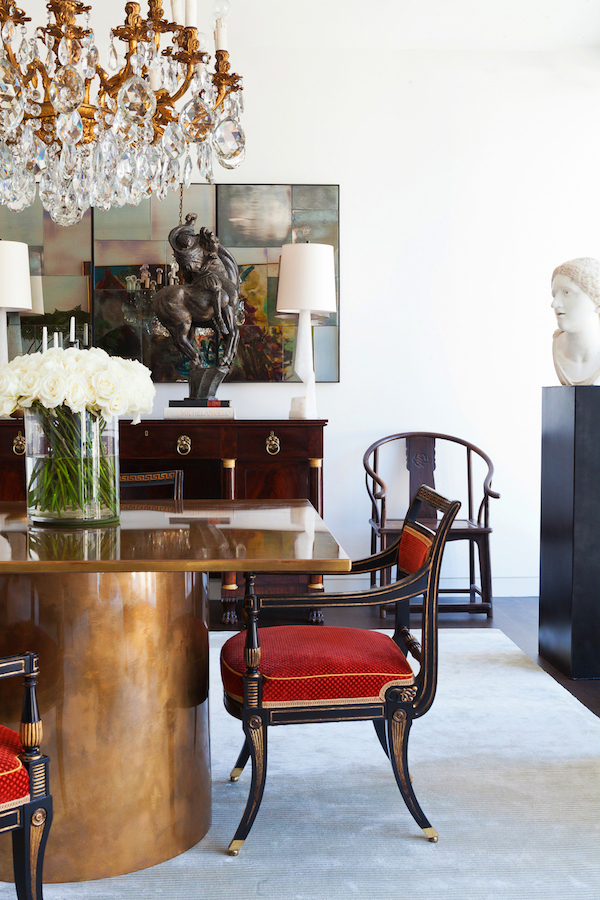 I asked both Jamie and Caleb how they each envisioned a firm of their combined talents. Jamie expressed, "We both love the unique and one of a kind, and the delight of antiques. I see us using more 18th and 19th century pieces, playing up their sculptural qualities and allowing them to take center stage in clean, calm, luxurious spaces. I relish the opportunity to introduce more of these underappreciated pieces into our clients' interiors." It is just this juxtaposition that Caleb created for his room at Holiday House last year, with the graphic geometry of a Mackintosh Hill House chair partnered with a sinuous 19th century Louis XV style bureau plat from Newel.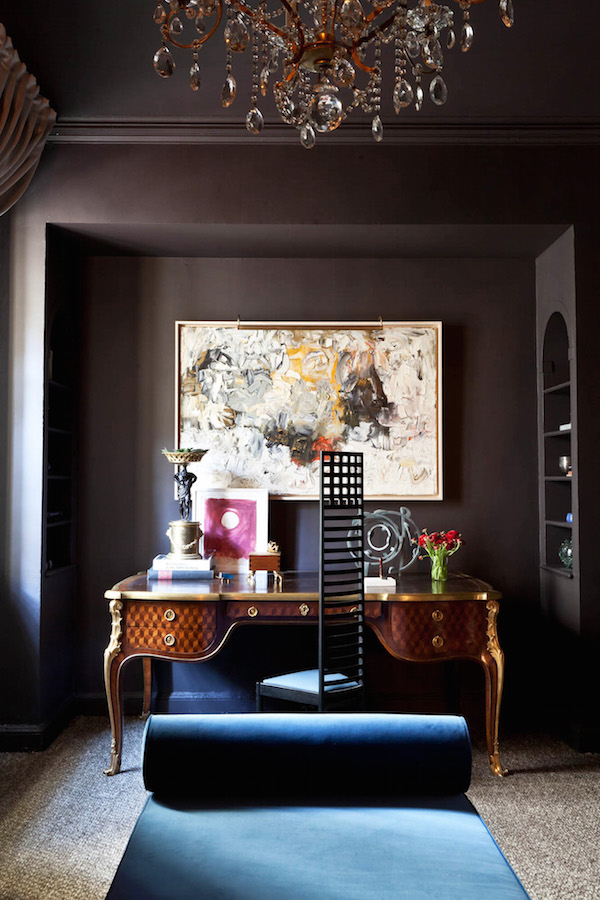 Caleb's response, not surprisingly, was on the same page. "Jamie and I both have a passion and an eye for unique, unexpected, and most importantly sophisticated interiors.  We will continue to give a nod to each of our unique voices in an evolved, compelling, and cohesive way while exploring new possibilities that will bring the firm to the forefront of design.  We will give focus on an intriguing curatorial mix of furnishings with a touch of avant garde. The feel will be modern and relevant with a sense of timelessness." And when asked what he was looking forward to most working with Jamie again, Caleb answered, "I feel very lucky because when I began my career in design, I had the best possible mentor – in Jamie. We have great synergy, and the opportunity for us both to evolve and explore beyond our current repertoire together is amazing and thrilling. I am very enthusiastic about what lies ahead for us." So am I! Congrats to you both!