Once you see this year's spectacular Orchid Show at the New York Botanical Garden, you will appreciate how well so many of the tables captured the spirit of Orchidelirium. Here we take a final look at the 2016 Orchid Dinner before moving on to the actual show. Hutton Wilkinson and Brett Leemkuil for Tony Duquette Inc. teamed up to capture the exotic mania surrounding the search for unusual orchid specimens.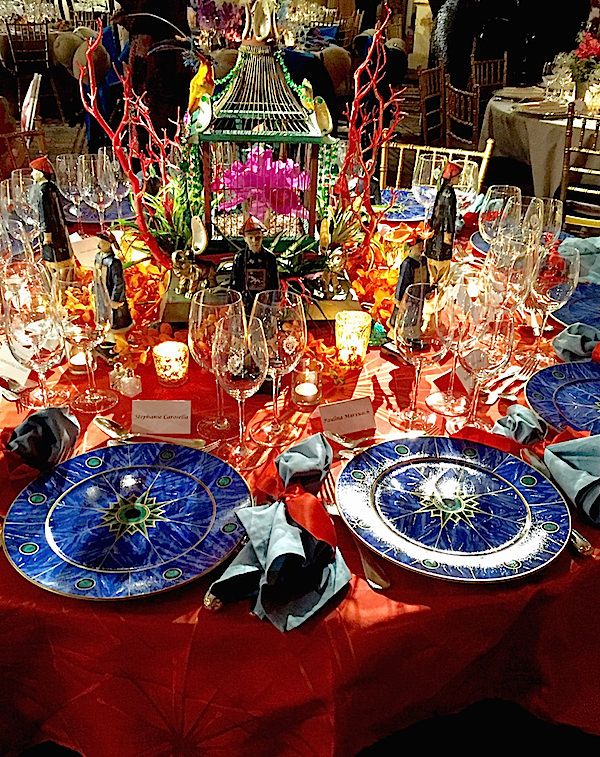 Set with service plates from the Tony Duquette Lapis dinnerware collection for Mottahedeh on a Tony Duquette for Jim Thompson silk Fireworks tablecloth, the table was very much in the fantastical Duquette more is more spirit.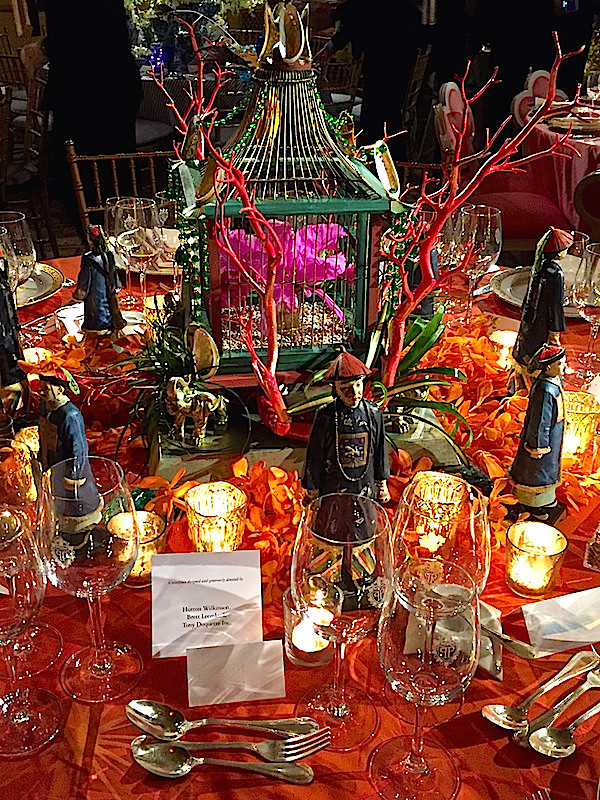 As with everything he creates, Nick Olsen always infuses his designs with a brilliant sense of color executed with wit and whimsy.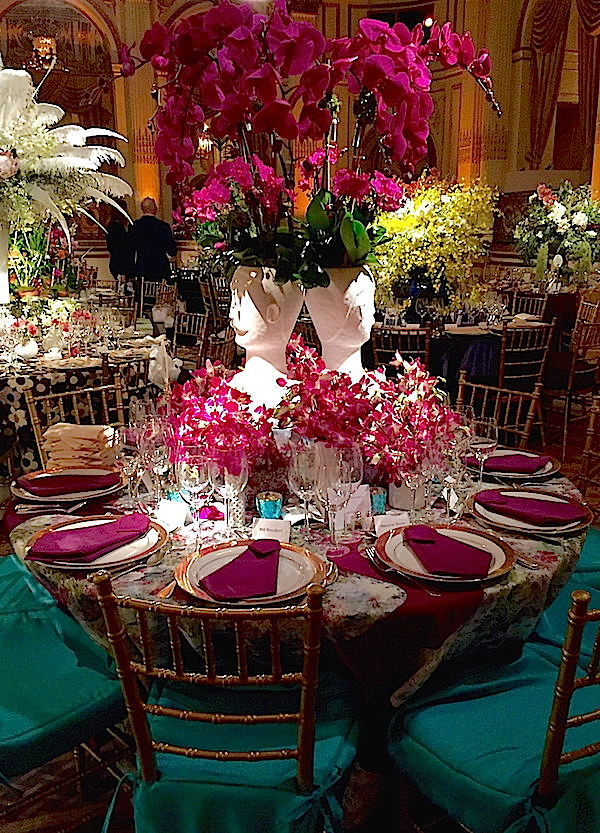 His appliqued tablecloth of Stark's Old World Weavers Parc Oriental seemed to reference the meandering journey of the intrepid orchid hunters serving as planters in his centerpiece.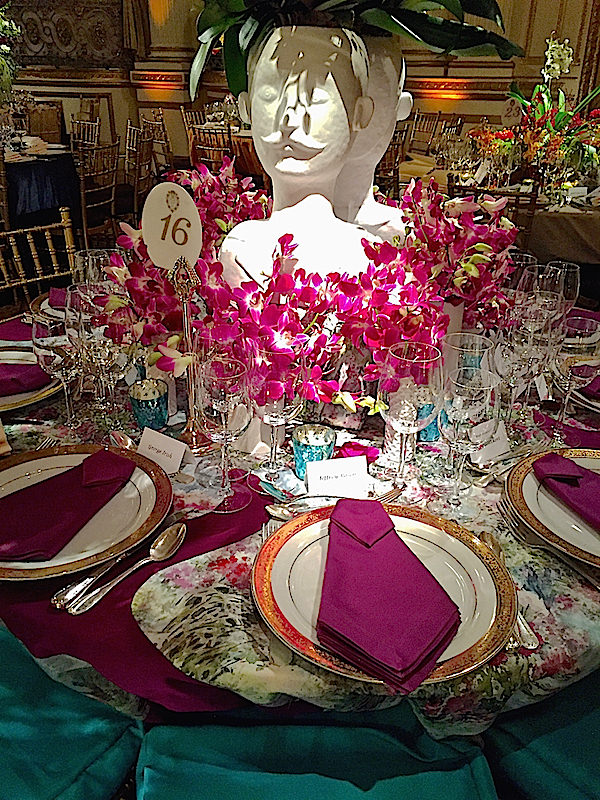 Designer Kathleen Walsh captured the spirit of early spring with bare branches arranged with orange orchids by Winston Flowers in crystal vases.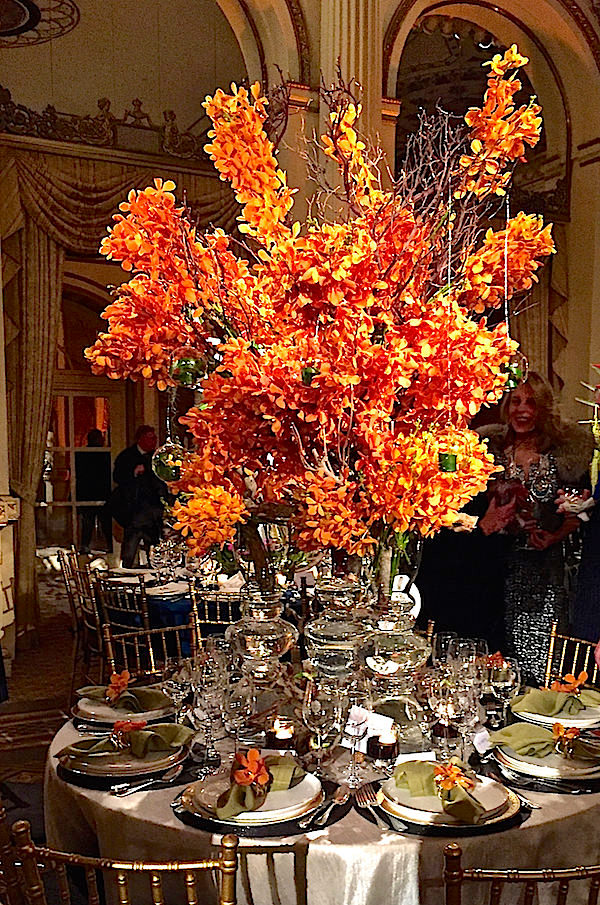 A sheer metallic fabric from Kravet over an ivory tablecloth added subtle glamour for a special evening while a winter to spring transition was captured in the contrast of dark placemats from Deborah Rhodes against handmade ivory and gold rimmed Ochre plates. Green succulents evoked winter while SFERRA napkins with gold Kim Seybert napkin rings and a single orange orchid bloom spoke spring. Clear votives from Tom Dixon echoed the vases with additional sparkle. (the coat room ticket an accidental inclusion but at least fits within the color scheme!)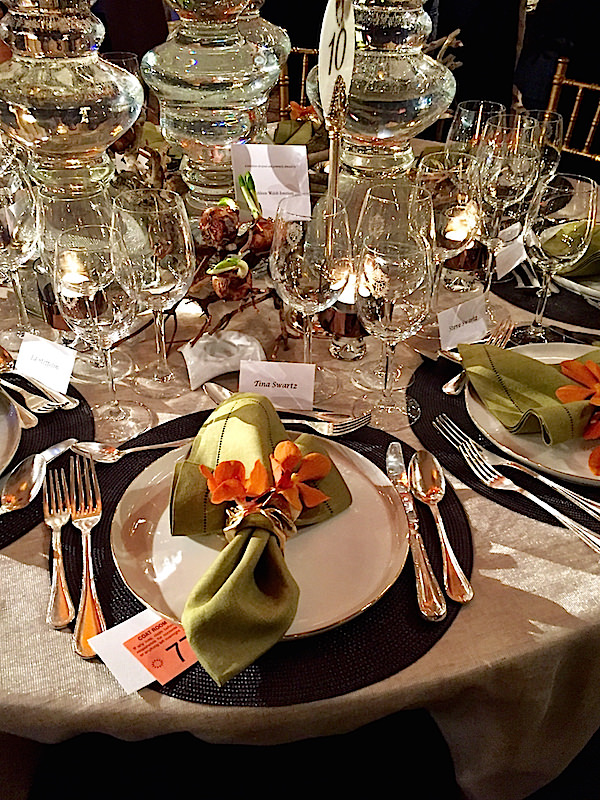 Hilary Pereira's ode to Victorian Orchidelirium channeled her spirit animal of the Orchid Huntress in dramatic style.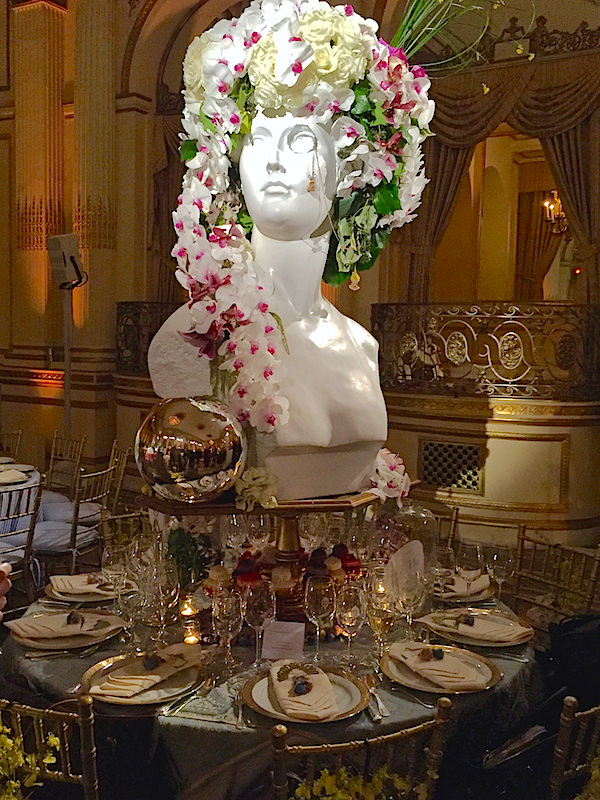 Working with floral designer Jennifer Neal Edwards of Reveal Event Style, the incredibly inventive incorporation of orchids in Hilary's daring centerpiece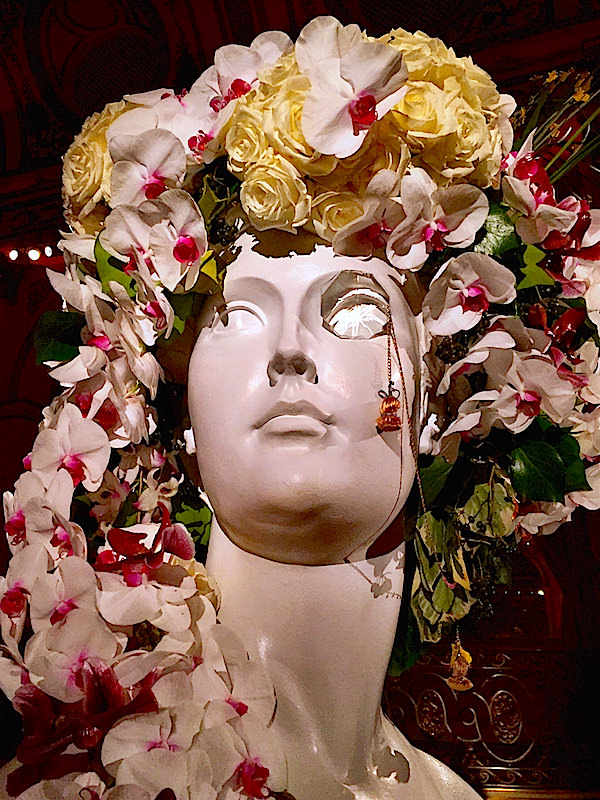 was set against the more period victoriana of her placesetting. A clever and meaningful pairing.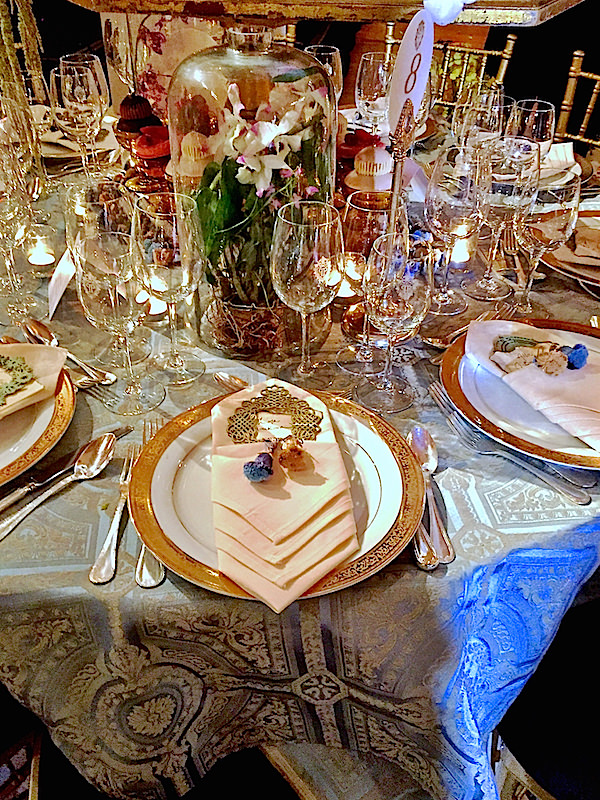 Another dramatic setting was executed by the always creative Selina van der Geest, NL-GB with Brett McCormack. Each year their Orchid Dinner tables are inspired with artistic vision.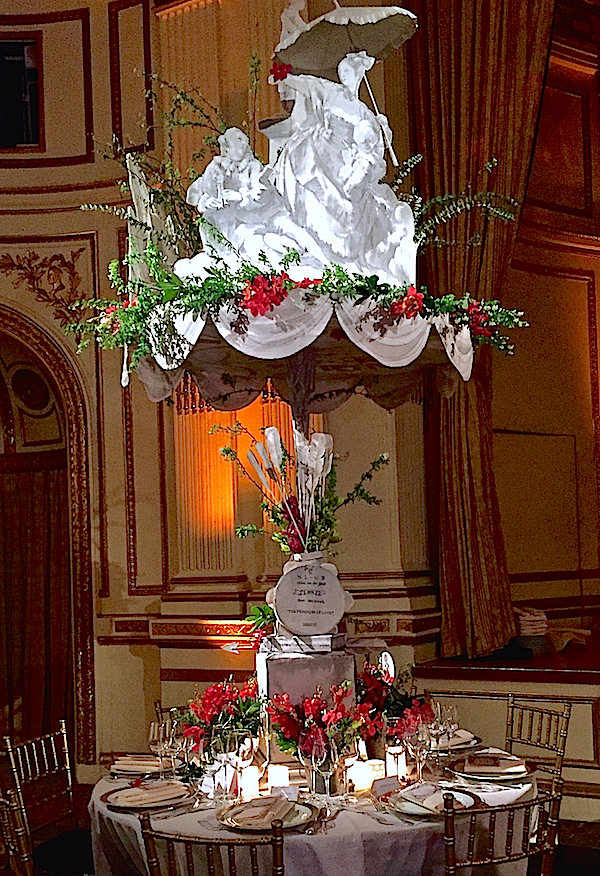 The duo's ode to Queen Victoria's Orchidelirium was inspired by Fragonard's legendary Progress of Love. Originally commissioned for Madame du Barry in Paris, the panels found their way during the revolution to the Villa Maubert in Grasse, the residence of relatives of Fragonard. A century later Queen Victoria made a special trip to see them in Provence. The panels of course now reside at the Frick.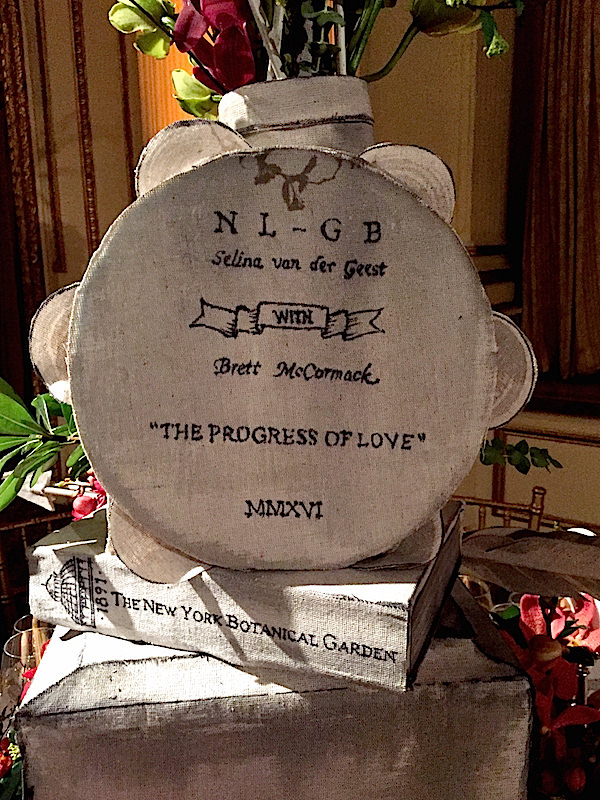 The spectacular umbrella-like topper, embellished with garlands of greens and orchids, sat on a base customized to look like cement garden statuary, above the elegant table setting.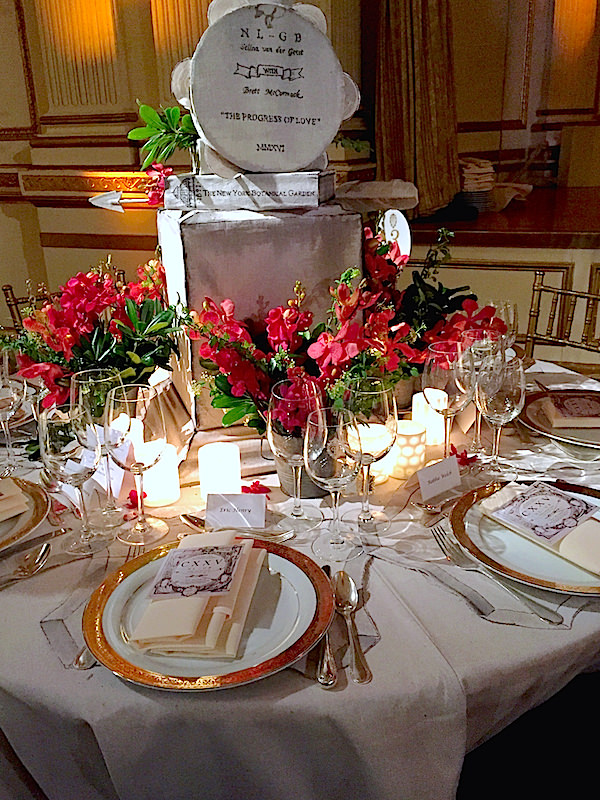 Brockschmidt & Coleman, with private NYC floristry Le Fleuriste, created an orchid-entwined tree-topped jungle setting for their 2016 Orchid Dinner table.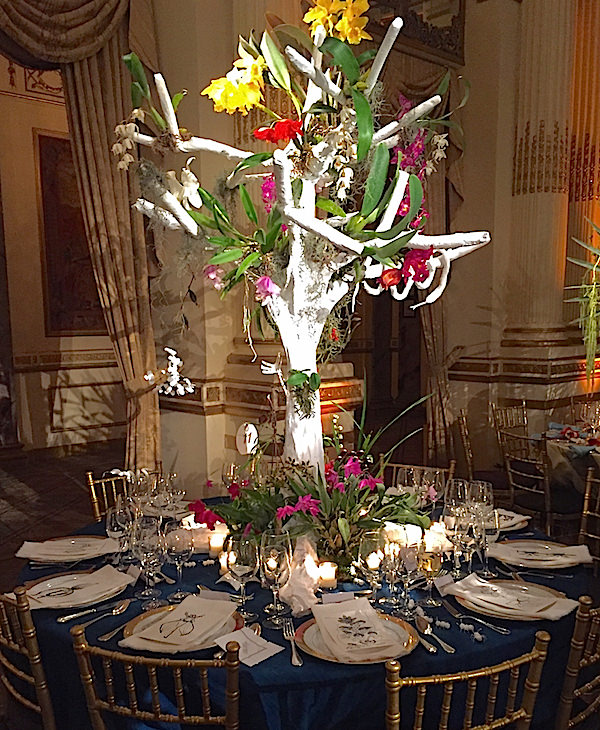 Referencing the setting for the adventures of the many intrepid orchid hunters, the table included hand drawn illustrations of orchids and a trail of faux marching ants.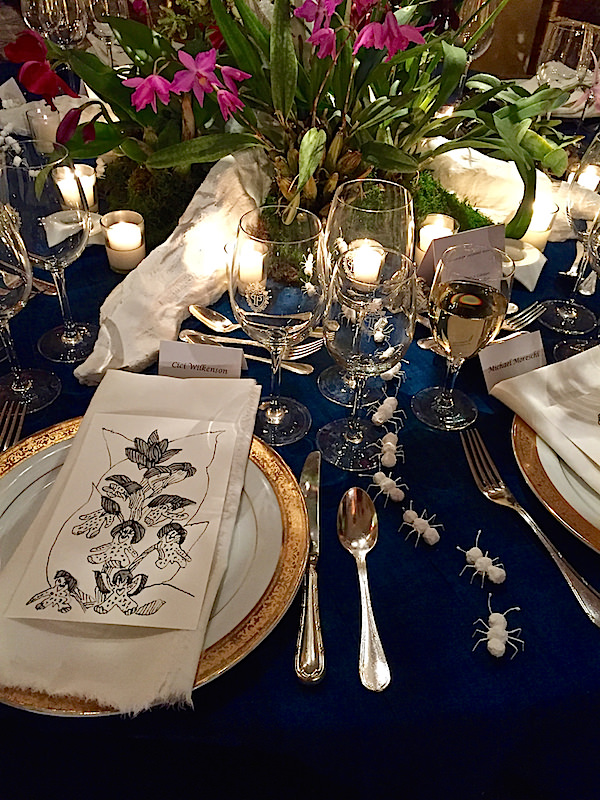 Katie Leede's layered rooms often have a hint of the exotic so it was fitting that her table referenced the far flung reaches of the orchid kingdom with her ode to a lush Asian hanging temple garden.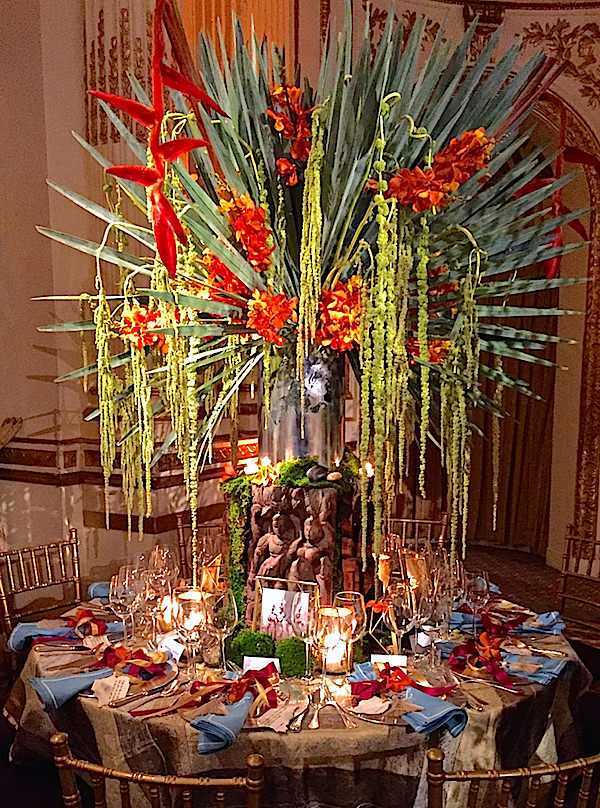 With a lush cascading centerpiece set on a figured Cambodian sculpture, the table featured a sari tablecloth and place settings with monogrammed napkins and tassled holders attached to individual quotes such as "What hath night to do with sleep?" from Milton's Paradise Lost or "I've always felt that having a garden is like having a good and loyal friend" from C. Z. Guest.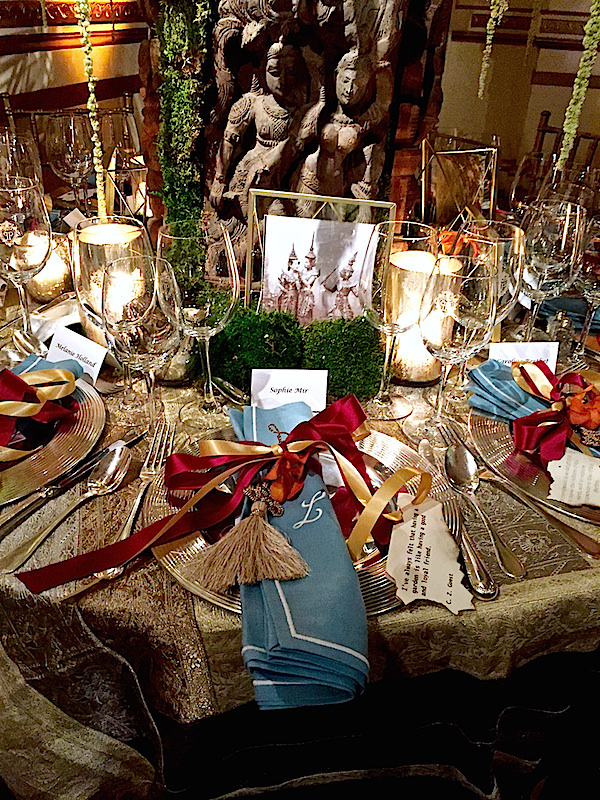 Black and white is always right and Antony Todd's table proved the point. Bold stripes on the seats set the stage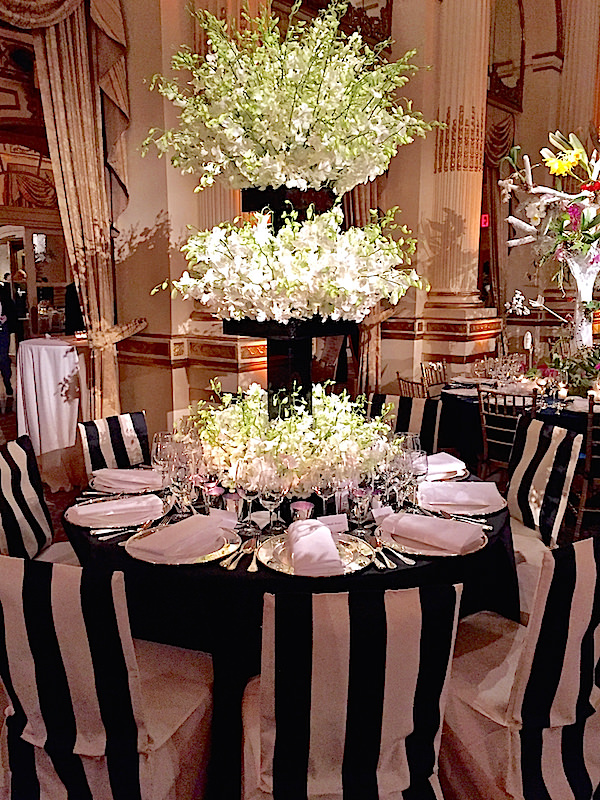 for an elegant table accented with silver accoutrements.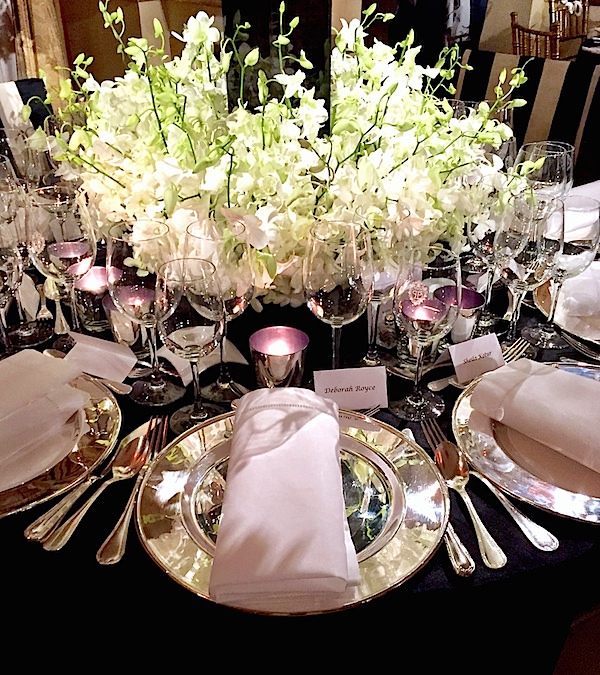 David Phoenix's sophisticated table was a statement in tonal refinement.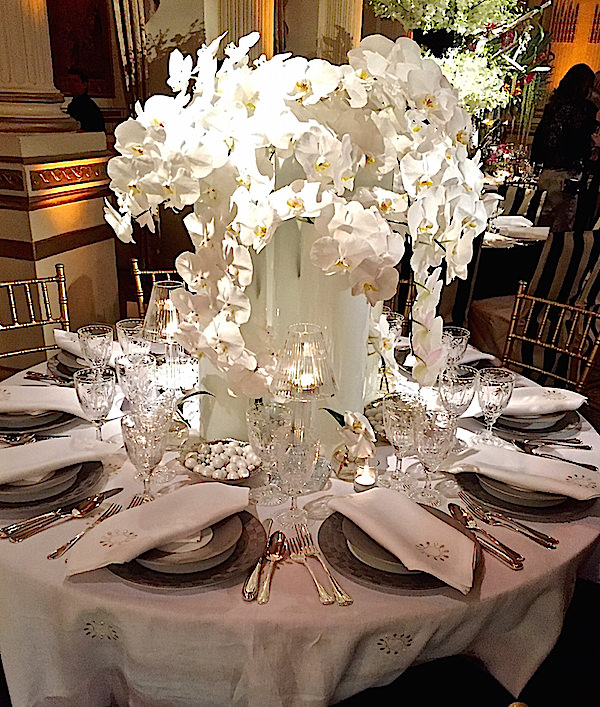 Simplicity is sometimes the hardest story to tell but David's elegant table shows the power of all white with William Yeoward crystal and hurricanes and E. Braun linens.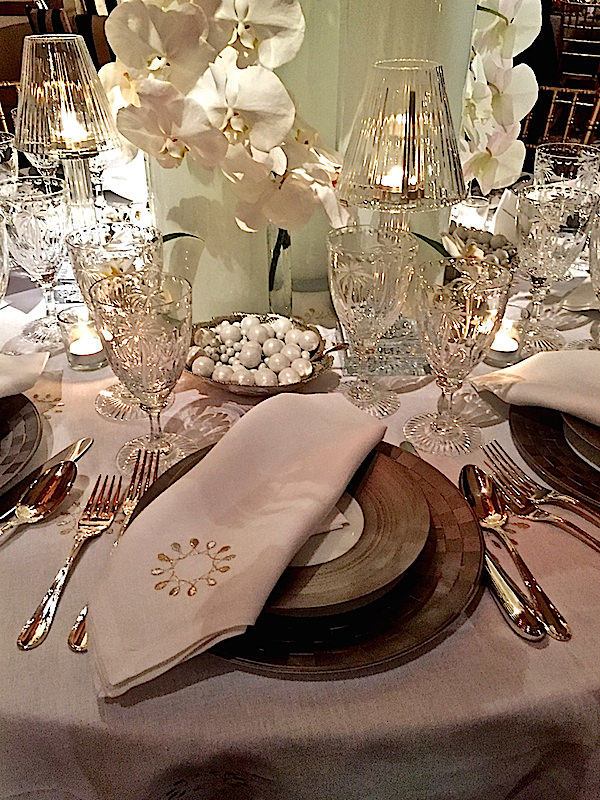 Elegant architecture with a restrained yet polished colorway was appropriately the setting for Brian Covington's table for Ferguson Shamamian. A tailored mirrored pedestal topped by a graceful urn overflowed with a gorgeous abundance of apricot orchids.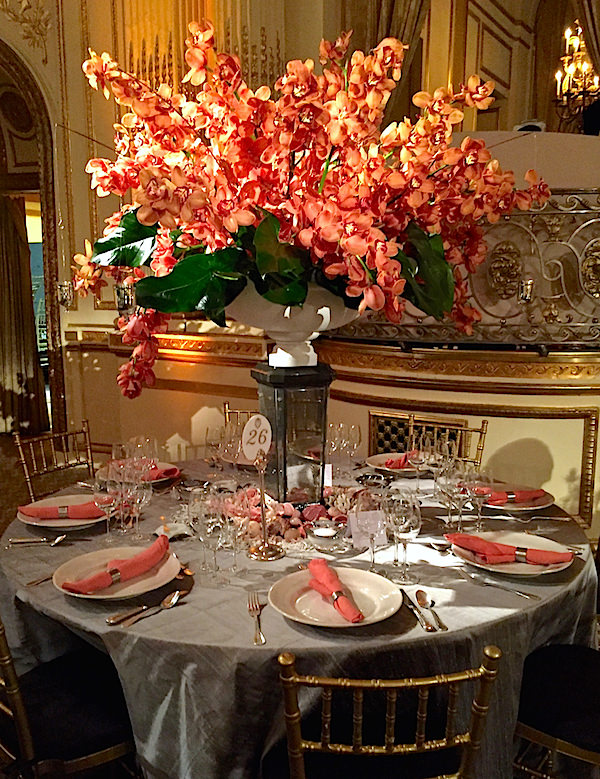 Rod Winterrowd's table was the essence of spring with an exuberant centerpiece of pink, white and green.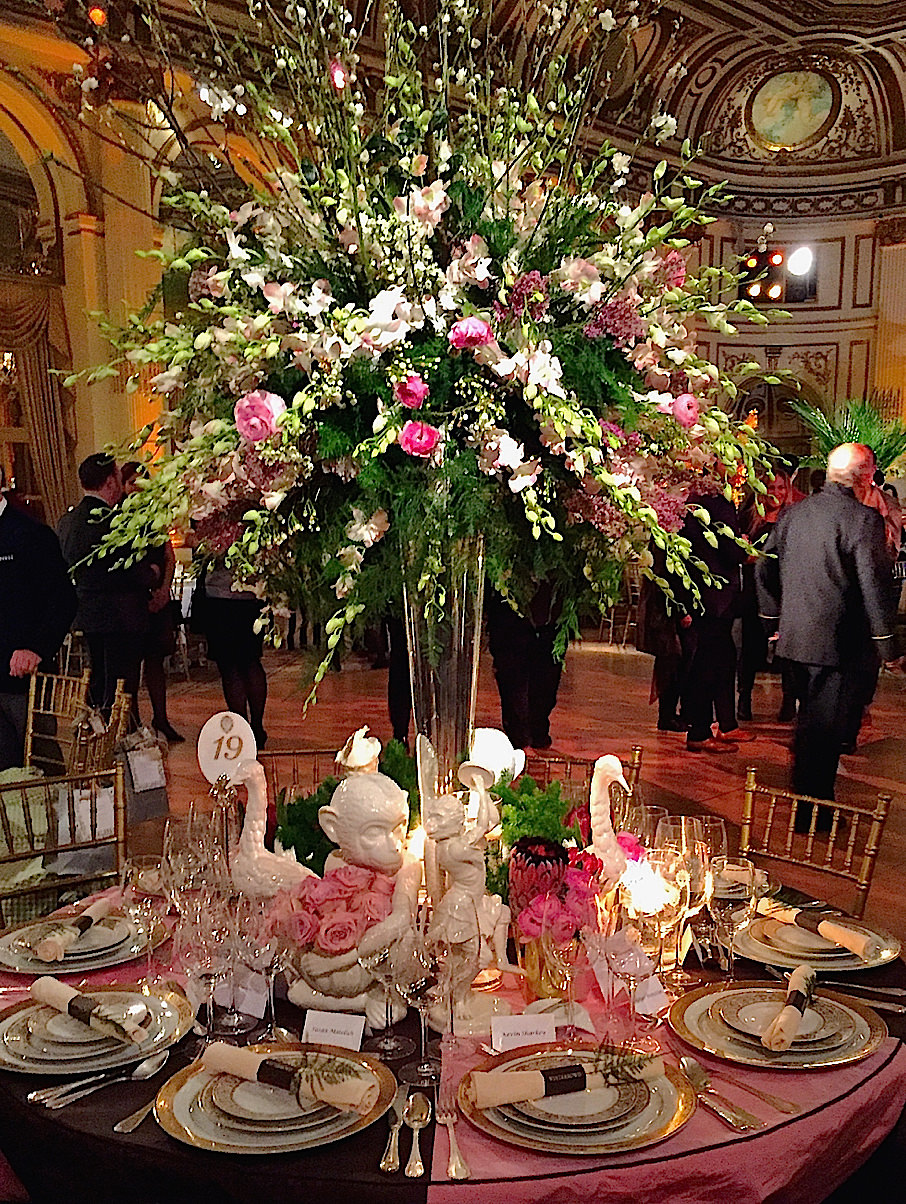 Extravagant gold filigree banded mixed with whimsical jungle resident figurines (recognize the charming Mottahedeh monkeys from my year of the monkey post?) and lush blooms made for a festive and playful table on an elegant brown and pink cloth.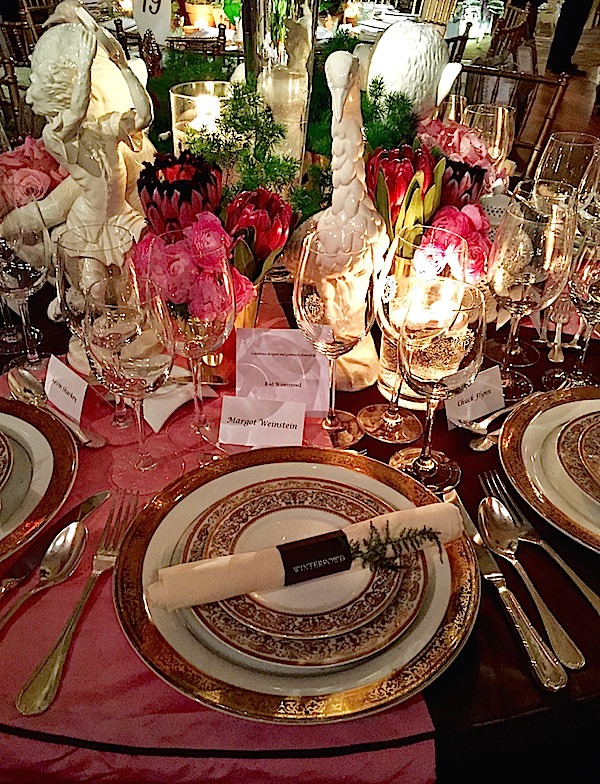 Byron C. James created a lush blue setting as a nod to the Renaissance and Romance accented with a centerpiece of vibrant ultra violet and golden orchids.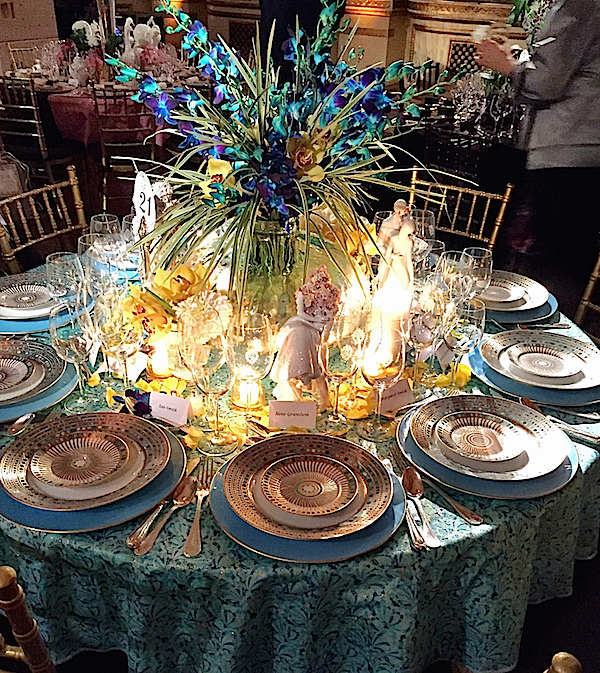 Haviland's Syracuse pattern through Mottahedeh and Lladro porcelain lovers completed the table.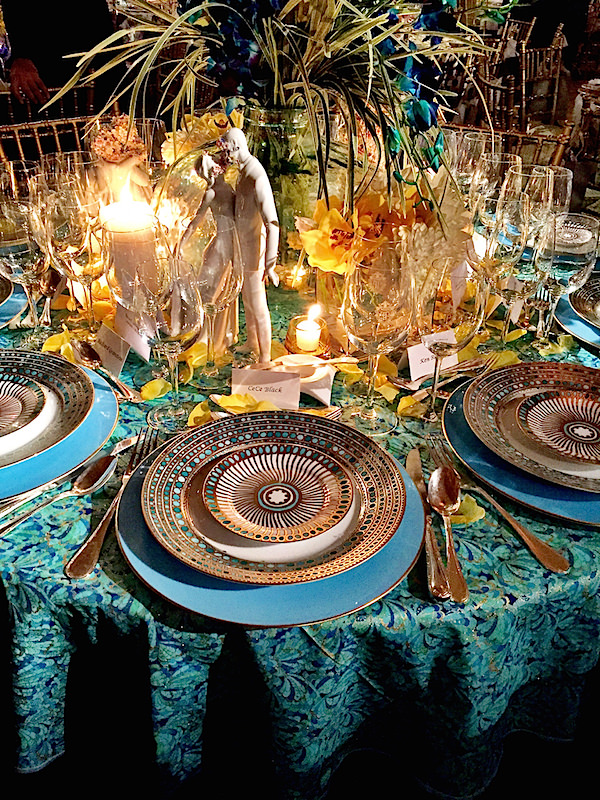 Like the designer's new custom color palette for the French culinary brand La Cornue, Suzanne Kasler's table headed to Paris dressed in pink for the 2016 Orchid Dinner.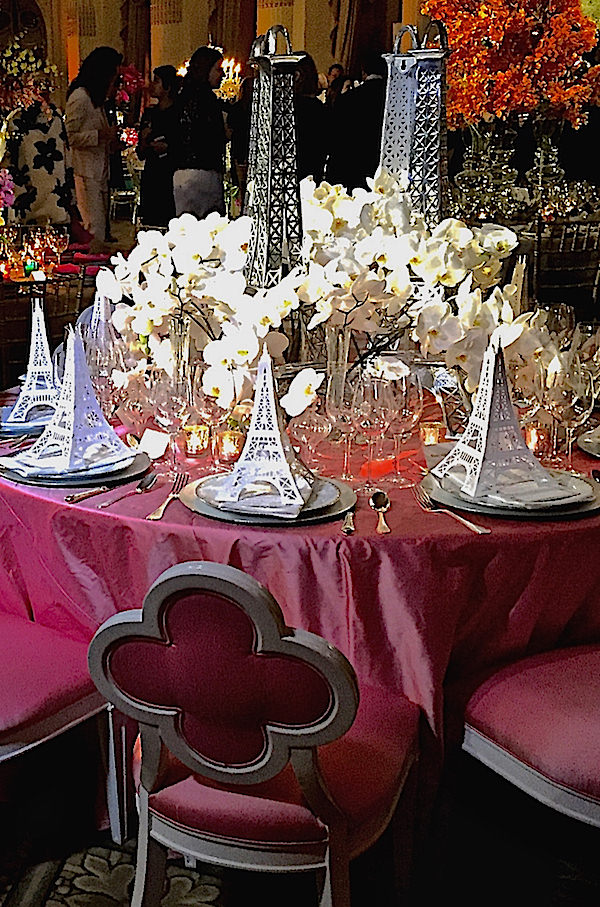 Her Alexandra Side Chair for Hickory Chair accompanied a table of white orchids and eiffel towers for a vicarious spring trip to the city of lights.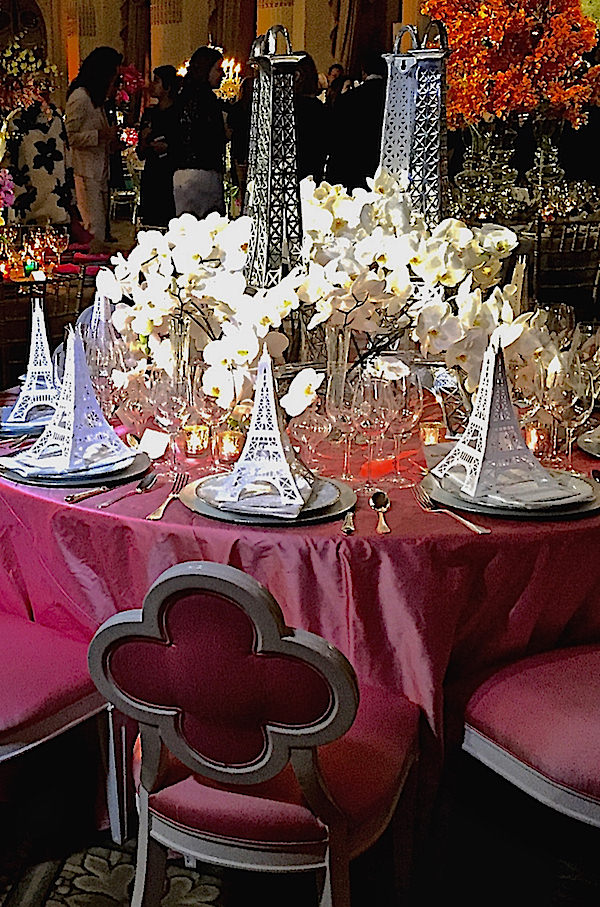 Bowman Dahl topped their brown and white table with a fabulous feathered confection. Laced throughout with orchids, the centerpiece overhung a table filled with pink and white orchids at its base.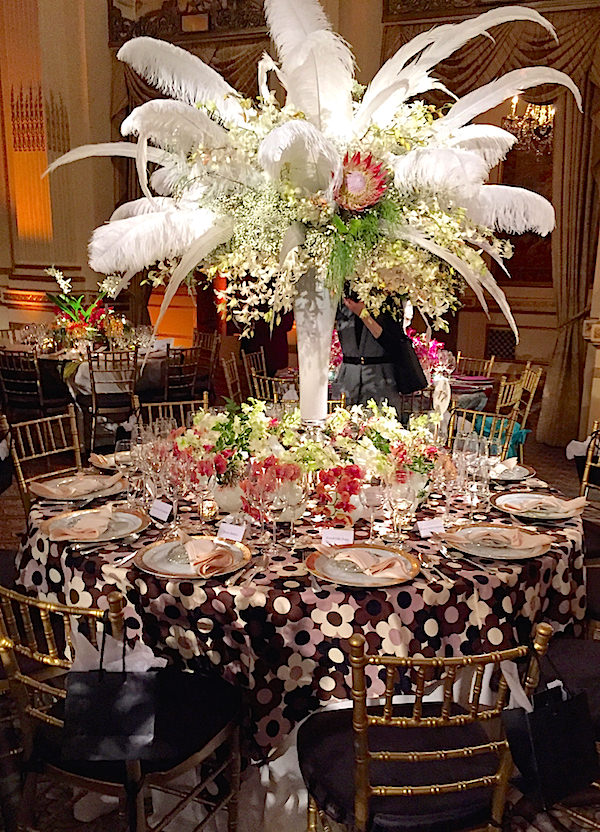 Lewis Miller's centerpiece was an opulent display of impressive pink orchids. Set atop a table dressed in rich plums, it was like something out of an elegant tropical wilderness.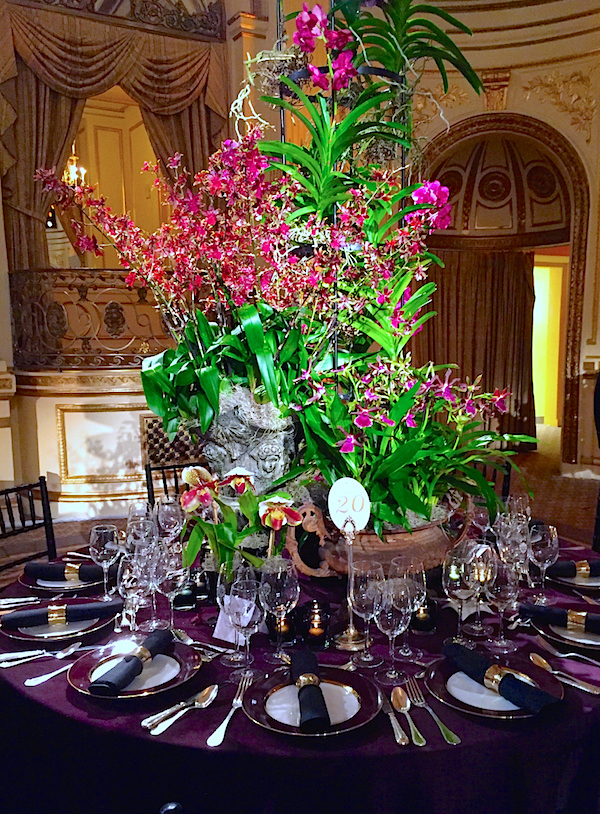 Beth Webb set a pretty table in orange orchids from Zeze Flowers and contemporary gold toned accoutrements from Tom Dixon and Creel and Gow. Monogrammed napkins added a personal touch.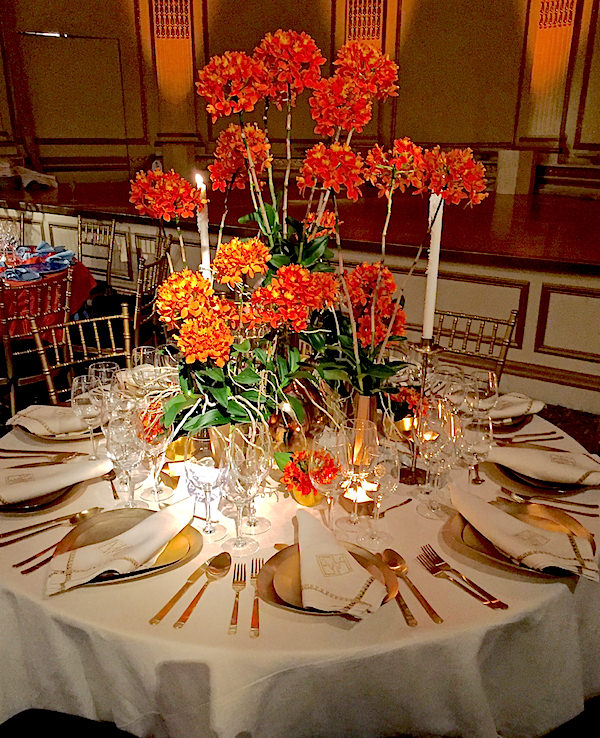 Carl Aparicio's elegant table let the orchids do the talking. The explosion of yellow orchids was lovely against the tailored restraint of the navy table and the monumental Jens Thirslund for Kähler vase from Gallery Bac.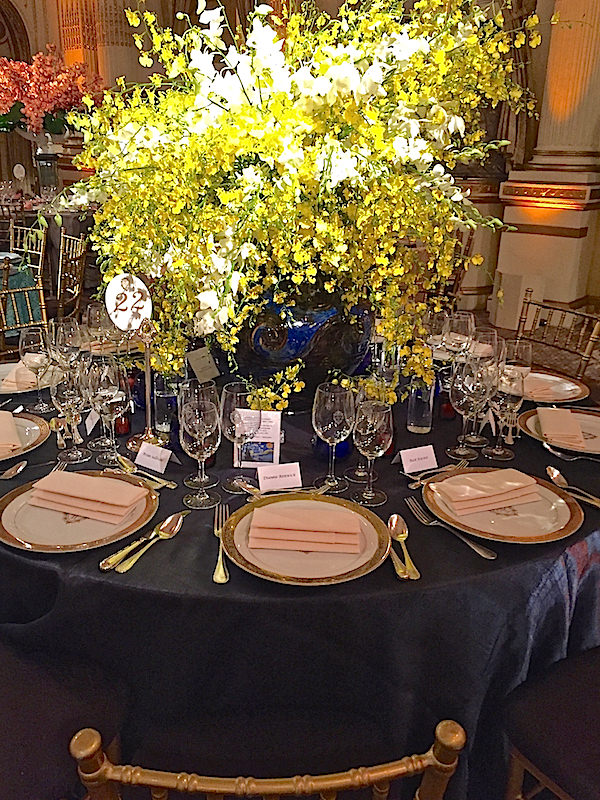 David Handy's lavish centerpiece dripped with lush tendrils onto a claret colored tabletop scheme.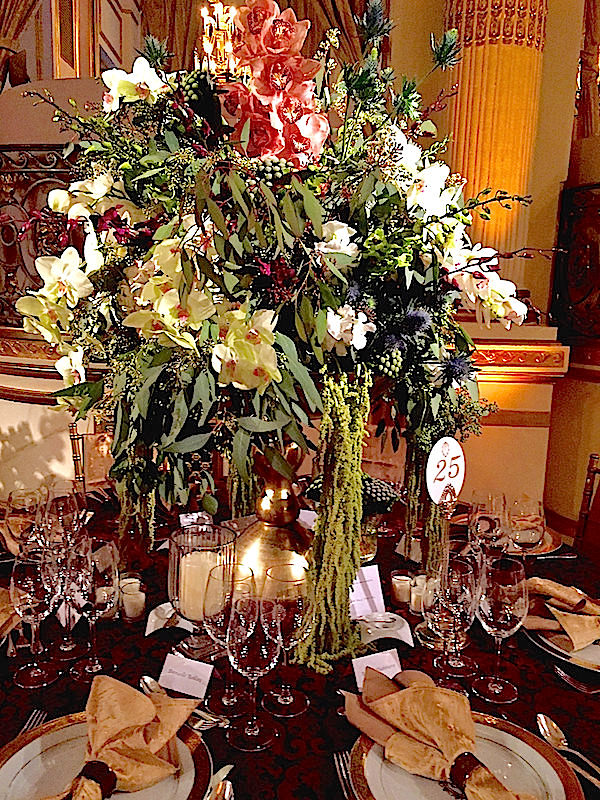 Angela Kashmanian of FlowerSchool New York also set a table capturing a lush tropical setting.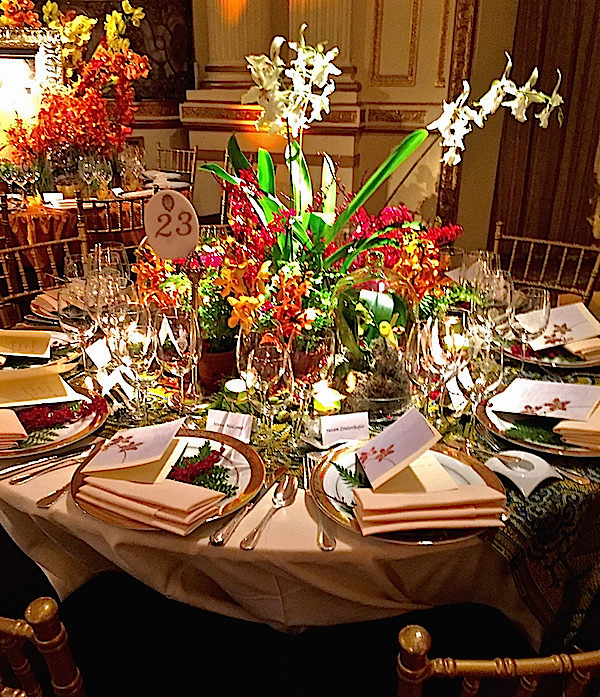 The lucky guests at their table each received a little instructional pamphlet on orchids from this prestigious floral arts center.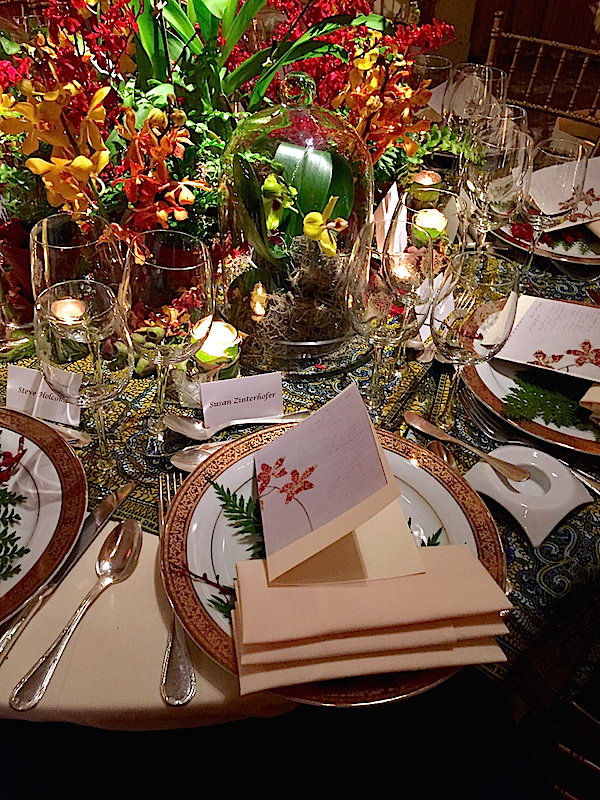 Referencing the victorian romanicism in art during the era of Orchidelirium, Roric Tobin set a sumptuous saffron colored table for B&T Global around Frederic Leighton's painting Flaming June. Queen Victoria was a fan of Leighton's and in fact purchased his first work ever exhibited at the Royal Academy.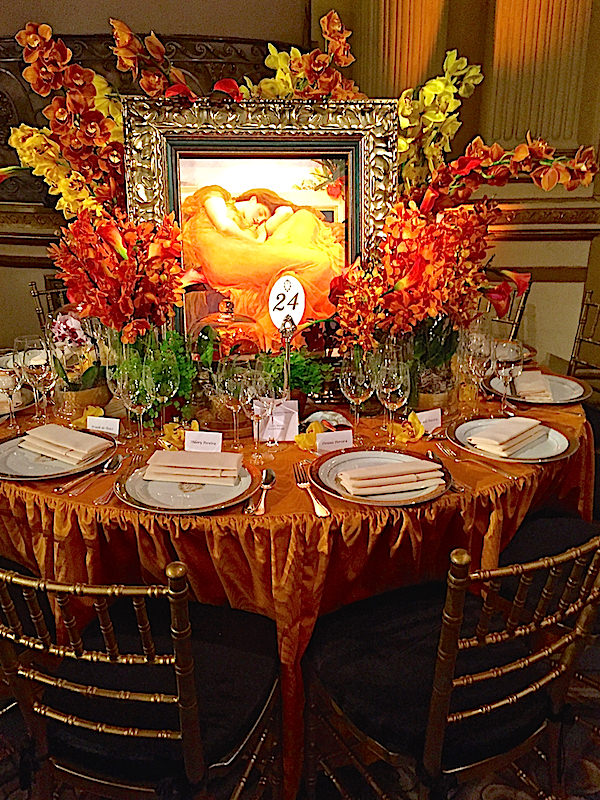 A big thank you to all the designers, Veranda, Hearst and BNY Mellon for their generous contributions to the NYBG 2016 Orchid Dinner.
all photos by Quintessence