While many designers glean inspiration from their travels, Michelle Nussbaumer takes her love of worldly cultures and treasures to another level in her lush new tome, aptly named Wanderlust : Interiors That Bring the World Home. Within its opulent pages, layered with tribal textiles, global glamour and exuberant color, are both broad and detailed looks at Nussbaumer's own homes here and abroad as well as wide ranging client projects.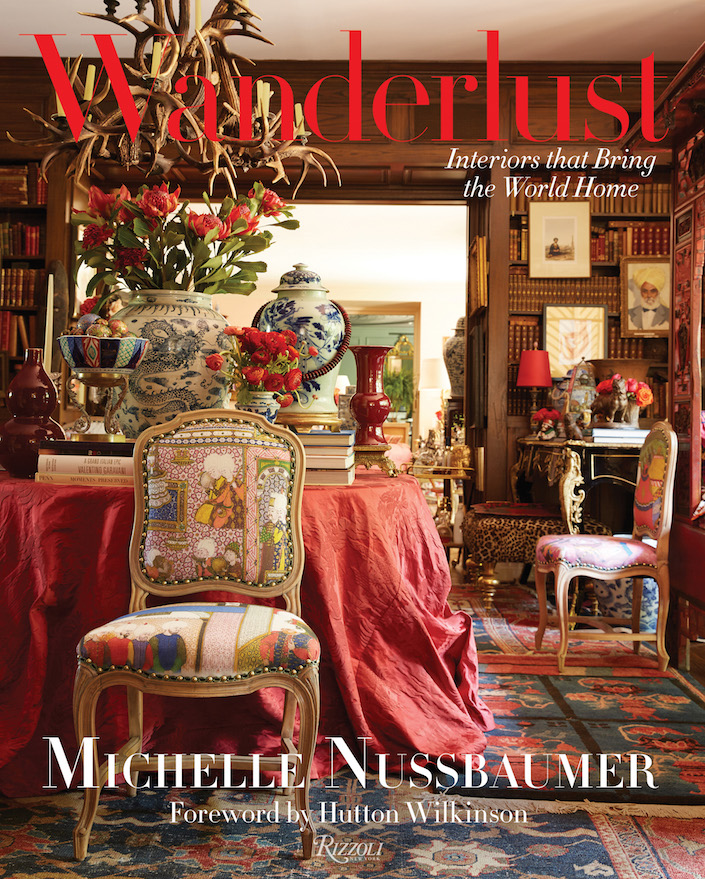 While there is much banter about the mix these days, Michelle Nussbaumer lives and breathes it. With a passion for creating personal interiors that are alive with her clients' possessions and artful additions, Michelle's spaces are sensuous yet not precious. They are meant to be used, lived in and constantly evolving.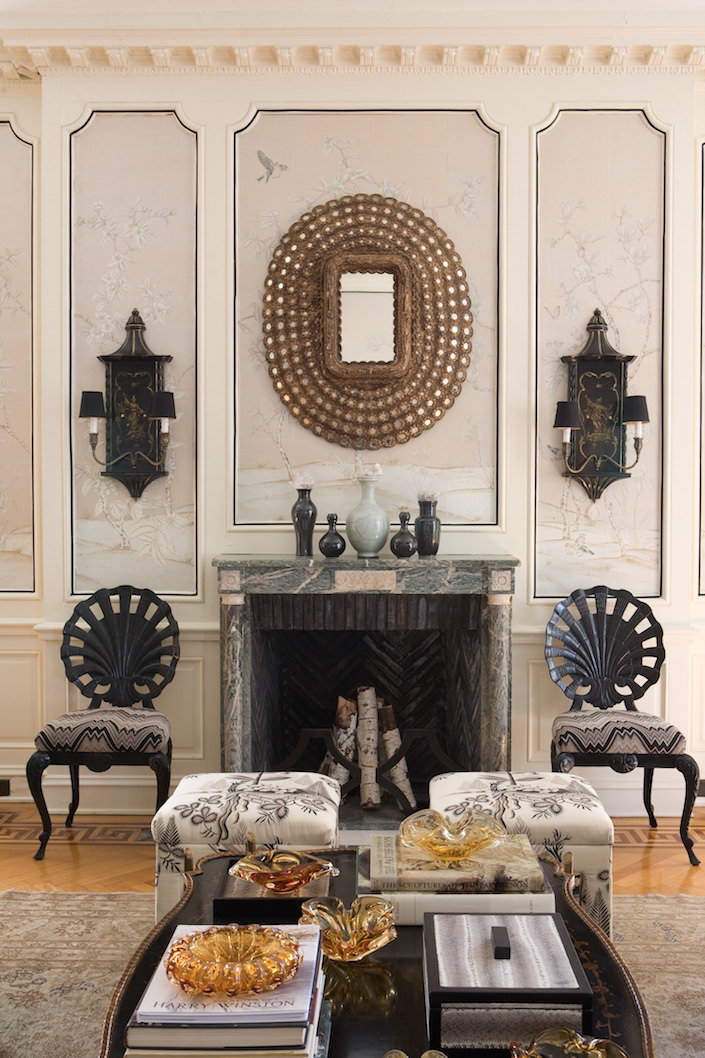 Each of her designs features a sense of drama and discovery. Even in the most elegant interiors, there is a hint of the exotic, of history and far off places and eras, all grounded in sound principals of design. Here a timeless vignette of neutral grisailles is anchored by symmetry. A dazzling Indian mirror is the central focal point over an antique marble fireplace and custom-made tole sconces echo the theme of the scenic wallpaper from Paul Montgomery.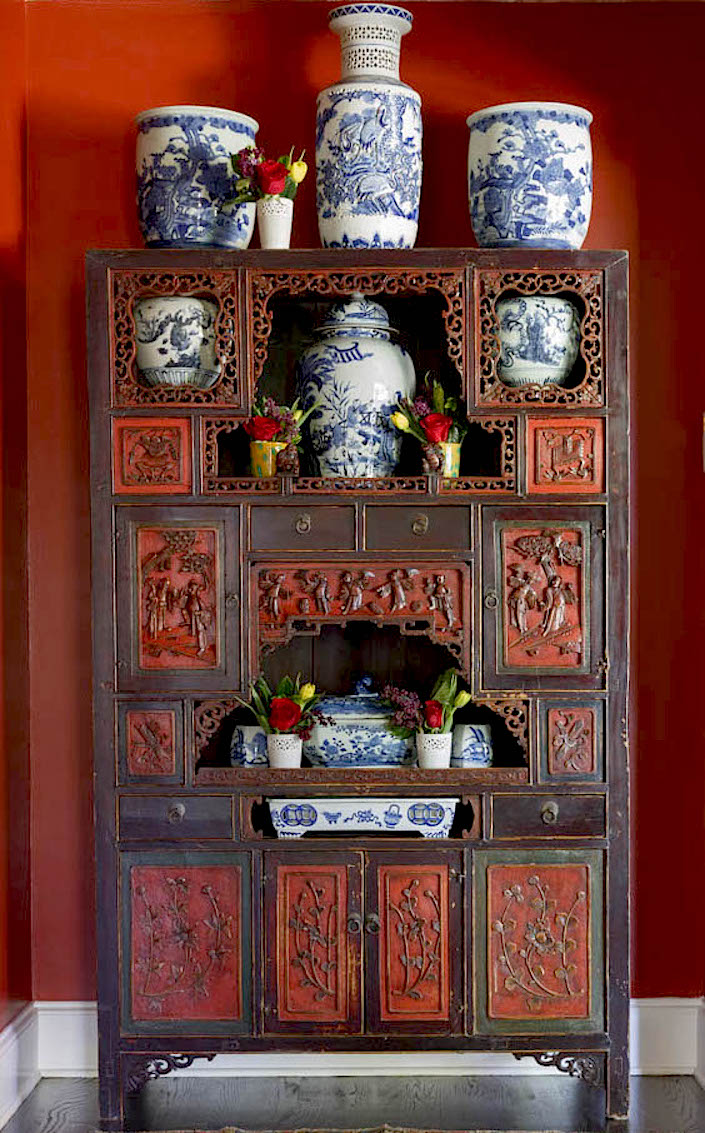 Go bold! Michelle strives for every house's "opening act" to "distill what each client loves down to the perfect expression." In this expressive entry, some of a young client's collection of blue and white porcelain is enhanced by an amazing 19th century Chinese cabinet against vibrant vermilion walls. Blue and white is a classic neutral but when layered with contrasting color and a dramatic piece that shares a cultural lineage – that's when the magic happens.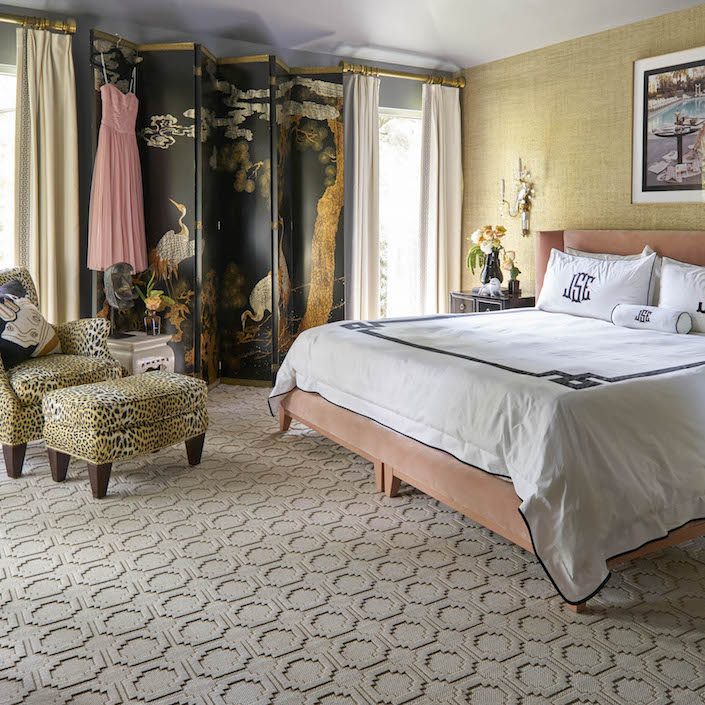 "My style has been described as having old-world elegance with a touch of the exotic." This master suite for a young client exemplifies Nussbaumer's eclectic style. Classic glamour and mid-century femininity unite as a statement making Chinese screen overlooks a bed lacquered to match its cameo velvet. Gold-leafed grasscloth from Philip Jeffries accentuates the Hollywood vibe which originates in the client's art over the bed – Terry O'Neill's Oscar Ennui – a photo of Faye Dunaway (who he married several years afterwards) taken the day after she won the Academy Award in 1977. Add sparkling Maison Baguès rock crystal sconces and a sexy leopard chair with ottoman and you have an Oscar worthy room.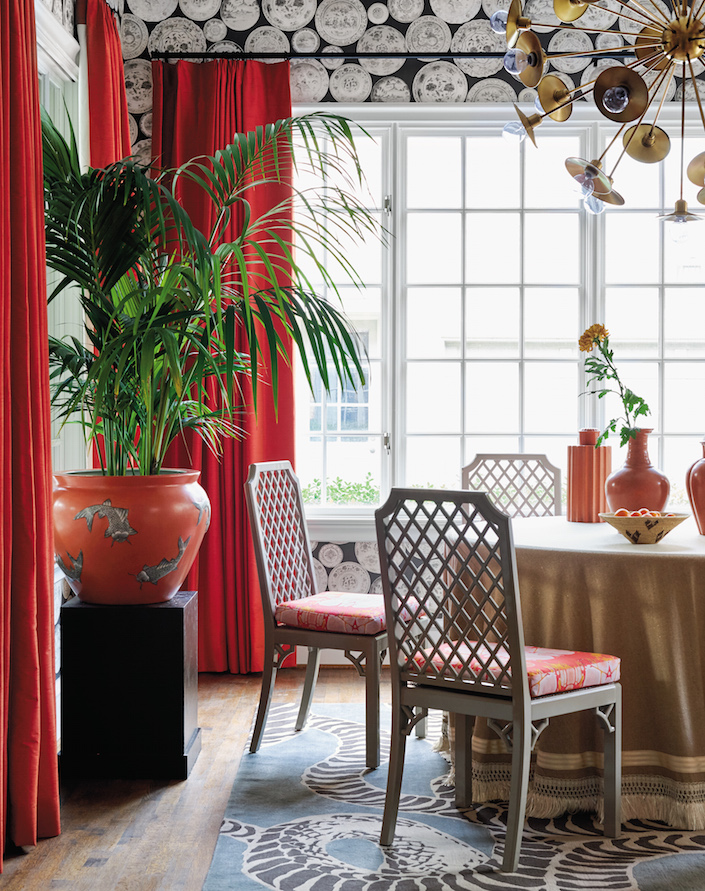 "My goal as a designer is the eye-filling, eccentric, beautiful assemblage – a merger of the precious and the playful, pulled together with a century's best bits and pieces and curiosities, enlivened with important art and antiques." In this dynamic dining room, a contemporary brass chandelier mimics the shapes of the plates in Andrew Martin's Cargo wallpaper. And the bold sinuous pattern of the Rug Company's handmade Serpent rug anchors and contrasts with the geometry of the Hollywood Regency chairs.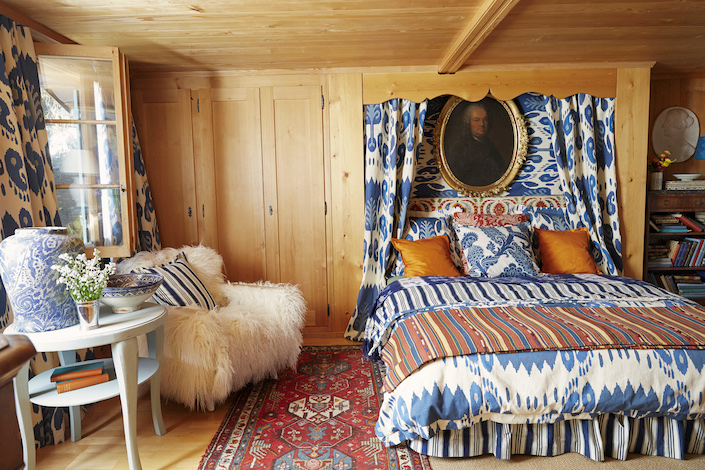 Nowhere is Michelle's love of vernacular traditions, indigenous craft and pattern on pattern more evident than in her charming Gstaad family home. Built in 1739, much of the original chalet remains intact. Against the simple pine woodwork, this bedroom is a quintessential Nussbaumer mix – a French 1940s armchair upholstered in Mongolian fur, Chinese porcelain, ethnic pottery, antique paintings and of course an explosive cavalcade of color and pattern.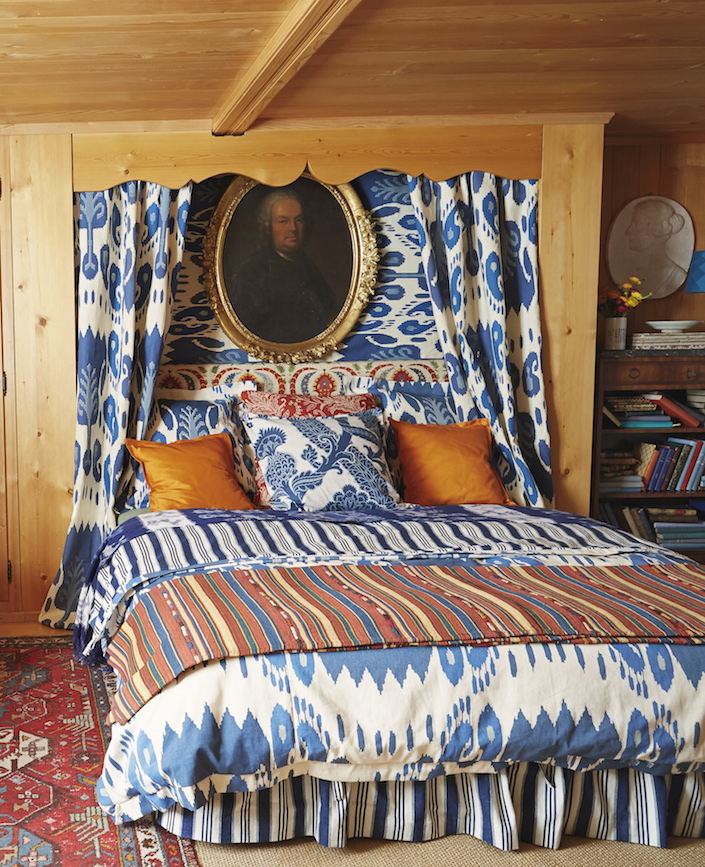 As Nussbaumer explains, "Old and new, serious and silly, found here and there, gathered in our travels – when these things surround us, we know that we are home." And this is exactly what Michelle Nussbaumer helps her clients achieve – beautiful yet very personal expressions of home where style and comfort mingle with meaning and memories. Wanderlust is a visual feast and enlightening journey in design. You'll be inspired to bring the world home.