India is renowned as a leading source for the finest embroidery in the world with a centuries long heritage of textile and weaving traditions. As one of the largest handmade rug makers in India, Obeetee is driven by not only design excellence and quality craftsmanship but by its ethics, commitment to sustainability and community and continuation of India's design heritage. Tarun Tahiliani has been an integral part of the Indian fashion industry since 1987 when he opened India's first multi designer boutique, Ensemble. Since then he has grown to be one of India's most celebrated designers, with a style that melds textile detail, refined luxury and meticulous tailoring.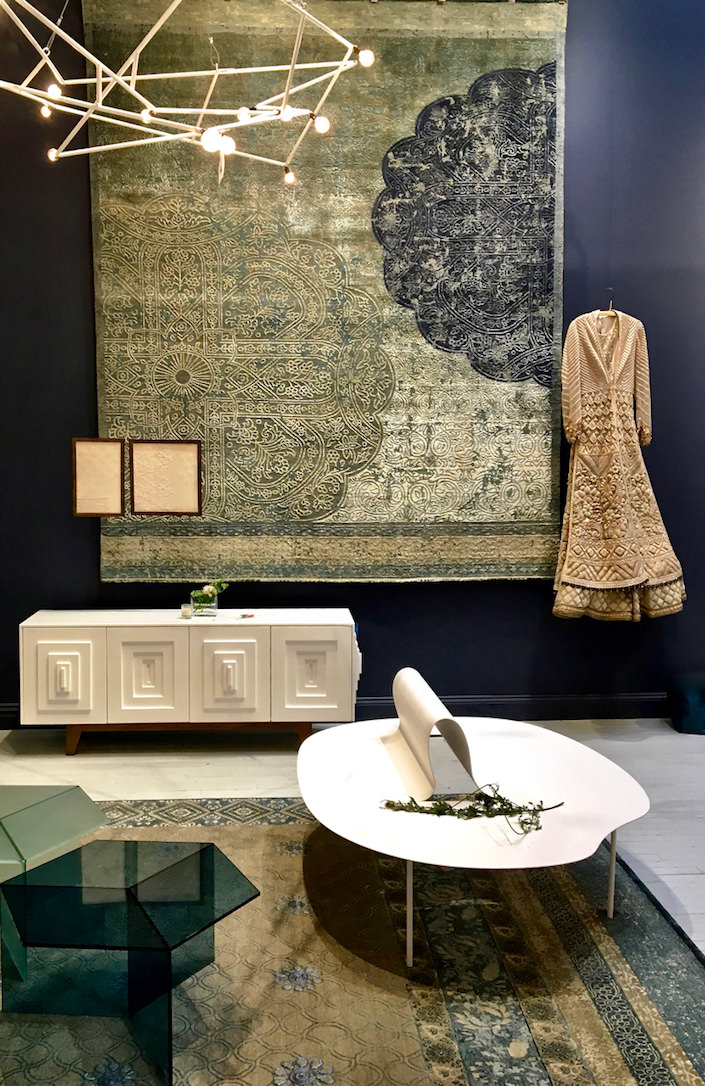 Now Obeetee and Tarun Tahiliani have collaborated on a collection of handmade carpets, designed by Tahiliani and produced by Obeetee, celebrating their country's design legacy. Fusing ancient tradition with contemporary lifestyle, the designs incorporate elements, from Mughal miniature paintings and elaborate Chikankari embroidery to Tahiliani's own abstract artworks, into rugs that are a reimagining of India's past splendor with a modern aesthetic. And where better to present the collection here in the States than at ABC Carpet & Home, a design destination that honors the creative, global, full dimensional expression of living.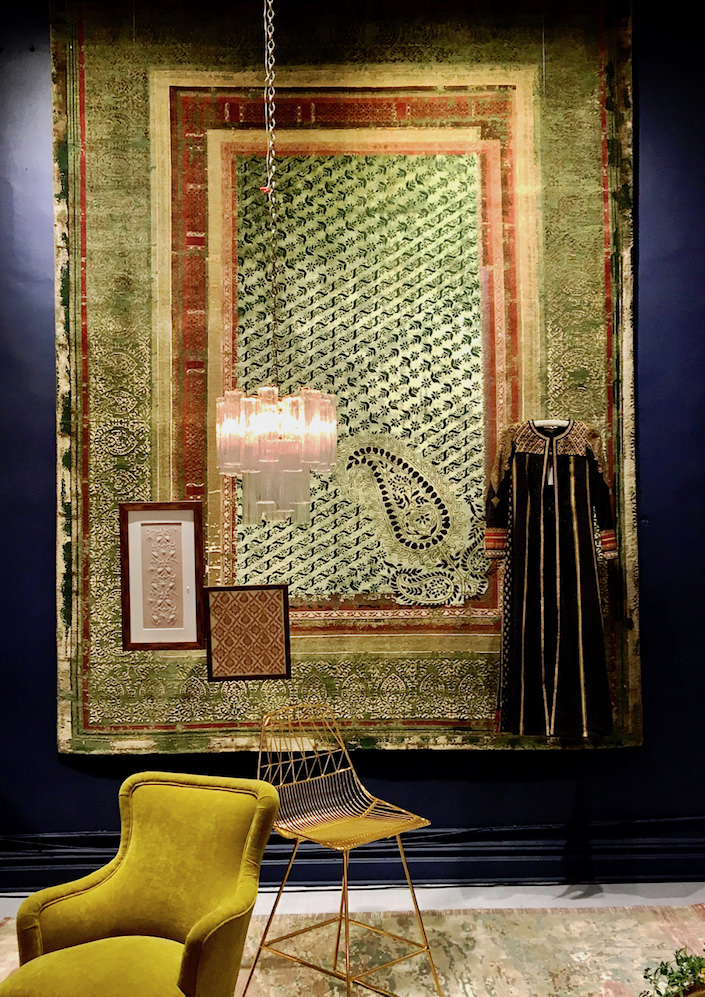 The structure of the collection is based on three concepts. The Chikankari Collection, top and above, recalls this ancient delicate embroidery, a symbol of nobility dating back to the Mughal era.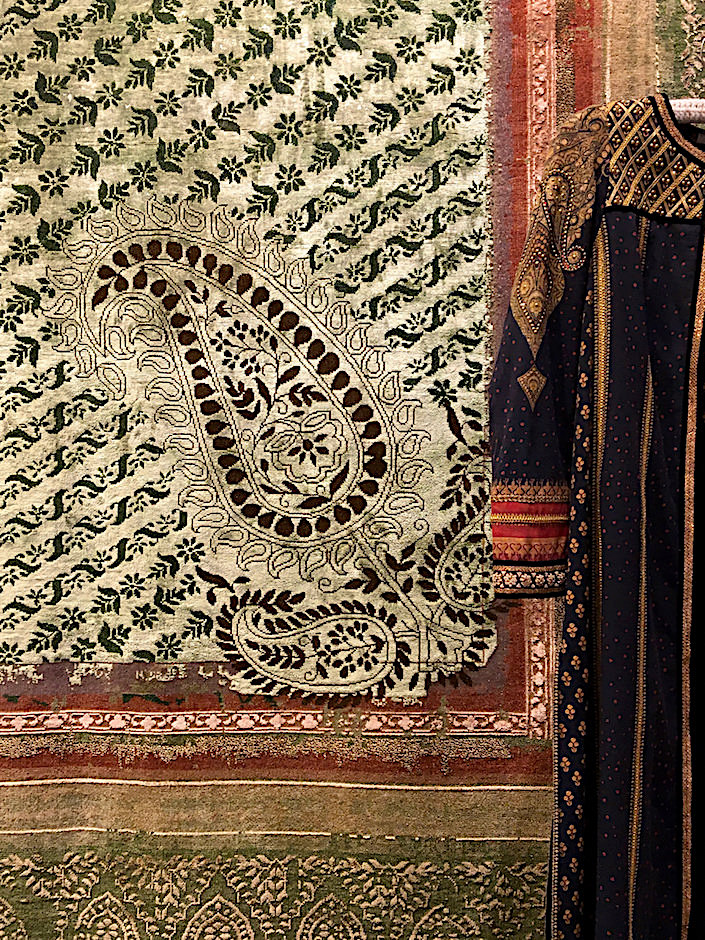 An admirer of this masterful technique, Tahiliani has deconstructed the traditional paisley and floral motifs and offset them against geometric lines with distressed borders.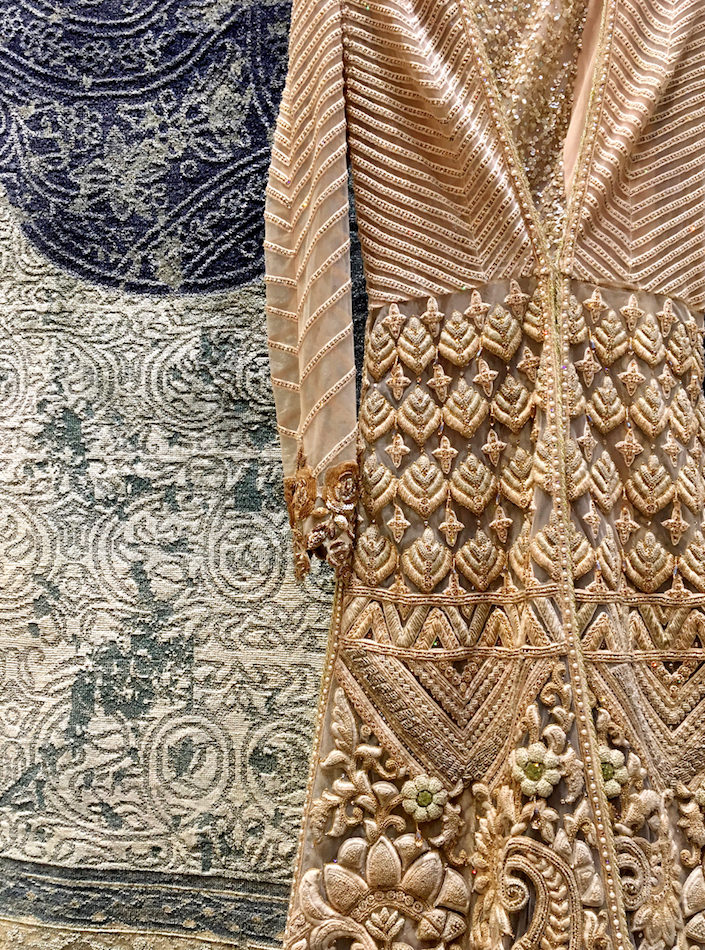 You see the same intricacies in his couture creations that accompanied the new collection in the space. The dress at top, above and below, is embellished with amazing embroidery and embedded crystals throughout.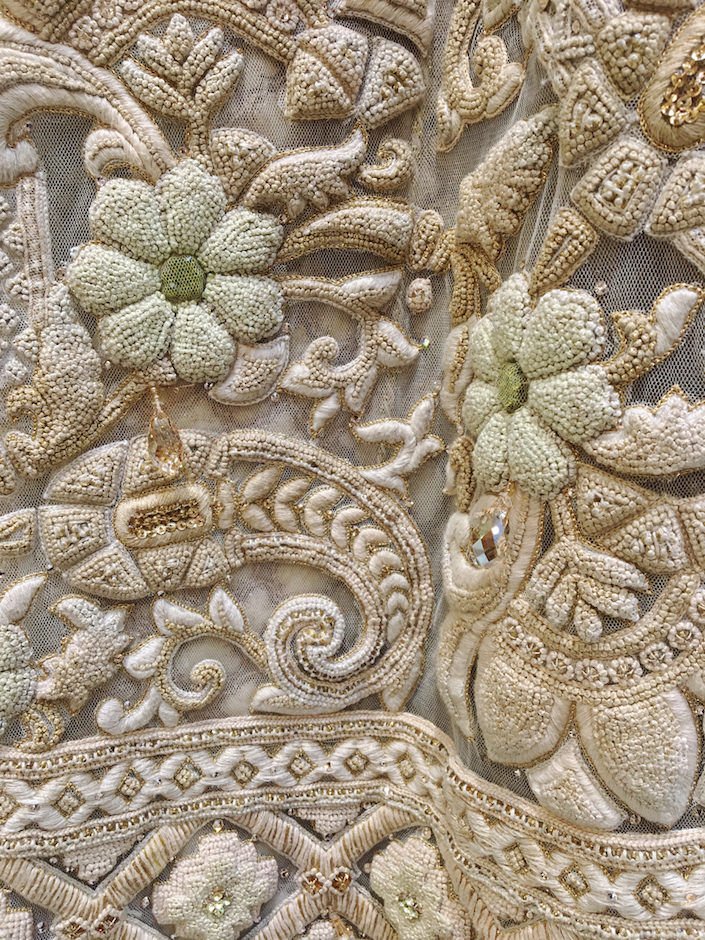 And the jacket shown in the second shot, which fit me to a tee I might add, features the same detailed translation of tradition technique that Tahiliani has transcribed into his rugs.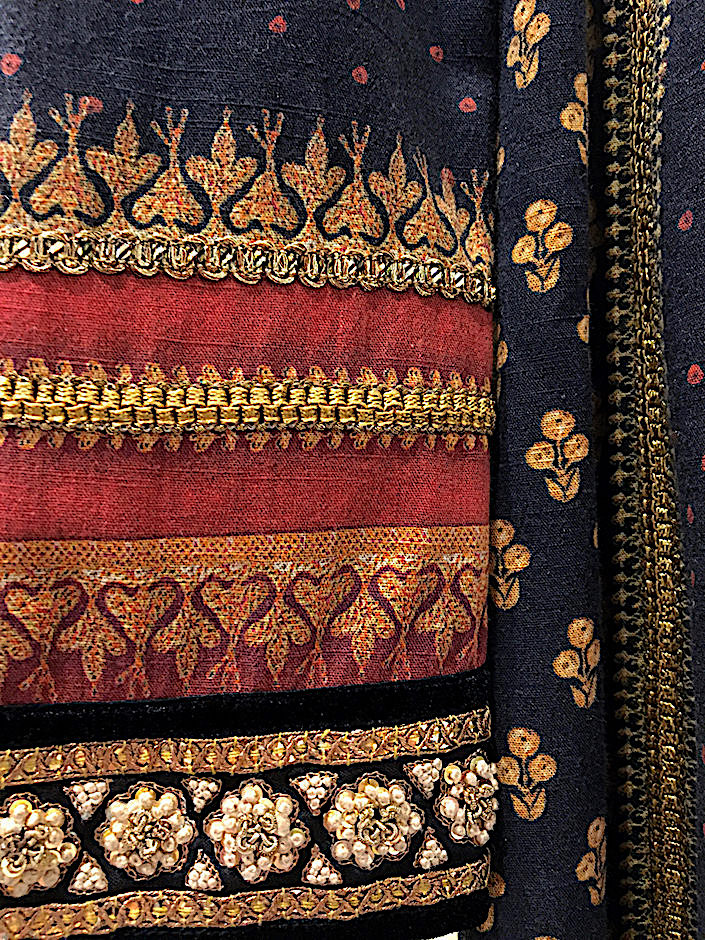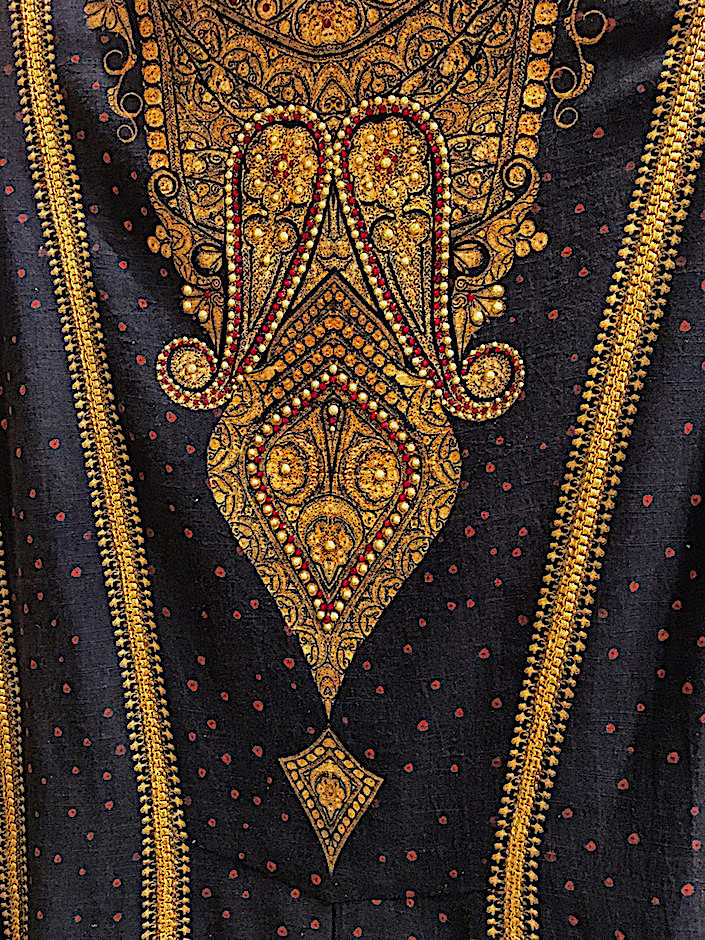 The Miniature Painting Collection is about framing the romance and history of these charming Mughal narratives.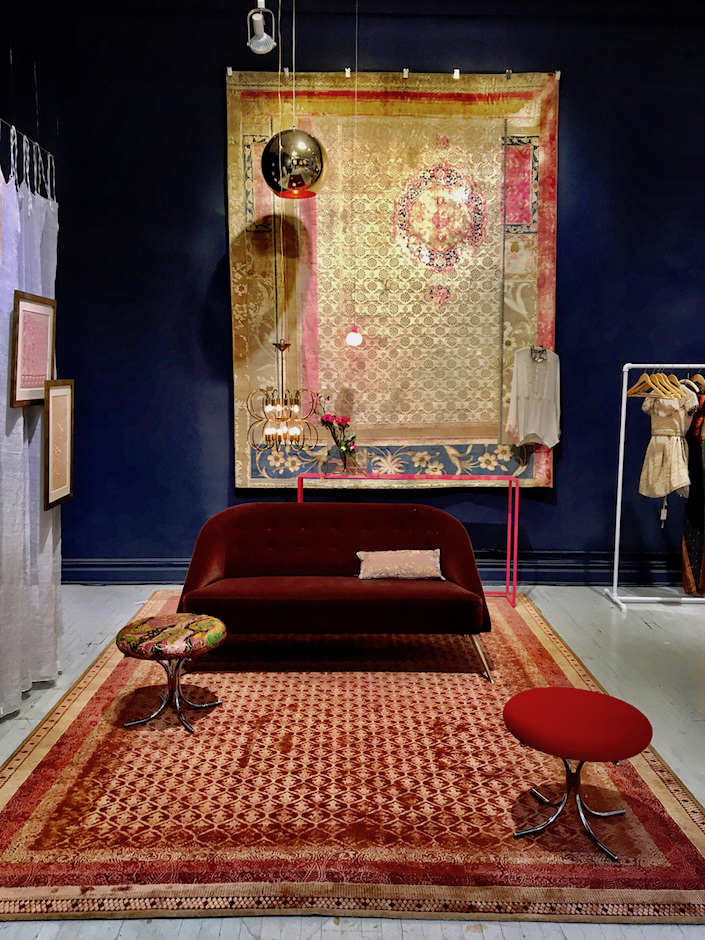 While history has moved on, Tahiliani has reinterpreted the borders incorporating traditional motifs of gardens, Persian scripts and tiny birds and bees, enhanced with metallic thread embroidery.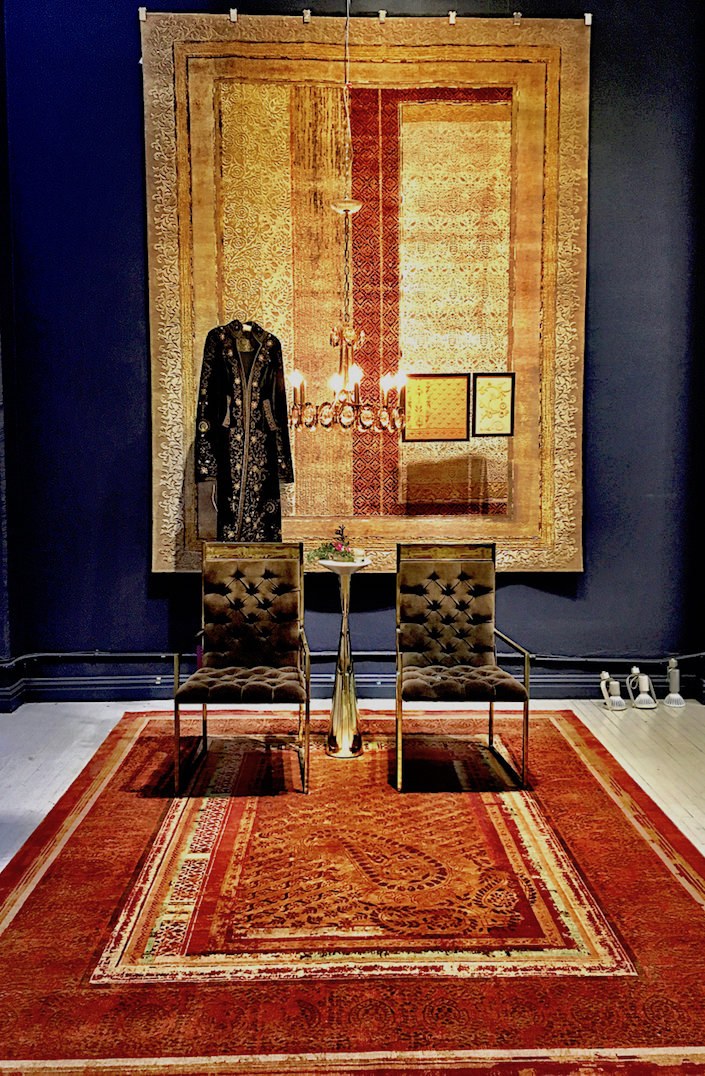 Tahiliani explains, "Classical Indian design has always been defined by borders and Miniature series takes its inspiration from them. We took these borders, in all their elaborate refinement, and cut and paste them freely. Medallions that anchored symmetry in their traditional form were thrown on in abstraction. "A detail of the Farozan design below.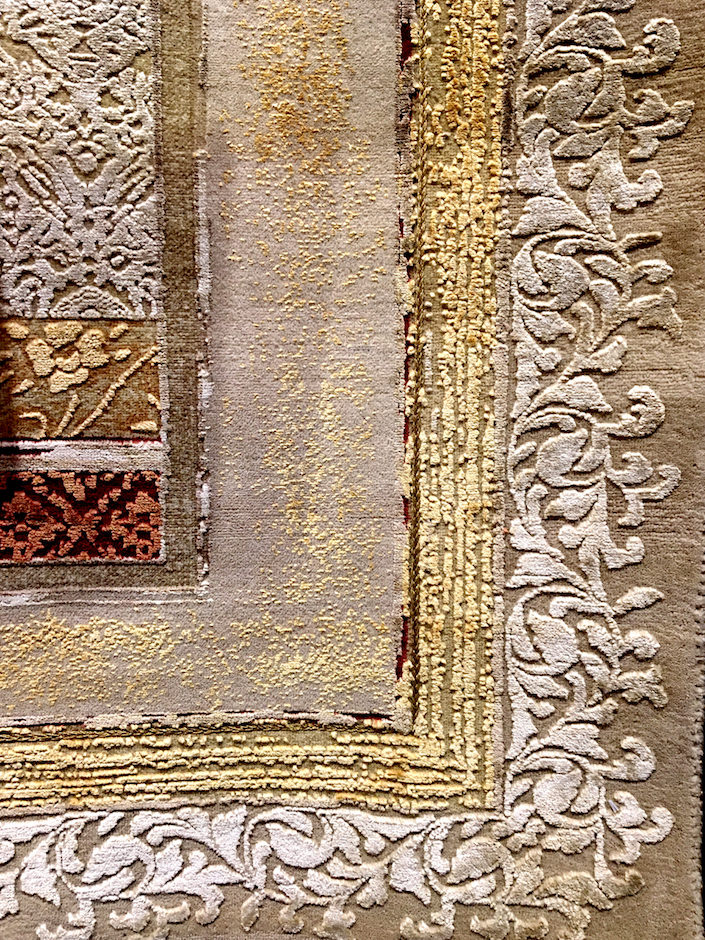 The Mughal Maze design's high composition of silk, below, lends it a warm and subtle opulence.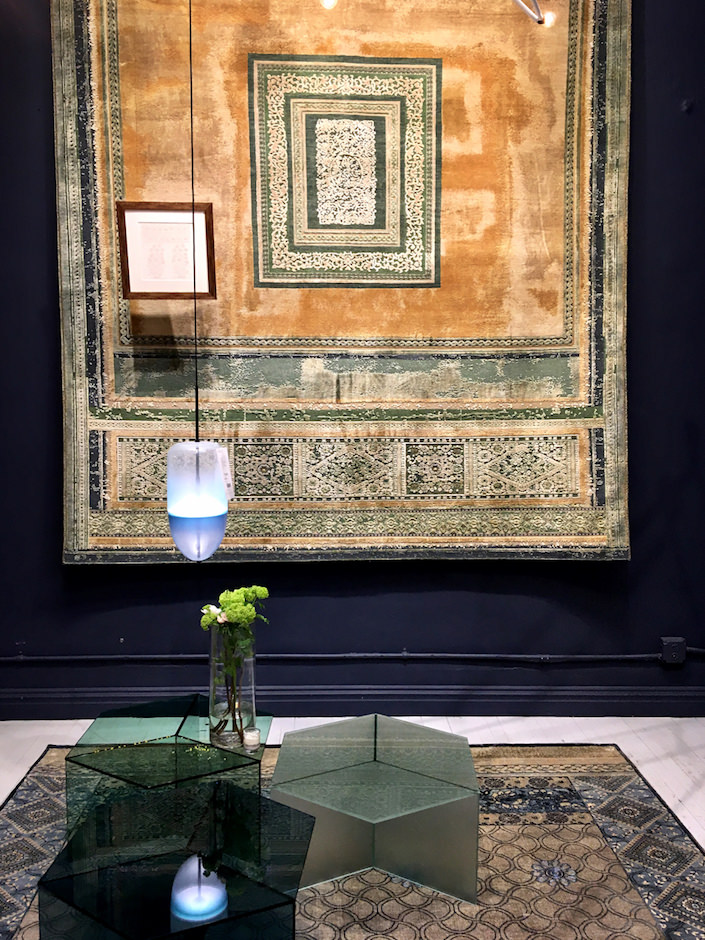 The final group, the Abstract Art collection, is like a woven canvas, incorporating layering and textures,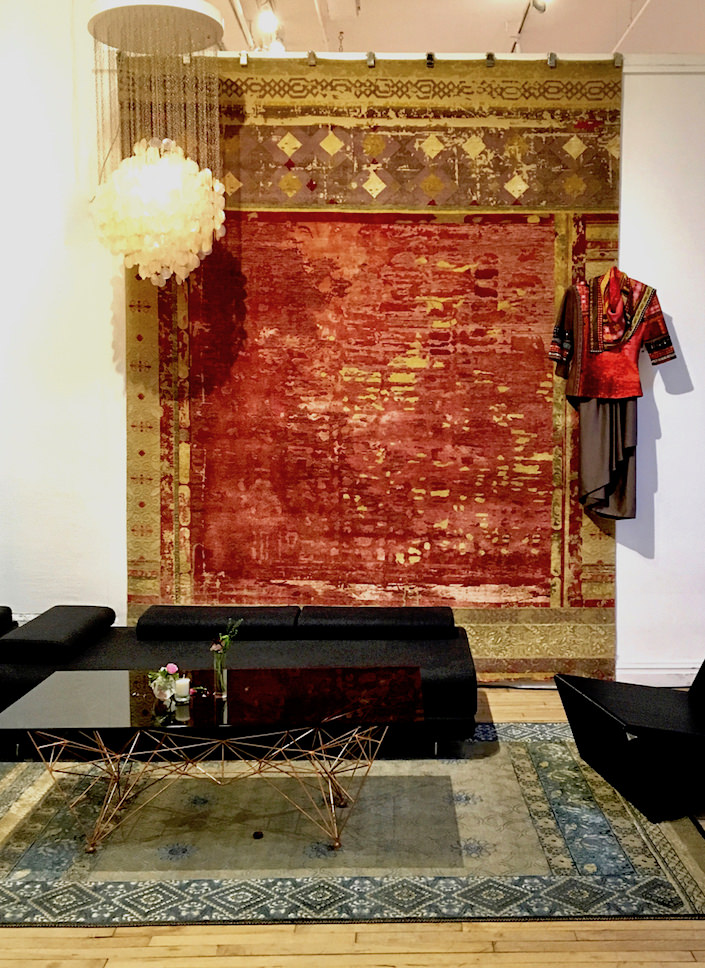 two signatures of Tahiliani's own art echoed in these designs.
all photos by Stacey Bewkes for Quintessence
Having worked with many carpet traditions from around the globe, Obeetee now looks to its own country's talented designers to help reinvent the loom. Their new Proud to be Indian initiative, launching with Tarun Tahiliani's collection, celebrates the best of  creative collaboration, the fusion of fashion and decor, of old and new and of India's incredible legacy of handmade luxury.