Sometimes, as you're falling down a rabbit hole, you happen upon a rare gem. Hence this weekend treat. Jean Cocteau's amazing Milly La Forêt, now a museum a short trip from Paris on the edge of the forest of Fontainebleau, is his oft published residence. But less known and yet another tour de force from the prolific genius is the artwork he created for friend Francine Weisweiller at her summer home, Villa Santo Sospir in Cap Ferrat. With interiors by Madeleine Castaing, it is almost an embarrassment of riches.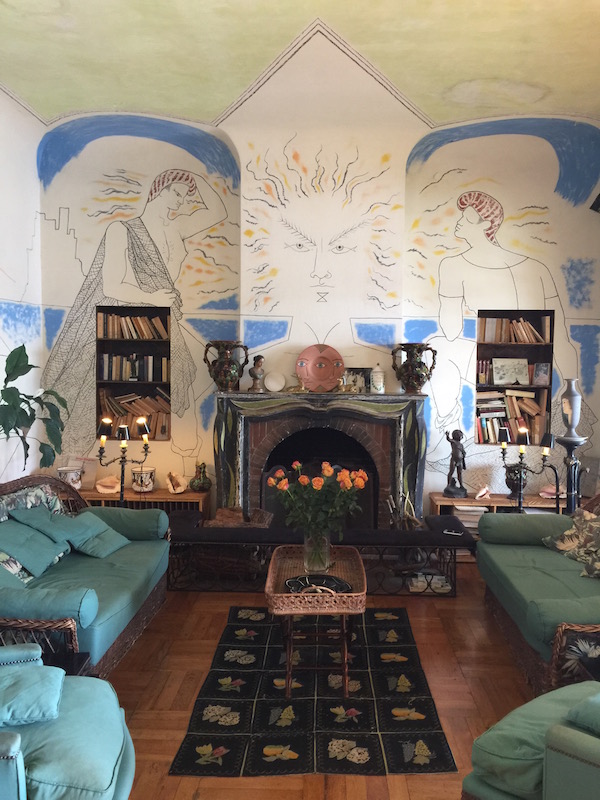 Brazilian designer and editor Fabrizio Rollo was lucky enough to visit this summer. His photos above and below capture the creative spirit of Cocteau's contributions. You can visit the entire post on his visit here.
photos above by Fabrizio Rollo
Having met Cocteau after the filming of his Enfants Terribles, Weisweiller invited him, in 1950, for a week's vacation to Villa Santo Sospir. Purchased as a vacation home, the walls of the house were still bare. Several days after his arrival, Cocteau asked if he could sketch a head of Apollo over the living room fireplace, seen in the top photo. The week turned into the entire summer as Cocteau drew with charcoal on the walls throughout the villa, progressing eventually to colored frescoes tempera.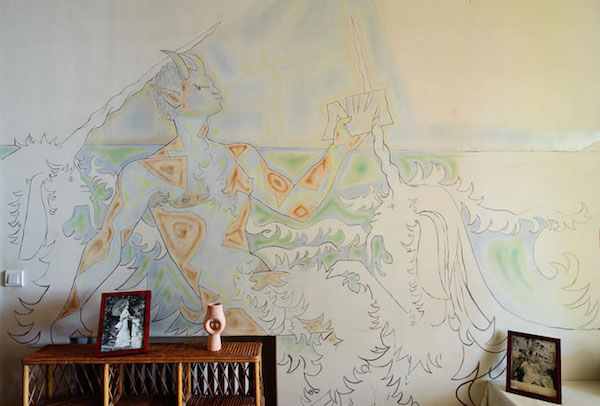 With inspiration from Greek mythology and local scenes, Cocteau filled the entire residence with large evocative imagery, including a tapestry, Judith et Holopherne, seen in the dining room above, and two mosaics for the patio entrances, below.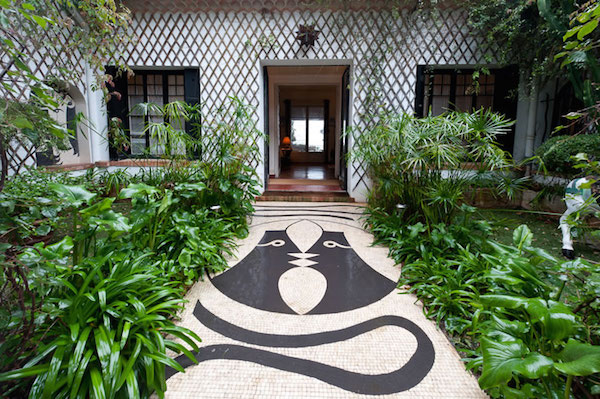 Even furniture and doors were embellished with Cocteau's spirited imagination. In describing his work at Villa Santo Sospir, Cocteau explained that he did not want to dress the walls, but rather draw on their skin, likening his frescoes with line drawings to tattoos. "Santo Sospir est une villa tatouée." In 1995, the building was classified as a historic monument, open to the public by reservation.
three photos above via the Villa Santo Sospir site
Over the next 13 years, Cocteau lived on and off at Villa Santo Sospir, continuing to "tattoo" the house. So inspired by this personal form of decoration, he went on to restore and adorn the ancient romanesque chapel Saint-Pierre in nearby Villefranche-sur-Mer as well as the Wedding Room in the town hall at Menton. And five years ago, the new Jean Cocteau Museum opened in Menton. As Cocteau specialist Annie Guédras explained, "Cocteau always said he was an acrobat who led his life on the high wire across the decades of the century," she said. "He was always in the avant garde, always looking at new ideas and new ways of expressing himself."  To hear the artist, himself, speak about Villa Santo Sospir, there is a subtitled version of a video below from 1952.