As soon as I got a peek at the project by Philip Gorrivan in the February House Beautiful, I knew I had to share. There is so much to applaud in Philip's design for this charming Connecticut country house, not the least of which is his masterful harnessing of the power of wallpaper. And while the makeover is replete with artistic flair (the title of the piece) in the designer's use of pattern and color, the 1920's colonial still retains a country air.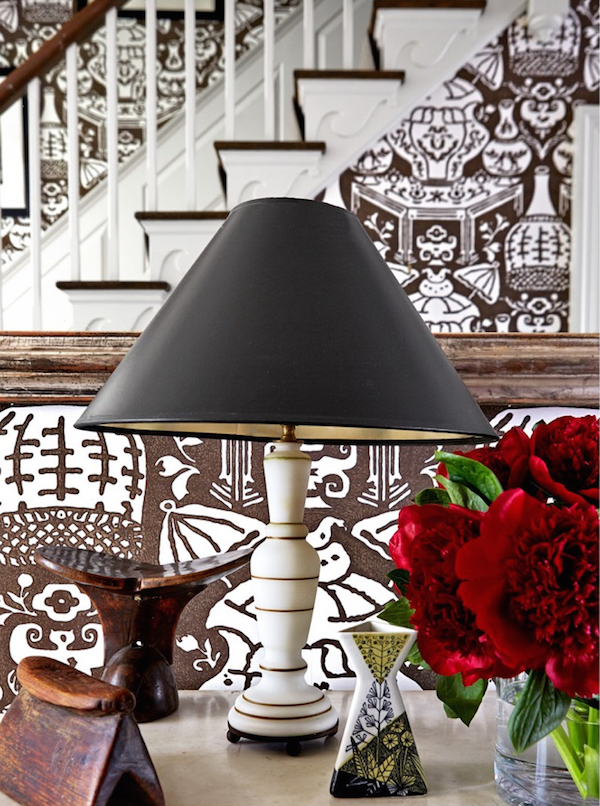 Bold pattern entreats you from the entrance, above, where David Hicks' iconic Vase wallpaper sets the tone. Its timeless graphic chinoiserie seems in perfect harmony with the colonial revival scroll detailing on the staircase, rejuvenating it with updated vigor.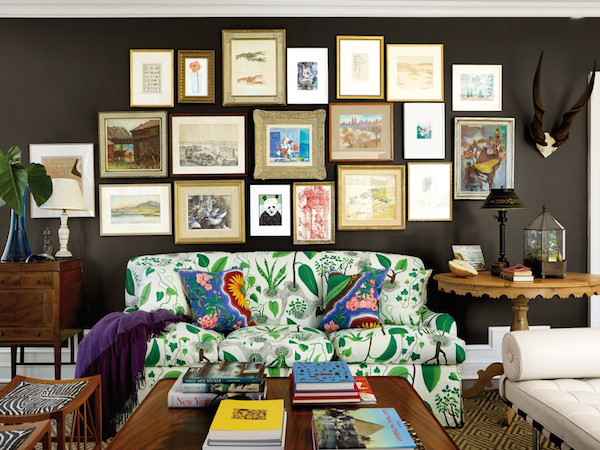 I just love how the wonderful gallery wall seems so casually hung. And like the rest of the room, it is clearly a personal statement, filled with evidence of life and interests. For those afraid of employing dark colors, let this room be a lesson. Everything pops against Farrow & Ball Tanner's Brown, including the sofa's Josef Frank Windows which feels positively refreshingly, like leaves against the bark of a tree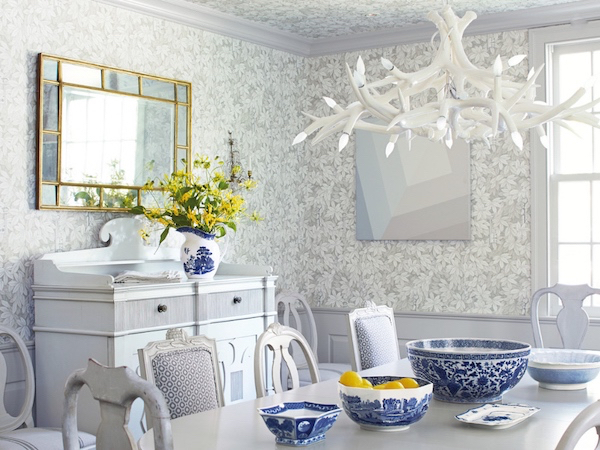 In the dining room, above, the Fornasetti wallpaper reinforces the winter white palette of the homeowner's Swedish furniture. Continuing it on the ceiling embraces Philip's vision for a snowy forest. And upstairs, Holland and Sherry Belfour wallpaper transforms a long hallway into a space with vibrant visual interest.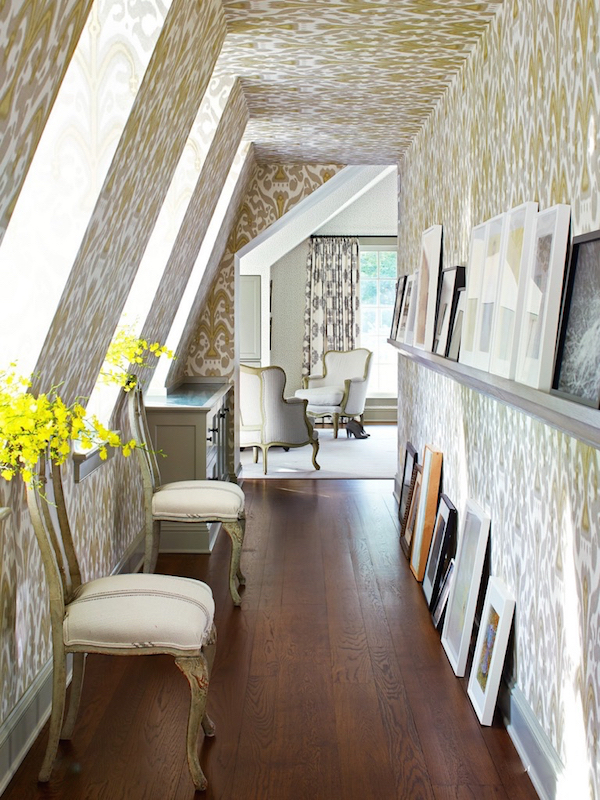 But it's in the bedrooms where the power of wallpaper really animates the spaces. An older son is enveloped by a sea of moody clouds in a room that tells a masculine and dynamic story. In an otherwise tailored and classic room, Fornasetti's Nuvolette paper adds a brooding element for a young man of perhaps mysterious substance.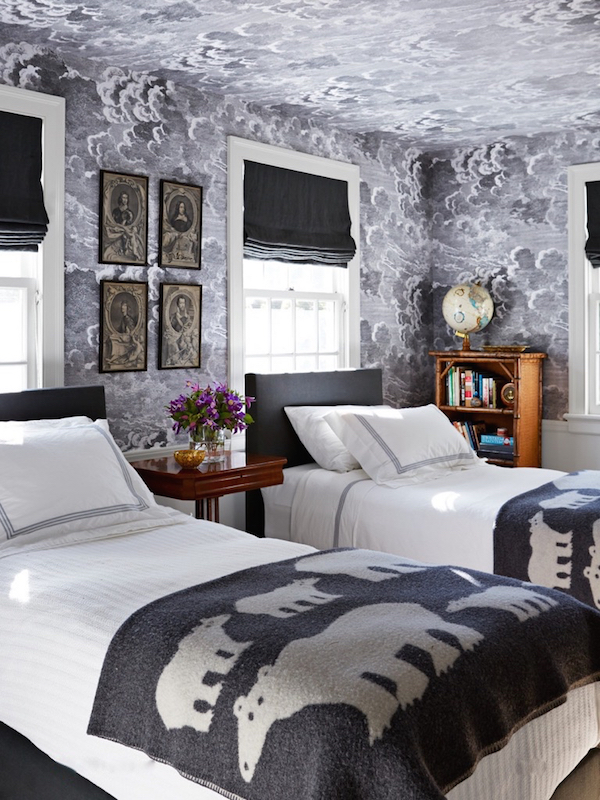 As Philip says, the best rooms tell a visual story and this one feels brimming with character and potential plots.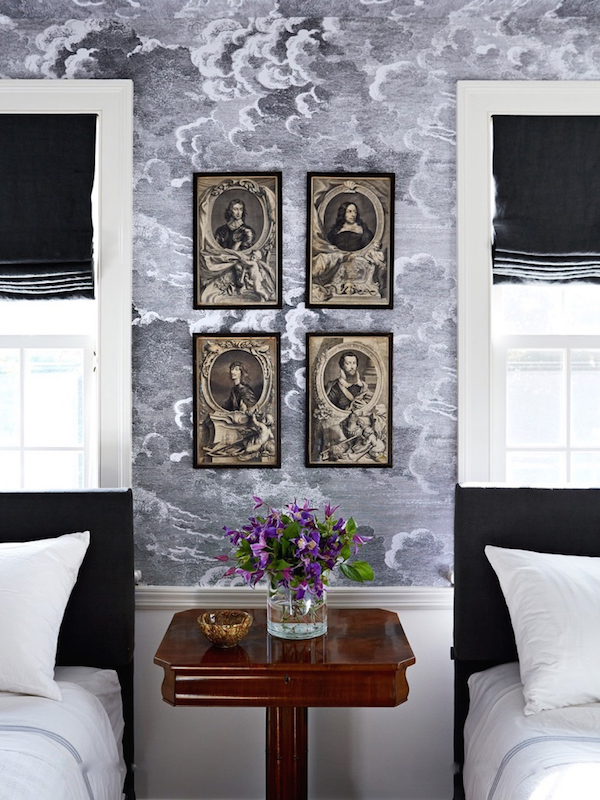 The two youngest sons share this colorful fantasy. Like an enchanted forest right out of C. S. Lewis, walls swathed in Cole and Sons' iconic Woods wallpaper gives the stately Gustavian bed a fort like quality.
photos by Maura McEvoy
There are some other terrific front of book and well features emphasizing the power of wallpaper and inspiring ways to revamp and refreshen your spaces.