I buy design and lifestyle books for any number of reasons – for reference, for inspiration and certainly for enjoyment. But sometimes it is also so I can be an armchair traveler and take a trip anywhere I desire from the comfort of my home. Two books I purchased this fall fulfilled this category and more. The subtitle of Private Houses of France, Living with History, was an additional enticement.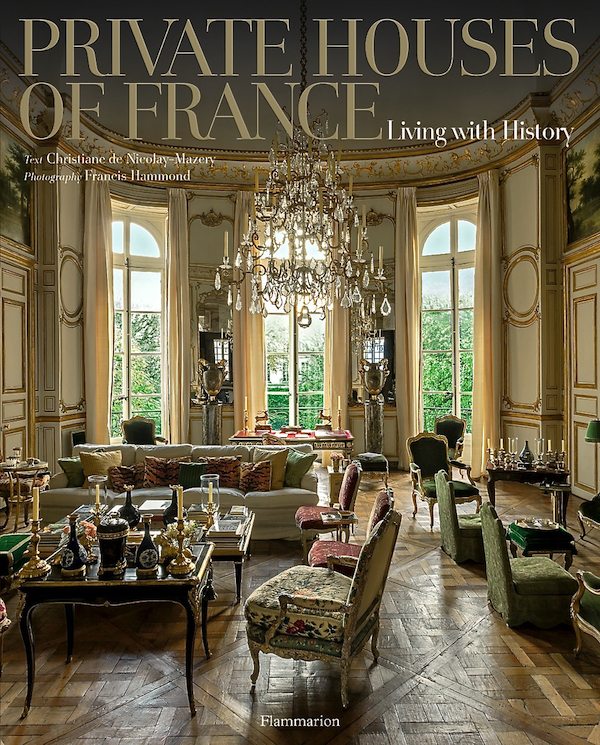 In Christiane de Nicolay Mazery's marvelous new tome, she gives us entrée into a dozen magnificent privately owned houses, each with an illustrious past. The Château d'Anet, for example, is a Renaissance masterpiece, built in 1547 to house King Henry II and his famous mistress Diane de Poitiers. The legendary estate included a library considered to be one of the most exceptional of its era. In the library today, you can see the couple's legacy on the ceiling – Diane's crescent moon emblem with H for Henry.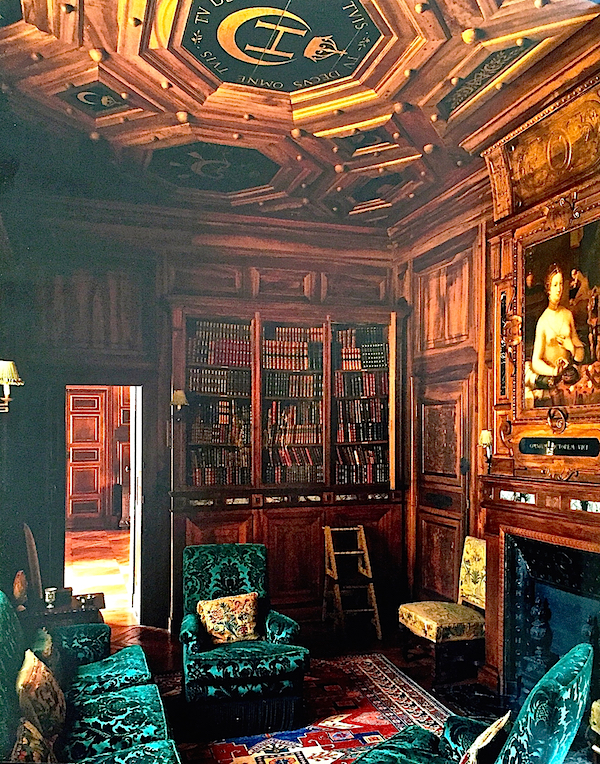 Following a list of illustrious owners through the centuries, it is now the residence of Jean de Yturbe and wife Sandy, who have transformed the château into a splendid family home. Even the smallest rooms are treated with the utmost attention. Below, a tiny turret boudoir is swathed in charming Le Manach wallpaper.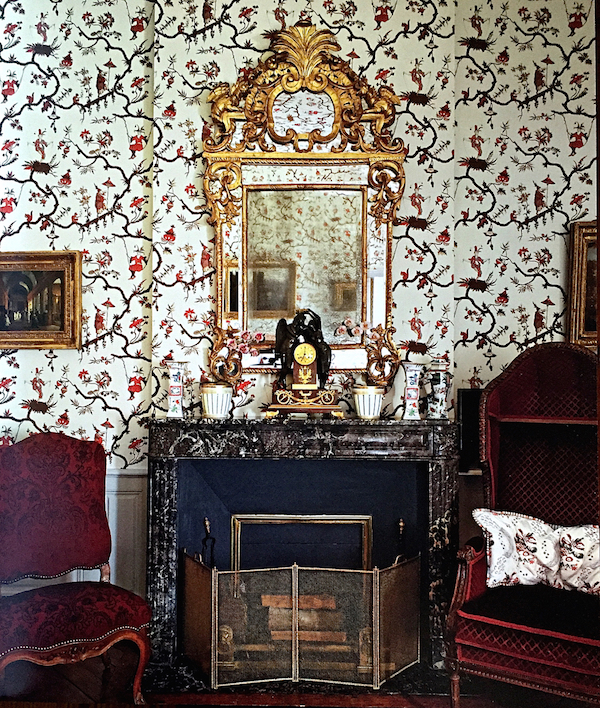 Each house represents not only an exquisite structure but a lifestyle inspired by the classic elegance of French joie de vivre. In the Loire valley, Champchevrier has been owned by the same family since the early eighteenth century. Once an estate which received guests of rank including the king, a part of the château is now open to the public during the summer months for tours and events. While the family uses the large dining during the rest of the year, you could host your own reception here in the summer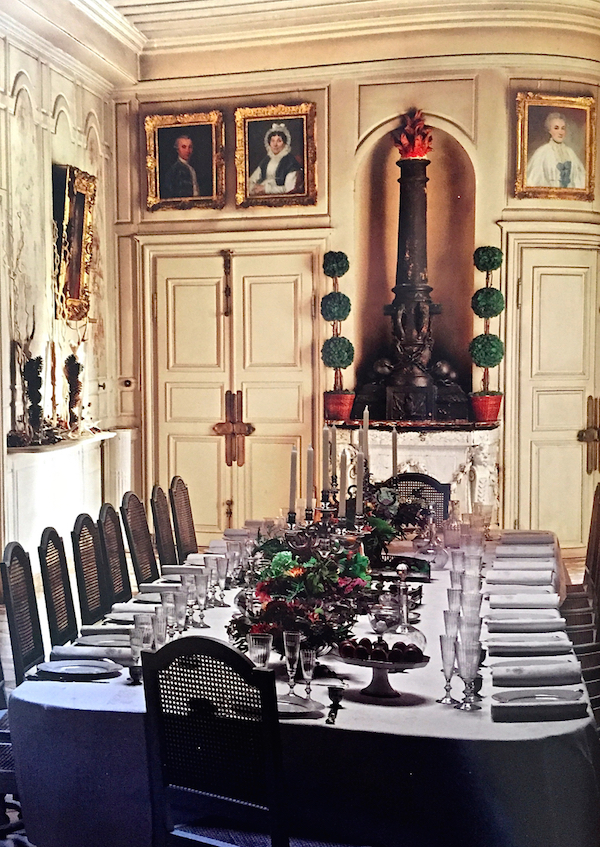 and live vicariously for a marvelous meal.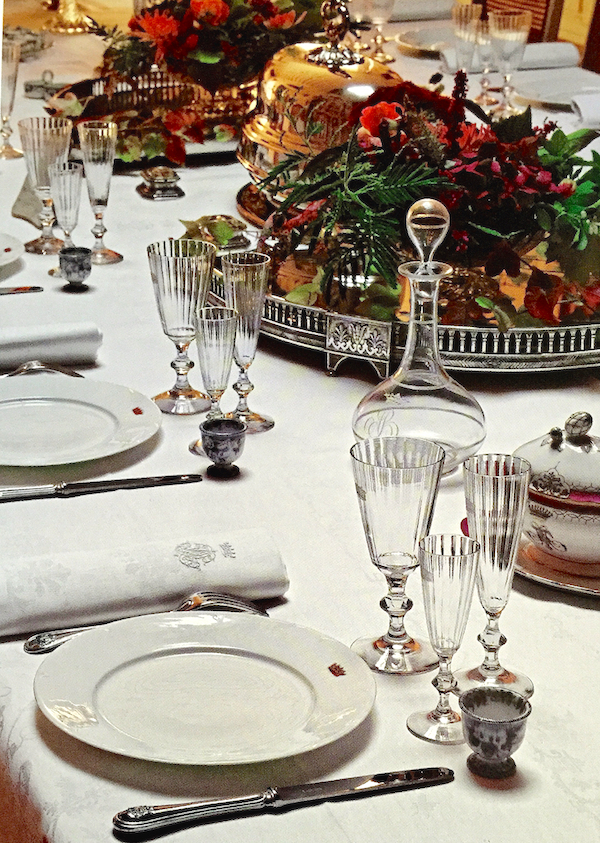 In the fall, Champchevrie hosts the oldest hunt in France, which the author marvelously chronicles in its own chapter. "Final preparations for the hunt are made in the trophy room," below.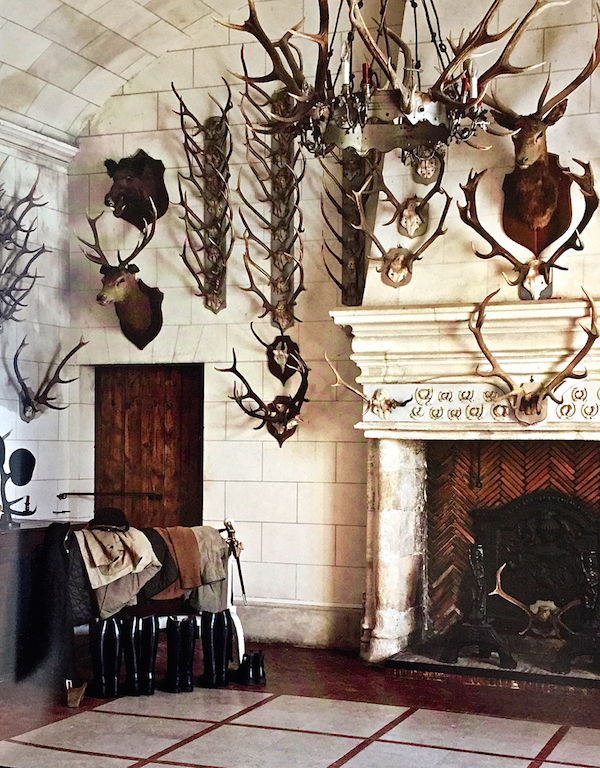 The author also visits with "Princesse G," now nearly 90, in her opulent Faubourg-Saint-Germain apartment in Paris. Here she shares memories of pre-war Paris, of art, people and life of another time and era. Her salon is vibrant in red where a "very fine divan à la turque" stands in front of a fabulous tapestry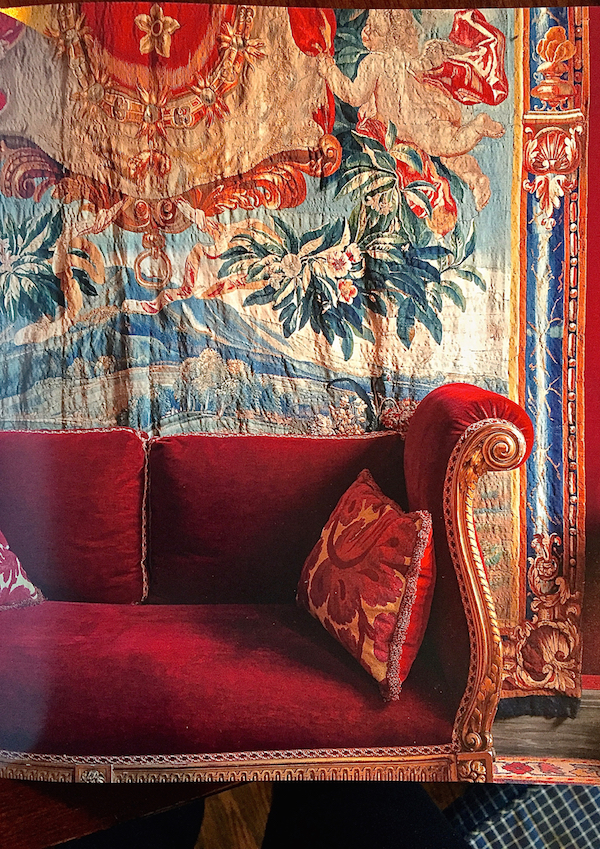 and the walls are lined in red velvet with a sumptuous mix of pattern and materials.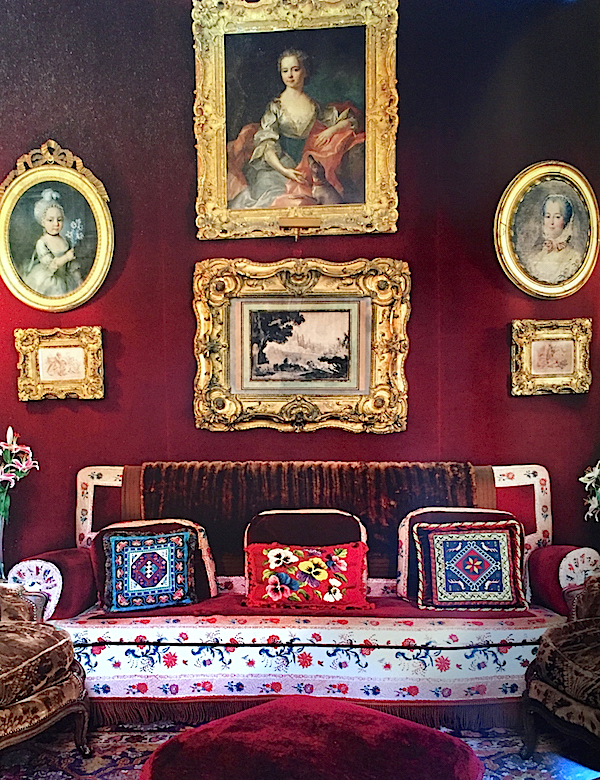 Naturally Hubert de Givenchy's splendid Paris home, the Hotel d'Orrouer, is included. The green salon, below features a collection of exceptional pieces.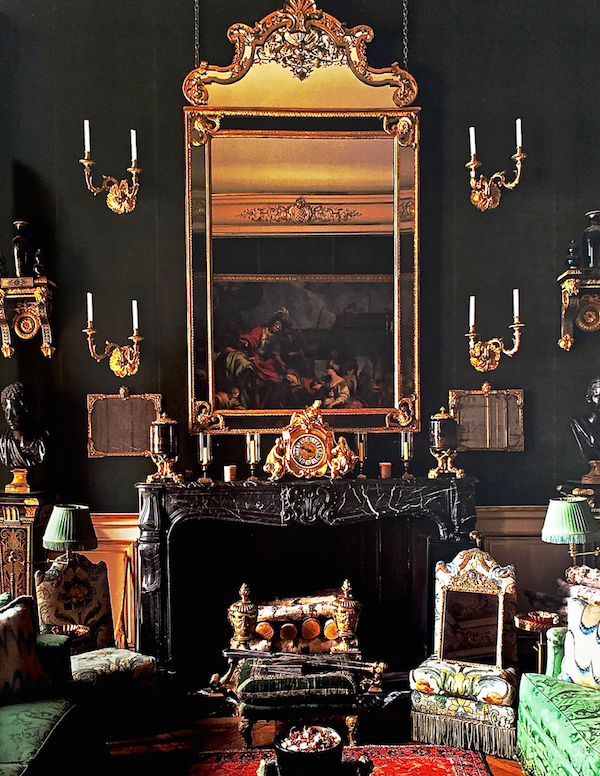 You may recognize Susan Gutfreund's Henri Samuel decorated Paris apartment, which was to be his final project. Her boudoir features a marvelous  trompe l'oeil painting of blue and white Chinese vases by Jeffrey Bailey. With beautiful new photography by Francis Hammond, this is a marvelous journey through history, houses and a way of life.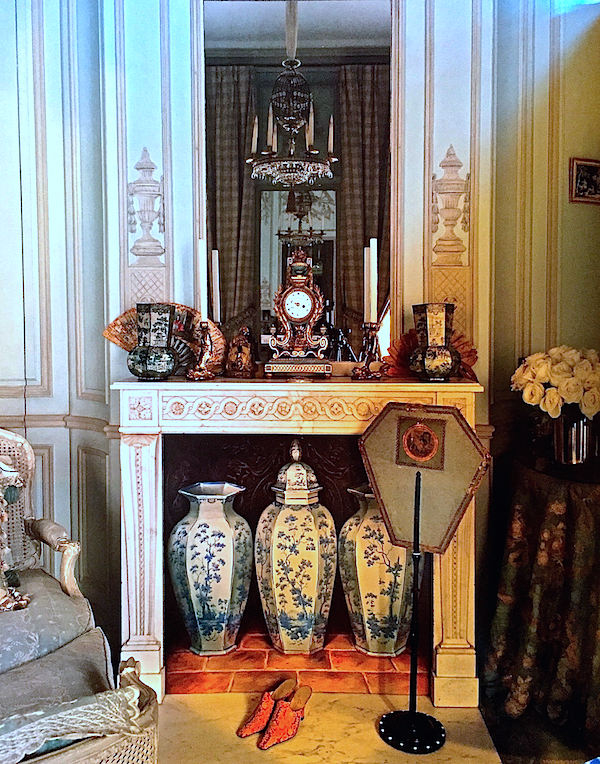 On a different but completely delicious (literal and figurative) note is Mimi Thorisson's A Kitchen in France. I have been meaning to feature this wonderful title ever since I purchased it when it came out this fall. Since then it has received so much attention, that I'm hoping there are still a few of you who don't already own it.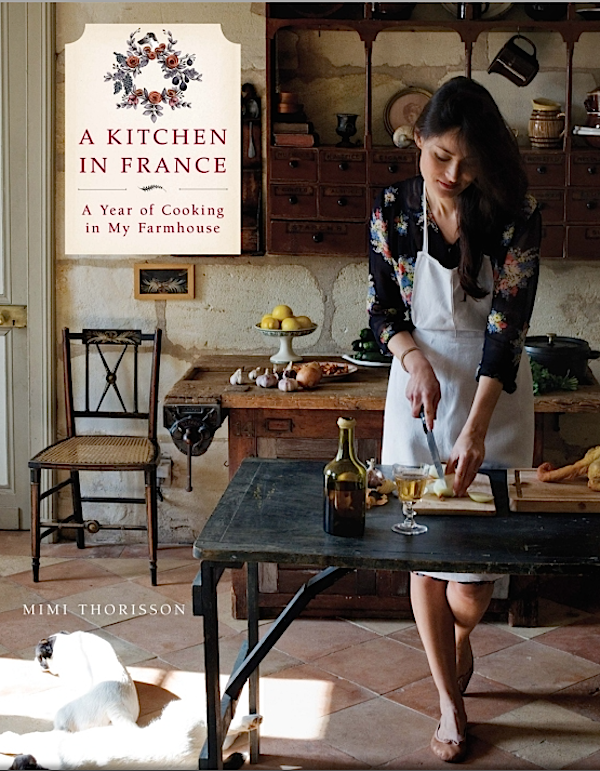 You will be totally transported by Mimi and her enviable life in the Médoc countryside. Who doesn't dream of living in a charming farmhouse in the south of France, shopping at local markets, drinking wine from one of France's most celebrated regions and cooking seasonally, inspired by the area's freshest ingredients.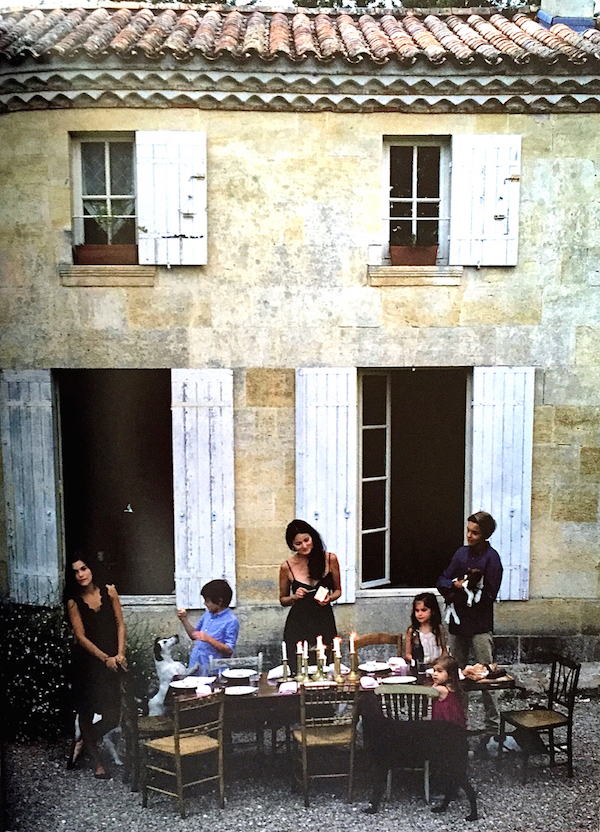 Add to that living with five children, two stepchildren, fourteen dogs and a talented photographer husband and you have a story worth chronicling, which Mimi does on her popular blog, Manger, which began right after she posted this enchanting Garden Cake online.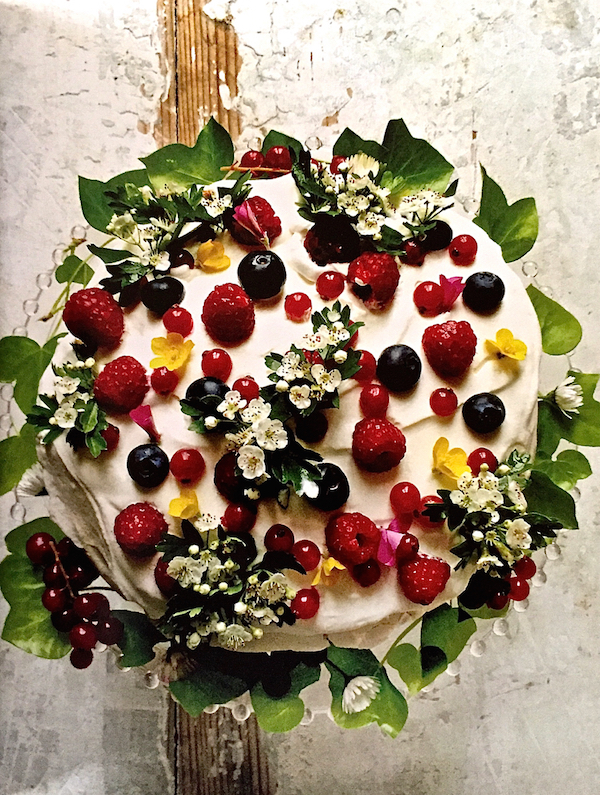 And now you can live vicariously in print through husband Oddur's glorious images in this beautiful book. Follow Mimi for a walk in the woods.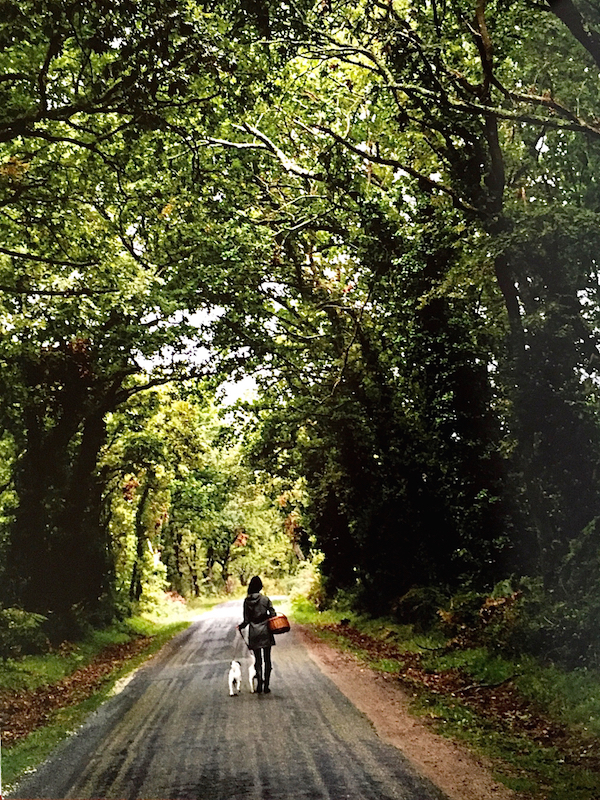 Meet the local farmers and merchants.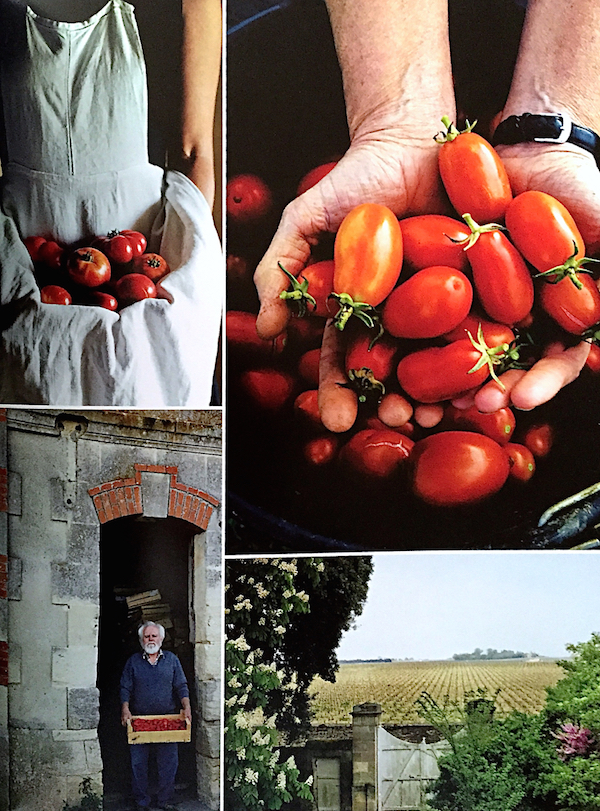 Join Mimi in the kitchen with her family.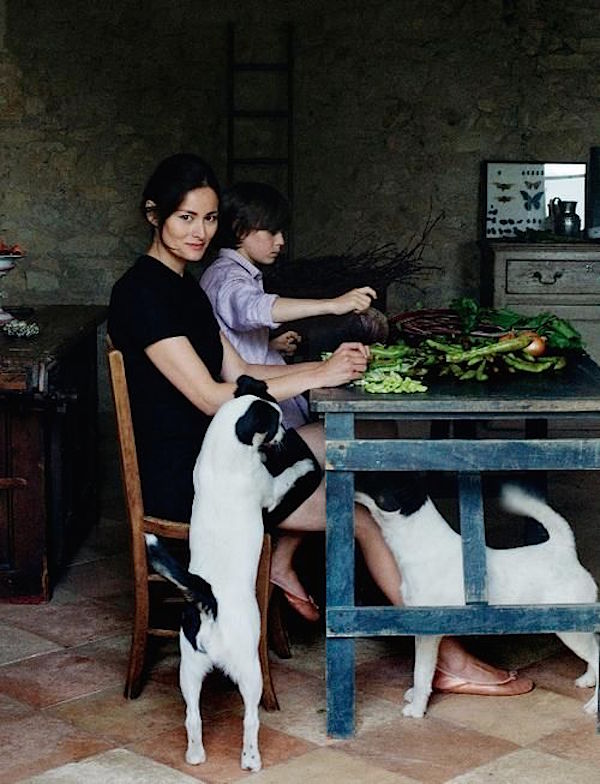 And of course drool while you read the unintimidating recipes, beautifully presented and photographed. Organized by season with starters, main courses and a side, and desserts for each, as winter is below, any time of year seems like a gastronomic celebration.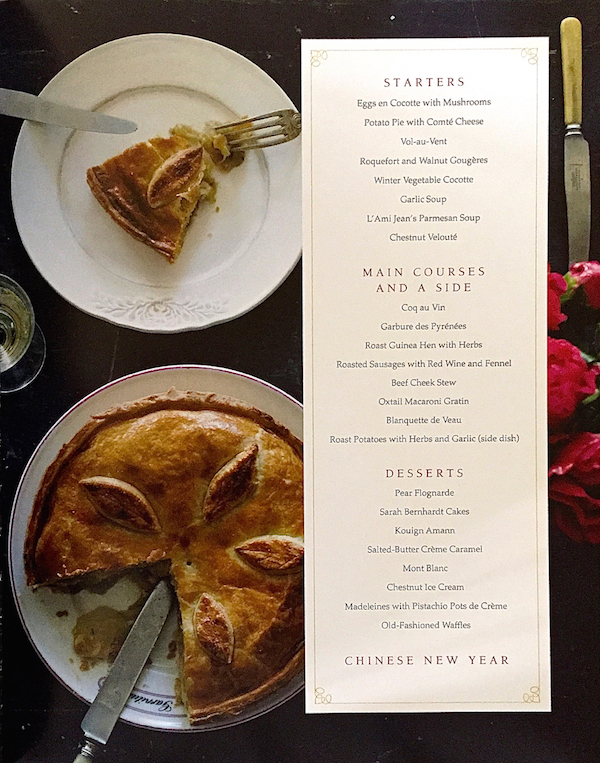 But be forewarned, reading when hungry is dangerous (dying for this seared foie gras with grapes and figs).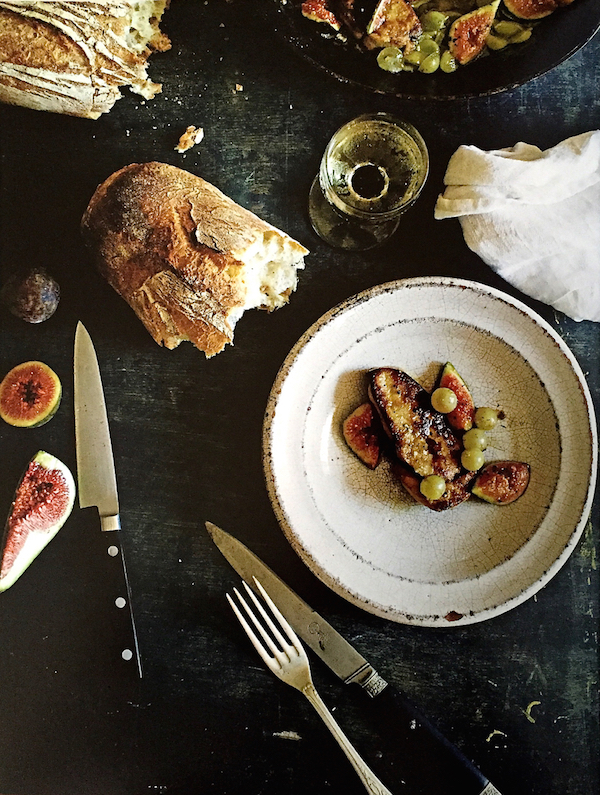 It would be easy to resent Mimi – beautiful, talented (and still so trim after all that food) if she weren't so down-to-earth and truly appealing. You won't want to leave her culinary world.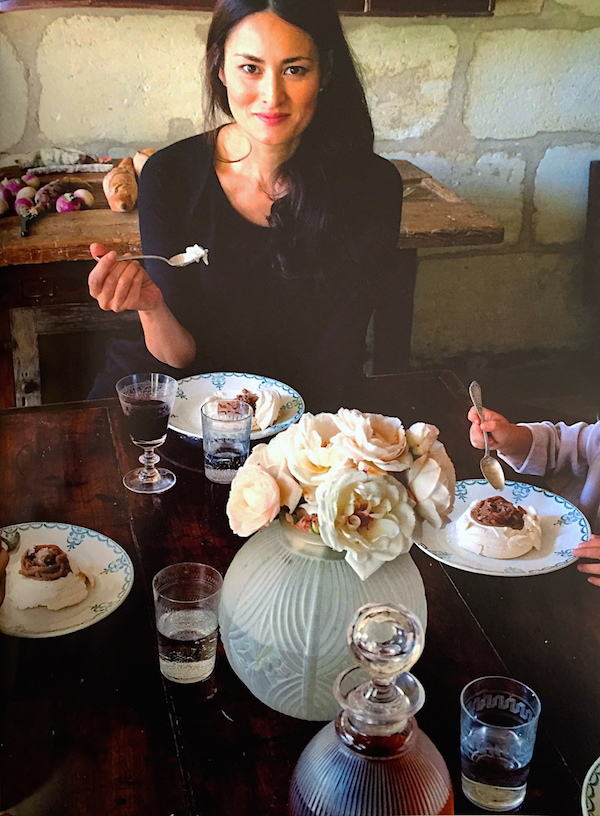 Mimi puts it best. "If I can inspire people to cook good food with high-quality ingredients, using simple everyday French recipes, I will have achieved something. If I can make someone feel that we can all, at some point, live our dreams one way or another, change our lives if we wish to, even if it's just to try it out, then so much the better."