Today we take a final look at more of the fantastic tables from the NYBG 2017 Orchid Dinner. And don't forget, if you're in the area, to stop by the Orchid Show at the New York Botanical Garden, open now through April 9th!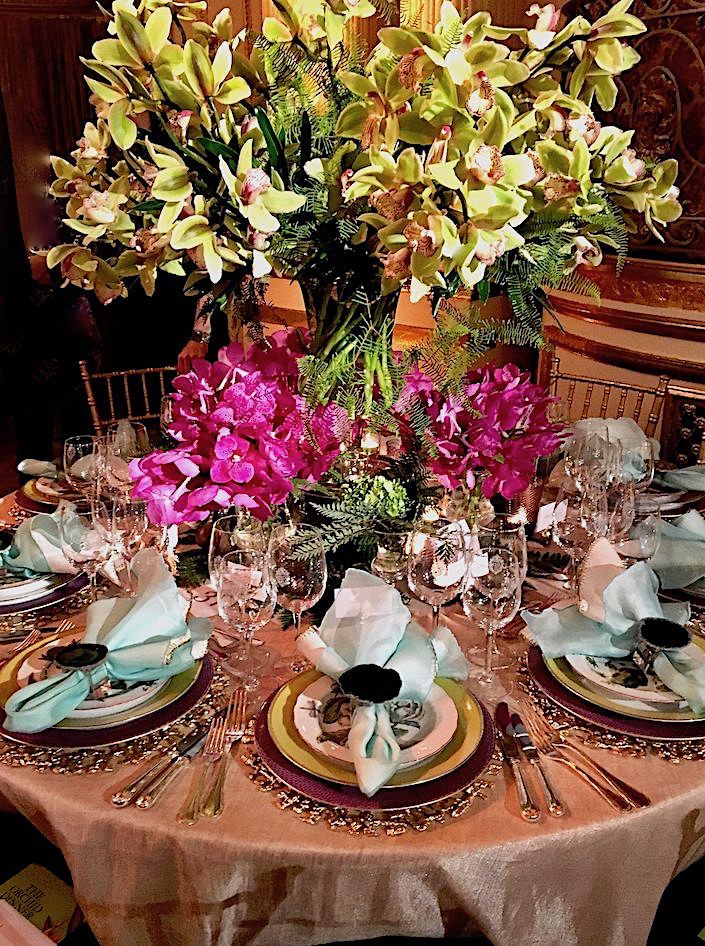 I loved the beautiful green and plum colorway at Kathleen Walsh's table, featuring a spectacular centerpiece from ZeZé's Flowers. On a tablecloth of Kravet fabric, she layered several favorites –  Mottahedeh's Lace service plate and Chelsea Botanicals dessert plate with under a Robert Haviland & C. Parlon Arc en Ciel dinner plate in between. Kim Seybert's Molten Gold charger, Agate napkin ring and layered silk organza and linen napkins added to the table magic.
Shaun Smith used Travers' Happy Dragons for a chinoiserie chic table topped by Christopher Spitzmiller marbleized urns and an exuberant spray of vibrant orchids.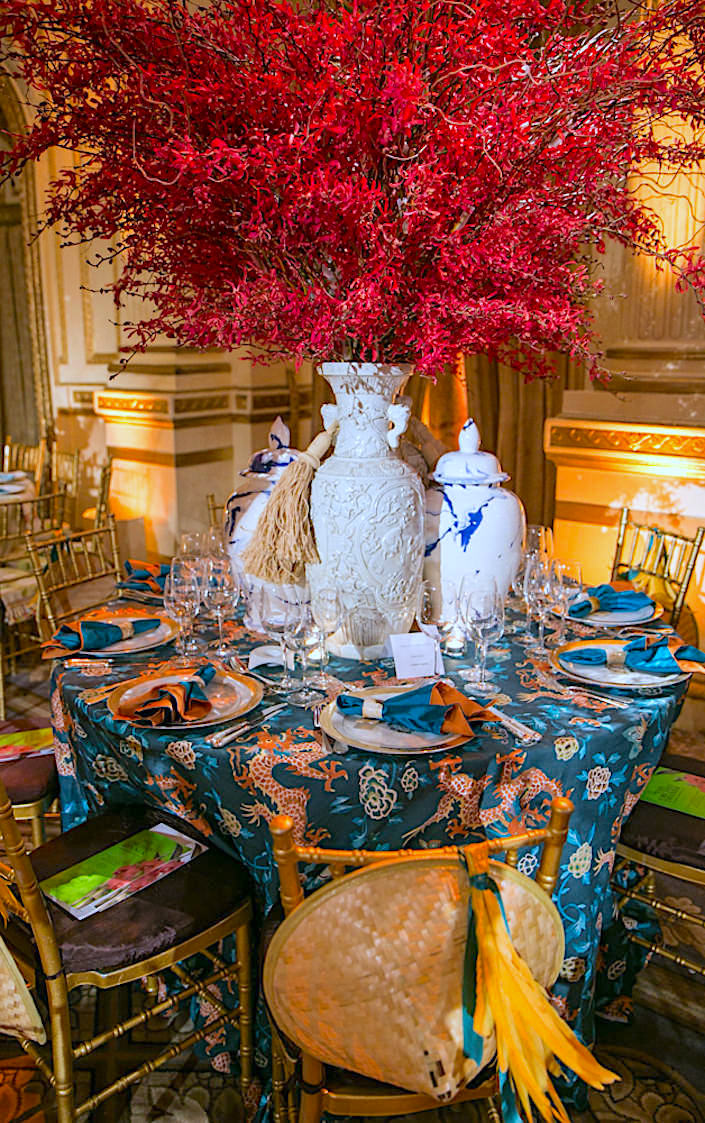 For their elegant "Thai One On" table, Drake/Anderson designed a stunning sculptural centerpiece of hazelnut tree branches entwined with Henna Vanda orchids executed by Blondie's Treehouse.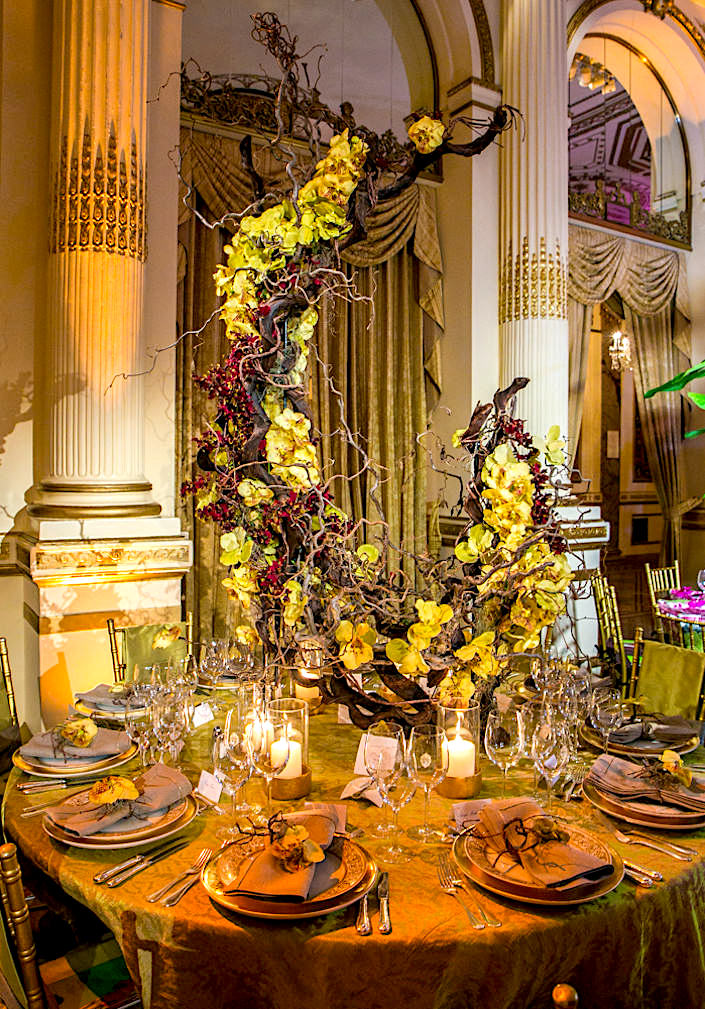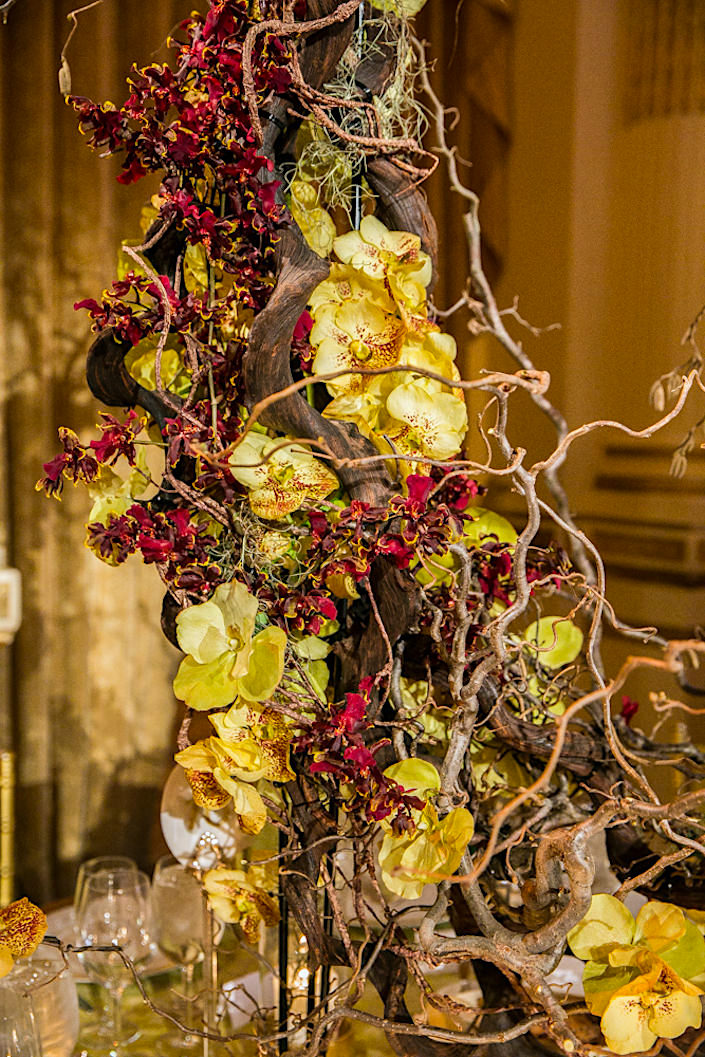 The vibrant yellow was echoed in a chic tablecloth of Lelievre's luminous Auguste available through Stark with chargers and hurricanes by l'Objet and napkins courtesy of E. Braun.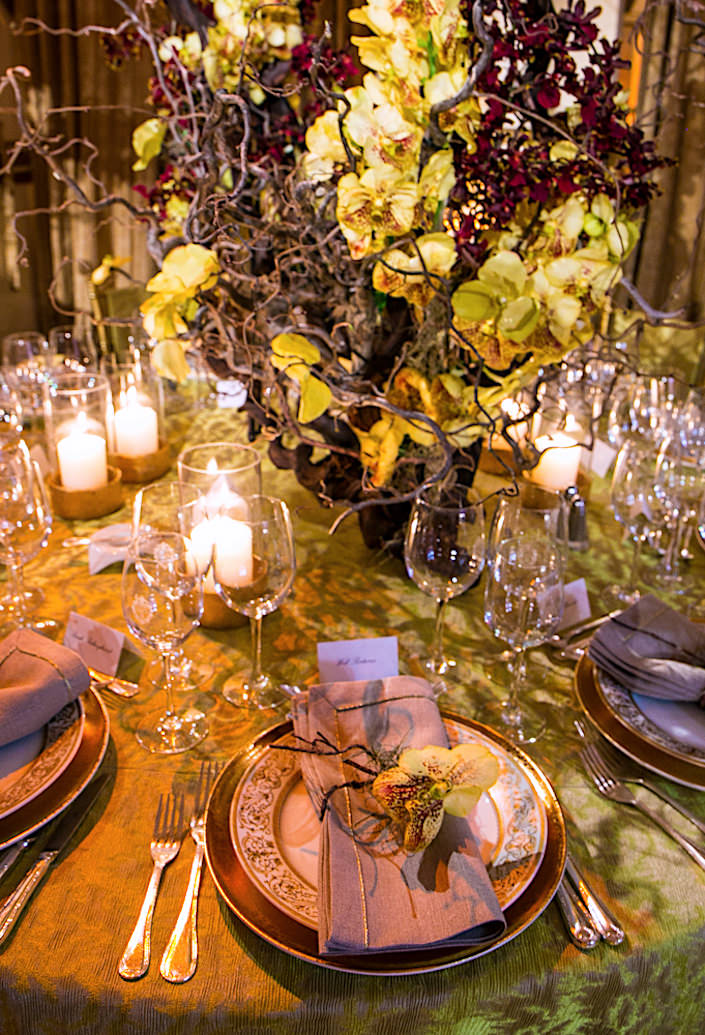 Katie Leede always produces tables of creative global chic – here topped with orchids from Caribbean Cuts and J&P Flowers. Katie paired an antique suzani with fabrics from Style Library –  seatback covers of Harlequin's cut velvet Ascent and napkins of Scion's Boho trimmed in Harlequin's Anoushka Plains.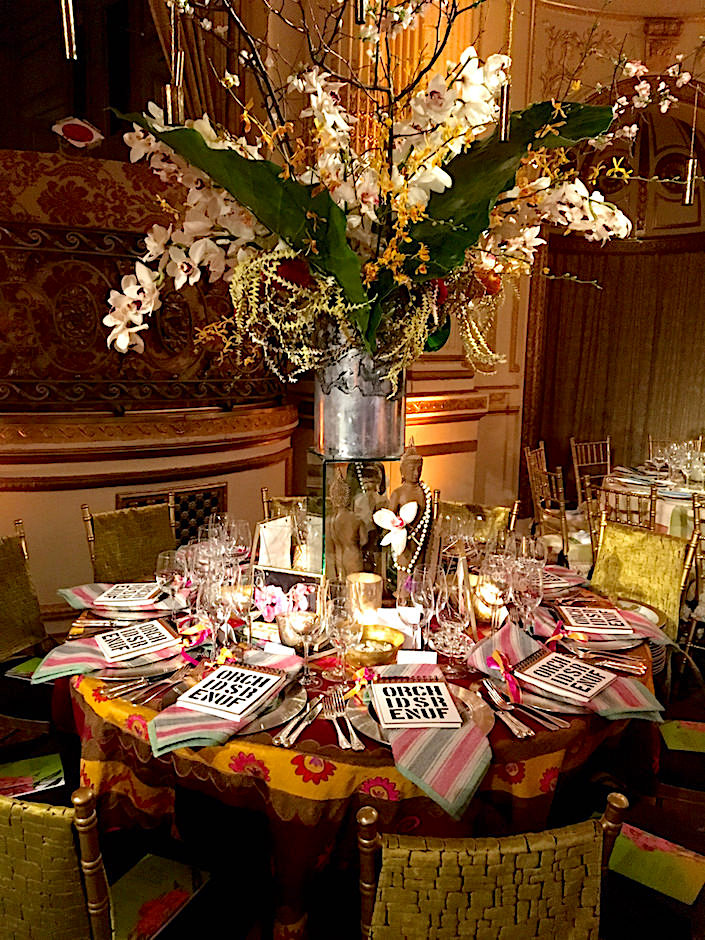 Dinner guests received clever books with covers stylishly laser cut by Fabberz.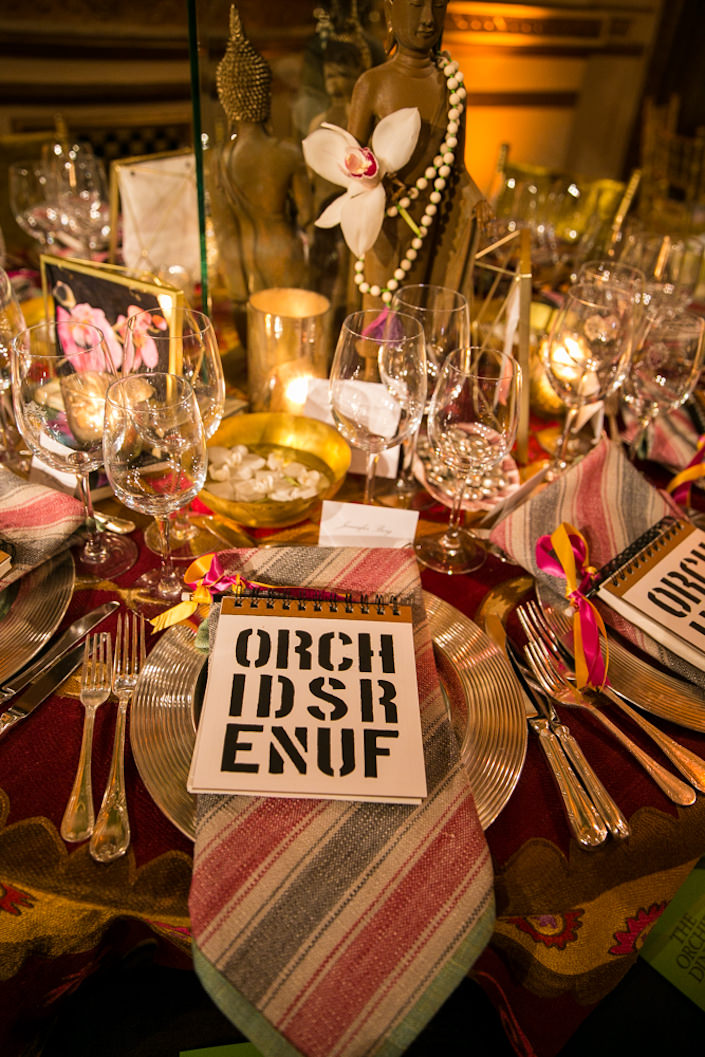 Lindsey Coral Harper created a table with a colorful more is more sensibility. Jim Thompson's Tibetan Sun fabric by Hutton Wilkinson for the Tony Duquette Collection was a perfect match with Frontgate's fabulous new malachite ceramics and monogrammed Matouk napkins. What you can't see is the full height of her fabulous centerpiece with coral-like branches practically exploding out of their vase.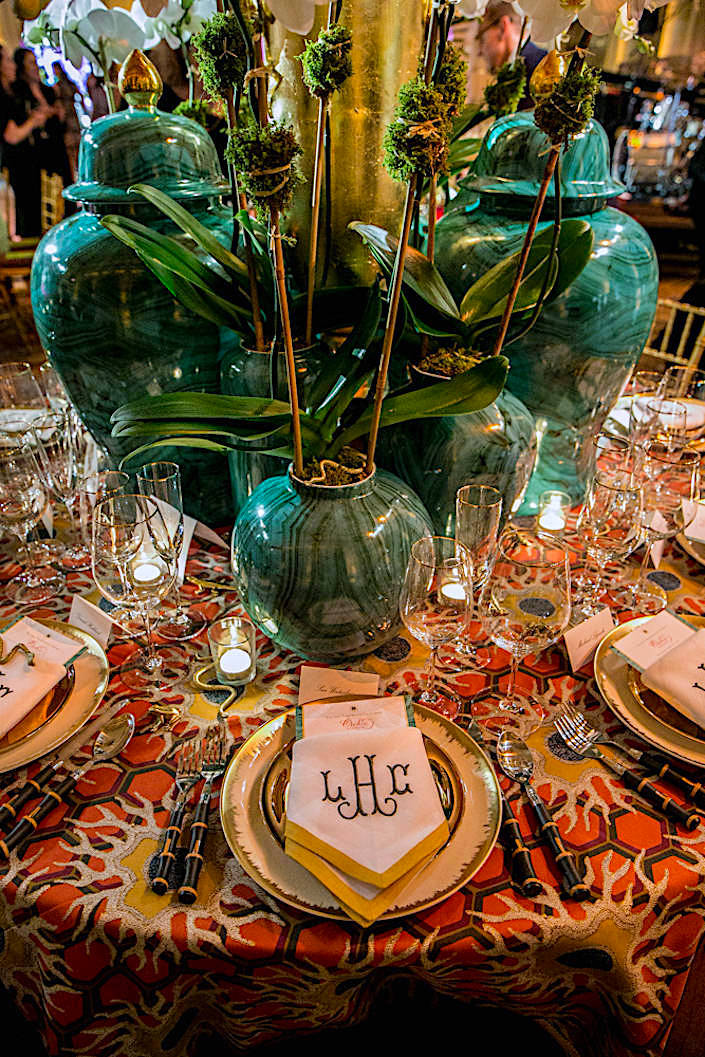 Keeping in mind the Thai theme of the Orchid exhibit, Cullman & Kravis referenced the recent production of The King and I with its "magnificent set and dazzling costumes." A bamboo superstructure, reminiscent of those found throughout Asia, served as a pergola for the table with a profusion of orchids cascading from above. A large Buddha oversaw diners as centerpiece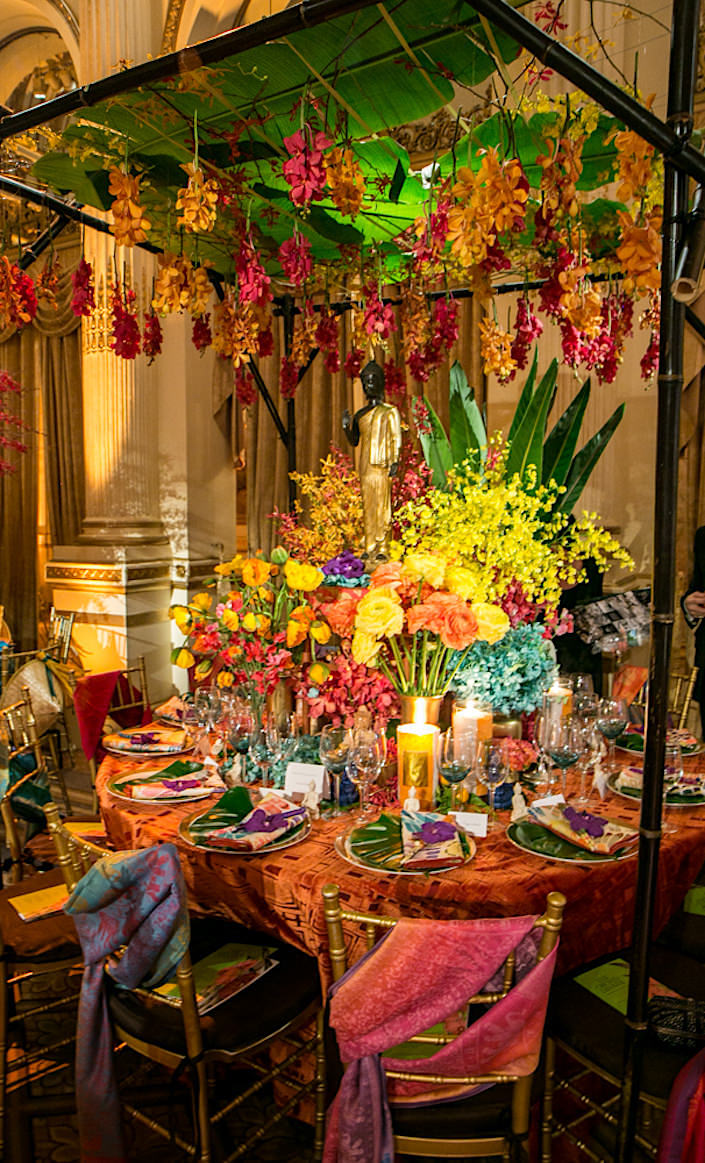 with mini ones as place card holders. Fabricut's Mira (from the Christie van der Haak collection) in Fire Opal made a vibrant tablecloth with S. Harris' colorful Feather Flock as napkins.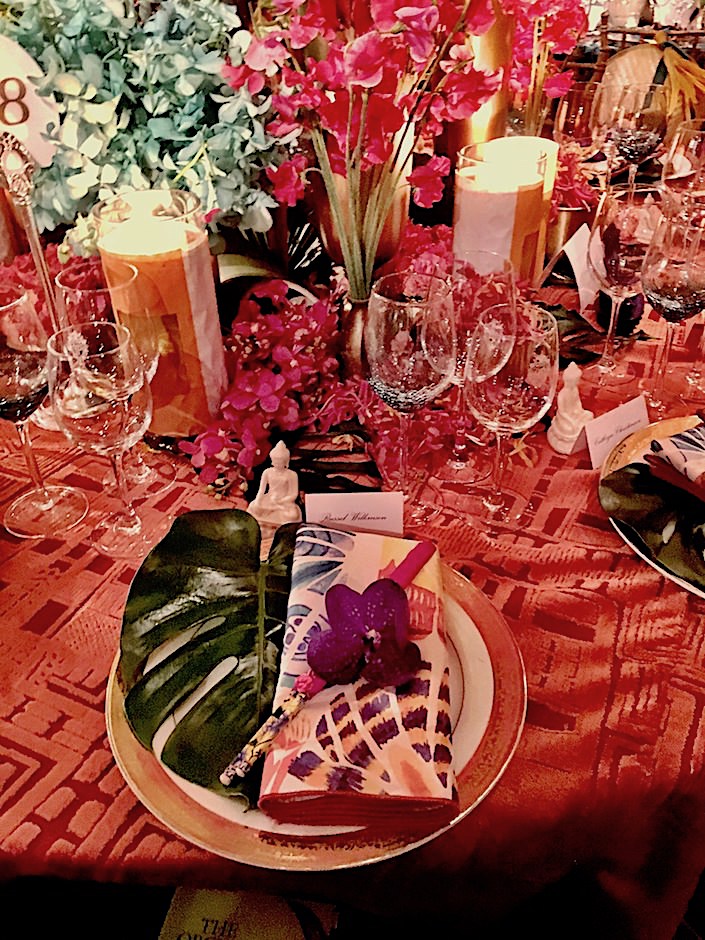 Inspired by a "Circle of Unity and Hope," designer Paris Forino partnered with Oscar Mora to create a lush circular centerpiece in her table's theme of pink, black and white.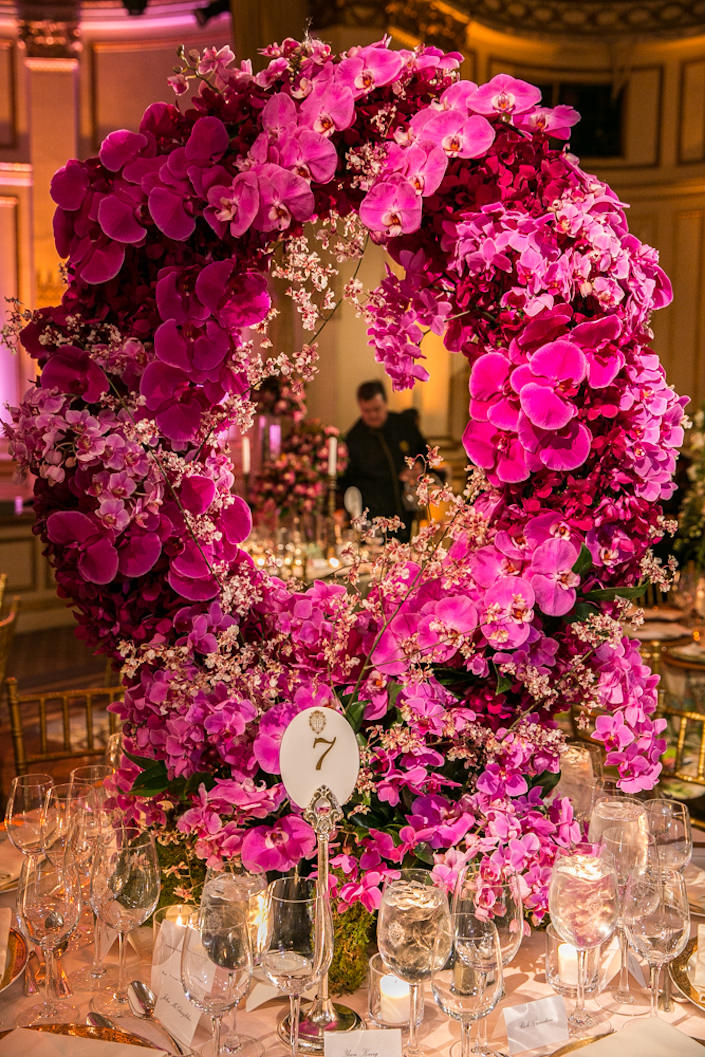 On a pink SFERRA linen tablecloth, Madeline Weinrib's handcrafted Lyla Embroidered Napkins and her Orientalist porcelain plates, produced in collaboration with Augarten, completed the scheme.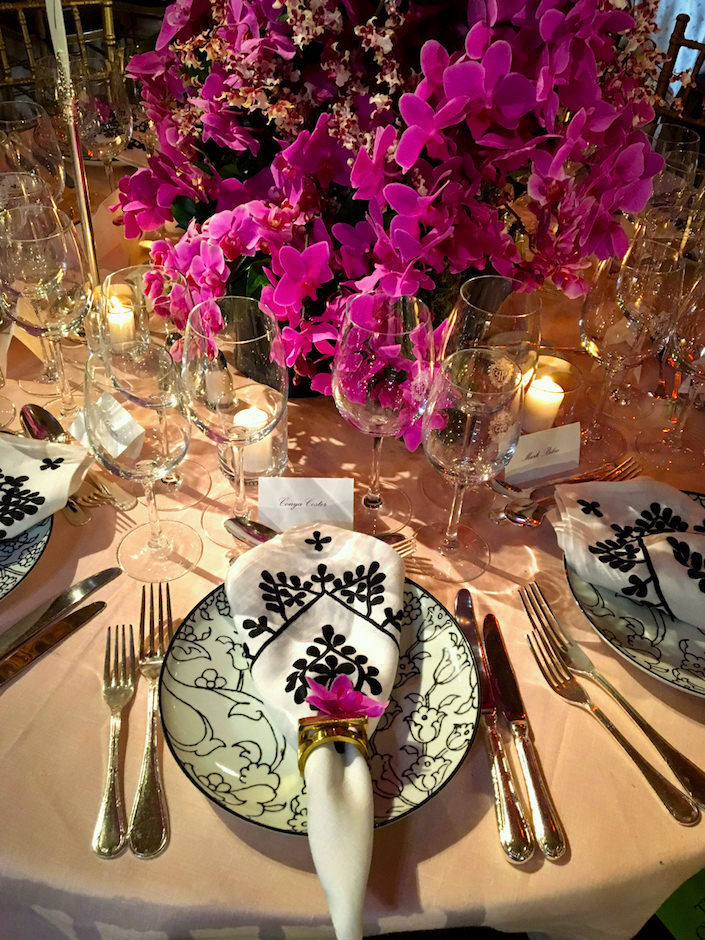 Black and white also made a strong statement on designer Jaime Walter's table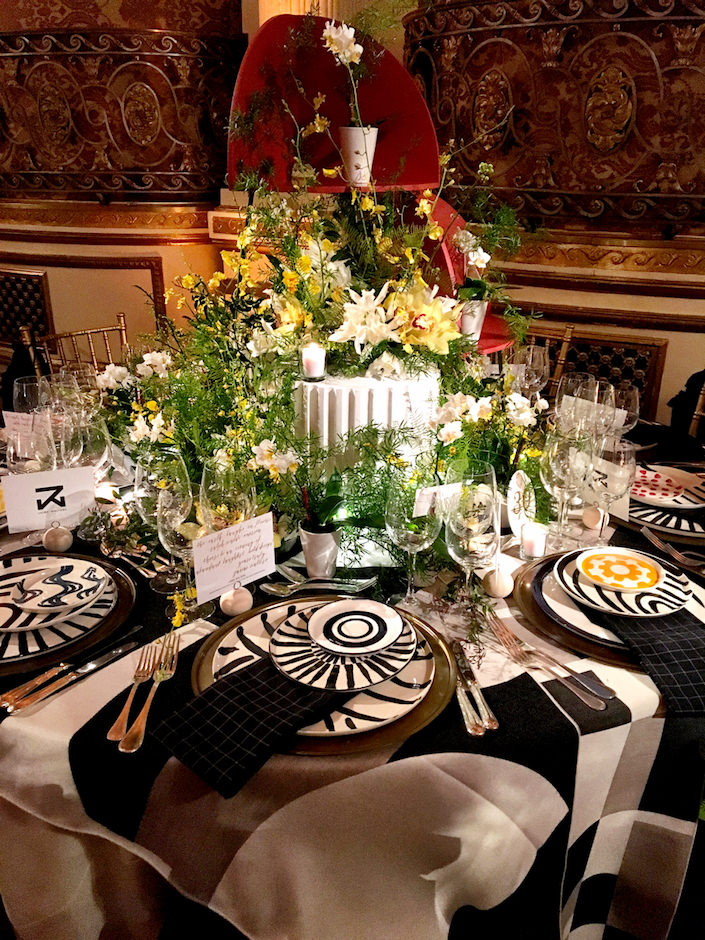 with placesettings of bold graphic Nicholas Newcomb Pottery.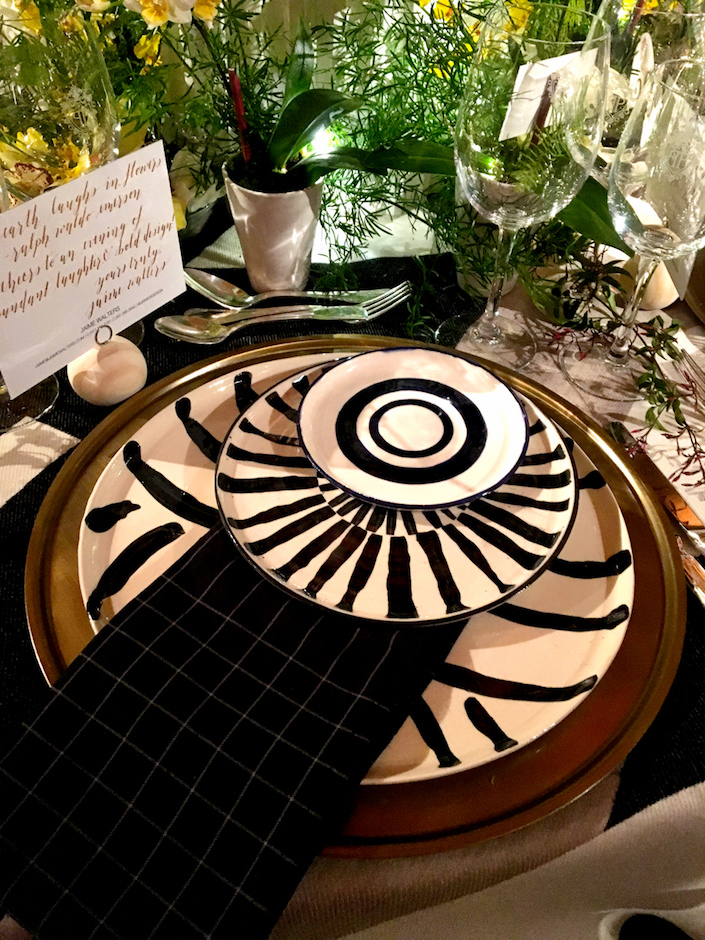 John Oetgen thought creatively by designing a centerpiece of color and pattern with cylindrical vases lined with wallpaper.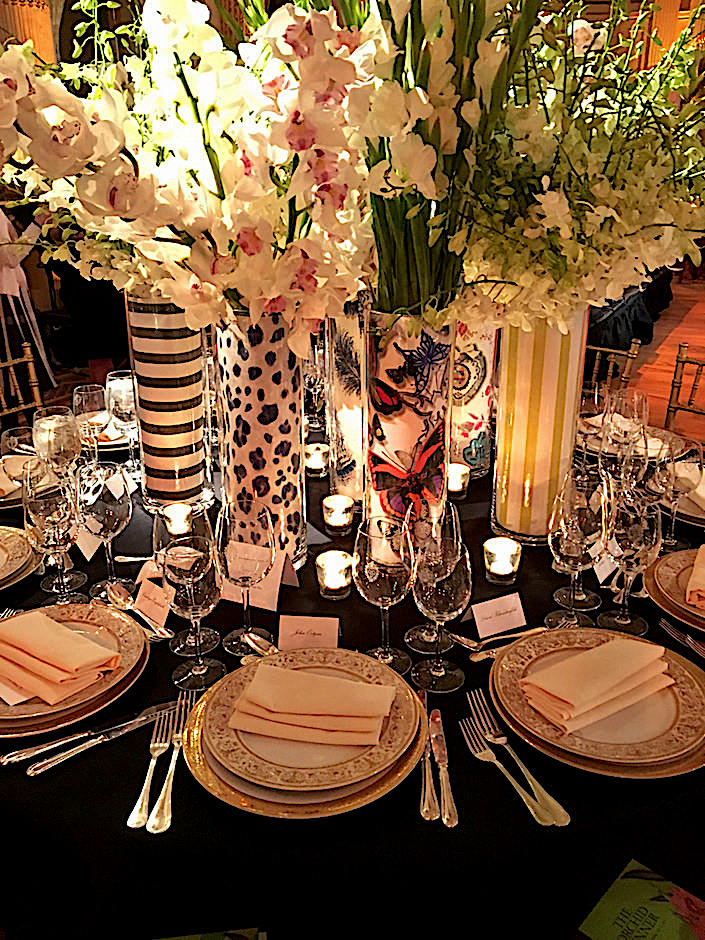 Hilary Pereira designed a table with a shrine like towering centerpiece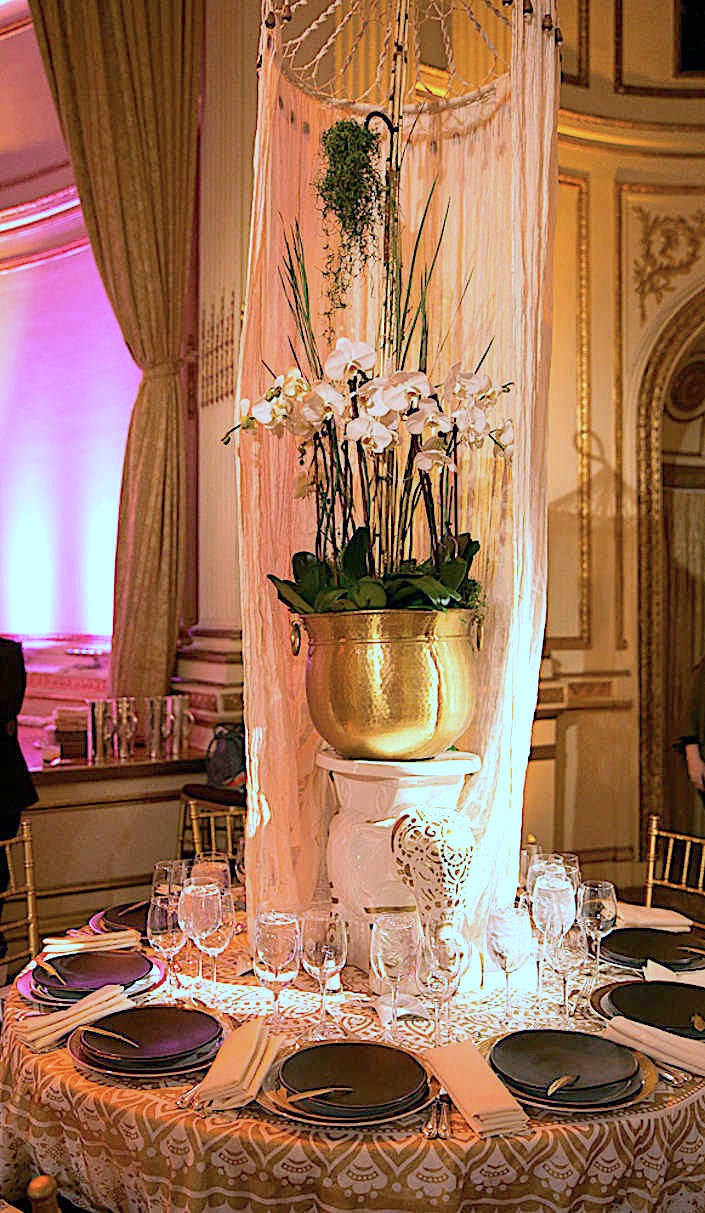 with place settings of elegant simplicity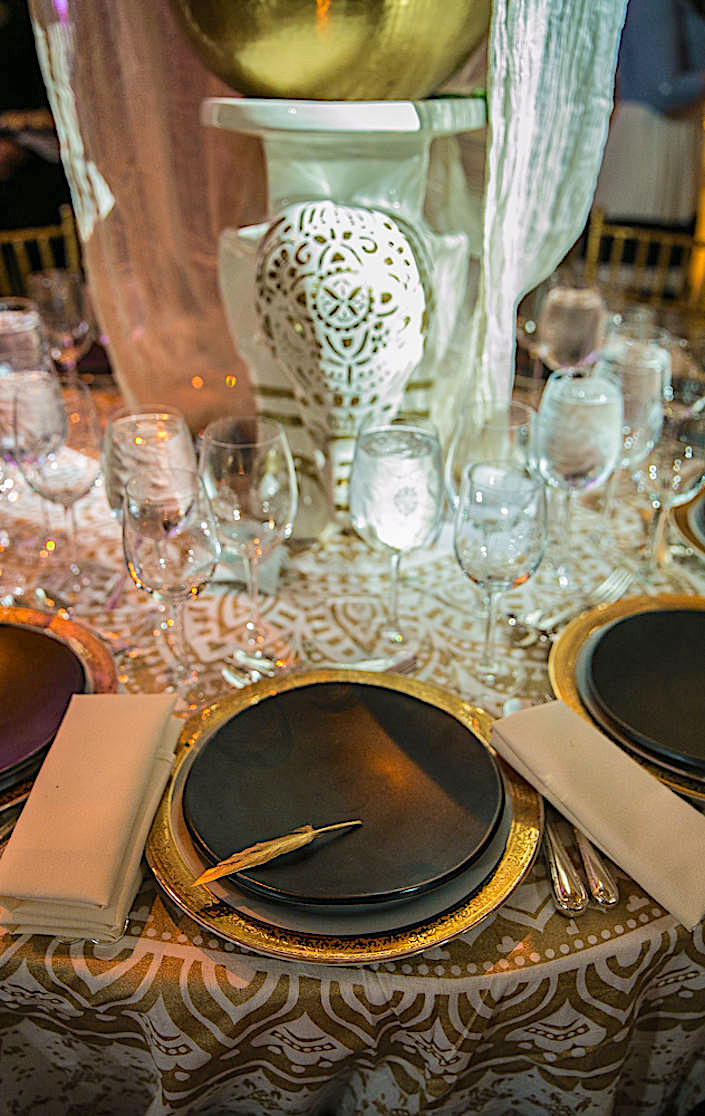 Rajni Alex's centerpiece was a clever figurative orchid topiary.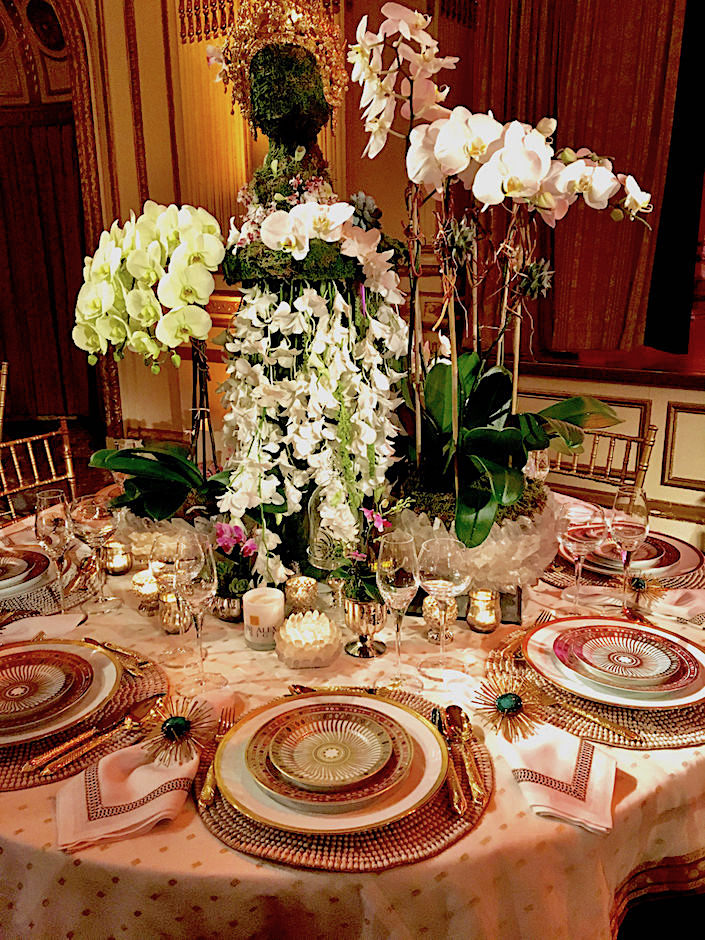 with a pretty layered setting with Robert Haviland & C. Parlon Syracuse, Kim Seybert mat, napkin and ring and Kathryn McCoy quartz candle holders.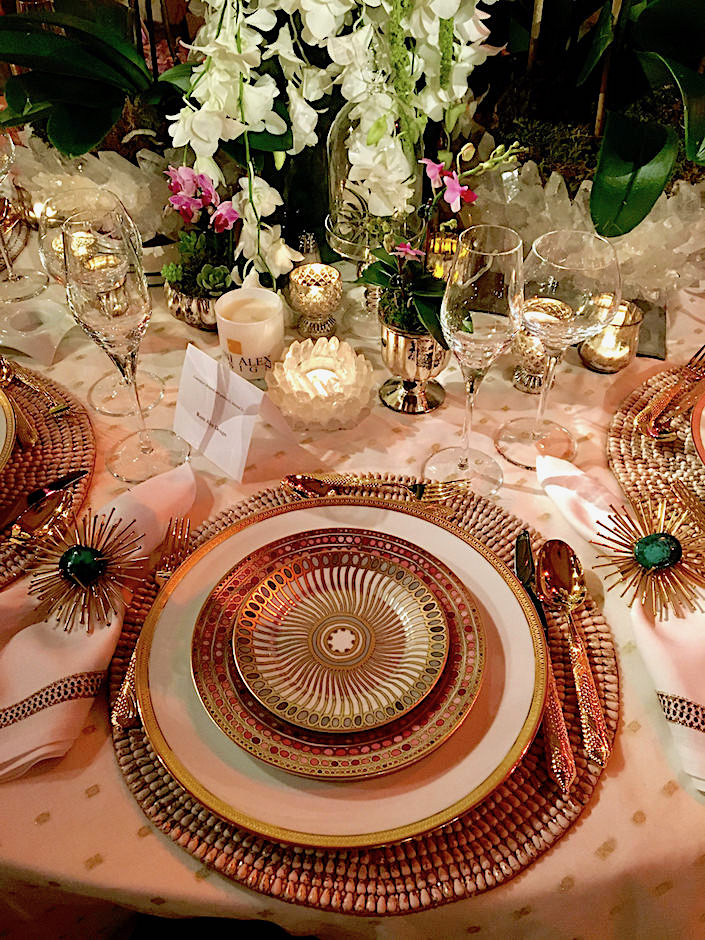 Randall Gibeau's staggered orchid centerpieces were stunning, proving the power of one.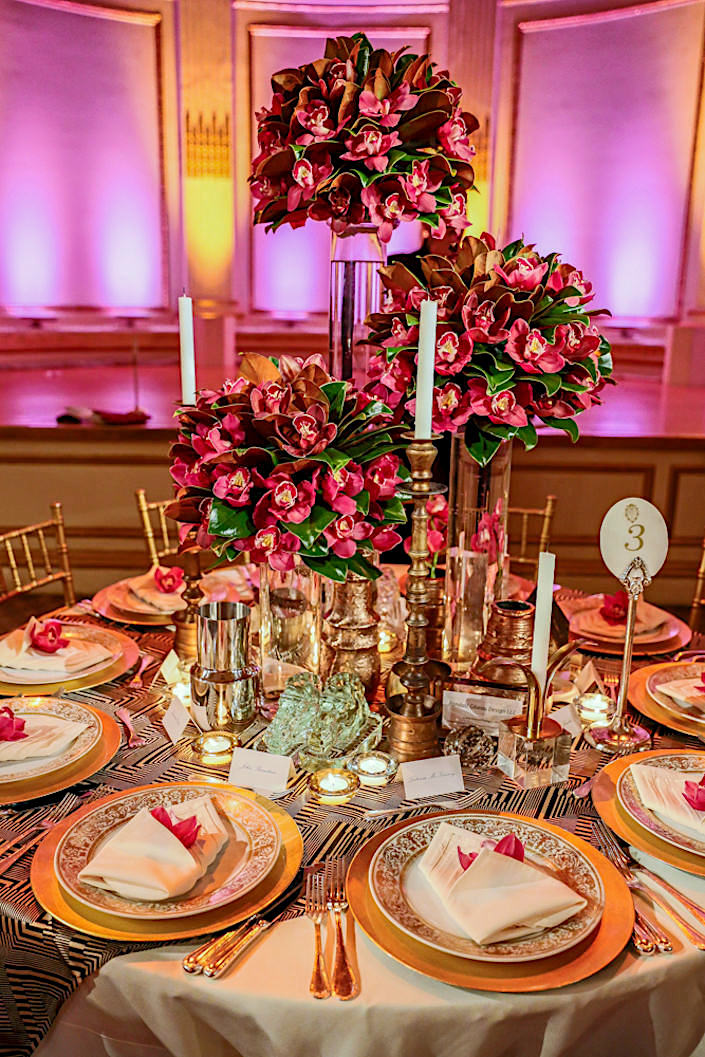 The Mini Rose Co. designed a ebullient centerpiece of saturated yellow cymbidium orchids and mimosa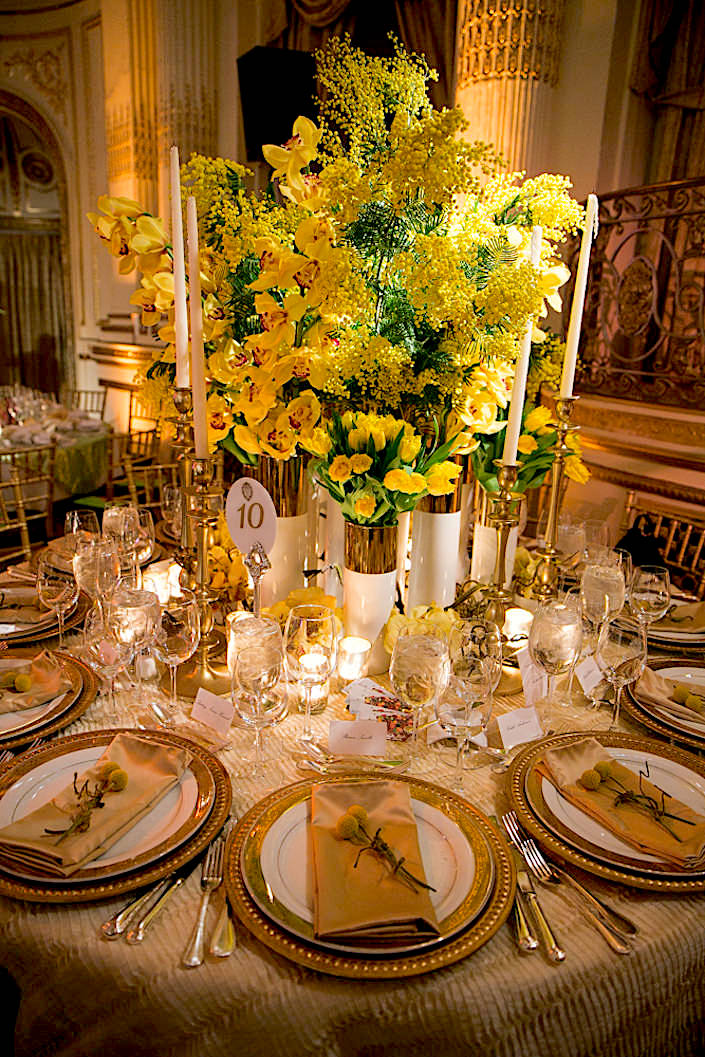 with delicate stems at each place.
all photos Stacey Bewkes for Quintessence
It was challenging to cover all the beautiful tables at this year's dinner. Apologies to any tables not included – it was merely a matter of time. Congrats to all participants in the NYBG 2017 Orchid Dinner – and to Veranda Magazine for their continuing support of this wonderful event.