For so many of us in the world of design, any new project emanating from the office of architect Gil Schafer elicits a sense of excitement. His classic American style is the perfect bridge between past and present – rooted in history, with a timeless sense of scale and proportion, yet effortlessly translated for comfortable modern living. While Gil looks to the past he is also constantly looking forward, for fresh and innovative ways to adapt the rules of classicism to a 21st century lifestyle. And so I am thrilled to share his brand new website with you, an updated renovation with a fresh face and lots of enticing new content and photos.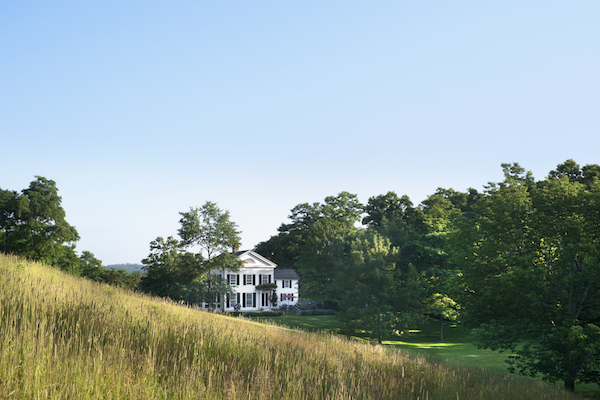 The featured project is Gil's gorgeous garden at his country house, Middlefield. One of the hallmarks of his designs is the seamless integration of architecture, landscape and interior decoration and Gil's house is a great example. Gil explained that in designing a new old house, the landscape has to support that cohesive idea with a sense of maturity, creating an authentic sense of place. Working with frequent collaborator Deborah Nevins from the beginning, they sited the house in a six acre open field within the mostly wooded 45 acres (hence Middlefield). While not the highest point on the property, it allowed for great light, room for gardens and a wonderful approach.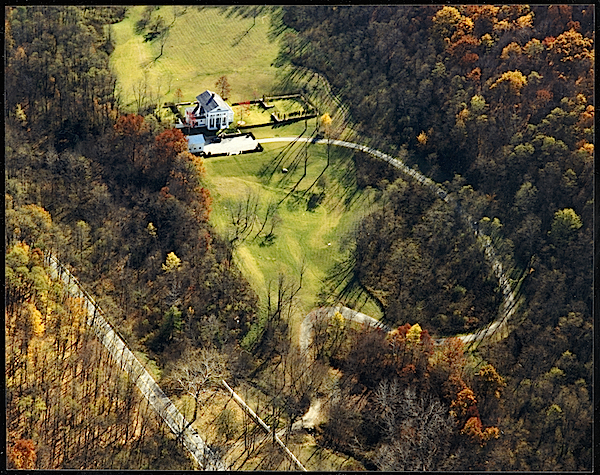 A sense of discovery and anticipation is a marvelous landscape feature and you can see above how the driveway offers a quick glimpse of the house and then ambles through the woods until the final reveal below.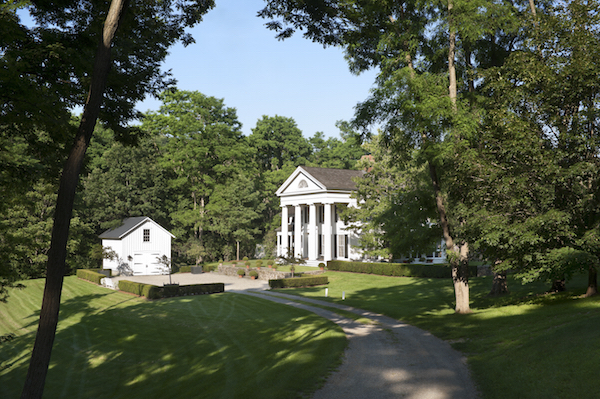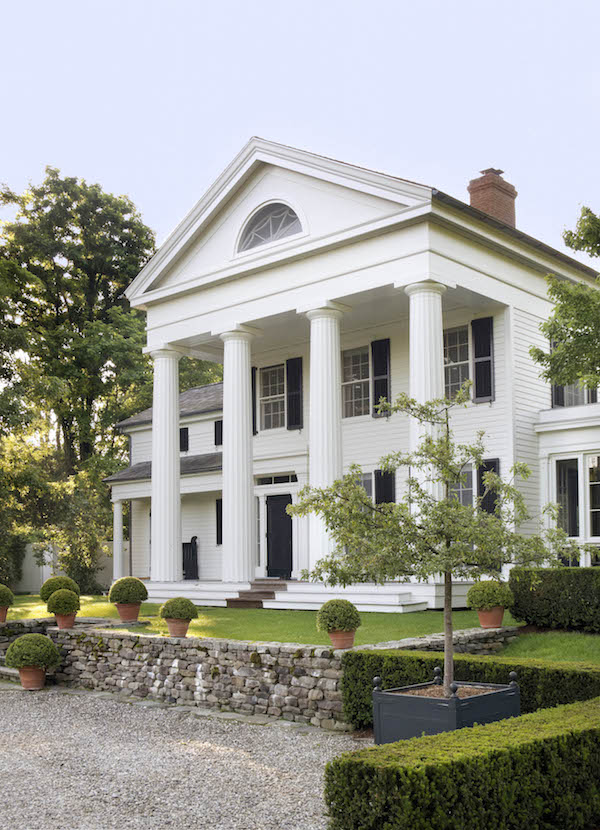 To me, simultaneously coordinating the design of the house with that of the landscape seems a tad overwhelming but Gil explained his process. He first considered the light and where the views were. Then in designing the house he created axes that lined up through the interior, all the while thinking about how he could create outside garden rooms around the house that interlocked with the same directional axes. It became a puzzle of sorts lining things up so they balanced inside and out.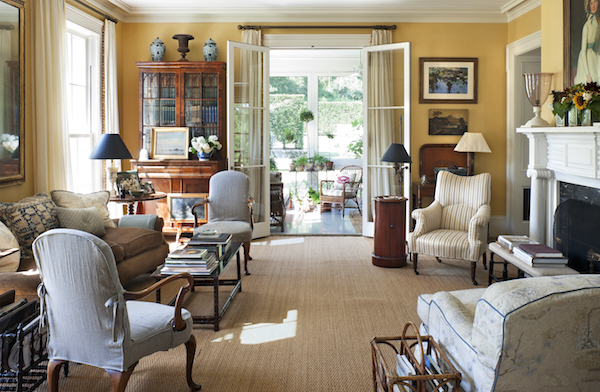 Looking west through the living room, above, to his beloved screen porch, for example, one feels directly connected to a hedged room of tall hornbeams beyond. And in thinking of the interiors, Gil painted the living room a color to coordinate with that warm western light.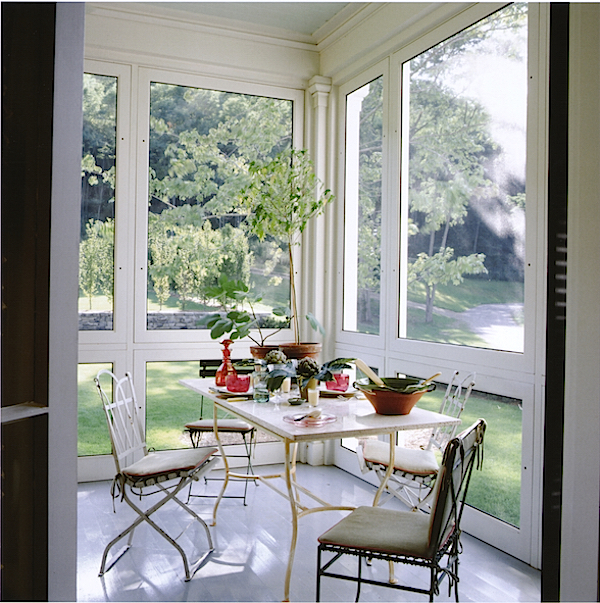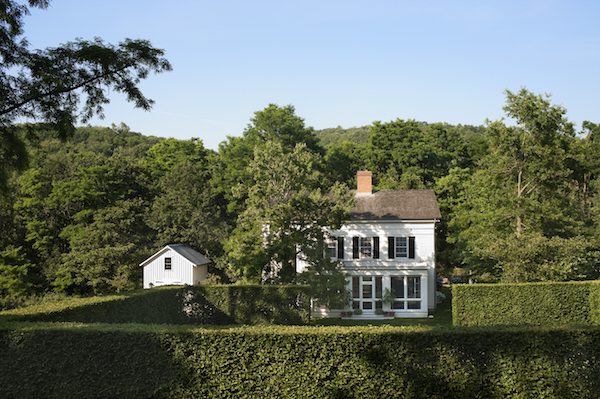 These tall hedges incorporate a slightly contemporary aspect to the property, yet it all feels natural and unified. In searching for balance, Gil tried not to let the very traditional house derail fresh ideas for the garden.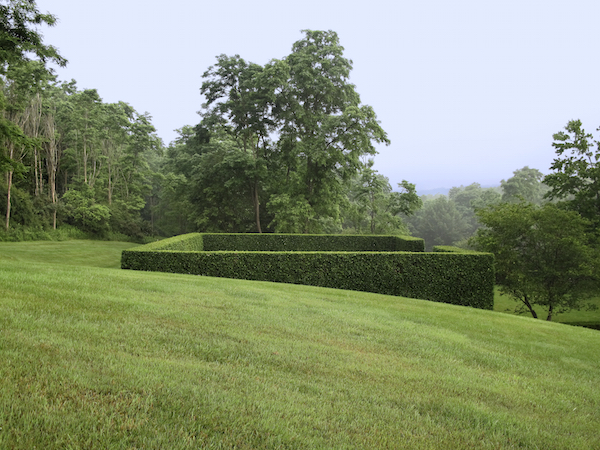 So while the hedges lend a sculptural almost installation quality to the landscape, they are part of a larger scheme, melding differing materials to unify sight lines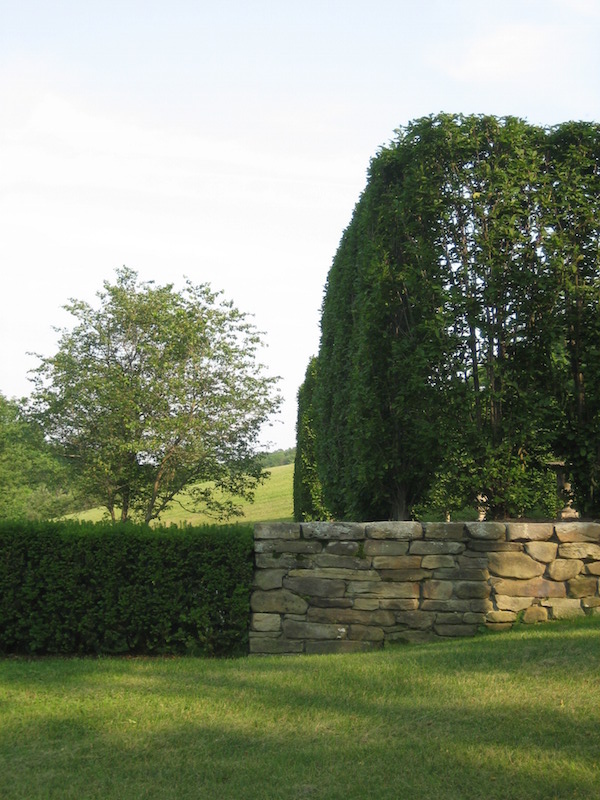 and to create subtle transitions between the formal aspects of the house and structured gardens to the undulating hills and woods beyond.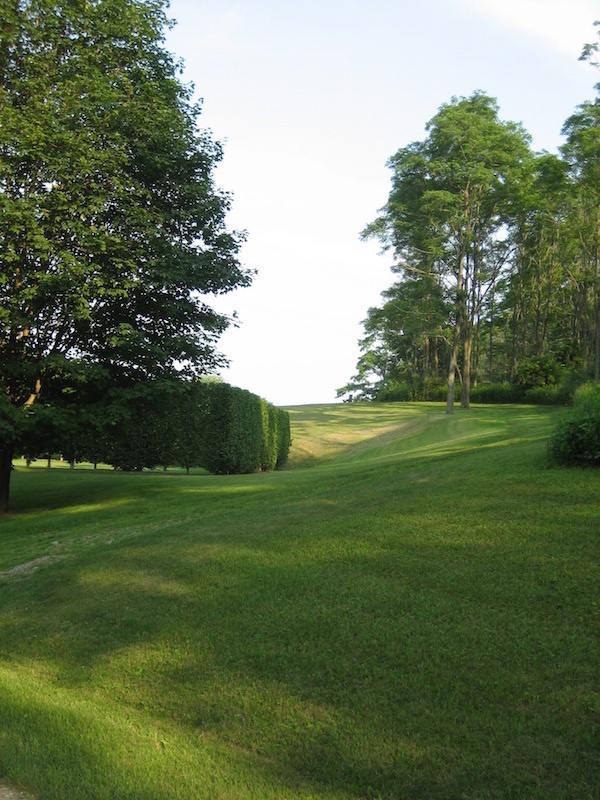 When I asked Gil what his must-haves were for the garden, he cited the hornbeam hedge room, (shorter) clipped hedges, big trees and pretty stone walls – he called it simple. As we all know, simple done well is actually very hard to do. But Gil has mastered the task. Take for example his beautiful stone walls.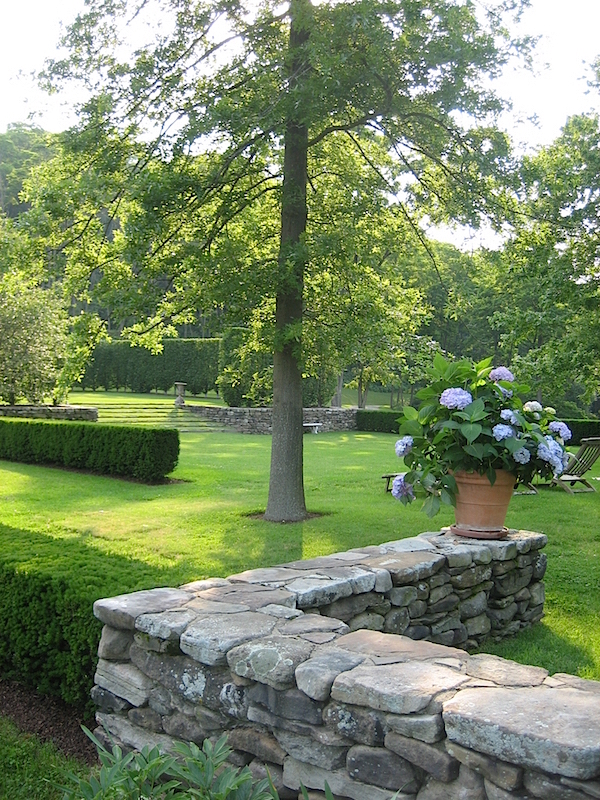 They are integral to the garden at Middlefield and say so much about the creation of a timeless outdoor environment. Gil offered several tips for building a stone wall that looks like it's always been there. Use stones that have enough depth to lie flat and look stacked. You want to feel the linearity, where they are longer than tall. They need mortar to hold the wall securely but make sure it is hidden so that it looks like a dry wall. And for bonus points, find fieldstone with already-acquired moss.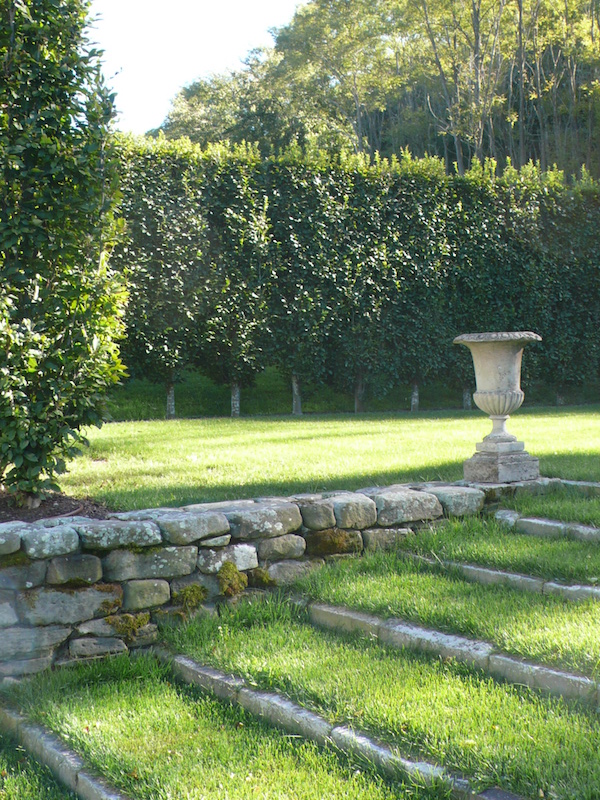 While this is a large property with an ambitious plan, there are still ideas that can be adapted for those with lesser plots. Gil explains that landscapes can be overly complicated with too many ideas. Strength comes with limiting concepts and palette – less is indeed more. Think fewer varieties but bigger trees (Gil bought the biggest trees he could afford). Stand in your rooms and look out – think about how you're going to connect to the outside. Find something in the garden to acknowledge, that draws you from the inside out. And for clients embarking on larger projects, Gil always insists they hire a landscape architect – he feels it is a necessary component of a successful project.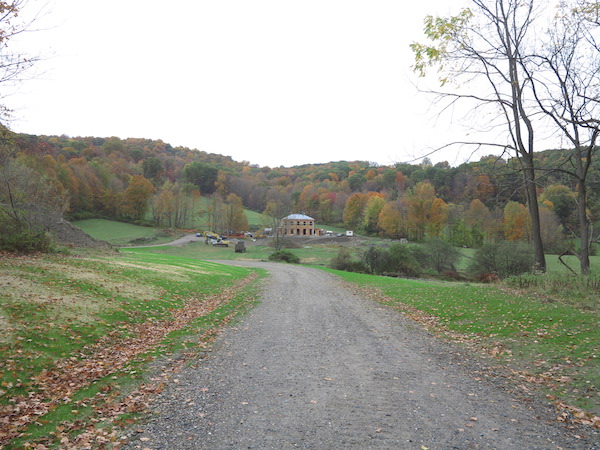 But besides the garden at Middlefield, there is much else to discover on the new site. You can see how the landscape and architecture for a New Stone Country House are developing concurrently. The long approach, above, is similar in concept to Middlefield but yielding a house of more grand formal style. Deborah Nevins' landscape rendering shows again the integrated relationship between house and grounds.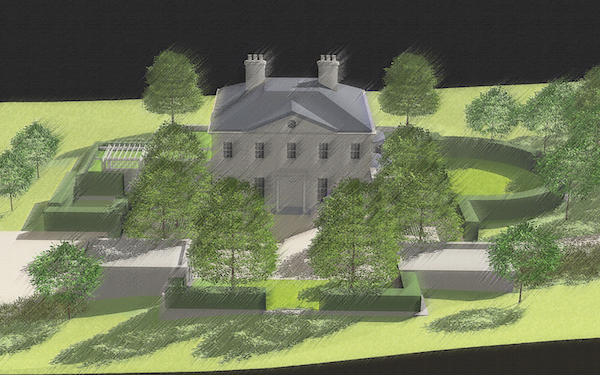 And early construction photos show distinctive architectural details for which Gil is known. Note the fanned stonework surrounding the ocular window.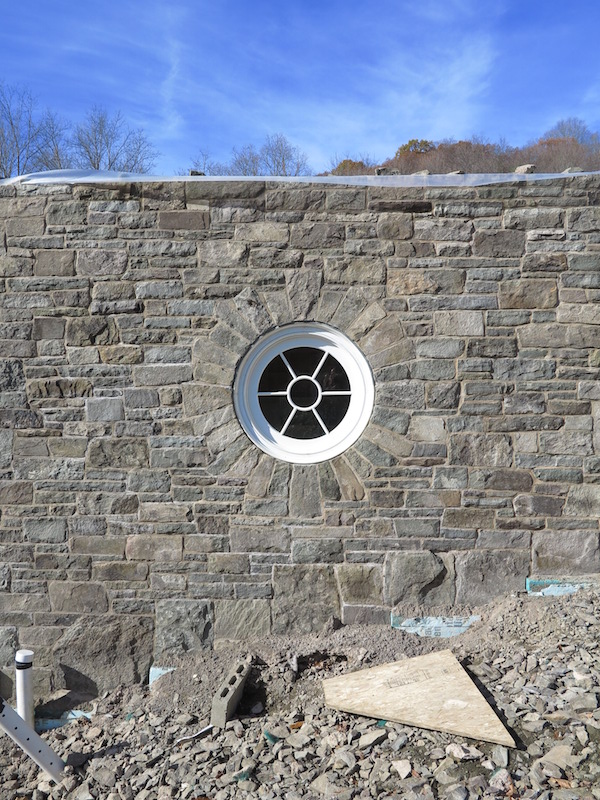 A New Riverfront Residence, includes many marvelous architectural features such as a classic porte cochère,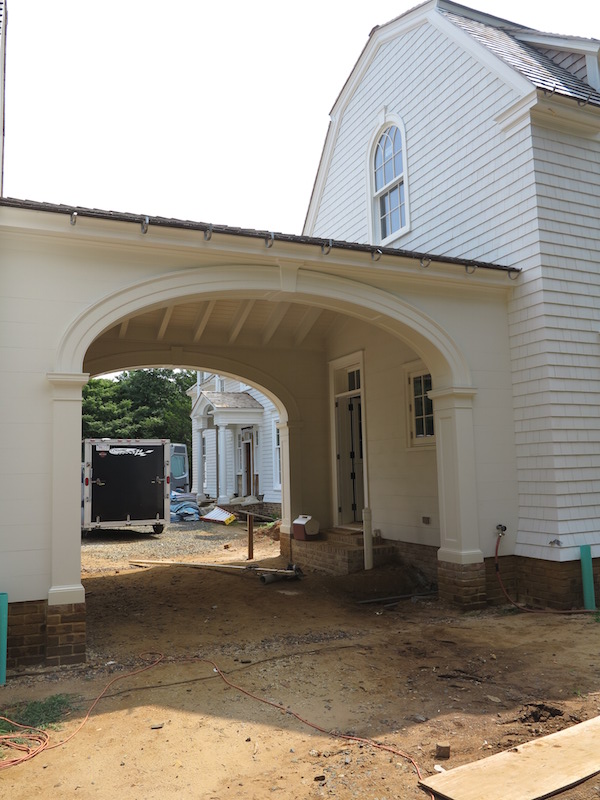 beautiful stair stringer brackets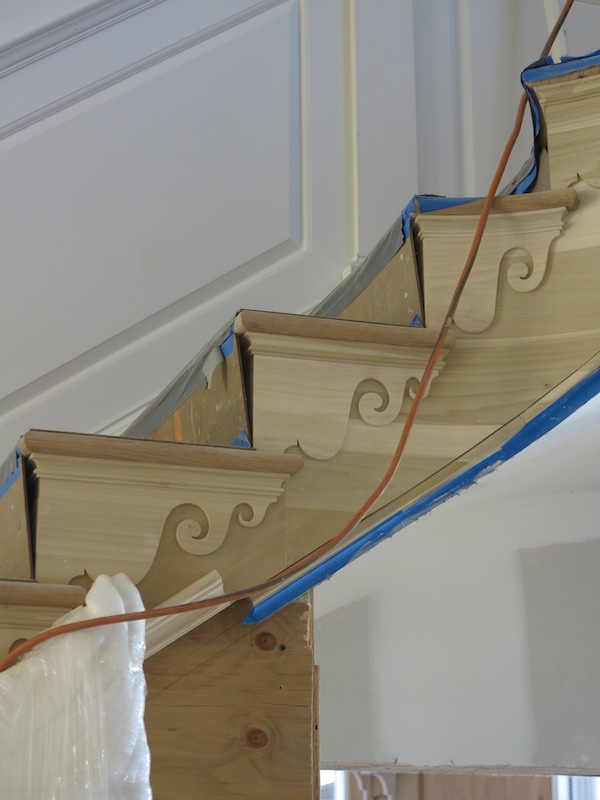 and generous dentil molding with arch details in the dining room, all executed with appropriate scale, proportion and quality.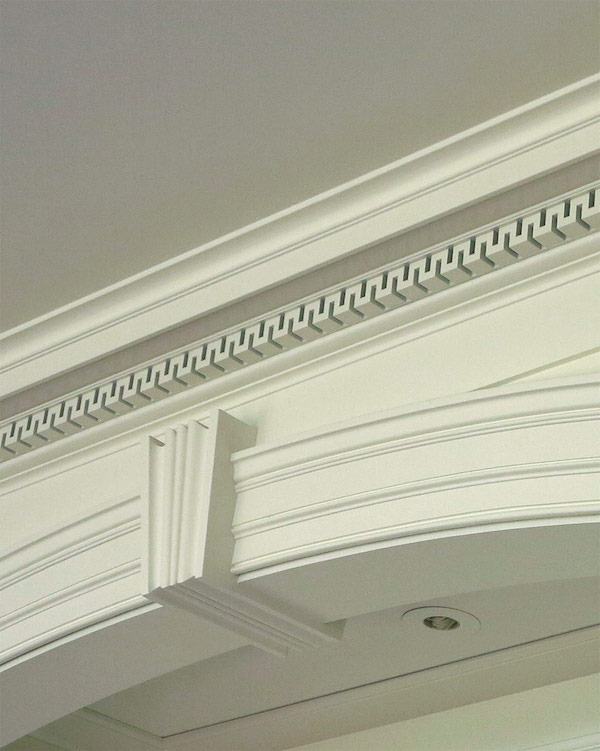 Those of you who follow me on Pinterest, know of my obsession with jib doors, so I was delighted to see the entry of this Fifth Avenue apartment project including one.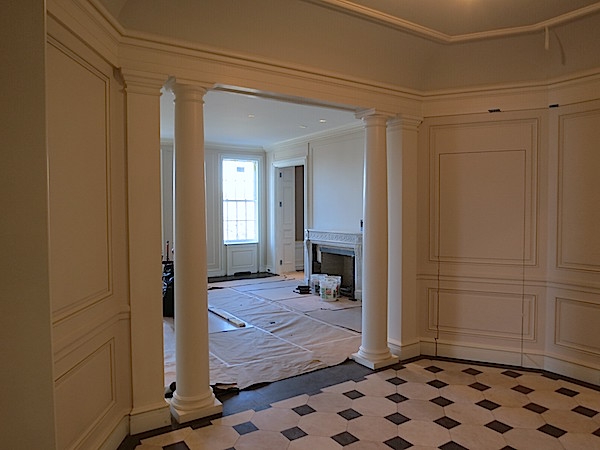 You'll find new photos throughout the site, be able to visit new projects underway and learn more about the firm. But most importantly, you'll be able to enjoy more of Gil's understated, elegant and timeless style. In thinking about what he was most looking forward to next, Gil said opportunities to work in different places. Each locale and client demands something different and it is a challenge to create timeless design that fits into an appropriate context. But most importantly, Gil says he wants his clients to have a sense of home because that's what it's really all about.