Clearly a trip to Turkey should be on my docket. Having tempted you in the fall with the beautiful Cornucopia and more recently with the jewels of Sevan Biçakçi and the European interpretation of the near east in turquerie, we will round out the week with Serdar Gülgün's opulent book Ottoman Chic. A personal tour of the Turkish designer's home interspersed with history, inspiration and culture of his native land, you will feel immersed in the "decorative layers of Istanbul, the seductive capital of the Ottoman Empire."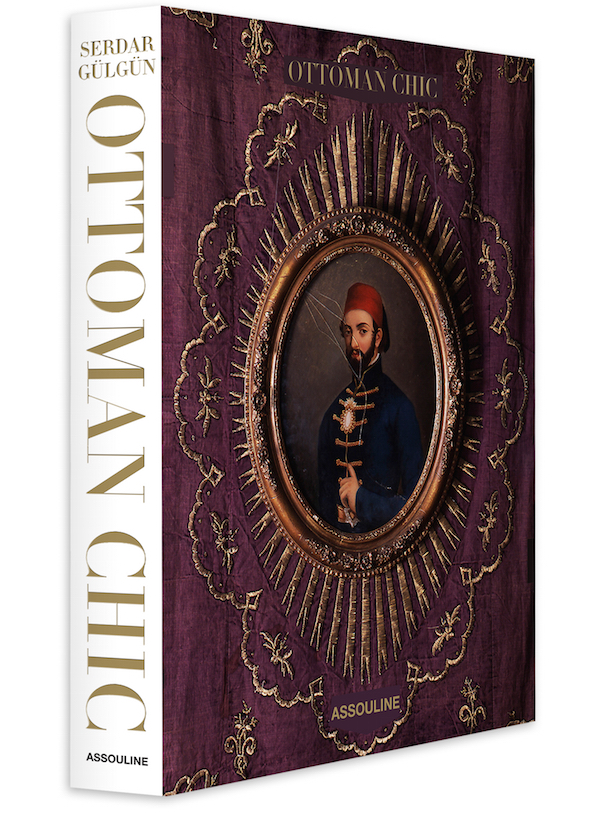 Originally the hunting lodge of the Hungarian Feyzullah Pasha, Gülgün's home is a multicultural melange within an old wooden form. Instanbul represents the synthesis of many styles, as its history is inexorably linked with the cultures of countries that surrounded the once vast Ottoman Empire. Thus, the house has a yurt like central oval dome, Venetian chandeliers and mirrors, Chinese blue and white porcelain and French dinnerware and crystal. Below in the marble entry hall, a double Damascus mirrors face each other with an 18th century Murano chandelier hanging in the center.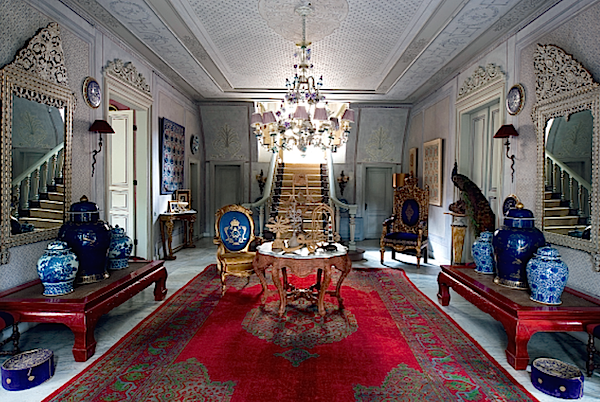 Art throughout informs us, for example, that Ottoman leaders never wore crowns but their status was visible by the kind of turban they wore, stored on a stand, specifically make to hold it. Many iconic Turkish buildings, such as the Topkapi palace, served as inspiration for Gülgün's home. Below, a room on the top floor was fashioned after the Fruit Room in the harem of the Topkapı Palace.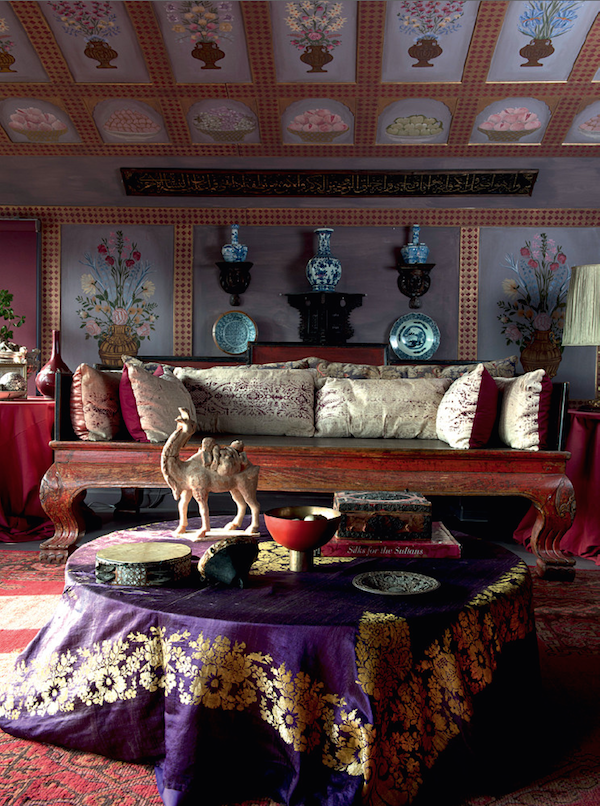 Ottoman chic might include calligraphies, Chinese foo lions, mother-of-pearl-inlaid Damascus cabinets, Napoleon III fauteuils, and Ushak carpets. Below in one of Gülgün's alcove rooms, green velvet divans covered with a profusion of opulent silk, velvet and embroidered cushions wrap the walls hung with examples of Ottoman calligraphy, a graphic art form Gülgün feels is an ancient precursor to abstract painting. Sofas (actually originally a Turkish word) were never freestanding in Ottoman times as it was considered rude to sit with your back turned toward anyone.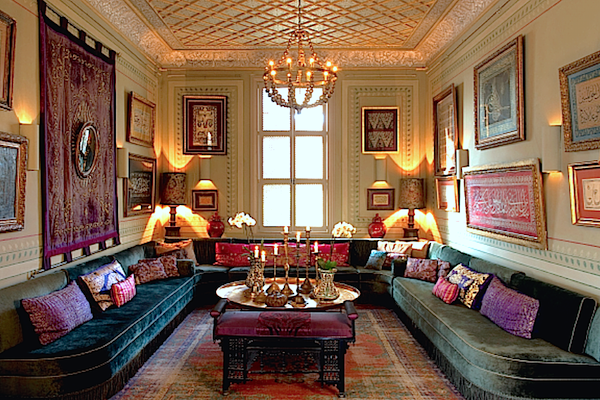 "To me, stylish interiors are like sensual beings that appeal to all the senses. They are made up of many layers, colors, patterns, textures, fabrics, as well as beautiful music, exquisite scents, delicious food, pleasant words, and ultimately, gracious manners." Below Gülgün sets a lavish table using an antique suzani as a tablecloth. The porcelain plates with Ottoman black tulips are Gülgün's design for Herend.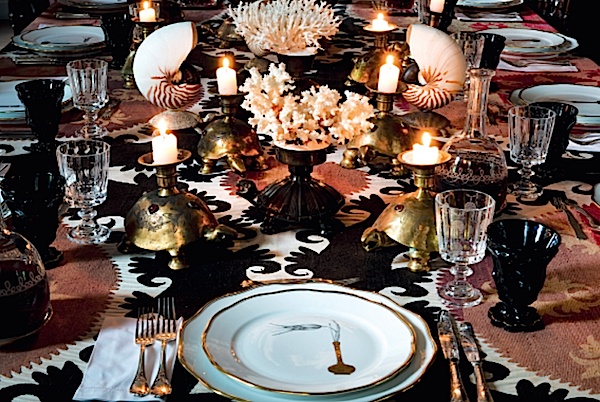 In the blue room, a sophisticated layering with orientalist paintings, Syrian mother-of-pearl-inlaid cabinets, an eighteenth-century Murano mirror, octagonal Ottoman coffee table and Ushak carpet results in a space of rich detailing and comfort. The divan upholstered with embroidered fabric is embellished with antique Russian brocade cushions.
photos by Reto Guntli and Bahadir Taskin
As Gürgün says, to be chic is to be timeless."It is the dream of every designer to achieve timelessness in their work. … to create a place in time out of emotional layers and life experiences. Interiors, I believe, become more beautiful as they get older. …Within this timeless beauty, it is my wish to age gracefully."