Earlier this week, at the Sotheby's Important Jewels preview, I dropped my business card in a bowl for a chance to win a group of fabulous books. What an unexpected surprise when I received an email informing me I had won.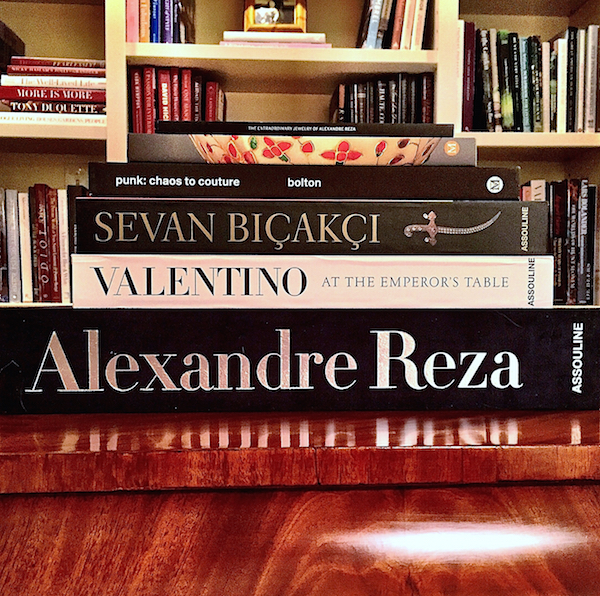 When I posted the photo of my spoils, above, on Instagram, the Sevan Biçakçi volume in particular elicited several excited responses from followers who were thrilled to see a book on his work. It was not surprising, as the master jeweler has a strong cult following around the globe among sophisticated collectors and design mavens in the know. With a story almost as intriguing as his work, Sevan creates pieces that are exquisite worlds unto themselves.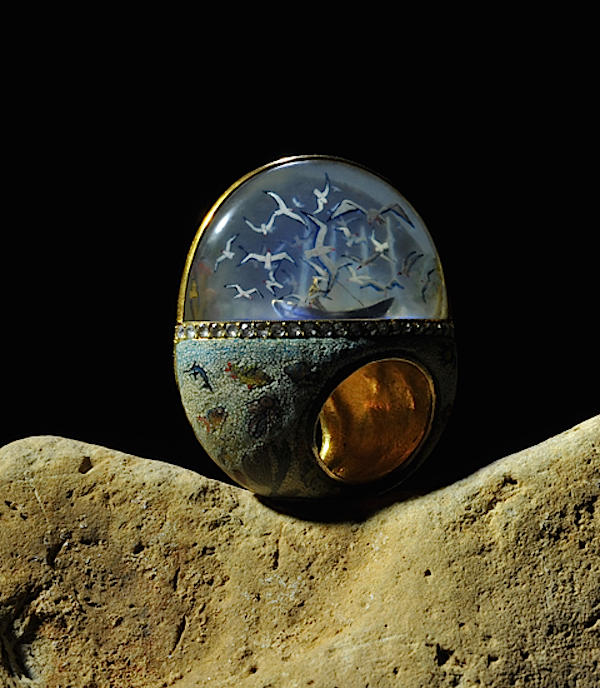 Born to Armenian parents in Istanbul, Sevan Biçakçi left school after fifth grade to enter a goldsmith apprenticeship. Through a series of different masters, working long and hard hours in an old fashioned hierarchical system in the midst of the Grand Bazaar, Sevan learned a wide variety of techniques and skills required for the profession. Finally, at 18, he opened his own workshop, making models for other jewelers in Istanbul, whose main trade was copying European jewels. Despite his talents, for years he struggled financially, putting his creativity on hold. Finally, a pair of earrings and ring of his own design, made with a loan of gold from an uncle, fell into the right hands and he was on his way, able to open a proper studio. And then a position as a support teacher at a local Akademi, introduced Sevan to a new world, outside of the confines of the Grand Bazaar.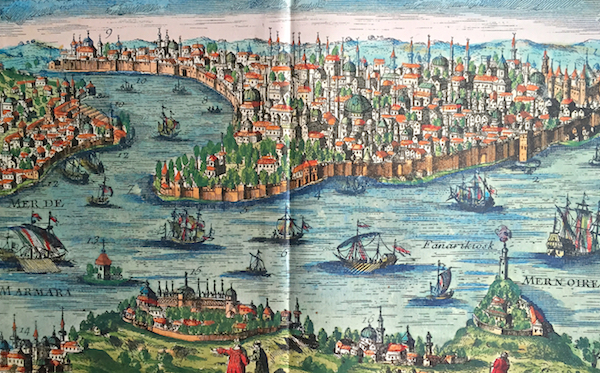 endpapers on the Sevan Biçakçi book
It was during this time that he crafted his first collection, melding the arts of ancient Ottoman tradition with a more modern sensibility. But local peers and retailers still did not understand his vision. It wasn't until a pivotal journalist and influential businesswoman brought his story to the attention of the Turkish press that his career was truly launched. As author, jewelry historian Vivienne Becker, explains in her illuminating text, as his studio grew, "Mosaics influenced by the Byzantine specimens in Hagia Sophia, painted miniatures harking back to the hallowed Persian and Ottoman art, calligraphy, and a series of  techniques and style were added to Sevan's visual vocabulary."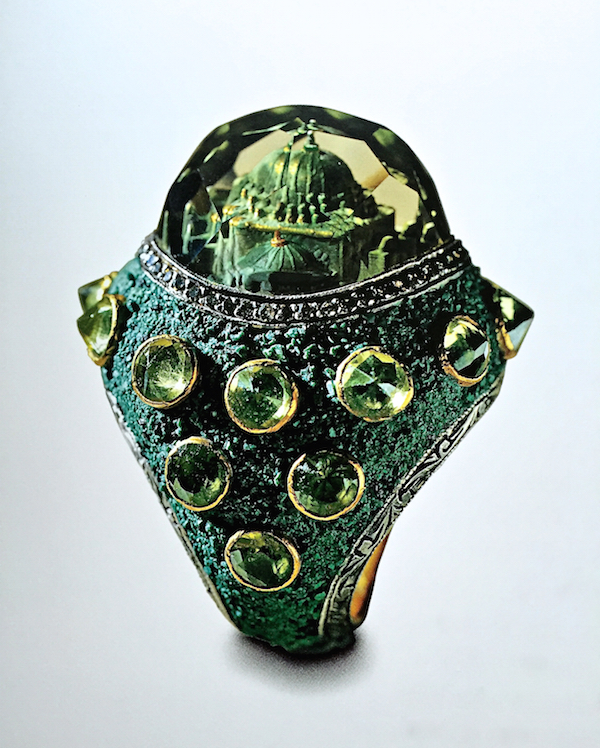 Reverse engraved intaglios have become his signature and above, in his Konya ring, an Ottoman mosque is carved into a citrine, surrounded by a micro mosaic with tesserae of crushed turquoise and inverted peridots, also a signature element. It's easy to see why Sevan has devoted fans around the world.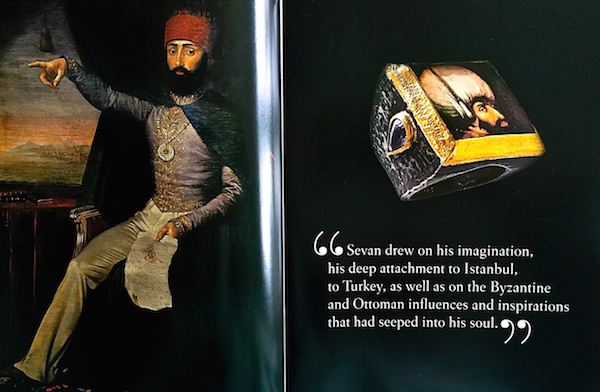 Above in a layout from the book, you can see how Sevan translates the past and his sense of heritage into coveted jewels. Today, he employs a team of artisans, from stone cutters and polishers to mosaicists and miniature painters, all specialists in their particular craft, in a four story building with ateliers for each step of the intricate process.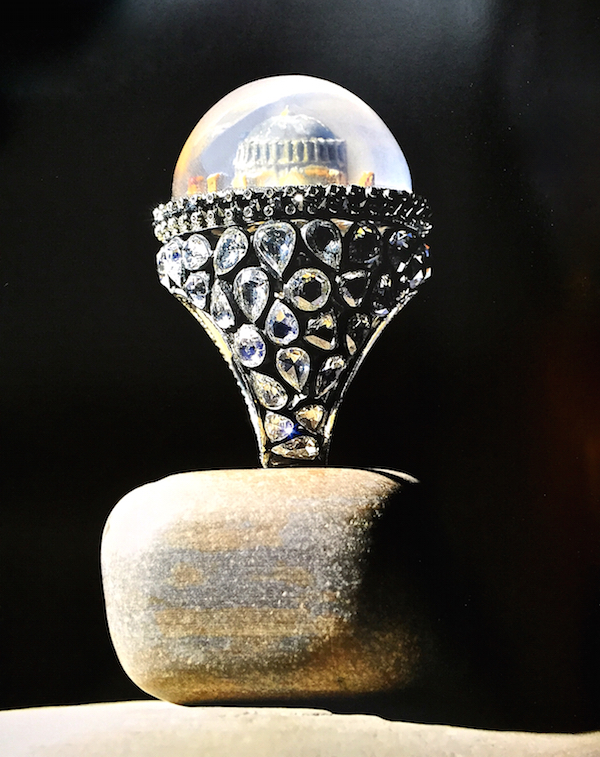 Each piece is a masterpiece in storytelling, extolling the beauty, history and culture of his native land. One of the most significant sources of architectural inspiration for Sevan is Istanbul's monumental Hagia Sophia. Above he immortalizes it in platinum, diamonds and a rose quartz cabochon with inversely engraved intaglio and below  in gold, silver, diamonds, acrylic paintings, enamel and a smoky quartz with reverse intaglio.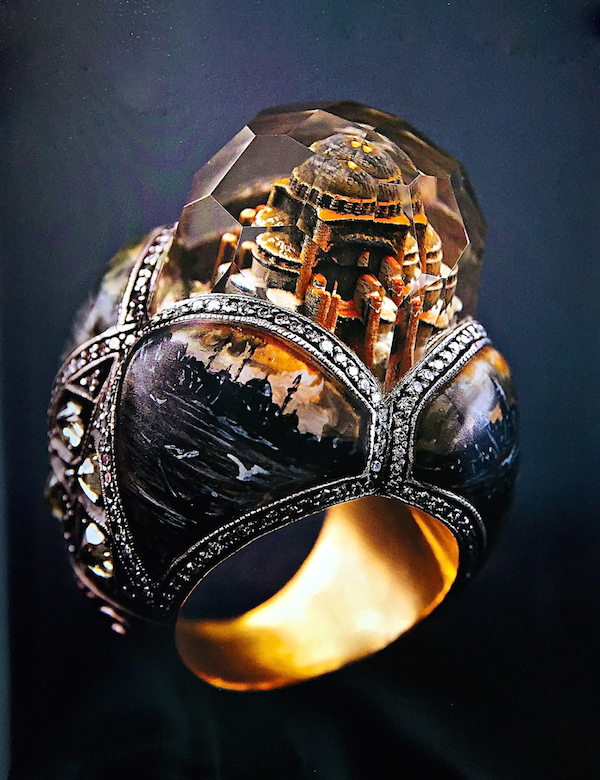 And below, you can see how Tophane Fountain became the inspiration for the Fountain ring in gold, silver, diamonds, enamel, with an acrylic painting of an Ottoman charity fountain with an opal.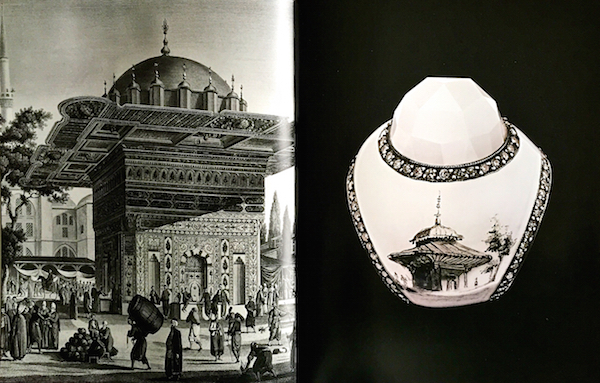 But these are merely the tip of the iceberg. From birds and sea creatures to mythology, locks and legends, all is fodder for the fantastical imagination and exquisite craftsmanship of Sevan Biçakçi. As Becker writes, "Just as the ancients believed, jewels are magical, personal, precious objects deeply imbued with meaning, with the nobility of the goldsmith's art. They link past, present, and future, earth and heaven, the material and the immaterial." With history, culture, art and of course jewels, you will be swept away to Byzantium in this marvelous new tome from Assouline. And be inspired by Sevan's continual quest "for opportunities to challenge the status quo of jewelry iconography and ideology."