The 60's ushered in an era that would change forever the cultural and social landscape, particularly for women who discovered a new independence and liberation. And 1967 seemed to be the year that tipped the scales, from the Monterey Pop Festival to Twiggy to the summer of love. And it wasn't just in America. Things were changing in Europe too. In Italy, Milan was bustling in the Brera district with creativity and artistry. It was also the year that Pino Rabolini, a young Milanese from a family of goldsmiths and habitué at Brera's Bar Jamaica, a legendary hangout for artists, founded Pomellato as a forward looking jewelry brand for this new generation of women.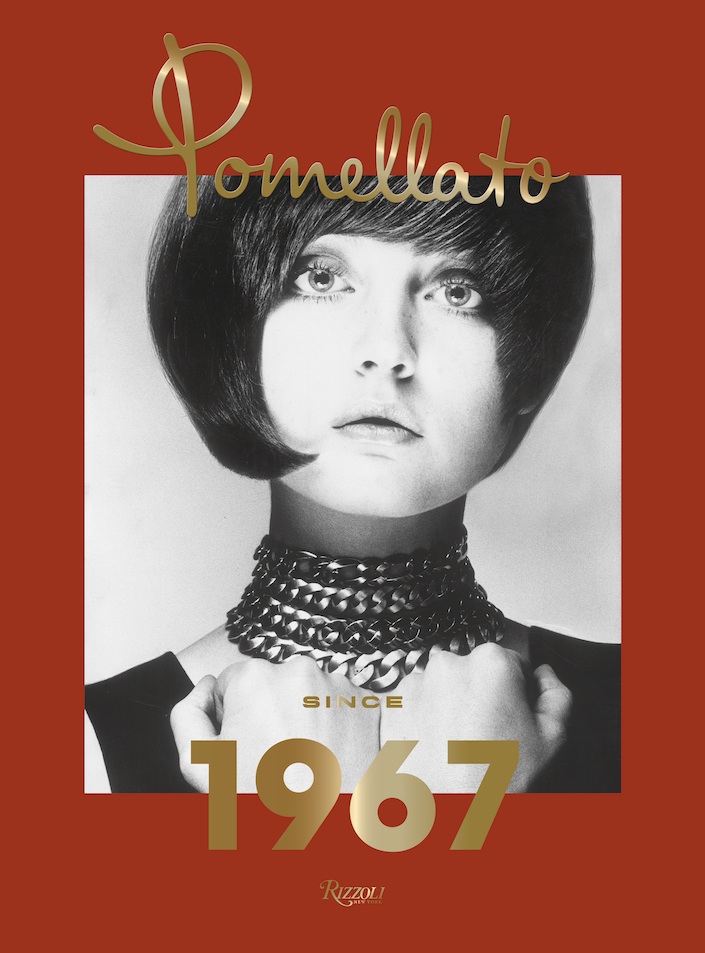 As Pomellato celebrates their 50th anniversary, a new volume captures the connections between the house's designs and many highlights from this landmark year. As Rabolini remembers in his introduction, "There are words that open your mind and inspire you to cross every possibly boundary. For me, it was the discovery of prêt-à-porter." This fashion movement made style, quality and elegance accessible to a much wider audience than had been previously reserved for haute couture. And it was this concept – prêt-à-porter jewelry, that made Pomellato so revolutionary.
photo on left, Enrico Suà Ummarino, on right: Jen-Claude Sauer/Paris Match via Getty Images
Author Sheila Weller explains, "Pomellato's delicate, jubilant, witty jewelry was made, and continues to be made, for all the women who grabbed that emotional, experimental brass ring fifty years ago and never let it go, and for their daughter who have inherited the lessons and the lifestyle." Above Pomellato's Victoria earrrings in rose gold and red lacquer and juxtoposed with Jean-Claude Sauer's 1965 portrait of Twiggy.
photo Lorenzo Bringheli
Throughout the years, there has been a creative connection to fashion with a "free and playful sense of taste." Above "Four-hand panoforte" featuring Pomellato's Capri, Babia and Tango bracelets and rings and below, Twiggy in a swinging shift dress opposite the sparkling Ritratto collection ring in amethyst with a white diamond claw.
photo left: Popperfoto/Getty Images; right, Bodha d'Erasmo & Gilda
A soft organic quality, expressed in bold colors and exquisite craftsmanship, was a defining feature of Pomellato from the beginning. Their famous Nudo ring, combining Milanese heritage with purity of design, was the perfect modern expression.
photo Bodha D'Erasmo & Gilda
Even Pomellato's first ad campaign, featuring Gian Paolo Barbieri's sinuous double image of actress Lilly Bistrattin, below, proved the soft curves of the jewelry could be in keeping with their unconventional and pioneering spirit.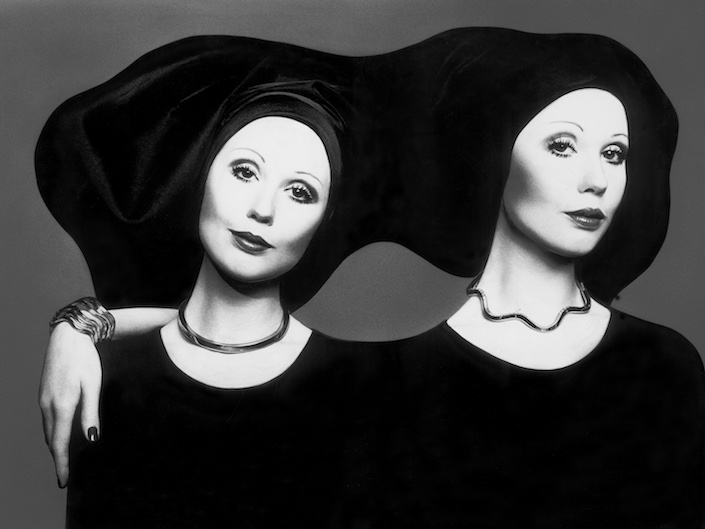 And the Capri collection, shot by Guido Macafico, across from Mark  Rothko's Untitled from 1967 is as much a sign of the times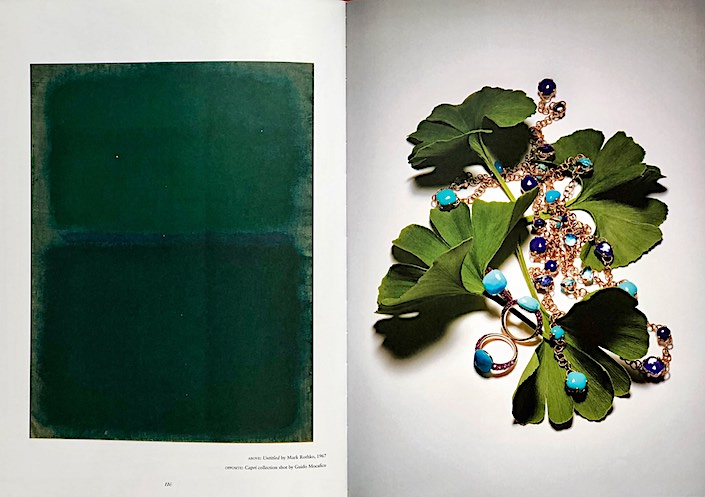 as is the far side of the moon from the 1972 Apollo 16 mission juxtaposed with the lunar pavé of Pomellato's Sabbia collection pendant (a piece I've coveted for years).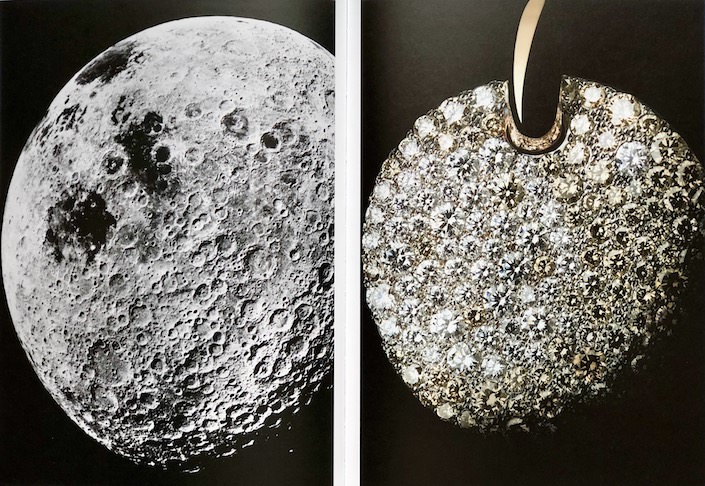 Pomellato is about wearing jewelry every day without treating it as something too precious, that only comes out of the drawer on special occasions. "Pomellato is not a cold exercise in design, but the chain you can fiddle with, the sautoir you can wrap around your neck twice, the clasps that become a decoration." This may seem second nature now, but was an entirely new concept for fine jewelry in the 60's.
photo Patricia Schwoerer, 2017
Even the more bejeweled pieces, like the Tabou rings in peridot and blue topaz, below, are eminently wearable.
photo Bert Stern/Condé Nast via Getty Images
With a plethora of iconic imagery, from art, music, science and momentous moments, Pomellato: Since 1967 is a visually inspiring romp. The beautifully designed and innovative volume, including photographic greats such as Albert Watson, below, Herb Ritts, Helmut Newton and more, expresses the seductive synergy between the brand and its cultural genesis.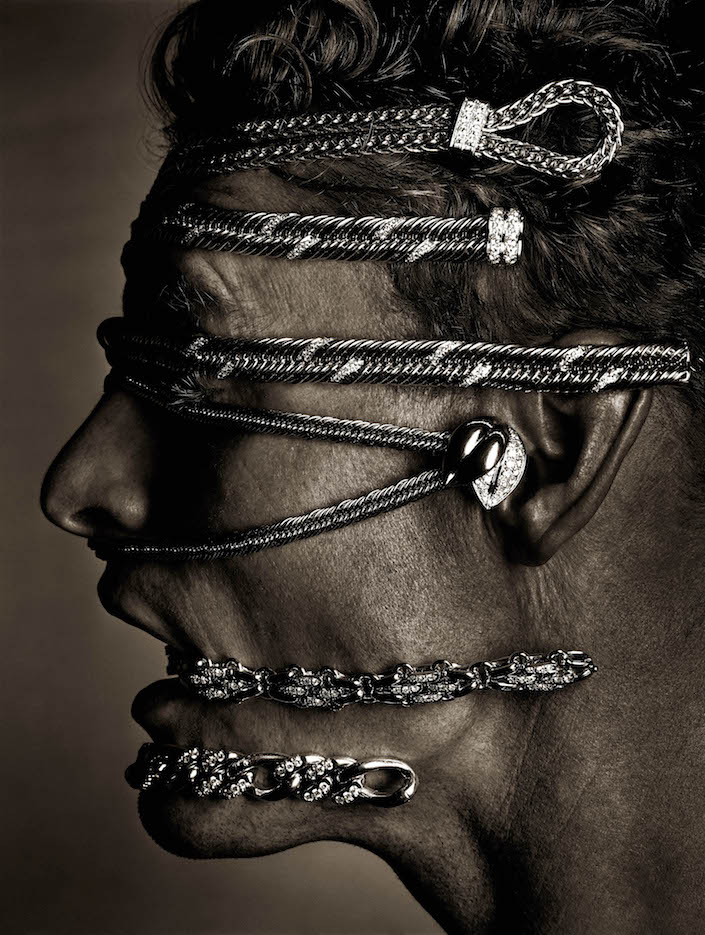 SaveSave
SaveSave
SaveSave