Since there is never enough time to catch up on all the new fall design titles, I thought this week, when we are all at home or relaxing on vacation, would be a good time to make some more suggestions for your design library.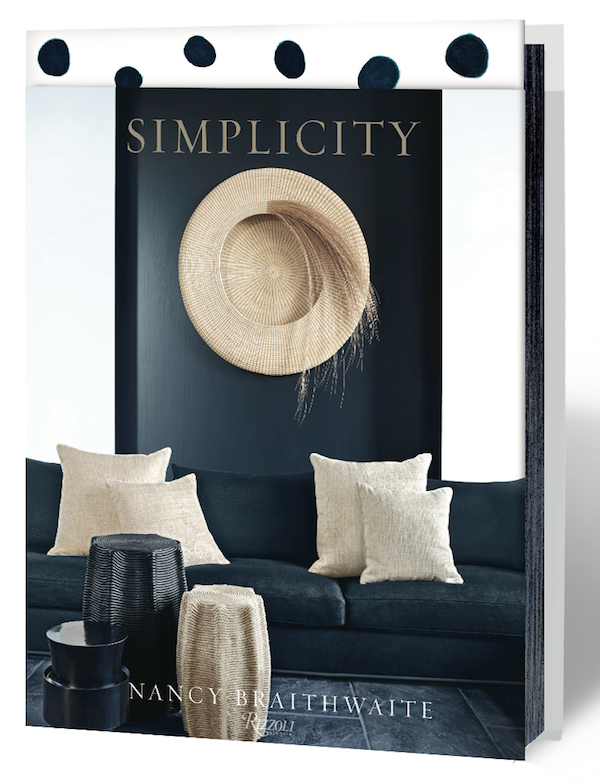 Nancy Braithwaite's work has long celebrated the power of simplicity. And as she states on one of the opening pages of her beautiful new book Simplicity, "There is nothing simple about simplicity." I have written before about this concept, as have many before me going back as far as Socrates. It requires "education, discipline, rigor, and skill" to "edit a world of almost limitless available choices." And this is what separates the dilettante decorators from the professionals. Braithwaite has spent her entire life training her eye to hone the principles that guide her particular brand of simplicity and it shows. No matter what decorative style the project is in, her choices are distilled down to be "essential, balanced and powerful, with integrity, and no compromise in the details."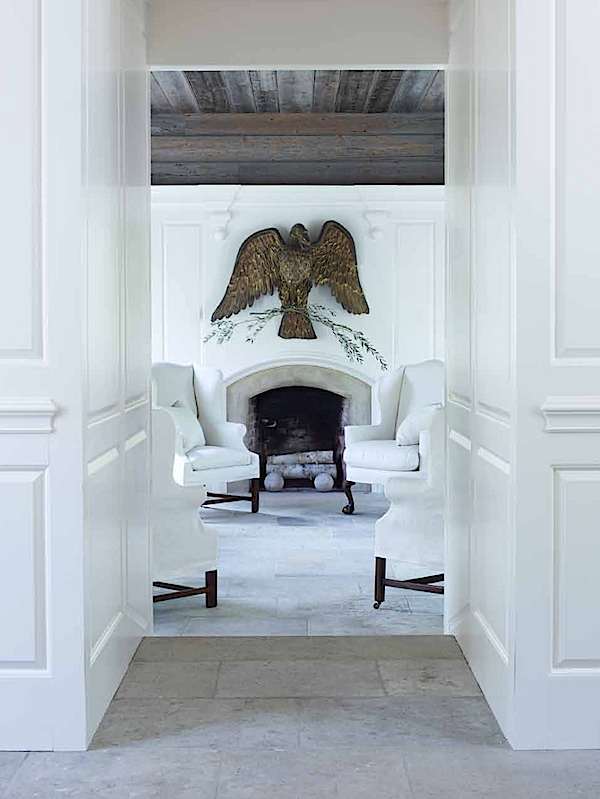 It is therefore not surprising that not only is the designer's work alluring and artfully photographed but the book itself is an object of beauty. With a thoughtful and elegant design by Doug Turshen with Steve Turner, it is so in synch with Braithwaite's aesthetic, including many production details that you don't often see. Consider for example this double page spread featuring the organic work of artist Robert Kuo against the refined structure of the millwork. Note how the background fades out on the right to accommodate the caption in a subtle, fluid and unobtrusive manner.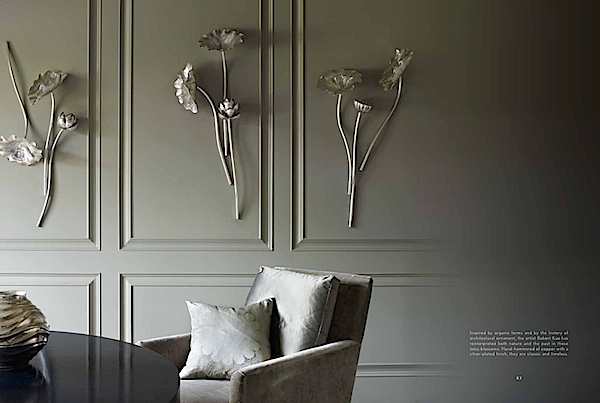 The designer's work is likewise graceful and adaptable. Whether classic or contemporary, her vision is consistently one of purity and cohesiveness, as in this seemingly effortless beach house bedroom.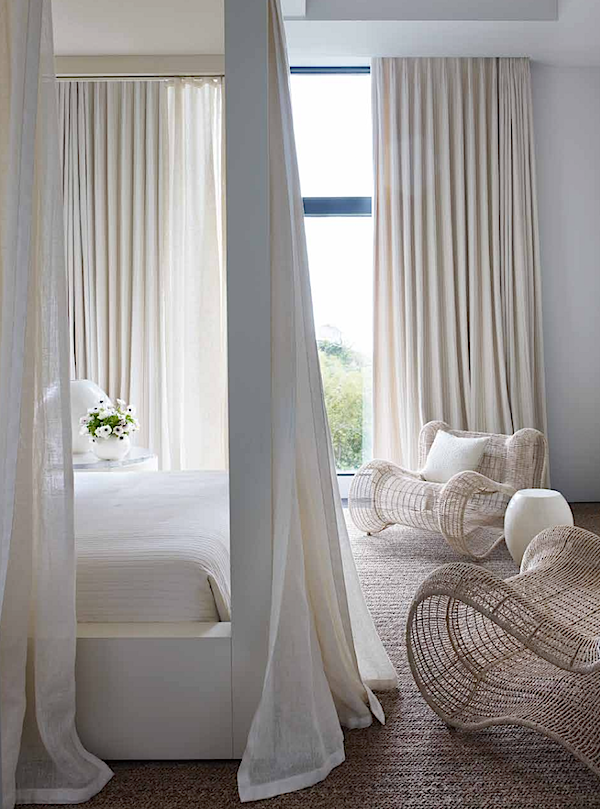 While perhaps most known for her use of American antiques, she is an avid proponent of art in many forms and was an early collector of Les Lalanne, whose sheep greet visitors on the lawn of her New England-style farmhouse in Atlanta.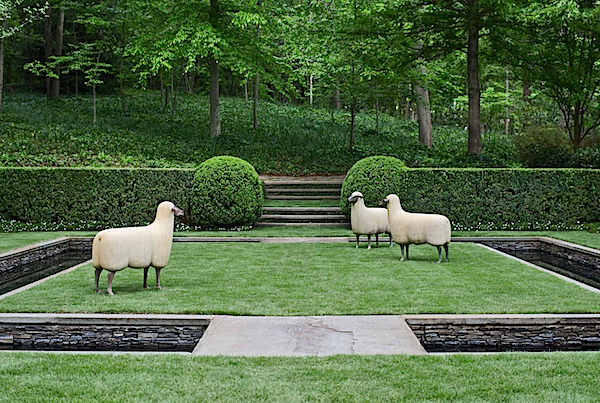 She was also ahead of the pack with her use of black walls, employed to great effect in her own bath.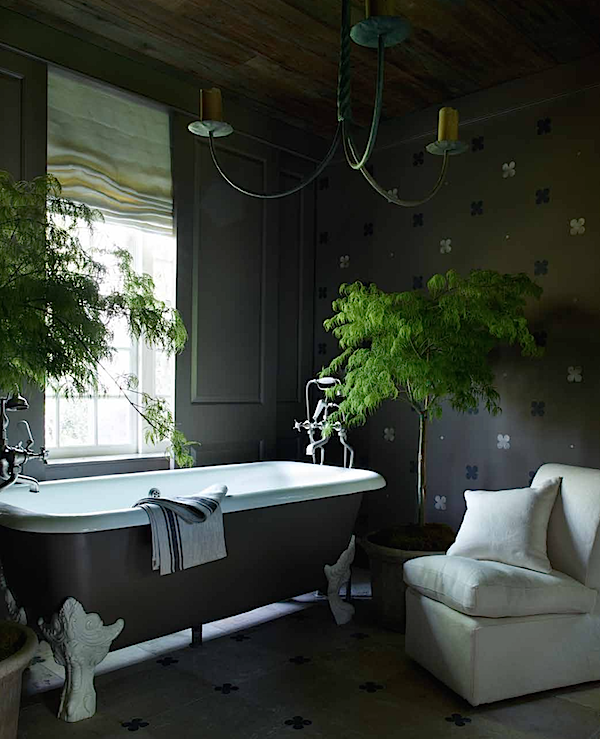 And her versatility shows in this elegant master bedroom where sumptuous fabrics and sinuous shapes meld for an refined and romantic vision. As Dara Caponigro concludes in her foreword, "After twenty-five years of exposure to the best work out there, I've found that it's simplicity that's the hardest thing to do well. It is an art. And Nancy Braithwaite has perfected that art."
all photos by Simon Upton
ELLE DECOR The Height of Style illustrates over 220 rooms from the magazine featured over the past five years. Selected by Editor in Chief Michael Boodro and the editors of ELLE DECOR, you are certain to recognize many of your favorites handily together in this single volume.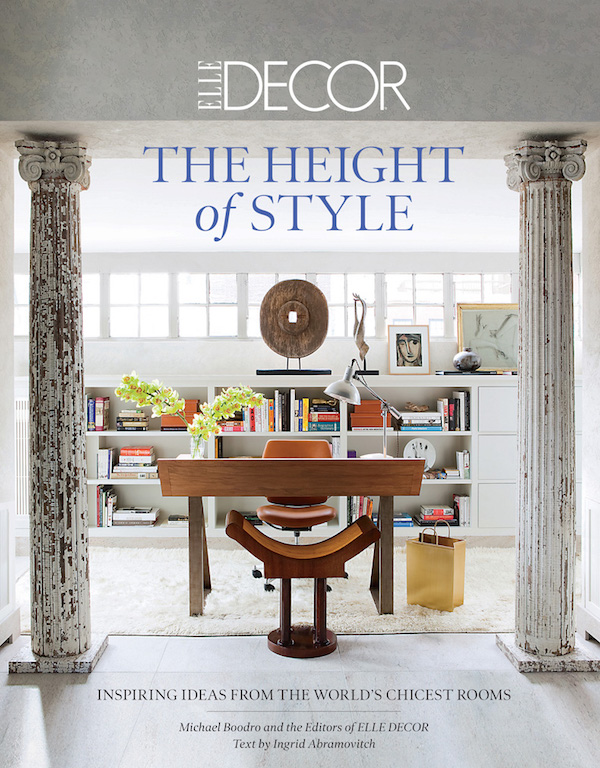 With a wide range of designers, styles and locations, the photos are organized into useful categories, Classical, Fanciful, Practical and Personal, to help decipher their appeal and why they work. And within these chapters, sections such as "What the Pros Know" and "Anatomy of a Room" present advice and insights from the designers, architects and clients. Michael Smith's New York penthouse is an eclectic elegant mix of styles and periods that shows how you can shake up a traditional floor plan and still retain overall balance and unity.
   photo: Simon Upton; Elle Décor: The Height of Style, Abrams, 2014
In a Hamptons kitchen designed by Steven Gambrel, he shares his love for black. " It creates contrast. Rather than making a space feel smaller, as you might expect, it helps to define its outer edges, encouraging visual scale." The glazed ebony backsplash tiles are from a firm that once supplied them to fire houses and the French concrete floor tiles create movement with their contrasting cascading block pattern.
Photo by Eric Piasecki; Elle Décor: The Height of Style, Abrams, 2014
One of the most interesting chapters is the last, featuring "Personal" rooms. "These one-of-a-kind spaces are almost novelistic in scope, rallying the narratives of their owners' histories, travels, tastes, talents, passions and relationships." Fashion editor Kim Hersov's London family room, for example, is filled with what might seem unrelated artifacts of her wide ranging collection. Yet here a carved African chair, a custom-made ottoman studded with buttons from a vintage military coat, a Shezad Dawood painting and a 1950s light fixture from Brazil all happily cohabitate in this character filled room.
Photo Simon Upton; Elle Décor: The Height of Style, Abrams, 2014
You'd never know hotelier Costis Psychas' dreamy home on an island near Santorini is in a renovated warehouse. With enviable Aegean views, his whitewashed living room retains a low horizon. On floors that are a handmade mix of white cement and sand, low tables, wool pillows and cotton rugs, handwoven in Greece, contribute to the serene zen-like space. Whether a penthouse apartment, sprawling country estate or island retreat, these inspiring spaces provide insights and ideas to make your own.
Photo William Abranowicz; Elle Décor: The Heigh of Style, Abrams, 2014
For those in privileged circles, the interwar years were an enviable time of high style, sophistication and civility. And no one epitomized, or perhaps defined, the era better than Elsie de Wolfe, whose unbridled talents transformed the look of interiors in America. Yet it wasn't only her decorating talents for which she is remembered. In cultural historian Charlie Scheips' addictive new book, Elsie de Wolfe's Paris | Frivolity Before the Storm, voluminous research (just check the acknowledgements) and many never-before-published photographs paint a portrait of "a seductive vision of a vanished world." The elegant book jacket sets the tone with Elsie, resplendent at almost 80, in a Cecil Beaton portrait.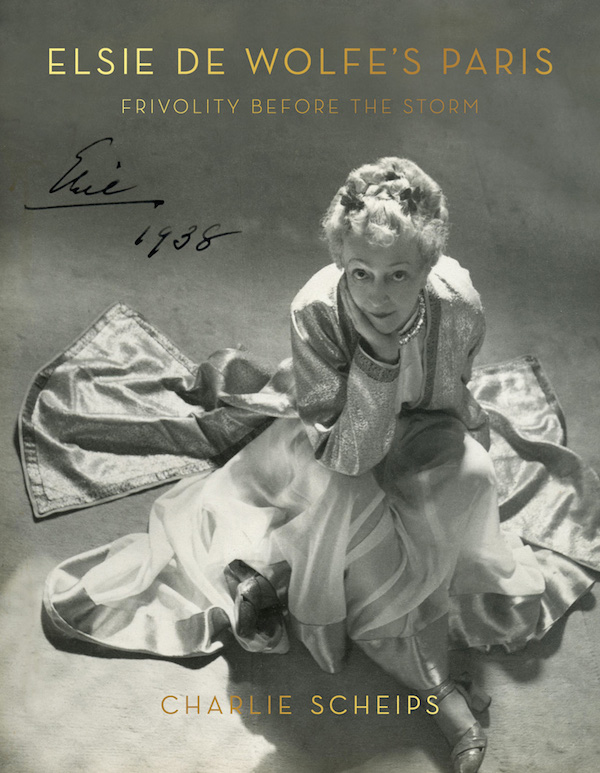 The Duchess of Windsor said it well. "For bringing together all kinds of people in a gay, airy, but flawless setting, I have never known anyone to equal Lady Mendl (Elsie de Wolfe's married name). She mixes people like a cocktail – and the result is sheer genius." In a world long before email and social media, Elsie was the ultimate connector, making the word hostess a vastly inadequate understatement. In her legendary Villa Trianon in Versailles, painted by society portraitist William Bruce Ellis Ranken, below, her two famous Circle Balls, in 1938 and in 1939, two months before the war, heralded the end of an era.
Photograph courtesy Charlotte Moss
In this irresistible immersion into Elsie's world, the wonderfully creative sphere of legendary names come alive. The cast of characters includes more well known ones such as Cole Porter, Daisy Fellowes, Constance Spry and the Duke and Duchess of Windsor, shown below at the beach of their villa, the Château de la Croë, in Cap d'Antibes, where they first heard the news of Britain's declaration of war.
Photograph by Roger Schall. © Jean-Frédéric Schall
But it also includes lesser known figures such as Aimée Lopes, below, who was the "rage" and was "so pretty, so genuinely nice, [and] carried gaiety with her like a fan [that] she was almost eaten alive" by the competitive hostesses of Paris. Elsa Maxwell and French actor and director Sacha Guitry sit behind.
Photograph by Roger Schall. © Jean-Frédéric Schall
Dolores Larivière (bottom left) sits with Christian Bérard, Ghislain Clausel, María Cristina Patiño, Jacques de la Béraudière, Cécile de Rothschild, and Algernon "Tony" Pawson in the dance pavilion. Patiño is wearing Mainbocher's sleeveless, rose-colored organza gown with white stripes.
Photograph by Roger Schall. © Jean-Frédéric Schall
As Scheips writes in his final chapter, "This book is my own search to bring back a lost moment in time, when men in white tie and women in elaborate evening dresses saw the occasion of a grand ball as an expression of sophistication and a means to confirm the existence for a civilized life – and have fun." You'll be enlightened and inspired but sorry when it ends.