For years, Bruce Glickman and Wilson Henley owned Duane, the well respected Tribeca outpost specializing in mid century furniture, escaping to their Litchfield County, Connecticut home on the weekends. Then five years ago, in a foresightful pre-pandemic move, they closed the NYC gallery and committed to Connecticut full time. They had long dreamed of opening a shop nearby in Washington, CT so when a space in the Depot (Washington's tiny "downtown" retail area) became available, they jumped on it and GEORGE, their stylish design destination was born. Almost concurrently, they happened upon what was to become their third Connecticut home in twenty years, a 1930s cottage with stunning property and views. Please join me and Susanna for a behind the scenes visit with Bruce at his and Wilson's charming country home.
This 1930s cottage, represents the culmination of several homes that the pair, partners in business and life, have lived in – from a 1740s antique farmhouse to a mid century modernist house, both in Litchfield County, to a more formal loft in New York City. Encompassing the furnishings from these other residences with many different periods and styles, the house remains cohesive because of the design duo's consistent point of view.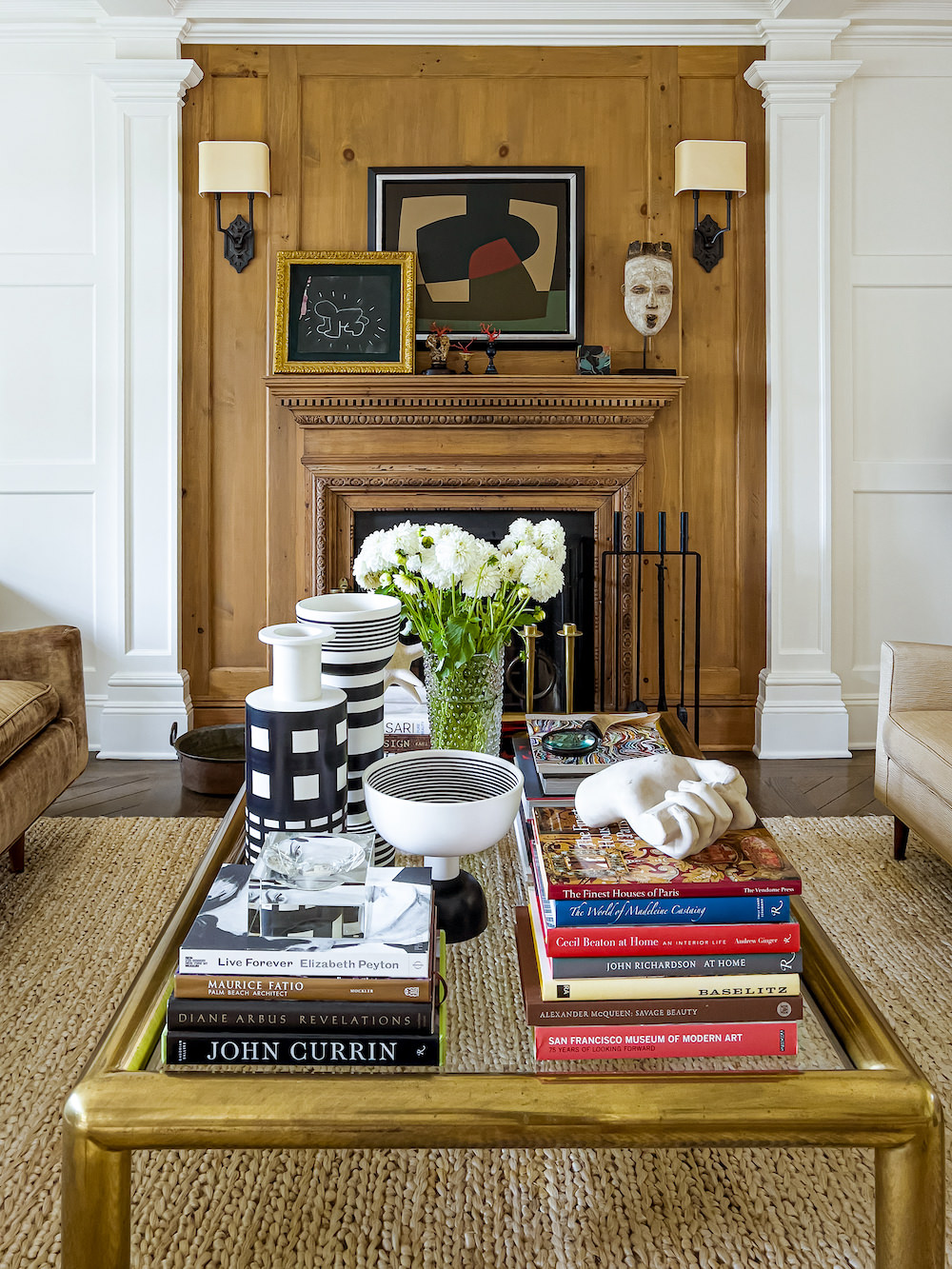 While the house provided pre-war charm, the couple opened up passageways to increase flow and added and/or reinstated many architectural and decorative enhancements that meld effortlessly with the original features. In the living room, above, the mantel is original but the new painted paneling adds depth and visual interest.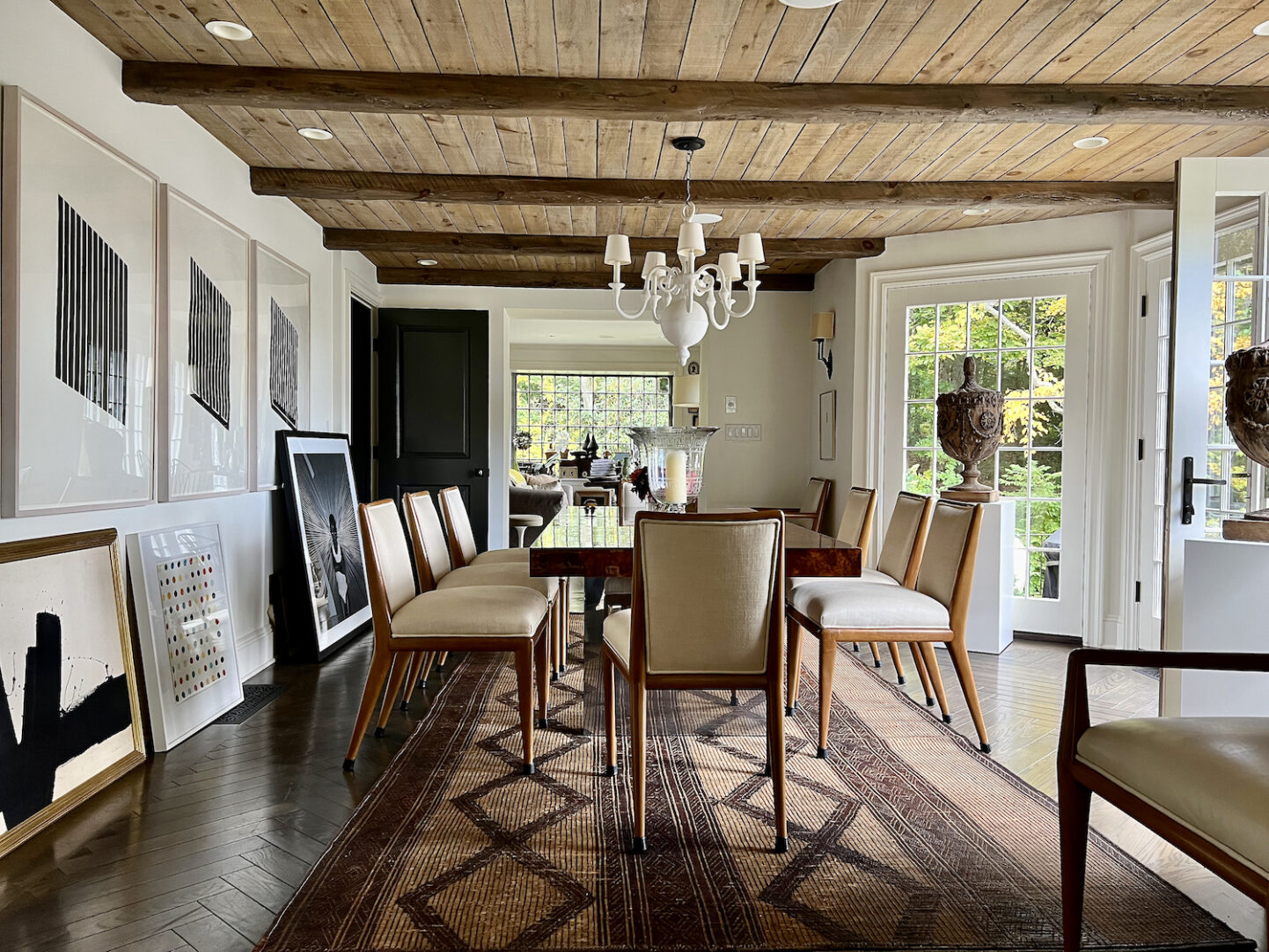 And in the dining room, a distressed wood ceiling and new beams add texture and character to the eclectic mix of furnishings. The Milo Baughman table and Robsjohn-Gibbings chairs, formerly in their 1950s modernist house, work equally well in their new surroundings. Avid art collectors, Bruce and Wilson don't treat their stellar holdings, including a Donald Judd triptych, above, with formal reverence. While some pieces hang traditionally, others lean casually against the wall on the floor offering another viewpoint and a sense of discovery.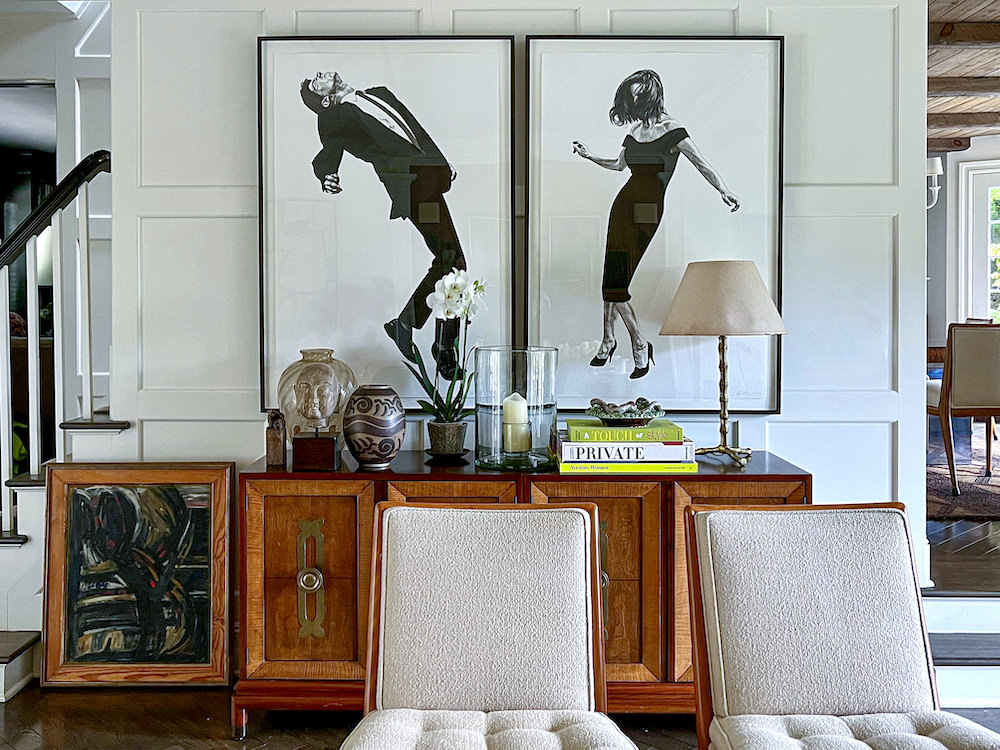 On the back wall of the living room, Robert Longo artwork hangs behind a pair of Robsjohn-Gibbings slipper chairs. The house may be an ode to the pair's longstanding predilection for neutrals, but don't think plain Jane interiors. The simple yet sophisticated palette is the perfect foil for lush layers of textures, accessories and art.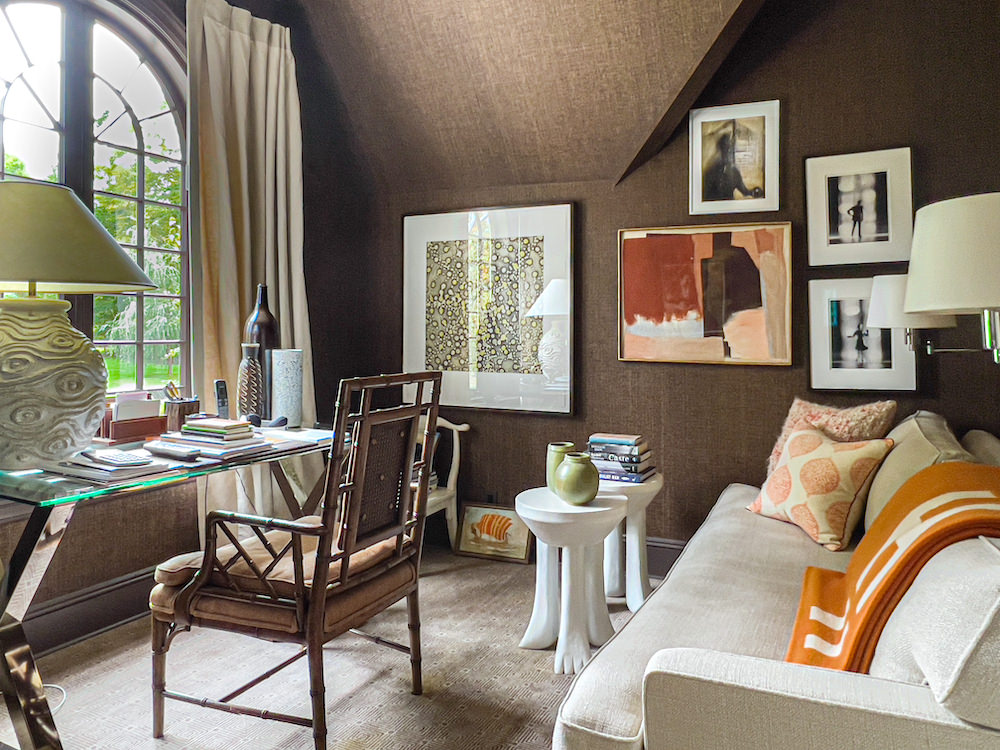 It is a testament to their combined talents that each room has its own distinct personality yet feels connected to the whole. And you somehow know they could just as easily juggle their curated collections in a variety of styles that work equally as well!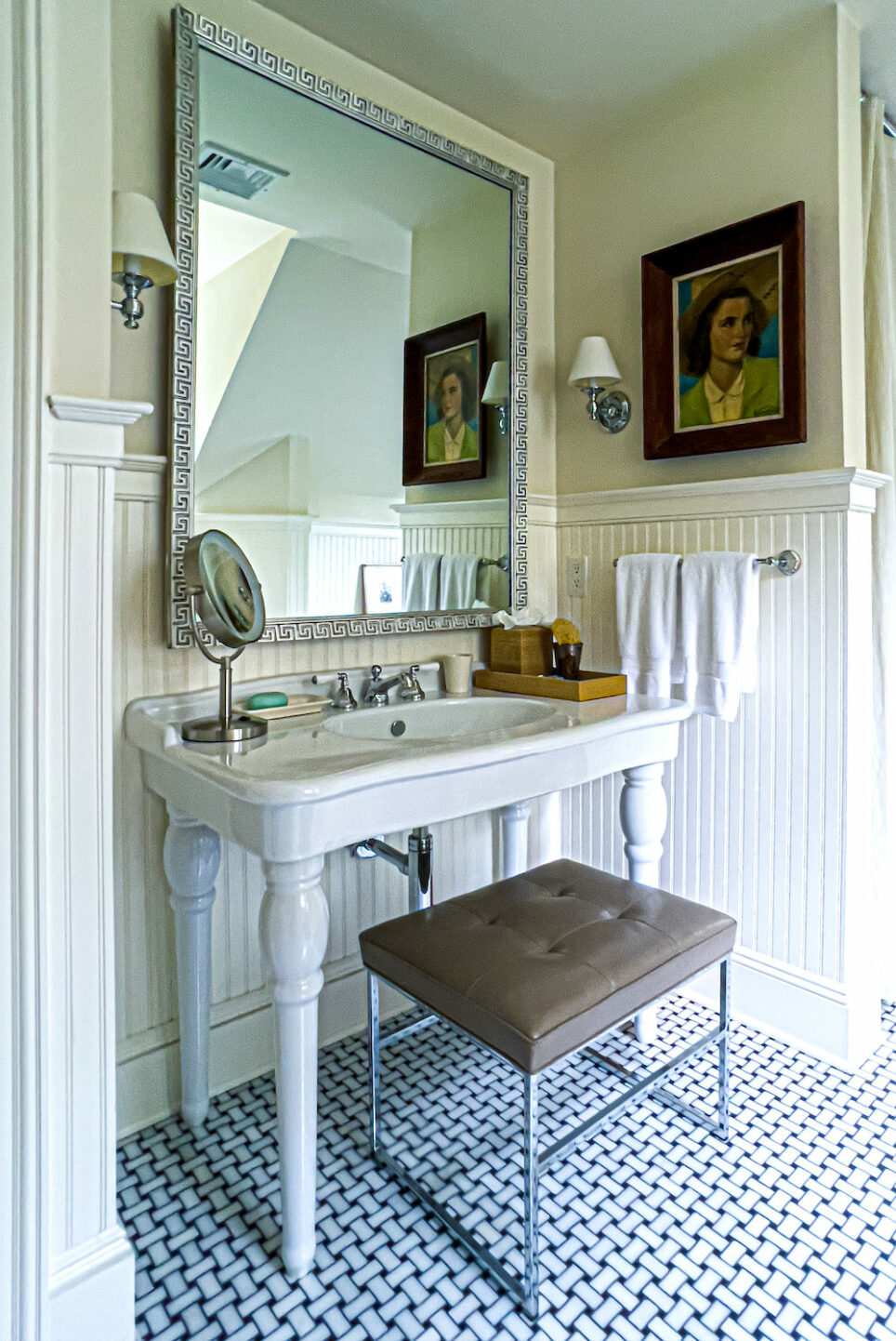 Whether bathrooms, above or outside spaces, below, every space is as comfortable as it is chic and reflects the same refined aesthetic represented in their store GEORGE.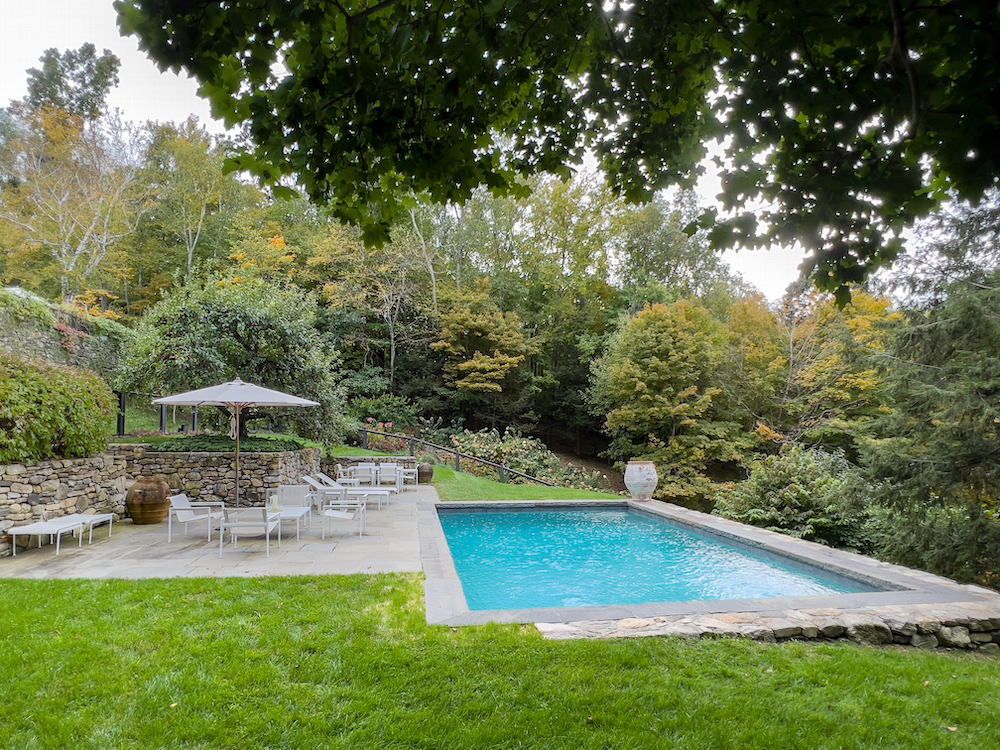 A big thank you to GEORGE for sponsoring the video visit. The now well established design destination draws decorators, architects and design aficionados from far and wide for their unique, well-curated selections.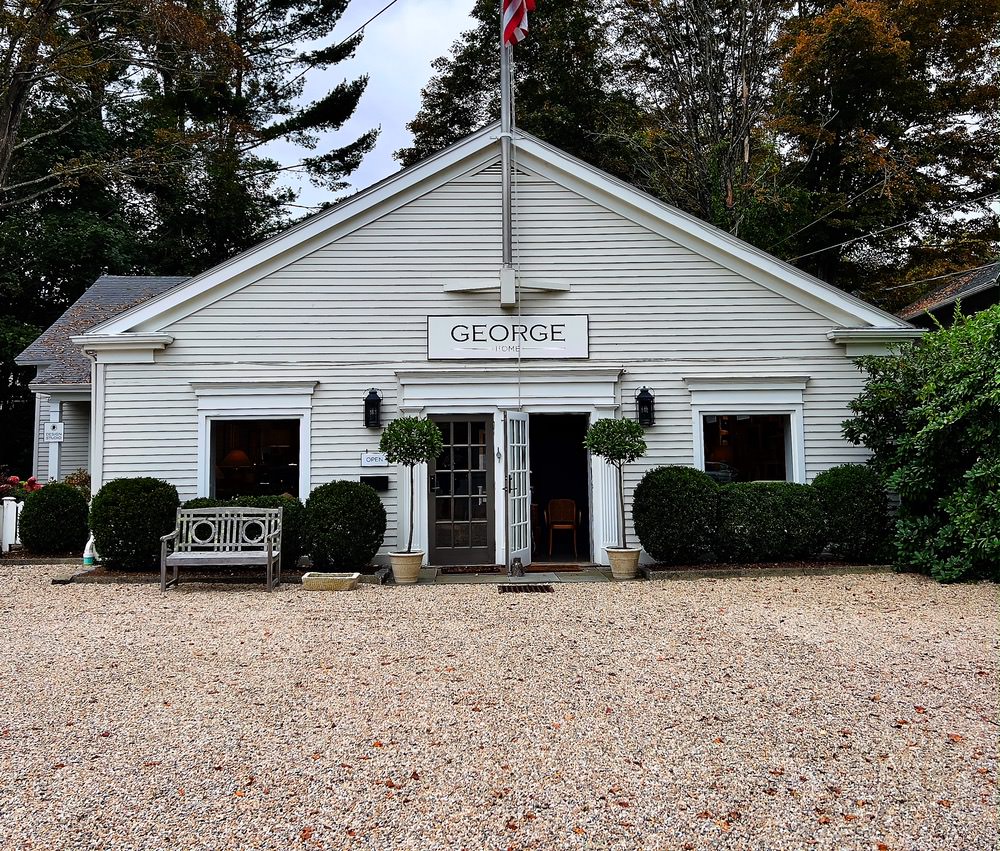 From furniture, including custom pieces, to antiques, accessories or art, it's impossible not to covet a special something for your home. The constantly updated inventory assures a fresh selection on every visit. And if you find you need help achieving this level of effortless chic, the design studio is there to help!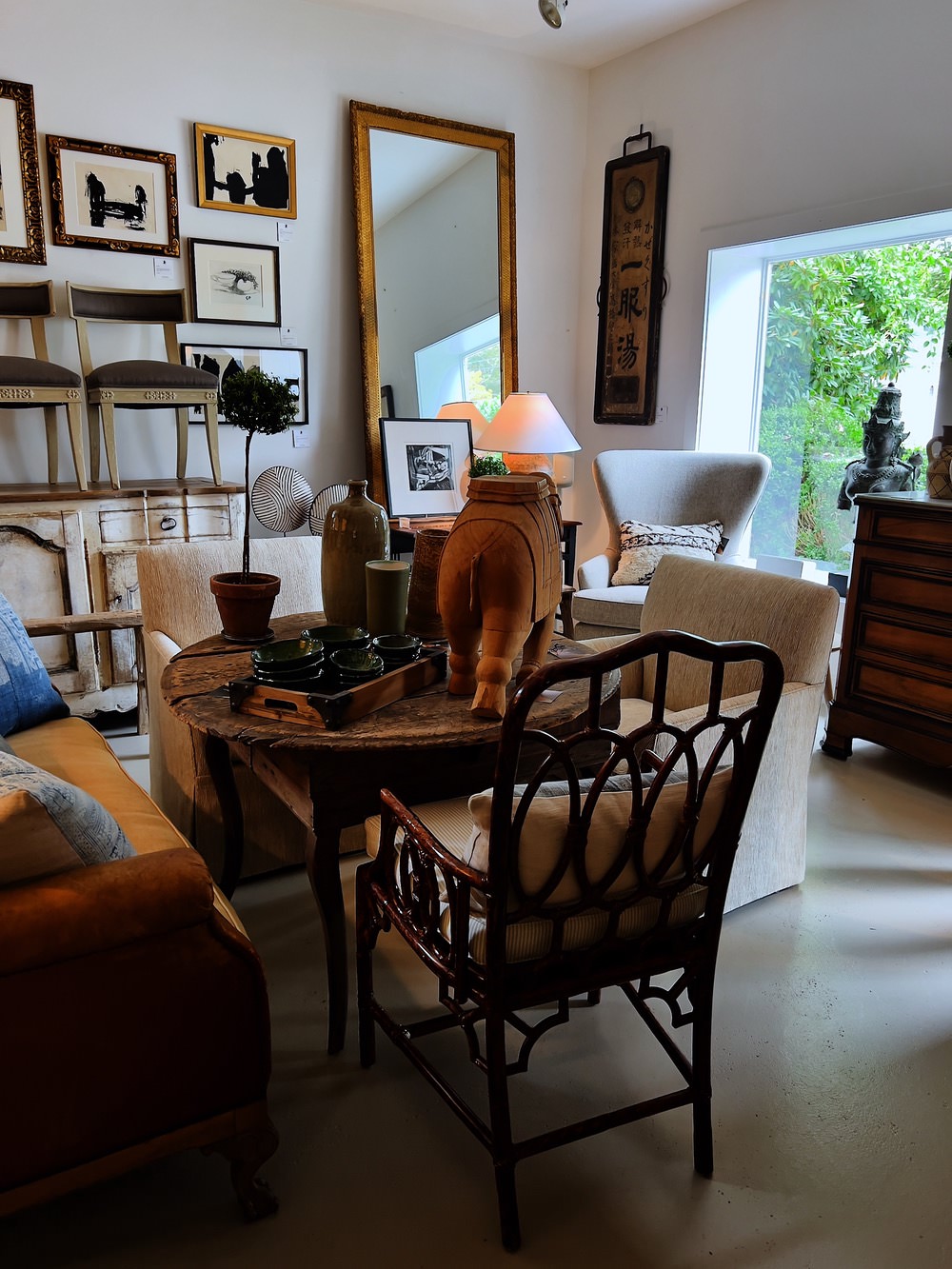 So thank you Bruce and Wilson for opening the doors to your charming cottage. We were enchanted and inspired!
all photos by Stacey Bewkes for Quintessence